Squid Proxies is a trustworthy private proxies provider, that offers Good customer support. Its proxies are well-known and used by many BHW members.
Provide Great private proxies for SEO
Worldwide servers with with fast speeds
Proxies are Immediate delivery
24/7 Access to proxies
20% Recurring Discount – Read to end!
---
Squid Proxies offers elite anonymous HTTP/HTTPS proxies. This means they can access websites using all of the popular browsers, such as Chrome, Internet Explorer, Firefox, Safari, etc. They also offer a high level of anonymity and support both HTTP and HTTPS web protocols.
They are great for marketing and use with social media sites, most notably Instagram! Many users have reported great success and reliability while using the Squid Proxies servers for Instagram automation.
And It's great for Proxies for SEO, Especially who using Scrapebox. Here is a fantastic place for you to choose Scrapebox Proxies! SquidProxies.com have specialized the connections on their server to get fast speed. So if you're looking the specially Proxies for Scrapebox, Here may be a right place for you to check out! By the way, Xrummer – Another SEO tools by Russian for posting backlinks on forum is not allowed.
---
---
Pricing & Packages
Private Proxies Plan
Squid Proxies only have 2 type of proxies Packages, The private proxies and shared proxies. The proxies are good for just about any legal use. They are specifically targeted at marketers, with shared and dedicated proxies centered around marketing. They offer unlimited bandwidth, super fast server speeds up to 1,000+ Mbps, high anonymity, and all at an ultra affordable price.
Here are the private proxies packages that Squid Proxies service provides. It should be noted that they do not offer specialized Packages for the special purposes. But SquidProxies.com guarantee that these proxies will work for the legal purpose, and if you aren't fully satisfied you can get a full refund within 3 days.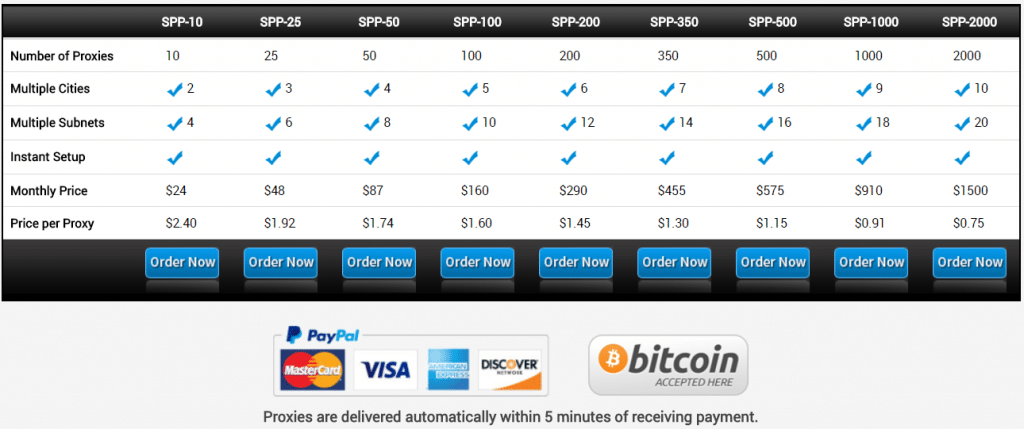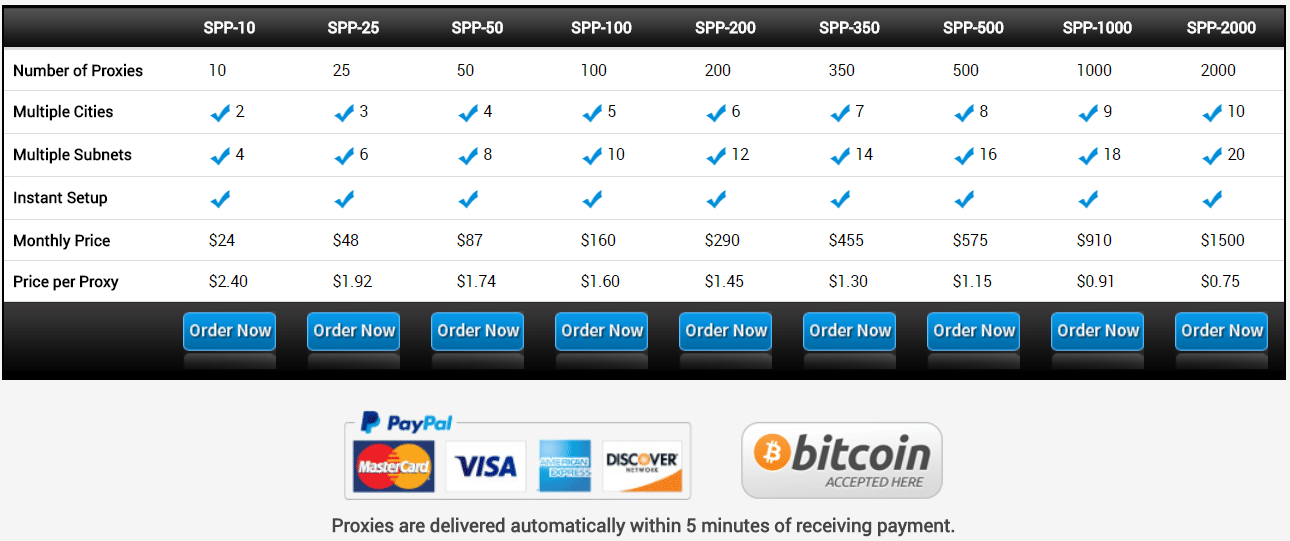 Shared Proxies Plan



Package of shared proxies starts from 100 proxies at $1 per proxy, Yes. Its Cheap, but you must take note on the shared proxies packages.
back to menu ↑
Network Performance
Squidproxies offer the Non-Sequential IPs with a fast connection. The servers they offer are incredibly reliable, with fewer errors than many other services. For their private proxies, they have a guarantee that it will work for your purposes and meet your satisfaction. For the shared proxies, however, there is no such offer. They are less reliable and likely to work, so we recommend you upgrade to the private proxies option to maximize your value. They offer 24/7 access to your proxy servers all year long.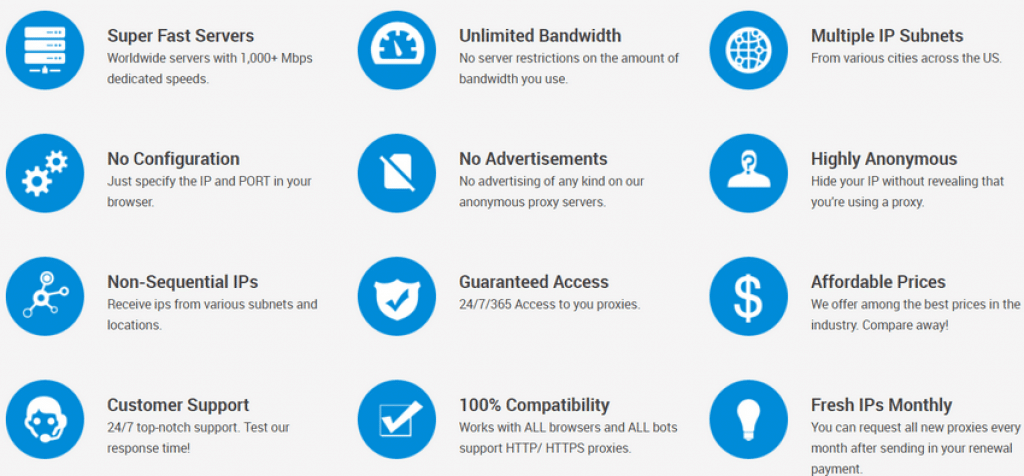 back to menu ↑
Server Locations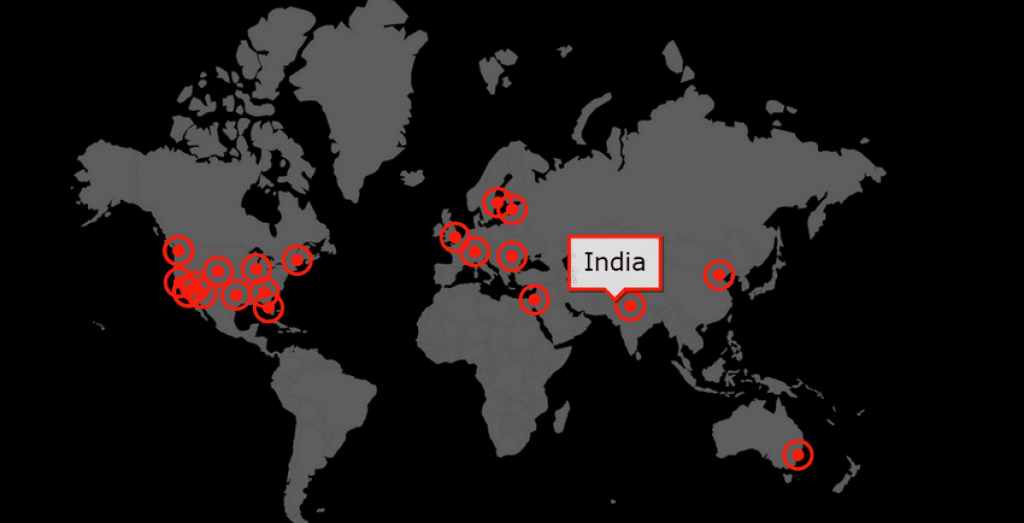 You can get Multiple GEO Locations. Here are Locations of networks that squid proxies service provided, Offering exclusive USA & Europe (Bern, Switzerland, Canada, UK, Sweden, Zurich) Proxies, India Proxies, China Proxies and More.
These locations are available for both private and shared proxies, so either one offers a great selection for locations.
Remember! If you need a specific location/locations for your proxies, you have to submit a ticket after you check out. Otherwise, proxies will be allocated randomly in the United States, and you will not be able to get access to the locations you need.
Atlanta, GA Chicago, IL Dallas, TX Hawthorne, NJ Los Angeles, CA Kirkland, WA New York, NY Tampa, FL Phoenix, AZ Scranton, PA Seattle, WA West Hollywood, CA
Zurich, Switzerland Australia Estonia Israel Panama Romania Sweden India China
back to menu ↑
Authentication & Use
After paying for the proxies, You can get a login information of Vip.squidproxies.com from your email, You can easily get your IP:Port from their proxies.
Note: Only IP authentication available!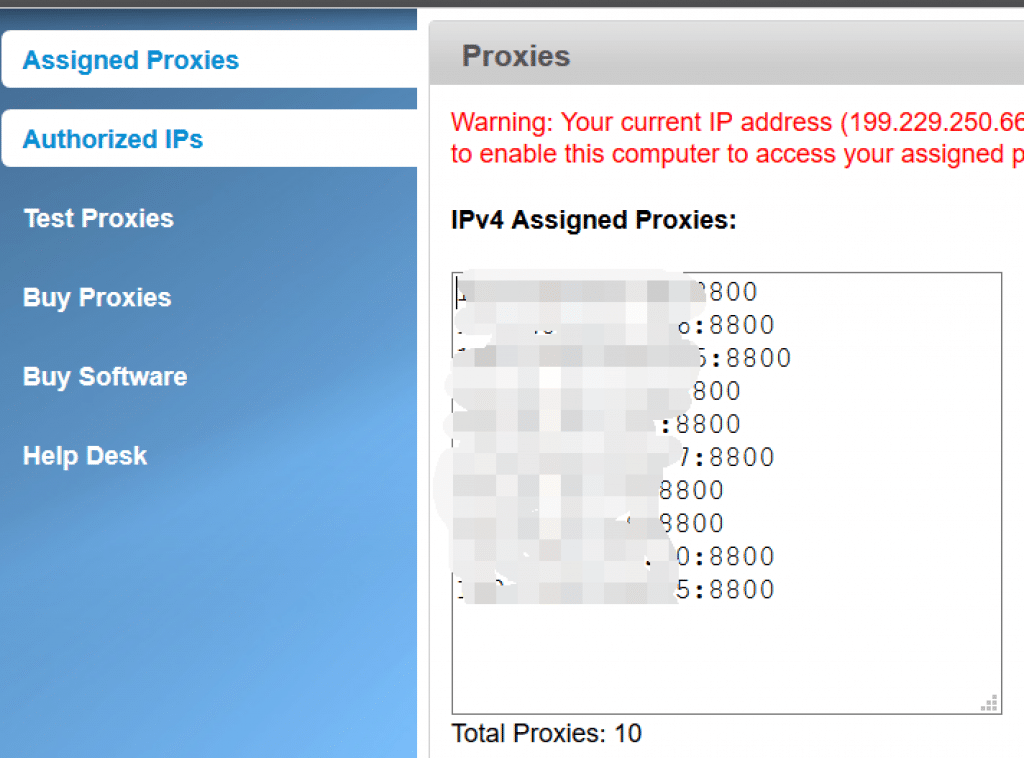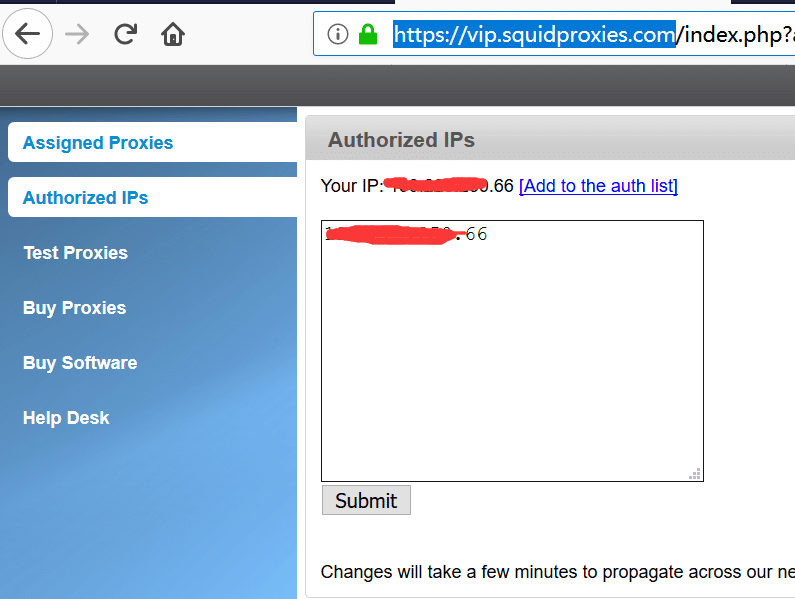 back to menu ↑
Customer Support
Squidproxies offer the email and ticketing customer support, You can get the touch to them 24/7. It's a great proxy service that has an ever-growing reputation for taking good care of its customers, But their owner looks like a little lazy to add more new features for on their proxies.
About their Website Navigation
The Squid Proxies website is very easy to navigate and pleasant to use. They have an abundance of helpful tutorials to aid in set up, an FAQ section, and a simple customer service section. All throughout the site are helpful tips and information to help you better understand the service and how to use your proxies. Their website and servers are also free of advertising.
I found their resource section to be the most helpful. There you can find step by step tutorials for any questions you might have, including how to use your proxies across any platform and browser, how to troubleshoot connectivity issues, and how to use HTTP proxies in PHP code. These tutorials are very easy to follow, with pictures accompanying the instructions. There is also a section offering articles for various topics. I went through a few of these articles, and they are complete and packed with lots of useful information to help you better understand your proxy.
If you are already his consumer, Pleas share your review at here.Cheers!
20%  discount, Use coupon: privateproxyreviews
| Sample Package | Price | multiple cities/Subnets |
| --- | --- | --- |
| 10 Proxies |  $24 | 2  /  4 |
|  50 Proxies |  $87 | 4  /  8 |
|  100 Proxies | $160 | 5  /  10 |
|  200 Proxies |  $290 | 6  /  12 |
|  500 Proxies |  $575 | 8  /  16 |

20% OFF
You can get 20% recurring discount,Use coupon: privateproxyreviews.
back to menu ↑
Our Verdict
Squid Proxies Features
Proxies Protocol:HTTP/HTTPS
Proxies Update Frequency: Fresh IPs Monthly
Multiple Cities, Multiple Subnets(Order more than 10 Proxies)
Unlimited Bandwidth
Full refund within 3 days
Allowed: Scrapebox, SeNuke, TweetAttacks, Webmail.
Not Supported: Craigslist non-verified accounts, Xrummer