How does it feel like to consistently get blocked while trying to automate following and liking accounts on social media platforms? I have been there and can tell you that using dedicated datacenter proxies didn't help me. I have to make a decision that though expensive, I have lived to be happy I made that decision. What decision did I make? Switching over to using mobile proxies!
Mobile proxies are the best when it comes to social media automation. I have used a good number of them such as Luminati, Rsocks, AirProxy, and Proxy-cheap. My focus in this article is to review AirProxy. This is because it was introduced exclusively to solve the problem of social media sites like Instagram blocking proxies. And in this regard, it gets the job done.
You will be learning about AirProxy including its security and privacy policy, subscription price, speed, server location, and many other features about it.
Dedicated Mobile Proxies
PROS:
Very fast proxies
Does not get blocked often
Their proxies are secure and reliable
Dedicated SIM cards and modem are rented out to each customer
Free trial available
They have a refund policy in place
CONS:
Expensive
Only has Italian proxies
Your data can be shared with the government (in the case of fraud or crime)
Customer service response time can be slow sometimes
Let take a look at AirProxy 4G proxies in details.
---
AirProxy is a proxy service provider that provides only mobile proxies (4G proxies) to their customers for the purpose of social media automation. The company is a legally registered business in Italy and conform to Italian law. As you will read later on, this affects what you can use their proxies for and in a few words, "AirProxy is strictly for social media automation and not a crime detection evading system ". This company is premium and as such, their proxies are reliable. Unlike other mobile proxy providers that either hack some mobile users phone, or get usage rights through some absurd legitimate means that's still shady, AirProxy owns all the infrastructures they use.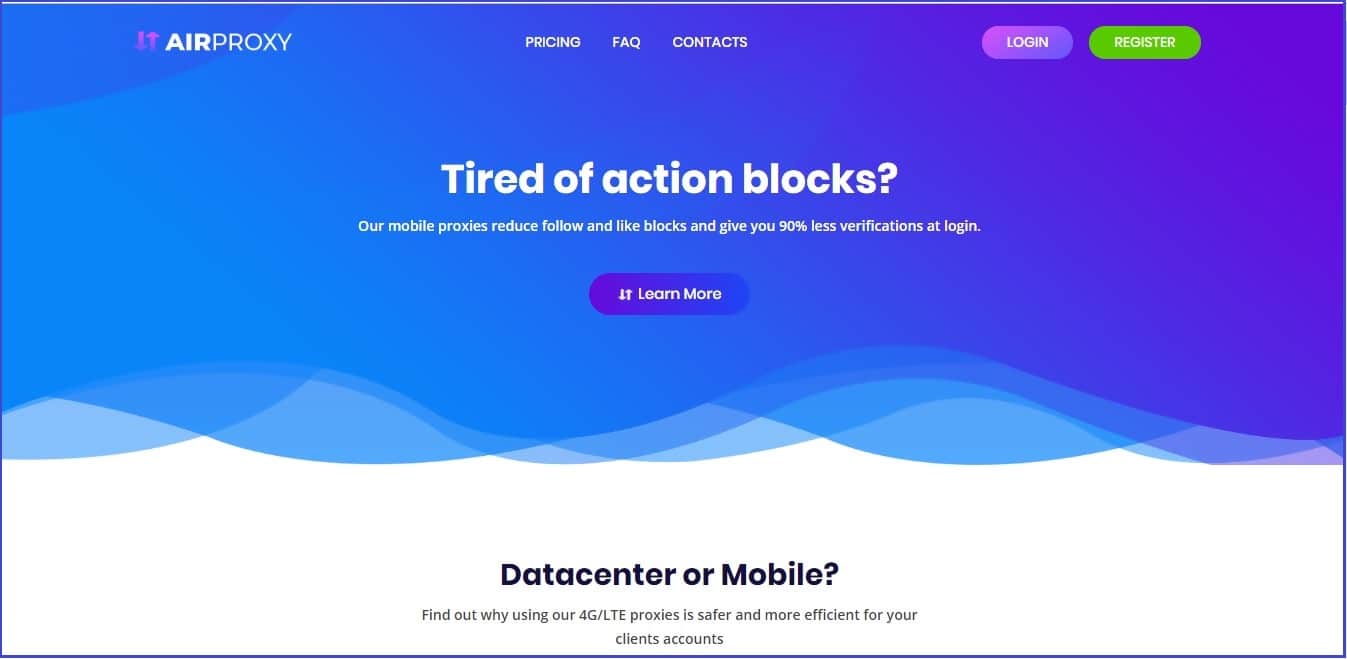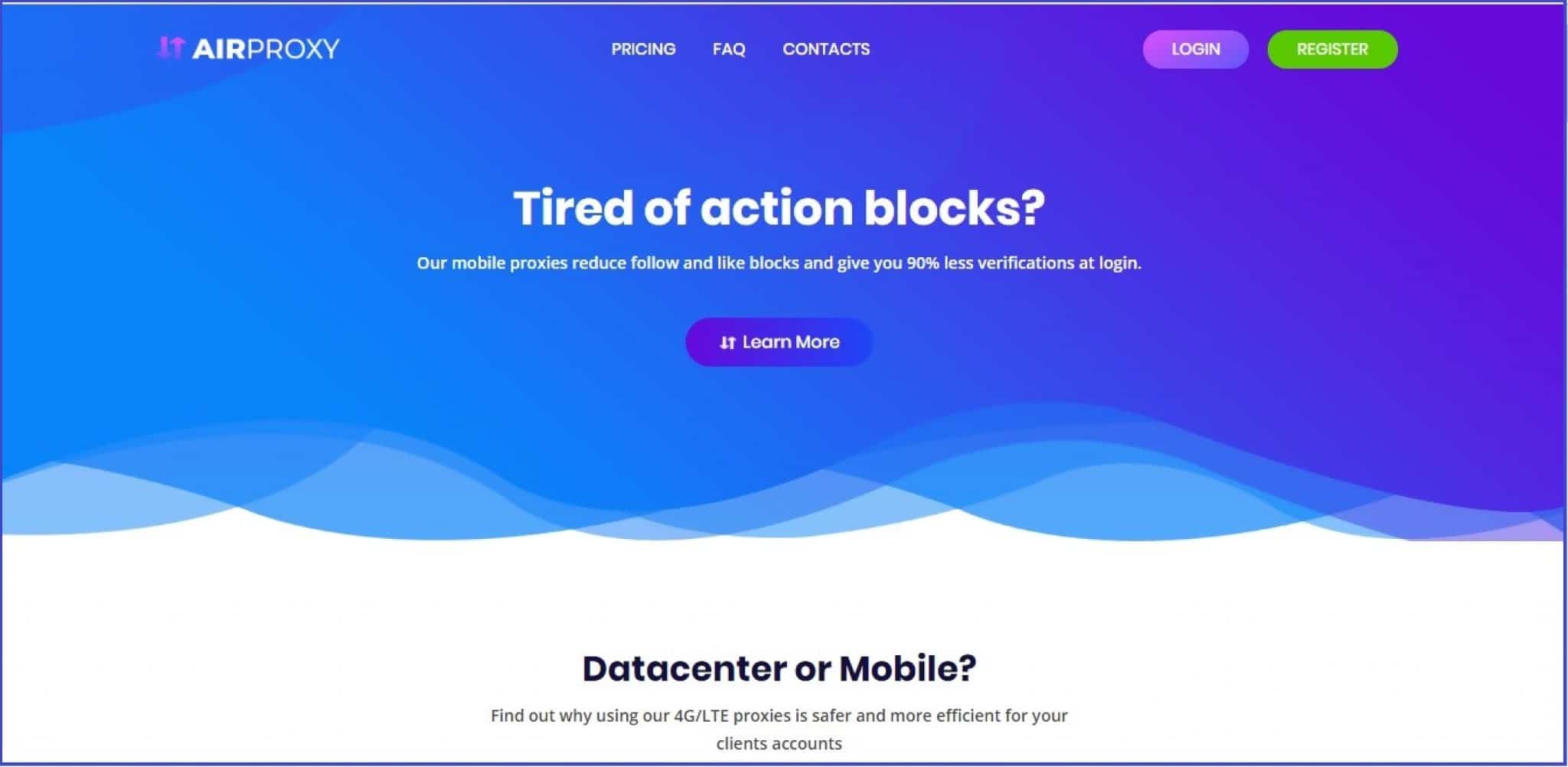 AirProxy uses dedicated modems and SIM cards which they dedicate to each of their customers. Because of this inherent use of dedicated SIM cards and modem, AirProxy mobile proxies are expensive. However, you're sure not to get your accounts blocked except if you go overboard with their usage. AirProxy is based in Italy and provides only Italian proxies. They dedicate Vodafone SIM cards by default to their customers. However, you can request for other Mobile Number Operators (MNO).
Their proxies are secured, reliable, and super fast because they have control over the Internet connection of the devices they rent out their IP addresses and Internet connection to their customers. Their web interface is also easy to use. However, they only provide the username and password authentication option. When it comes to their customer service, I will rate the company average. This is because the business is a one-man business and as such, how fast you get a reply depends on whether he is online or not.
Is Airproxy worth it? That's what we'll discuss in this review.


15% OFF
Get 15% Discount: put promo code "PRIVATEPROXYREVIEWS" to check out!
---
---
Ease of Setup and Use
No matter how performant a software is, people can run away from them if their learning curve is stiff. The best of software are the ones that are easy to set up and use because they do not frustrate their first-time users. How easy is it to setup AirProxy mobile proxies and use them?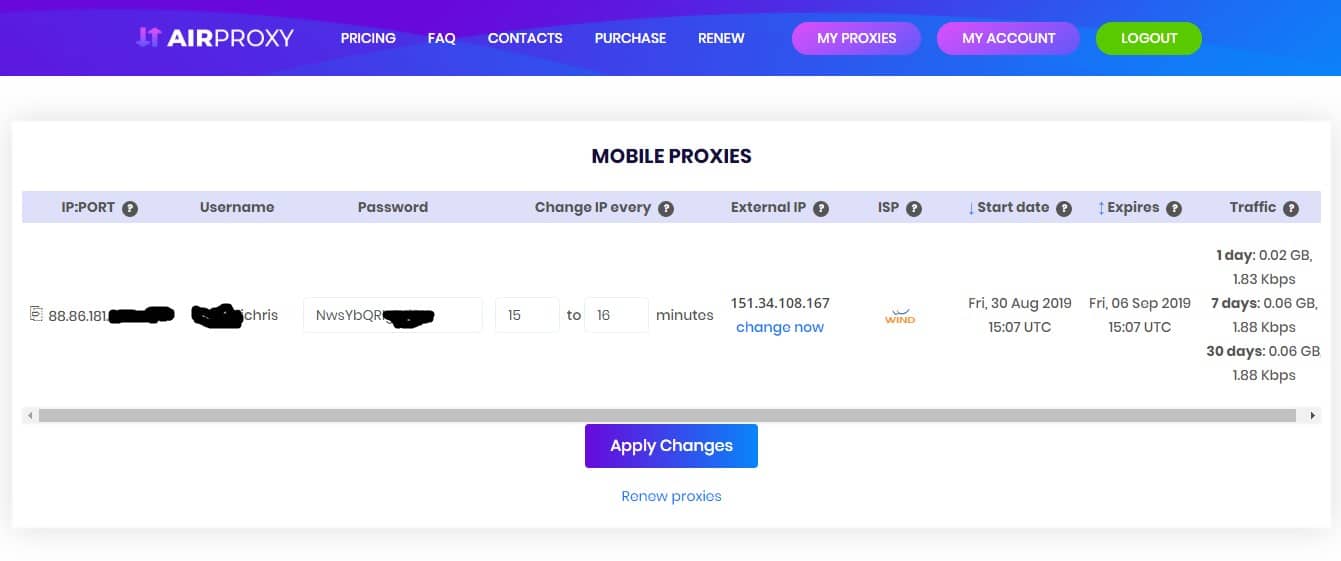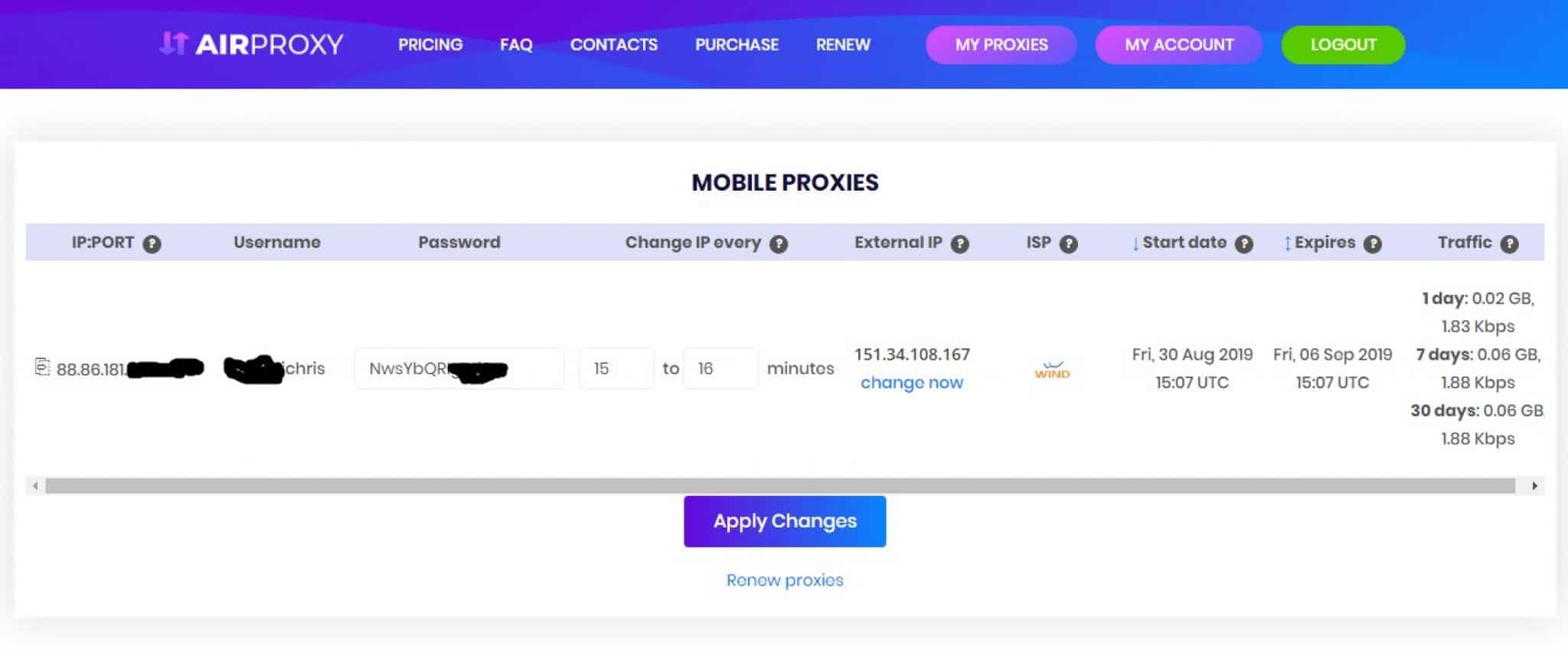 AirProxy is very easy and intuitive to use. After your registration and the confirmation of your order by AirProxy, you are presented an easy to use dashboard where your list of proxies is displayed together with their username, password, IP and port number, as well as the MNO, traffic data, and your proxy expiry date. Just copy the IP, its username, and password and you are good to go.
---
back to menu ↑
Proxy Server Networks and Locations
How many locations can you mimic using a proxy? Answers to this question will either get you to use a proxy service or not. Some proxy providers have a presence worldwide while others only have proxies in some specific regions. If you ask me how AirProxy stand in this regard, I will tell you this is one of the areas they flopped. However, it is not much of a disadvantage as you will think.



AirProxy only has Italian proxies. This is because they are only located in Italy and remember I stated earlier that they use their own modems and SIM cards. This makes their mode of operation different from many other mobile proxy providers who make use of a network of mobile devices they do not have control over. Fortunately, social media sites do not tie down accounts with a particular location and as such, you can afford to use Italian proxies for your automation tasks from anywhere in the world without the fear of getting your accounts blocked.
---
back to menu ↑
Security and Privacy Concern
If you plan using a proxy server, the security of your browsing data and even personal data is of great concern. This is because all data you transmit through the Internet will pass through your proxy providers unencrypted and as such, your data are at their mercy. Even if a proxy provider is trustworthy, you still have a reason to ask a question because they can be hacked by a third party.
AirProxy is a secured proxy provider that built its infrastructure with security in mind. Interestingly, I still haven't heard of anyone that has stated that using AirProxy got him compromised. However, from their privacy policy page, you have to make sure you aren't using them for any form of fraud and crime because your personal data is being saved and can be given to the government.


The above image is an excerpt from AirProxy Privacy policy page. They do not only save your personal data, but they also save all your browsing data that pass through them. If you look at this closely, you will see that it is not much of a problem unless you plan to use them to commit a crime or you plan to use them to send sensitive information like your credit card details which I will advise against. However, if you use them only for your social media automation process and nothing more, I see no reason why you should worry and the government won't come after you.


20% OFF
Get 20% Life-time discount: put promo code "privateproxyreviews" to check out!
---
back to menu ↑
Internet Connection Speed
Proxy services are notorious for reducing Internet speed regardless of how Internet Service Providers (ISPs) made their connection to be fast. Speed is even more reduced when we talk of mobile proxies because of their providers make use of mobile devices they do not have control over. In the case of AirProxy, they have complete control over the devices and as such, they are very fast. I tested the speed of my Internet connection without using a proxy and got the below data from Speedtest.net.



However, when I tried using it using AirProxy mobile proxy, I noticed that even though the connection speed wasn't as fast as the speed when I wasn't using a proxy, it was still very fast. I got an average speed of 39 Mbps for download and 170 Mbps for upload.
---
back to menu ↑
Subscription Price
One very important aspect of proxies is their cost. For social media marketers, they need to buy many proxies to use for their numerous accounts. This then means that if a proxy is expensive, they will find it difficult to pay for the required amount of proxies. That's is the reason social media always lookout for cheap proxy services that will get the job done.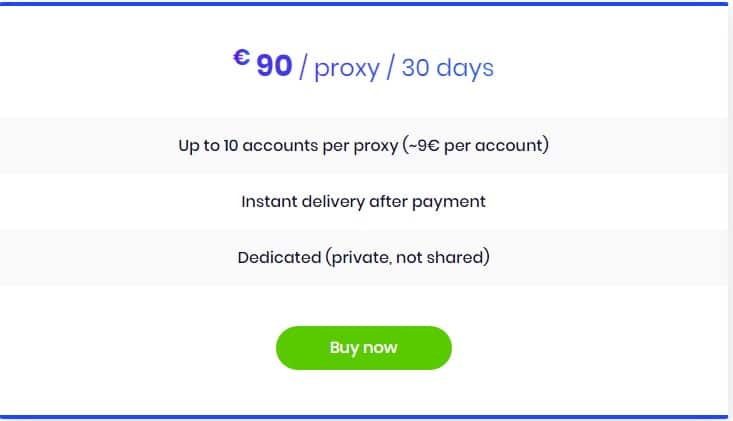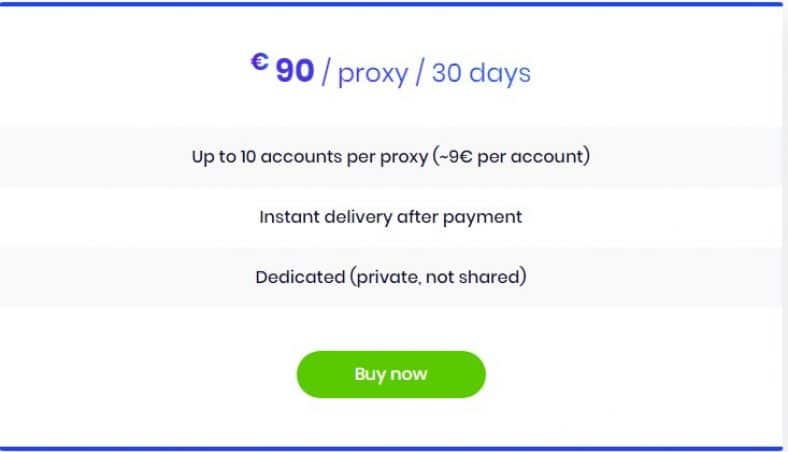 AirProxy mobile proxies are expensive. They have only one prepackaged plan that is priced €90 and comes with 10 proxies. At first, this looks expensive. But what if I tell you that you can use one of their mobile proxies to manage up to 10 social accounts. This means that for this package, you can manage up to 100 social media accounts. If you need more than 10 proxies, then you need to contact them for a discount. It is important to note that their plans come with an unlimited amount of bandwidth.
If you want a free trial, you can request for a 7-days free trial. They also have a refund policy in place. However, request for refund is not granted automatically. They look into the requests individually and grant them based on merit. The request must also be within 7-days of them confirming your order. In terms of payment methods, AirProxy only accept payment through credit cards and PayPal.
---
back to menu ↑
Authentication Methods
Paid proxies are different from free proxies in the sense that users pay for them and as such, they have to be protected against unauthorized use. Until you prove you have usage right, you won't be allowed to use a paid proxy. AirProxy requires you to authenticate before you can use their proxies.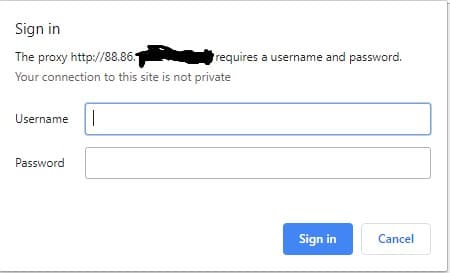 The above is the popup I got when I tried using their proxies. However, after entering the username and password given to you for the proxy, you are granted Internet access. They do not have support for IP authentication.
---
back to menu ↑
Customer Support
Proxy users usually run into problems and they need clarifications. New users will also need to ask questions before they make monetary commitments. What is the nature of support provided by AirProxy to its customers? They have a FAQs area where answers to frequently asked questions are provided. They also have an email address and a Telegram channel. However, their email support is slow. In fact, the owner of the business stated that he recommends users to contact them through their Telegram channel if they require a quick response.
---
back to menu ↑
Our verdict
From the above reviews of AirProxy and its mobile proxies, I expect you to have had your own perception about them. For me, even though they seem rather expensive, I would strongly recommend them especially for social media sites like Facebook, Twitter, and Instagram. This is because these sites have very smart and strict anti-spam systems that can easily detect proxy traffic. With them, your accounts are secured if you do not use more than the required accounts on their proxies.
Worth to Try with Datacenter, Residential, and Mobile Proxies
Add your review