Luminati is a Legitimate residential IP proxies provider and Over 72+ Million IPs in their residential network, Collect & scraping any web data, Never blocked with their Proxy Network.
Rated #1 out of all Residential Proxies Providers
World's Largest Residential IP Proxy network
GEO IPs Located in almost all country, city, ASN and carrier
Powerful Luminati Proxy Manager for scraping features
Unlimited connections & 24/7 Professional Support
---
Luminati.io is one of the best residential proxy providers which mainly offer residential proxy networks, which offer millions of residential IPs to use. Also, Luminati now offers the Datacenter IPs and Mobile IP proxies.
Luminati comes with a 7-day free trial to test and try their proxy speed, Trial for residential proxies are only for registered companies, and Trial for Datacenter proxies are available for individual and registered companies.
We got a great deal with Luminati for we consume a lot of proxies monthly.
We asked for multiple discounts exclusively for ourselves and our readers including an entire $250 credit! 
On your first month's payment towards Luminati's rotating residential network to get $250 Discount!
Use the link from our website, When registered, An account manager will be assigned to you, Easily forward this review page to your account manager, They will add $250 for you, Take note a user can only use it once!
Their Residential proxy network has no limitations, the website will never detect that you are using a proxy, you will have access to over 72 million IPs but it's a monthly commitment plan. Datacenter IPs are static, much more easily detectable when compared with that it is a proxy, but cheap. Here let me show the proxy detail of their residential IPs Proxies and Datacenter IPs Proxies.
You may be like to read, Compare Datacenter IPs and Residential IPs
If our proxies do not suit your needs, let us know within 7 days of ordering and expect to receive a full refund".
---
Luminati Residential Proxy Networks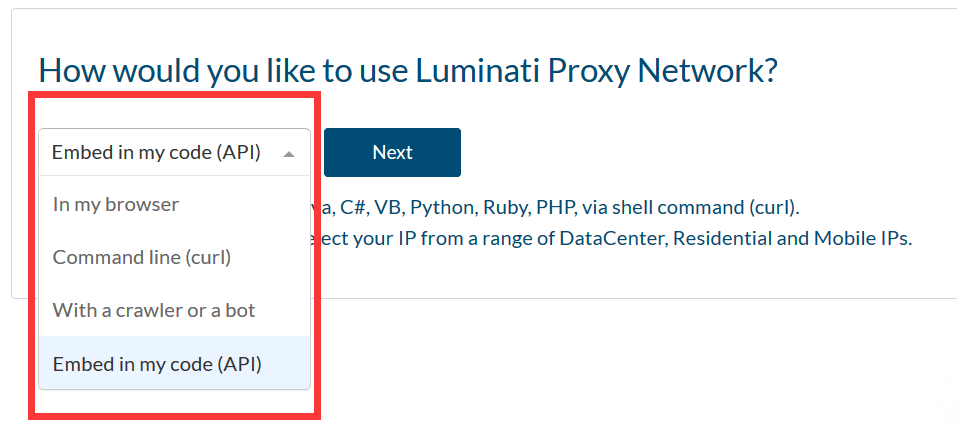 The Luminati proxy network can be used in almost all countries and cities in the world as it has a very high Geo distribution. Luminati works with a faster speed, which is faster than other proxy solution, as they are provided with load balancing servers, whenever a request is made.
How Luminati Residential IP Proxies wroks?
Residential Proxy Networks

The inbuilt rotation manager allows for customization of its IP rotation. The API offered by Luminati, can be used by many programming languages, Here is the video that let you know Residential Proxy Networks works by Luminati.io,
Where the residential IPs come from?



The answer is from their sister's service which named as Hola. Hola is one of the most popular free residential VPN services. Hola is almost like Tor as it can transfer traffic by acting as a proxy node for Luminati users.
Read More about "Difference between Luminati Proxy Network and Tor Network.
Hola has the most number of residential IP, about millions of them, which is more than other proxies. They cannot be deceived or blocked and Hola network provides a more personal service, through its IP's. Hola helps in providing nodes in millions that can reach all parts of the world.
The fall rate of Hola, according to the Luminati proxy review is much lesser than other proxies and hence preferred when compared to other proxies. This occurs because Hola uses residential IP's that is  complete a private network that cannot be identified easily, while the IP's used by other proxies are easily identifiable and can receive misleading data or information.
Price Plan of residential IPs

Note:  The price is the monthly price, One of the great things which I would like to share with you is, In fact, Their Cost of proxies can be consumed by GB.
For example, if you don't want to purchase a monthly payment plan, you only need to pay for the actual amount of GB used, which is $10.5/GB. It's very cost-effective and so on.


$250 Discount!
Pay $250 to get $500 credit! Exclusive offer for $250!
back to menu ↑
Guide to Use Residential IPs Proxies
You can easily configure your Residential IPs Proxies on their powerful client area, and you can request the Proxies via API, Luminati Proxy Manager, browsers and so on,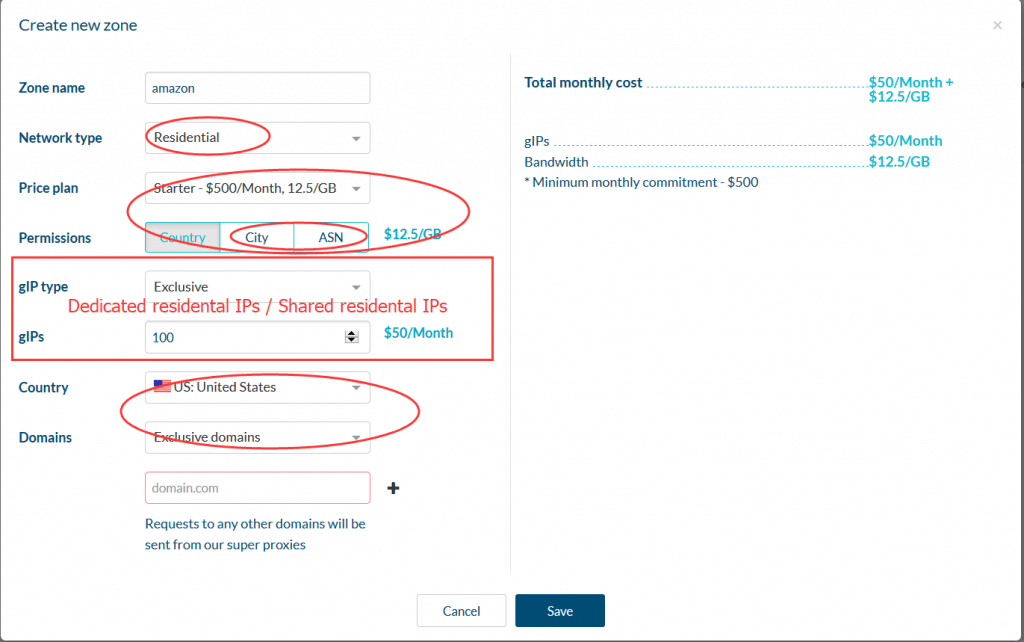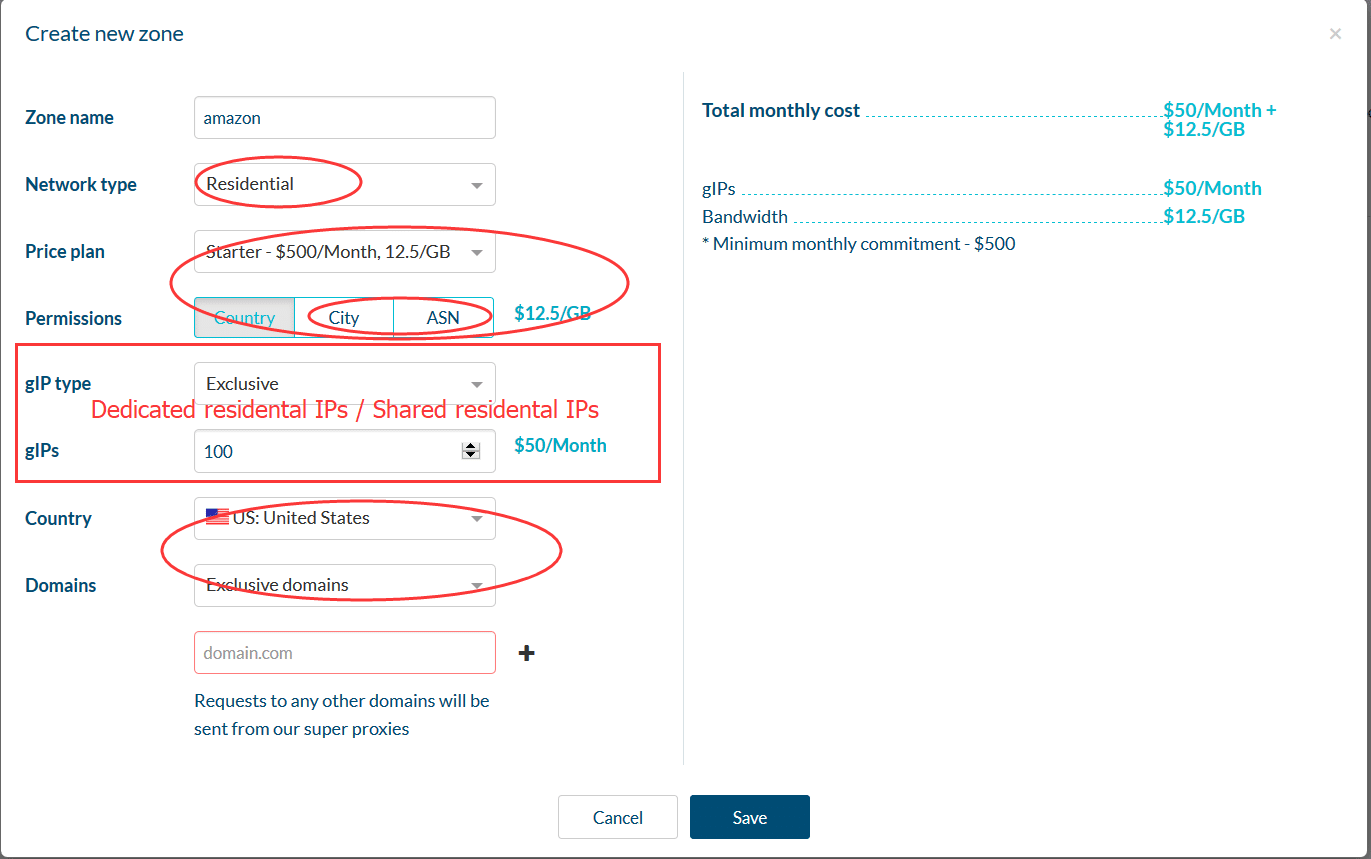 Luminati's API helps in providing a quick proxy solution that is the most cost-effective, convenient and quick and you can use their proxies via different codes.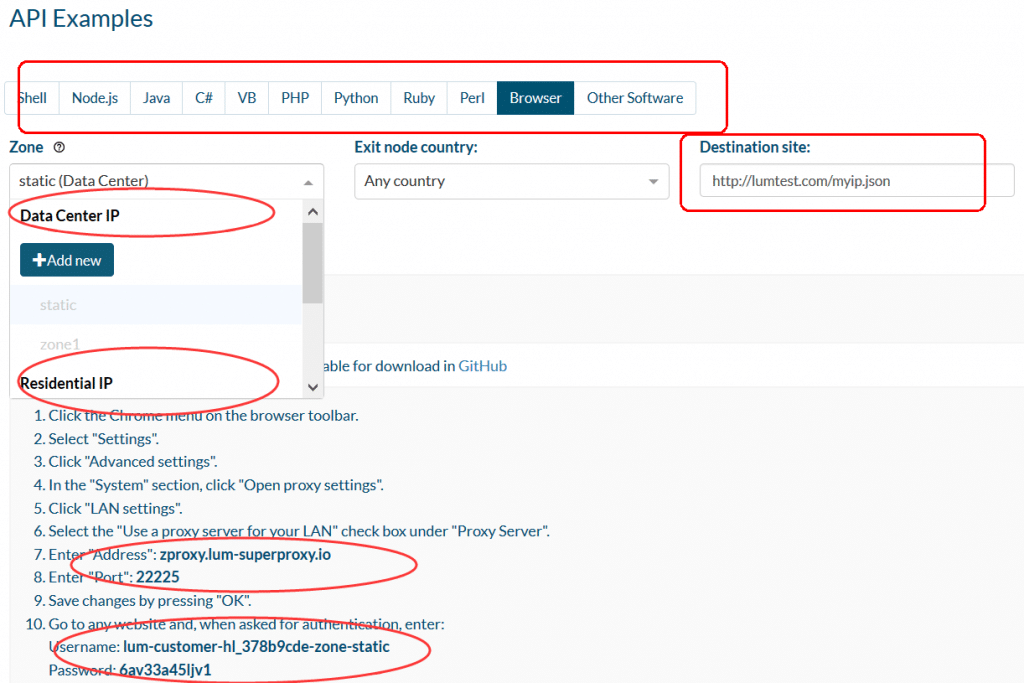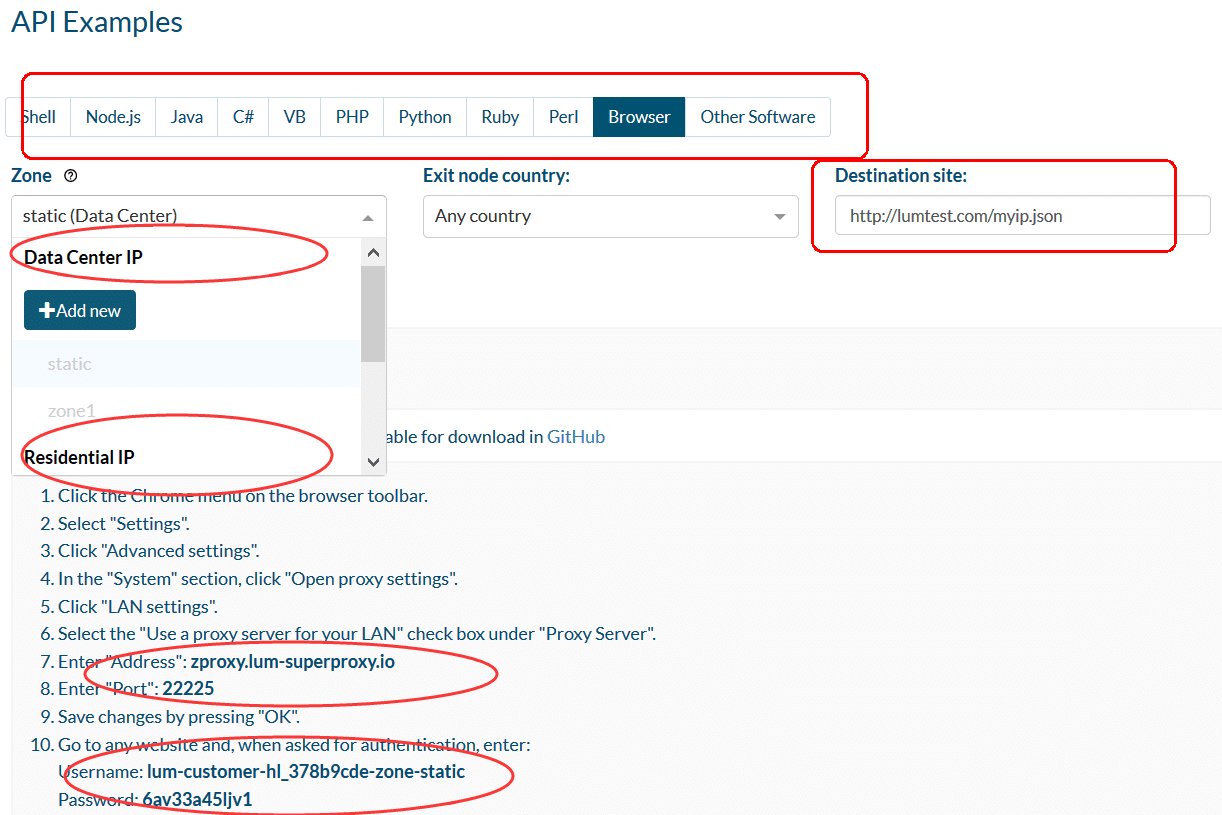 Proxy Manager, which is most advanced in this industry. It can be easily installed without any coding requirement. The hassle-free Luminati requires a minimum set up but comes with maximum performance. You just have to install it, choose the country, and commence with your browsing activities. It can be fully customized. There are special features such as custom headers and user agents. Luminati is great for multiple users, especially for businesses with multiple employees. They can use the same Luminati account. With the LPM you can also cut your proxy cost via Reduce bandwidth, such as,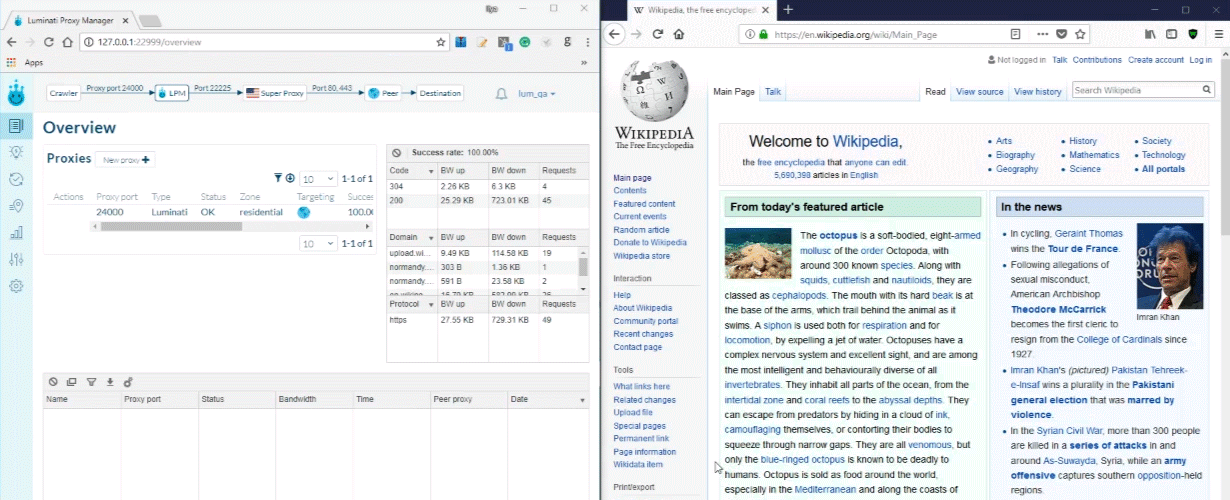 Chrome extension of Luminati, which you can use their residential IPs to browse online, which is really useful for some GEO content websites and you may use it for copping on some of the sneaker websites like Adidas which run HMAC to prevent you use the BOT.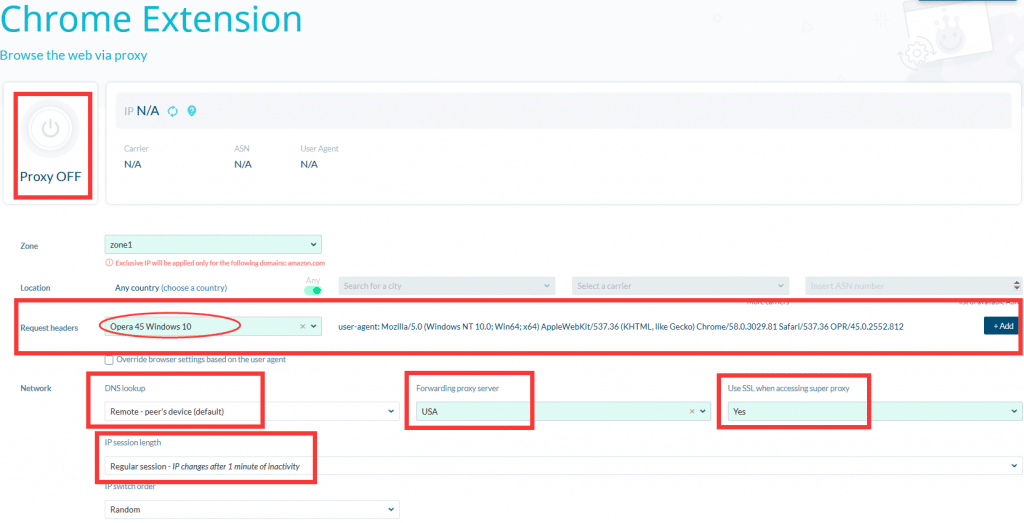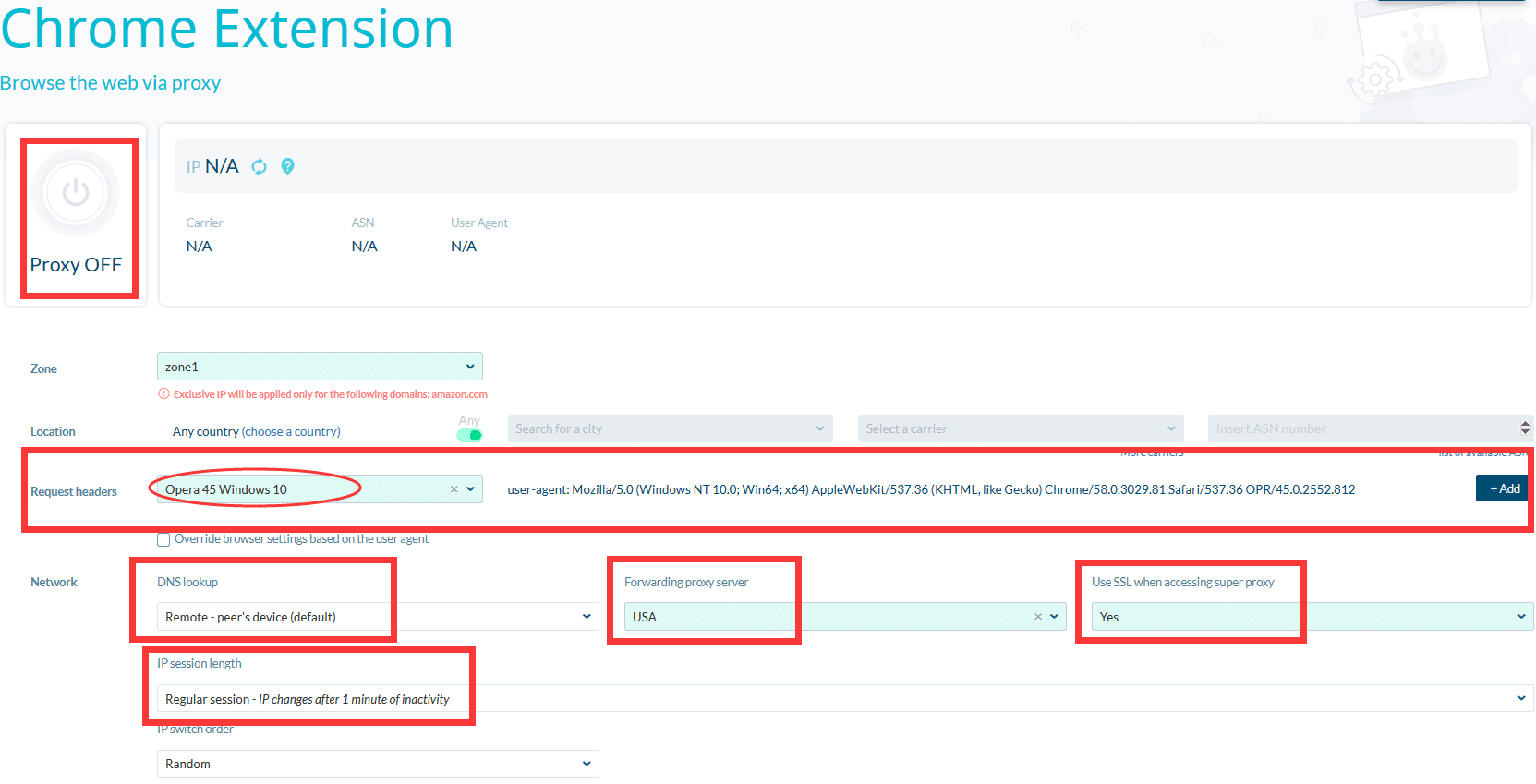 In General, Luminati's proxy gateway will be refreshed approximately every 60 seconds that means the IP of proxy changes every 1 minute.
Every new session is available. And you can also change the IPs when Every new session will automatically change the ip, and you can control it by defining the ip policy (under proxy settings) – in the max requests you can define the number of requests to perform from the same ip (as long as the ip is available). If you don't define it, than automatically the ip will be refreshed every ~60 sec.
Time to change is available. You can define this in your "session duration" settings (also under IP policy in Luminati Proxy Manager). You have 2 options here: 1) if you use "long single session" option in the Preset menu then the ip will be the same as long as its available on the other side 2) if you use "custom" option in the Preset then you can choose session duration in sec – as long as you wish, again, it will only work as long as the ip available on the other side.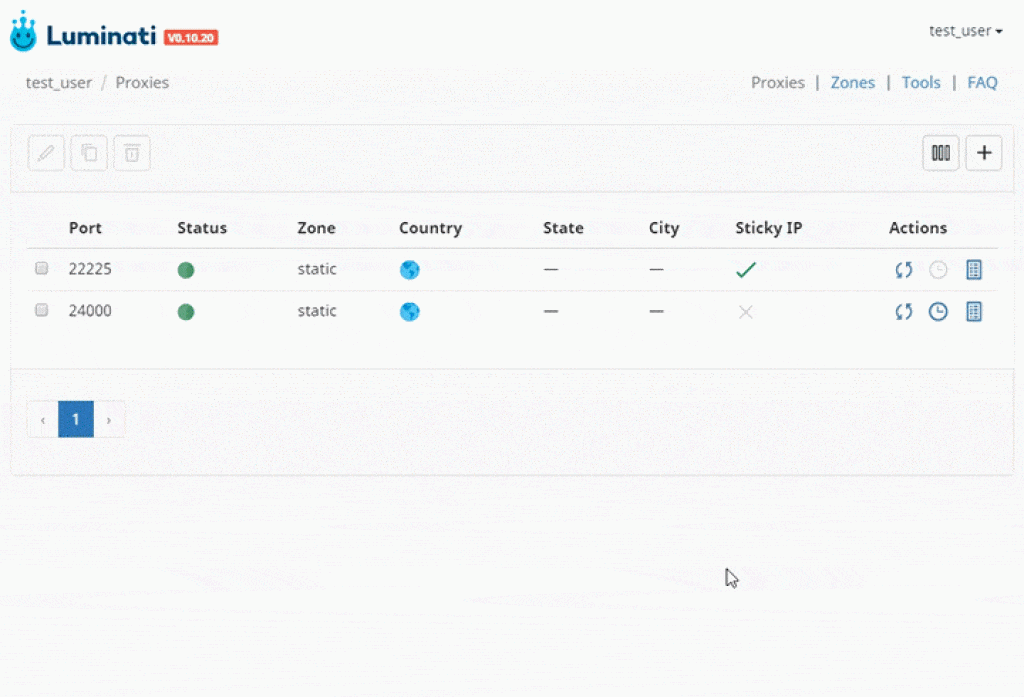 back to menu ↑
Datacenter IPs Proxies
Luminati not only offer the Residential IP Proxies but also provide the Datacenter IP Proxies, I test their  10 IP address "Unlimited domains" plan for IG and twitter solution which works very good at 1 month.
Price Plan of Datacenter IPs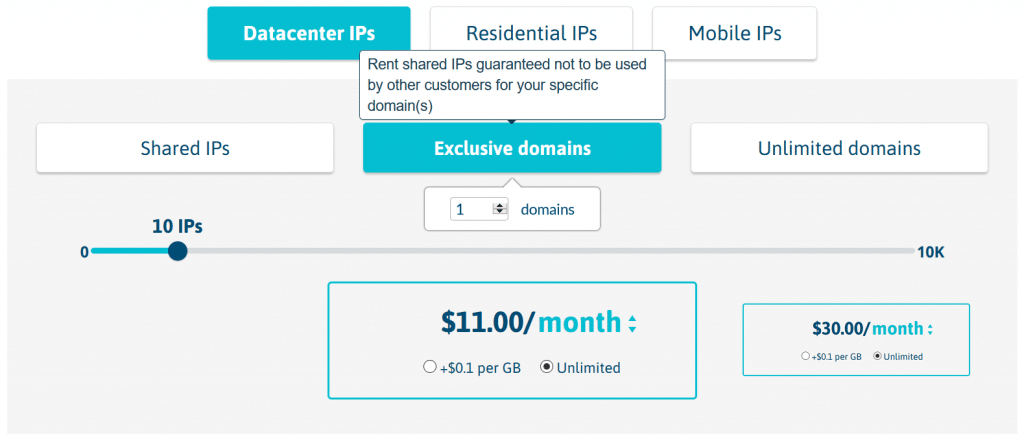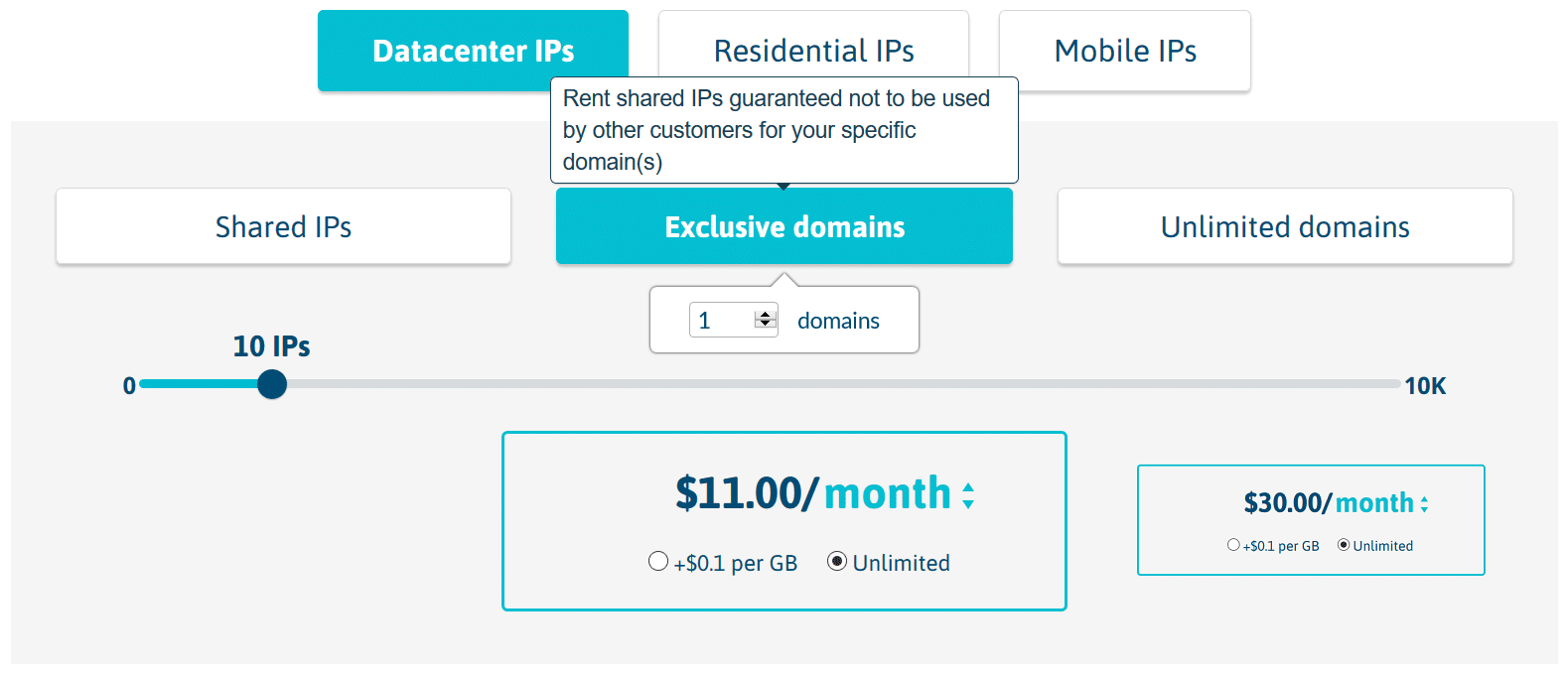 One of the most advantages is you can buy Datacenter proxies by days,
Plan of "Shared IPs" means your Datacenter IPs which share to their users.
Plan of "Exclusive domains" means your Datacenter IPs which use it for 1-3 fixed domain.
Plan of "Unlimited domains" means your Datacenter IPs which can use the it for all domain which same to others dedicated proxies.
And I suggest you use the  Plan of "Exclusive domains" or "Unlimited domains", if you want to use the proxies for special purpose, like copping shoes on foot sites, post ads on Craigslist…you can use "Exclusive domains"  which to save your cost.
Guide to Use Datacenter IP Proxies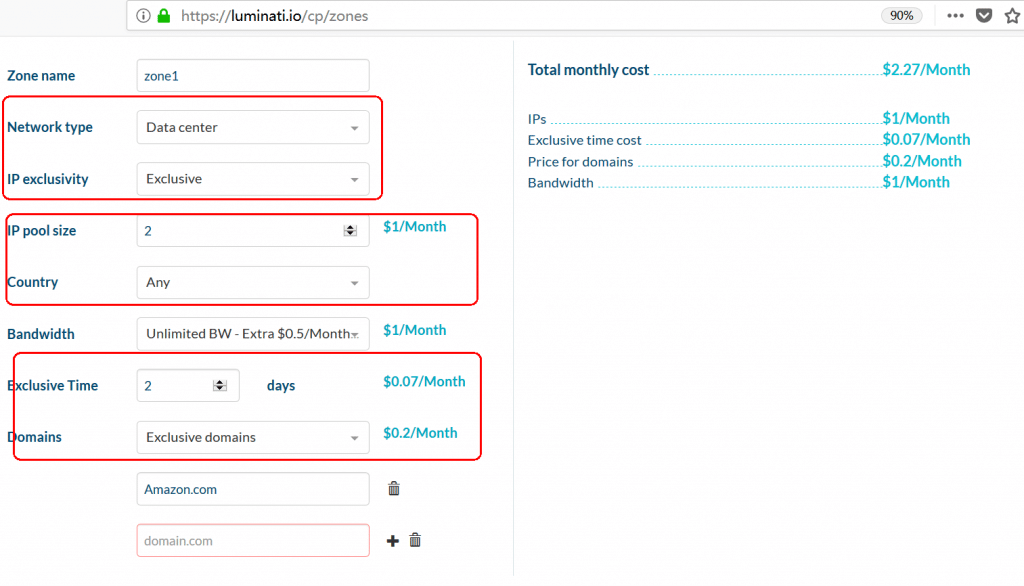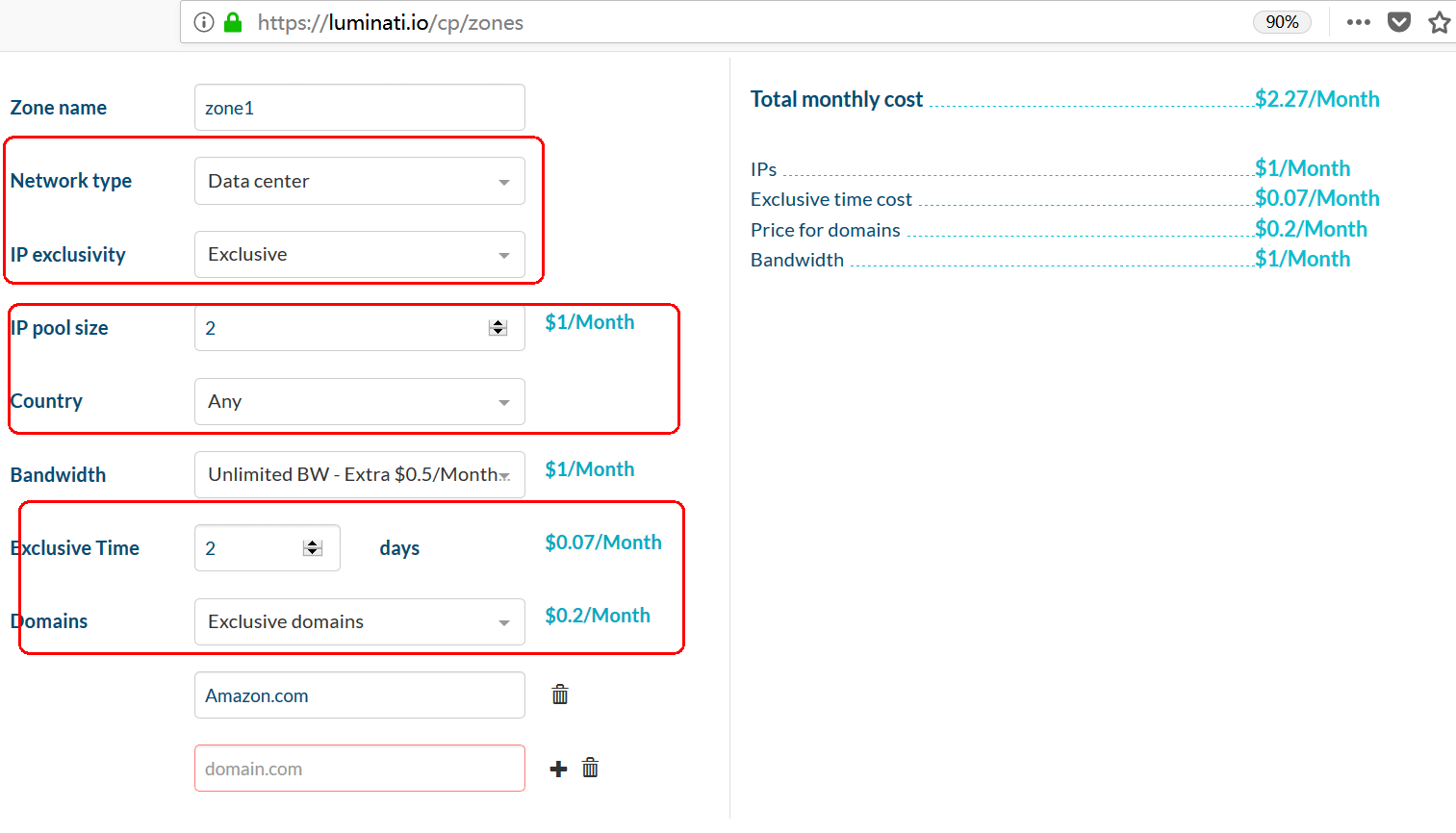 back to menu ↑
Mobile IP Proxies
Sorry, I never used their Mobile IPs which are also residential IPs, But the IPs route from 3G / 4G connection, not like cable and Wifi connection, So the Mobile IP address should more expensive.
The Mobile IPs are widely used by a lot of advertisers or GEO app developer to verify their Ads or APP display correctly based on different location based on the IP address.
back to menu ↑
Our Verdict
back to menu ↑
Luminati.io Highlights
Luminati provides the most reliable services that are the most reliable residential proxy networks to use.
Luminati works at a much faster speed than rotating proxies like stormproxies, as its rotation manager, which is inbuilt into it, is most efficient.
Their residential proxies support the socks5 protocol, you can find how to configure socks5 protocol on http://luminati.io/faq#proxy-socks
Luminati can be used to send any unlimited concurrent sessions. As it has a huge success rate, Luminati stands above other backconnect proxies.
Luminati's P2P network is the best choice when you need more IP addresses which are more cost-efficient than Tor. With many residential IPs, about 14 million, that are not identifiable and they can send all HTTP and HTTPS requests easily through its P2P network, to every city, across almost every country.
The Luminati helps to serve many business tasks such as partner's validation and verification, competitive B1, assurance checks, different compliance, etc.
It is especially useful for Ad-Tech players as it lays emphasis on environment simulations such as browsers, OS and devices, and Luminati offers mobile IPs to advance users!
The support team is very supportive and available 24 X 7 and I can easily get the support via skype.