DSL Rentals pride itself on being the largest provider of high-speed proxy servers with cable RDSL and mobile IPs. We do not want to take their "largest" and "high speed" words for it, so we had to put their proxy network into tests, and the result of our research and tests are presented in the form of a review.
Old Proxy Provider with Unique Twists
Unlimited bandwidth support
Secure private network fully anonymous
Good API support with IP switcher browser extension
Easy to use with user-friendly control panel
Multi-country support
---
DSL Rentals is a proxy provider with support for datacenter, residential, and mobile proxies. This proxy provider has been around for over 8 years now, and as such, there is no denying that they are legit.
However, they are not as popular as they should, considering the duration they have been in the market. With DSL Rentals, you can unblock access to websites and web services and remain truly anonymous. DSL Rentals also make it possible for users of their plans to enjoy unlimited IPs and bandwidth.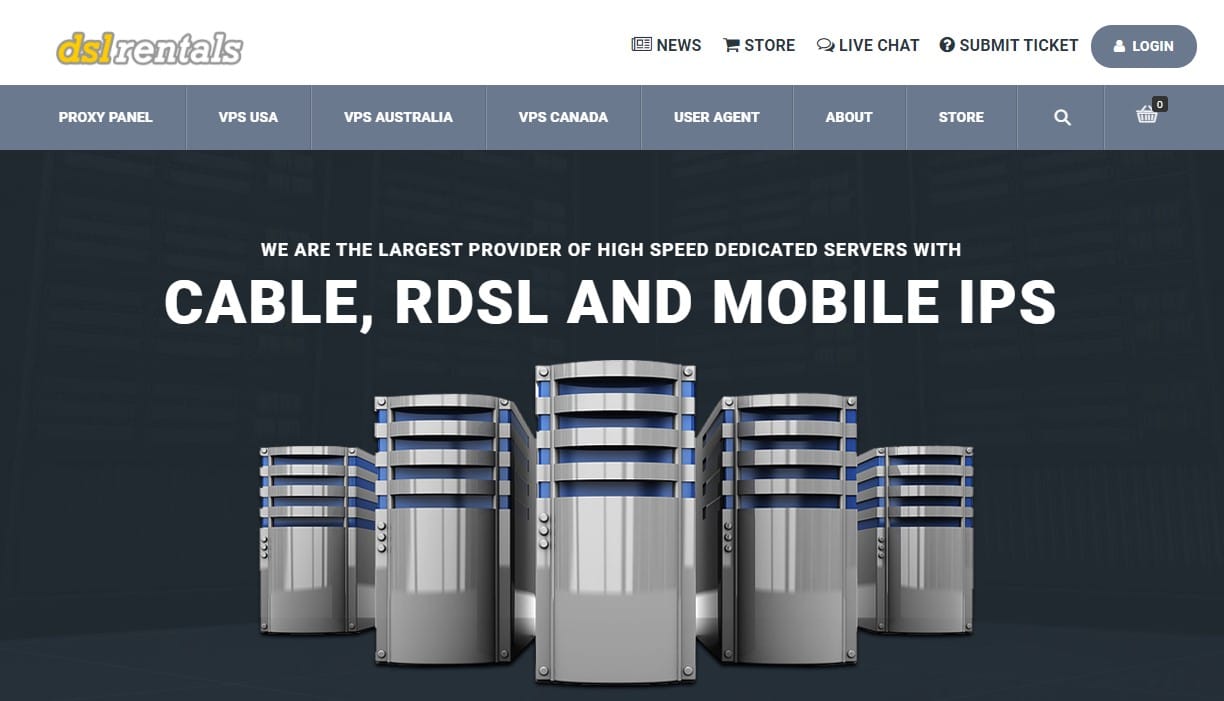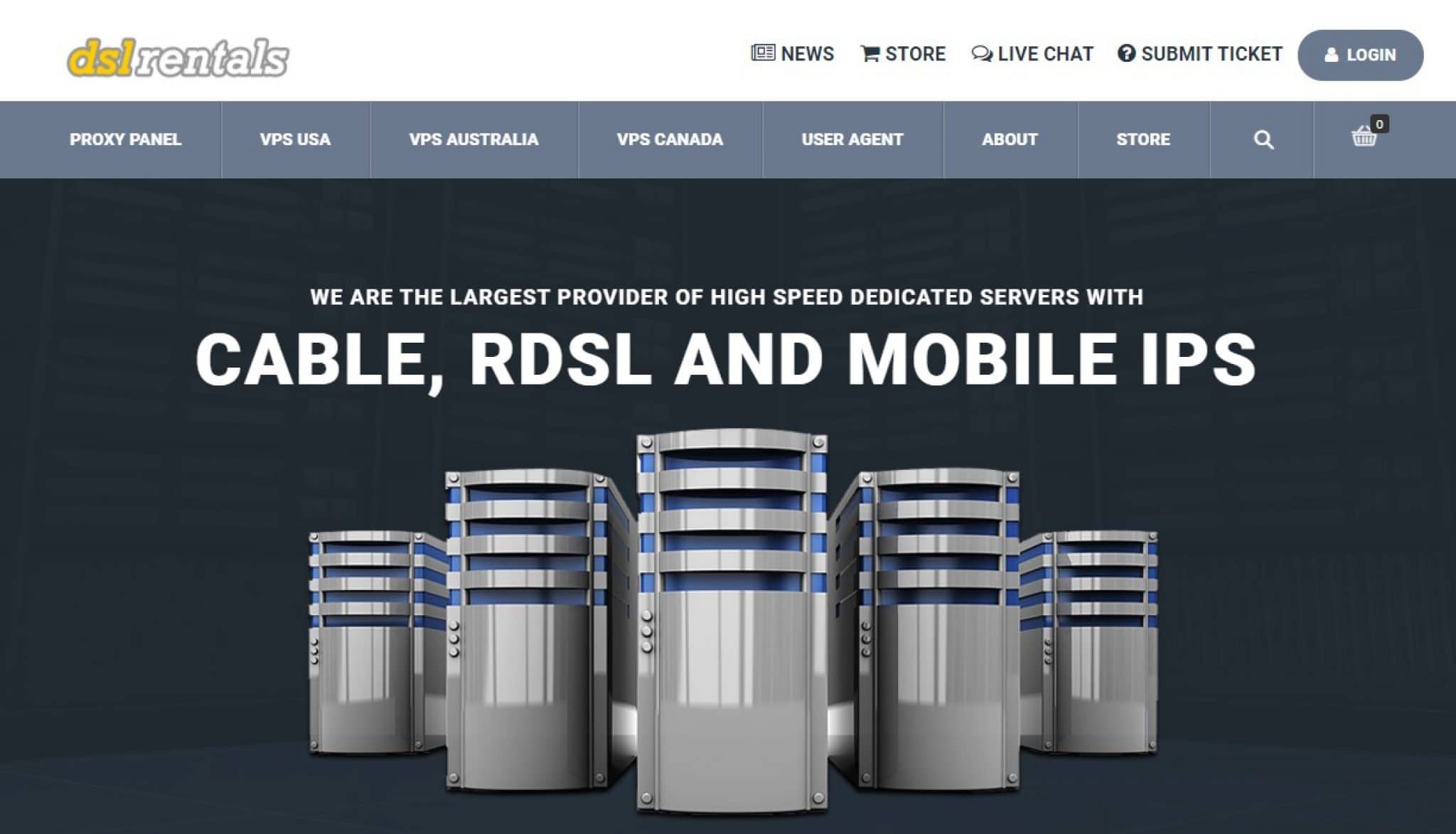 But the above is not all. DSL Rentals has a sizable number of IPs in its pool (350k IPs in the pool), has support for about 21 locations, with over 350 servers. They have served over 15000 clients in their 8 years of service.
Their IPs are static IPs, but you can always change the IP address assigned to you with just a click of a button in the control panel. DSL Rentals is not all rose without a thorn. As you will discover later in the article, it has some downsides that might be a turn off to you depending on your project requirements.
Is DSL Rentals worth it? That's what we'll discuss in this review.


15% OFF
Get 15% Discount: put promo code "PRIVATEPROXYREVIEWS" to check out!
---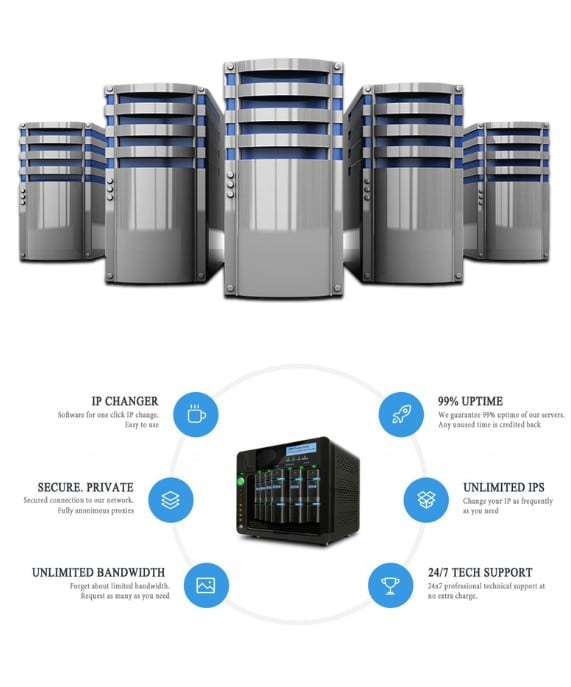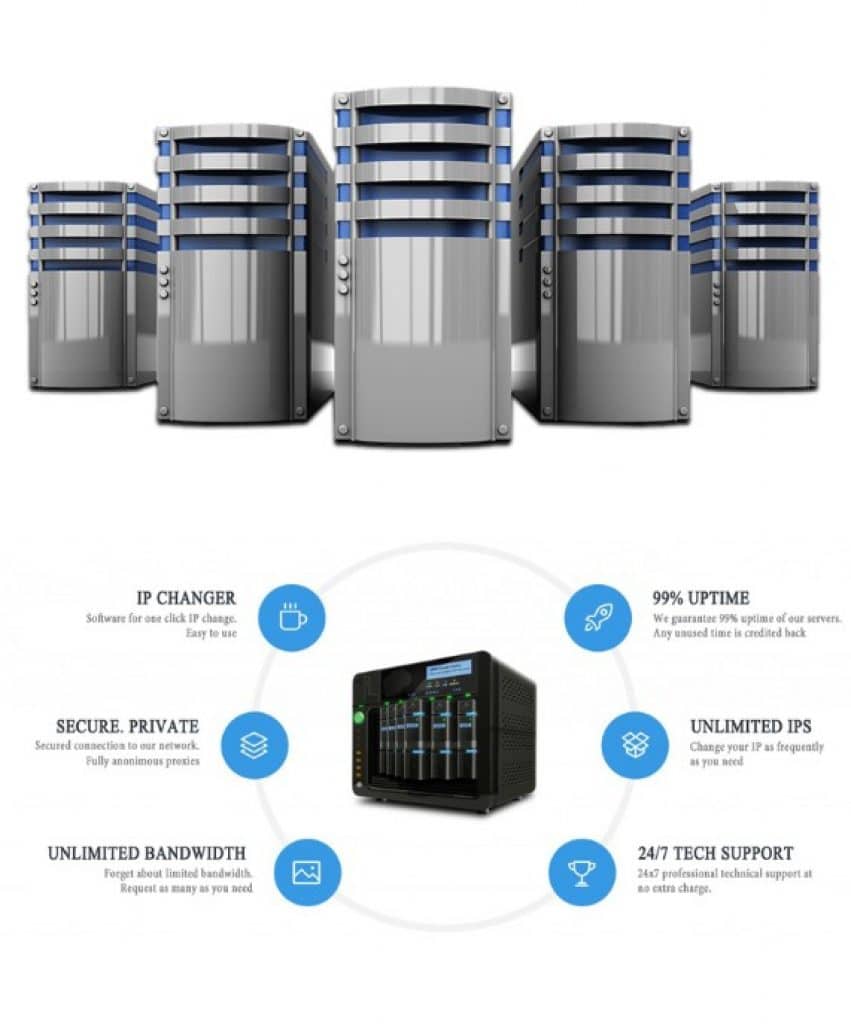 ---
The DSL Rental Solution
DSL Rentals service can be used for a good number of use cases. However, customers of this service use them for 3 major use cases.
Search Engine Optimization (SEO)
If you want to do US targeted SEO, then DSL Rental is here for you. The have got high quality US residential, datacenter, and mobile proxies you can use. They are compatible with the popular SEO tools in the market.
Social Media Automation and Management
Social media automation is the process of automating your tasks on social media platforms by delegating tasks to bots. Take, for instance, on Twitter; you can use DSL Rental proxies together with a Twitter automation bot to automatically post tweets, follow and unfollow, as well as reply to comments and DMs. DSL Rentals is perfect for this as their IPs remain static for a while and not rotated frequently, except you want it to.
Unblock Websites and Services
If your IP address has been blocked by a website or service is geofenced and open only to users in the US, but you are outside of the US, then with the DSL Rental proxy network, you can unblock the site or service and have access to the resources you have interest in.


20% OFF
Get 20% Life-time discount: put promo code "privateproxyreviews" to check out!
---
back to menu ↑
How DSL Rental Proxies Work
Fundamentally, the DSL Rental proxy service work just like every other proxy service. When configured, requests from your browser or any other user-agent do not go to the intended server directly – it is first routed through the DSL Rental network, which then routes it to the website on your behalf through the appropriate IP. However, it has some uniqueness in the way it operates when compared to other providers. This will be discussed below.
When you pay for a subscription, you are given two IP and port pairs. One is for HTTPS, while the other is for SOCKS. This will be the endpoint you will use to connect to the service and not the IP address assigned to your requests. The endpoint has an IP address attached to it, and that is the IP address that will be attached to your request. It is not static, and you can also force it to change.
---
back to menu ↑
Pricing & Features
One of the things that makes DSL Rentals unique is its pricing. It is not priced based on the number of ports, nor is it priced based on bandwidth. It is priced based on duration, and you can enjoy unlimited bandwidth. If you opt-in for their professional plan, which is priced at $240 and has a 30 days validity, you can also enjoy an unlimited number of IPs available to you. Aside from their professional plan, DSL Rentals also has a starter plan that is sold for $65 with a one-week validity and a biweekly plan known as the advanced plan.



Aside from the major pricing plans above, it also has support for a daily plan and also a yearly plan at a price of $1999, perfect for long term users. Looking at the package flexibility and prices, you will agree with me that they are affordable even though they are not one of the cheapest but at best described as moderately priced.
Features of DSL Rentals
DSL Rentals has a pool of 350K IP addresses. Their pool. The DSL Rental proxy pool is mixed as it contains datacenter, residential, and mobile IP addresses. Regardless of the plan you subscribe to, you are allowed to enjoy unlimited bandwidth. Subscribing to their professional plan gives you unrestricted access to the whole pool.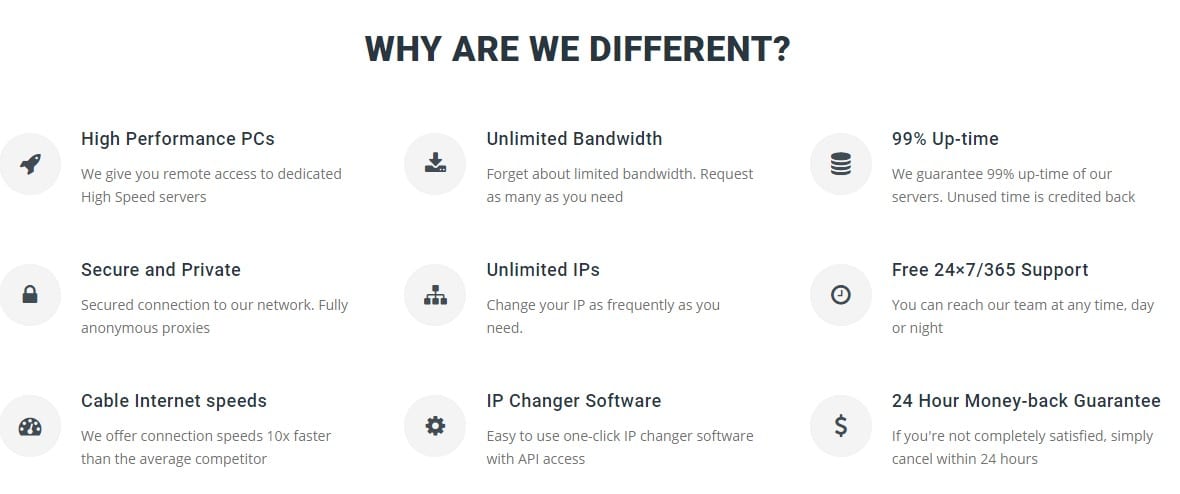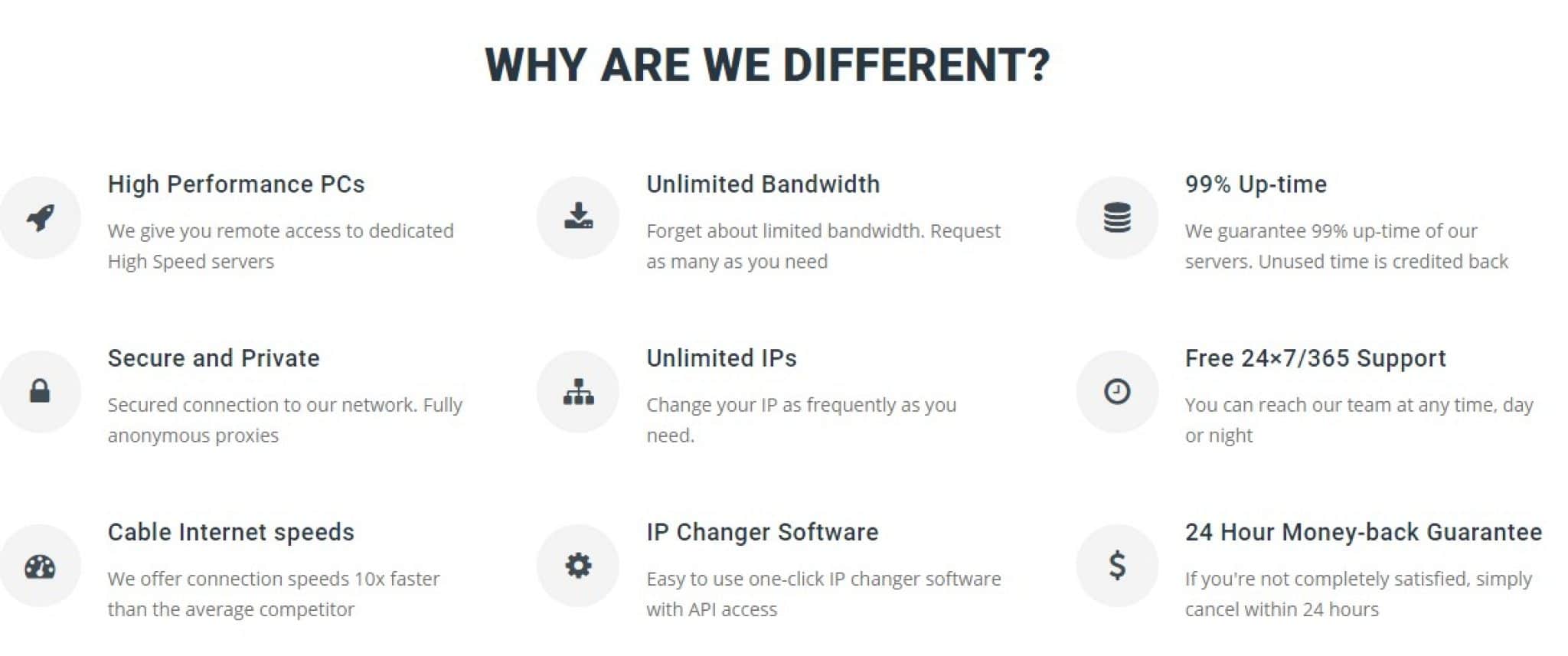 The DSL Rental proxy network has been designed to be secure, private, and protected. With their service, you can remain truly anonymous while carrying out your tasks online.
DSL Rentals has support for changing IP addresses. However, unlike other proxy services that have support for high rotating proxies, their proxies change after a while, or you will have to effect change from the admin panel. You can also do that automatedly using their API.
API support for retrieving proxies perfect for developers that want to integrate the service with their software.
Reliable proxy network with a 99 percent uptime to put failure at the barest minimum.
---
back to menu ↑
How to Use DSL Rental Proxies
The DSL Rental website is easy to use. Unlike other web services that require a username and password pair to log in, the DSL Rentals dashboard is accessed using a license key known as One-Key. To obtain your own One-Key, visit the DSL Rental Panel page and look out for the "Buy new key" section on the right-hand side of the page. Below is a screenshot of a clipped section of the page.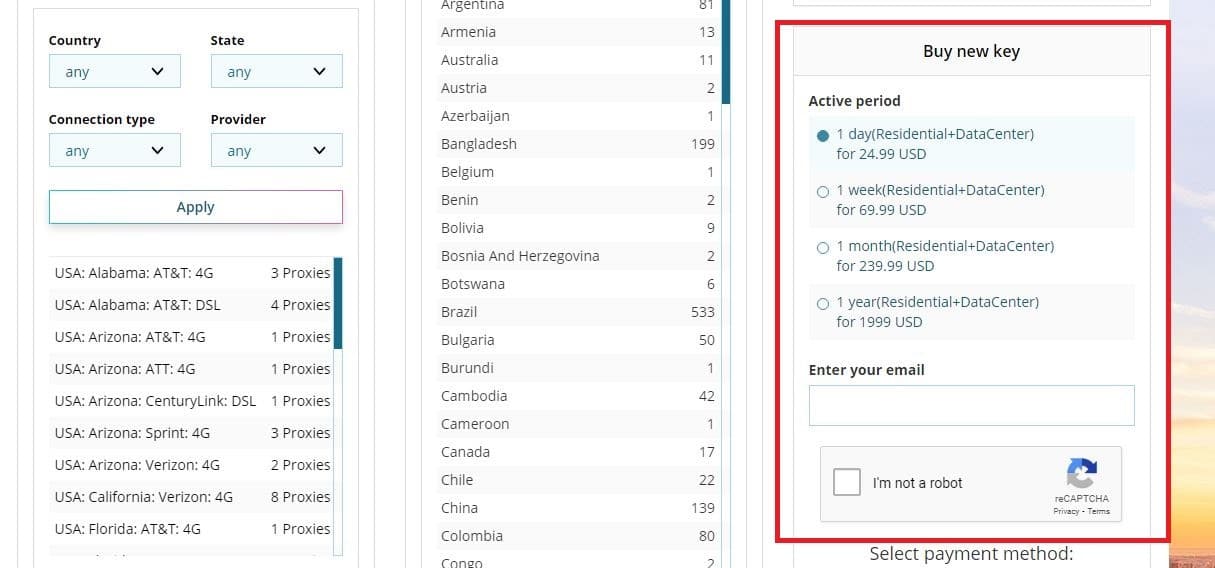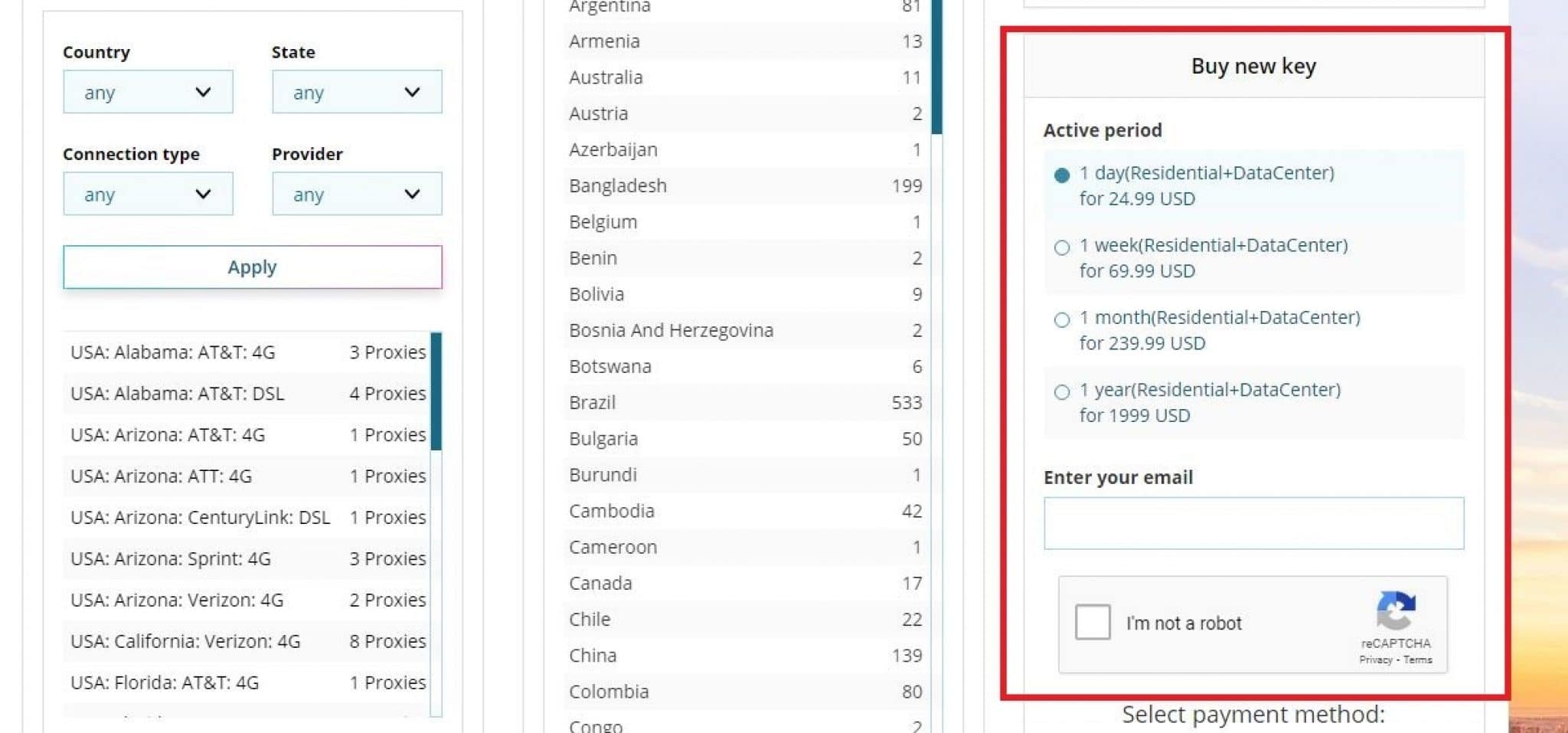 After selecting the active period, enter your email, solve Captcha, and then proceed to payment. After you have successfully made the payment, you should receive your license key (One-Key). Go back to the same DSL Rental Panel Page and use the one key to log in.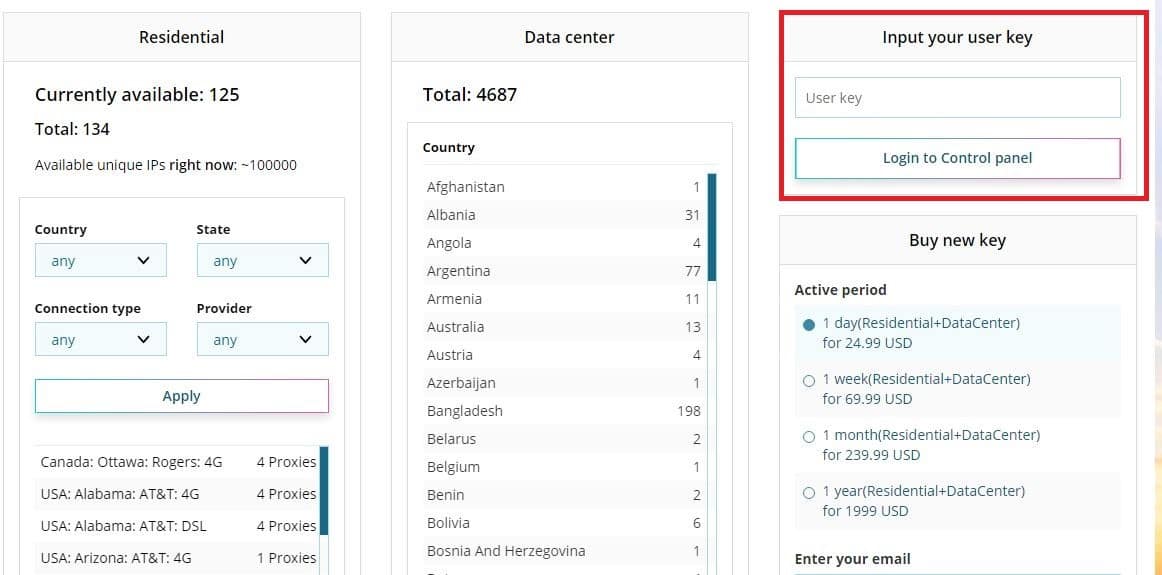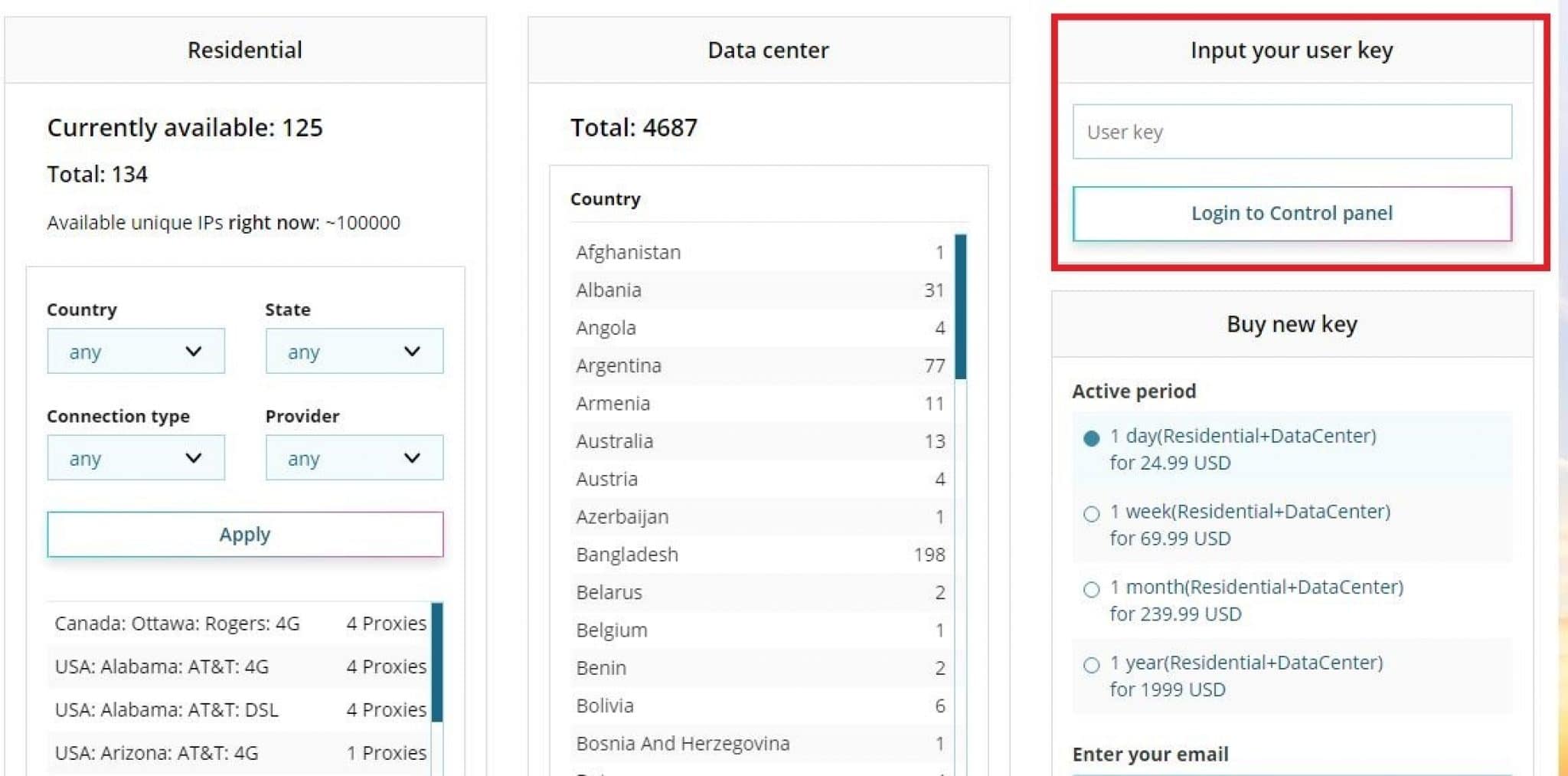 If you enter the correct key, you will be taken to the control panel. The control page looks like the screenshot displayed below.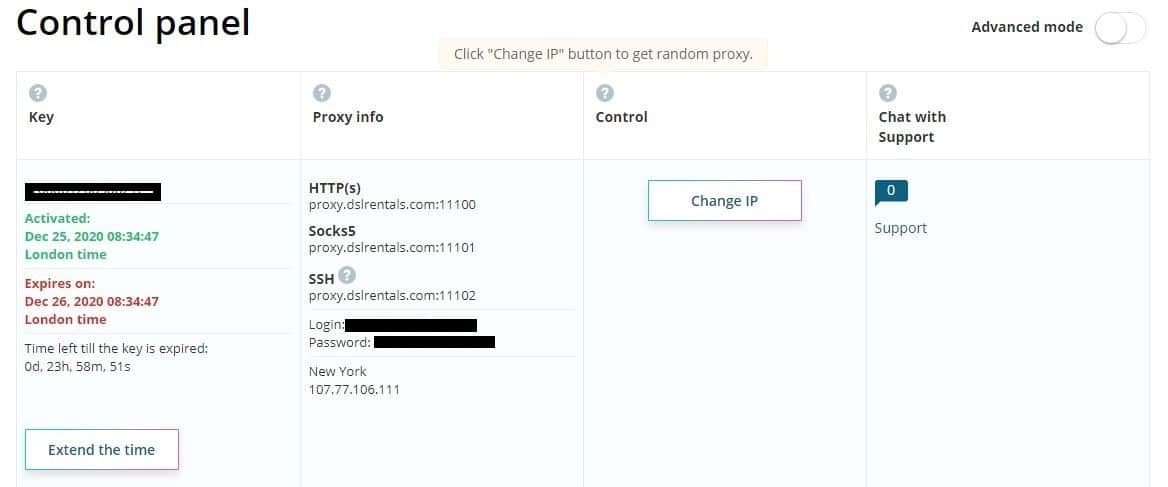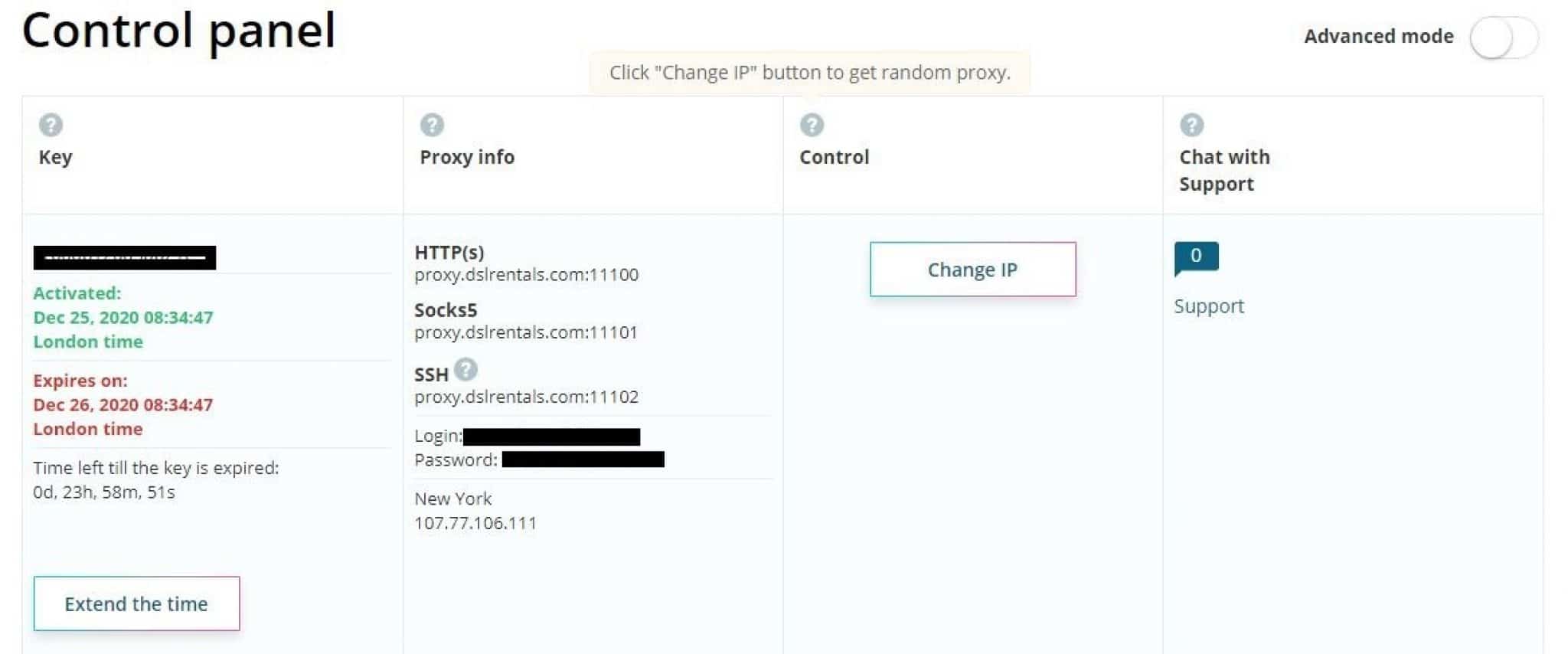 Looking at the above, you can see that the control panel is very simple. The key section tells you the validity period of your key. The proxy info section holds the detail of the proxies, while the control section is for changing IP assigned to you in the proxy section. Now, to use the proxy, copy either the HTTP(S) or Socks5 IP and port pair depending on whether you want an HTTP proxy or Socks5. In the above, the HTTPS IP and port are – proxy.dslrentals.com:11100. Also, copy the login and password pair as you will be using it for authentication. The last detail under the proxy info (New York 107.77.106.111) is the IP address assigned to my requests. To change it, click the "Change IP" button under the control section.
Head over to the browser or the tool you want to use it for and set it up according to the guide provided by the browser or software. Every browser and tool that supports the use of proxies has its own setup steps, and you can check that on Google.
Authentication
DSL Rental proxies are private proxies only open to those that paid for them. For this reason, you will need to authenticate in other to make use of it.
DSL Rentals has support for only username and password authentication – no support for IP authentication. All you need to do is copy the login and password from the control panel and use it when authentication is required. In browsers, you get a pop up when you try using it for the first time.
---
back to menu ↑
Our DSL Rentals Speed Test
Every proxy service prides its proxies at high speed. We do not want to take this without finding out the truth, and we did that by doing the testing on our own. To test for the speed, we need a benchmark, and my own internet speed is the benchmark. I must confess, I am currently in a location in Africa with a poor internet connection. I tested my internet speed using the Speedtest tool and got the below result.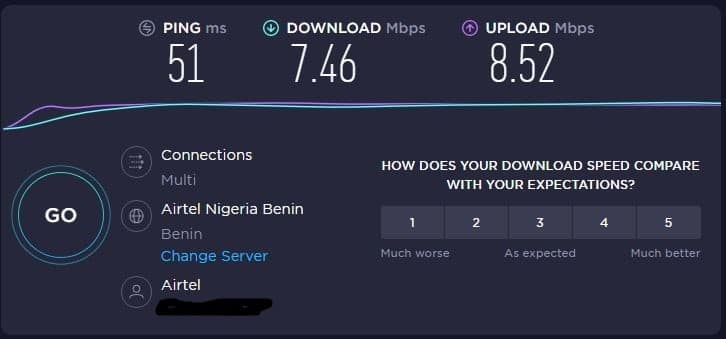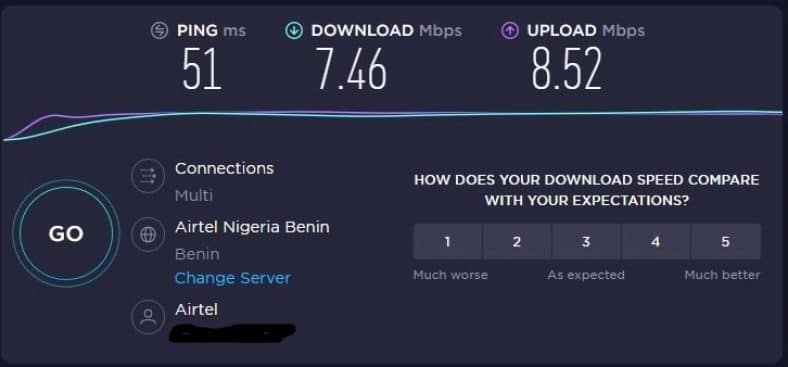 The above is terrible and poor when compared to what is obtainable in the US and other regions in Europe and Asia. Nevertheless, it is our benchmark. How do DSL Rentals measure up to this? I ran the same test using the same speed testing tool and got the below.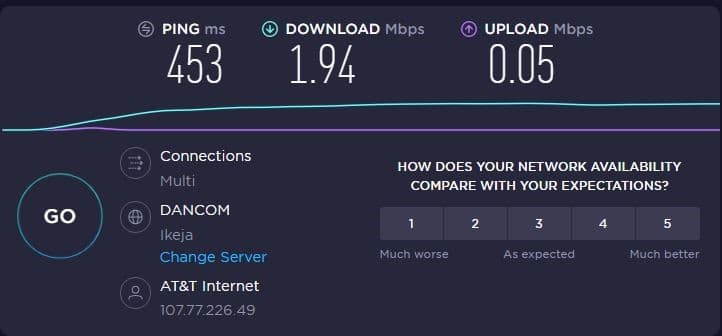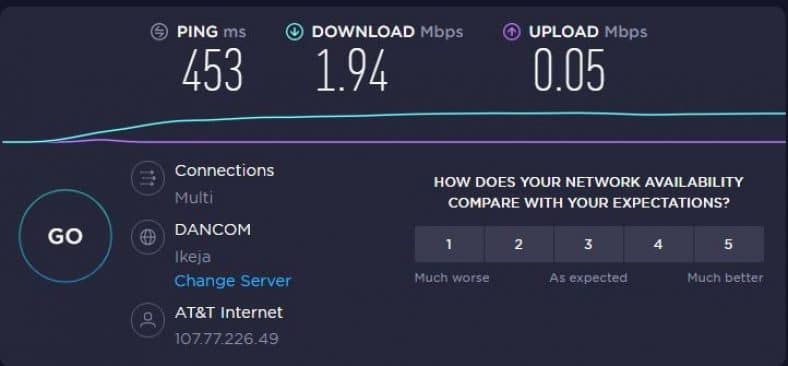 As you can see from the above, the speed is not as fast as they claim. However, the speed is decent as I was able to use it to browse using Google Chrome. While you might want to put the blame on my already poor Internet connection, I want you to compare the two and be the judge. But nevertheless, the speed is not that bad – it is usable but certainly not one of the fastest out there.
ISP Testing – Residential or Not?
What does web services think about their proxies? If the IP addresses can be pinpointed as coming from a server, then you will have a hard time using them on websites with strict anti-spam systems. Also, do they really have residential and mobile proxies or its all a marketing campaign? We tried out one of their IP using the ipinfo.io tool and got the below result.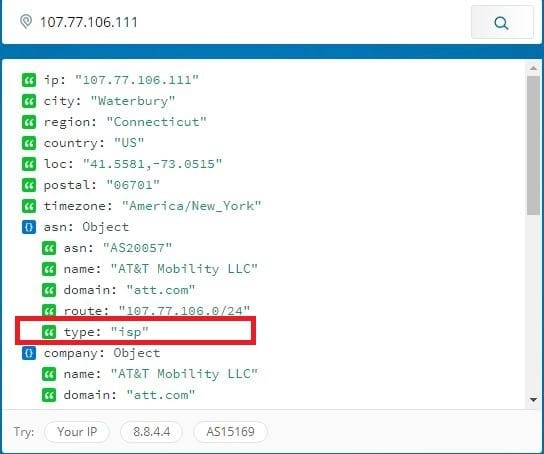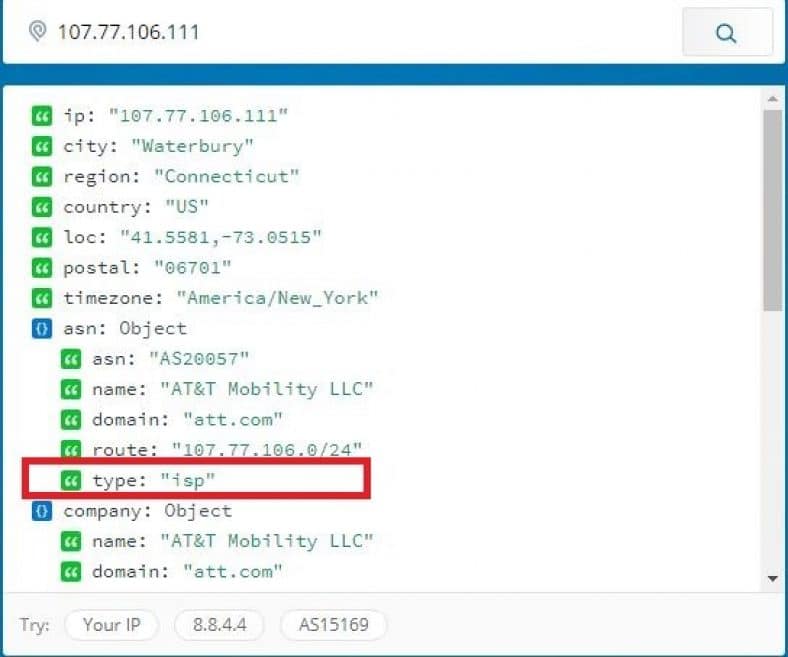 As you can see from the above, the IP address type is isp, which is an acronym for Internet Service Provider (ISP). And looking at the other details, we can deduce that the IP type is mobile.
---
back to menu ↑
Our verdict
Just like every other proxy service providers in the market, DSL Rentals has its strengths and weaknesses. However, the strength overpowers the weaknesses, and as such, they are a provider you can use. But wait, if you had read the full review, you should know that they are used mostly for SEO, social media automation, and accessing blocked websites and services.
Worth to Try with Datacenter, Residential, and Mobile Proxies
Add your review