---
The Geonode proxy service is a residential proxy service that offers users both unlimited bandwidth usage and access to use all of the IPs in their pool without any limitation except for the number f threads you can create concurrently – which serves as the basis for its pricing.
The proxies this service offers are rotating proxies with the IPs sourced from Peer-to-Peer (P2P) networks that have members from over 140 countries. The service has been designed to be developer-friendly as it offers a developer API and an easy to understand documentation.


Aside from their rotating proxies, they have got sticky ports that will allow you to maintain the same IP for as long as one hour – 5, 10, 15, and 30 minutes supported. They have got a code generator that makes it easy for developers to use their proxies in their custom applications.
The uptime is quite excellent, and the speed, for now, is quite acceptable. With all of these, you will be tempted that it is the\ideal proxy provider. However, you need to know that it is still in the beta phase, and there is a lot of room for improvement, and there are areas they flop – and you will discover some of these as you read through the review.
"Is Geonode worth it? Let's dig deeper and discuss it further"
---
---
The Geonode Solution
Geonode proxies have been engineered to be undetectable and fit for a good number of tasks. There are a good number of tasks you can use the proxies for without experiencing any problem. Let take a look at some of the use cases of Geonode.
Web Data Extraction :
Web data extraction is another word for web scraping. And if you look at the Geonode homepage, you will notice that it has many tasks as it uses cases such as SEO monitoring, price comparison, stock market data extraction, and travel fare aggregation – all of these are a form of web scraping, and you can use Geonode rotating ports for that.
Account Management :
As stated earlier, Geonode has support for sticky ports that would help you maintain IP and session for a period of time for up to 1 hour. With their sticky IPs, you can manage your accounts on social media platforms without any form of suspicion that could put your accounts under scrutiny.
Anonymous Surfing of the Web :
Geonode proxies are high anonymous proxies that do not only hide the fact that they are proxies but also make sure your real IP address is not leaked online. This has made it useful for those that want to access the Internet anonymously with their IP address mask. This can be used in the case of brand protection if you do not want your real IP footprint littering the Internet.
Other Use Cases :
The above two use cases are just a few of the use cases you can put Geonode unlimited residential proxies into. There are many more, including general market research, website testing, unblocking websites, and even ads verification, among others. Generally, it can be said that Geonode proxies are undetectable, which has made them useful for a good number of use cases.
---
back to menu ↑
How Geonode Works
For most users, they do not even need to know how proxies work before they could use them. However, it does not hurt but is actually beneficial for you to know how they work. For Geonode proxies, the proxies are just like regular residential proxies.
They have been designed in such a way that they mask your real IP address with a different IP address, making it impossible for web services you access to see your real IP address – and as such, making their IP-based tracking less effective at tracking and blocking request coming from your computer. But how does this work in practice?
Geonode gives you a proxy address and port, as well as a username and password for authentication. You will need to use these details gotten from the Geonode user dashboard as your proxy details for proxy configuration in your client application (browser, bot, or any other client app).
With the proxy configured, your web requests do not go to intended websites. Instead, they go to the Geonode proxy server, which then looks into its pool for available IP to route the request through to the intended website. By doing this, the intended website did not get the request from your device but from the proxy server, and as such, your IP address is not seen.
---
back to menu ↑
Pricing and Features
Pricing is an important factor that decides whether an intending customer would end up becoming an actual customer or just a window shopper. In terms of pricing, it can be said that that is the aspect that Geonode sets itself apart from other providers.
If you look at its homepage, you will see the comparison of its pricing with that of other premium providers. One thing you do need to know is that it is different from most providers in terms of pricing. While the pricing of some is based on bandwidth but limited IP, some allow you access to their full IP list but cap bandwidth. In the case of Geonode, it allows you to enjoy both unlimited bandwidth usage and allow you access to the whole IPs in the pool.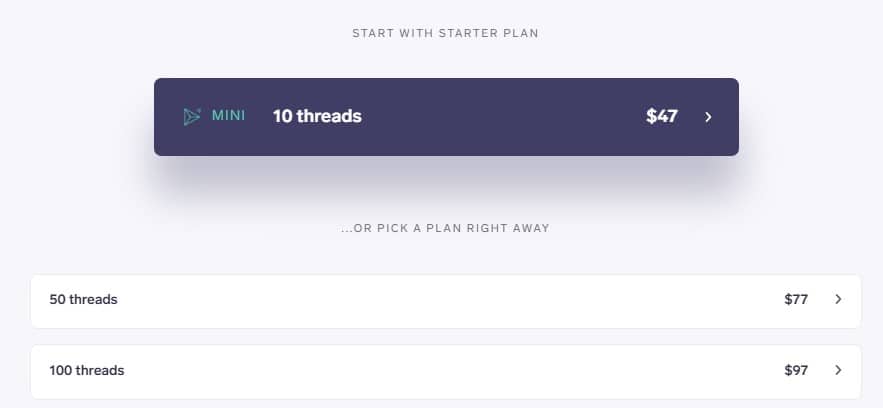 Geonode proxy service pricing is based on the number of threads with the smallest plan selling for $47 and providing you 10 threads. While the price is low, this can affect performance when you are accessing a site that loads many external resources such as CSS files, images, JS files, and more.
This is because 10 threads might not be enough. If you need more than 10 threads, you can subscribe to other plans, including 50 threads for $77, 100 threads for $97,and up to 20K threads for $8K. The validity of their proxies is one month. If you are a new user looking to try out their service, there is a trial plan – $7 for 7 days – not free to discourage spam and fraudulent people. They also have a refund policy that would help you get your money back.
Features of Genode
Large proxy pool with over 2 million IPs – and no limit to the number of IPs you can use
It has an excellent location coverage with over 140 countries supported. This makes it the perfect provider for accessing localized content and unblocking geofenced content.
Support for unlimited bandwidth making it good for tasks that consume lots of bandwidth.
It offers a code generator which generator template for developers to use when using their service.

Supports a good number of protocols, including HTTP, HTTPS, SOCKS4, SOCKS4A, and SOCKS5 protocols.
Supports both username and password authentication as well as IP authentication. Geonode allows you to whitelist up to 20 IP addresses to make it easy for authentication. After whitelisting an IP, give it at least 5 minutes to take effect.
Offers a developer API with an API key accessible from the user dashboard.
The dashboard is minimalistic, easy to use, and features extensive documentation.
---
back to menu ↑
How to Use Geonode Proxies
The Geonode residential proxy service is easy to use, and if you have used a proxy server before, then you already know how to use proxies from this provider.
The service is a paid tool, and as such, you will need to create an account and buy a subscription in other to make use of the service. After you have bought a package, go back to the website and log into the dashboard.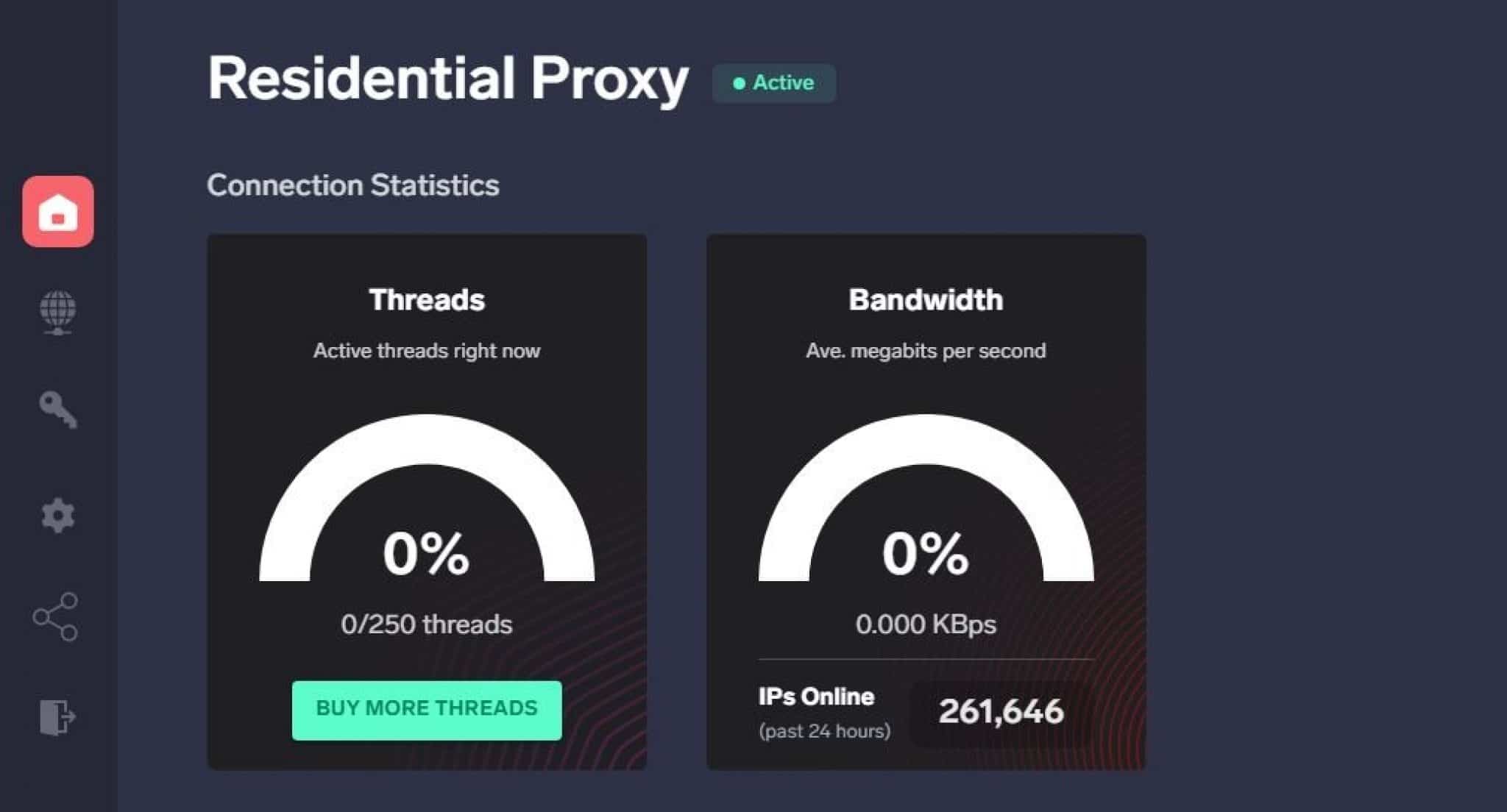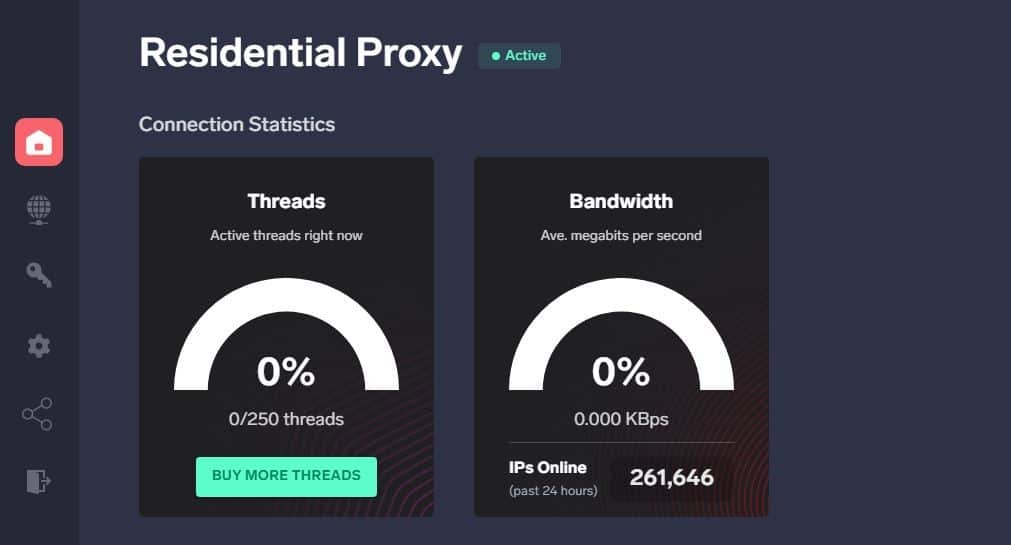 The screenshot above is the user dashboard of Geonode. It is quite intuitive. The second icon in the navigation menu is for the proxy gateways and endpoints.
The second is for whitelisting your IP address. Click on the second icon, and the page where you will get the username and password would be displayed.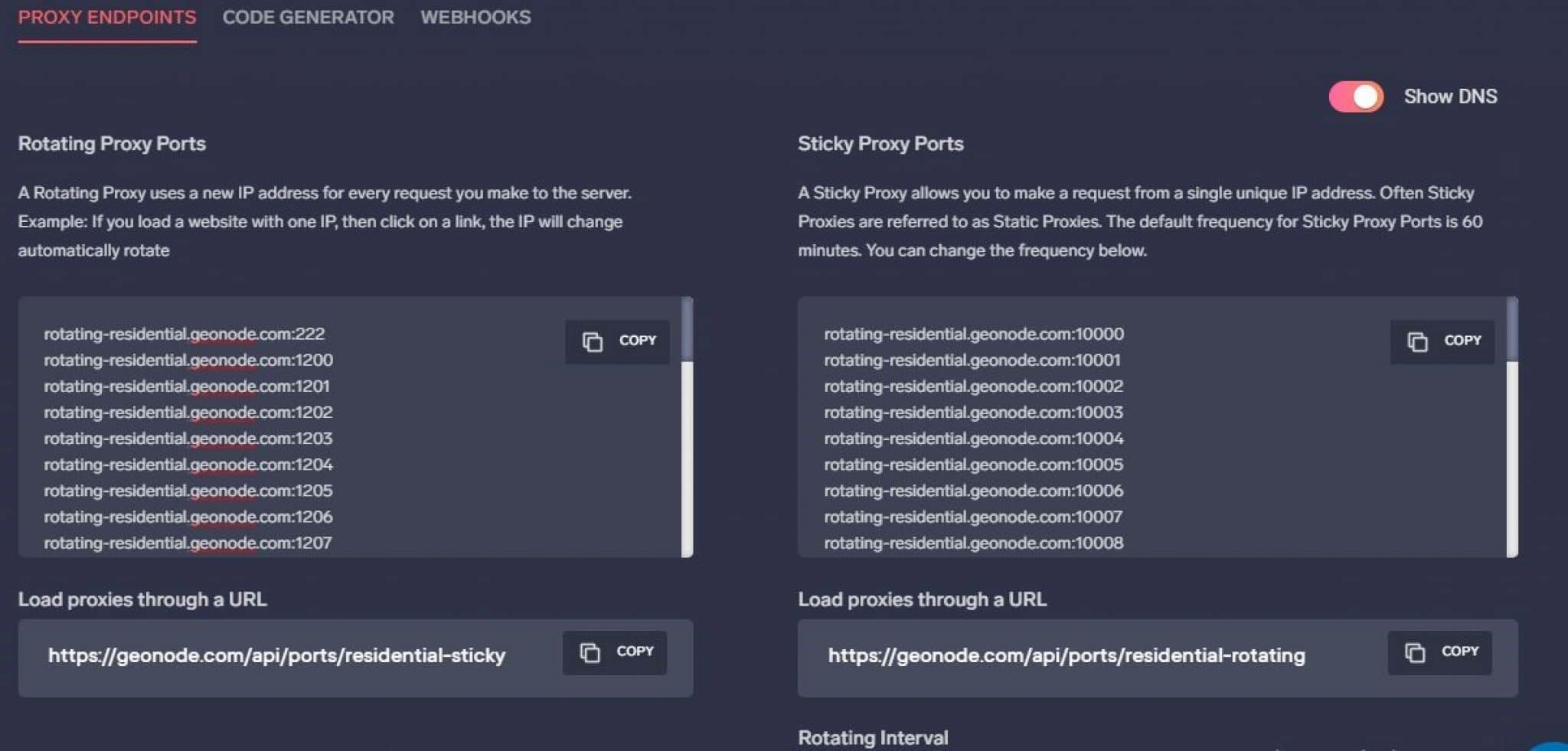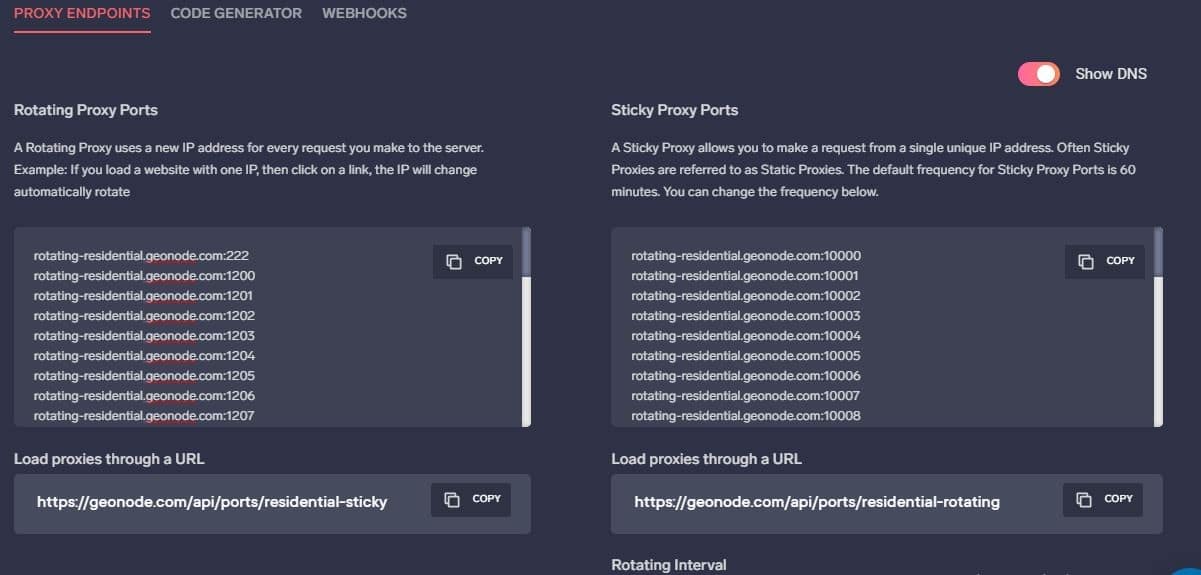 As you can see from the above, there are a bunch of proxy addresses and ports. On the left-hand side are the rotating ports, while the right-hand side is for the sticky ports. You can even see that you can load the proxy list via a URL. There is a bunch of other features on this page, including the rotation timer for the sticky ports. However, for this example, just pick one of the proxy addresses and ports pairs in the rotating section.
I choose rotating-residential.geonode.com:222. For the username and password for authentication, go to the "Code Generator" tab on the page.

From the above, you can copy your username and password. With the proxy address, port, username, and password, go to the client software you want to use the proxies with and set it up.
Authentication :
If you look at the setup guide above, you will see that we used username and password authentication. We did this since that is the most popular authentication method. Aside from this method, Geonode has support for the IP authentication system that enables you to whitelist your device's IP address and use the proxies on it without providing a username and password.Geonode allows you to whitelist up to 20 IP addresses.
Geo-Targeting :
From the proxy gateway page, you can select from the over 100 supported locations to use proxies from. The only type of geo-targeting supported by Geonode is country-level targeting. And currently, you can choose to use proxies from over 100 countries across the world.
---
back to menu ↑
Our Speed Test
As with our tradition of reviewing proxies, if we have not tested and presented the speed, then the review cannot be said to be a full review. We have tested Geonode residential proxy service speed and would present the result here.
To test the speed of their proxies, we need a benchmark to tell if their proxies are fast or not. We used our Internet speed without proxies as the benchmark. The tool we used for the speed test is the Speedtest by Ookla. Below is our Internet speed without using any proxy server.


Looking at the above, you can see that the speed is quite slow but acceptable depending on the part of the world you are in. Now let see the speed of their proxies below and compare.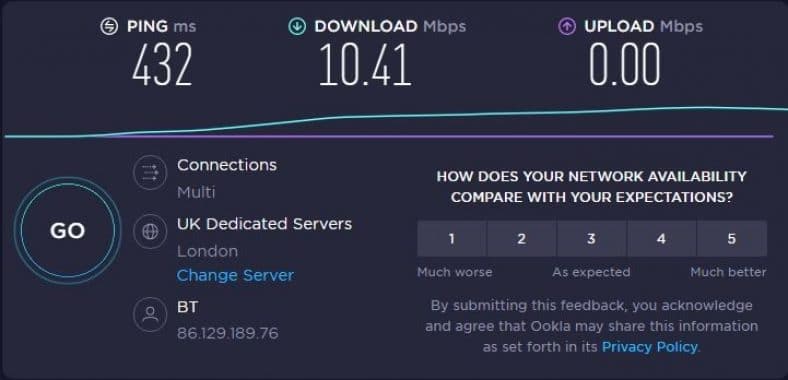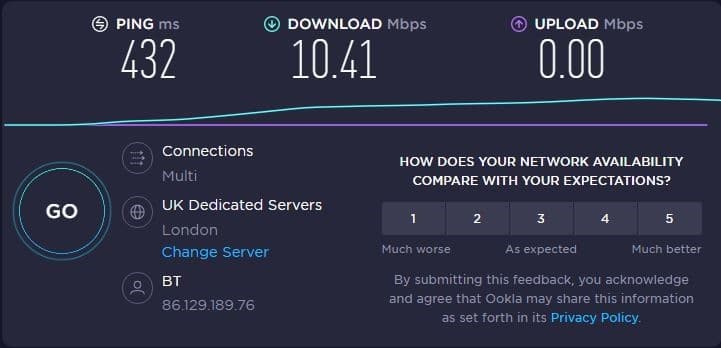 As you can see from the above, you will see that the proxies are quite fast considering the fact that the reduction is not much. However, if you notice the upload speed, you will see that it is at zero.
This is a quirk I am sure they are working on. This is not the first time we are testing their proxy speed. Remember, they are still in the beta stage. The first time we did, we could not even get values for the ping and download speed.
---
In this section of the review, we would be taking a look at whether their proxies are real residential proxies or they are just playing a marketing game. Simply put, some providers do that. While datacenter proxies are also useful, they are easily detected since the IPs they use are data center IPs, otherwise known as hosting IPs.
We would be using the IPinfo.io tool to check if their IPs are residential IPs or not. We did that by setting the proxy on our browser and then using the IP lookup tool provided by IPinfo.io. Below is the result we got.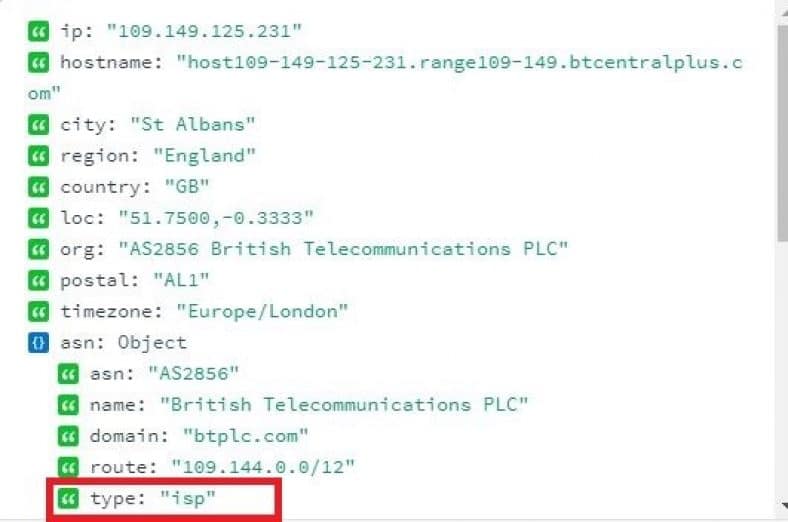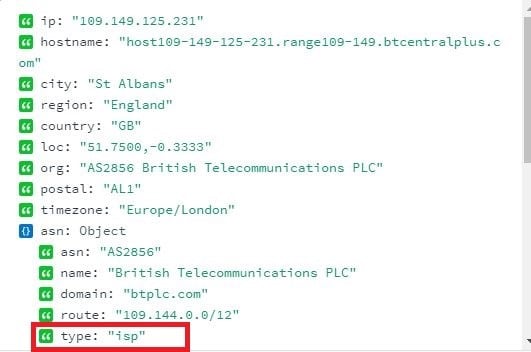 As you can see from the above, the type of IP detected by the tool is "isp." This is the value for residential IPs. Residential IPs are provided by Internet Service Providers (ISPs). If it was not residential proxies, you would see another value – either hosting or business – or something else.
---