IPRoyal is one of the IP address providers you can buy or lease IPv4 and IPv6 addresses from. Aside from this, they are also into the provision of proxies that cut across the residential, static residential, mobile, and datacenter market categories. They also provide sneaker proxies, among others. Our focus in this article is on their residential proxy service.
Affordable Residential Proxies
Affordable pricing with no minimum monetary requirement
Helpful and responsive customer service agents
2M+ ethically sourced residential IPs
195 countries are supported
Both rotating and sticky IP addresses supported
Easy to set up and use
Proxy list generation supported
---
The IPRoyal residential proxy service is one of the residential proxy services in the proxy market. Depending on how well you have dig into the market, you probably have heard of this provider or have not.
In order to provide a better user experience for its customers, IPRoyal has rebranded and has grown into one of the major players in the agency market. They have more than 8,056,839 IPs, of which up to 2M+ residential proxies. Although relative to other large residential proxy providers is nothing, considering the speed of their development, or can not be underestimated.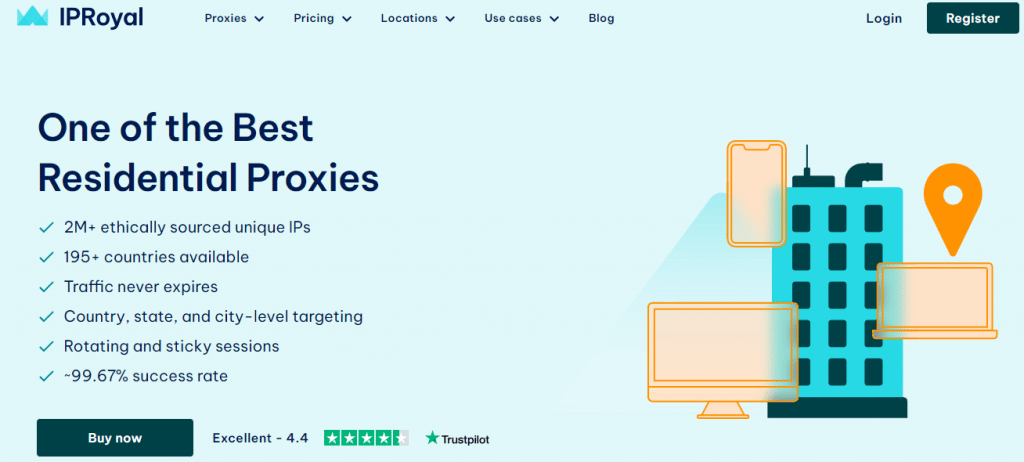 So, it might interest you to know that they are a credible provider. I have used their proxies and can attest to the fact that they have got proxies that work.
But there is more to being a good proxy provider than just having proxies that work? There is the issue of speed, reliability, security, pricing, and ease of use, among others. It is because of all of these that this article was written to provide you with an honest review of the IPRoyal residential proxy service.
Is IPRoyal worth it? That's what we'll discuss in this review.
---
---
The IPRoyal Solution
The IPRoyal residential proxy service is not a specialized proxy service for a specific task, as in the case of sneaker proxies or gaming proxies. Their proxies are general proxies meant for all proxy use cases, and they have proven to work with a good number of proxy uses. Let take a look are some of these use cases.
Account Management
IPRoyal residential proxy service has support for sticky proxies that will maintain the same IP address for a period of time. This makes them perfect for account management as changing IP address too frequently could get your accounts flagged on many web platforms, including social platforms or e-commerce stores.
Brand Protection
Another use you can put their proxies into is for simply keeping your IP address hidden to protect your brand's IP address from being exposed and tracked. With your IP address known, your activities can be tracked online without you even knowing using cookies and other web tracking technologies. With residential proxies from IPRoyal, you can keep your IP address and remain private as you surf the Internet.
Web Scraping and Crawling
They have got rotating proxies and are compatible with many web services, which meant that you could send too many requests without being detected and blocked. When I say web scraping and crawling, it entails other activities, including price monitoring, site localization testing, ads verification, and market research, among others.
---
back to menu ↑
How IPRoyal Work
IPRoyal residential proxies have a simple working model. Just like most residential proxy providers, they do not own the IP addresses they route client requests through. However, unlike others that engage in unethical practices in other to get IP addresses into their pool, IPRoyal is ethical
If you have their proxies configured, your web traffic does not get to the intended web services directly. Instead, they are routed to the IPRoyal service, which then looks for an available IP from the pool and then routes your request to the intended website through the available IP chosen from the IP pool.
By doing this, the web service you send requests to would not know your real IP address. Because they have support for IP rotation, you can use as many IP addresses as you want from their pool. Their IP pool isn't very large, but it's enough. It's about 2M+ IP addresses in it.
---
back to menu ↑
Pricing and Features
Do you have an unlimited budget to spend on proxies? I doubt you do, and let's face it, if you do, you won't be interested in IPRoyal as there are premium providers you should consider instead. IPRoyal is not in that league yet, even though it's proxies work. But how affordable are they?
IPRoyal offers two types of proxies to suit your different needs: Residential proxies and Static residential proxies. They offer flexible pricing models and cheap prices.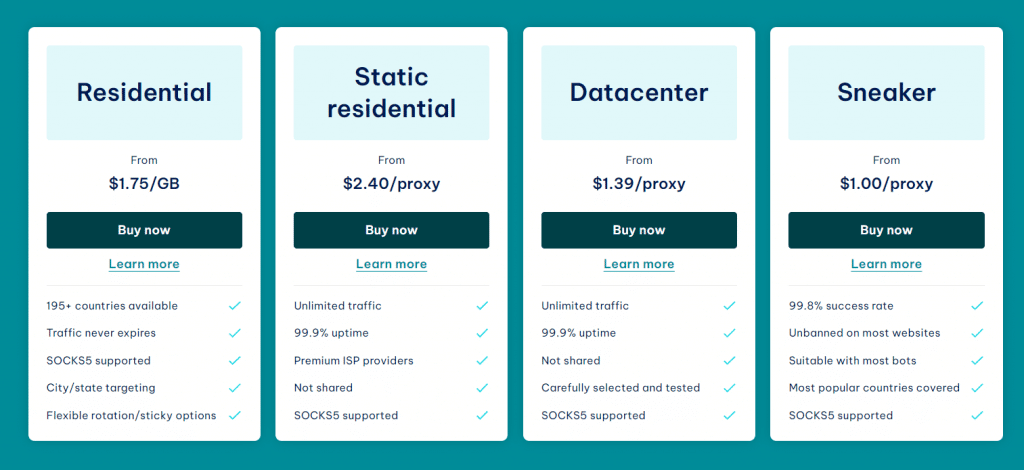 67% OFF
Get 67% discount: put promo code "Privateproxyreviews67" to check out! (untill November 27th)
Once, they are not very effective as they can be slow and detected by some websites. But now they have static residential proxies – the best of their proxy plans, and with a good price, $2.40/proxy.
You will agree with me that it is still cheaper when you compare the price with that of other residential proxies in the market. In terms of payment methods support, IPRoyal has support for a good number of methods, including PayPal, card, and even Bitcoin.
Features of IPRoyal Residential Proxies



Automatic IP rotation systems that change IP addresses automatically for you. Generally, IPRoyal has support for both rotating proxies that changes IP address frequently to sticky proxies that will maintain IP address for a specific period of time.
They have got extension location support. From this provider, you can get an IP address from many locations around the world, from countries in North America to that of countries in Africa. The only setback to this is the number of IP addresses you can get, which is slightly limited because of their small pool.
Support for proxy list generator, which makes it possible for you to generate a list of proxies if what you want are individual proxies. You can get this done from the dashboard, and you can configure the format you want.
Unlimited concurrent sessions are allowed. This does not mean you should create too many concurrent sessions, as this can lead to performance problems.
IPRoyal Pawns service allows you to share your system resources by joining their pool and earn money.


10% OFF
Get 20% discount: put promo code "PPR20" to check out!
---
back to menu ↑
How to Use IPRoyal Residential Proxies

From the beginning of the article, it was stated that the service is easy to use. All that's required from you is to register an account and fund your account. There are many methods you can fund your account – PayPal, credit card, and Bitcoin. If you do not want to fund your account, you can buy directly, but this means the validity period will start counting immediately. To buy a plan, log into the user dashboard and go to the "Premium Residential Proxies" area. Create a new order.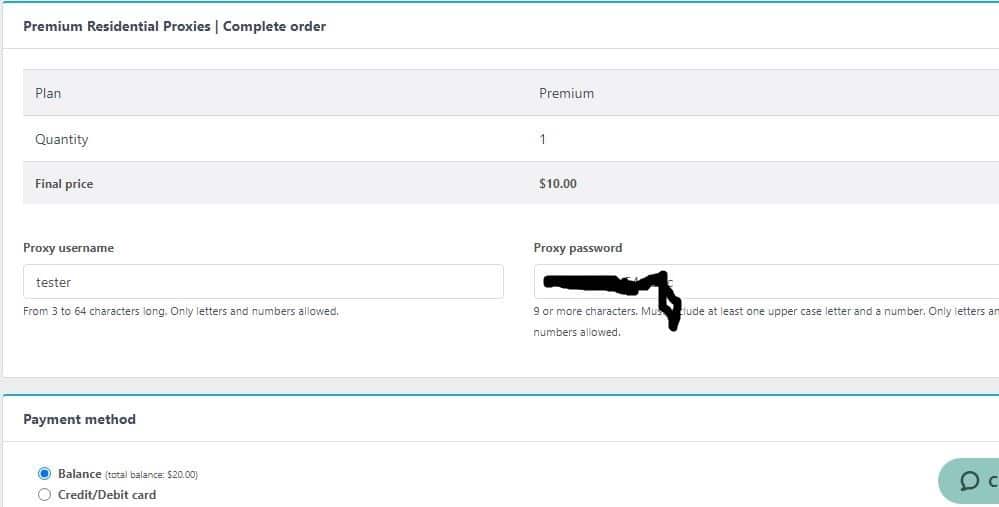 You will have to choose a username and password for authentication, the amount of bandwidth, and the payment method. With your order completed, you are ready to start using their proxies. Go to the premium residential proxies area, and you will see the proxy details as in the screenshot below.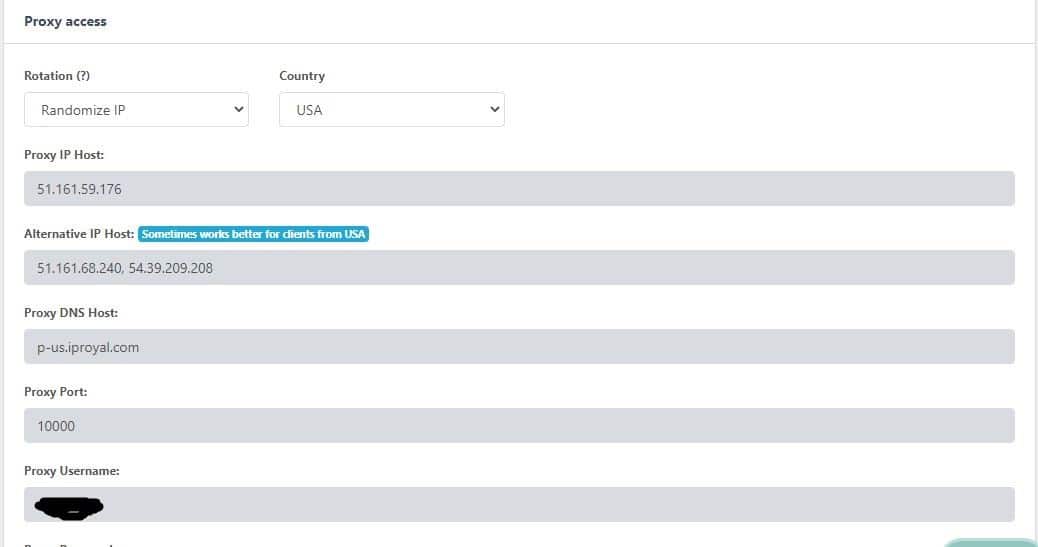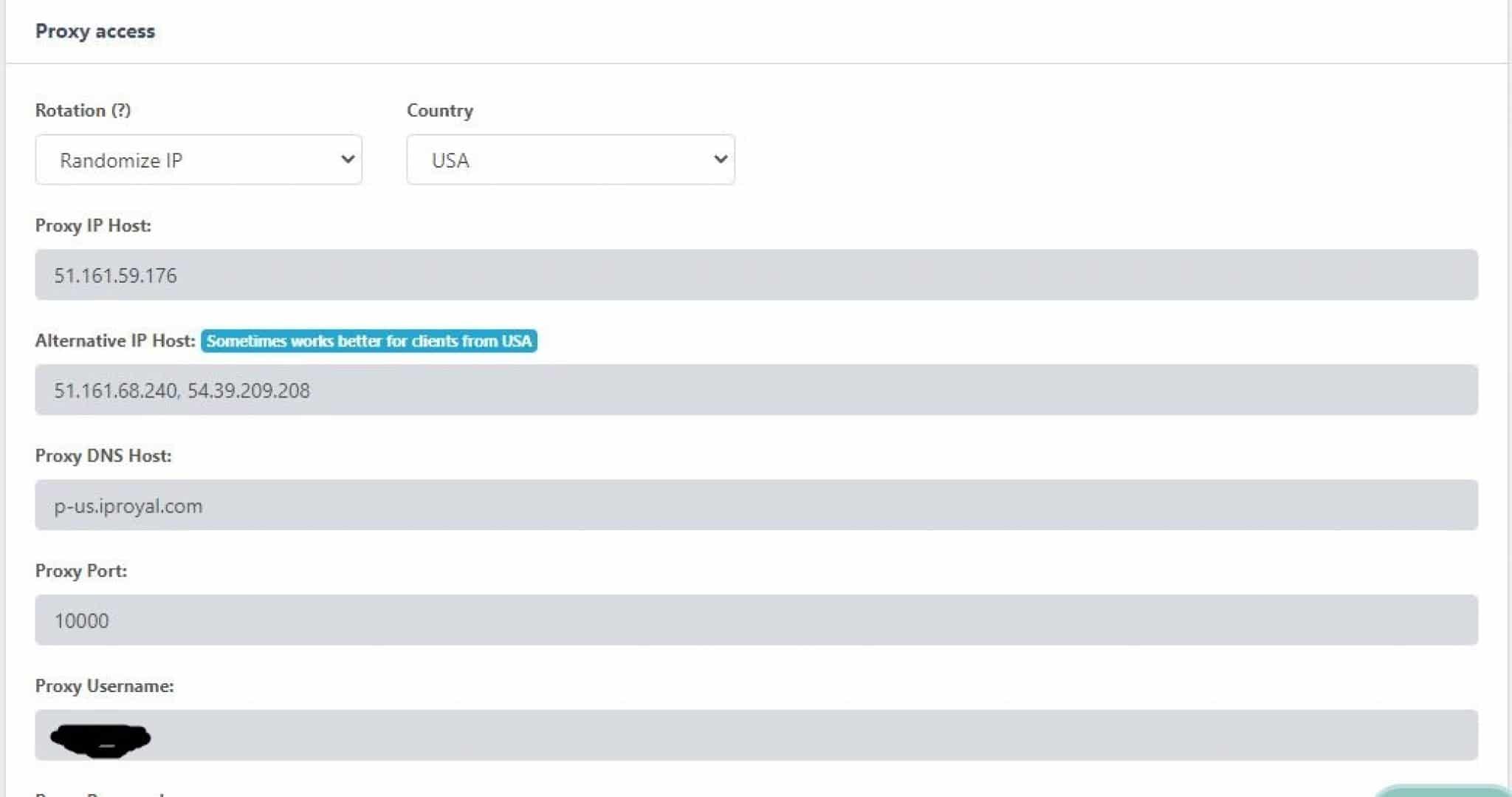 As you can see from the above, you have the option of choosing whether to make use of a rotating IP or a sticky one. You can also choose the location. All other details are the proxy details – proxy address, port, username, and password. Copy this and use it in the client software you want to use a proxy.
Authentication
The method of authentication supported is username and password authentication. IP whitelisting is not supported.
Geo-Targeting Support
IPRoyal allows its users to select IP addresses from a list of countries. Currently, they do not have state and city-level targeting.
---
back to menu ↑
Our IPRoyal Speed Testing
How does IPRoyal stand in terms of speed? Are their proxies fast enough, or they tend to frustrate users? To find out the answer to the question and avoid taking their words for it, I had to put their speed to test. The testing tool used is the Speedtest tool by Okla. Before testing the speed of their proxies, I had to test my Internet speed without proxies and got the below result.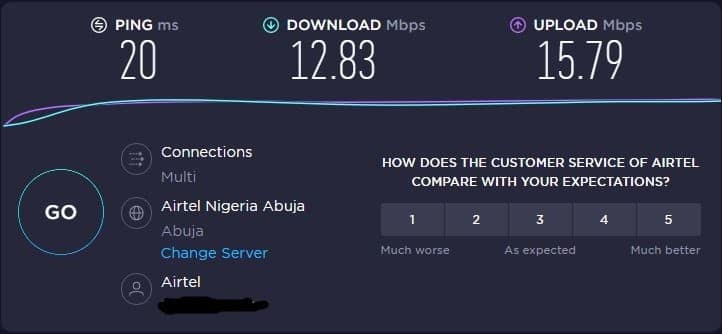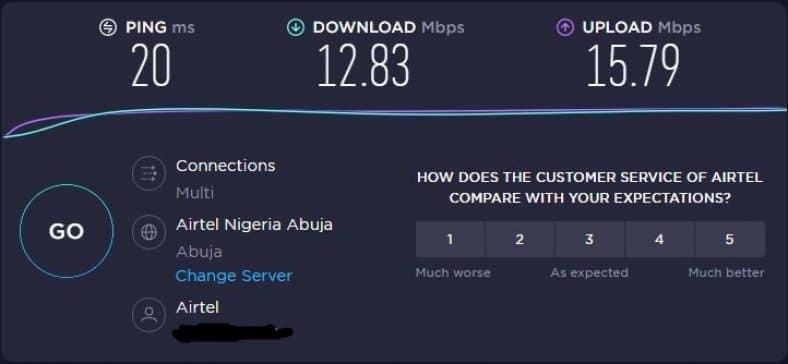 Looking at the result above, you can tell that my Internet speed isn't that great and not breaking any record. However, we can use it as a benchmark to check whether IPRoyal residential proxies are fast or not. When we tried testing the speed with IPRoyal proxies configured, we couldn't get any result.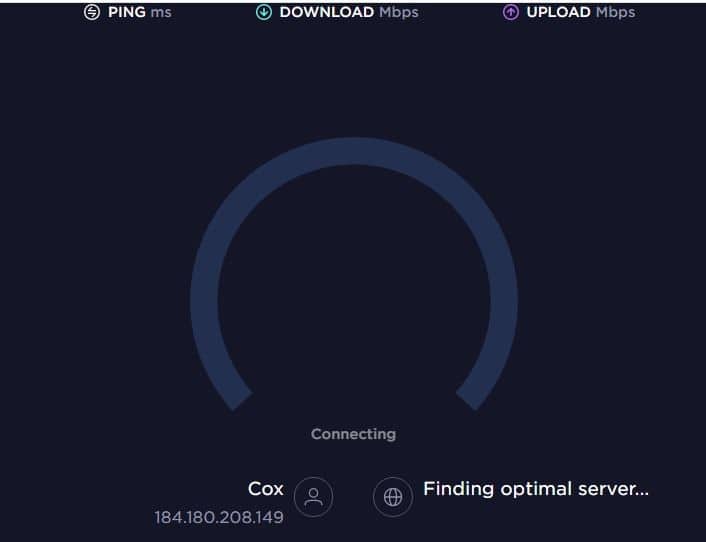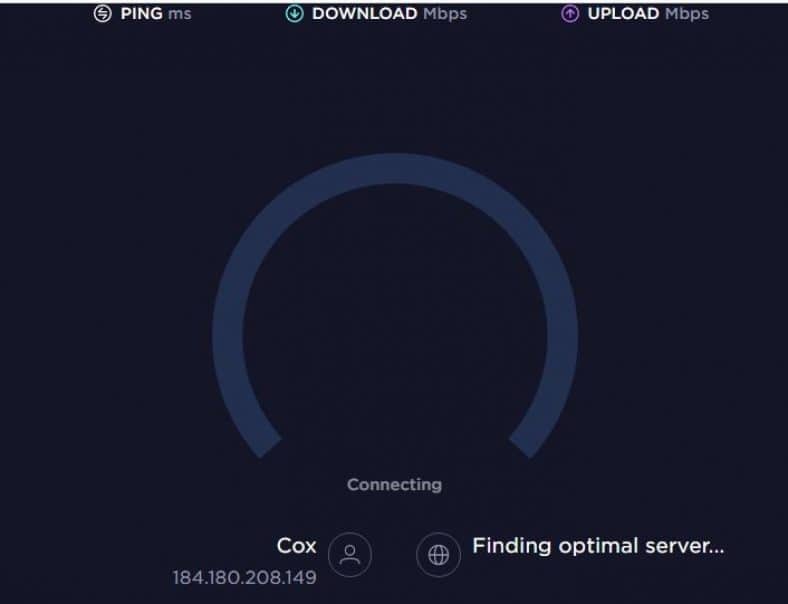 It took a long time "finding optimal server," and nothing happened until I clicked on the "Go" button to proceed, and still nothing happened, as you can see from the screenshot above. I later got the below error message, and my browser hanged.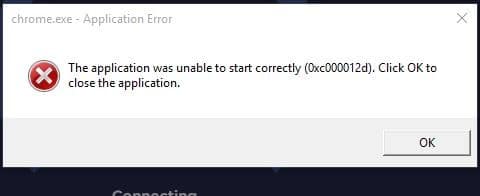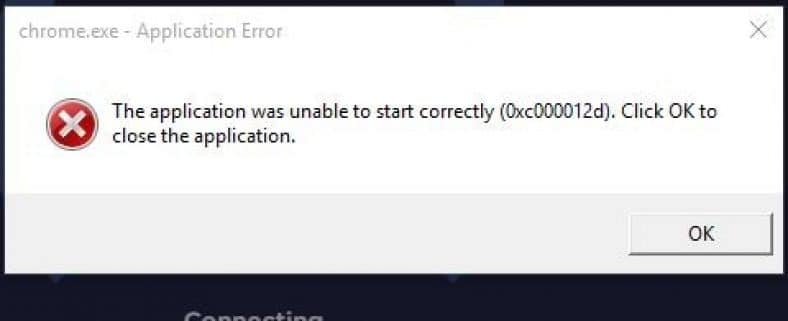 I tried it a number of times without getting a different response, but when I switch to another proxy service or without using proxies, the tool works.
However, if I try using the proxies for other tasks aside from the speed testing, it worked. It was compatible with many of the popular sites we used for testing.
---
back to menu ↑
ISP Testing – Residential IPs or Not?
How do web services see their proxies? Are they recognized as residential proxies or datacenter proxies? According to the information provided on their website, their proxies are residential proxies. Some proxy services would claim their proxies are residential proxies while they are not.
One of the advantages of residential proxies is that they are assigned by ISPs and meant for real Internet users. To figure out whether their proxies are residential proxies or not, we use the IPinfo.io tool. The result we got is below.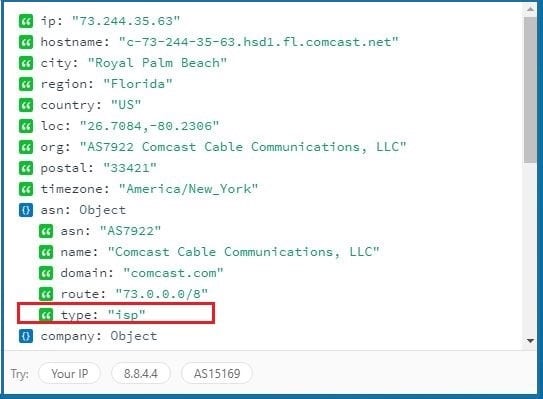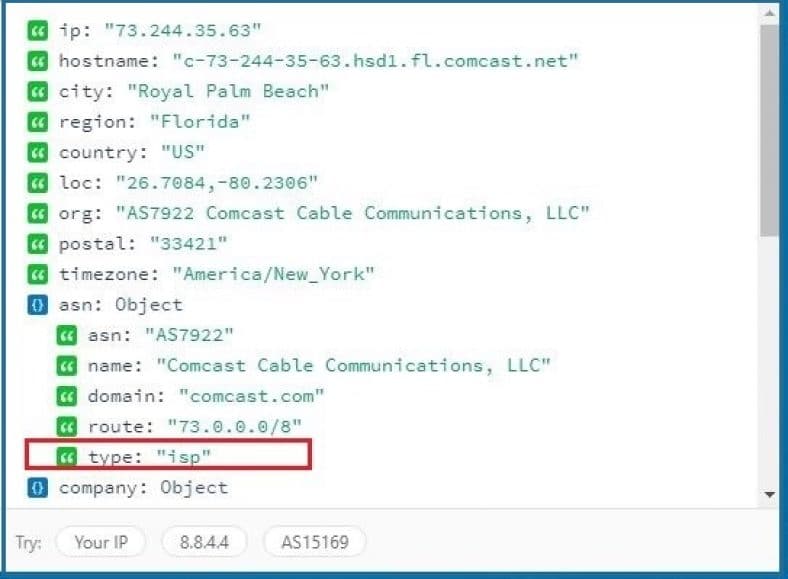 Looking at the above, you can see that the type of IP address is "isp." If IPinfo.io recognizes an IP address as ISP, it means the IP address is a residential IP address assigned by an Internet Service Provider (ISP). If the value was to be "hosting" or something else, then we would have a reason for concern.
---
back to menu ↑
Our verdict
I know you are eager to know; are IPRoyal residential proxies recommended or not? Honestly, for the price, we were not expecting anything different. It has a pool with just a small number of IP addresses. However, the proxies. Our major source of concern is the fact that we fail to get a speed test result and, as such, would say they failed our speed test even though they seem to be fast enough. Aside from the speed issues and small pool size, they are a provider you can use.