Choosing the right proxy is a vital decision for online safety. Just like picking the right locks on your front door, a good proxy can help secure your privacy and personal details.
It can be challenging to know which proxy is best, in general, and for your particular needs. So, in this article, we will take a deep dive into one of the newest proxies on the market: MarsProxies, to give you a real sense of what they offer.
MarsProxies, an Out of This World Provider
Over 250.000 unbanned residential IP addresses available
Intuitive dashboard to to manage your orders and traffic usage
Rich geo-targeting options (190 locations worldwide)
IP and user:pass authentication support
24-hour money-back guarantee and great customer support
---
The latest provider based in the UK is MarsProxies, specializing in specific proxies for particular uses. Rather than trying to be all things to all people, MarsProxies believes in doing one thing well – providing datacenter and residential proxies. Their significant infrastructure provides high-speed proxies for online shopping, market research, and sneaker botting.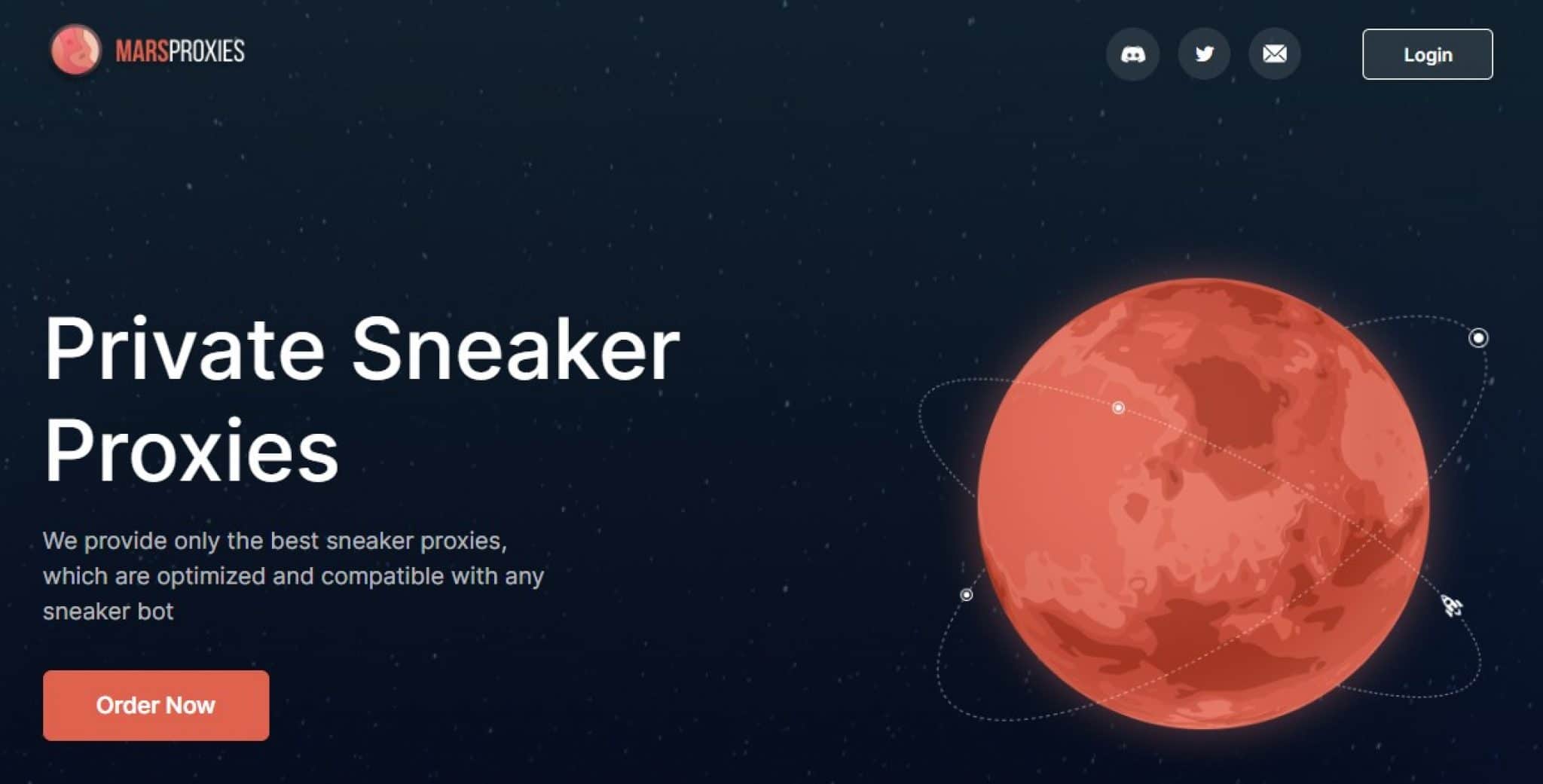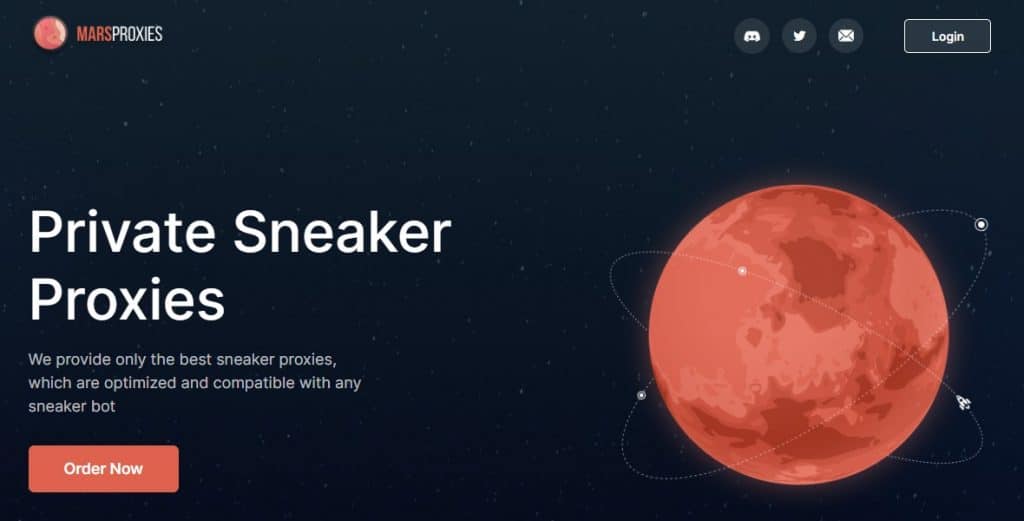 This review will highlight the features common to all of these proxy types and focus on the performance and security aspects offered by MarsProxies to help you make the right choice.
So the question is – Is MarsProxies's service good? Read the detailed review below to find out!
---
---
Proxy Types and Availability
An essential item for a proxy provider is the type and number of usable proxies they offer, so this is where our review begins. MarsProxies offers five primary proxies:
Obsidian
Nike Obsidian
ISP
Ultra Residential
Retail Obsidian
Each proxy is geared toward a particular use case. For example, Obsidian proxies are more generic, while Nike Obsidian proxies are optimized for Nike sneaker botting.
Their ISP proxies are perfect for when you need some extra anonymity and have the least chance of proxy detection.
The Ultra Residential proxies provide several benefits over the other types, including bandwidth that never expires and precise localization of city and state.
Retail Obsidian proxies are perhaps the most intriguing, offering tailored compatibility with popular shopping sites like Amazon, ALDI's, MediaMarket, etc.
Five proxy categories may not seem like much, but you have a comprehensive selection when you take a step back and consider daily tasks.


---
back to menu ↑
Easy-to-Use Dashboard
Upon registration, the user has access to an intuitive web-based dashboard, which offers complete control over their proxies. Clients can change settings, order new proxies, and make deposits using a straightforward point-and-click interface.
Ordering new proxies is as simple as selecting which proxy you want from the menu on the left, entering details, and clicking the "Pay" button.
Making a deposit is even easier. Select the "Deposit" button at the top of your dashboard, enter your payment information and click "Pay." You can deposit funds with a credit card or Bitcoin, and deposits are processed as quickly as one hour.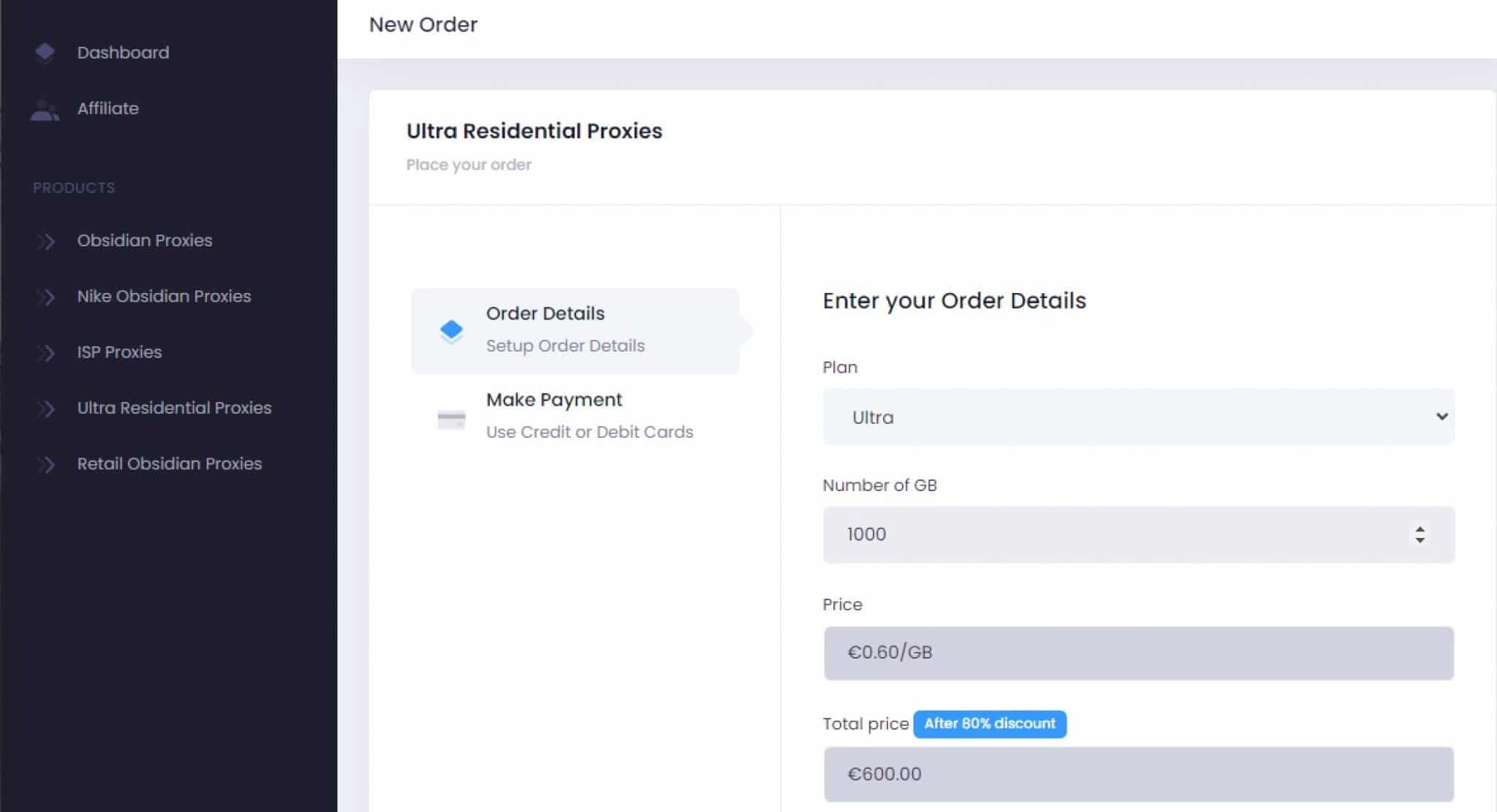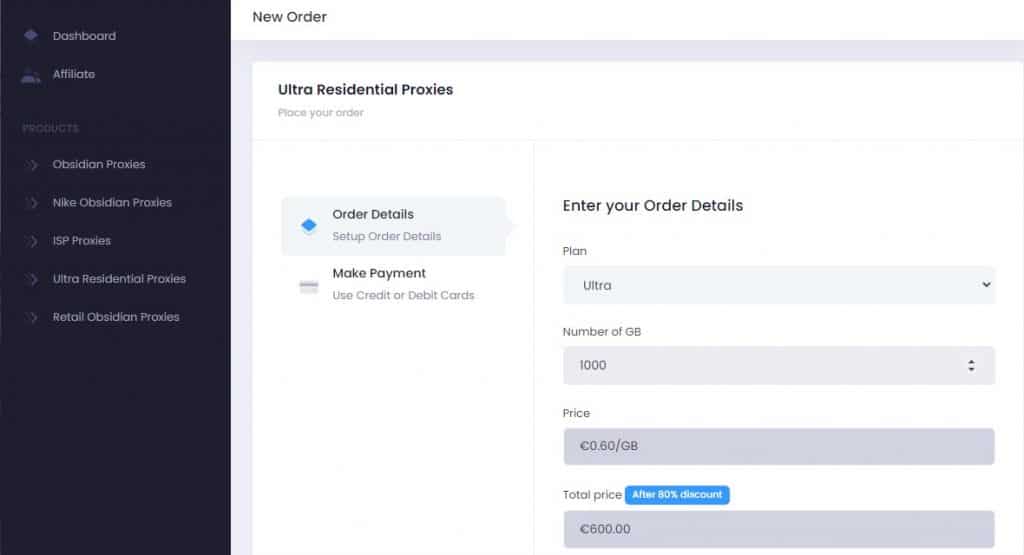 ---
back to menu ↑
Affiliate Program
MarsProxies also allows users to participate in an affiliate linking program, available from your dashboard menu. When customers place an order using your unique affiliate URL, you'll earn a percentage commission on the sale. The commission was 10% at the time of this review.
The affiliate opportunity is a nice touch and a win-win for MarsProxies and its users.
---
back to menu ↑
Proxy Performance Tests
Even the best prices and availability won't matter much if performance is lackluster. Just as most people want to test drive a vehicle before purchase, it's often helpful to test drive proxies to see how they work.
So how do MarsProxies perform? We took a random sampling of proxies from the United States, Germany, and Italy and compared the results of several performance tests. We examined each proxy's speed, response time (ping), and security.
Speed Test Results
Our test connection had a maximum download speed of 200 Mbps and a top upload speed of 20 Mbps. The average ping of the test system to a server in a neighboring city was 7 ms.
We first tested a datacenter Obsidian proxy located in California, United States. The proxy achieved an average download speed of 66.8 Mbps and an average upload of 8.3 Mbps. Ping times fluctuated between 67 and 82 milliseconds, with an average delay of 79 ms.
Next, we tried an ISP proxy in Hessen, Germany. To our surprise, it scored similarly well to the proxy in California. The median download speed was 67.2 Mbps and an upload speed of 5.5 Mbps. The average ping time was 126 ms.
Lastly, we tested an ISP proxy located in Lombardy, Italy. Once more, the results were just as impressive, with a slight increase in delay. The typical download speed we saw was 66.9 Mbps, while the upload speed was 5.9 Mbps, with an average ping of 141 ms, which is more than many other providers can offer.
| Location | Download (Mbps) | Upload (Mbps) | Ping (ms) |
| --- | --- | --- | --- |
| California (Obsidian) | 66.8 | 8.3 | 79 |
| Hessen (ISP) | 67.2 | 5.5 | 126 |
| Lombardy (ISP) | 66.9 | 5.9 | 141 |
General Usage
Numbers are alright, but most people genuinely care about real-world applications. If a proxy scores wonderfully on paper but stutters during video playback, it's of little use.
Our performance was more than adequate for web browsing, video streaming, downloading, and gaming. For example, 720p video only requires 5Mbps for smooth streaming playback. The minimum doubles to 10 Mbps for 1080p, but still well below our average tested speeds.
Gaming would be the one variable since reaction speed depends on ping time as much as it does on bandwidth. While we are sure the bandwidth is plenty for most online games, you'll need to pay attention to which servers you choose regarding response time.
Business Use
If you're a business looking for a robust proxy for demographics research for advanced botting, the performance results in our tests were also favorable. The bandwidth and throughput from all three of our test proxies seemed sufficient to sustain various bots or automation activities.
Furthermore, you are not limited to a single proxy; you can easily order and use multiple proxies simultaneously, increasing your available throughput exponentially. Using numerous proxies concurrently allows you to unlock the true strength of MarsProxies and their infrastructure.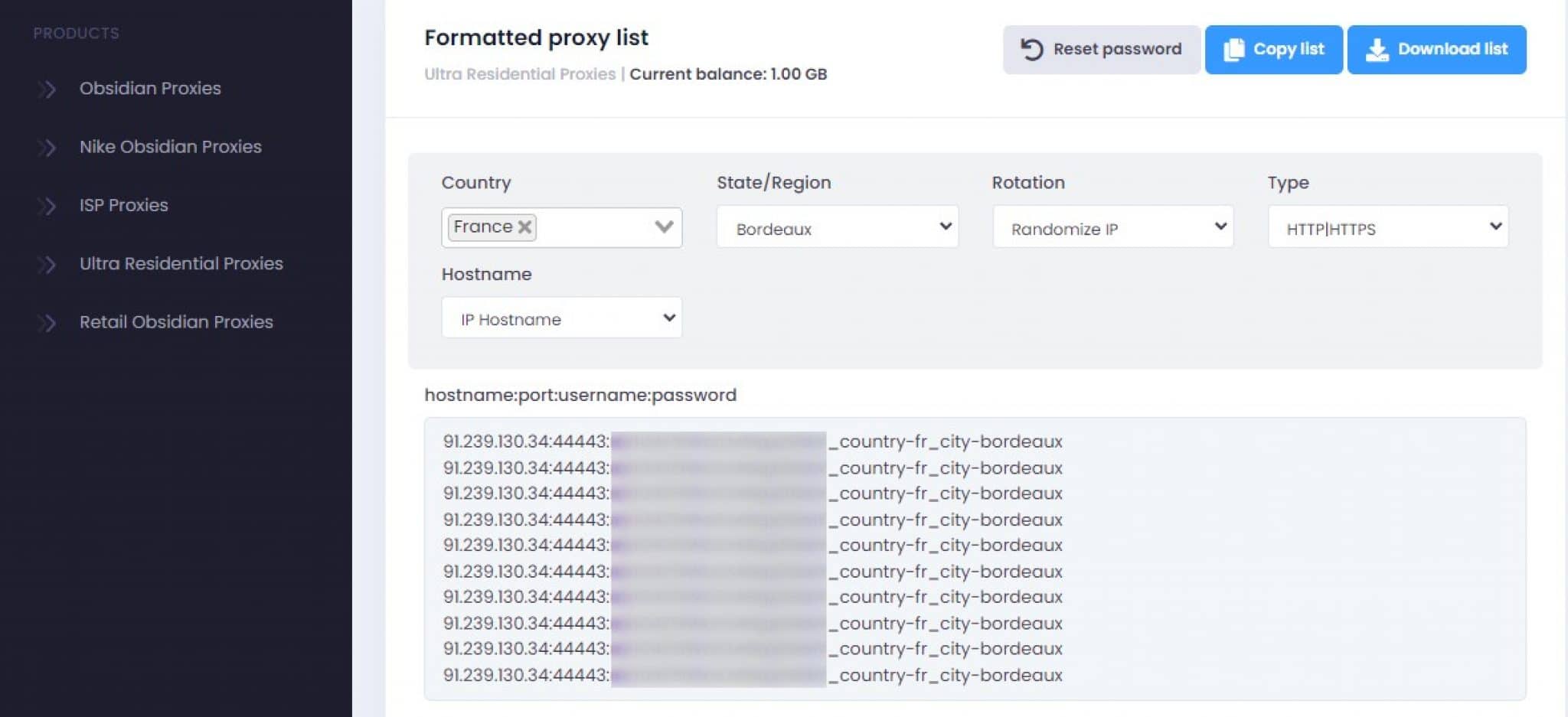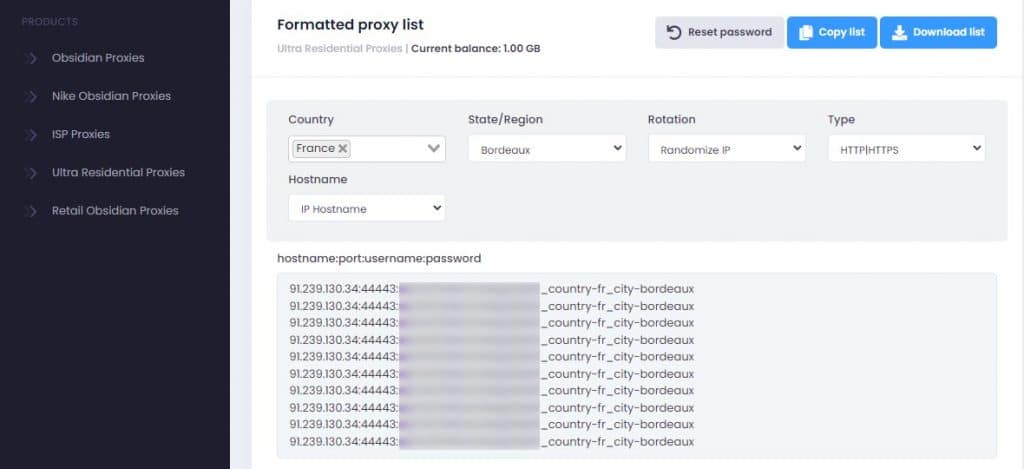 Security Tests
Because proxies act as intermediate relays between your device and the rest of the internet, all data you send and receive passes through them. A proxy must maintain strict security measures to be considered a trusted service. Although there's no such thing as foolproof security, users want to know that their connection and sensitive data are as safe as possible.
We performed standard port probing using Gibson Research Corporation's Shields UP service and found that all ports were stealth with the noted exception of HTTPS. A stealth port indicates that the server did not respond to any request for a connection.
Typically, stealth is better than merely closing a port because the server would still acknowledge that a port simply is closed. The response itself might signal to an attacker that a port exists and could be a target.
The stealth ports on all three of our test proxies indicate that MarsProxies takes a proactive approach to security.
Additionally, you have the option for each proxy to have a unique username and password for login, bolstering proxy privacy.
---
back to menu ↑
Payment Options
At the time of this review, MarsProxies support the Euro and Bitcoin. Users in other territories or those looking for extra privacy should probably opt for Bitcoin, or you might pay extra due to Euro exchange rates. Also, if you intend to use Euro as a foreign currency to make your purchase, check with your financial institution to avoid any extra fees.
MarsProxies will likely adopt more currencies in the future as they continue to expand into other markets.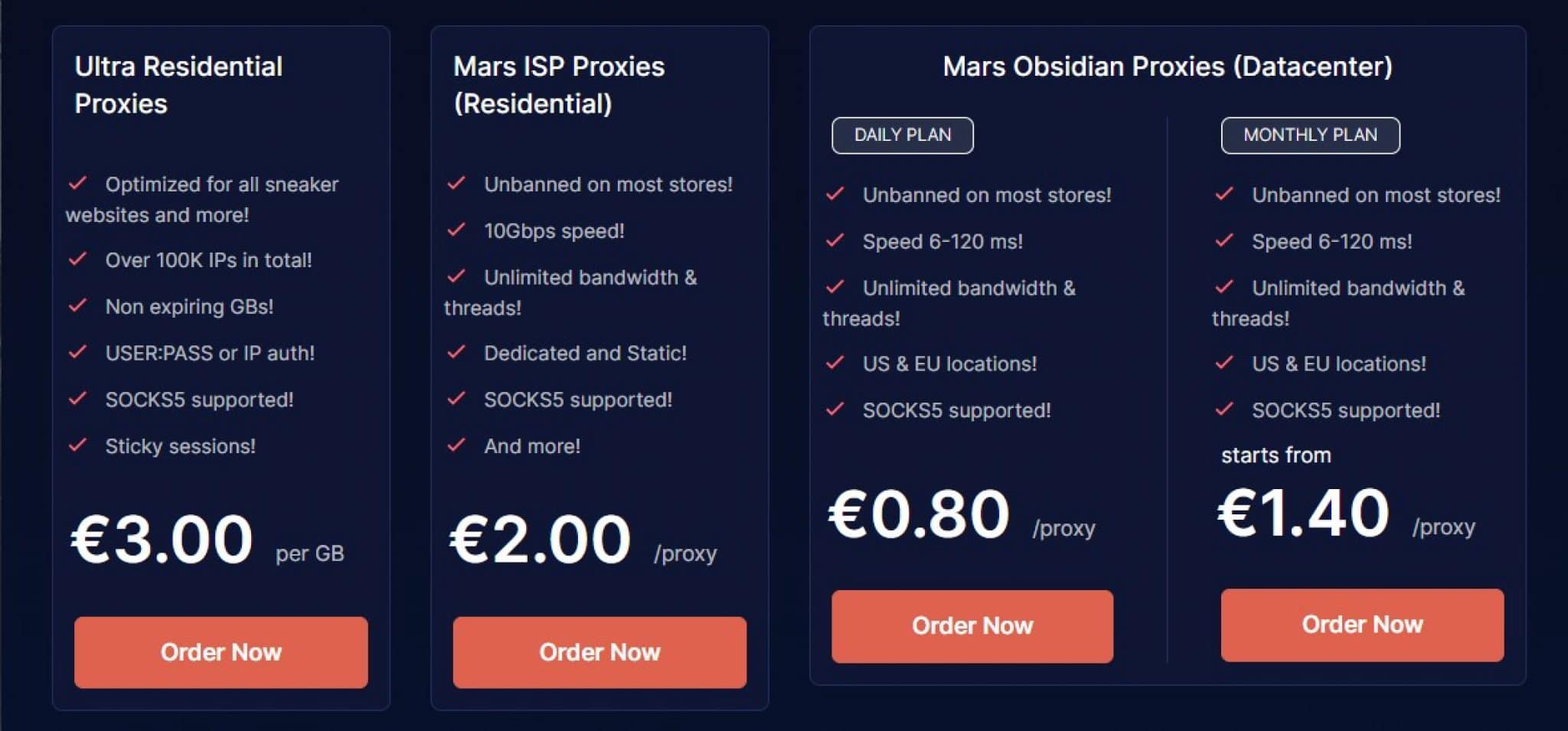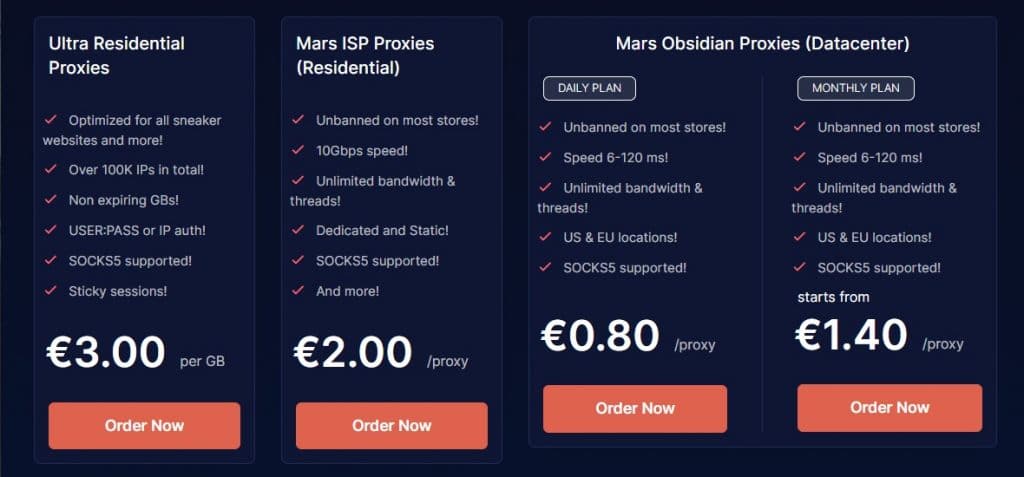 Pricing Structure
While we're on the subject of payments, MarsProxies has put some extra care into their pricing plans with some unique features worth mentioning.
For starters, they have a specific proxy subscription tailored for daily usage, and it's their most affordable plan at a mere €0.80 per proxy. Of course, they also offer a standard monthly plan at €1.40 per proxy. Both of these plans feature unlimited bandwidth.
Beyond the daily and monthly rates, MarsProxies also customized plans for their Ultra Residential and ISP proxies. According to their website, their Ultra Residential proxy plan is €3.00 per GB, and their ISP proxies are €2.00 per proxy.
These prices are some of the more competitive available right now, making MarsProxies an attractive choice, especially for those on a tight budget.
---
back to menu ↑
Documentation and Support
If there's one area where MarsProxies comes up a bit short, it's documentation. Since they're a fairly new provider, the lack of available information on the website may look daunting to potential clients. However, you can get guides and instructions on how to use their proxies with the most popular sneaker websites on Discord.
It might seem a bit unconventional, but MarsProxies doesn't rest on their laurels with the standard e-mail support; they also maintain a Discord server with support personnel available 24/7 to provide clients with instant answers and share useful information.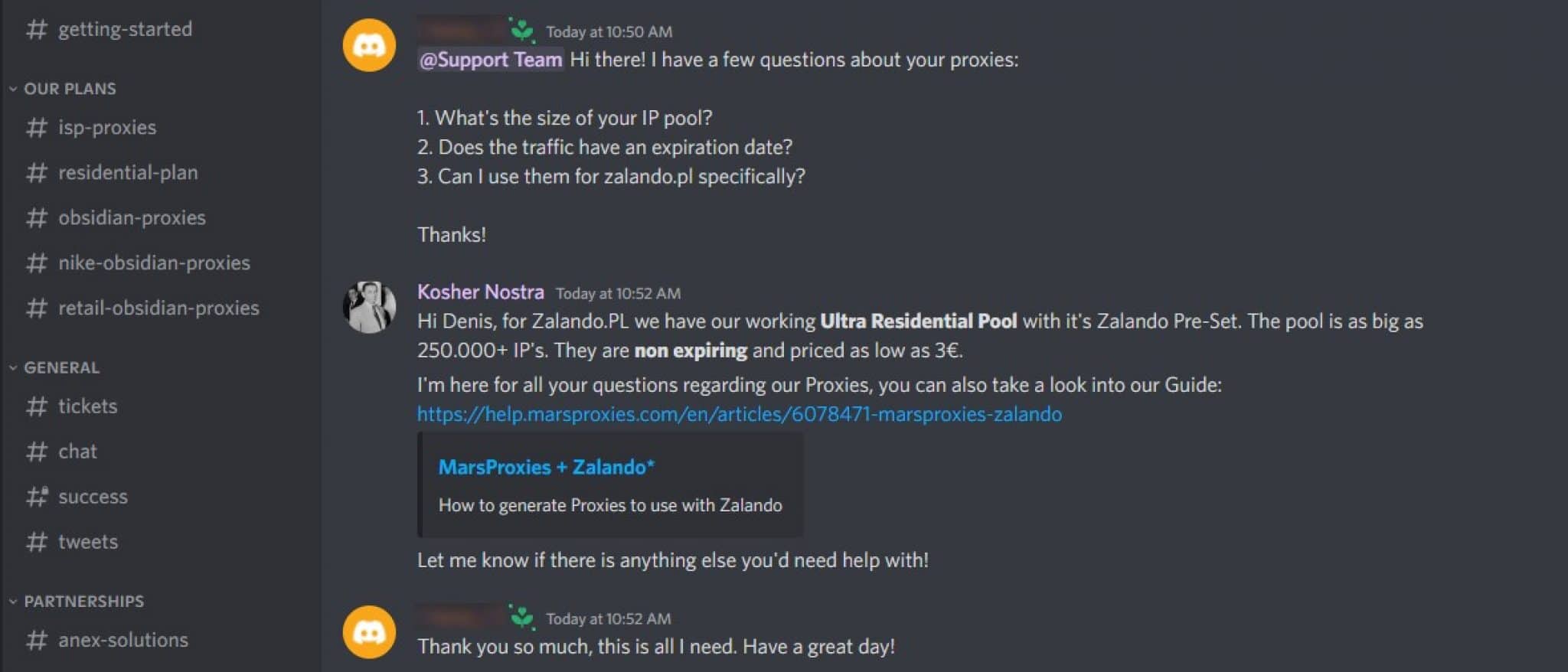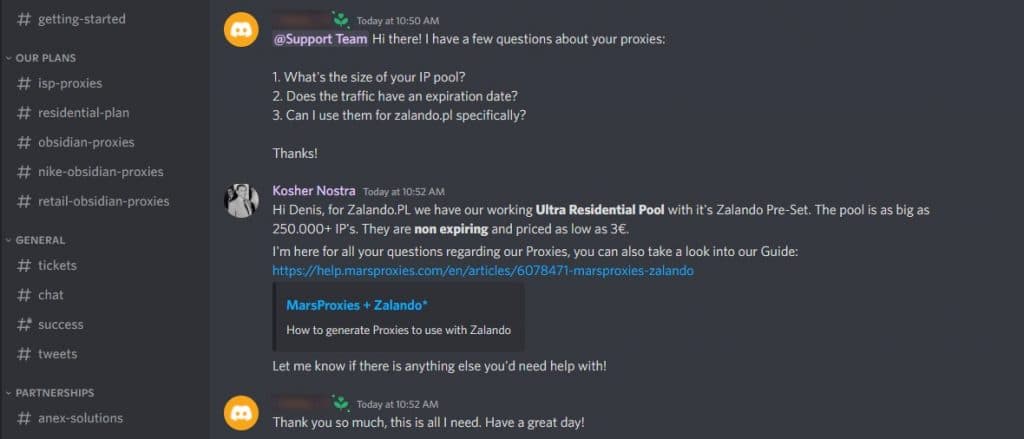 ---
back to menu ↑
MarsProxies Alternatives
MarsProxies offers something for everyone. Still, here are a few alternatives if their proxies don't work for you:
For those who need proxies in less popular locations, Smartproxy seems like a decent alternative, offering IPs in 195 locations.
If you care about speed more than anything else, IPRoyal is definitely worth considering. They currently offer the fastest datacenter proxies on the market.
Those looking for a web-scraping focused provider might want to look into Zyte. While their plans are a bit costly, you only pay for successful requests.
---
back to menu ↑
FAQ
Q. How do I set up my proxies?
If you're having trouble with getting started, MarsProxies has 24/7 support on Discord. They'll answer all your questions, share useful guides, and help you get your proxies running in a second!
Q. Is MarsProxies easy to use?
Yes, MarsProxies has a very intuitive user dashboard. It's very easy to navigate, even for people who haven't used proxies before.
Q. Which types of authentication does MarsProxies support?
Their Ultra residential proxies offer both IP and user:pass authentication. On the other hand, the ISP, retail, Obsidian, and Nike Obsidian proxies only support user:pass authentication.
---
back to menu ↑
Our verdict
MarsProxies may be the new kid on the block, but they're checking all the right boxes and have impressive offerings.
As they continue to mature, we do not doubt that they will be among the top proxy providers throughout the UK and the globe.
Worth to Try with Private Sneaker Proxies
PROS
Specialized proxies for specific uses
Good performance with reliable throughput
Payment plan for daily use
Generous affiliate program
24/7 e-mail and Discord support
Intuitive interface
Bitcoin support
CONS
Euro is the only standard currency supported
Fairly sparse documentation
Add your review
|
Read reviews and comments