The PIA S5 Proxy is a provider offering Socks5 residential proxies. If you take a look at the Pia S5 Proxy service's website, you will notice that it claims to be the perfect 911 S5 proxy alternative. It even claims to offer more features than you can get from the 911 S5 Proxy.
Looking at the website, there are a lot of claims, some of which are too good to be true. Seeing that the 911 S5 proxy service no longer exists, the number of alternatives being introduced is on the rise. And this provider is one of such. We do not want to take their word for it and set out to see the reality of this claim.
SOCKS5 Residential Proxy Replacement for 911 S5 Proxy.
50+ million S5 residential IPs in its pool
Location support for over 180+ countries
Support both rotating proxies as well as sticky proxies for session management
Offers a Flexible and affordable pricing system
Unlimited bandwidth support
Supports both Windows and macOS
---
Update - 2022.10.24
Note A number of people have reported that PIA S5 Proxies are slow or doesn't work, and that customer service is slow
---

PIA S5 proxy has been completely likened to the 911 S5. Even though there are lots of proxies out there, PIA S5 has the peculiarity that makes it stand out. The proxies offered are residential, which makes it even more doable. Because its IP addresses are sourced from real ISP, hence, it bypasses both major and minor restrictions without a ban.
Upon the closure of 911 S5, many using their service have truly searched for a similar proxy, and they have found solace in the PIA S5 proxy. Interestingly, this provider even offers more in terms of functionalities and technicalities.
PIA S5 Proxy is trusted to have very fast speed coupled with cost-friendly pricing. With the massive IP pool and wider coverage, it means you can access residential IP addresses from all over the world undetectably.
Having experienced a share of its usage, we can say their customer service is ever-ready to help foster your activities. However, decision-wise, even with the excellent work of this provider, there is still a lot to clarify to help enable you to make your choice, i.e., whether or not they are suitable for you or not.
"Is PIA Proxy worth it? Let's dig deeper and discuss it further"
---
---
PIA S5 Proxy Solution
This section solely has to do with the PIA proxy use cases. Being a residential S5 proxy, its usage can not be underestimated. Taking a bounce on their website, there are quite interesting tasks they can pull through. Below are some of them.
Sneaker Copping
To cop sneakers mean to buy them during a limited-edition release from online retailers. This is often challenging if the proxy use is not compatible.  Sneaker copping frequently involves the use of sneaker proxies, and the PIA S5 proxy can be said to be a take. This is because it's a residential proxy and SOCKS5 at that. Knowing well the pros and cons of socket proxies, S5 is highly rated to see through this task. Also, coupled with being residential just perfect its credibility as they cannot be detected.
E-commerce Activities
E-commerce is another activity this provider can be sorted for. With the several online shopping platforms available, how you tend to manage your own space is your call. You can use it to manage multiple accounts either as a seller to be able to sell more goods or as a buyer to purchase more, especially in limited-edition stocks. The proxies are also perfect for unblocking access to websites that block you. There is a whole lot you can use their proxies for e-commerce activities as their proxies are undetectable.
Social Media Account Management?
Social media automation and account management are some of the things Internet users use proxies for. If you are looking for proxies for managing your accounts, then the Pia S5 proxies is the proxy service for you. So far, it has proven to be undetectable on a good number of social media platforms. Because of its rotating and sticky proxy support, the tasks you can use their proxies to carry out on social media are diverse.
---
back to menu ↑
How PIA S5 Proxy Works
The Pia S5 Proxy working mechanism is fundamentally like every other proxy service. However, from the "step of usage" point of view, the Pia S5 Proxy can be linked to how to use the 911.re proxy service that can be likened to regular proxy providers. This is because, unlike regular proxy services that all you need is the proxy address, port, username, and password, and you are to install an application for this service. Yes, you are used to using regular proxies; you will be shocked to find out you have to install their software.
Even though it is not publicly stated on their website, we know that they do not own the IPs in their pool. While we can't tell how the IPs are gotten, we do know that the IPs are from devices of real Internet users from across the globe. The service will choose the IP it assing to you.
The pricing is based on number of IPs, and if you do not use an IP, its validity remains. This means that proxies do not expire. The proxy host and port you use are that of the local host. This is why you need to have the application installed. It is from the application that you choose the proxy you want to use.
---
back to menu ↑
Pricing & Features
Pricing
No doubt, pricing is one of the major factors that will determine whether you will purchase a proxy or not. While pricing is not a major issue for big marketers and enterprise proxy users, it is for small marketers. If you are a small marketer, you will want to know if the proxies are affordable or not.
The pricing model of the Pia s5 Proxy is the same as the 911 S5 Proxy. The pricing is based on the number of IPs and the validity period is not monthly – it is lifetime, provided you haven't used them. The pricing starts from $36 for 150 IPs this is quite affordable for many use cases.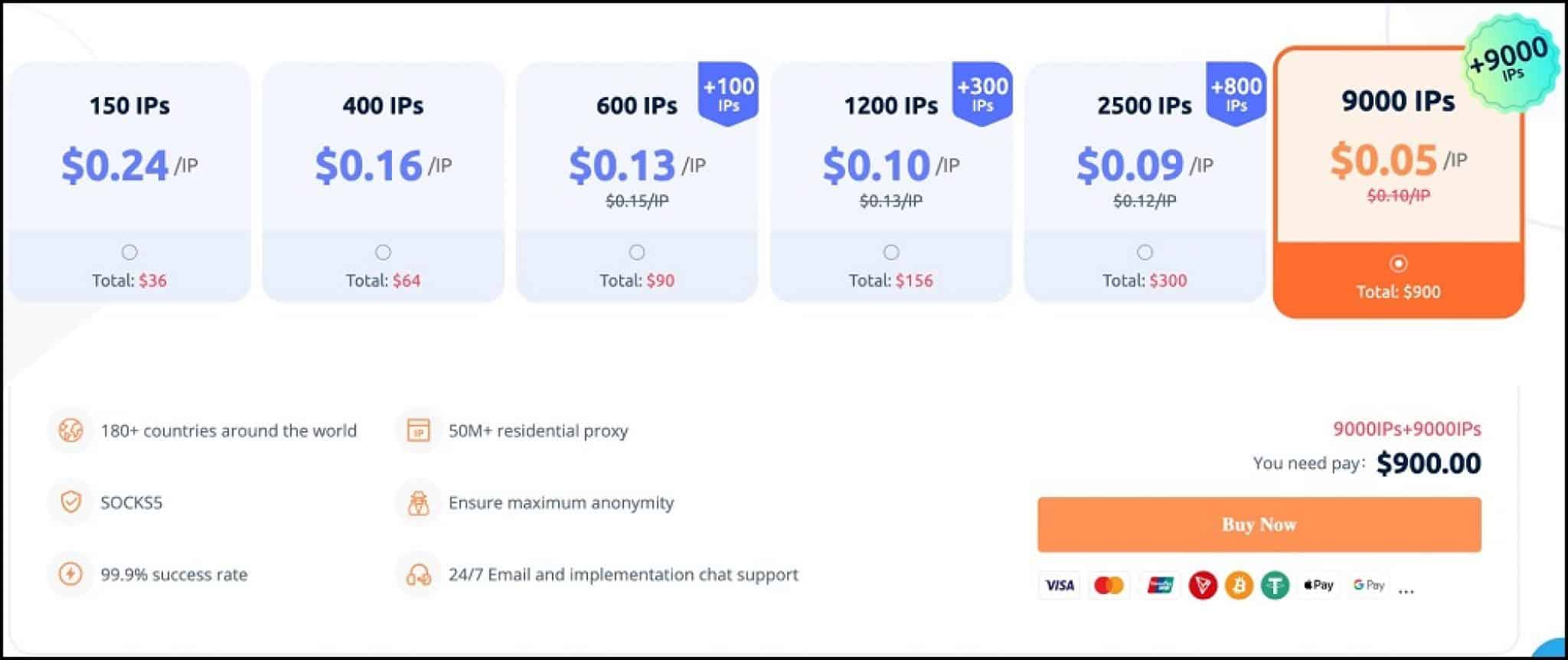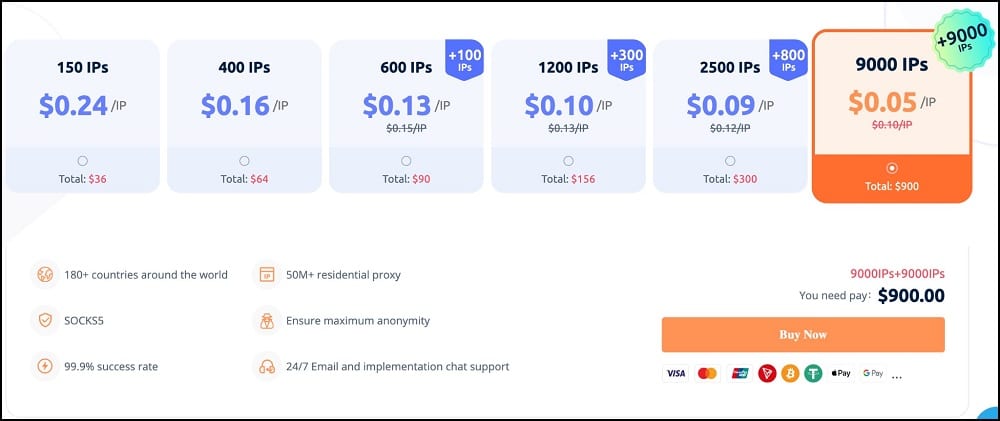 Looking at the above, you can see that the more IPs you pay for, the cheaper the price per IP becomes. While the price per IP for the smallest plan is sold for $0.24, that of the largest is down to $0.05. In terms of payment method supported, you can pay with your card, using Apple Pay and Google Pay, as well as cryptocurrency.
This service does not offer a free trial. To make things worse, it also does not provide refunds. This means that you just have to trust them enough to purchase their plan, as there are no systems in place to help you get your money.
Features
PIA S5 has been deeply likened to be the perfect alternative for 911 S5 after its closure, and customers affirm the same. But what seems not to unfold is the fact that PIA S5 is not just a perfect fit; it comes with some features that the 911 Socks5 proxy lacks. Having said that, the features below will tell us more about this provider.
Pia S5 Proxy has over 50 million residential IPs in its pool. One good thing about this service is that it constantly filters out the bad and poorly performing proxies to make sure the proxies given to you are of high quality.
Another useful feature of the PIA S5 Proxy is its good location coverage. It has coverage for more than 180 countries globally. In addition, you can choose which country, state, or even the major cities you want to be seen from.
In terms of performance and speed, they claim to be top-notch, and we can't say otherwise as we have experienced no slow speed level.
PIA S5 provides an easy-to-use interface that even first-time users can intuitively get the gist of how to go about its configuration and use it. Just a click will kickstart the proxy to obtain details and swiftly integrate it with compatible software such as fingerprint browsers, proxy managers, and simulators, among others.
Last but not least, this provider has got a good feedback rate when it comes to dealing with their customer support service. They see to it that you are well responded to and you get what you want. They are at your beck and call 24/7.
---
back to menu ↑
How to Use PIA S5 Proxies
This section will show how to make use of this proxy. As stated earlier, it is not the type of provider you log into the user dashboard, copy the proxy host, port, username, and password and use in any software you want. This one is a little complicated, except, of course, if you have made use of the 911 S5 Proxy before. The steps required are highlighted below.
Step 1: Visit the official website of the Pia S5 proxy to register an account.
Step 2: Go to the pricing page and purchase a proxy plan. You can pay with card or crypto.
Step 3: Once the above have been done, download the Pia S5 Proxy client, you will need it for the rest of the steps below.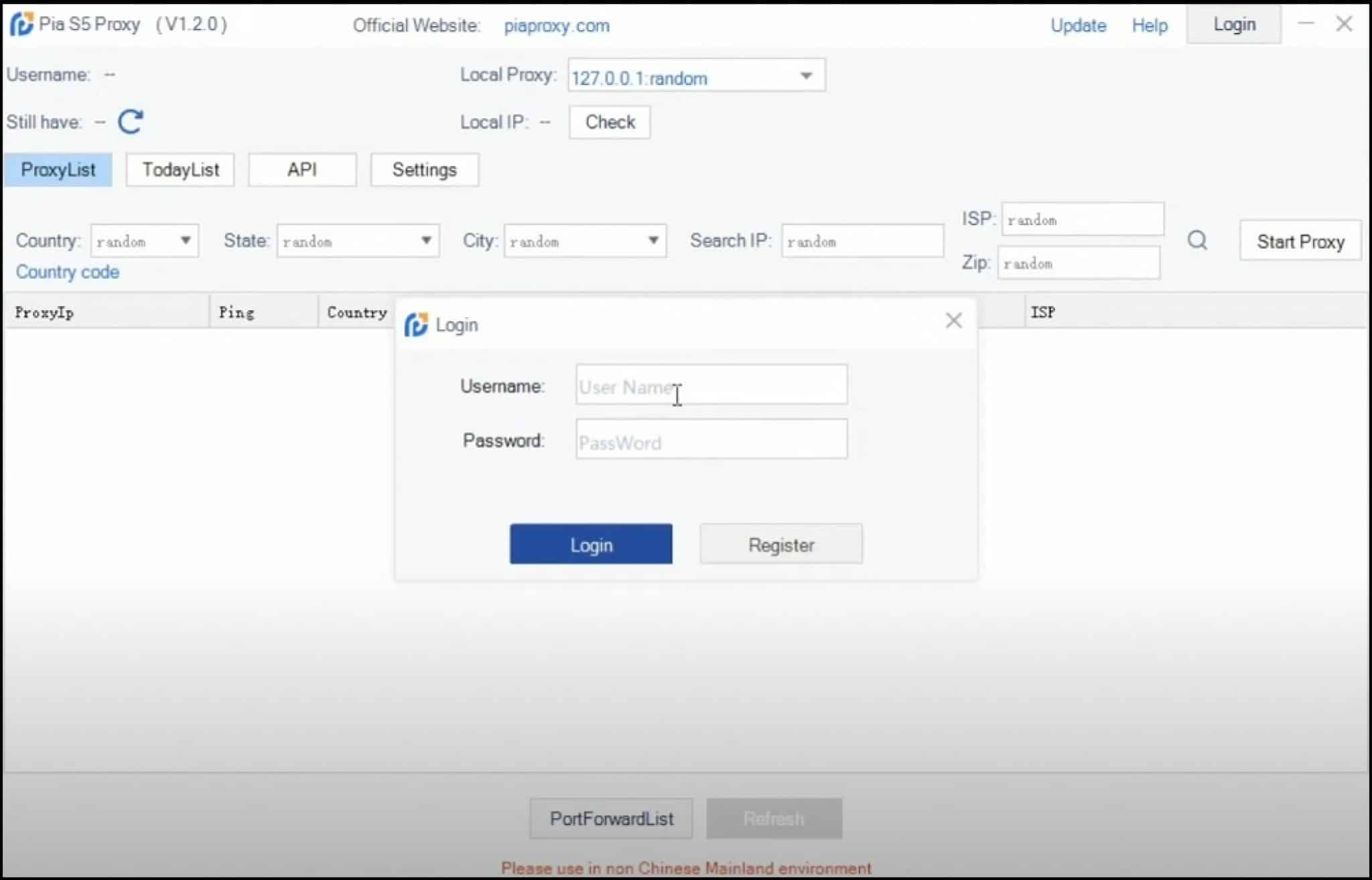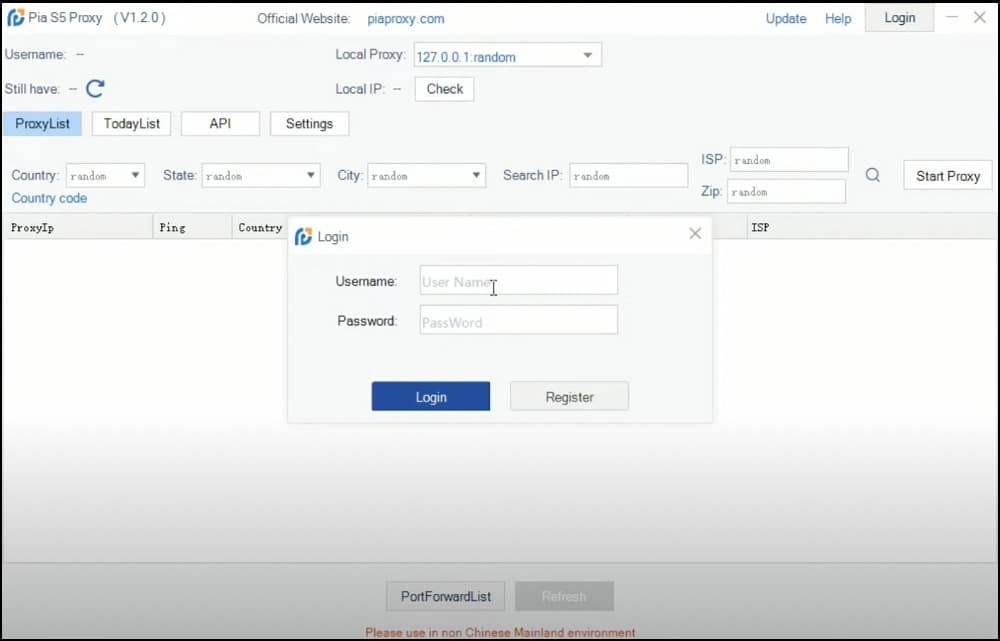 Step 4: Launch the app and provide the username and password for the account and click login.
Step 5: Select the country you want IPs from. You can select specific states and cities if you want.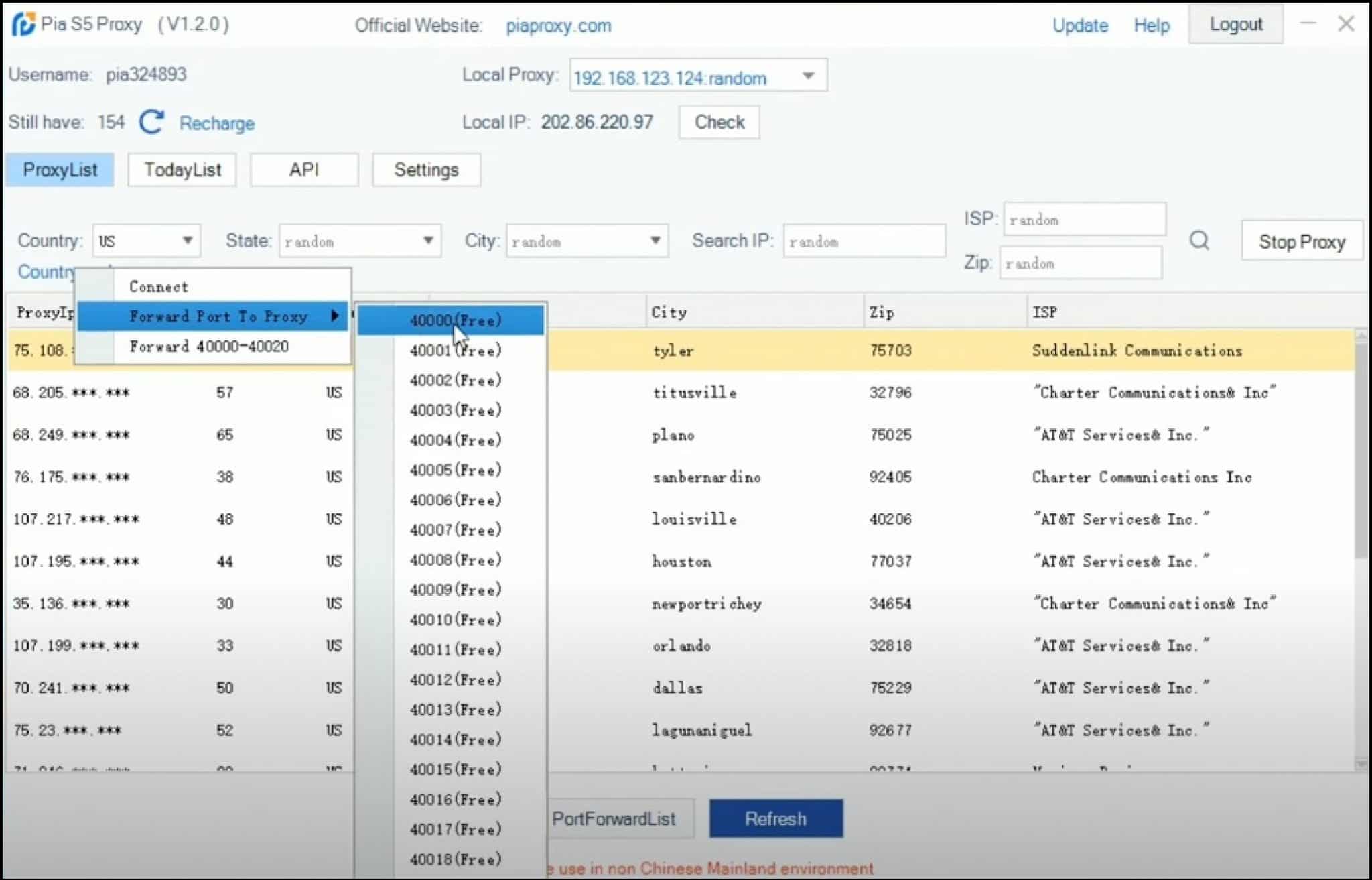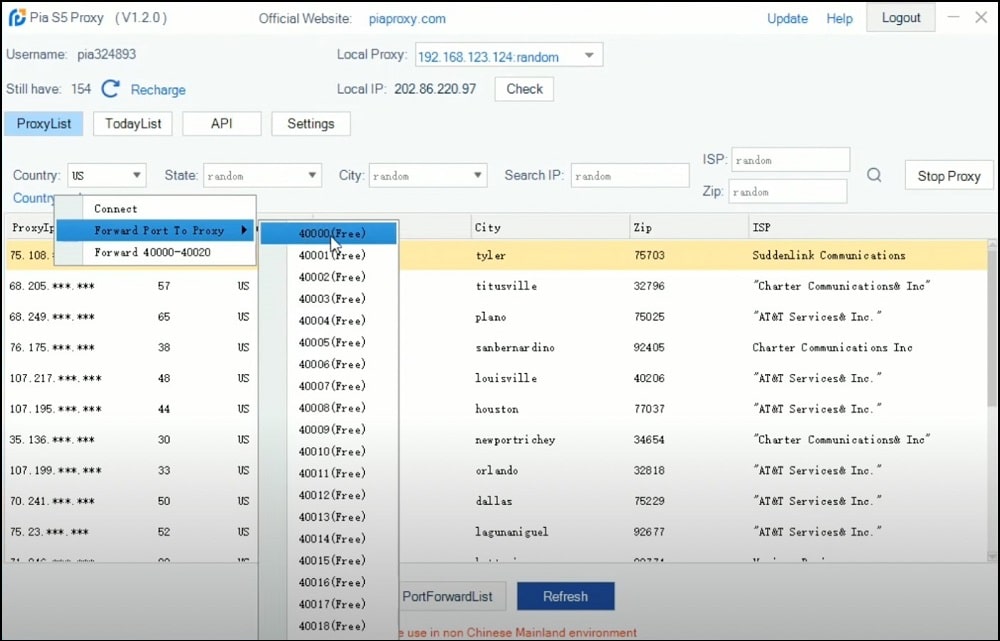 Step 6: The field will be populated with proxies. Click on a proxy of choice and click the "connect"
Step 7: To use the proxy, use the local host proxy details. From the above, you can see it is 192.168.123.124, and the port is 4000. Use the details in the software you need proxies for. It could be a browser or an automation tool.
back to menu ↑
Our Verdict
No doubt, no proxy service has proven to be the real alternative to 911.re S5 proxy service yet. For now, we can also make do with what is available, and the Pia S5 proxy is one of the credible alternatives.
For now, this provider has proven to be one of the good options out there. As with other providers, it does have its pros and cons. However, its pros outweigh its cons, and for this reason, we recommend them.