ProxyEmpire.io is a rotating residential proxy provider that also offers rotating mobile proxies. ProxyEmpire is a relatively new company which launched in 2021, and they offer pretty reliable service with great pricing. They are the only residential proxy provider to offer unlimited rollover bandwidth, and you only get charged for the bandwidth you use.
Cost-Effective & Crypto Friendly Residential Proxy Provider
Over 3 million residential IP in the pool
Easy to use dashboard which provides detailed statistics about bandwidth usage
Precise Geo-targeting: Proxies in over 150 countries with Region, City, and ISP targeting
Up to 1000 concurrent proxy connections per country.
Sticky sessions with a duration of up to 60 minutes.
Easy & Secure – user & password authentication
IP Whitelisting Feature Available for additional security
Teams Feature Available – You can create sub-users for all members of your team and they'll have an individual bandwidth balance
---
ProxyEmpire.io is a premium residential and mobile rotating proxy provider with worldwide servers, which allows you to securely connect and use an IP address in pretty much any country in the world. Their coverage spans across over 150 countries, which is a bit lower than what the more established companies in the industry offer, but their existing coverage should be more than enough to satisfy your needs.
Their proxies support both HTTP and SOCKS5 connection protocols and are highly anonymous. ProxyEmpire allows you to set a custom maximum rotation time ranging from 90 seconds to 60 minutes which enables you to precisely control the proxies with the click of a button.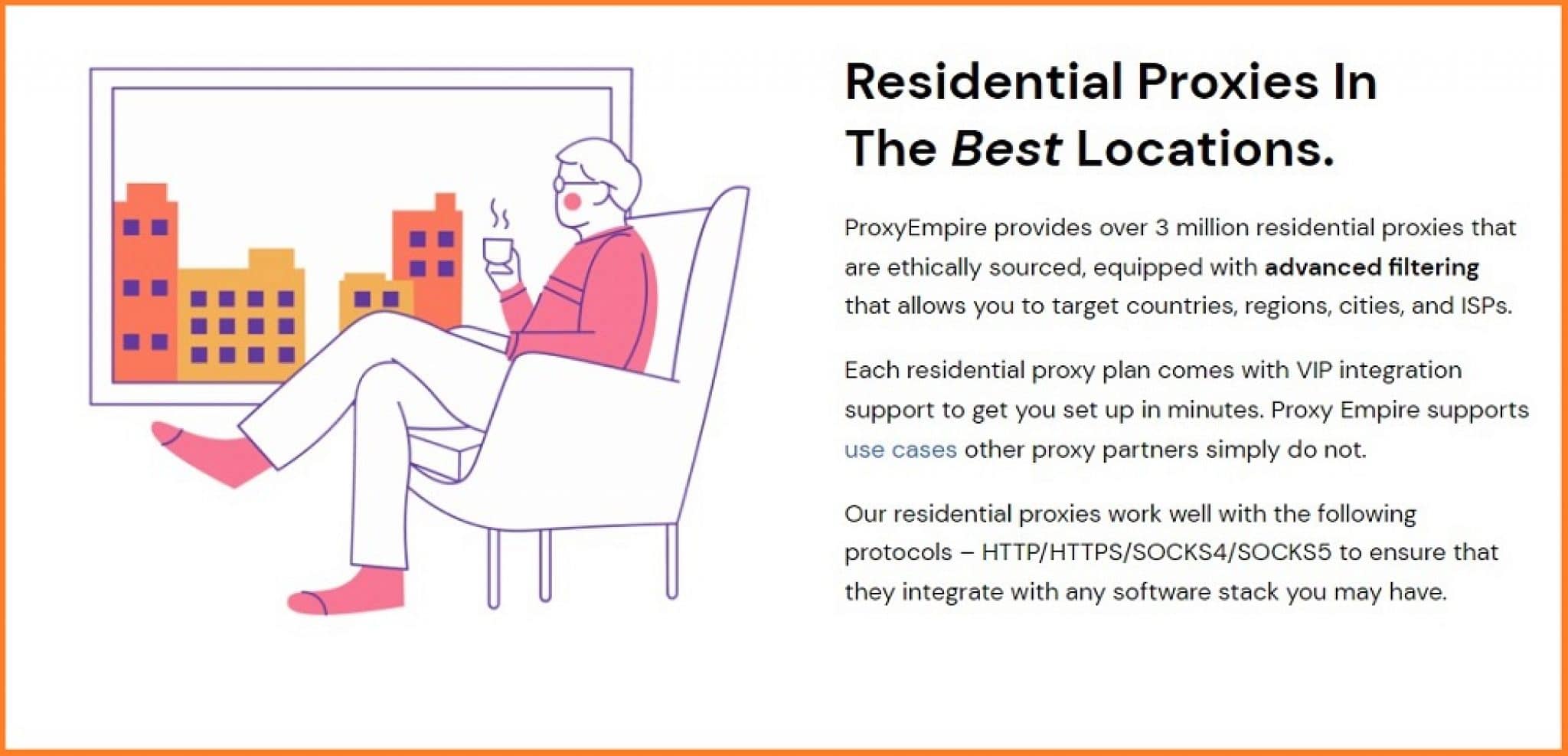 ProxyEmpire's service works great for a wide array of different use cases – creating and managing social media accounts, ad verification, coping limited-edition sneakers, scraping geo-specific market data, SEO monitoring, and more!
Since they support pretty much all the different connection protocols their proxies work with any software out there, including, but not limited to Multilogin, Adspower, Sneaker Bots and custom software solutions.
Their entry-level plan starts at just $9 per month, and their biggest public plan is $3000 for 1000 GBs of data making the cost per GB of residential proxy bandwidth just $3. They also have bigger, custom plans available for even better pricing – make sure to get in touch with them if your company needs more than 1 TB of bandwidth per month.

So the question is – Is ProxyEmpire's service good? Read the detailed review below to find out!
---
---
ProxyEmpire's Proxy Solution
Scraping geo-specific data from the internet
Because they offer really advanced GEO targeting on the Country, Region, City, and ISP level you can access hyperlocal data that you may not be able to get otherwise.
Residential and Mobile Proxies
ProxyEmpire doesn't offer just residential proxies, but they also recently started offering LTE proxies in over 150 countries, which means you can get access to mobile-only content.
Creating, Managing and Using multiple accounts
Their residential and mobile proxies combined with a software like Multilogin can make your browsing and social media activity indistinguishable from a real user's activity. To further emulate a real user we reccomend using both their residential and their mobile proxies to manage your accounts because real users use both their laptop and their phone to log into social media
Never get blocked, throttled or restricted again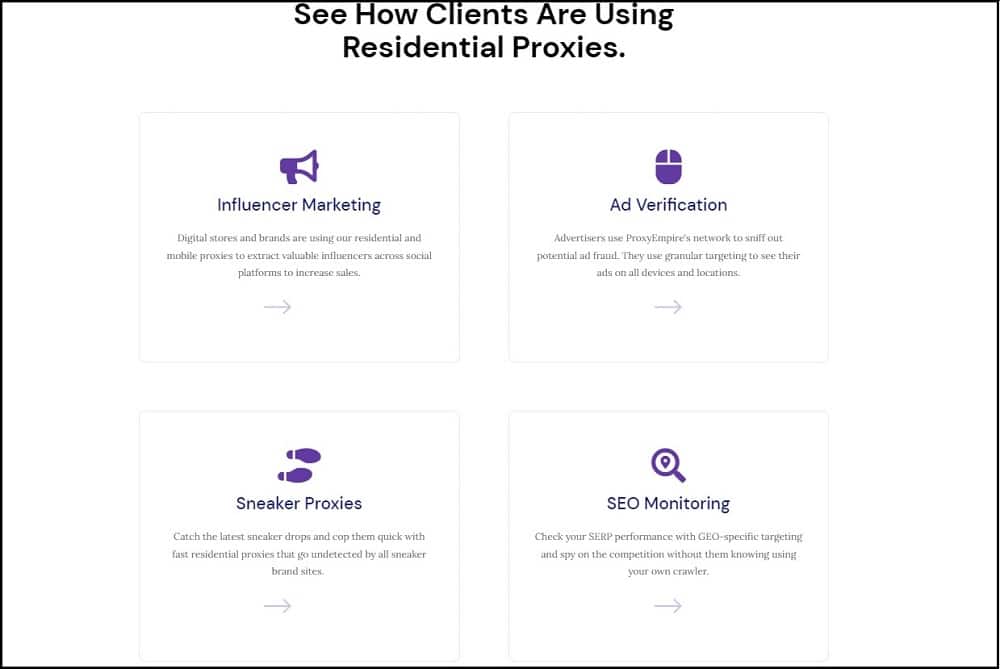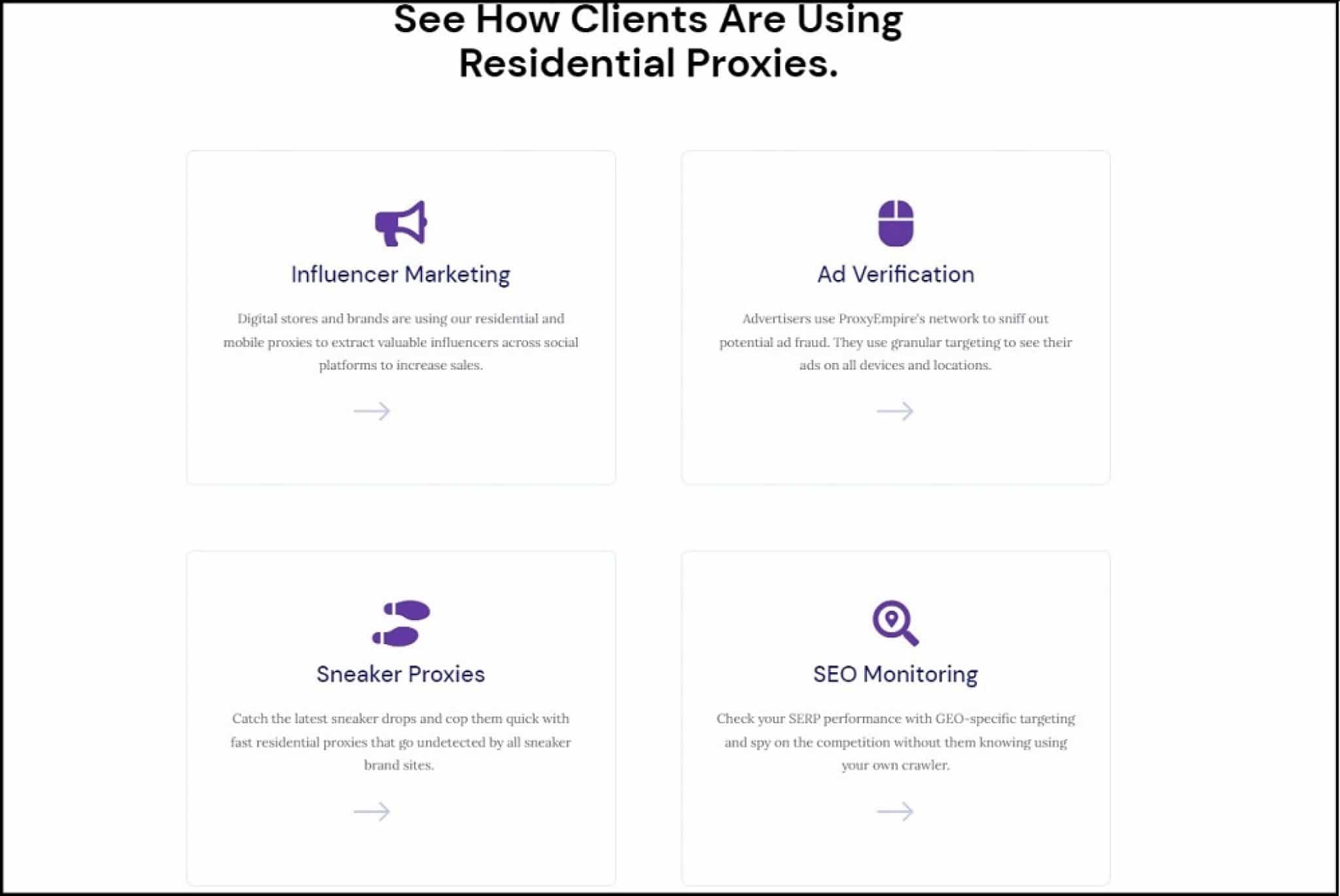 With millions of different proxy IPs, from over 150 countries, over a thousand ISPs you will never have to struggle with blocks again. It's really the ultimate solution – you can even purchase dozens of limited edition sneakers on the hottest drops. Their proxies have been tested with varios AIO sneaker bots, as well as site specific bots for Nike, Adidas, and Footlocker.
Ad Verification
Residential proxies are very hard to identify and block by malicious advertisers and tools known as "traffic cloakers", and because their proxies are rotating and Proxyempire is adding new nodes to their network all the time, its impossible for the cloaker softwares to maintain their IP databases up to date and block all of their IPs.
ProxyEmpire really takes things up a notch by offering mobile proxies as well – which are even harder to block and identify than residential proxies, but they do come at a higher price per GB of data.
Price Comparison
Doing retail pricing intelligence, competitor market research, hotel & flight comparison has never been easier, you can check the pricing from multiple countries and regions to ensure that you are getting the best possible pricing out there.
---
back to menu ↑
How does ProxyEmpire actually work
It's actually very easy, and has a detailed explanation in their proxy manager page as well as in their knowledgebase.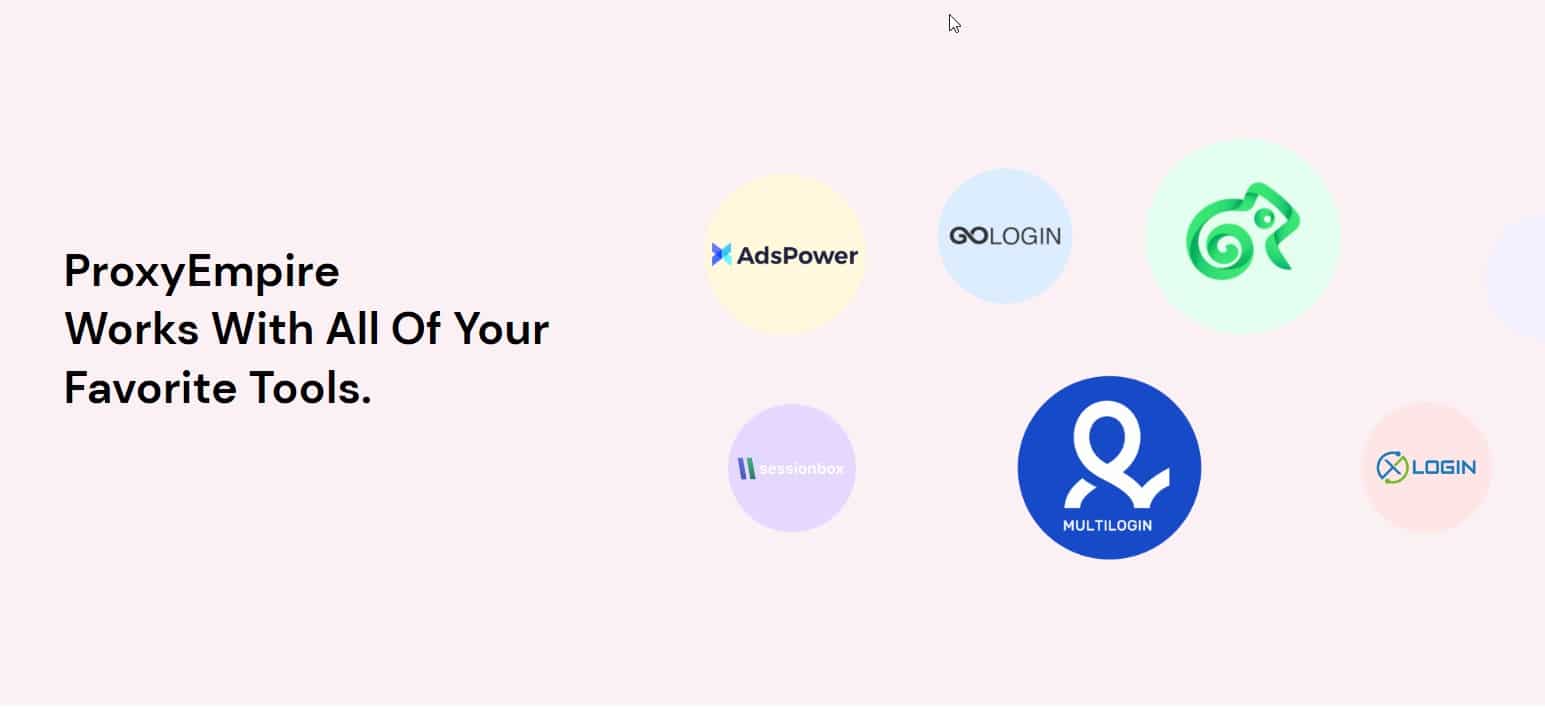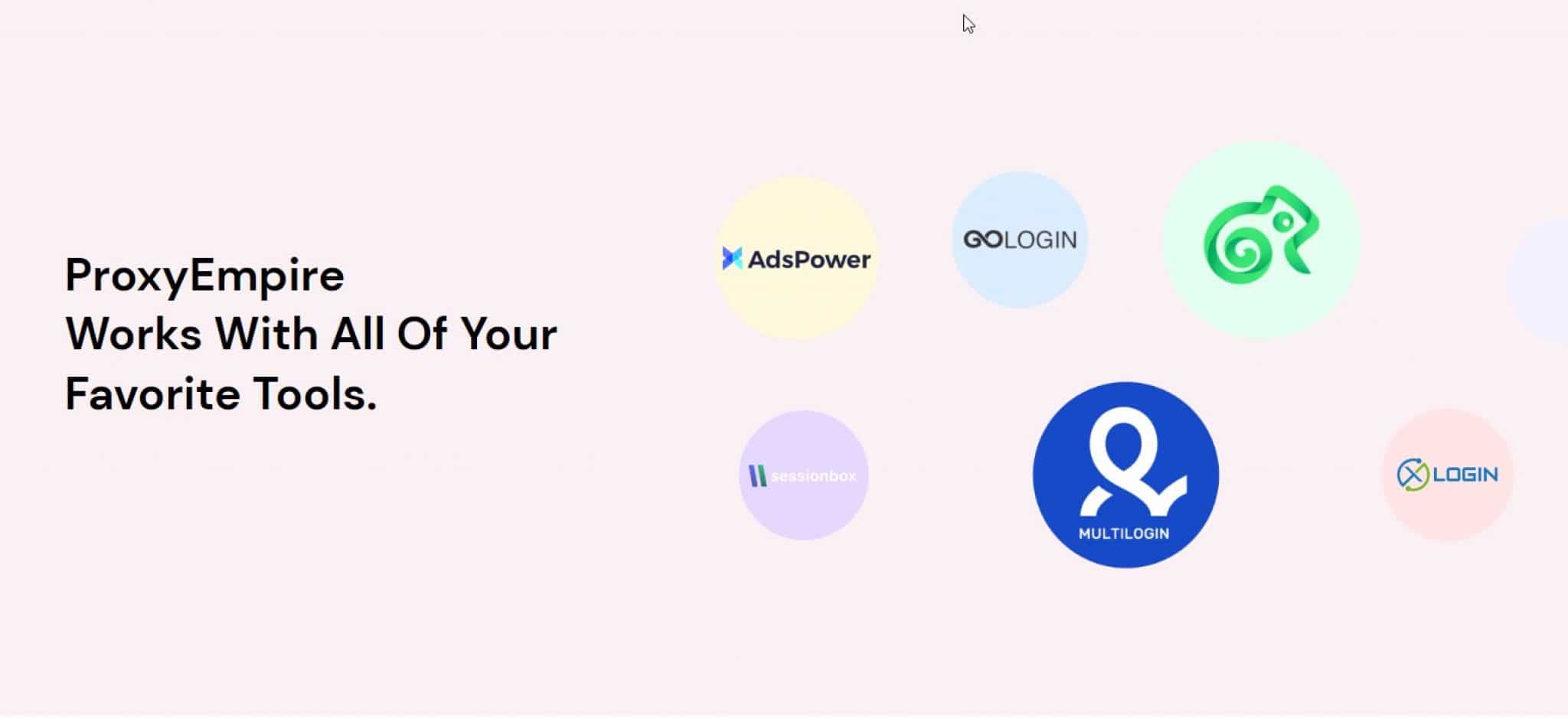 They give you access to five different load balancers IPs, so you can spread out your requests between them to ensure the best possible connection speeds and highest success rate.
In the dashboard you are given a port range that includes 1000 different ports – connecting to a new port will connect you with a new proxy node, ensuring that your browsing remains anonymous and unthrottled.
You can set your custom rotation time with the click of a button right from your user dashboard ranging anywhere from 90 seconds up to 1 hour. Keep in mind however that is the maximum forced rotation time, the proxies may rotate earlier than the time period selected because their proxies come from real devices which may go offline earlier than the selected rotation time.
You can just change the port you are using anytime you need a new proxy IP right away, or you can wait for the rotation to occur naturally.
---
back to menu ↑
ProxyEmpire Pricing
Unlike with Datacenter proxy providers you don't need to pay for each unique IP that you use. With ProxyEmpire you only pay for the actual amount of bandwidth that you consume.
Another great thing about their service is the unlimted bandwidth rollover meaning that if you purchase a big plan in order to get a cheaper price per GB, you can actually use it over several months and your bandwidth will not expire.

They offer 8 different pricing plans, starting from $9 a month going up all the way to $3000 a month. They can also come up with a custom plan made just for you to ensure that all of your needs are met.
ProxyEmpire does not have a free trial policy. However, they do offer a $1.97 trial so you can make sure that their service works well for you, without making a big commitment.
They most likely are the proxy company that offers the most payment methods – Debit Card, Credit Card, PayPal, Wire Transfer in both USD and EUR, as well as Cryptocurrency!



10% OFF
Get 10% Life-time discount: put promo code "privateproxyreviews" to check out!
---
back to menu ↑
How to use ProxyEmpire.io
First step would be to sign up through their user-friendly dashboard and verify your email address. Then you need to select the residential or mobile proxy plan you want to use and make the payment. Once that's done your account is setup and ready to be used instantly.
Okay, let's start by viewing their control panel (Dashboard) and see how to use the proxies before we start testing.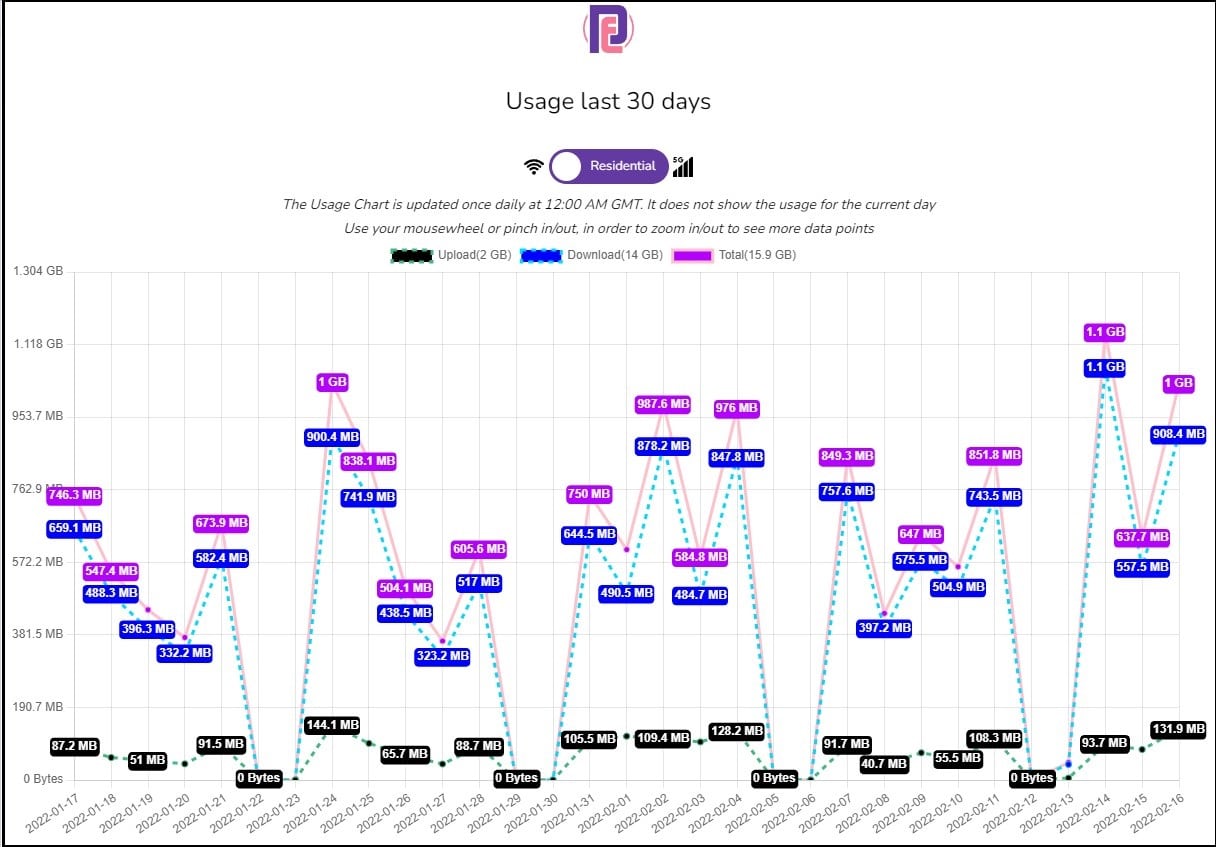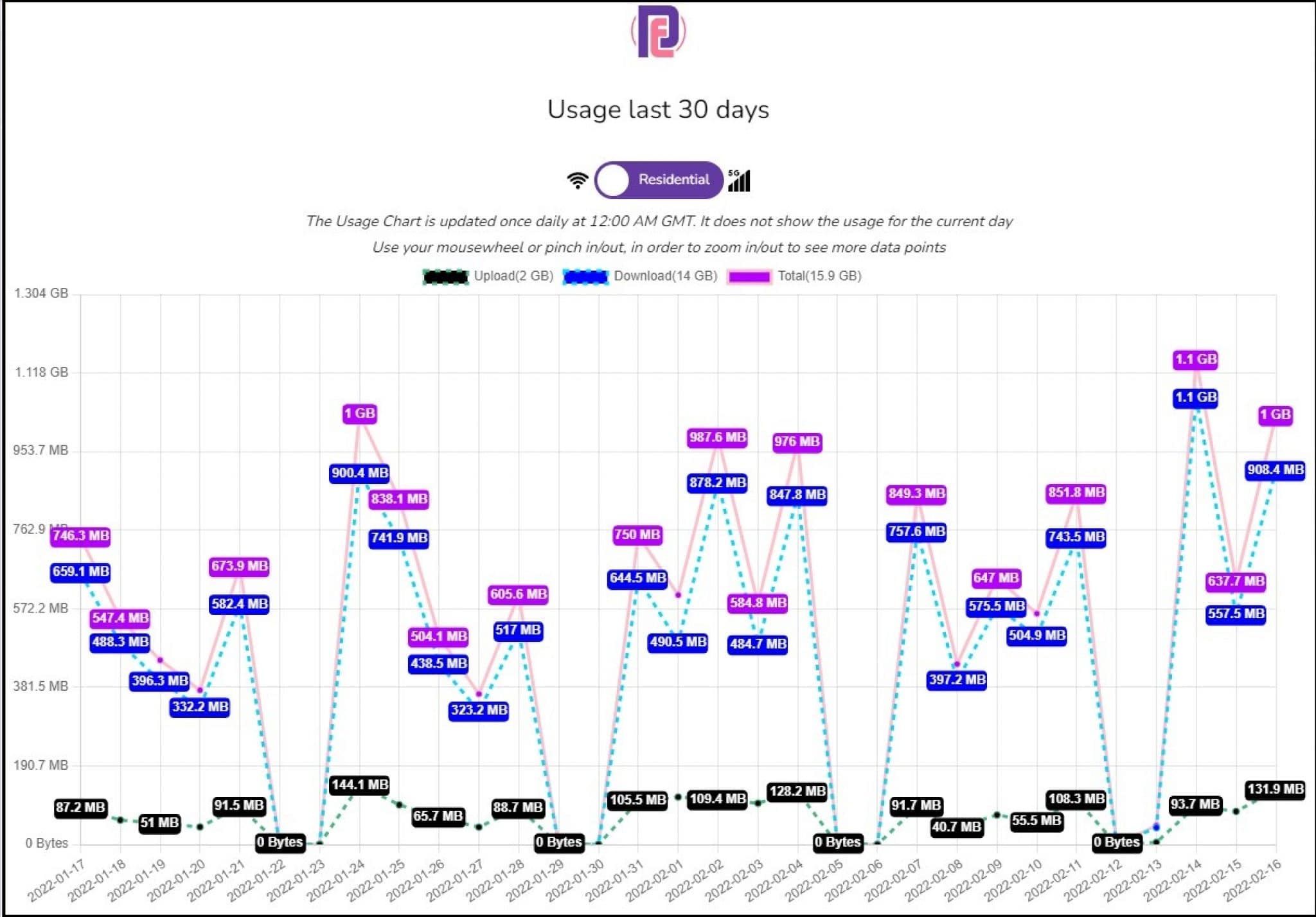 ProxyEmpire.io provides detailed, in-depth statistics of your residential and mobile proxy bandwidth usage, you can view a breakdown of the total amount of bandwidth, the download and upload amounts of data for any specific day in the last 30 days. We definitely love the granular breakdown of bandwidth usage, because it allows us to further understand the way that we consume our bandwidth and we can make further optimizations.
There's two different ways to use ProxyEmpire:
Manually with a Single Proxy



The proxy manager gives you one of their 5 load balancer IPs at random, and the default port(9000) as well as your proxy username and the default password. If you plug in the proxy details like that you will get a random residential or mobile proxy IP from their worldwide database.
However, you can use the proxy targeting settings above by selecting a country, or a country + region combination and the password will get updated automatically. The proxy password that you use basically determines the proxy that you will be connected to.
Bulk Proxy Export for Automatic Usage
Below your single proxy details you will find a section called Proxy List Length.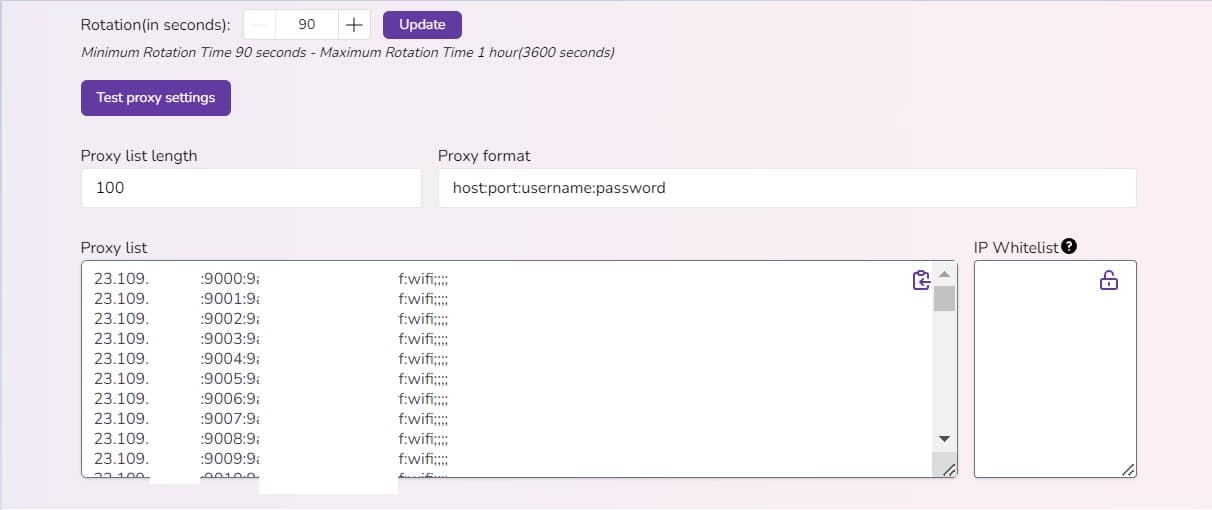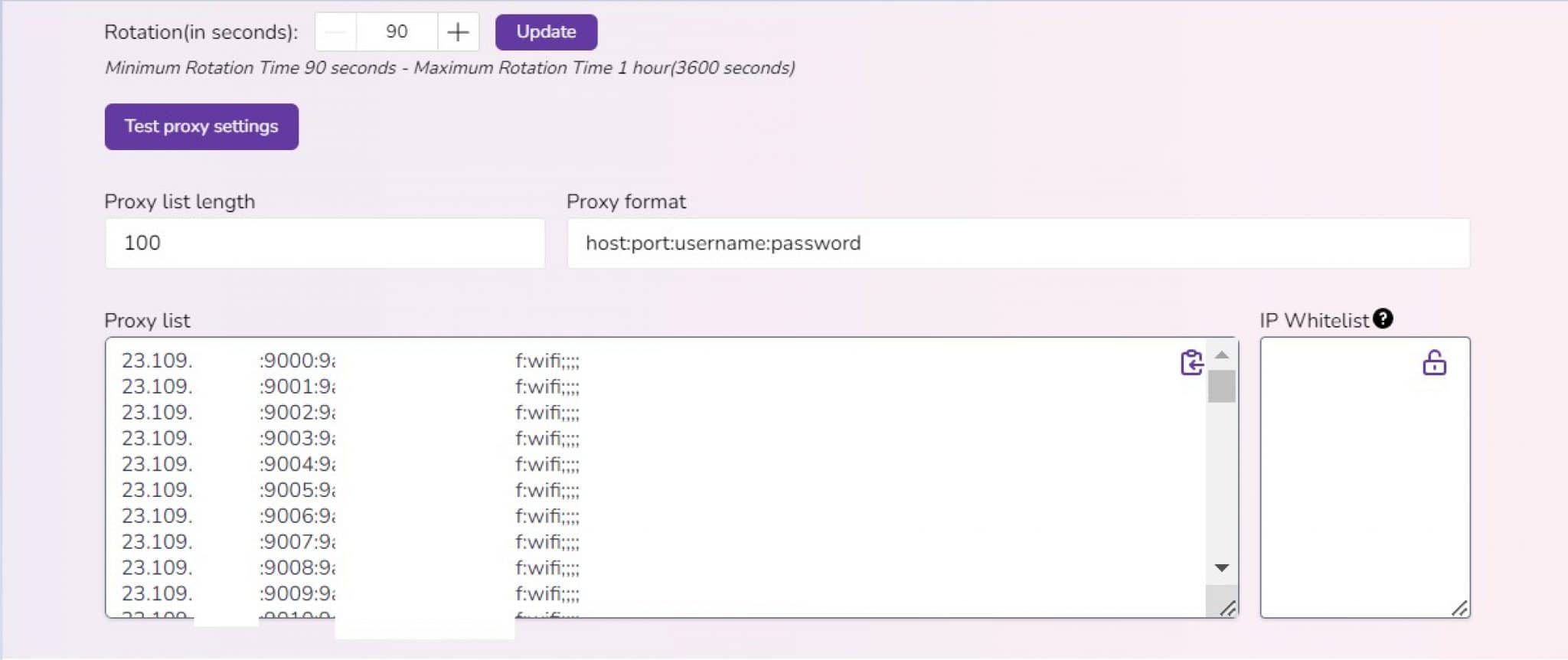 You can generate up to 10, 20, 50, 100, 500 or up to a 1000 proxy strings, which will provide you with a ready to use list of proxies that you can just copy paste into your software.
To make things even easier you can export the proxy list in the following 3 formats:
ip;port;username;password
username;password;ip;port
username;password@ip;port
Most softwares use one of the 3 formats above, so the team at ProxyEmpire definitely tried to make the user experience as nice as possible.
Authentication
ProxyEmpire offers 3 different authentication methods:
Standard username:password authentication. You just need to enter your personal proxy details in whatever software you use, and it will work right out of the box



IP whitelisting + User&Pass authentication for extra security. For an additional layer of security, you can ask the ProxyEmpire support team to turn on IP whitelisting for your account, so your proxies will only work when accessed from your whitelisted IPs along with the appropriate username and password combination.
IP Whitelisting without User&Pass authentication – If for some reason your software does not support user&pass authentication, you can contact the support team and they can set up a custom IP whitelisting authentication-only method for your account where they can allocate specific port ranges to specific countries.
Does ProxyEmpire offer region or city level targeting?
Yes, they do! In addition to their standard country level targeting, you can request proxies from a specific region or city. They usually have coverage in the 5 to 15 biggest regions and cities in every country, and they also have an additional ISP filter, but please note that if you are using all 4 targeting options (Country + Region + City + ISP) you may be limiting the available proxy pool too much and only get a few different proxies available at the same time.
Can you get multiple proxies from the same location?
Yes, you can use up to 1000 proxy sessions from the same country/region at the same time. All you have to do is select your targeting from the top part of the proxy manager and then export the list of proxies with the appropriate targeting from the Proxy List box at the bottom of your proxy manager page.
---
back to menu ↑
ProxyEmpire Residential Proxy Speed Test
Today we decided to test the speed of their USA Residential Proxies from a home connection on a computer in Asia.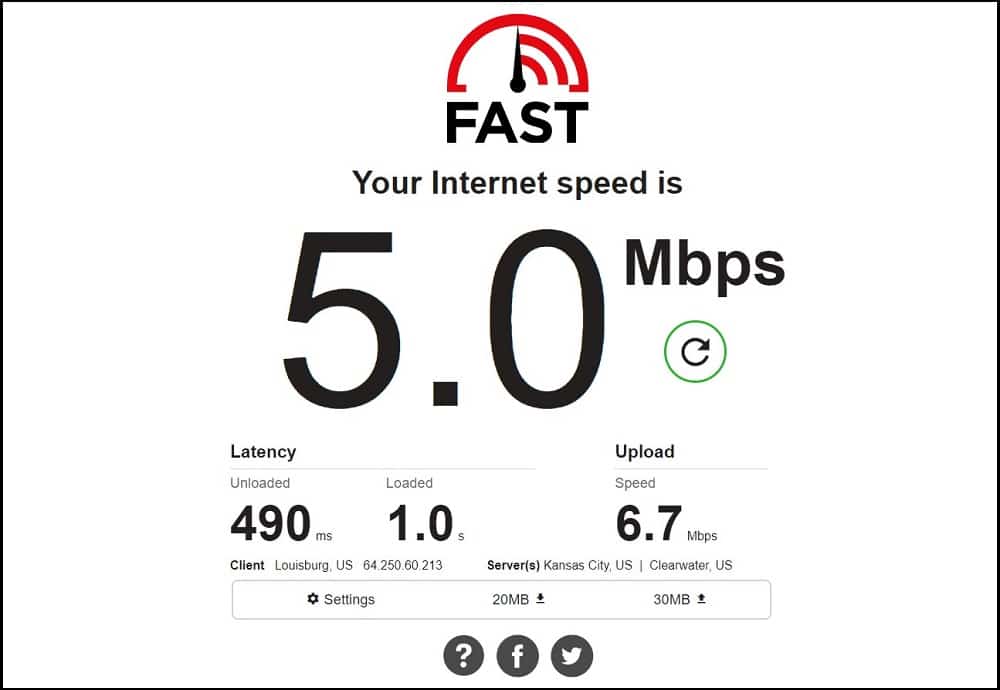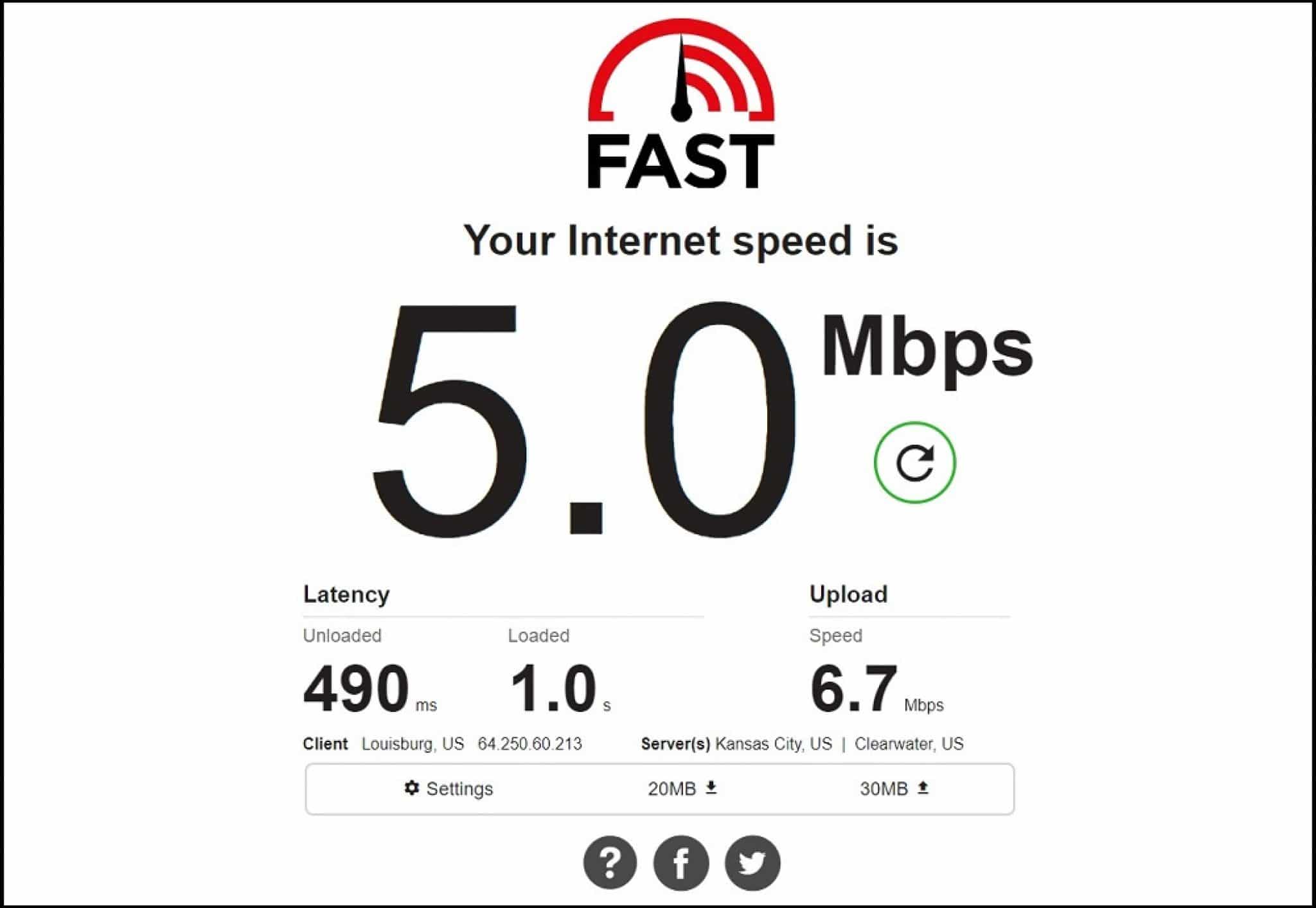 The speed is pretty good, and it should be even higher when connecting from a computer or server based in the USA or Europe, and you can get more speed and test results from stupidproxy.com.
---
back to menu ↑
ISP Testing – Residential IPs or Not?
So now we're running a test on https://ipinfo.io to see if its a real residential IP or not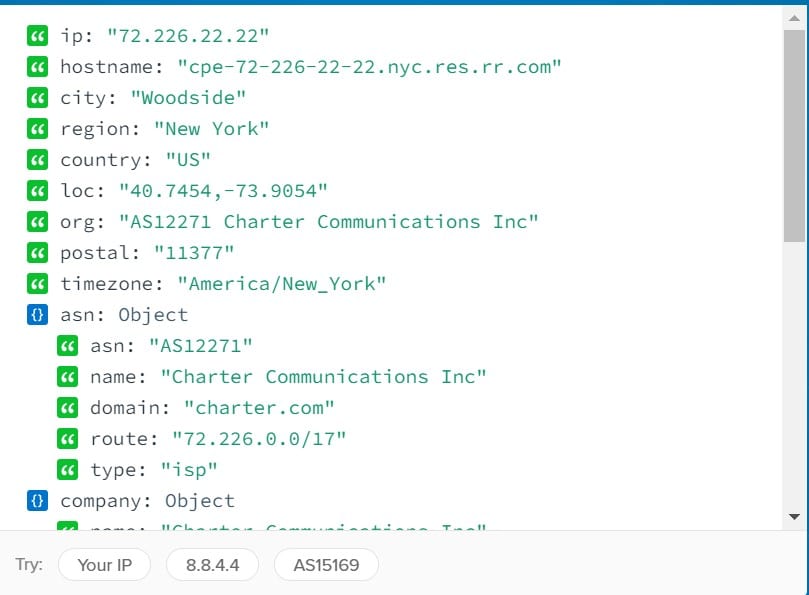 We can see that the type is ''isp'' so this is definitively a real residential IP from a local internet service provider.
---
back to menu ↑
Our verdict
ProxyEmpire.io is a great residential and mobile proxy service. Their packages range from $45 up to $4000 a month so they can cover the needs of single operators as well as larger companies. The speeds are reasonably quick, they have worldwide coverage and granular targeting options available.
They also quality check all of their IPs on a daily basis before they include them in their proxy pools.
We appreciate you taking the time to read our review, if you've already used ProxyEmpire's services in the past, feel free to share your experience in teh comments below.
Worth to Try with Residential, and Mobile Proxies
PROS
Over 3 million residential IP addresses
One of the very few mobile proxy services with worldwide coverage
Cheaper than the bigger brands
Fast Proxy Connection Speeds
Easy to Use
User-friendly Proxy Manager
24/7 Livechat and Email Customer Support
Good IP Quality
Accepts Crypto Payments
Unlimited Rollover Bandwidth
CONS
They don't have as many IPs as the biggest services in the market
No Free Trial - It costs $1.97
They are missing some smaller countries in Africa & Asia, but they're working on adding more locations
Add your review
|
Read reviews and comments