The Proxywow service brings Resicenter proxies. These are nothing but premium ISP proxies that appear as residential and broadband connections. Because they appear as residential proxies, they are less suspicious to block. However, unlike regular residential proxies, these ones are hosted on the Proxywow datacenter infrastructure, thereby making them super fast. The proxies are dedicated proxies assigned to a user at a time. In terms of IP rotation, IPs are static here and do not get changed for you on a monthly basis.
---


There is the option of changing the IP by contacting the support should you need to change your IP address. However, it is important you know that IP change, in this case, is based on a first-come-first-serve basis. The user interface of this service is easy to use but lacks some of the advanced features you will get from the more popular proxy providers. It is also known to offer only US IP addresses. This means that it is not the best for you if you need IPs from another location. This article was written to provide you with an unbiased review of Proxywow Resicenter proxies.
"Is ProxyWow worth it? Let's dig deeper and discuss it further"
---
---
The Proxywow Solution
As stated earlier, the term Resicenter is nothing but just a name, as the proxies are ISP proxies. As with most proxy services, there are tasks they are best suited for. What are the tasks that Proxywow proxies are good for? Let's take a look at some of the popular use cases of their proxies.
Sneakers and Other Auto-Purchases


The number one use case of Proxywow proxies is for sneaker copping. That is the root of ISP proxies, as sneaker resellers need proxies that are undetectable with residential IPs to evade detection while still being super-fast. And the premium ISP proxies provided by Proxywow meet these criteria.
According to the information on their website, their proxy service has been used to check out over 10K sneakers. They are better suited for Footsites, Shopify, Supreme, and a few other sneaker sites. Their proxies are also perfect for accessing mainstream e-commerce sites like Amazon, eBay, and AliExpress, among others.
Streaming and Gaming


Among the features, you get when you use this service is low latency, uncapped bandwidth, and fast speed. These together with the residential IPs provided will provide you with the requisite features you need to stream US online entertainment services. With Proxywow proxies, you can stream your favorite shows from Netflix US and Hulu. They are also perfect for online gaming as you will experience less lag when using their proxies. This means the proxies are perfect for Pokemon Go, Runescape, Diablo, and WoW, among others.
Other Use Cases
The proxies are not only meant for sneaker botting, online gaming, and content streaming. Because of their ability to evade detection and ban, you can use them for a good number of tasks. They can be used purely just by masking one's IP address for the sake of privacy. You can use it to unblock access on a website you are blocked from accessing. You can use them for Ad verification for the US also. Just know that you only get an IP address per subscription, and this IP address does not get changed. If you need a frequent change of IP, then you need rotating residential proxies, which you can get from Bright Data or Smartproxy.
---
back to menu ↑
How Proxywow Premium ISP Works
The fundamental workings of ISP proxies do not have much difference from regular proxies. What it does is replace your real IP address with a different IP address. Usually, if you configure proxies, your web request does not go to the intended website straight. It goes to the proxy server first. And this is where things get interesting — and where the difference between the proxy types comes up. For ISP proxies, their providers get IP addresses directly from Internet Service Providers (ISPs). These IPs gotten are hosted on their servers in their datacenter facility. This means they get undetectable and trusted IP addresses hosted on datacenter infrastructure.
And the result is astonishing — a super-fast undetectable proxy network you can use for a good number of tasks. Because the IPs are under their control, Proxywow is able to provide you with the best quality possible as opposed to the case of residential proxies, in which many things are not under their providers' control. While the setup and working mechanism of ISP proxies is great, there is currently no provider in the market that offer rotating ISP proxies. The best you can get is a change of IP, and even for that, you can change it often.
---
back to menu ↑
Pricing & Features
Pricing is a very important factor when choosing a provider to purchase proxies from. When it comes to pricing, it is easier for a provider to fall under the expensive category or the too cheap to be a good category. Where does Proxywow stand in this? From my test of their proxies and looking at the performance you get, I can confirm the pricing labeled on their proxies are competitive. If you visit the homepage of the Proxywow service, you will see the pricing clearly displayed on there for you to see.


Looking at the above, you can see that the pricing system is quite simple. You are charged based on the number of IPs, and the proxies purchased last for a month with no bandwidth limit. The smallest plan goes for $25 monthly and comes with 5GB at a price of $5 per IP. The more IPs you purchase, the cheaper the pricing per IP becomes. As you can see in the case of their Advanced plan above, the price per IP is $3, which is a good discount from $5 from the Starter plan. If you are an enterprise user or need more than 1K IPs, you can use their custom plan to get even lower prices — the user will need to contact the sales team for this, though. Proxywow does not offer a trial proxy, and as such, you will need to be a paying customer to use their proxies.
Features of Proxywow
---
back to menu ↑
How to Use Proxywow
The Proxywow service is like every other proxy service out there and, as such, does not have different method usage. As a paid service, you will need to pay for their proxies before you are able to make use of it. Let's take a look at a step-by-step guide on how to make use of the Proxywow. The only difference you will see is specific to how their website is arranged and not in how the proxies are actually used.
Step 1: Head over to the Proxywow website and purchase a proxy plan. Their payment is handled by Stripe, and the supported method is via card. The email address you use for the purchase will be the email address you use for logging into your account.
Step 2: After the purchase has been made, go back to the homepage of the service and click on the "login" button or link. You will be taken to a page to log in.
Step 3: Only your email address is required here. This is because Proxywow makes use of magic links to validate login. Enter your email address and click on login. An email with the login URL will be sent to your email address.
Step 4: Log into your email, and you will see the link. Click on it, and you will be logged in. You should avoid sharing this link with others unless you are comfortable with them logging into your account.
Step 5: The dashboard is easy to use as there is only a single page. You can see the list of your proxies in a table. Each table contains the proxy address and port, username, and password, the date created, and the date the proxy will expire. Above the table are some interfaces in the form of icons. These are meant for downloading and sorting the proxies.
Step 6: Copy the details of the proxy you want to use. The details required are the proxy host, port, username, and password. You can then use these to set up proxies in your chosen client software. It could be in a bot or even in your browser.
Authentication Method Supported
As stated earlier, Proxywow is a paid service, and you will need to pay for it. For this reason, the proxies are not free and open — you will need to authenticate to make use of their proxies. But what type of authentication methods are supported by Proxywow? Currently, Proxywow does support both username and password as well as IP authentication. For the username and password, authentication is self-explanatory — you use a username and password to authenticate, and this is the method used in the "how to use" section above.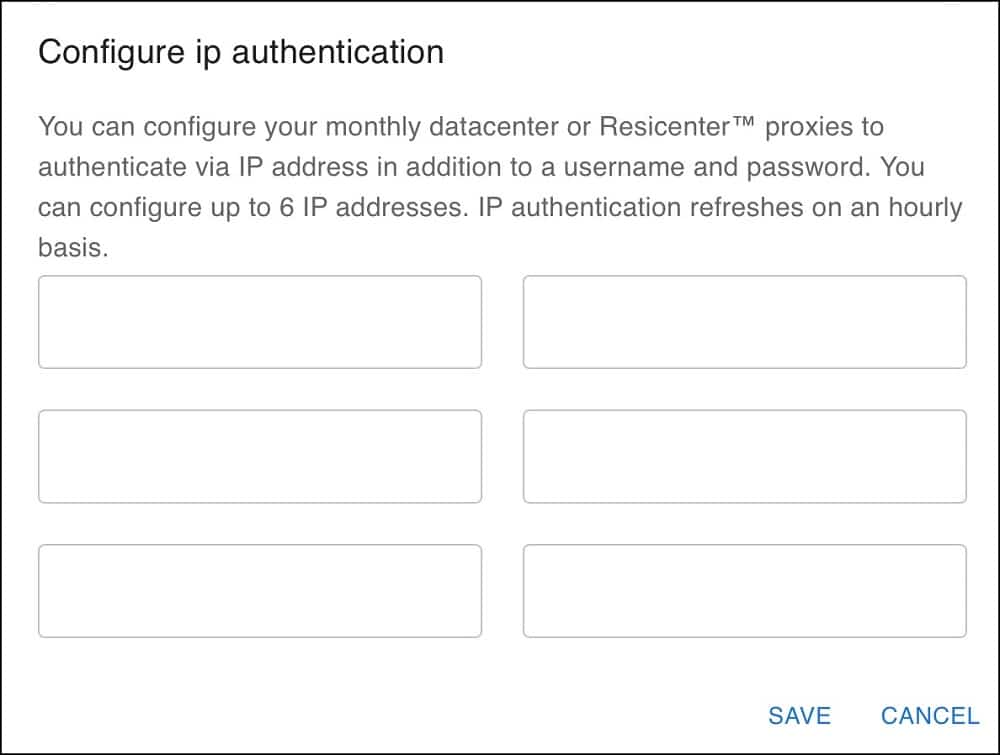 The second method of authentication is IP authentication, also known as IP whitelisting. For this one, you do not need to provide a username and password to authenticate. All you need is to whitelist your IP address, and you can access it without a username and password. Proxywow supports up to 6 IP addresses, and it takes one hour to resist this setting. To add an IP for authentication, click on the "IP Auth" from the user dashboard and add the IPs to be used with your proxies.