Rsocks as a proxy provider offers a huge number of proxy packages that have been developed for various tasks, The residential proxies are their main product. They touch almost all niche in the proxy provision market and still provide a VPN service.
Offering offer all type of socks4/5/http(s) proxies
Any kind of scraping, parsing, checking, crawling, etc.

High-anonymity web browsing from all web browsers.

High-volume content posting from proxy-supporting.

Viewbotting, mass following, mass liking etc.
---
Rsocks is one of the popular proxy providers in the market. However, you still need to know if their proxies will work in your case. One thing you need to know about Rsocks is that they have a good number of proxies that choosing the best one for your use case becomes difficult.

Don't worry though, after going through this article, you will have a better idea of what each of their proxies is best used for.
Rsocks.net mainly provide residential proxies. They also have what they call the exclusive proxies, shared proxies, datacenter proxies, and mobile proxies. VPN service is also one of the services they render.
We will look at each of these services in detail. But before then, let take a look at some few details about Rsocks.
---
---

15% OFF
Now Rsocks offer 15% discount for our readers! Use this exclusive promo code "PPR15" when checking out!
Rsocks Overview
RSocks team offers a huge number of proxy packages that have been developed for various tasks, This gets intending users confused. To make matters worse, the way they named their proxies and the general arrangement of their website makes things more difficult.
However, if you understand how their system works, you will learn to appreciate them and accept the complications as a necessary evil.


They provide HTTP, HTTPS, and SOCKS5 proxies. Their proxies come with unlimited bandwidth. As for the non-residential proxy servers, they are super-fast.
When it comes to pricing, Rsocks proxies are not a cheaper option. Their proxies are expensive and one of the reasons people run away from them. However, they provide free trial options for intending customer and the duration of the free trial depends on the type of proxies.
They also have a refund policy in place to help users get back their money if they are not OK with their services within a specific period of time. Their proxies are secured and reliable.
They promise their users an uptime of 99 percent. When it comes to customer service provision, Rsocks can be rated as a customer-centric business as they always respond to their customers' queries within few minutes especially when any of their support team is online.
back to menu ↑
Rsocks Residential Proxies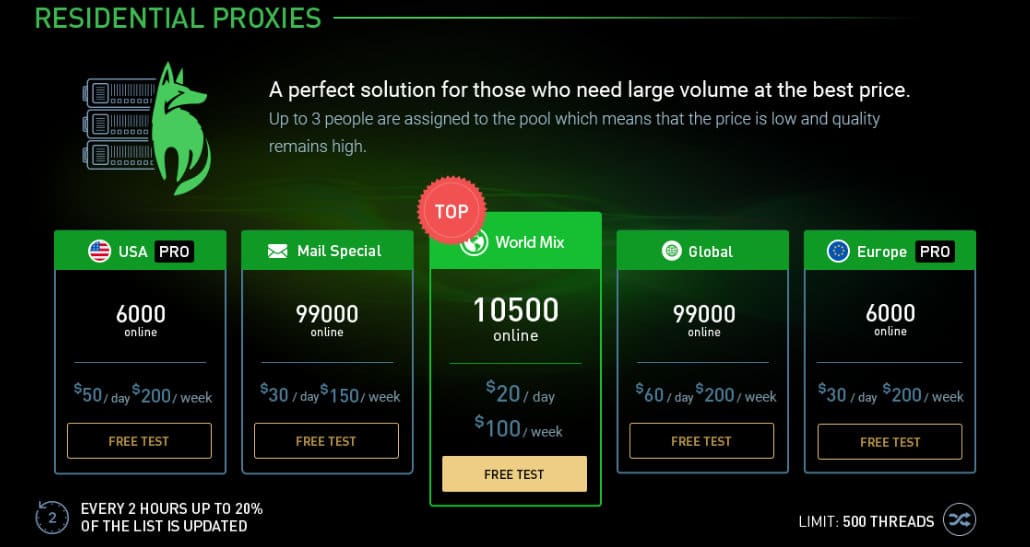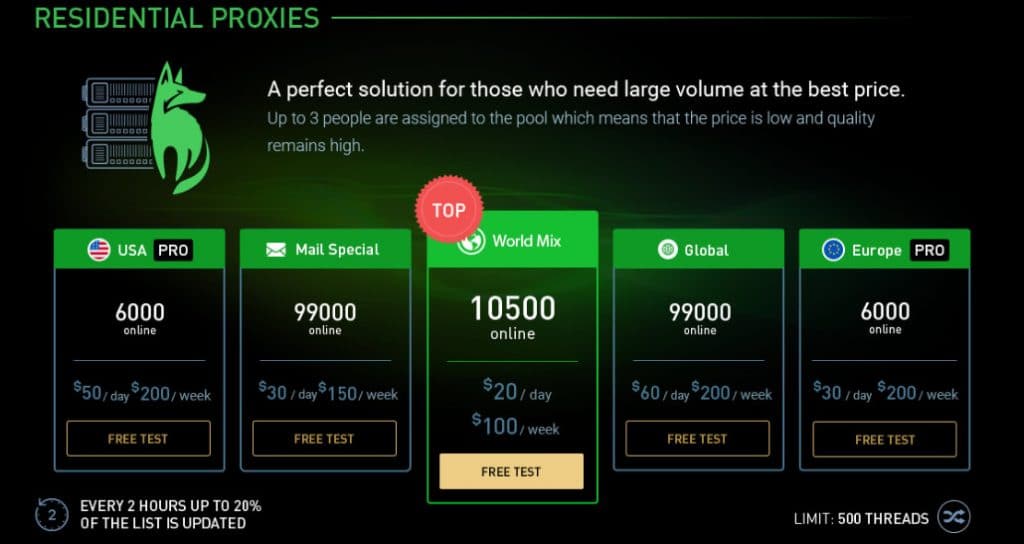 Residential proxies are the types of proxies that route client requests through devices mapped to home addresses.
These types of proxies are assigned to devices in peoples' home by their Internet Service Providers (ISP). Since websites can only see the residential IPs and they trust these residential IPs, residential proxies have been found to be some of the most performing.
Different proxy providers have their ways of getting access to residential devices.
Like We stated earlier, residential proxies are their main selling points. Just like most proxy providers, Rsocks does not disclose how they get access to those residential proxies before we can ascertain if they are legally gotten or not.
However, Rsocks have over 500K residential proxies. One thing I like about their residential proxy service is that they display the number of online devices they can route your request to at any given period of time.
They have residential proxies in the United States, the United Kingdom, China, Russia, Malaysia, and Ukraine.
Test to Rsocks Residential Proxies
How their residential proxies work is simple. They have pools of residential proxies that users are given access to. Up to 3 people share a pool of residential IP addresses. Because the pool is being shared, the pricing and cost are reduced to a minimal when compared to their exclusive plan.
One interesting thing about their residential proxies is that they changed 20 percent of the IPs in the pool every 2 hours. They allow a maximum of 500 thread per user, Here is their user control panel.


We test to their USA Pro, only support IP authentication, the default only support one IP to access the proxies, If you want to access with more IPs, you have to pay more money for that.
And RSocksffer easy to ues API, so you can easily use it on your web scraper or others tools, you can easily call their proxies by the URL or download as txt.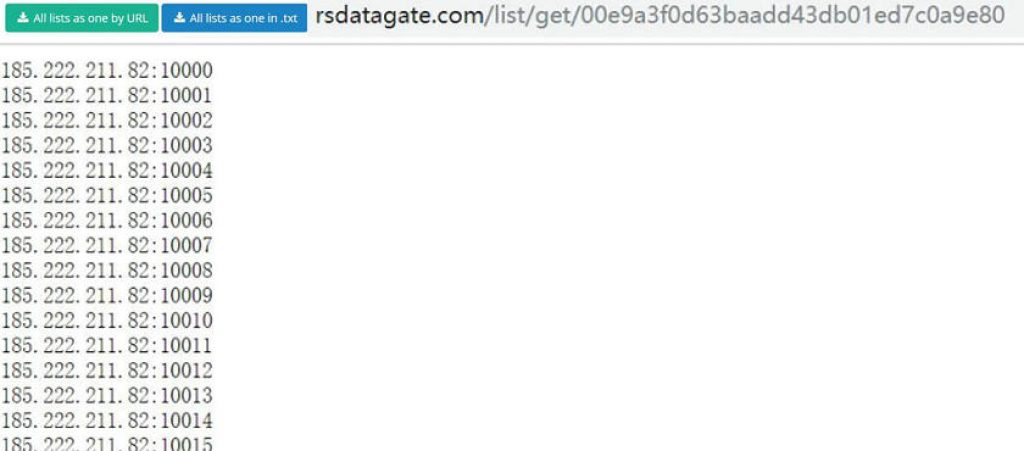 And now they bloack the proxies for speedtest.net, fast.com and other speed test websites, so we can not test the speed of their residential proxies, if you really care about it, I would suggest you check speed test from stupidproxy.
We use those US residential proxeis test to amazon, google, instargam, Booking, Adidas and more, overall the the speed is acceptable, for it's the roating backconnect proxies, the performance should be top classy.
What Are Rsocks Residential Proxies Used For?
Their residential proxies are particularly important for large scale web scraping and social media automation. They can also be used for Ads verification and SEO auditing among other things.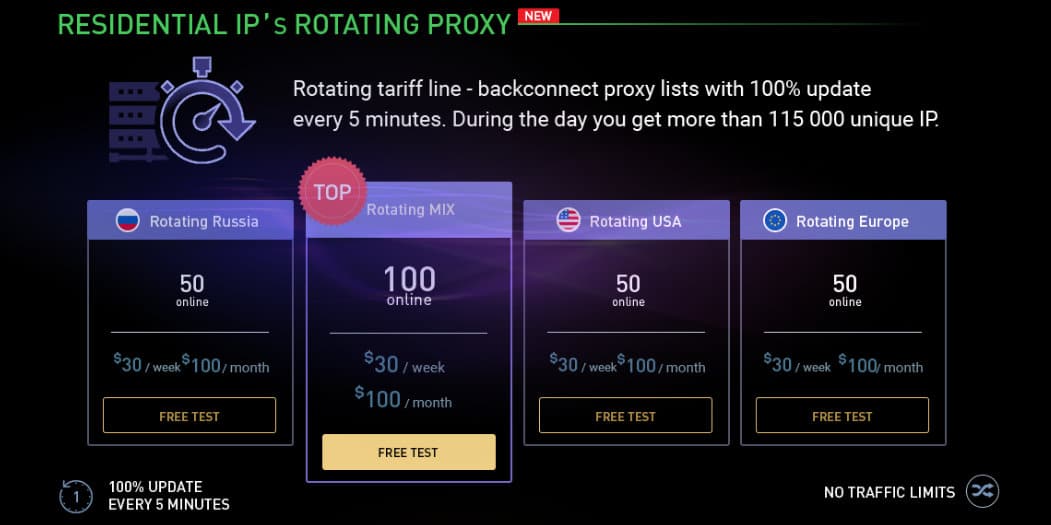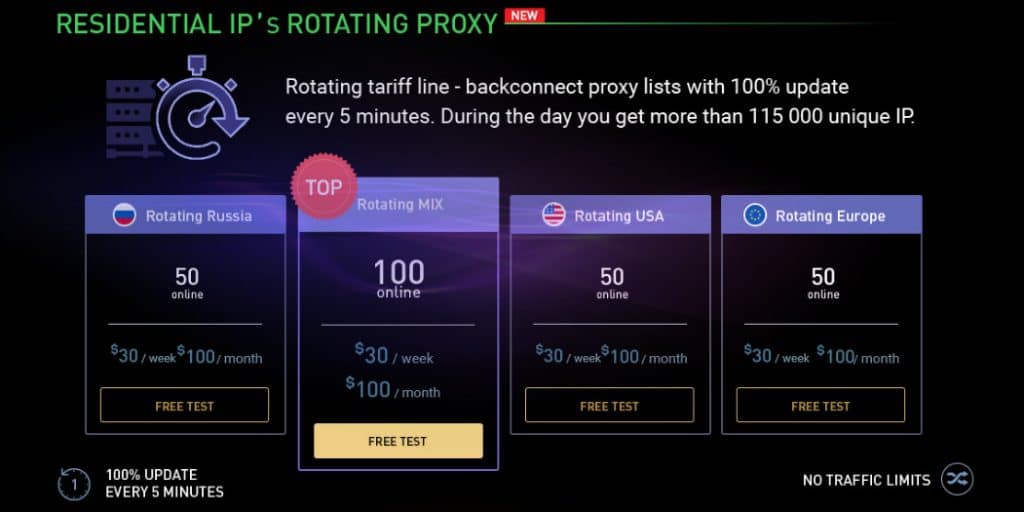 Now the their offer the bacconect rotating proxy that roate the IP every strict 5 minute, normal proxies mean get more sticky IPs.
Rsocks Residential Proxy Plan and Prices
Looking at their pricing image above, you will with me when I say Rsocks residential proxies are not the cheapest residential proxies out there. however, their prices are still reasonable compared to their exclusive proxies discussed below – thanks to the fact that 3 users are been assigned a pool to share.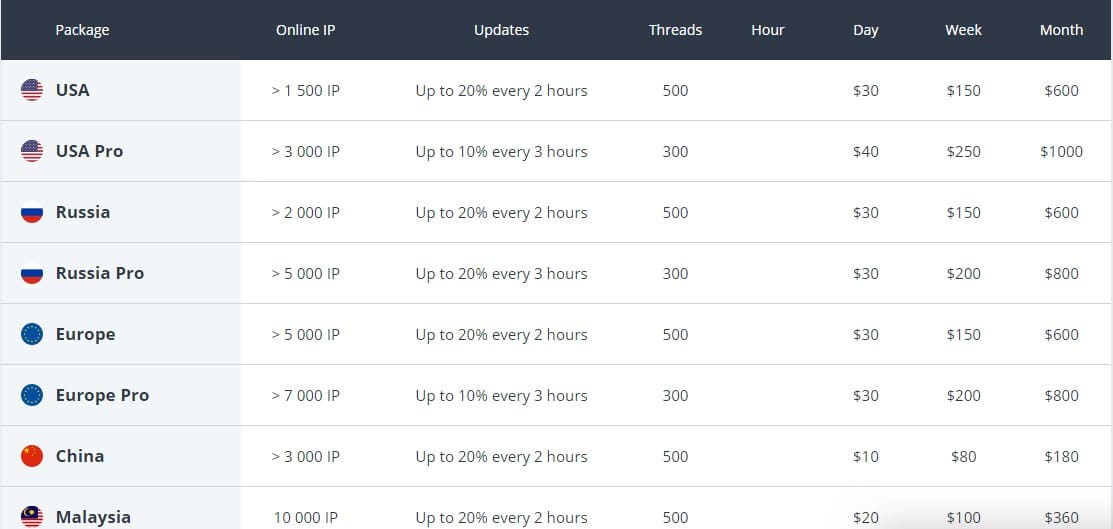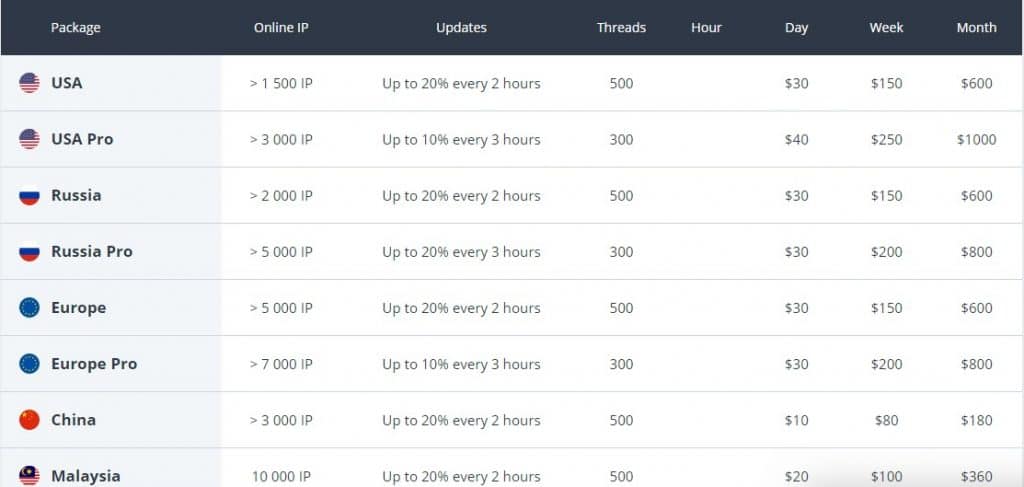 back to menu ↑
Rsocks Exclusive Proxies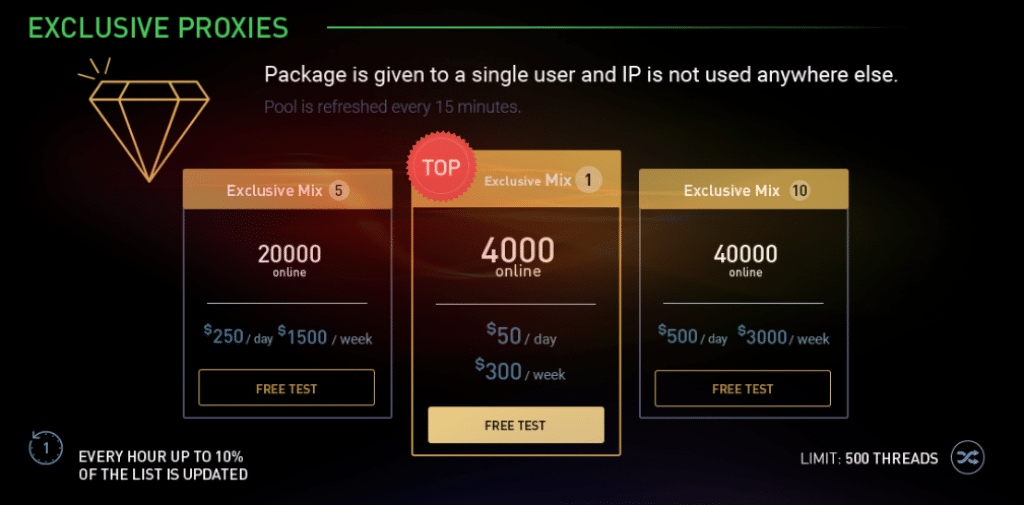 If you have visited their website before, I am sure you must have been confused by what they meant by exclusive proxies.
Forget the fancy words, exclusive proxies are nothing more than residential proxies just like the ones discussed above.
The main difference between the two is that while residential proxies are shared between up to 3 users, exclusive proxies are meant to be used by a single user.
What this means is that for their exclusive proxies, they dedicate a pool of IP address to a user.
This pool is refreshed every 15 minutes, keeping the pool fresh at all time. This makes their exclusive proxies faster than their residential proxies.
Test to Rsocks Exclusive Proxies
Like I stated, they are residential proxies. They have a network of devices which they assign to a particular user for use. The IPs been used are rotated after a period of time. If a particular IP is blocked, they automatically change it giving you an uninterrupted experience.

I test to their Eclusive mixed world-wide plan, It's no much different to normal residential proxies plan when you using it, Its same to use the IP auth and API.
Though its exclusive plan, and the speed is also no much the different to residential proxies from my test, That's may be for my server located in the Chicago, Get much close range to US User's connection.
What Are Rsocks Exclusive Proxies Used For
They are used for the same thing residential proxies are used for. That is why I will always recommend you buy the residential proxies other than the exclusive plan.
They market their exclusive plan as being very fast. But let me tell you something, they cannot be as fast as datacenter proxies and interestingly, the speed of residential proxies isn't that bad and will work in most cases.
To cap it up, residential proxies are way cheaper. So, instead of buying their exclusive proxies, I will advise you to buy their residential proxies.
Rsocks Exclusive Proxy Plan and Prices


Even though their exclusive proxies are functional, they are unreasonable expensive for the wrong reason. Many intending users of their exclusive proxies may not necessarily need up to the number of IP been bundled with their plan.
back to menu ↑
Cheap Shared Proxies
We do not test those type of proxies, Also they offer backconnect datacenter proxies also, for we no need and do not test it, so…easily write some words to introduce no review for this part!
Rsocks shared proxies are datacenter proxies shared among authorized users. This products much similar to others public proxies with the API, these types of proxies are the least secure and the most vulnerable to websites' anti-spam systems.
This is because they have been abused a lot and websites can easily detect them because they make use of cloud-based IP addresses not assigned by Internet Service Providers and as such, websites are wary of them.
What are Rsocks Shared Proxies used for?
Rsocks proxies can be used for smaller-scale web scraping. However, they do not function on websites that have a strict anti-proxy system in place. If you plan using proxies on websites like Instagram, Wikipedia, Facebook, and other top websites, then their shared proxies won't work in your case. Because of this, I will advise you go for any of their other proxies.
Rsocks Shared Proxy Price Plan


Shared proxies are quite cheap on Rsocks. With $10 per month, you have access to their shared proxy pool which has about 20,000 IPs.
back to menu ↑
Rsocks Personal Proxies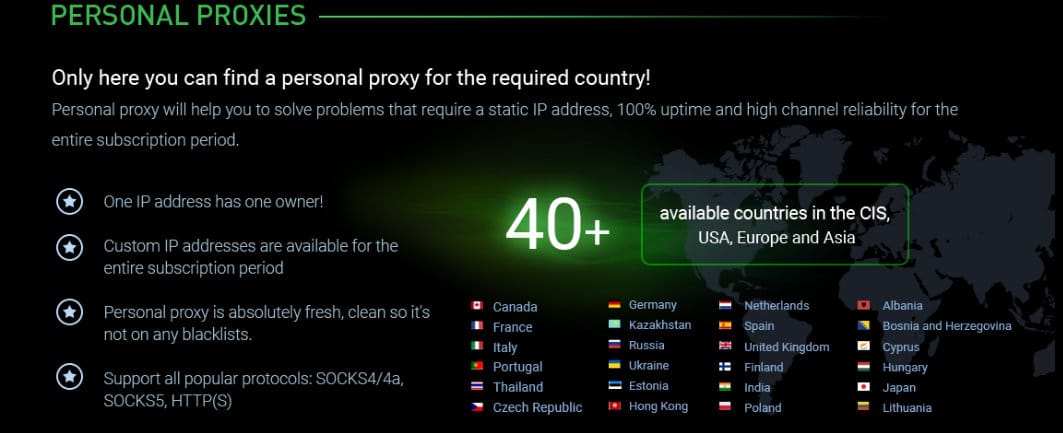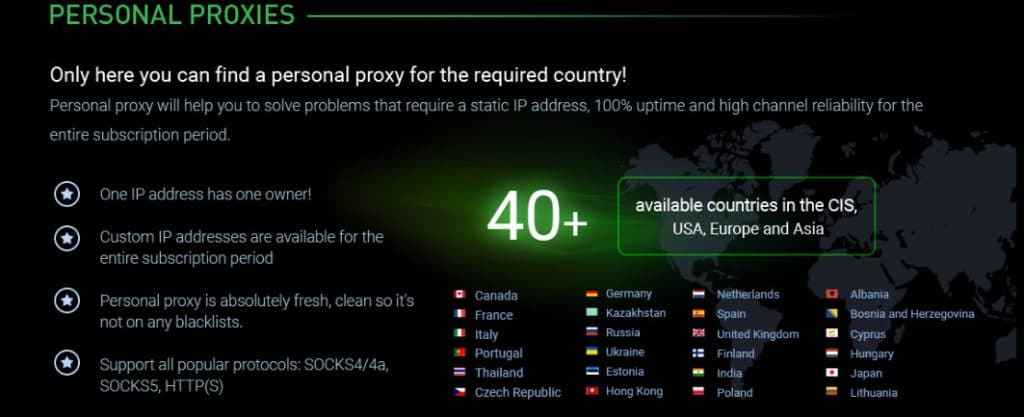 While their shared proxies above are meant for use by a large number of people, chances are there that they might have been blocked by the websites you intend to use them for.
To avoid wasting your money, going for their personal proxies won't be a bad idea. Rsocks personal proxies work on a principle of one IP address, one owner. This makes them super fast, very reliable, and secure than the shared proxies.
Test to Personal Proxies
Yes, Their Personal Proxy are nothing different to other dedicated proxy, and I test their one dedicated proxy, that will cost $5 per month, it's do really not cheap in my views, and the performance of download is fine, however they Obviously limited upload speed, It's fine for lots of case, but if your project need to lots of upload, you need to take note it.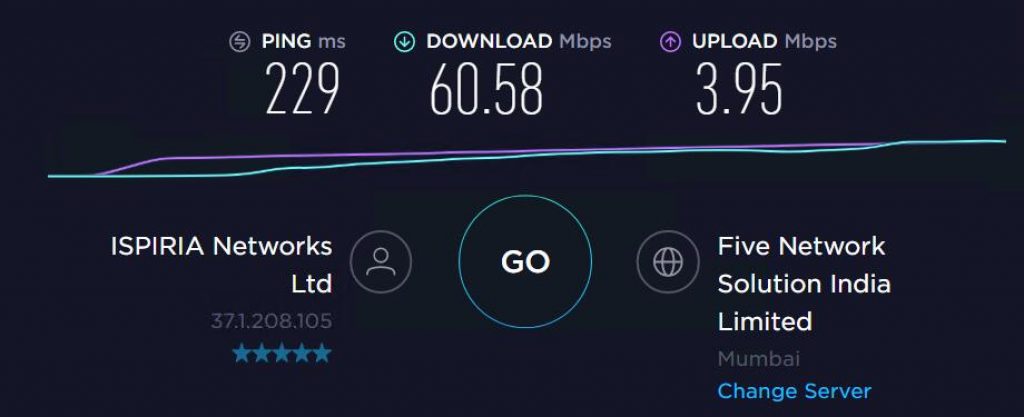 ISP Check,
name:
"Swiftway Sp. z o.o."
name:
"ISPIRIA Networks Ltd"
What Are Rsocks Personal Proxies Used For?
They are used majorly for tasks that requires a static IP address. This includes bypassing geolocation restrictions as well as such social media management and Ads verification. You have about 44 countries to choose personal proxies from. Instagram proxies are the main proxies in this category.
Rsocks Dedicated Proxy Plans and Prices


With $40, you have access to dedicated IP addresses to use for a whole month. Though they are branded Instagram proxies, they can be used for other tasks.
back to menu ↑
Rsocks 4G/LTE Mobile Proxies
Rsocks mobile proxies, just like other mobile proxies, enjoy the privilege of not being blocked like the other proxies described above. However, this has nothing to do with Rsocks but with the way Mobile Network Operators assign IP address to mobile devices. The number of IP addresses available for mobile usage is far less compared to the number of mobile devices. And as such, IP addresses are shared among devices dynamically.
Because of this, websites find it difficult to block them. Just like their residential proxies, the details of how they get access to the mobile devices they use their Internet connection is not made public. However, the major operators they use include O2 (Great Britain), A1 (Australia), and Plus (Poland) among others.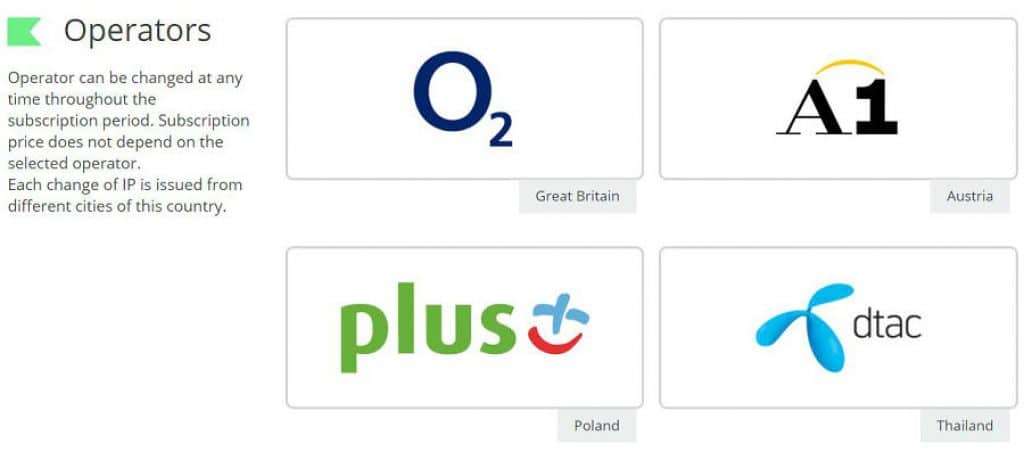 What Are Rsocks Mobile Proxies Used For?
Mobile proxies are mostly used for social media automation and verifying how keywords rank on mobile devices, You can easy get more 4G/LTE moible proxies from Here.
Rsocks Mobile Proxy Plans and Prices

While the above shows that it is more expensive than other proxies on the list because it comes with limited bandwidth, it is a little more expensive than many other mobile proxies in the market, but for different carriers It's hard to compare.
back to menu ↑
Rsocks VPN Service
Because of the increasing need to remain anonymous while browsing the Internet, this company introduced a VPN service that provides an encrypted Internet connection. Their VPN service supports OpenVPN, PPTP, IPsec, and VPN + Tor. With their VPN, you enjoy a non-logged and fast speed Internet access.
What Are Rsocks VPN Used For?
Their VPN service is mostly used for remaining anonymous while accessing the Internet. Simply put, they are used for privacy reasons.
Rsocks VPN Price Plan


If you have used other paid VPN services, then you will appreciate their prices displayed in the picture above. They are quite cheap and still get the job done.
back to menu ↑
Our Verdict
Rsocks have been able to put its foot forward as a proxy provider with variety you can just from. However, this variety usually gets intending users confused. If you are one of those confused, I hope this article has been able to make things clear to you?
RSocks can provide proxies for different solutions, they can be used for parsing, checking, anonymity, pentesting etc. Support service is very fast and friendly. Also their services always can be free tested and it pleases.

Rsock proxies Highlights
Supported protocols: SOCKS4/4a, SOCKS5, HTTP/S.

Moneyback 24 hour

guarantee!

24-hour technical support. Simply choose the convenient communication channel for you: Jabber, Skype, Telegram, ICQ, WeChat, QQ, ticket system and convenient Live chat on site.

Free test packages!

VPN service with no-logs policy.

Most of known payment methods are available.

Easy to configure.

User-friendly dashboard for proxy management.

Payments on the referral system are made within 24 hours.
[/wpsm_box]