Webshare is a datacenter proxy provider founded in 2018, offer free shared proxies list, rotating shared proxies and dedicated proxies.
---
Today we are going to review a proxy provider that hasn't been too long on the market. Webshare is a company that showed up on the internet a little over three years ago in 2018, and since then, they have been trying to climb up the ladder and play with the big boys in the league.
Luckily, their services are legit, and despite some claims that this is a scam, rest assured, Webshare is as legit as the other proxy providers.
---
---
Types of webshare proxies
What does Webshare offer in terms of features? Not a lot, but more than enough. For starters, they claim that they respect our privacy and do not share our data with third-parties, which is more than we can say for some of their competitors.
Webshare's lineup of proxies has grown since its creation. Today they offer cloud, rotating, and dedicated proxies.


Cloud Proxy
We will start off with the cloud proxies. These are essentially datacenter proxies and are among the cheapest ones you can buy.
The datacenter proxies are the ones sold in bulk by data centers and are flagged as proxies by most of the services that you might want to scrape or access, so they might not work out as you think. Never the less, their pricing packages are simple and easy to understand.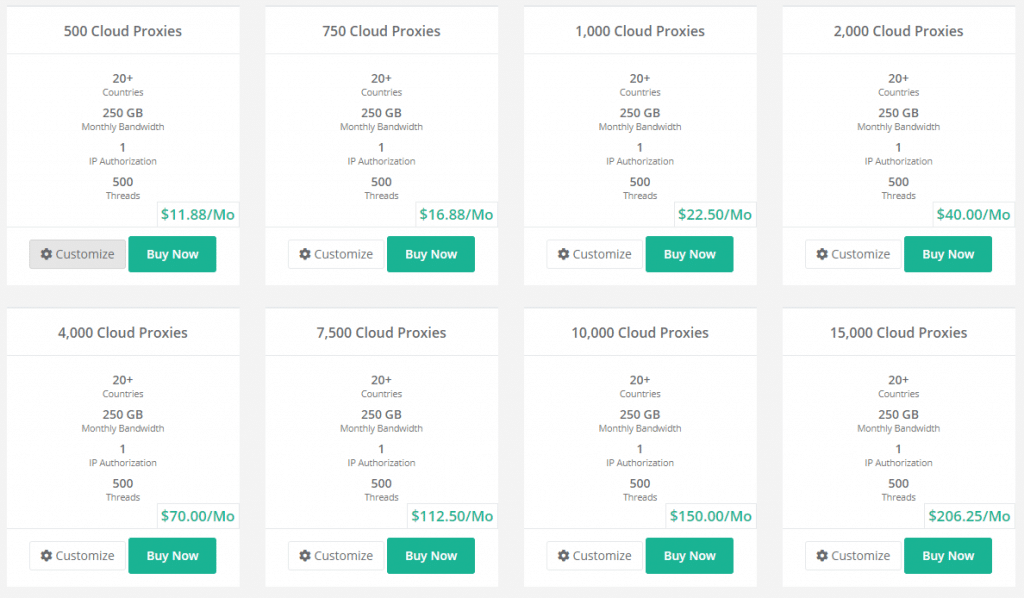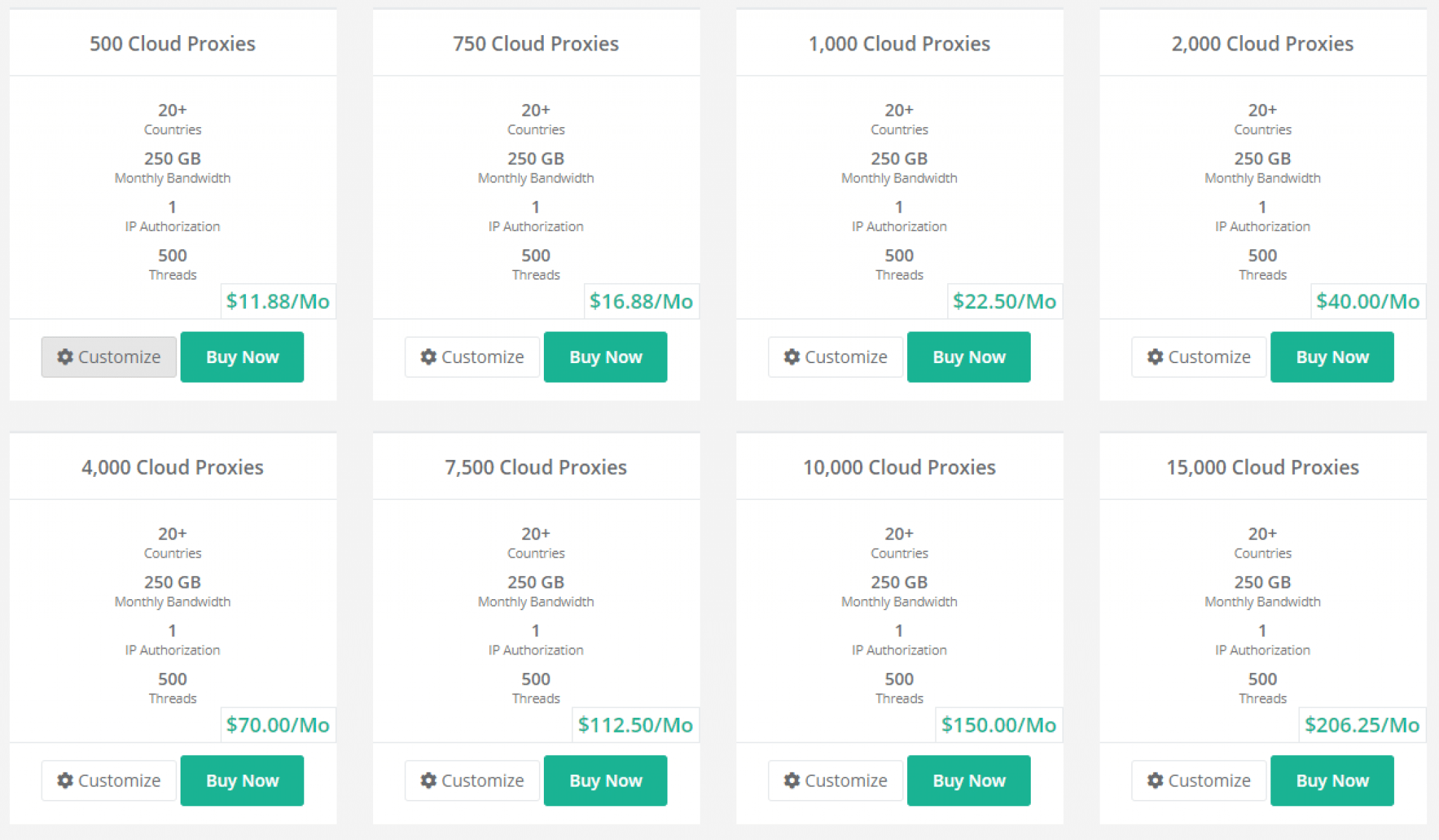 The cloud proxy pricing packages are almost identical; the only thing that is different between them is the number of proxies you get. The cheapest plan starts from 500 proxies going all the way to 15 thousand. Other than that, you get access to all locations, 250 GB bandwidth, 1 IP authorization, and 500 threads.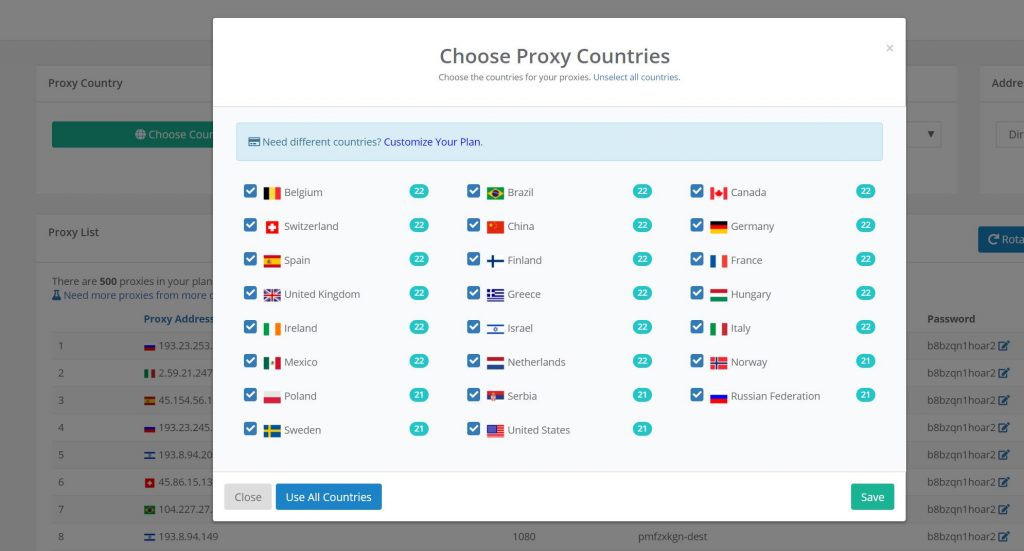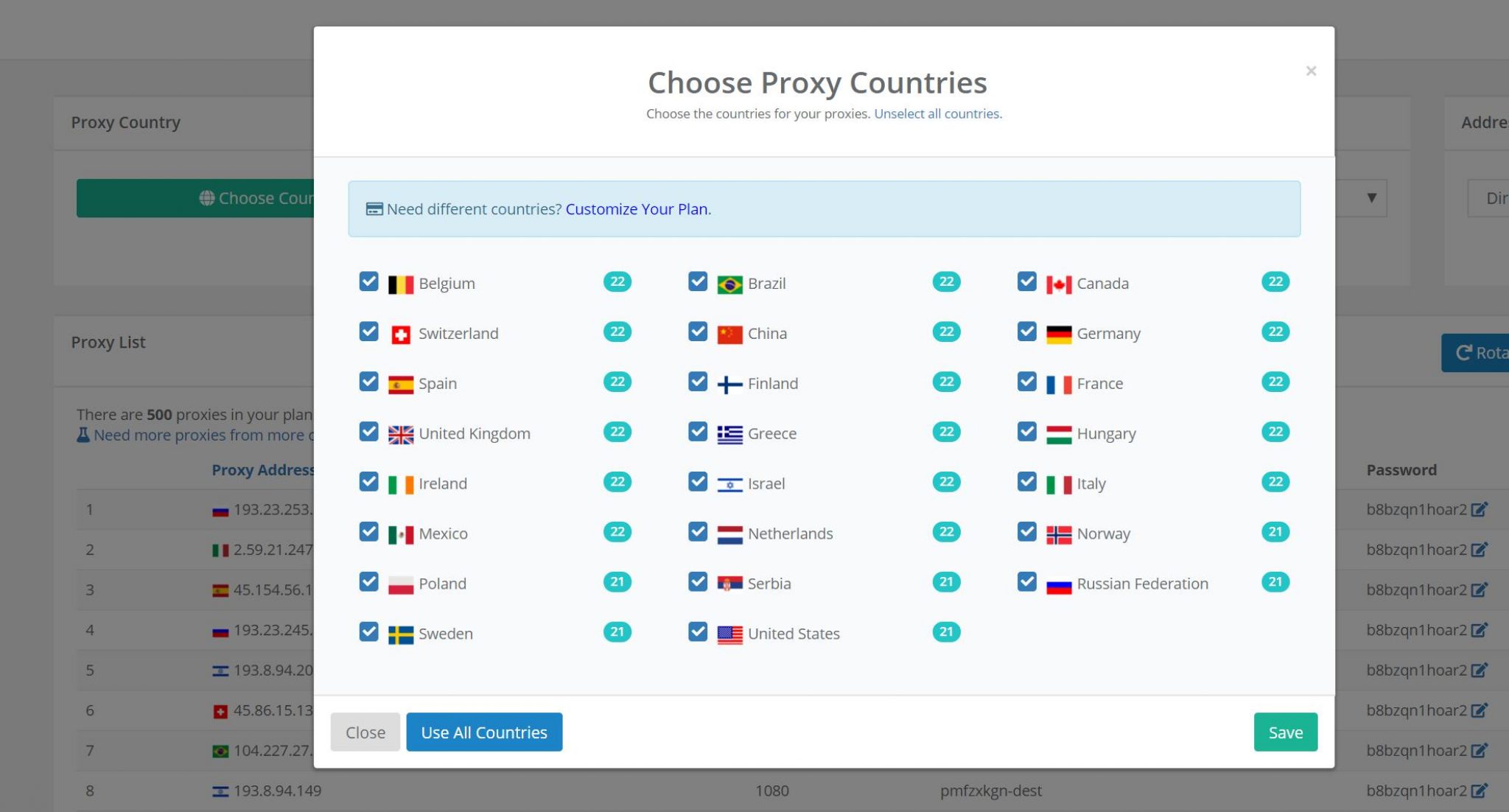 Additionally, you can customize each plan to suite your needs. You can select how many proxies you need from a certain location, get more bandwidth, set some additional features and choose if you want to pay monthly, quarterly or yearly. If you opt-in to pay quarterly or yearly you get additional discount.
back to menu ↑
Rotating Proxy
The second type of proxies, rotating, has two pricing plans.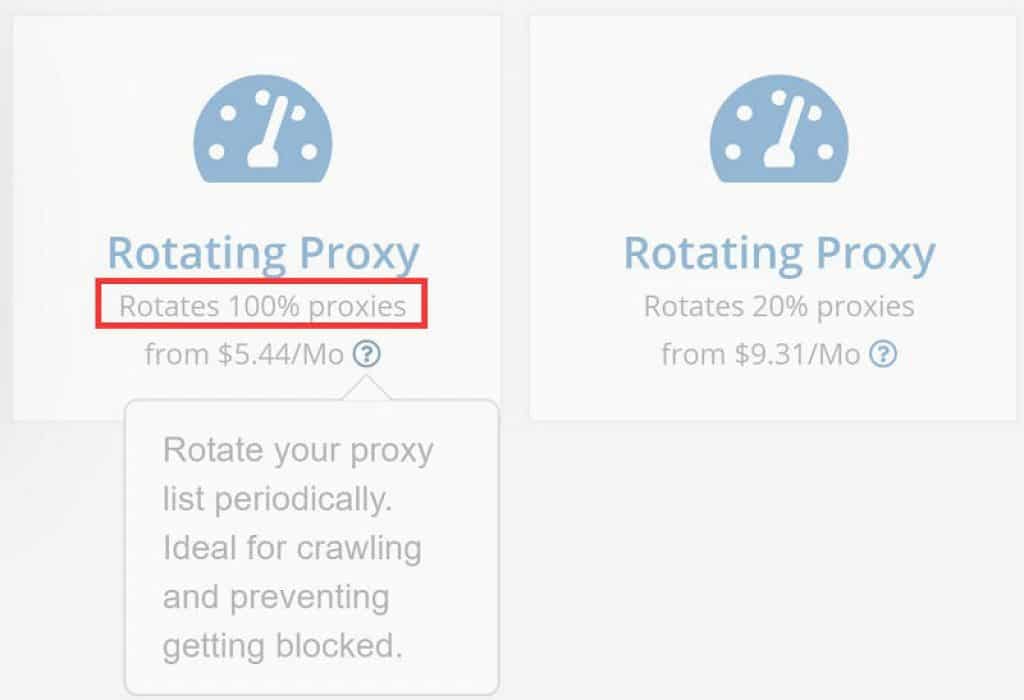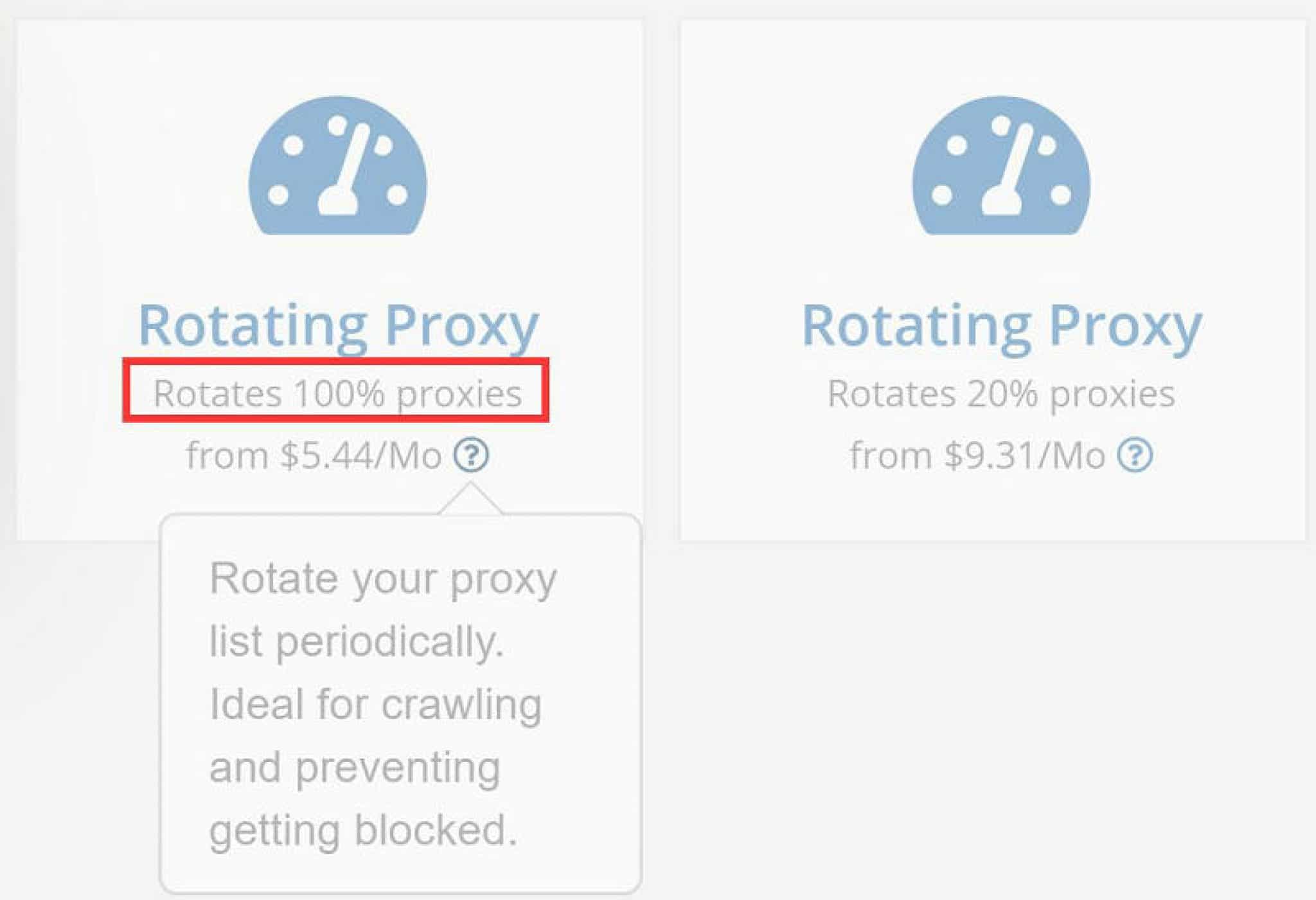 The main and only difference between the two is that on one of the plans, all of the proxies are rotating on a certain amount of time, while for the other, only 20 percent of the proxies rotate each cycle, making it more affordable.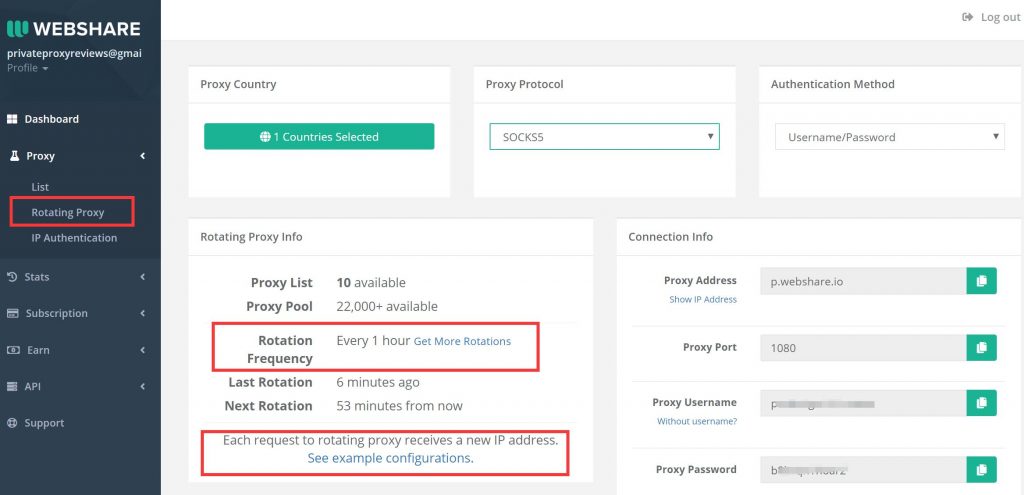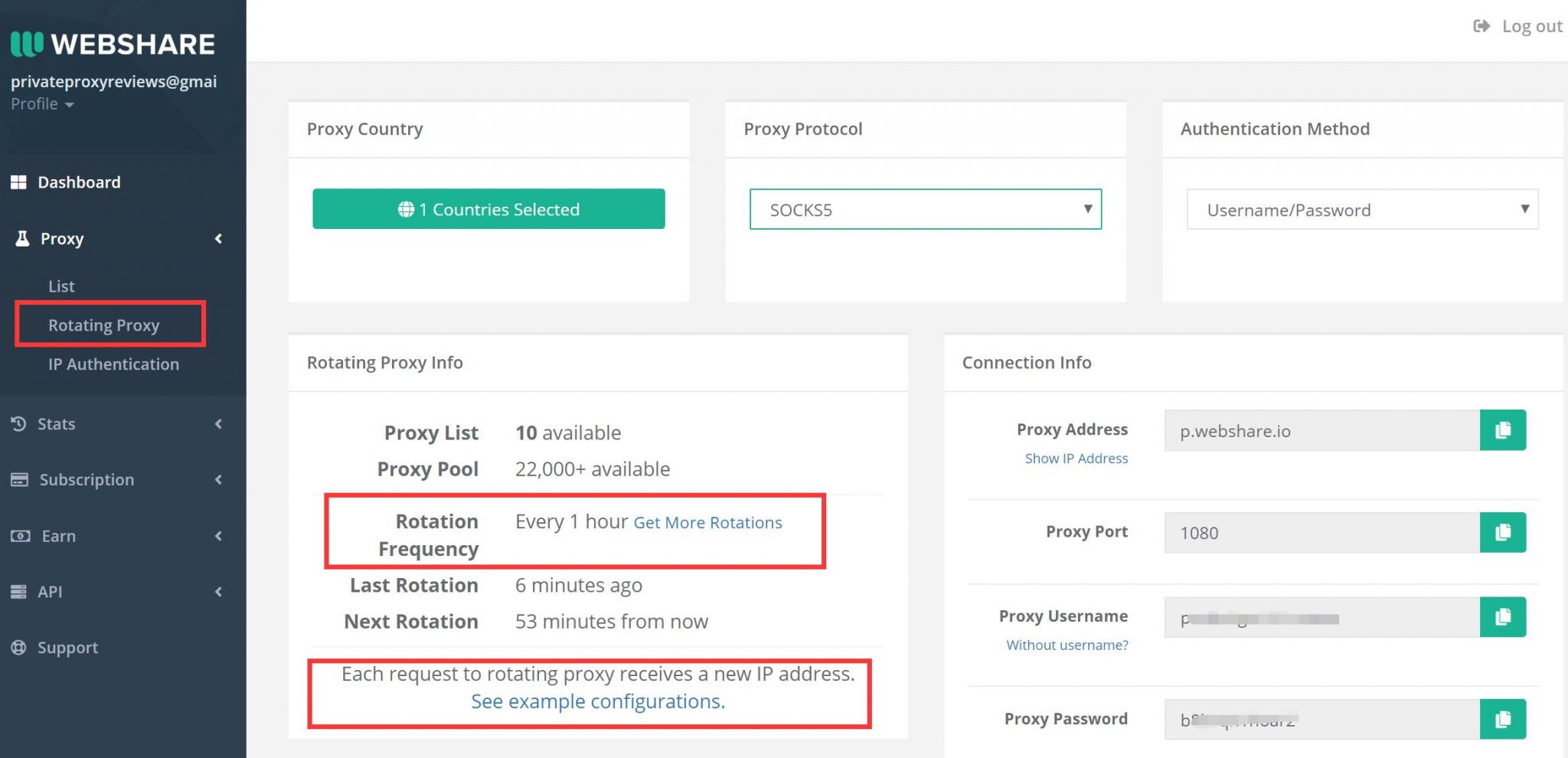 The pricing plan for the proxies where all of them rotate starts from 5 rotating proxies up to 50. Here you will find two types as well: proxies that rotate every hour and proxies that rotate every 5 minutes.
Same as with the cloud proxies, you get the same amount of bandwidth, access to all proxy locations, 1 IP authorization, and 500 threads. You can also customize these plans as well.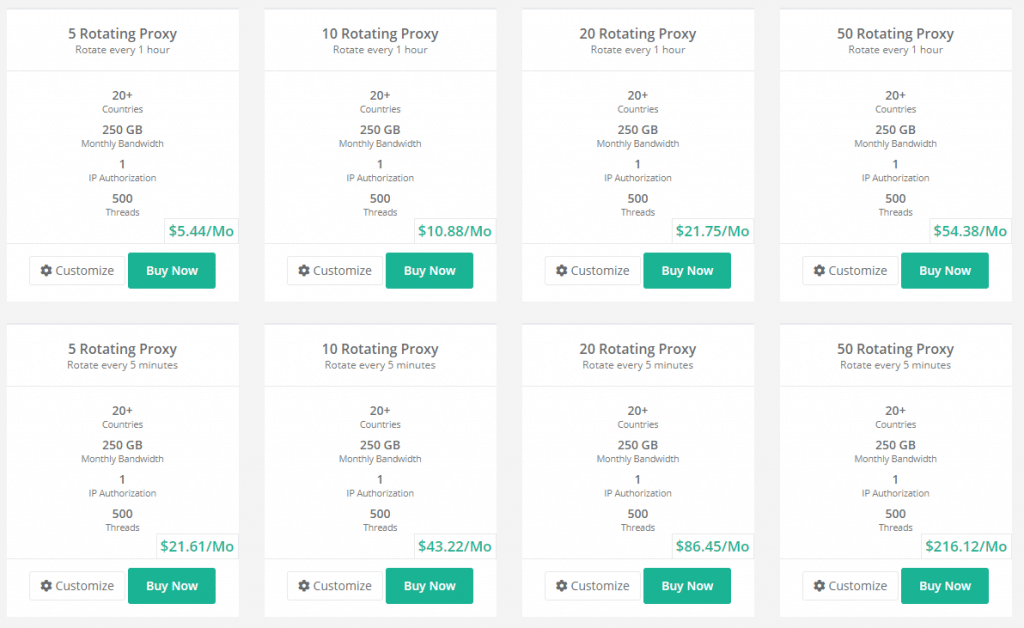 More affordable proxy plans are the ones that rotate 20 percent of the proxies each cycle. The number of proxies starts from 25 and goes to 250 with two types of rotation: every hour and every 5 minutes. The rest of the details are identical to the fully rotating proxies, and the ability to customize your plan is still there.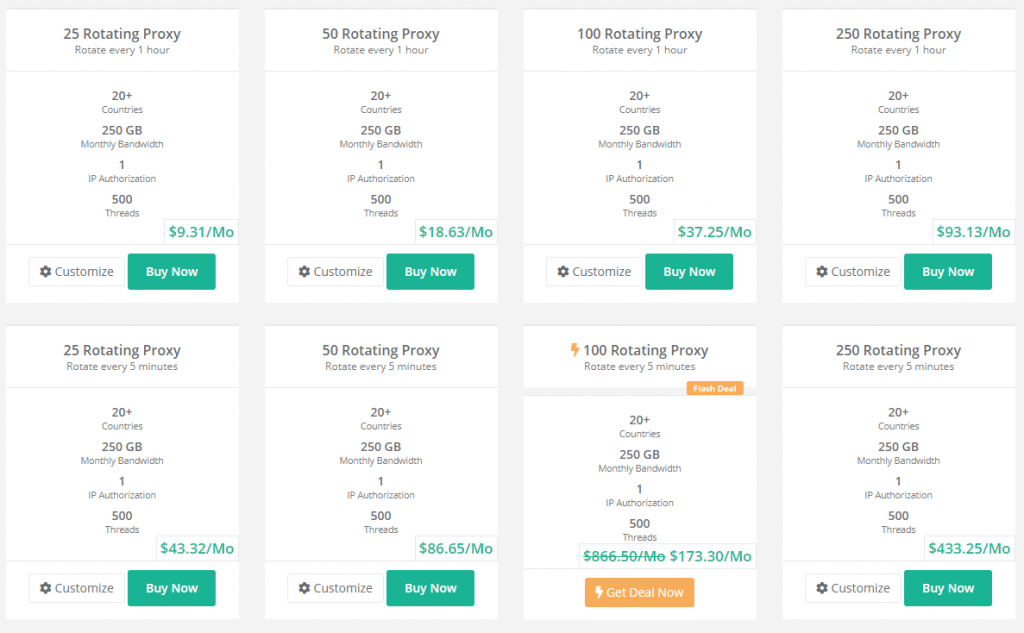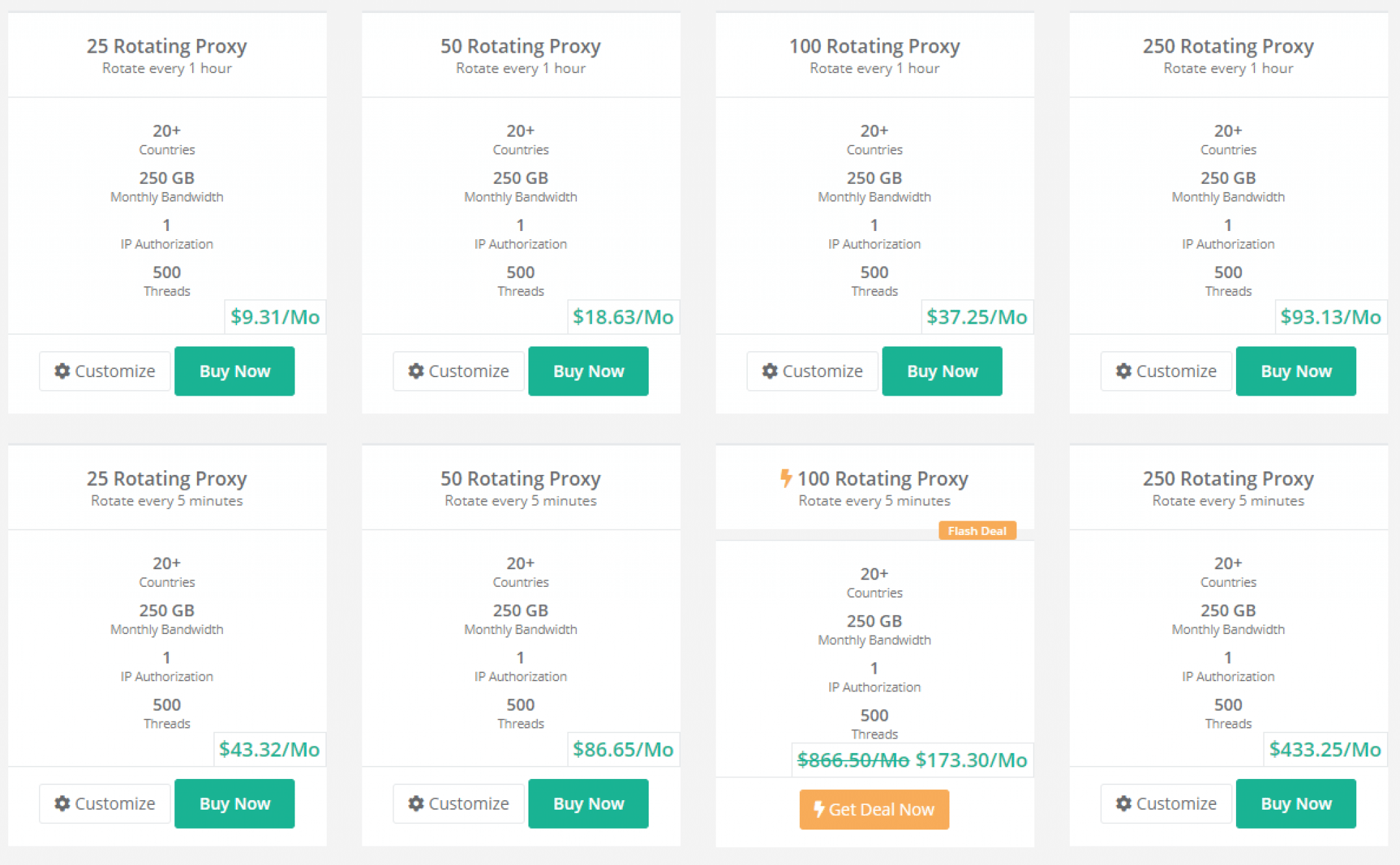 back to menu ↑
Dedicated Proxy
Finally, we get to the dedicated proxies. Unlike the previous proxies offered by Webshare, these are the proxies that you will be paying for yourself only.
For each of the previous pricing plans, you will be sharing the proxies with other users, so when you are not using a certain proxy address, someone else will use it. The dedicated proxies mean that you will have an exclusive right to use them as long as you keep paying for your subscription.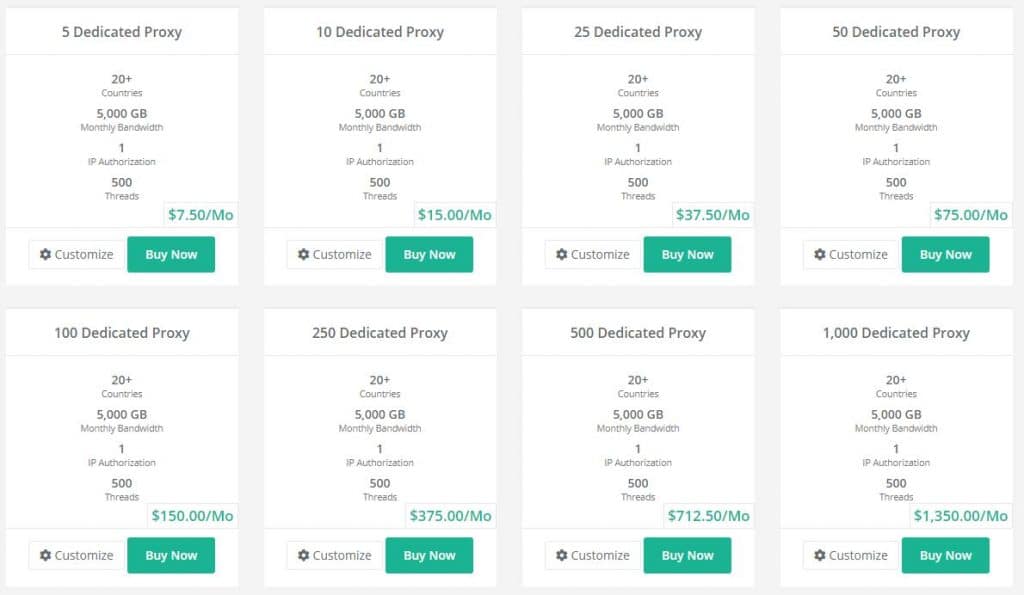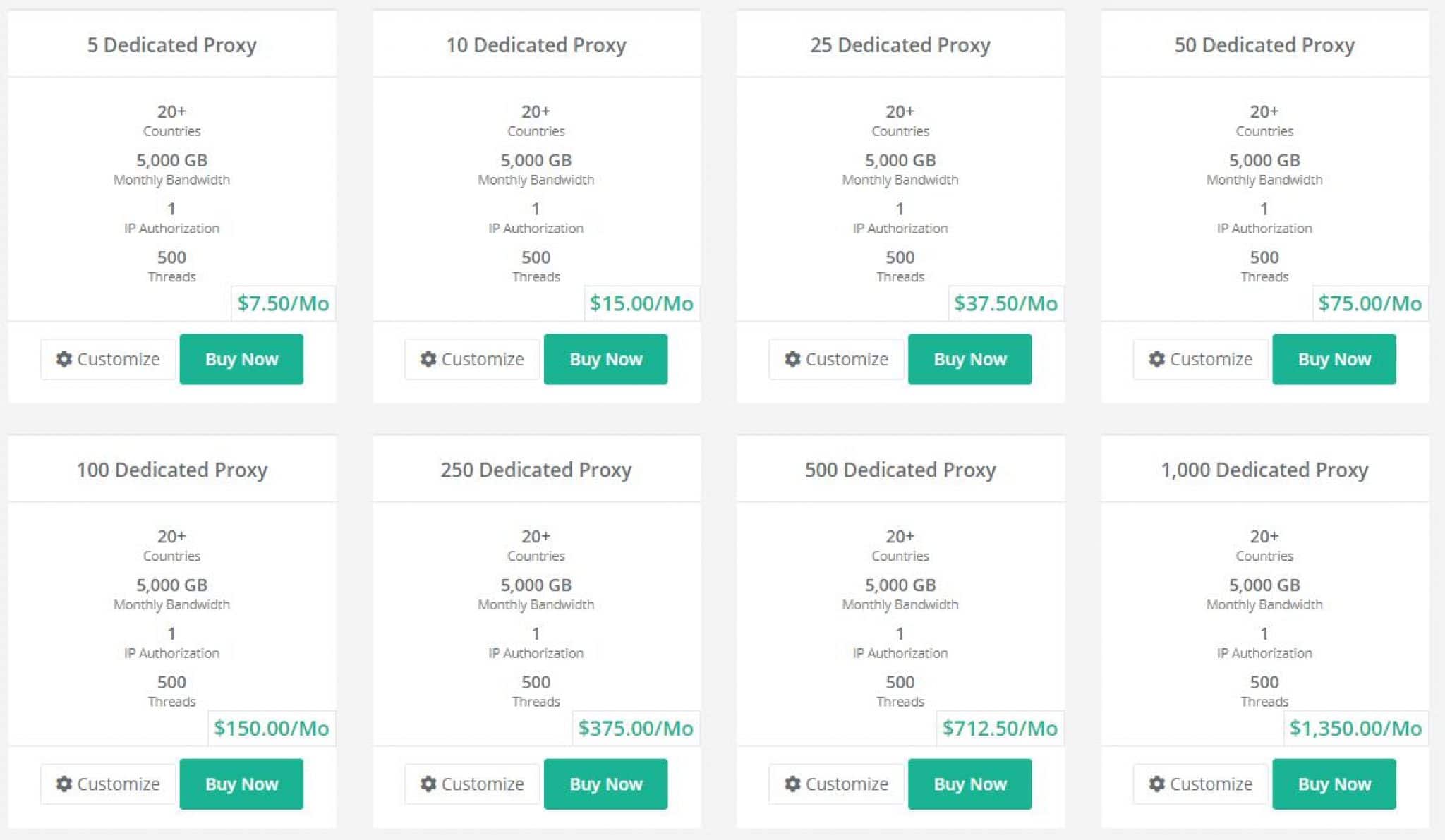 In this category, we start to see a slight difference in the package details. The number of proxies you can get starts from 5 and goes all the way up to 1000, again with the ability to customize your plan. What distinguishes these packages from the previous ones is the bandwidth. Unlike the other plans where you get only 250 GB of bandwidth, here you get 5000 GB, while the rest remains the same.
We come to the best part – the free part. In order to get a chance to test out the proxies without making a payment, Webshare offers a free plan. The plan is a bit limited but should suffice for most people that just want to test out the service and see if it is worth paying for it. When you sign up, you get access to 10 proxies and 1 GB of bandwidth.
---
The location of the proxies might be an issue, though, as most of them included in the free plan are from Europe, one from Mexico and another from Israel. Another thing that might be problematic is that the proxies you get are static, so you won't be able to test the rotation.
At the end of the day, you should get away with the free plan to test it out and see if the performance of the proxies works for you.
back to menu ↑
How to Use Webshare
Webshare's dashboard is very easy to use and well laid out. On the left side, you have the navigation panel, and in the middle, you have the information stored for each section.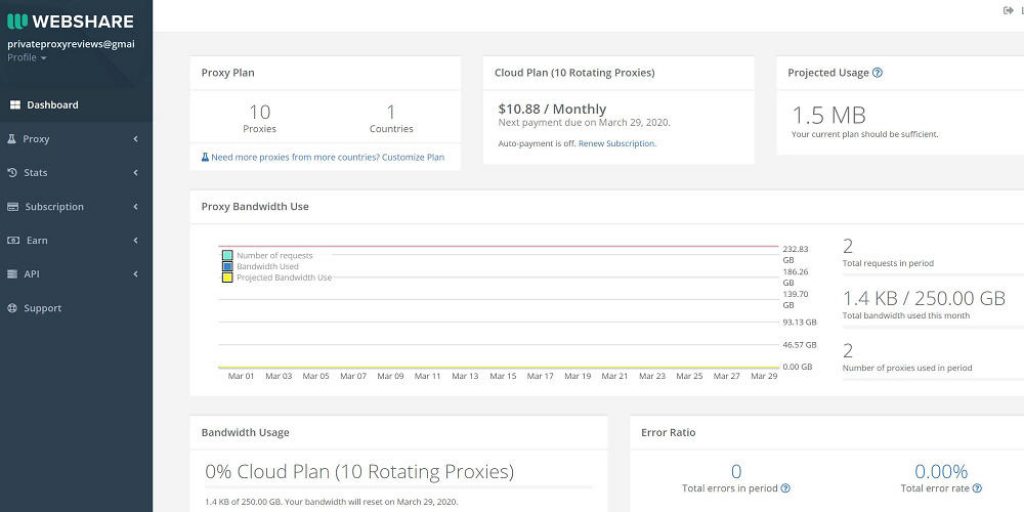 To start using or modifying the proxy settings, you will need to click on "Proxy" on the left side. Depending on your needs, you can go to "List" or "Rotating Proxy." The difference is that "List" contains the static proxies, and the other one contains the rotating ones.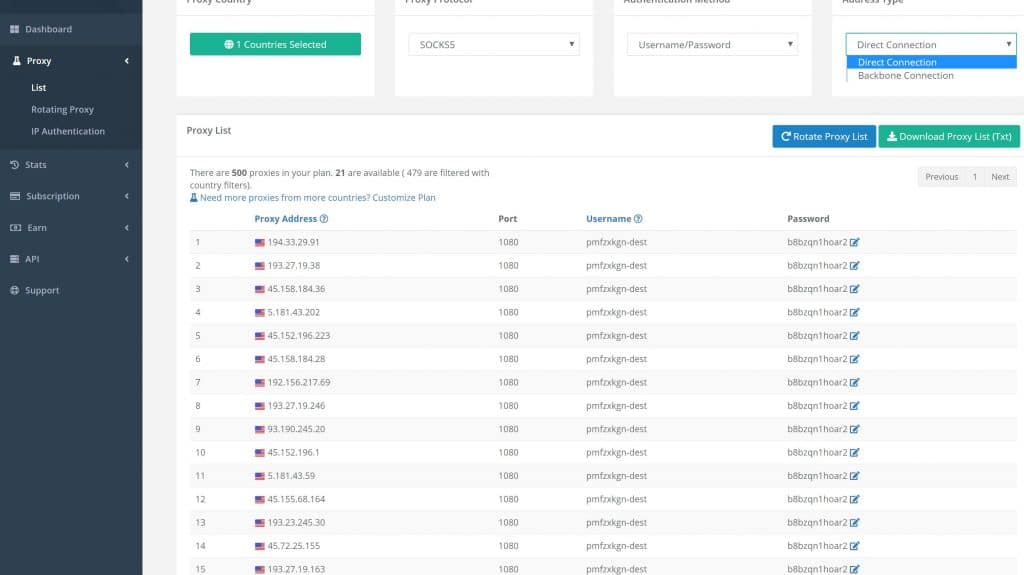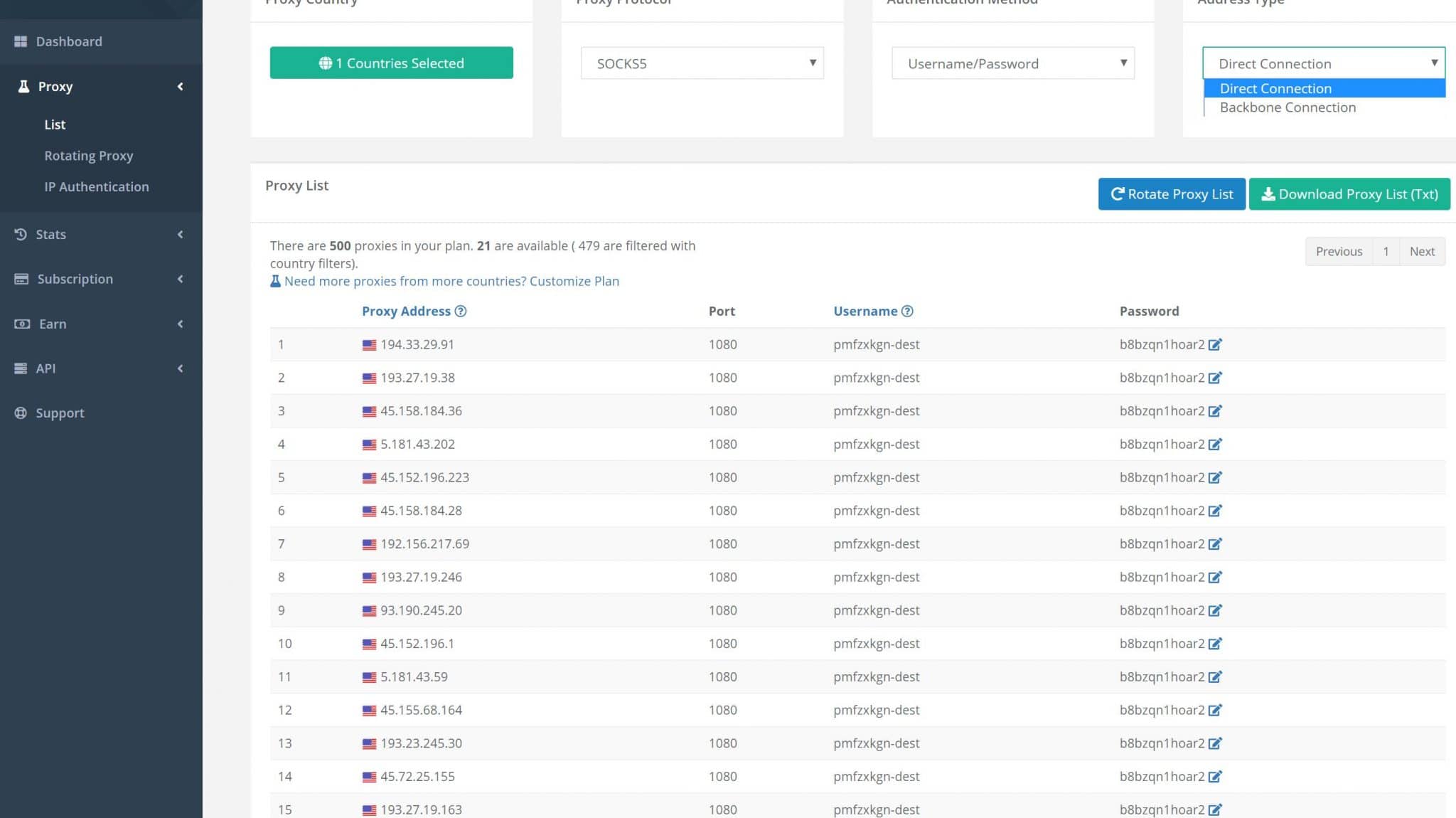 For this review, we used the free plan, so all the countries are selected, and we see them in the list below. If you are using a paid plan, and need to target proxies from a specific country or area, you can do so by clicking on "Choose Country" and ticking the boxes next to the country you need. Next up is the protocol that you want to use, which can be either HTTP or SOCKS5. The authentication method can be changed between username and password authentication and IP authentication. Finally, you can choose between a backbone and a direct connection.
Regarding the proxies, you use them based on the username. For example, in the list above, if we want to use the German proxy address, then we will need to log in with the second username. The passwords can be changed, but only to what the service provides you with. You cannot set up a custom password, you can only reset it, and it will change all passwords at once.
If you are going for the IP authentication, then instead of the username, you will distinguish the proxies by the port number. In our case, the proxy port range is from 20000 to 20009 for the ten proxy addresses we got.
---
The rotating proxies are a similar story. You can select the country and choose the type of protocol and authentication method. Similar to the static proxies, these can be "called upon" based on the username, which in this case means that instead of adding a number, you need to add "rotate" to the username. If you want to use the IP authentication option, instead of a username and password, you will need to change the port.
Setting up IP authorization is fairly simple. Navigate to "IP Authentication" from the left navigation panel. On the top, you will see your current IP address, and if that is the one that you will be accessing the proxies from, you just need to copy and paste it in the field below. If you want to add a different IP address, just type it in and click "Save Changes."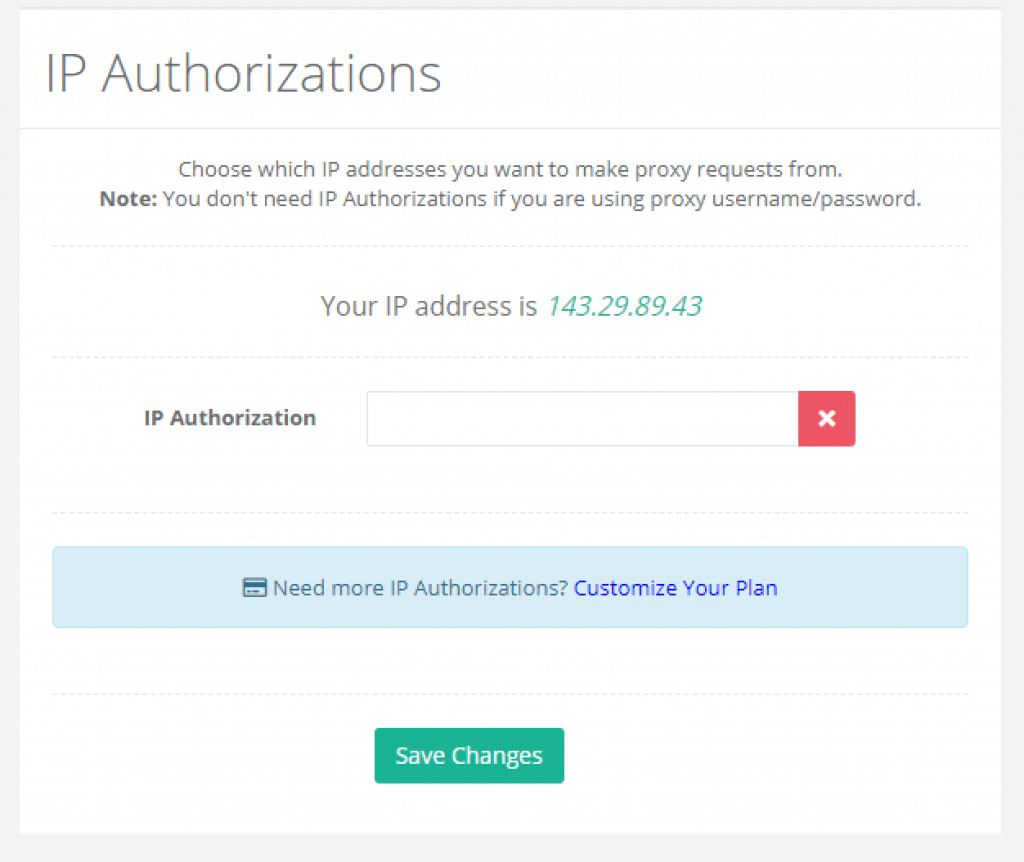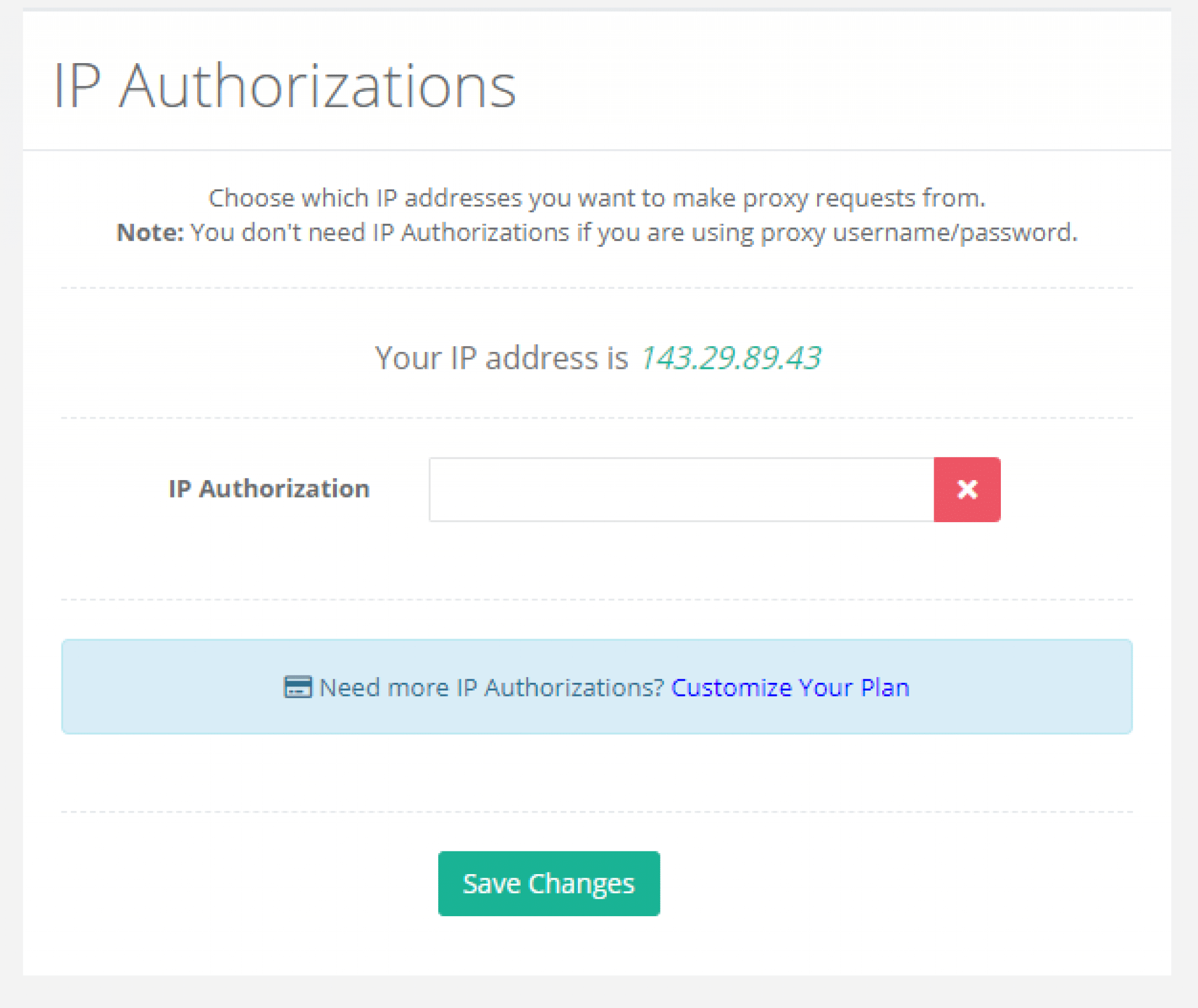 back to menu ↑
Support
Webshare is not on the top of the list when it comes to support. You can get help in two ways: documentation or FAQ and to submit a support ticket. Their documentation and FAQ does provide a decent amount of information and will help you get started.
If you come to a problem that is not explained there, you can submit a ticket, but we are not sure how long it will be before you get an answer. Since the company has very limited information online, you cannot even call them to get help.
back to menu ↑
Our Verdict
Is Webshare worth it, and is it a good proxy provider? It is a mixed bag, it is good, and there are some things that are not so good.
A afford datacenter proxy provider
PROS
Cheap rotating proxies
IP and Username authentication
Free shared proxies
Customizable packages
Easy to use UI
CONS
Not a lot of locations
Number of available proxies below average
Package customization could use a bit more flexibility
Add your review
|
Read reviews and comments
One of the best things that Webshare has to offer is the price. At the point of writing this review, they are among the cheaper, if not the cheapest proxy providers out there. On top of that, you get a free plan with ten proxies and 1 GB of bandwidth that you can use to test them out. Furthermore, if you decide to buy a monthly plan, they are flexible. You can customize the plan to match your needs so that you pay as much as you used and need to.
There are some bad things, though. For starters, the number of proxies if below average. They claim to have over 15 thousand proxies, which is not all that bad, but in times when companies are offering millions of proxies, Webshare's number is kind of low. The support is something that they can work on a bit; not many people will be more than happy to pay to a company that only allows support tickets.
Overall, Webshare is not a service that we would say to steer clear of. Individuals and smaller companies that are on a tight budget will be more than happy with it, as long as they do not need a lot of proxies available at their fingertips. If they do, they might have more luck looking elsewhere.