The You-proxy is a dedicated datacenter provider with extensive location support, offers fast Internet speed, and you can use it for a good number of tasks you need proxies. We would be reviewing its proxies below.
Premium Datacenter Proxies with Good Location Support
Super-fast connection speed
Has support for about 25 countries across the world
Engineered for multiple use cases
Pricing is flexible with discounts depending on the number of IPs and duration bought
Easy to setup and use
There are a lot of substandard low-quality datacenter proxy providers that claim to offer premium private proxies. Hearing of Youproxy, I decided to take a look and see whether the story is the same – its website made lots of promises, and I needed to be sure if they are good as they claim. Testing the proxies, I must confess, the first impression was impressive – the speed is high, and my pages open instantly.
---


The Youproxyservice is a datacenter proxy provider that offers private proxies at affordable prices. The service currently hasdata centers in about 25 countries across the globe, and for each of the supported countries, the servers are built on high-performing servers. Their proxies have been built for multitasks, including social media automation and management, web scraping, online gaming, sneaker copping, and botting your tasks on marketplaces, among other tasks.
"Is Youproxy worth it? Let's dig deeper and discuss it further"
---
---
Youproxy Pricing & Packages
There's no doubt; pricing is an important factor that shapes the buying decision of proxy users, especially if they have a tight budget to work with. So how affordable are Youproxyprivate proxies? If you can afford other proxies, then there's a high chance you can pay for Youproxy proxies. The price depends on the location as US IPs pricing starts from $1 while England is $3 and Australia $4. However, if you pay for more duration or bought more IPs, then you will get discounts.


It even has support for promo codes which would bring the cost down even more. In terms of payment methods, Youproxy has support for many methods. This includes PayPal, Alipay, Credit/debit cards, Skrill, PerfectMoney, and Bitcoin. Youproxy does not provide a free trial for new customers.
However, they have a refund policy that you can utilize to get your money back within 24 hours of making the payment if there's a technical issue with its proxies.

15% OFF
Multiple unlimited coupon code "privateproxyreviews" for 15% OFF
---
back to menu ↑
Network Performance
The Youproxy service has been built on a high-powered infrastructure, and their proxies are private. Yes, the proxies you buy from them are only for yourself. But how fast are they? And what is the uptime data? For the uptime, you should expect nothing less than 99 percent – for the periods I used them, I experienced no downtime. In the area of speed, I used the Speedtest tool by Ookla. My current location does not help much in terms of Internet speed. The below is my Internet speed tested using the Speedtest tool.


Looking at the speed, you can see that it is not comparable to that of other regions in the western world. Now, using the tool, I tested the speed of a Youproxy private proxy from the US. Below is the result of the test.


While there is a drop in the value of the metrics measured, you will agree with me that the proxies are quite fast. Using this, you can stream movies and play online games.
---
back to menu ↑
Server Locations
Datacenter providers do not have a good location coverage when compared to residential proxy providers. This is because datacenter providers need to have servers in the location they support as opposed to residential providers that utilize P2P, which is easy for extensive location coverage. However, there are some datacenter providers that have good location support, and Youproxy is one of them.


The Youproxy service has servers in multiple locations across the globe. They have servers in 25 countries, including countries in North America (US, Canada, and Mexico), European countries, and Asian countries. They also have support for Australian IP addresses. The location of an IP address determines the pricing. While US IPs are priced from $1, Kazakhstan IP addresses start from $4.
---
back to menu ↑
Authentication and API
Youproxy is a paid service, and its proxies are private. For you to make use of it, you will need to prove you have access right;else, you will be denied. The method of providing access right is authentication. Youproxy supports both username/password authentication and IP authentication. When you register and pay for a proxy, you will be provided with a proxy, port, username, and password. The username and password would be used for authentication.
In the case of IP authentication, all you need to do is whitelist your real IP address from the control panel. Only a whitelisted IP address can be used to access the proxy. For API support, it is regrettable to say that Youproxy does not have support for a developer API – all access to the control panel has to be via a browser.
---
back to menu ↑
Customer Support
Even with an excellent service provision, a company needs to have a friendly and professional support service that offers support to customers. Youproxy understands this and offers excellent customer service. It has a live chat support system with responsive representatives. I used their live chat support, and my queries got answered within 2 minutes.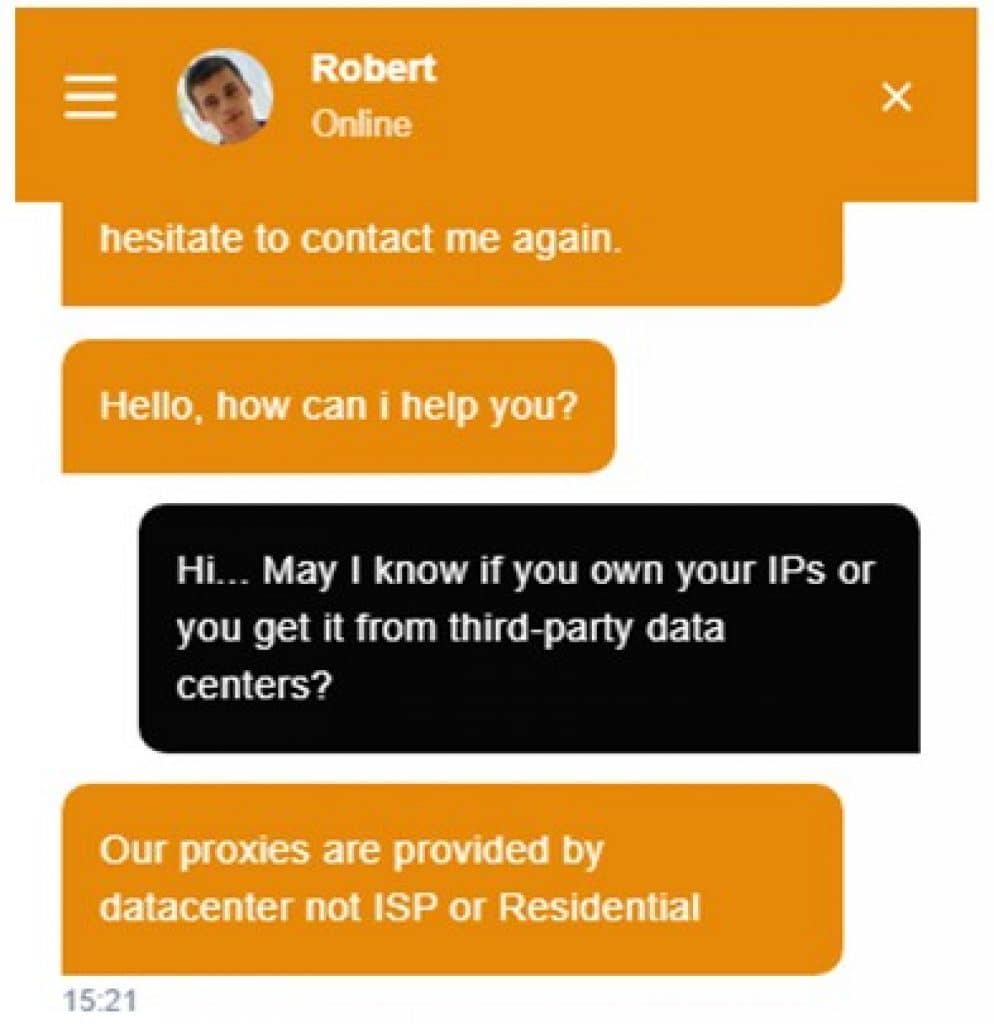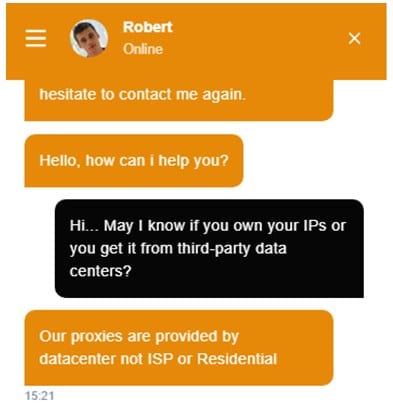 If there's no customer representative online, you can contact them via other channels such as email, Skype, Telegram, and Facebook.
---
back to menu ↑
Our Verdict
There's no proxy service in the market without downsides,and the Youproxy datacenter proxies are not an exception. However, it has proven to be super fast, effective at web scraping, online gaming, sneaker copping, and a good number of other tasks. It has good location support, and the pricing is quite affordable. Interestingly, they have got good customer support. For this reason, we recommend Youproxy.