Have you been looking for proxies that hardly get blocked? Then mobile proxies are the proxies for you. We all hate been denied access to a website because the proxy we are using and its associated IPs have been blocked.
Using mobile proxies saves you from such headaches. There are some proxy service providers that provide mobile proxies as a service. Some of them are good and some are not so good. In this article, I will be discussing What is the mobile proxy and top providers in the market.
---
A Quick Overview of the Best Mobile Proxies Providers
---
What are Mobile Proxies?
Mobile proxies, also sometimes called LTE or 4G proxies, are proxies created from connecting sim cards using the modem or a 4G router, The mobile IPs are also be recognized as residential IPs if the provider is honest.
Dedicated 4G Mobile proxies work as regular rotating proxies and rotate Every few minutes, So with a 4G proxy, you will get dynamic mobile IPs, For mobile router will need to be rebooted or reconnect to get a different IP.
---
How Proxy Services get the Mobile IPs?
Mobile proxies are the type of proxy servers that routes their customer's web requests through mobile devices connected to cellular networks, Because they make use of mobile IP addresses, websites see requests routed through them as requests coming from mobile devices.
Sim card dedicated
to

 4G connection (4G proxy)

Basically, mobile proxies make use of IP addresses assigned dynamically to mobile devices by their Mobile Network Operators (MNO) who serves as their Internet Service Providers (ISP), Now Operators usually offer 4G network, that's the reason to know it's as 4G proxies.
Shared Mobile Proxy connection / Mobile Proxy network
Sometimes Apps like Free VPN apps, Wifi share apps…When you install those APPs, the users agree to share their own mobile connection.
And you need to note, 4G/mobile proxies as separate from WIFI, since free VPNs are most commonly used on mobile devices.
There's no real practical way to tell if a provider is honest, as there's no way differentiate between a connection coming from a 4G connection or a WiFi/cable/DSL one, but one thing is clear! It's much cheap when compared with the real 4G connection.
Compare & Review - Pick The Best Mobile Proxy Service!
Soax Mobile Proxies


The cleanest mobile proxy pool with excellent geo-targeting from city and ISP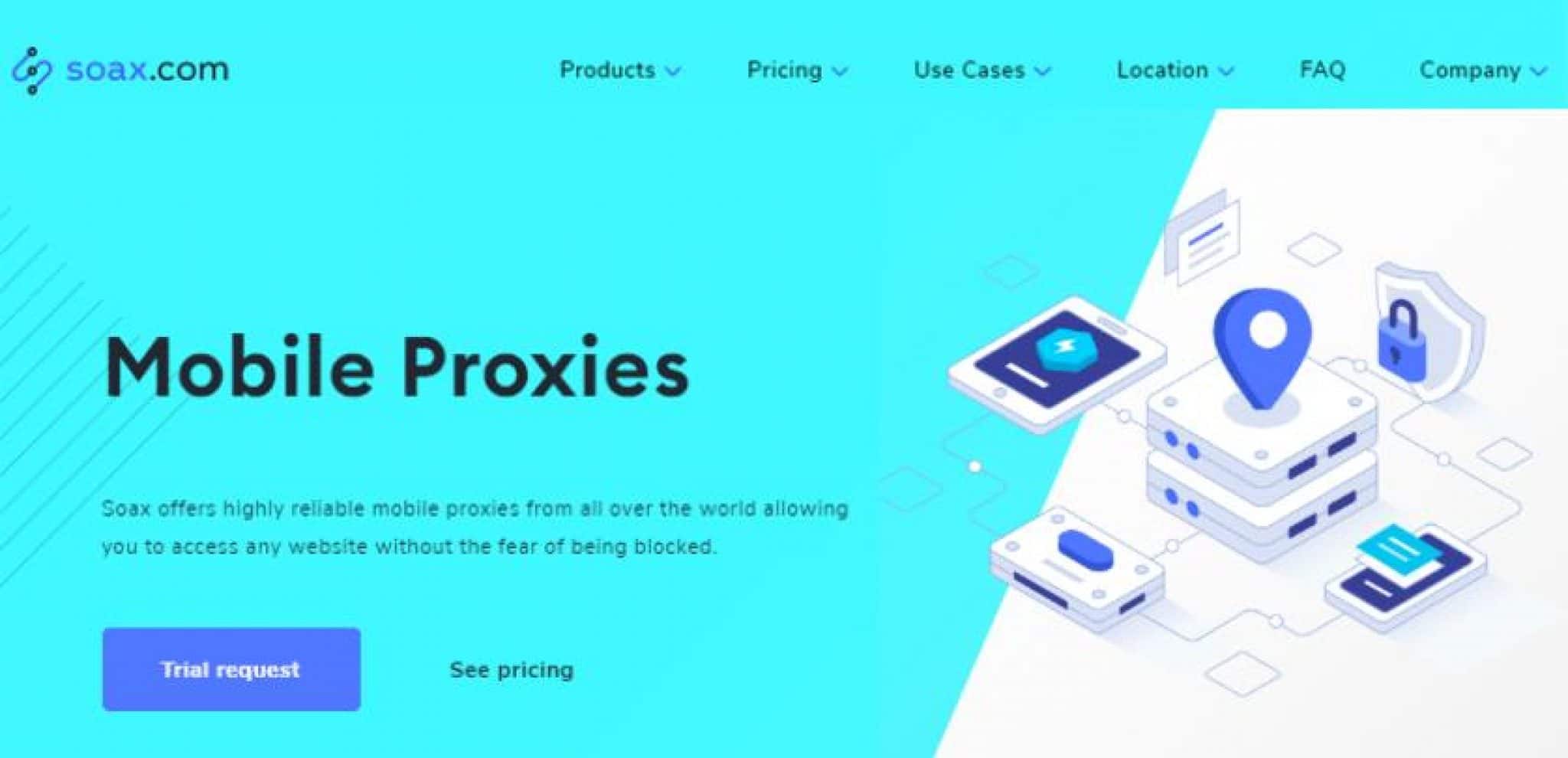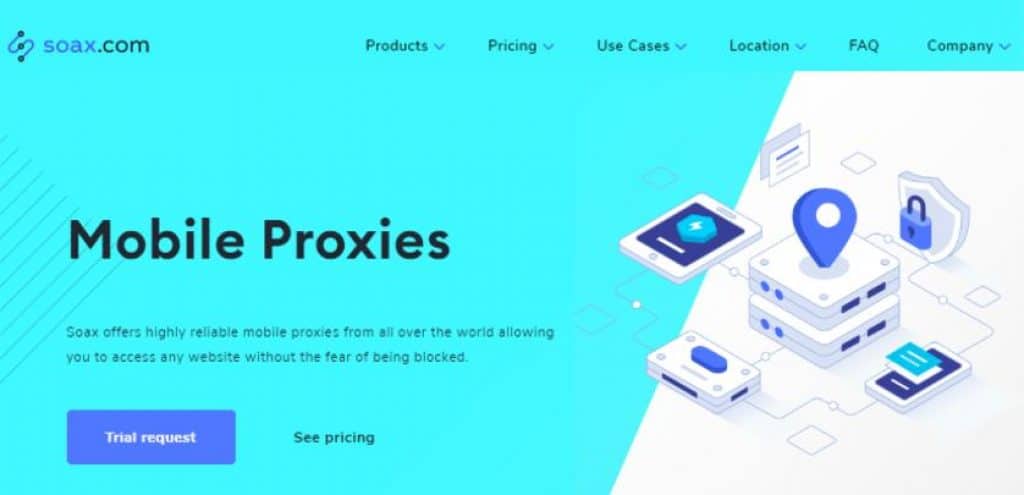 With mobile proxies, you are a mile away from IP-based blocks on websites as they are undetectable and provide IP addresses from worldwide locations. The Soax proxy service is one of the new kids in the block but has risen and proved itself as one of the best mobile proxy providers in the market.
Currently, Soax has a mobile proxy pool with over 3.5 million mobile IP addresses sourced via P2P networks. This proxy service has support for precise geo-targeting for country, state, city, and even mobile carriers.
The Soax mobile proxy service is fully compatible with many use cases, including price monitoring, ad verification, website testing, SEO monitoring, data collection, and account management, among other tasks. IP rotation is done automatically for you. This provider will allow you to create an unlimited number of concurrent sessions. It also has an impressive uptime and is stealthy in operation.


The Soax proxy pool is regularly being check, and bad IP addresses are removed. Aside from this, one other thing you will come to like about this provider is its pricing. Soax mobile proxies are priced based on bandwidth. The pricing starts at $75 for 5GB which is considered cheap and affordable for many small marketers.
Soax Pros:
Excellent location coverage
Affordable pricing
Big enough proxy pool
Precise geo-targeting options
Secure and undetectable
Soax Cons:
Customer support is slow
You could be monitored
---
back to menu ↑
Luminati Mobile proxies (Brightdata Now)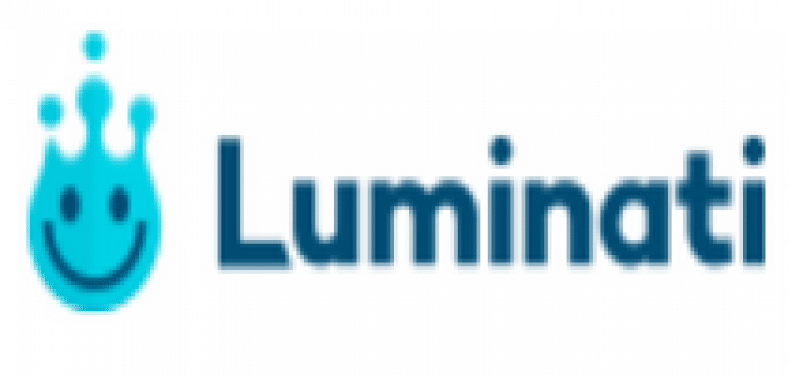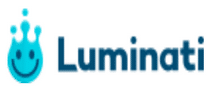 All-rounder: Most advanced 3G/4G IPs Proxies (P2P Mobile Proxy network)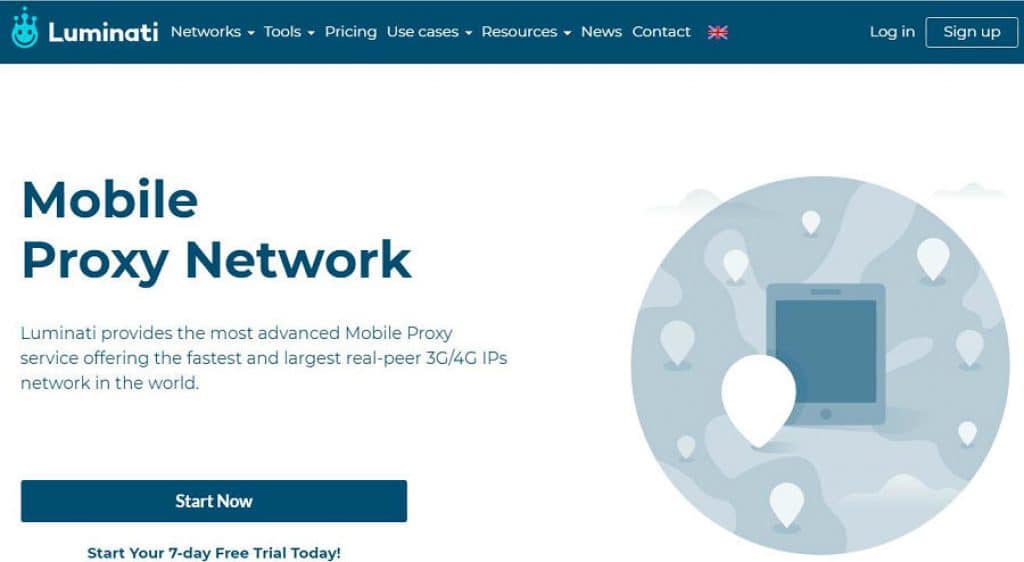 Luminati is the first mobile proxy provider in the market. Interestingly, It has over 7.5 million mobile proxies making it the largest mobile proxy provider in the market.
The size of their IP is not only the good thing about Luminati, and they are also ethical and get consent from owners of the IP addresses they use. This earned them credibility and trust and have made them the proxy service providers of choice among Fortune 500 companies.
Their mobile proxies aren't blocked since mobile IP addresses are not static for mobile phones. As an Instagram marketer, with Luminati mobile proxies, you're sure not to get banned except if do not know what you're doing.
You can get an IP address for any country of your choice from Luminati since their network cut across all countries of the world and some major cities.
In terms of pricing, they are quite expensive. Luminati mobile proxy starter package comes with 17 GBs included. The price of this package is $500.
However, if you look at the fact that their mobile proxies are reliable, secure, and has a 99.9 percent uptime, the price is worth it. Luminati also has a 7-days free trial for intending customers. Because of this, they do not have a refund policy in place, More about Luminati read our review Here.
Luminati Pros:
Trusted by Fortune 500 companies
Has a large number of mobile IP proxy network
Has IP addresses in all countries
7-days free trial
High success rate
Luminati Cons:
Expensive
Dashboard is complicated
---
NetNut Mobile Proxies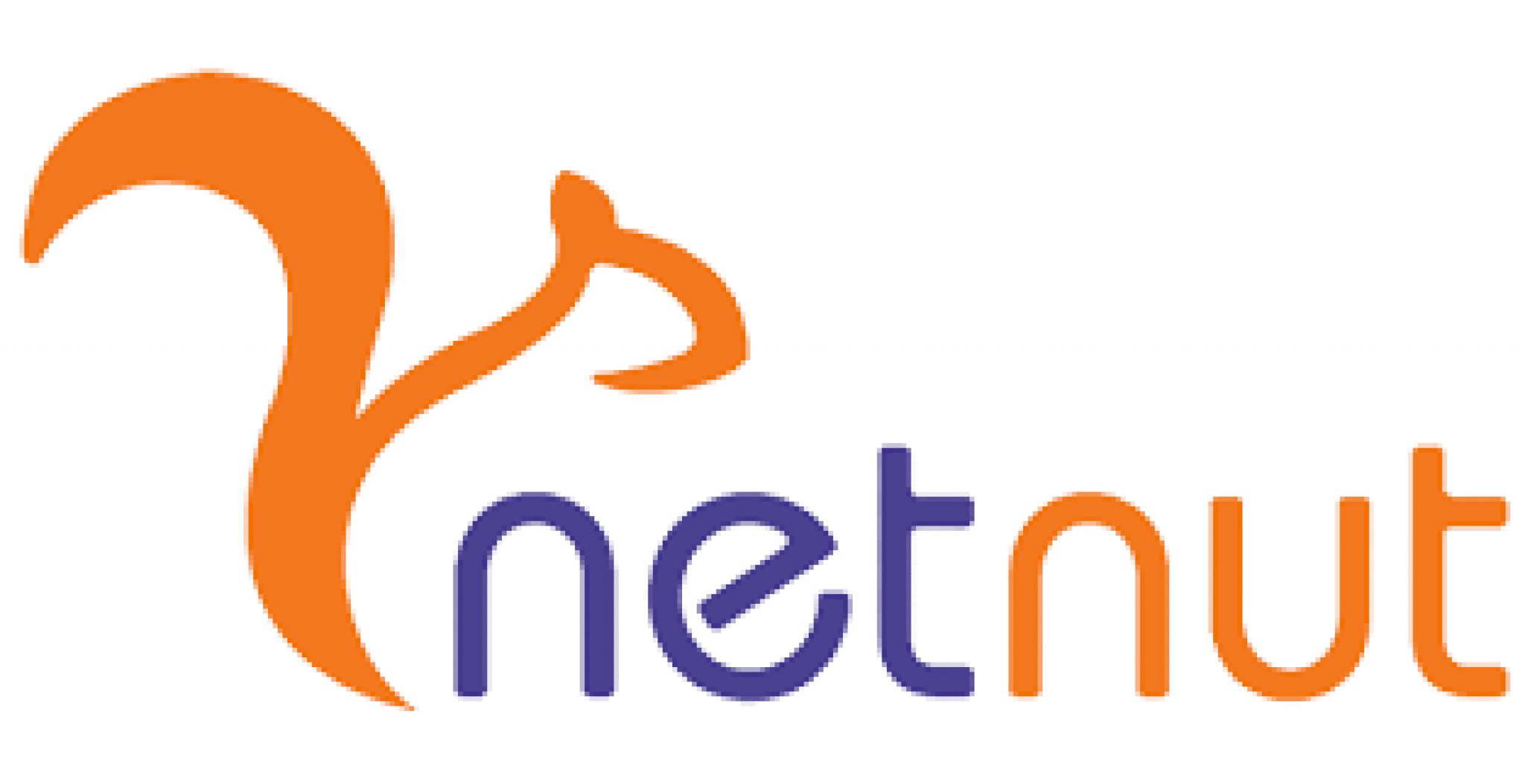 Unblockable Mobile Proxies with Extensive Location and Huge IP Pool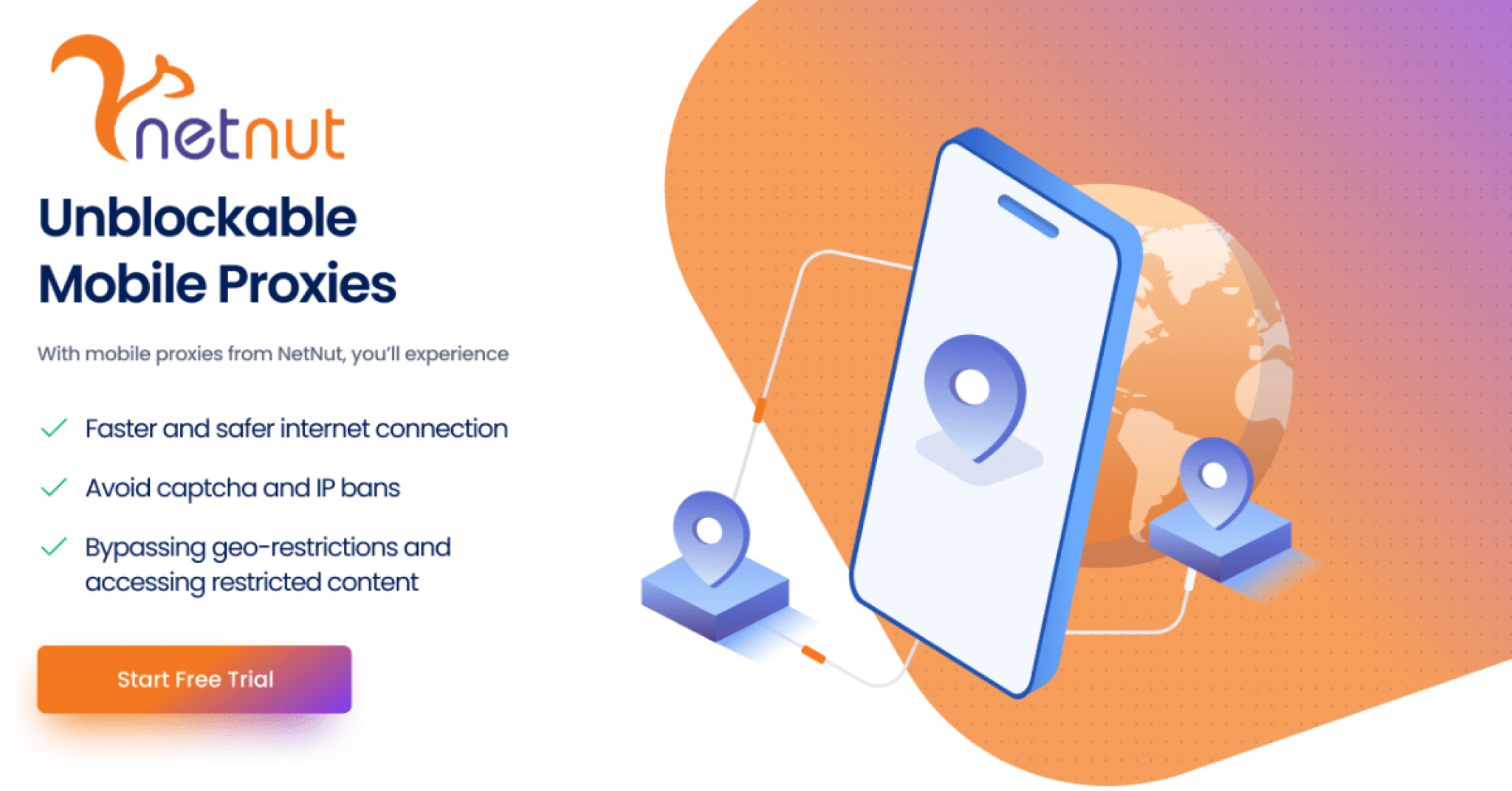 If you're seeking proxies with low block risk, then NetNut's mobile IP proxy service is what you need. With NetNut's mobile proxies, you gain a secure, fast, and undetectable connection from anywhere in the world. This provider boasts over 1 million global mobile IPs, regardless of your location.
This mobile proxy service utilizes 4G/LTE networks to ensure higher speed in the data extraction process across various websites. It's important to mention that these proxies serve multiple purposes, including SEO tracking, data gathering, website testing, and much more.
IP rotation in this case is automatic, allowing you to create unlimited sessions with unmatched uptime and 24/7 availability. NetNut's mobile proxy network employs real IP addresses, ensuring optimal performance for web scraping tasks.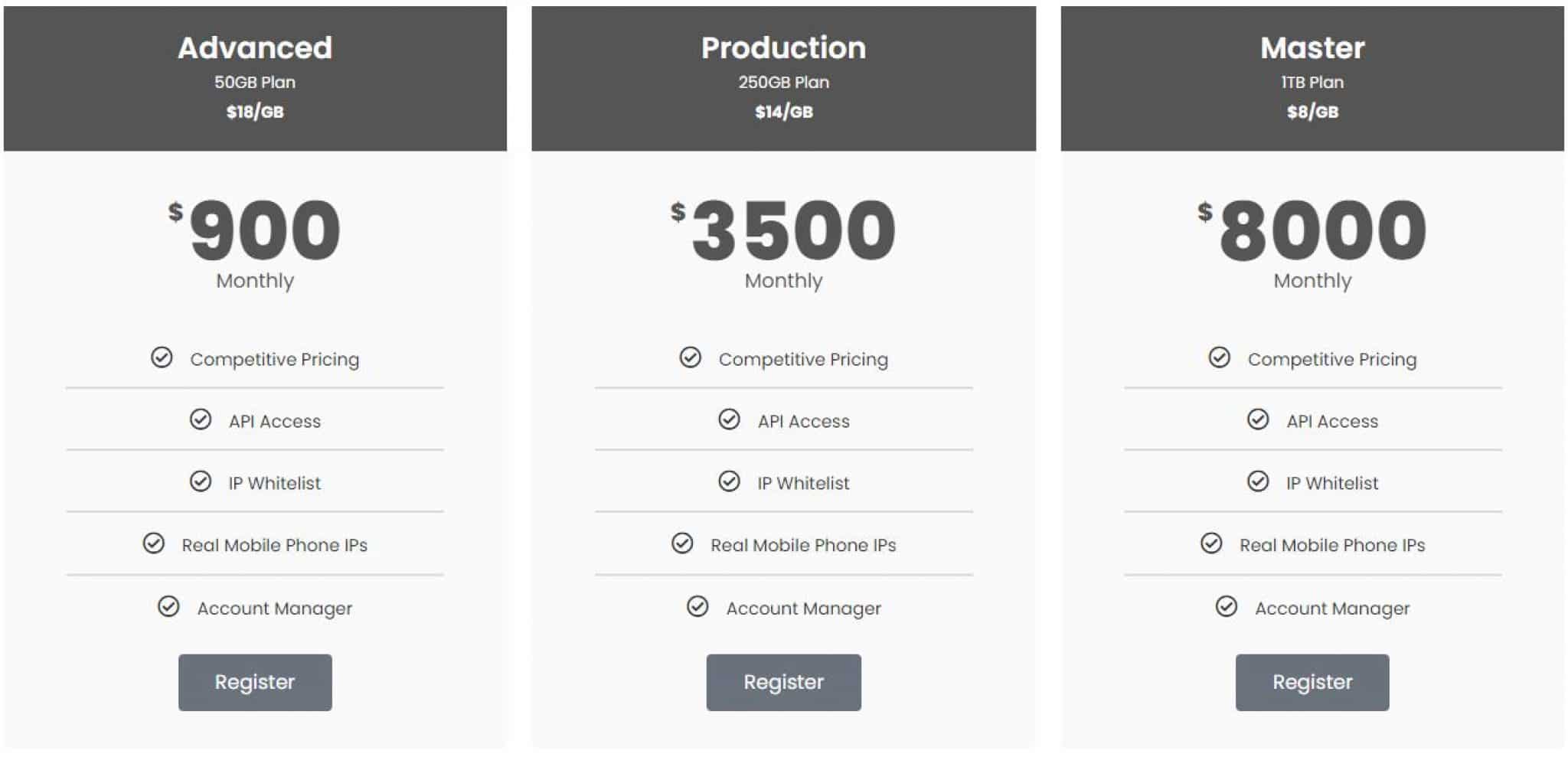 Moreover, this service entirely circumvents CAPTCHA, reCAPTCHA requests, and any other blocks or bots. NetNut's Mobile IP plans are highly flexible, catering to individual needs. You can acquire a 50GB bandwidth plan starting from $950 per month.
Not entirely convinced? You can enjoy a 7-day free trial of NetNut with no restrictions to understand how the mobile IP proxy service functions.
NetNut Pros:
Global coverage with over 1 million mobile IPs
4G/LTE networks for rapid data extraction
24/7 availability
Budget-friendly plans
7-day free trial
NetNut Cons:
Inadequate API integration documentation
---
back to menu ↑
TheSocialProxy 4G Proxies

Premium High-Quality Proxies for Social Media Automation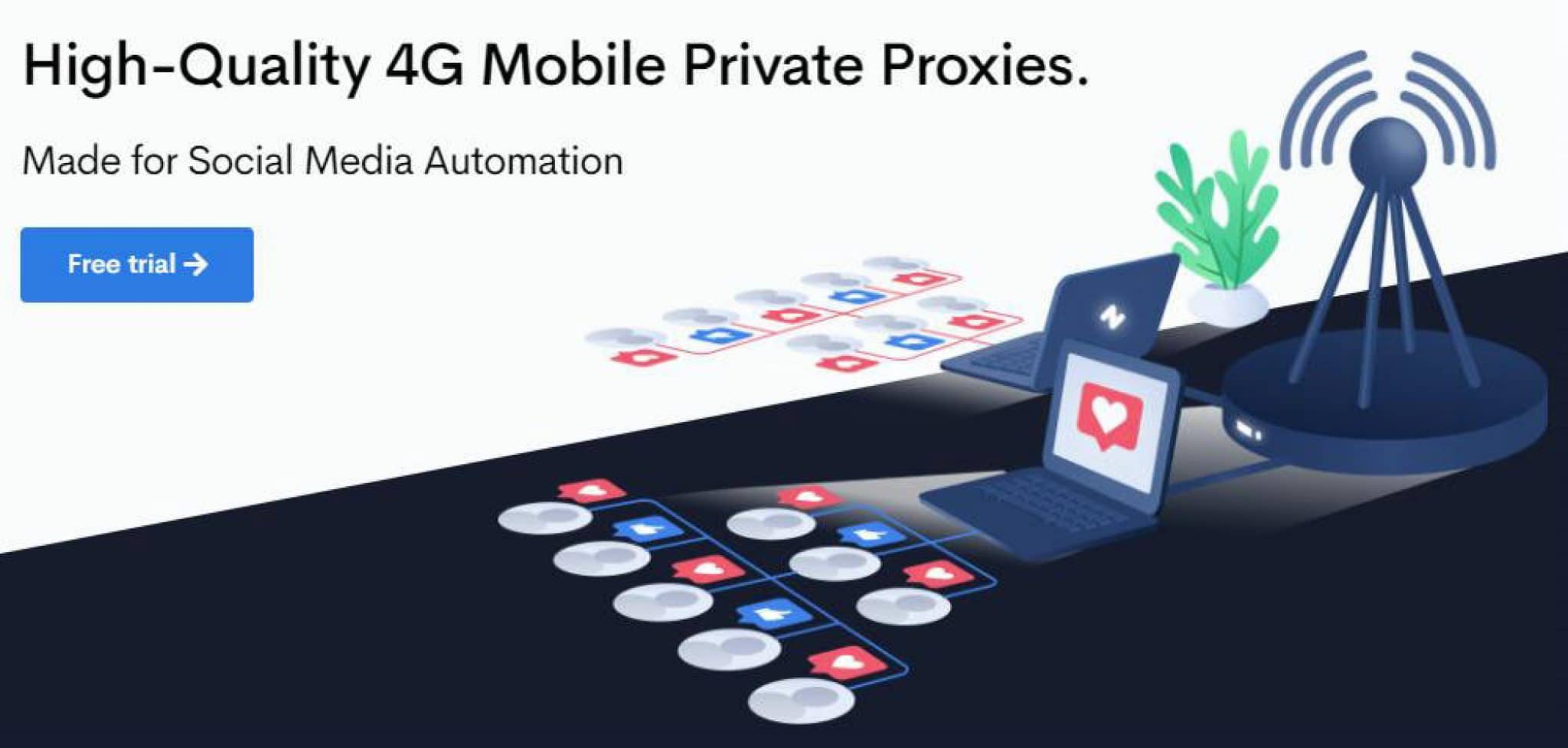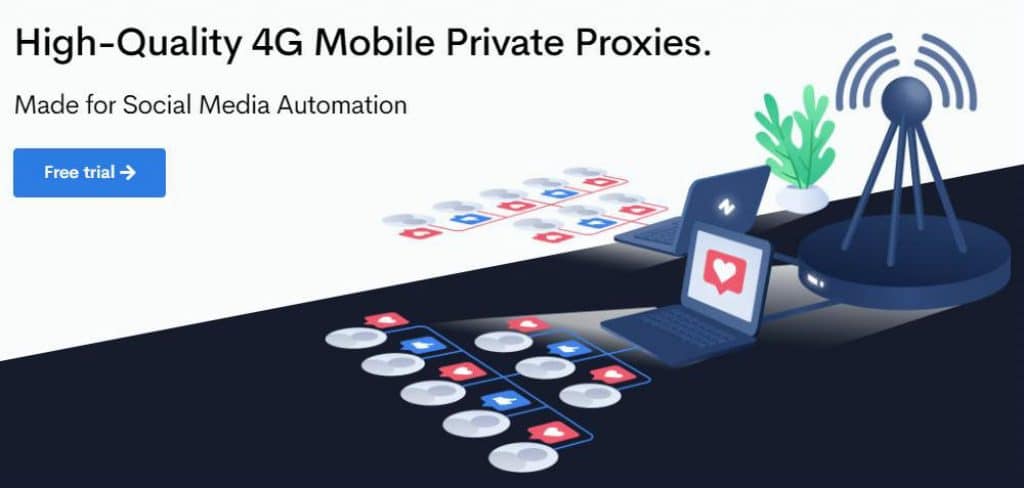 If you visit the website of this provider, you will see how highly focused they are; their proxies are meant specifically for social media automation for web services such as Instagram and TikTok.
With mobile proxies from TheSocialProxy, Instagram will think you are surfing it from a smartphone. This provider makes use of high-quality 4G LTE modems set up in 3 locations across the globe – the United Kingdom, Israel, and Austria.
Update - 2023.05.26
They have already added 5G New York and Texas.
Their proxies have a high trust score which means web services won't detect you are using a proxy service. It integrates well with the popular social media automation bots out there, including Jarvee, Nextpost, Follow Liker, Multilogin, and Socinator, among others.
One thing you will come to understand about their proxies is that while they were specifically set up for social media automation, you can use them for other tasks.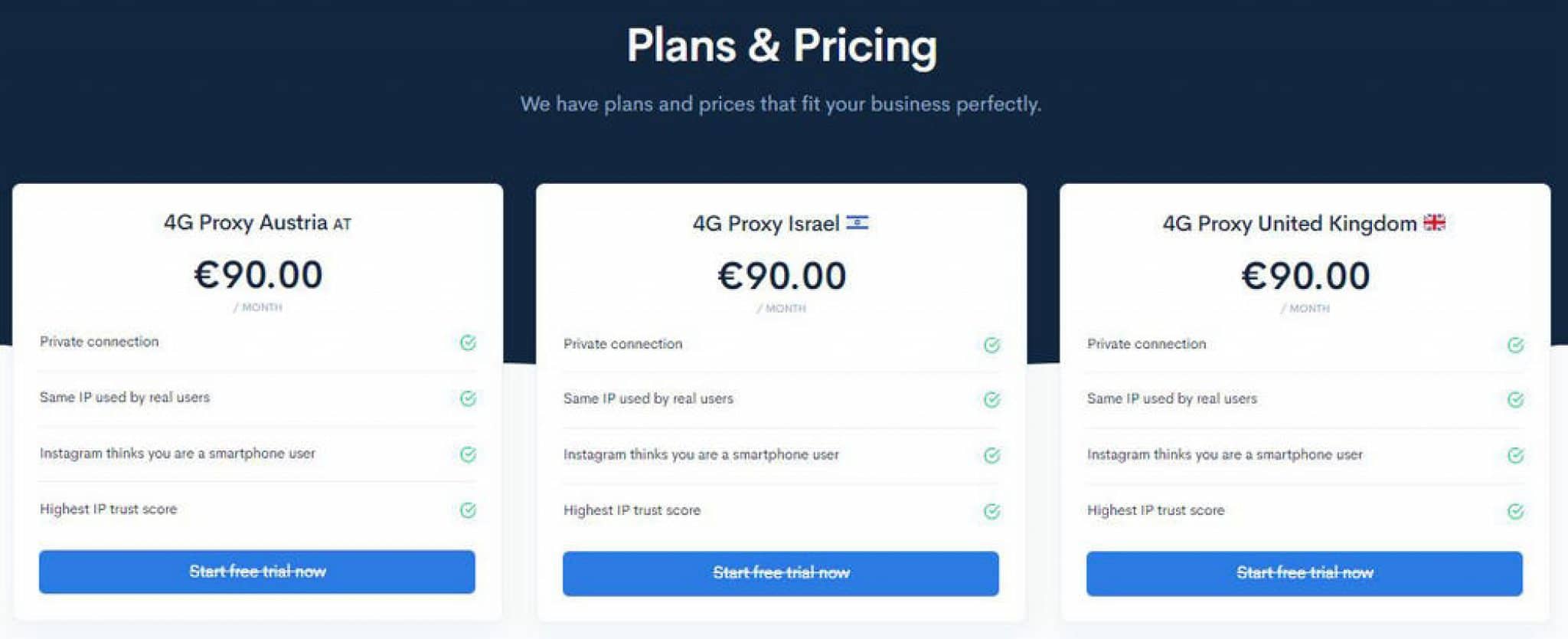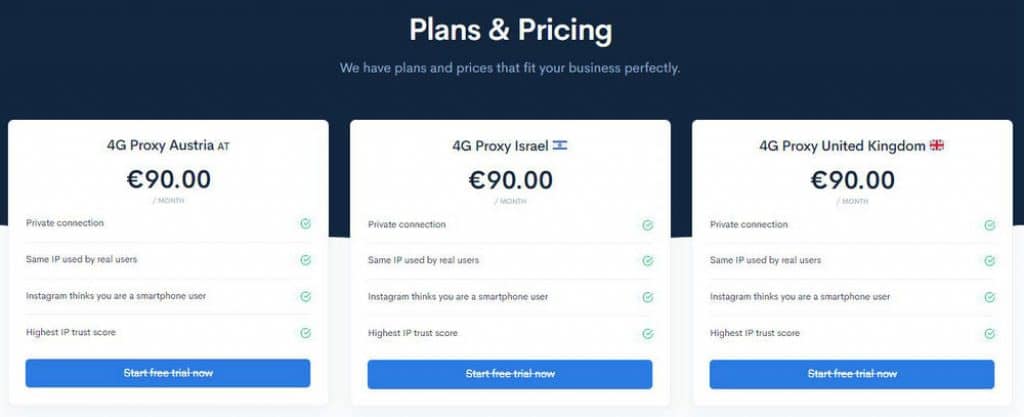 In terms of pricing, TheSocialProxy can be said to be competitive considering the quality they provide. Their pricing is based on port, and you can get a port for €90. Interestingly, you can make use of their proxies without paying via their limited free trial option. They have also got support for IP rotation even though their proxies are static proxies.
TheSocialProxy Pros:
Support 3 locations – UK, Israel, and Australia
High-quality IPs from own modems
Highly effective for social media automation
High speed
TheSocialProxy Cons:
Poor IP rotation for browser
Only username and password authentication supported
back to menu ↑
ProxyLTE: Cellular / Wifi connection
P2P type of Moblie IPs & Cellular / Wifi connection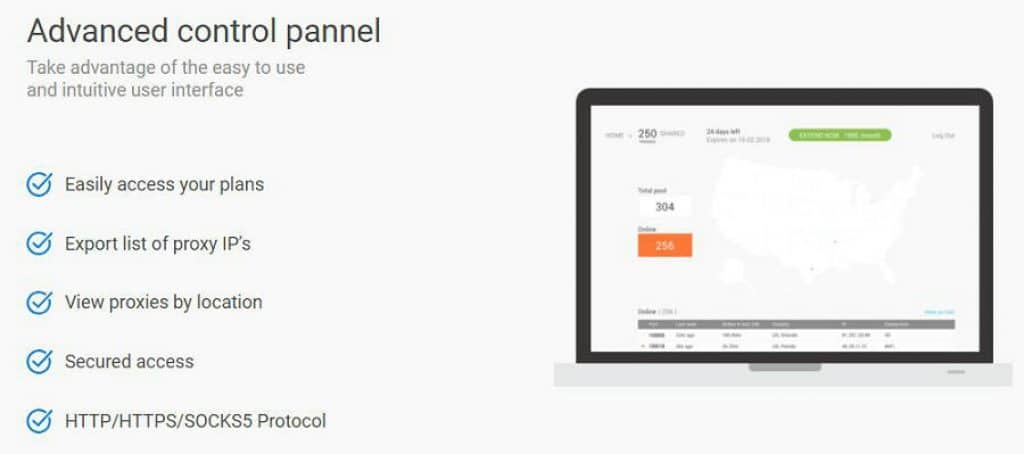 ProxyLTE is also another mobile proxy providers in the market. This proxy provider offers both wifi and Cellular connect. Just like AirProxy, Proxylte proxies are available for only one country – the United States.
With ProxyLTE, you not only have the option to automate your task and appear to be accessing the Internet from the United States but also have the option of choosing state-specific mobile proxies. However, if you plan to use other locations then Proxylte is not the mobile proxy provider for you.
For their private proxies, they have a standard price. However, their mobile proxy pricing has a different pricing model and is dynamically generated after choosing some options.
You have to select the type of proxy (SOCKS5 or HTTPS), connection type (Wi-Fi, Cellular, and Wi-Fi + Cellular), duration, and optionally select a state in the US. Only then will you see the pricing. I tried doing that and the least price I got was $30 per proxy in a month.
ProxyLTE Pros:
Provides premium service
You can pay for only one proxy
ProxyLTE Cons:
Only available in the US
Does not offer a free trial
Does not have a refund policy
---
back to menu ↑
Hydraproxy Mobile Proxy Network


The cheap Mobile proxy provider with unlimited bandwidth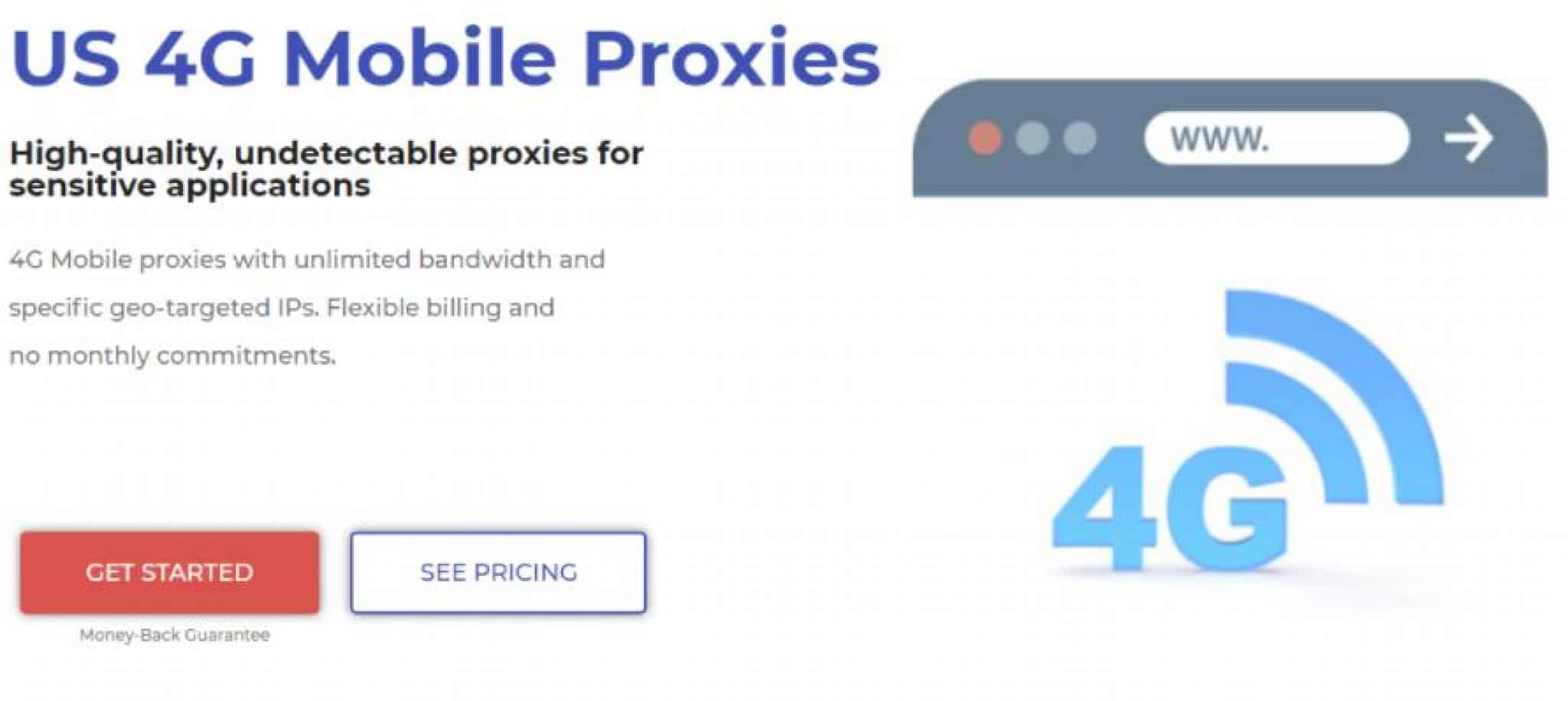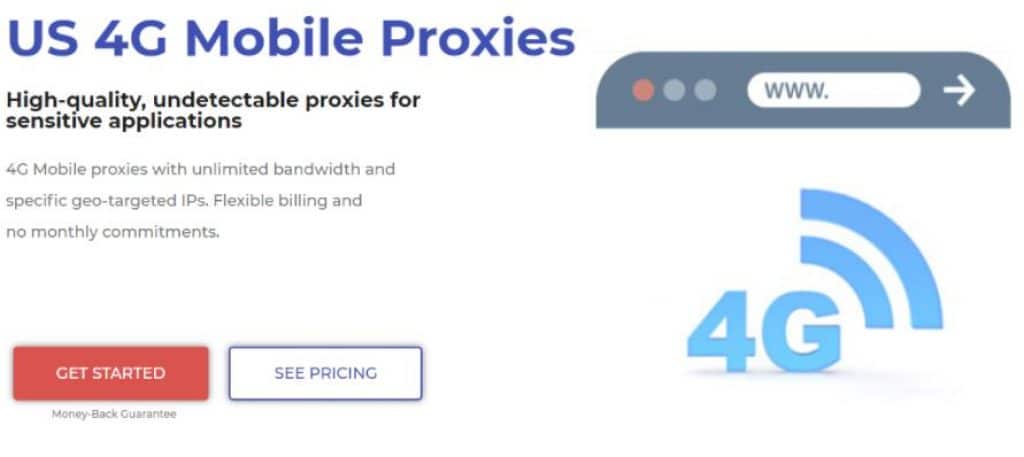 The mobile proxy market is still in its infant stage, and the pricing of proxies in this market can be said to be expensive. Hydraproxy is here to offer you high-quality mobile proxies at affordable pricing. Even though their proxies are cheap, you enjoy unlimited bandwidth.
The major issue you will experience with this provider is that their mobile proxies are US mobile proxies. If you are looking for mobile proxies for other locations, then this provider is not for you.
For the US, you can get proxies for all US states. With proxies from all US states, they have got support for geo-targeting. Their proxies are quite secure, undetectable, and compatible with most web services and platforms on the Internet.
They are also fast and easy to use. Hydraproxy has support for IP rotation – you can get your IP address replaced after every 30 minutes.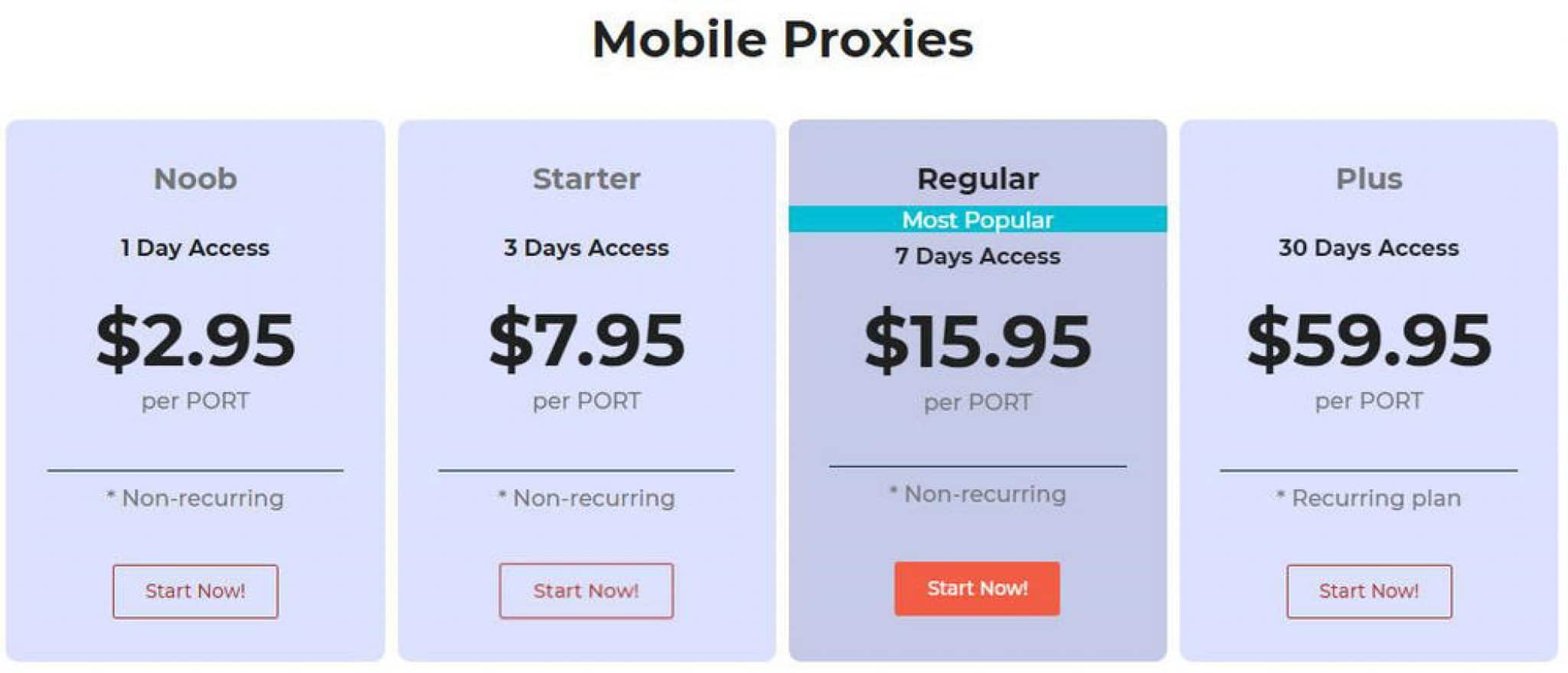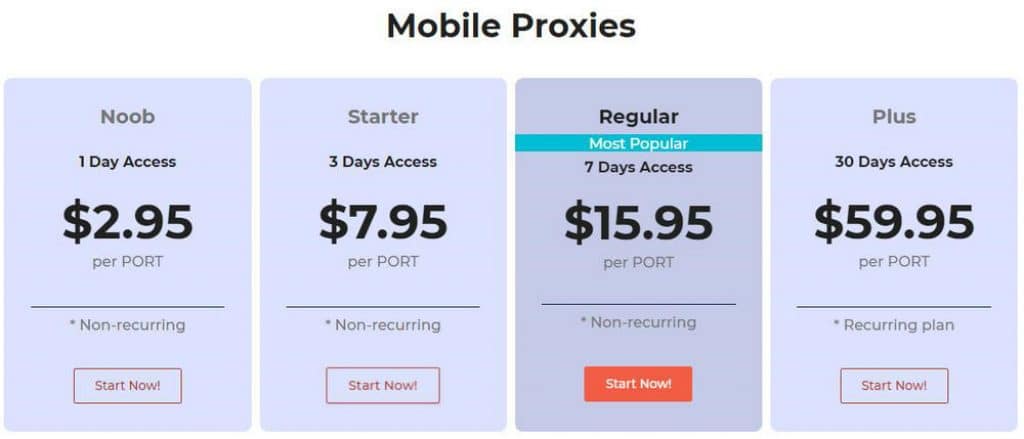 Hydraproxy is priced based on the number of ports and duration you intend to use the proxy. For the duration, they have got support for 1 day, 3 days, 1 week, and 1 month. Their most popular plan is the 7 days access regular plan and is sold for $15.95 per port.
Hydraproxy Pros:
Extensive location coverage across the United States – all states supported
Large proxy pool
Flexible payment plans
Affordable pricing
Hydraproxy Cons:
Only US locations supported
---
back to menu ↑
Proxy-cheap (4G proxies for Social)

A Mobile proxy provider offers the highly cost effective 4G proxies for Social Multiple accounts marketing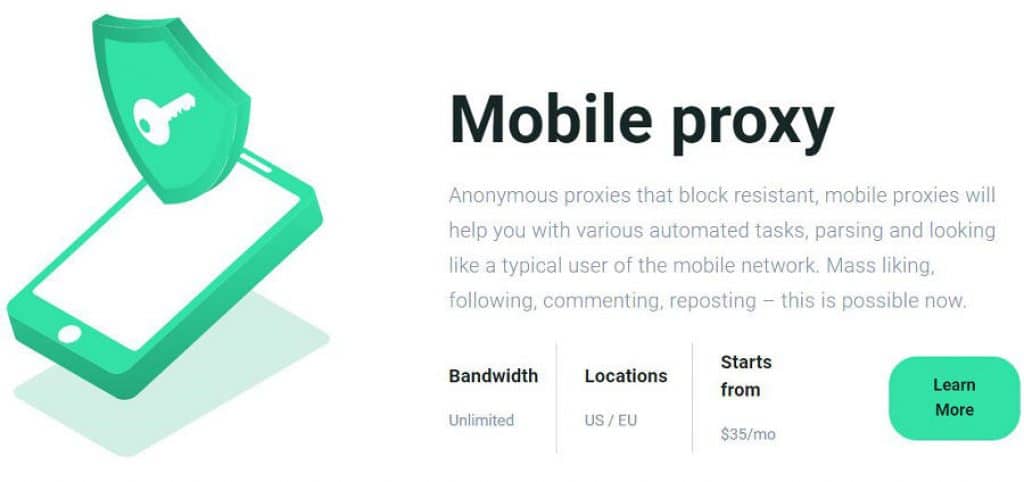 Proxy-cheap is one of the best mobile proxy providers in the market. Their target market is the United States and the EU region and as such, they only have US and EU regions.
Their proxies are secure and reliable. Aside from providing mobile proxies, Proxy-cheap also provide residential proxies to their customers.
Just as the name suggests, Proxy-cheap mobile proxies are incredibly cheap. They have an easy to use interface and provide a free trial for intending customer only on request.
Because of the free trial, there is no money-back guarantee in place. Their smallest plan consists of one proxy and is billed at $35 monthly.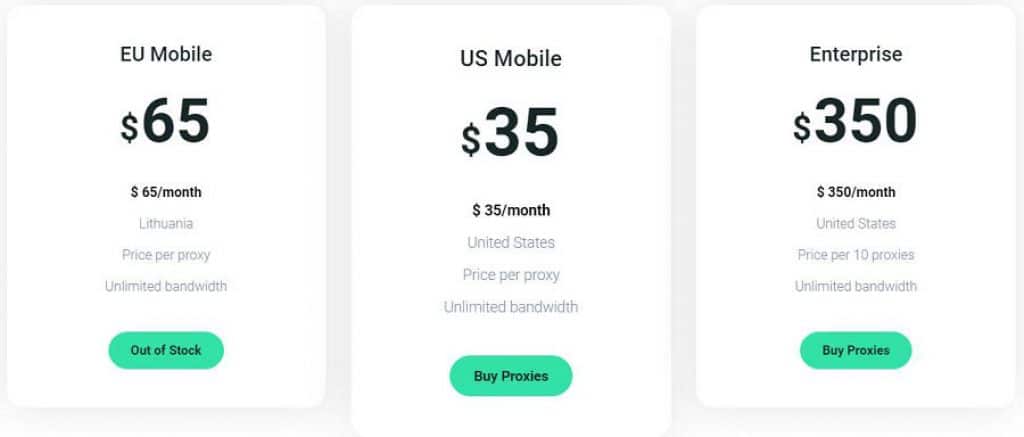 Proxy-cheap Pros:
Their mobile proxies are cheap and affordable
They provide a free trial on requests
Proxy-cheap Cons:
They do not offer a refund
Only US/EU proxies available
---
back to menu ↑
DSL Rentals mobile proxy network


Another Backconnect P2P Mobile IP proxies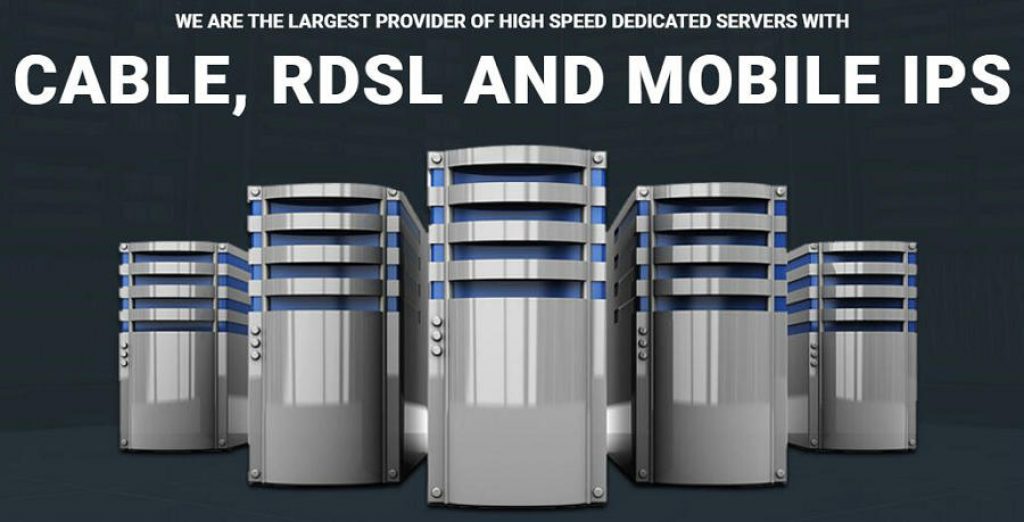 According to information provided on their website, DSL Rentals has 350 servers and over 350,000 IP addresses distributed in about 21 locations.
With this number of IP addresses, they stated that they are the largest providers of mobile proxies – I doubt this though because Luminati has about 7.5 million proxies. However, I can confidentially tell you that they are one of the mobile proxy network providers that worth to try. They have been in the business for over 8 years now.
DSL Rentals is one of the cheapest options out there. With just a $65, you can have one-week access to their service. This includes a one-hour free trial, having access to mobile proxies in 21 locations. You can also subscribe to their bi-weekly and monthly plan which cost considerably more than the weekly plan.
DSL Rentals Pros:
Have IPs in 21 locations
Quite affordable
DSL Rentals Cons:
A one-hour free trial is not enough
They do not have a refund policy
---
back to menu ↑
ProxySource (Custom Proxy Solution)
Dedicated Sprint & Verison 4G mobile proxies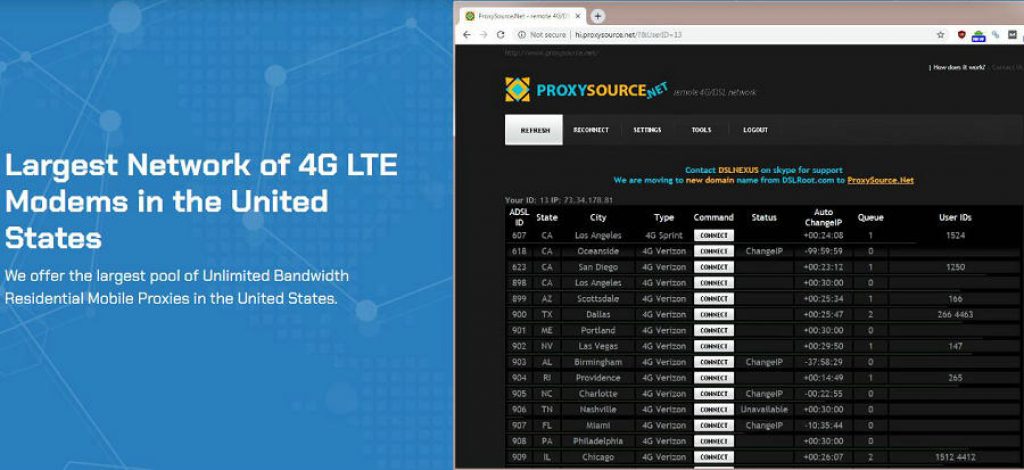 ProxySource is another mobile proxy provider in the market. This is owned by Custom Proxy Solution. The company specializes in the provision of rotating residential mobile proxies and its network of mobile proxies is one of the largest in the United States. ProxySource has only United States proxies in its mobile IP pools.
If you subscribe to ProxySource mobile proxy service, you're assured of using up to 30k or 1.5K Dedicated 4G mobile IPs located in the United States. The IP address they assign to you changes after every 30 minutes. ProxySource has both a weekly and a monthly plan. For their monthly plan, it goes for a price of $250.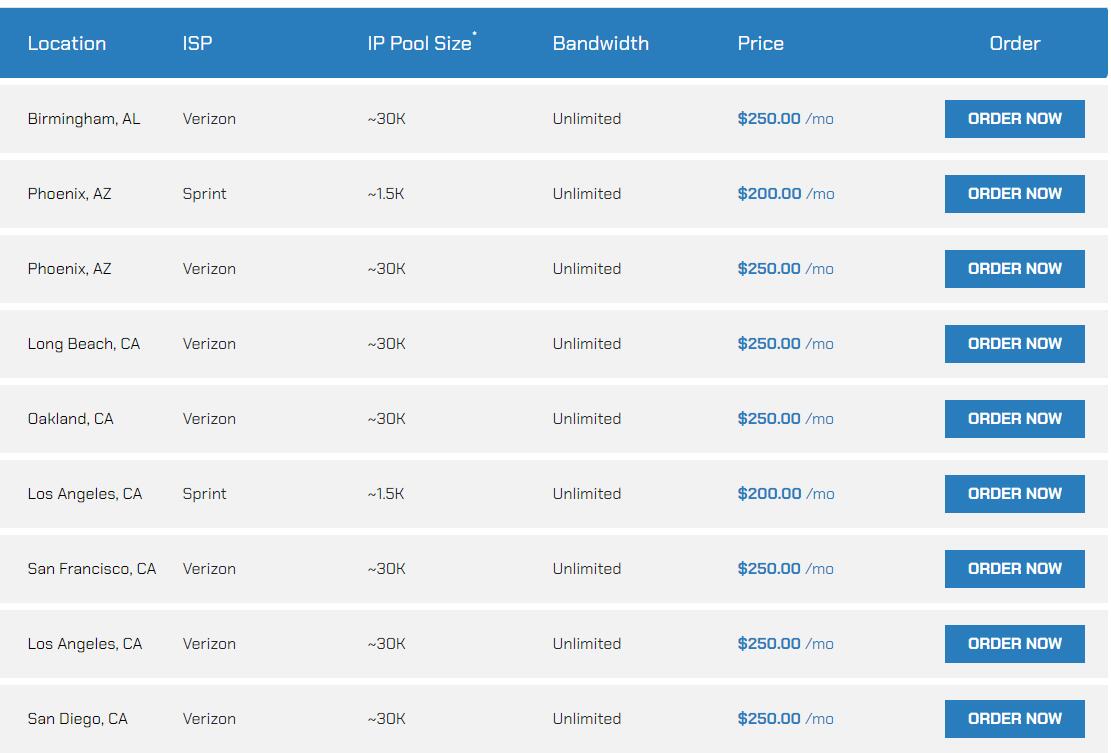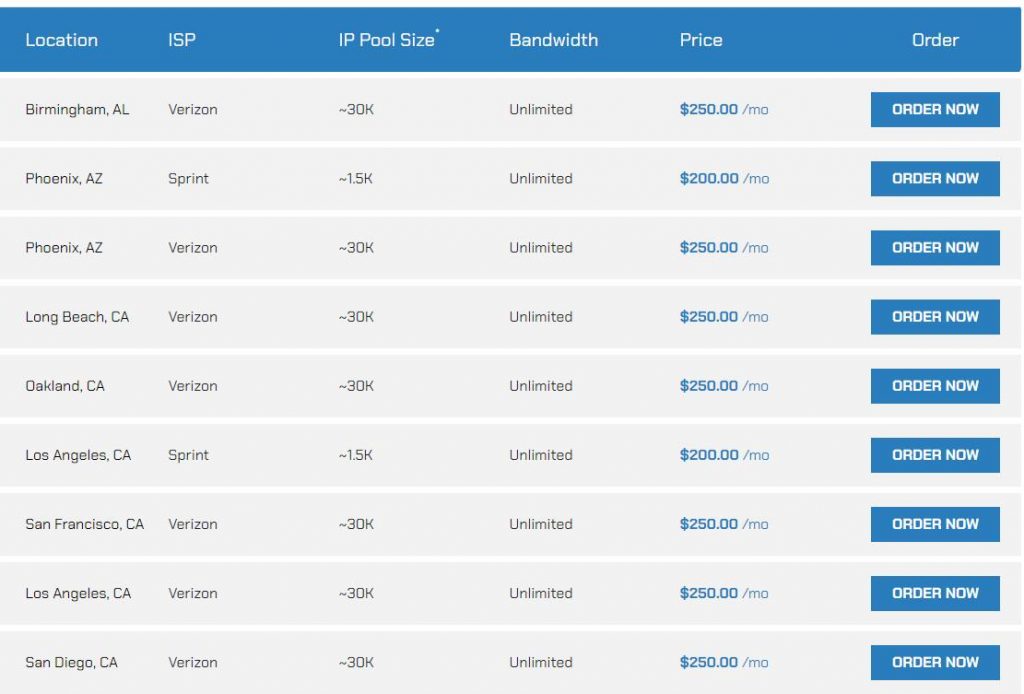 ProxySource Pros:
The huge number of IP addresses in their pool
Affordable compared to many on the list
ProxySource Cons:
Not a good option for people interested in non-US proxies
---
back to menu ↑
3G Proxy: Great for Ad verification


While 3G Proxy might not be popular as many others on the list, there's no cause for alarm – 3G Proxy does not only provide you with mobile proxies, but their proxies do not get blocked.
They have real SIM cards of over 130 mobile carriers. Just as their name suggests, their mobile proxies are 3G proxies – they do have 4G proxies too. This provider has a chrome extension to make integration with Chrome browser as effortless as possible.
Their proxies are not located in one country. This becomes the basis for their pricing system. If you intend to use proxies in only one country, then the monthly subscription fee is $149.
3G Proxy Pros:
Has proxies in many countries
Affordable
Has a Chrome extension
---
back to menu ↑
Proxyrack Mobile IP Proxies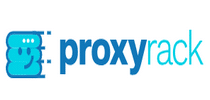 Cheap residential IP proxies providers, offer mobile proxy gateway.
Update - 2020.01.02
Proxyrack do not offer 4G/mobile proxies anymore! Now They only provide
Private Proxies
, Rotating Residential Proxies!
Proxyrack mainly rotating residential proxies, All their Mobile IPs from their p2p network, There are cellular IPs of over 400,000 devices in their Pools.
Because they have a large number of IPs, switching is very easy. One thing I like about Proxyrack is that they have city proxies for Instagram which makes it even more natural and reliable.
They so much trust their proxies that their subscription comes with a 14 days money-back guarantee. This is commendable for an industry where companies do not provide any form of the refund policy and even if they do, they are usually less than 3 days. Interestingly, they are also very cheap compared to any other proxies in the list.
Proxyrack Pros:
Has a large number of IPs
14-days refund policy
Affordable mobile proxies
back to menu ↑
Rsocks 3G/4G/LTE Mobile Proxies (Closed)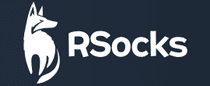 Mobile IPs from Operator directly – IP rotation Every 2 minutes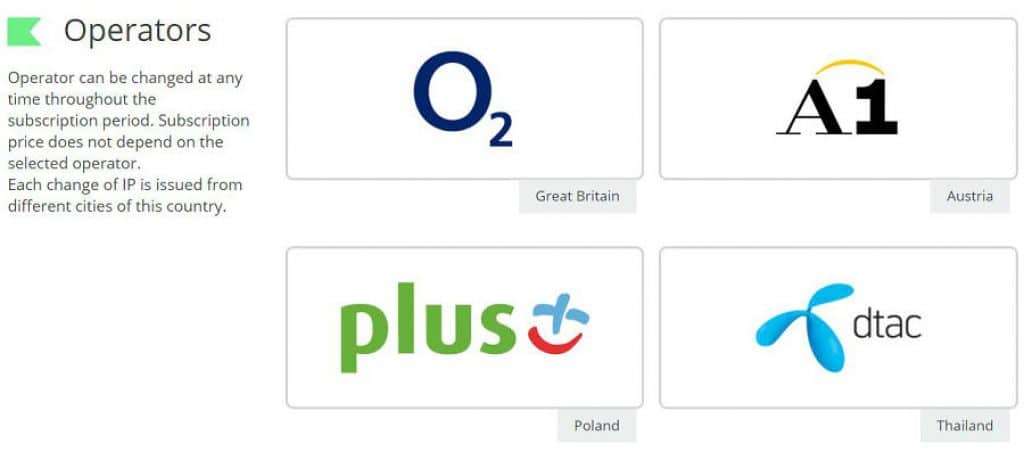 Rsocks is a proxy service provider with proxies in the residential, datacenter, and shared proxy categories. Interestingly, in terms of mobile proxy provision, Rsocks is one of the best mobile proxy providers in the market.
With $60, you can get access to their mobile proxies for a week. You are allowed a maximum of one hundred concurrent threads. You are allowed to whitelist only one IP address if you need to whitelist more IPs, you have to pay more. They offer a one-hour free trial.

Their services are quite good if you want to access the Internet through IPs in Russia, China, the United States, Europe, and Vietnam. If you aren't interested in these locations, then you have to look elsewhere, Rsocks isn't an option for you.
This is because their mobile proxies only have access to mobile IPs in these regions. Worthy of notice is the fact that Google has had a hold on their proxies and as such, you will need captchas solvers to bypass the captchas. However, they work perfectly with Instagram.
One other concern of using Rsocks is their Internet speed – certainly not one of the best in the market.
Rsocks Pros:
Premium service provision
Works perfectly with Instagram
Rsocks Cons:
Need captchas solver to work with Google
IP geolocation distribution is very limited
Expensive
Supports only IP authentication
---
back to menu ↑
ProxyGuys 4G Proxies (Closed)

The largest mobile proxy pool with enterprise-grade dedicated 4G modems from Verizon Wireless and AT&T
ProxyGuys is a mobile proxy provider with its proxies regarded as some of the best mobile proxies in the market. One thing you need to take note of is that ProxyGuys is strictly a US mobile proxy provider. For US proxies, they have got over 50 million mobile IPs making them not only the largest US IP provider but also the largest mobile proxy provider in the market.
Aside from the size of their proxy pool, another thing you will come to like about ProxyGuys is that they utilize enterprise-grade dedicated 4G modems from Verizon Wireless and AT&T. because they own the equipment they use, they can afford to provide the highest quality possible.
Currently, about 25 US locations are supported, and you can see the IP availability for the supported regions. While their IPs are static IPs, you can have them rotate IPs for you via their IP rotation system.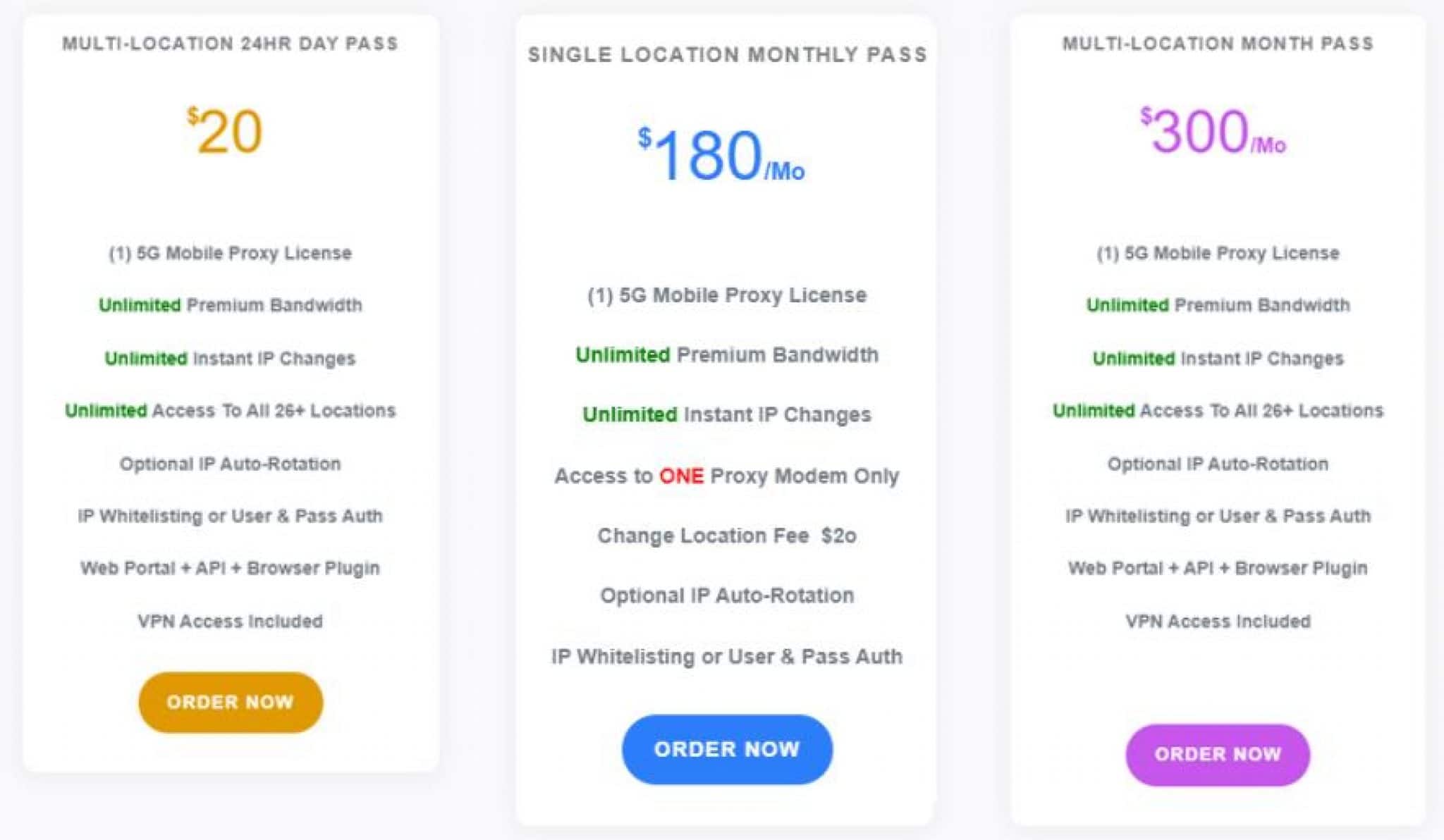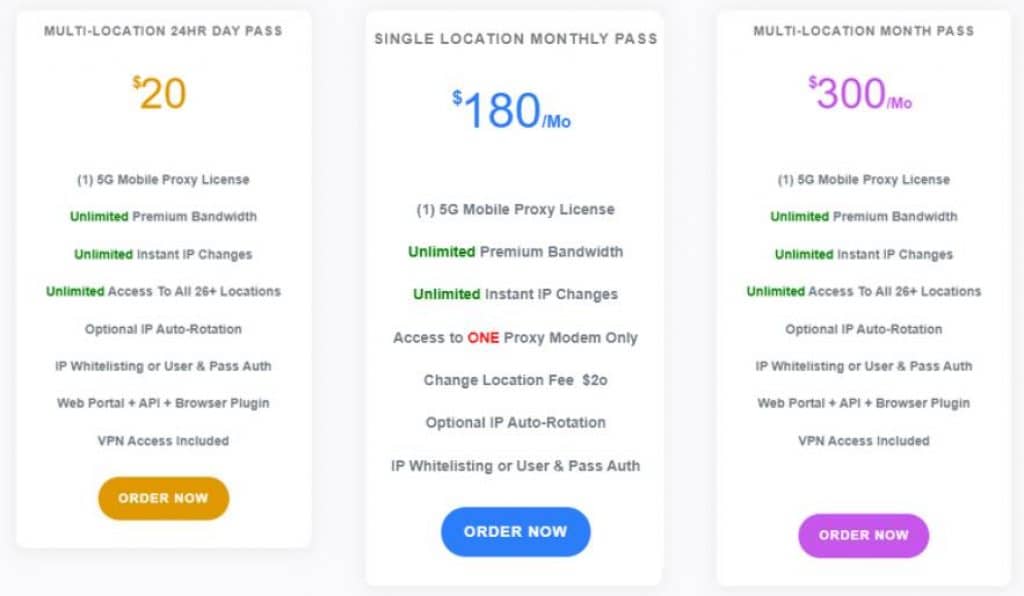 When it comes to pricing, it can be said that ProxyGuys have a flexible pricing system. From this provider, you can buy daily, weekly, and monthly proxies.
While the pricing system is flexible and cheap depending on how you strip down a plan, the cost for standard plans when compared with other providers can be expensive. Take, for instance, the price for their monthly single location plan is $180 while their multi-location plan is $300.
ProxyGuys Pros:
Large proxy pool with IPs from locations across the US
Premium IPs from Verizon and AT&T modems
Flexible payment system – daily, weekly, and monthly support
Good IP rotation system
ProxyGuys Cons:
Expensive pricing
Limited location supported – only the US
---
back to menu ↑
AirSocks 3G/4G/LTE Proxies (Closed)

Mobile IPs from Operator directly, Dynamic mobile proxies, AT&T from US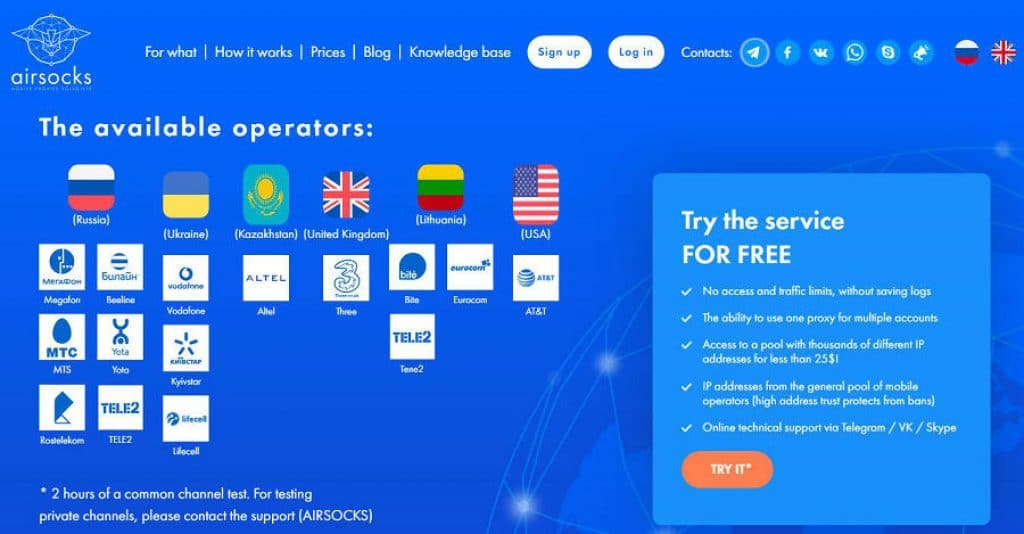 Using AirSocks 3G/4G/LTE Mobile Proxy will reduce your chances of been blocked to almost zero. Yes, you read that right and AirSocks is that effective at discharging its services as a mobile proxy service provider.
AirSocks aren't just any type of proxy providers, they are focused strictly on providing mobile proxies that are private and dynamically assigned. This is to say that AirSocks provides only mobile proxies and as such, can be said to be more specialized in their service delivery.
Some of their unique twists include OS fingerprints substitution, large geo-distribution mobile IPs, better API integration, and connection support via VPN, HTTPS, SOCKS5 + DNS.
Instagram is notorious for not only blocking accounts but the IP address associated with the accounts. However, AirSocks proxies do not get blocked because they are mobile proxies.
Unlike the other providers above, the pricing model of AirSocks is not static. The pricing is generated dynamical depending on location and I find that not to be user-friendly at all.
AirSocks Pros:
Never get blocked
Their services are specialized
Large mobile IP distribution
AirSocks Cons:
Price is dynamically generated
Quite expensive
back to menu ↑
AirProxy Dedicated Mobile Proxies (Closed)

Their mobile proxies are often used for Scraping, Botting and Managing Facebook and Instagram accounts.


the biggest dedicated mobile proxies provider in Europe. They currently have over 1700 proxies installed, divided in 5 different server rooms located in Italy.
Each proxy (87€/month) is made with a dedicated modem and its sim card. The download speed of their proxies is up to 120 Mbps and usually ranges between the 20-60 Mbps mark. Their proxies can be used for any use case for which an European location mobile/residential IP is required.
They mainly provide proxies from WindTre operator, which has one of the biggest IP pool in Europe for a mobile operator (more than 390.000 IPs). Vodafone and TIM are also available.
They have their own in-house infrastructure and thus, oppositely to many other providers, they are not resellers. This allows them to have full control on their network and provide great speeds and uptime.
On the other side, this is also the reason why they only provide proxies from Europe (Italy) and can't offer other countries. Each proxy is made with a dedicated sim card and can be controlled from their site dashboard:


The IP can be rotated automatically by setting an interval on the dashoard (as shown above) or by calling their API.
While their service is undoubtedly of premium level, their pricing is on the high-end too (87€/mo) unless you need 5-10+ proxies and get a custom discount from them.
I suggest using them for use cases where you need high-quality European IPs and residential providers as Bright Data or SOAX would get too expensive (AirProxy offers unlimited data, residential providers will charge you per each GB used). For example, they are great for scraping (we got high success rates scraping the Google SERP and Instagram).
Should you need to purchase more than a few proxies it's better to contact Diego (the owner) to get a custom discounted price, usually up to 40-50% off for 10+ proxies purchases.
AirProxy Pros:
Very reliable (no reselling – In-House infrastructure)
Large IP pool
Fast speeds
Fast support, available 7/7
AirProxy Cons:
Expensive if purchasing only one proxy
Only has European (Italy) proxies
---
Are you looking forward to using Jarvee for Instagram automation? Then Stackaxis mobile proxies should be one of your option. What do they bring to the table?
Dedicated modems for each of their clients. From these modems, you should expect a change of IP 3-4 times in a day. Their infrastructures have been built and engineered to reduce downtime to the barest minimum. Stackaxis gives you an uptime of about 99 percent. Their proxies are fast and secured through the use of username and password – no IP authentication.
This moobile proxy provider seems to be a one-man business. The pricing is the cheapest. You can get monthly access for a sum of $20.
Stackaxis Pros:
Cheapest mobile proxy provider
Dedicated modem for each client
Stackaxis Cons:
No guarantee the business will survive tomorrow since it's a one-man business
---
Related terms:  1G, 2G, 3G, 4G, 5G, LTE
What's do GSM, 3G, 4G, LTE mean and What's the difference to them? Here let's go with brief a simple introduction, no need to get into the different technologies' details!
All those are telecommunications technology, the "G" means generation, 1 G mean first generation, 3G third generation, etc.
1G: first-generation, It's really old and 1G network use analog signal, Only for Voice.
2G: Cover GSM, GPRS and EDGE technologies, which used for texting and calling.
3G: HSPA and HSPA+ technologies are generally considered as the 3-G network. If you ever notice an H or H+ next to your phone signal that means you're connected to 3G.
4G: Cover the MIMO and OFDM technologies. The LTE and UMTS technology and is currently the latest fastest widespread technology.
5G: On the way…