SOAX is a rotating residential and mobile proxy provider offering a reliable and cost-effective solution for both businesses and individuals. The SOAX platform boasts more than 8.5 million mobile and residential IPs from all GEOs and allows you to narrow down your targeting settings to a specific city or mobile operator. Even with the basic SOAX plan, you get access to all of its features along with the whole pool of IP addresses.
Easy, Reliable & Affordable Residential Proxy Provider
Over 8.5 million residential and mobile IPs
One of the cleanest proxy pools: only real IPs from real network providers
Highly precise geo-targeting: filter proxies by country, region, city, or provider
Easy dashboard to manage your IPs and view traffic statistics
Flexible rotation settings and export options
High anonymity and reliability
Node Access: reserve a specific residential IP address
Quick Access: assign IP addresses from a specific geo to a set of ports
24/7 support and customer service
3 day trial for $1.99
---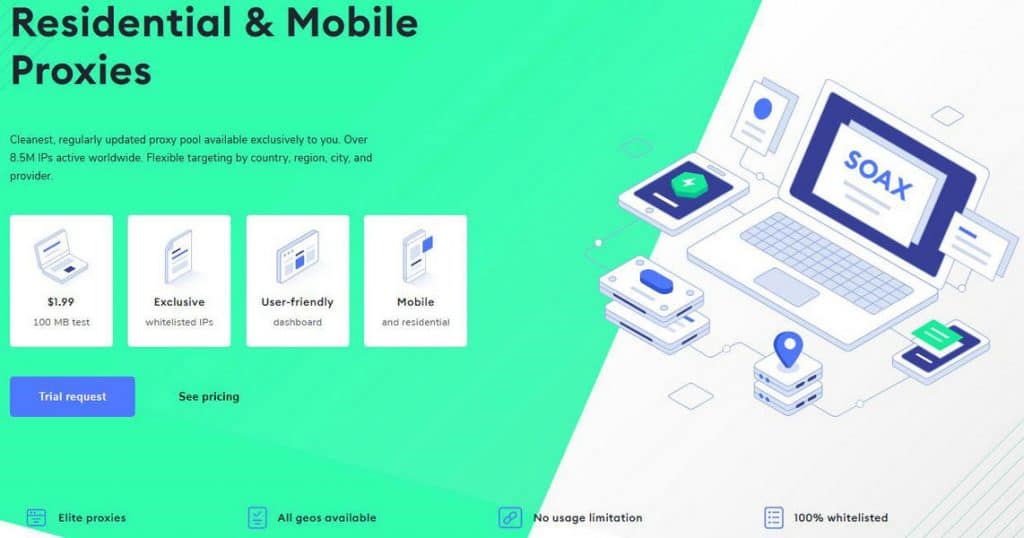 SOAX offers mobile and residential IP addresses from real internet service providers (ISPs) across the world. The platform provides persistent real-time connection and ensures automatic proxy rotation, which means that you will always be working with a live, genuine IP address no matter what. With its flexible pricing options, user-friendly interface and reliable server network, SOAX is one of the easiest to use and most affordable proxy solutions out there.
A large pool of IP addresses along with the fact that residential proxies can hardly be detected or blocked make SOAX a great fit for many professionals across various industries. Their residential proxies can be used to monitor prices and competitor activities, verify ads, check website availability, create multiple social media and website accounts, collect data from different sources, conduct speed testing, and more.
The SOAX pricing is based on the type of proxies you would like to use (mobile or residential), geo-targeting (one geo or all geos), the amount of ports, and traffic volume. Every plan can be paid for on a daily, weekly, or monthly basis. Fully-featured one-hour free trial is available to everyone, and it can be easily extended by contacting their support team.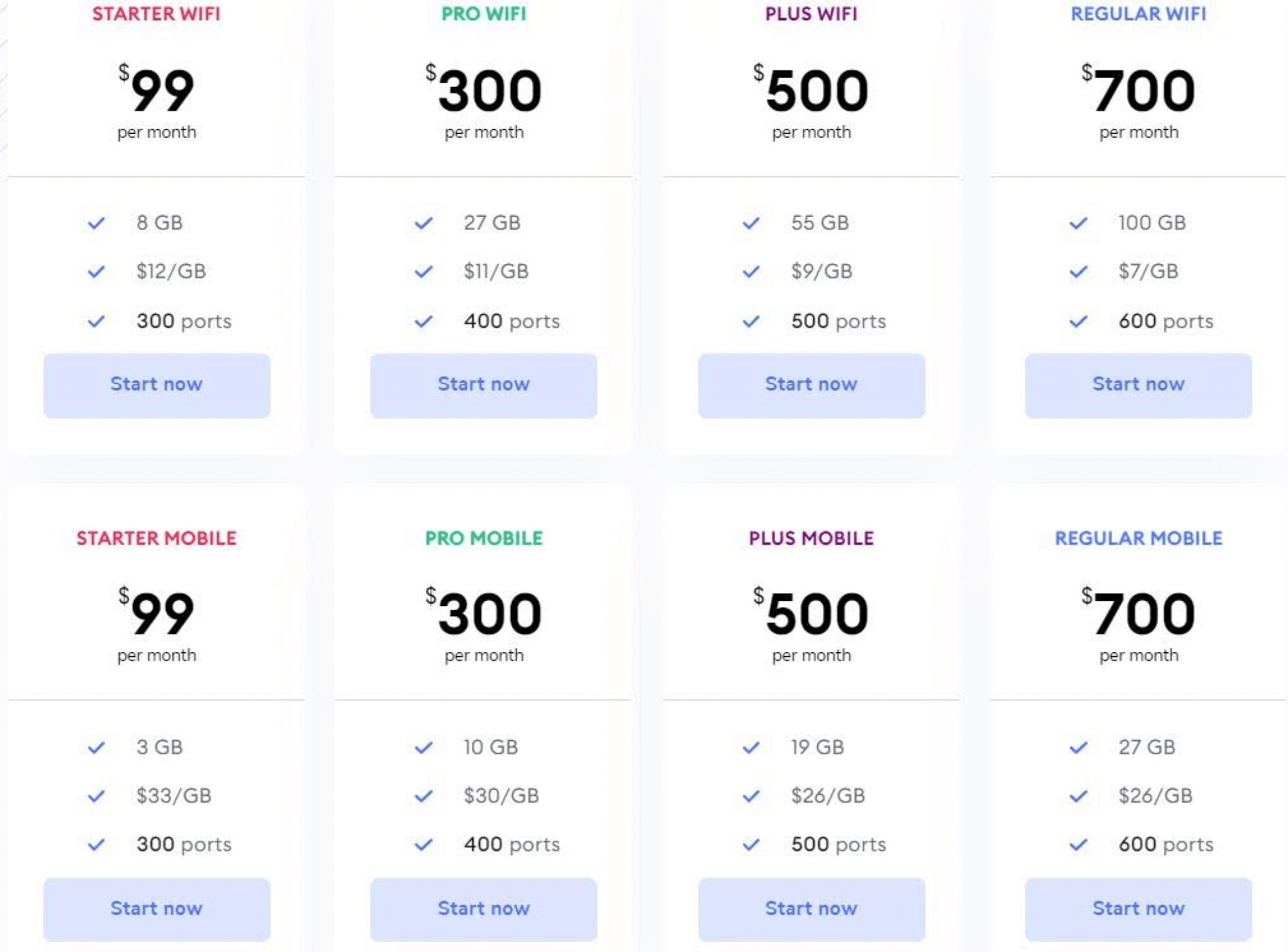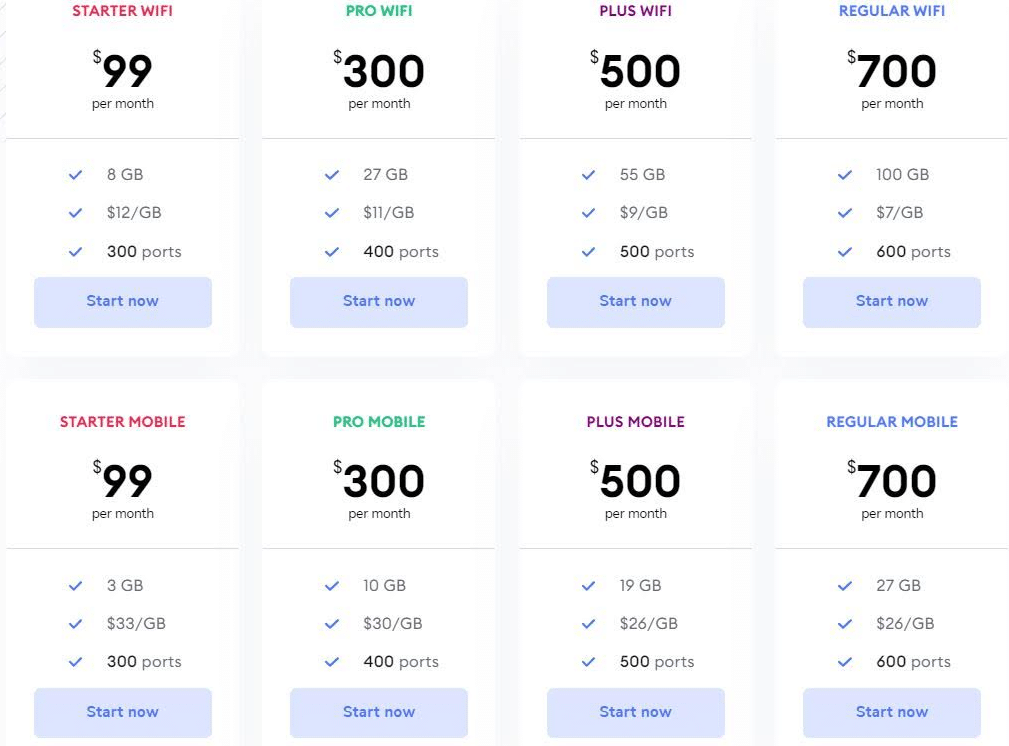 Is Soax worth it? That's what we'll discuss in this review.

20% OFF
Get 20% Discount: put promo code "PRIVATEPROXYREVIEWS" to check out!
---
---
The SOAX Solution
Here's why you might choose to go with SOAX instead of any similar residential proxy provider:
Extensive proxy pool: more than 8.5 million white-listed IPv4 addresses that are ready to be used for your data scraping needs.
One of the cleanest IP pools out there: all IPs are offered by real network providers from across the world.
High anonymity: residential proxies look like real users, which works great for sending requests from different locations and managing multiple user accounts on websites and social media.
Covers all geos: you can go through any geo restrictions on any website.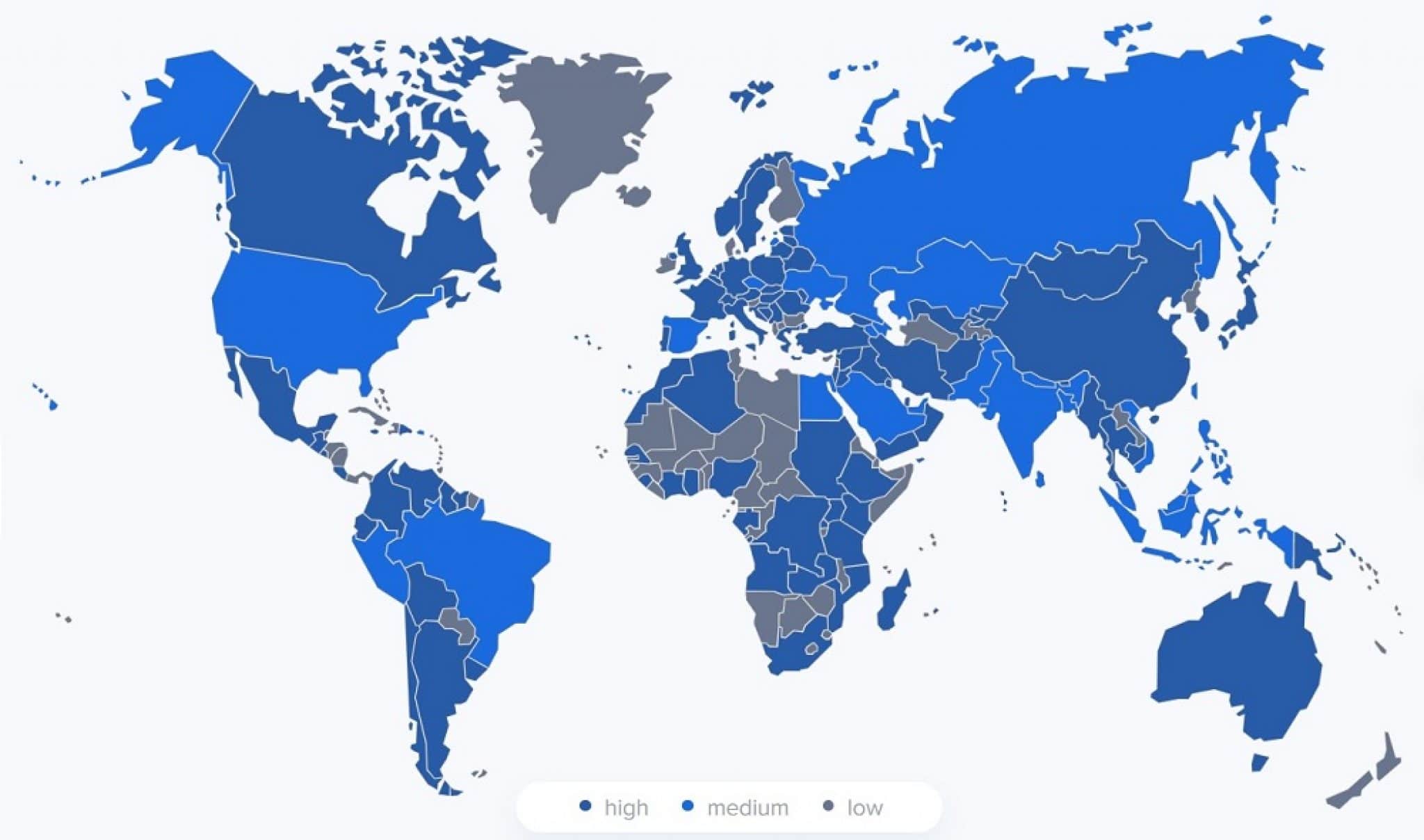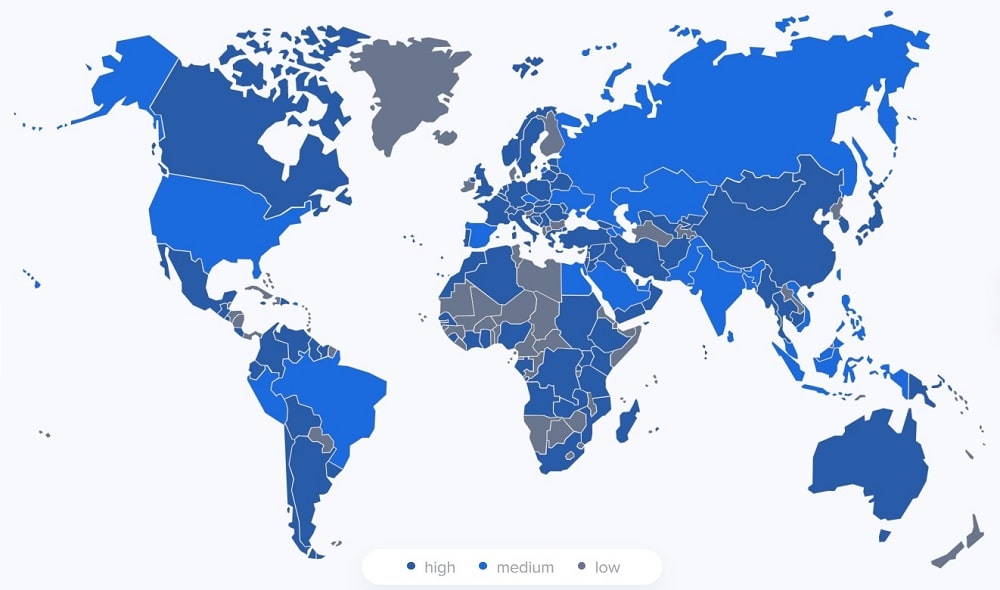 High reliability: SOAX ensures automatic rotation of their proxies for maximum reliability. You can access any website and navigate through it as long as you want without worrying about proxies going offline or getting banned. Even if a proxy goes offline, the SOAX rotation technology will instantly replace that proxy with a new IP address according to your targeting preferences.
Fully-featured trial offer: 3 day trial for $1.99, how it works in a real environment without paying full


24/7 support: get assistance from the team via live chat, email, Telegram messenger, or Skype.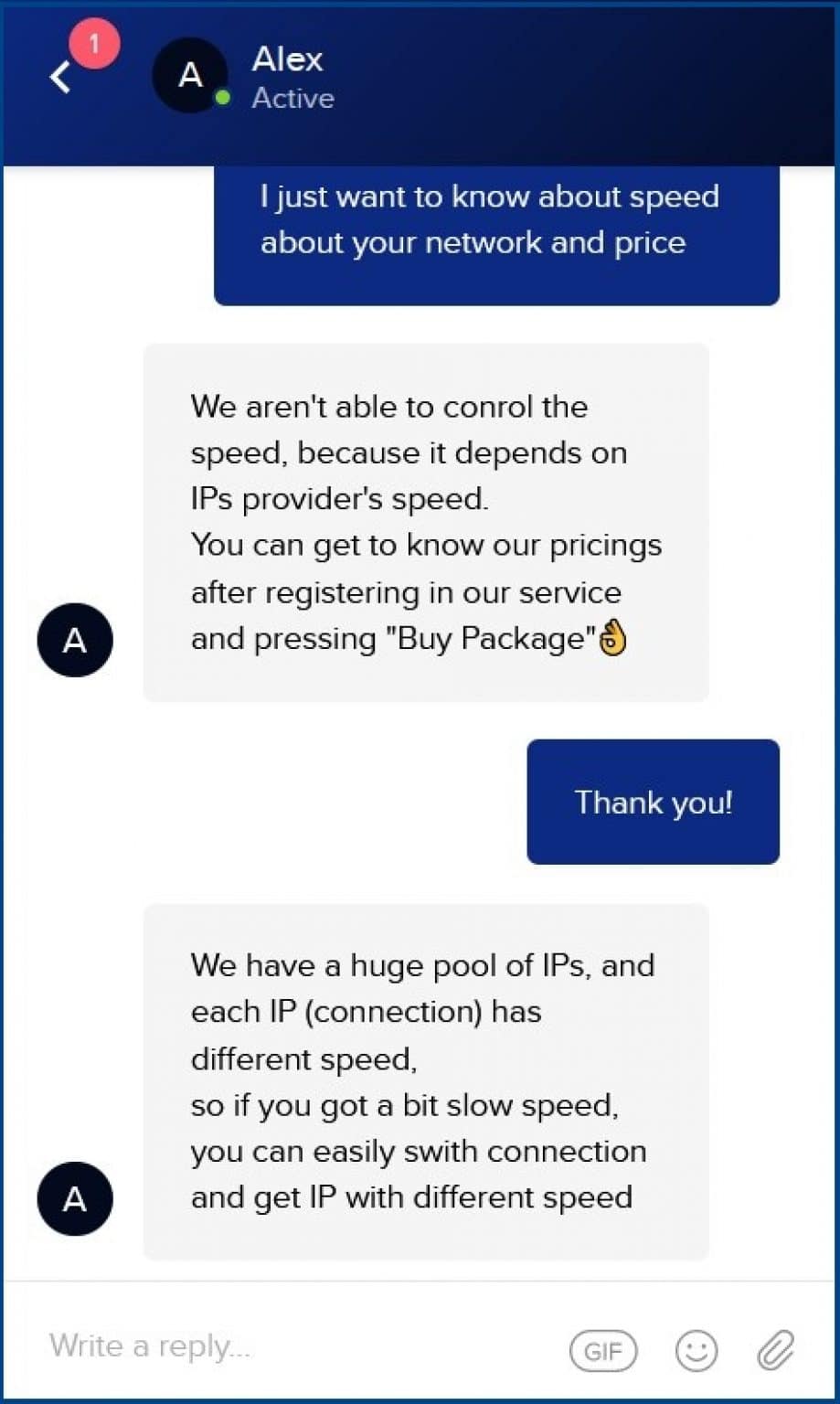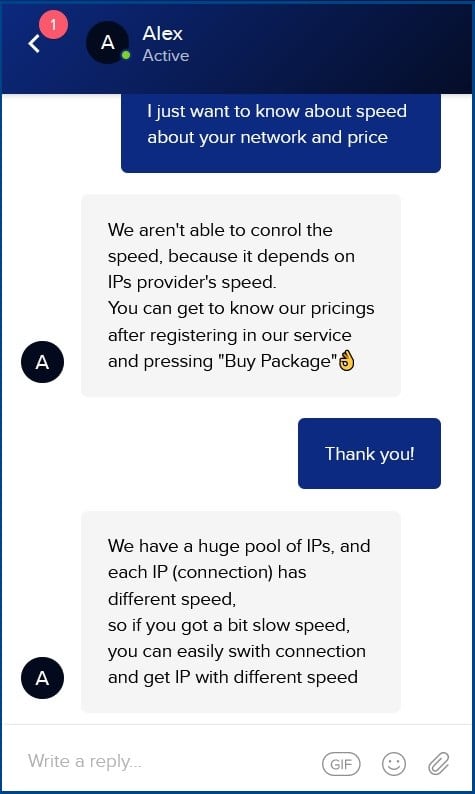 20% OFF
Get 20% Discount for your first payment: put promo code "privateproxyreviews" to check out!
---
back to menu ↑
How SOAX Works
An impressively large pool of IPs scattered all over the world allows you to do any job that requires maintaining anonymity and avoiding blocks or restrictions.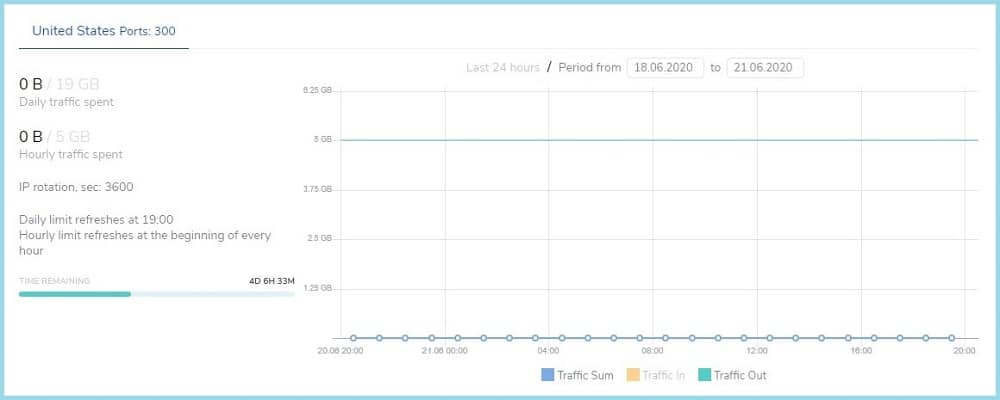 SOAX does not put any restrictions on the number of IP addresses you can use. Basically, this means that you can work with tens of thousands of IPs based on the rotation and geo-targeting settings you select when registering your account.
SOAX lets you choose between the two types of ipv4 proxies: mobile and Wi-Fi (residential). Mobile provides you with an IP address associated with a 3G/4G/LTE network operator, which means that any website you access will see you as a mobile device user.
According to SOAX, mobile proxies are far more reliable as they are less likely to be restricted from further access because the same IP address can be attributed to thousands of other mobile users. Wi-Fi, on the other hand, provides you with a unique IP address that belongs to a residential Internet provider.
---
back to menu ↑
Pricing & Features
SOAX offers mainly two packages based on residential (Wi-Fi) or mobile proxies and pay on a daily, monthly basis – whatever suits your budget the most.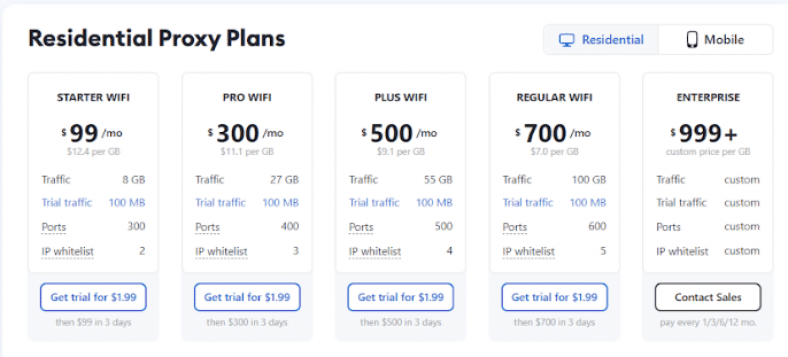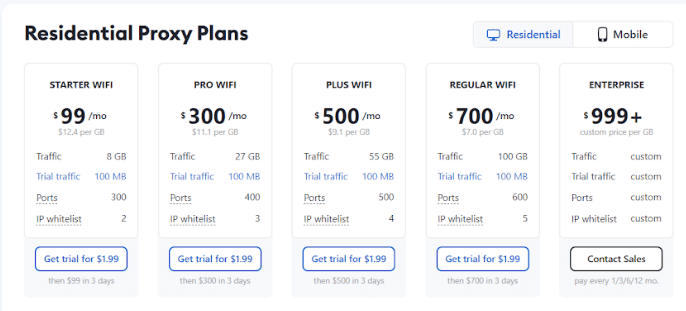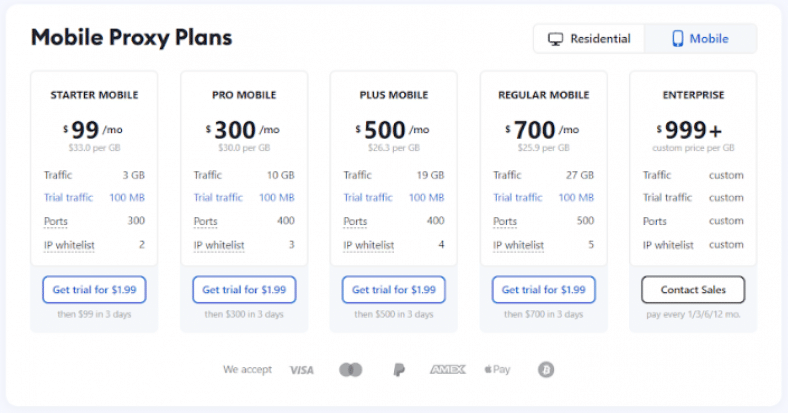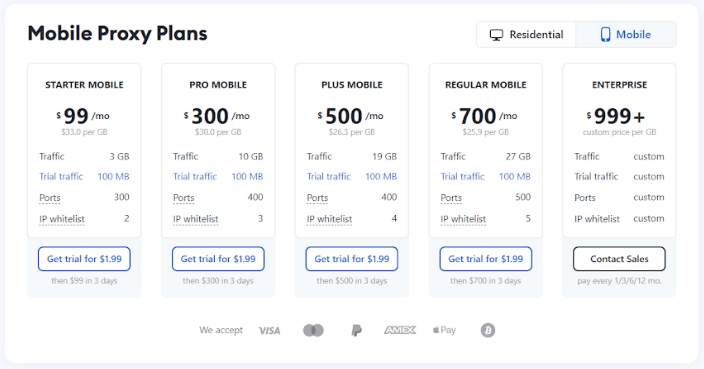 Essentially, the SOAX pricing is based on the amount of ports (in other words, simultaneous IP connections) you're planning to use. This means that buying a 1000 port package provides you with the ability to work with 1000 genuine IPs at the same time. On top of that, either organic or on-demand IP rotation can be enabled on each port.
The cheapest package priced at $99 for 8GB will get you an unlimited number of residential IP proxies within one geographic location and up to 300 simultaneous IP connections.
Unlike many other competing solutions, SOAX offers highly precise geo-targeting capabilities, which means that you can narrow down your target location to a specific city or network operator. And the best part is you don't have to pay any extra money for that.
For those having trouble with deciding which package to choose, SOAX offers a simple calculator available on their website. Just select your desired geo, proxy type, number of ports, and payment cycle, and see which of the options would suit you best.
As already mentioned above, all of the SOAX features can be tried out for free. After that, you can pay with credit card, WebMoney or PayPal. Last but not least, SOAX provides volume discounts on orders of more than 1TB/month. To get a discount, just contact their support via live chat.
Features
Large proxy pool. More than 8.5 million mobile and residential proxies are available for use.
Flexible geo-targeting filters. Whether you need to target a specific city or a local mobile network operator, SOAX lets you do so directly from the dashboard.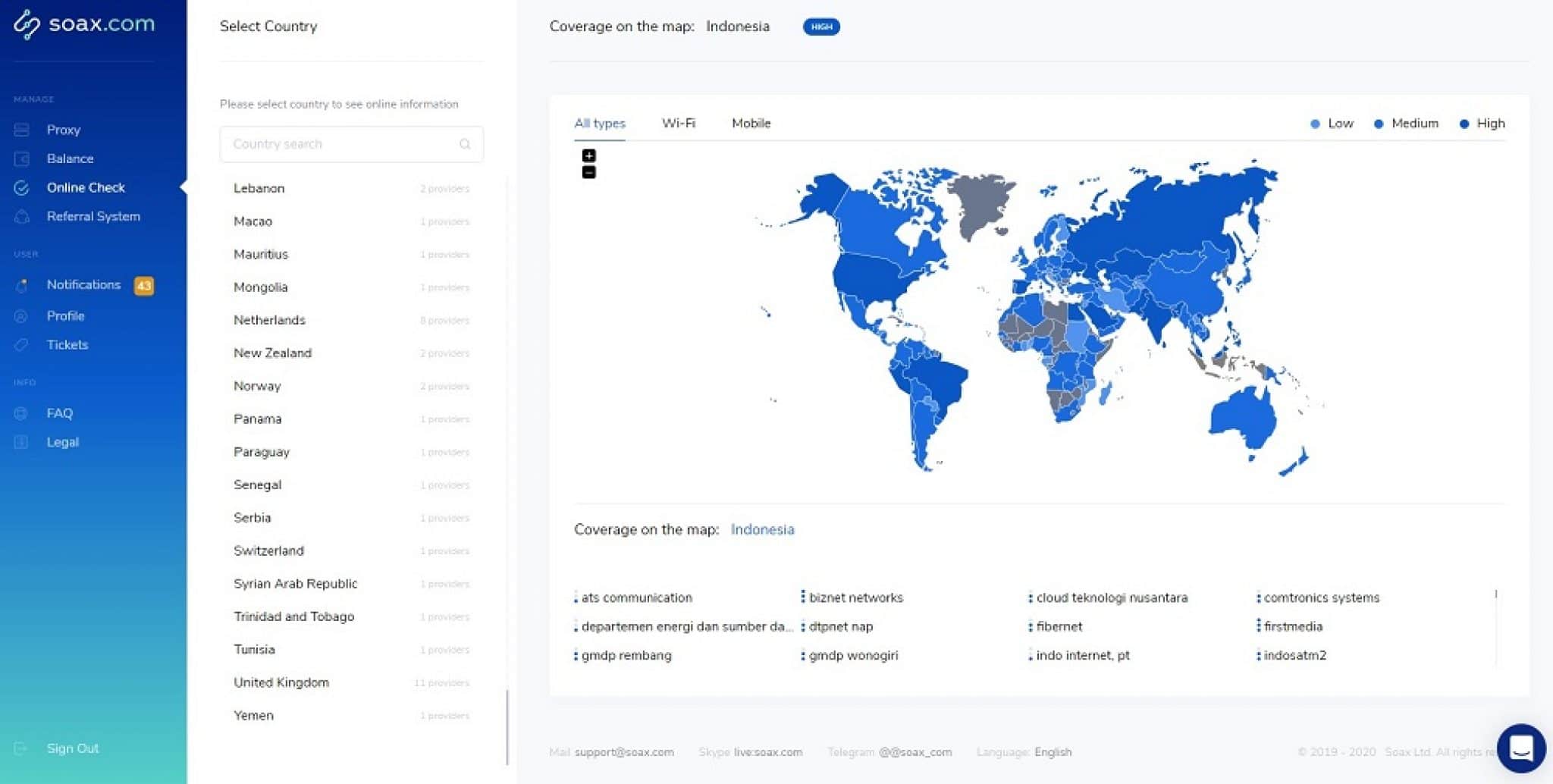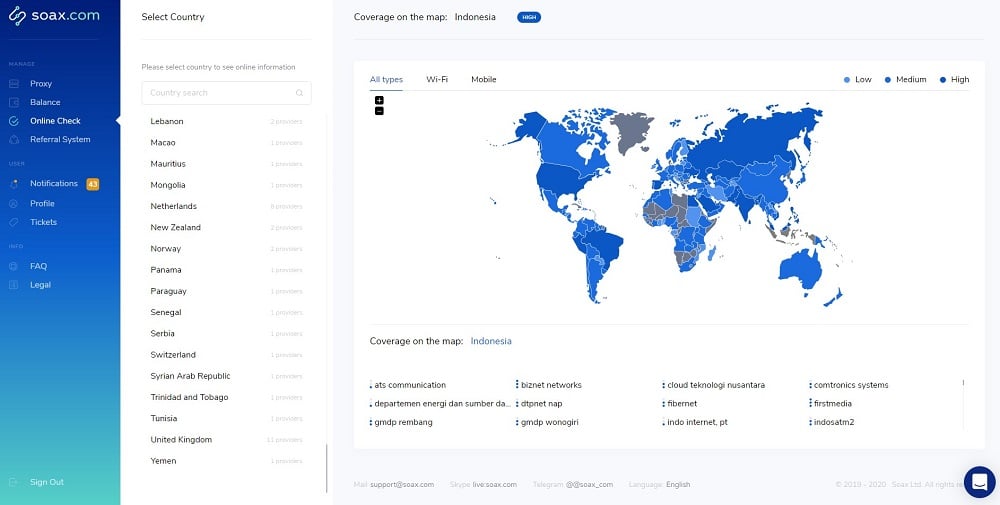 Easy dashboard. Configure your proxies, view traffic usage statistics, and easily export your proxy list as TXT, CSV, or HTML, or share it with others via a personal link.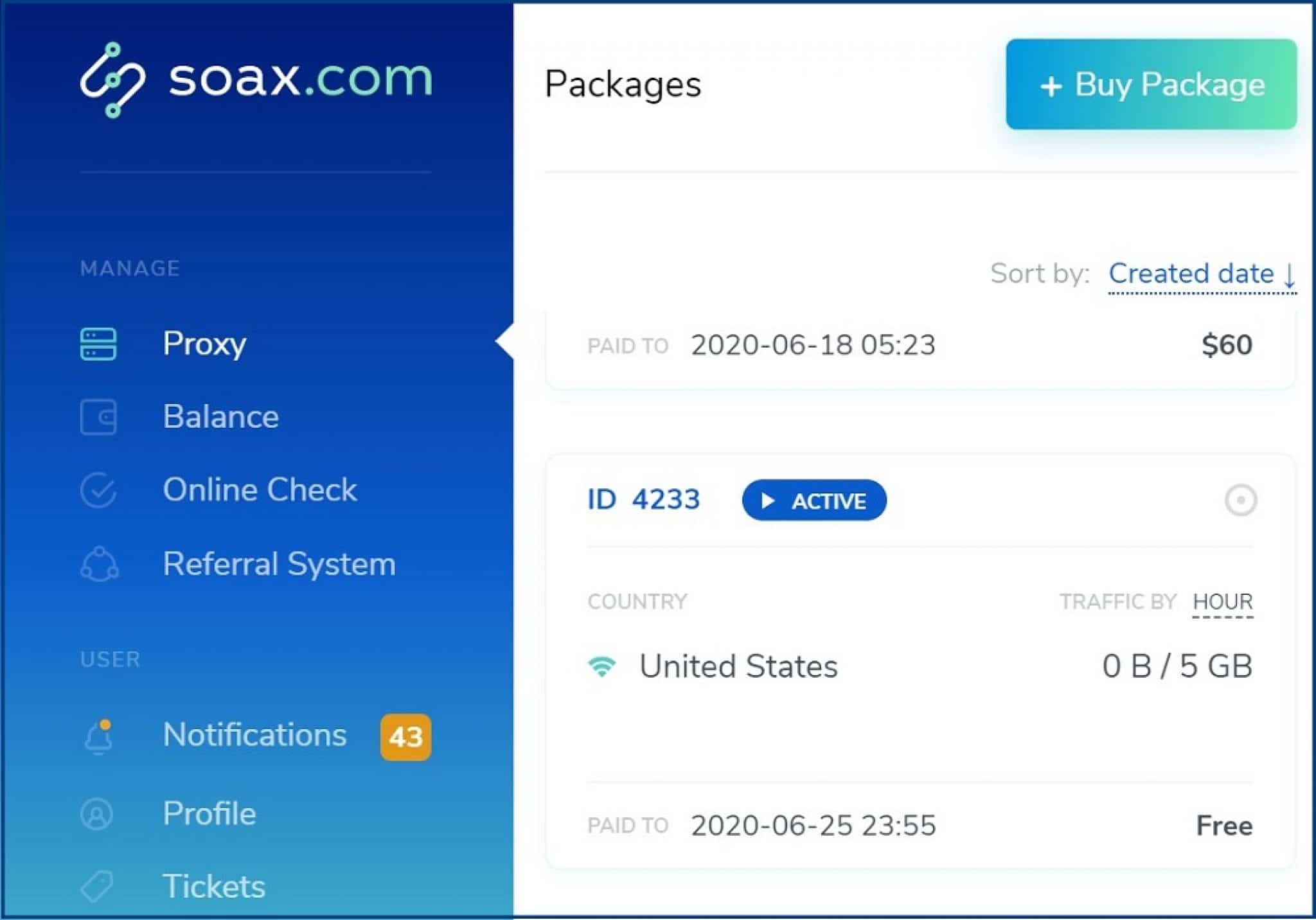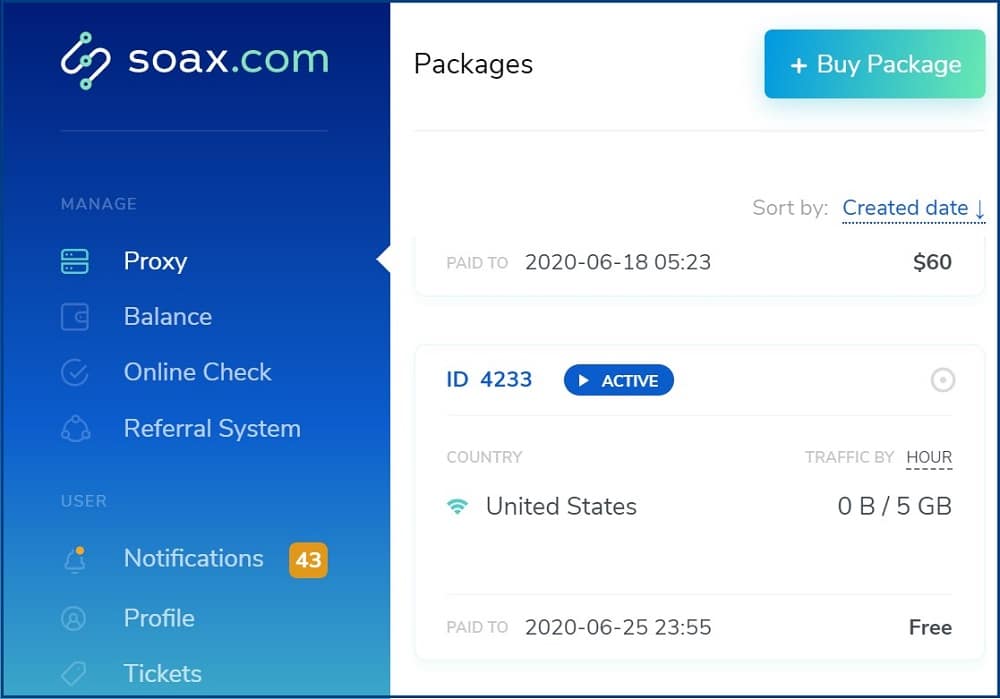 Authorization with either IP address or login and password. SOAX recommends using both authorization types on their server. However, if that doesn't suit you for some reason, you can opt for IP-only authorization.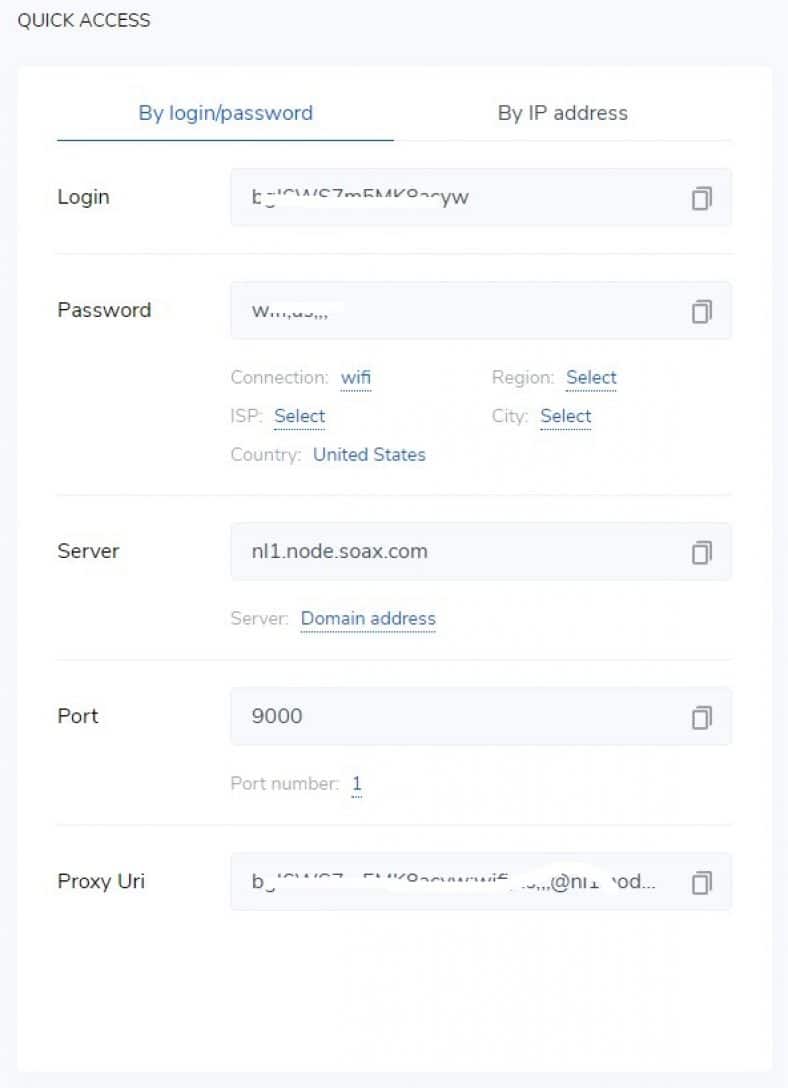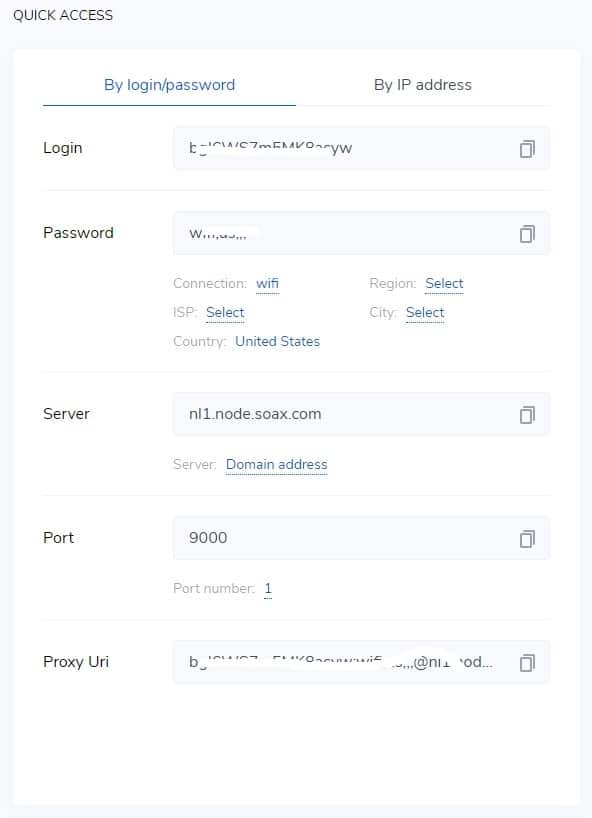 Automatic IP rotation. You may choose any proxy rotation time when creating your account. By default, IPs have rotated automatically which means that you will immediately get assigned to another live IP address in case your previous proxy goes offline.
Quick Access. Allows you to set geo-targeting to a set of ports. This means you can create customizable filters by assigning IPs from a specific location to a port (or ports) of your choice. All of your filters can then be easily accessed from the dashboard.
Node Access. This feature comes in handy when you need to use a static residential IP. Node Access lets you reserve access to a specific device and continue sending requests from the same IP address.
---
back to menu ↑
How to use SOAX.com
For this review, I purchased two basic packages:
Wi-Fi – All Geo – 300 ports
Mobile – All Geo – 10 ports
Update - 2021.1.31
Now Soax's proxy packages that charged by GB, The other is the same.
Both of these packages are valid for one day and offer flexible targeting options across the whole world, which means I can target a specific city or even a network operator of my choice. In other words, all geos are already included in these packages.
First, let's take a closer look at the SOAX dashboard to see what features are available and how proxies can be managed.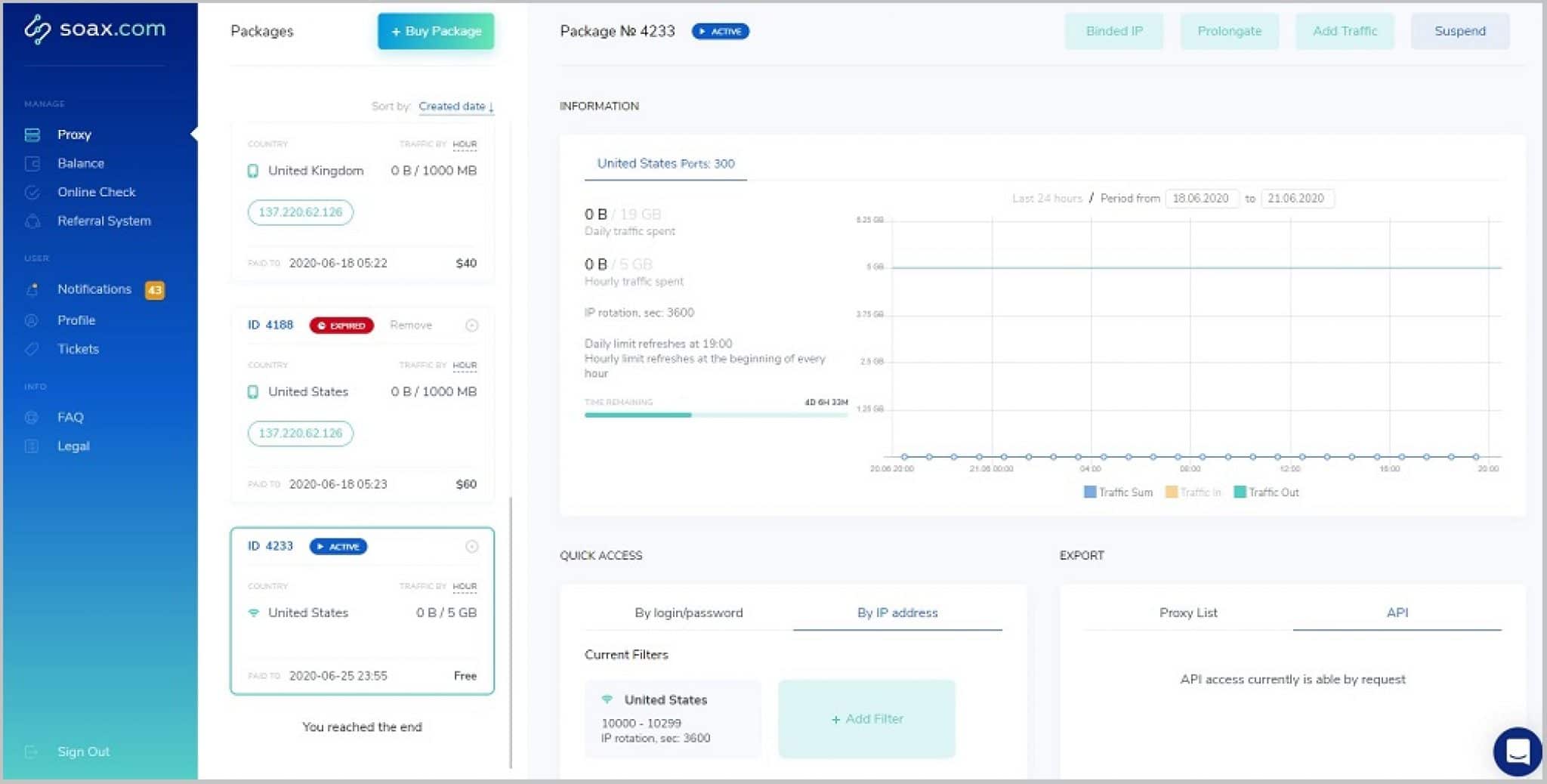 The SOAX dashboard is very easy to navigate and has a clean and intuitive user interface. On the left side of the screen, you can see general information about your packages, such as their expiration time and the traffic volume included.
On the right side, you can view traffic usage, manage proxy settings, add filters, set specific targeting for each port, and export your proxy lists.
---
back to menu ↑
Residential Networks Test
First, let's target specific countries, cities and network operators to see how SOAX proxies perform.
Test 1


Targeting settings:
Residential Network (Wi-Fi)
Country: USA
City: Chicago
ISP: Comcast Cable
Here's the result:
---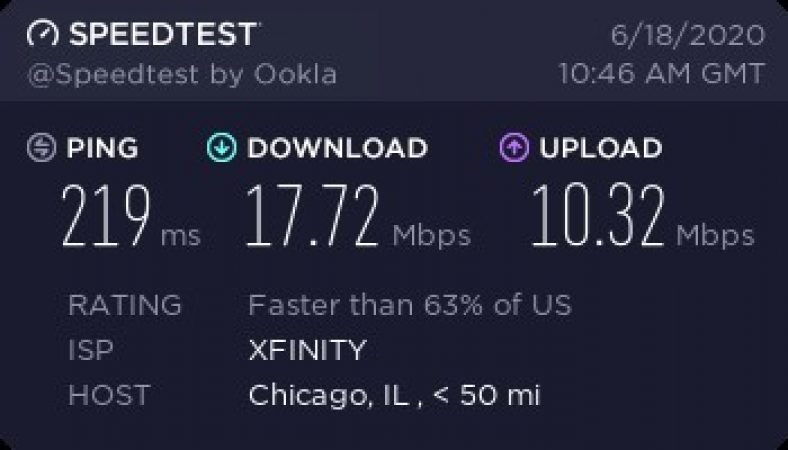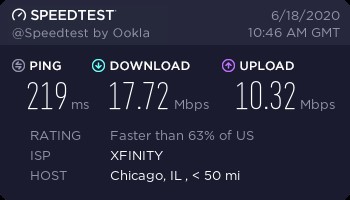 City: Chicago, IL
Country: US
ISP: Xfinity (trade name of Comcast Cable Communications, LLC)
Ping: 219 ms
Download speed: 17.72 Mbps
Upload speed: 10.32 Mbps
Anonymity score: 90%
Can be identified as proxy: No
Blacklist: No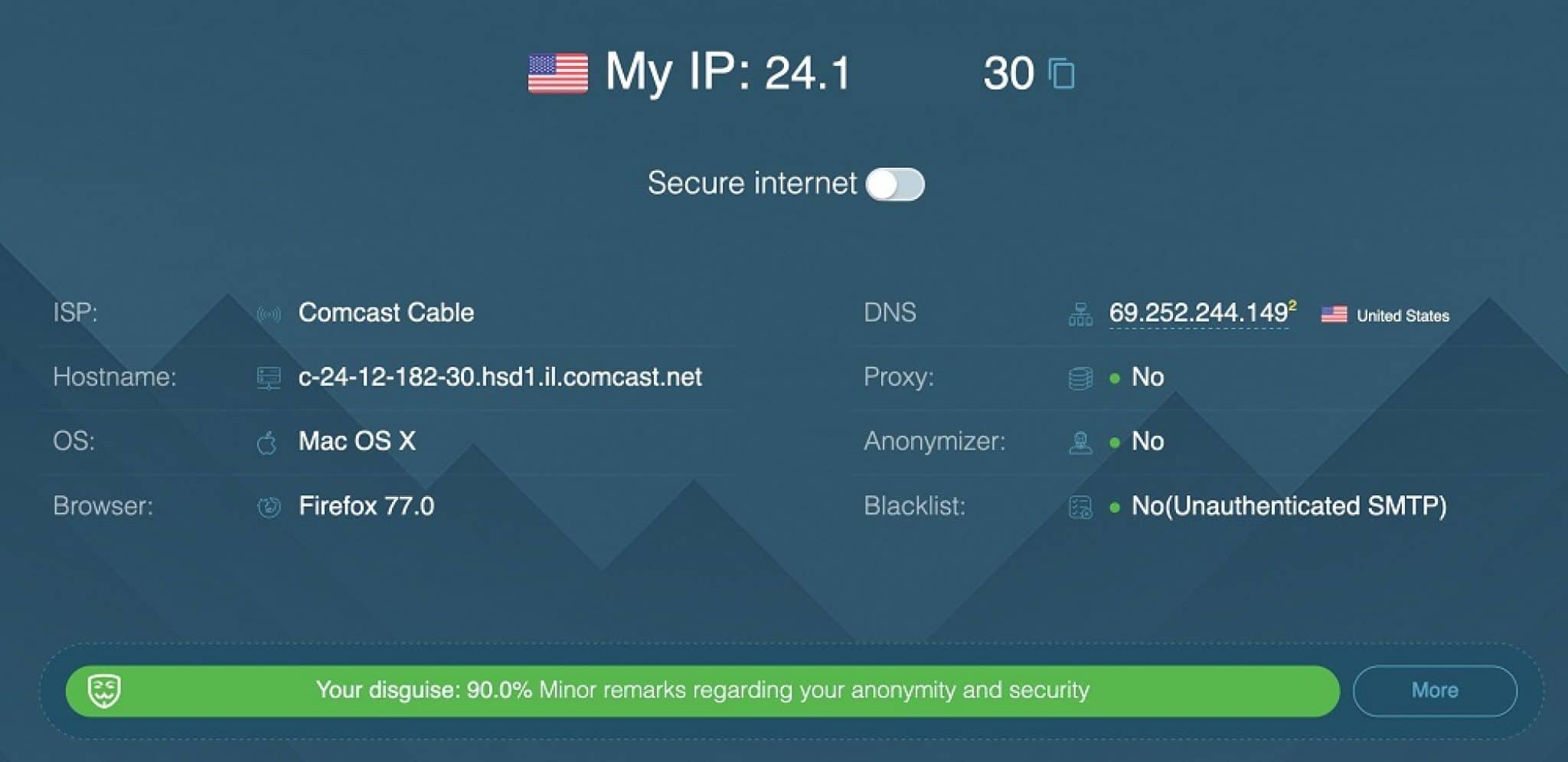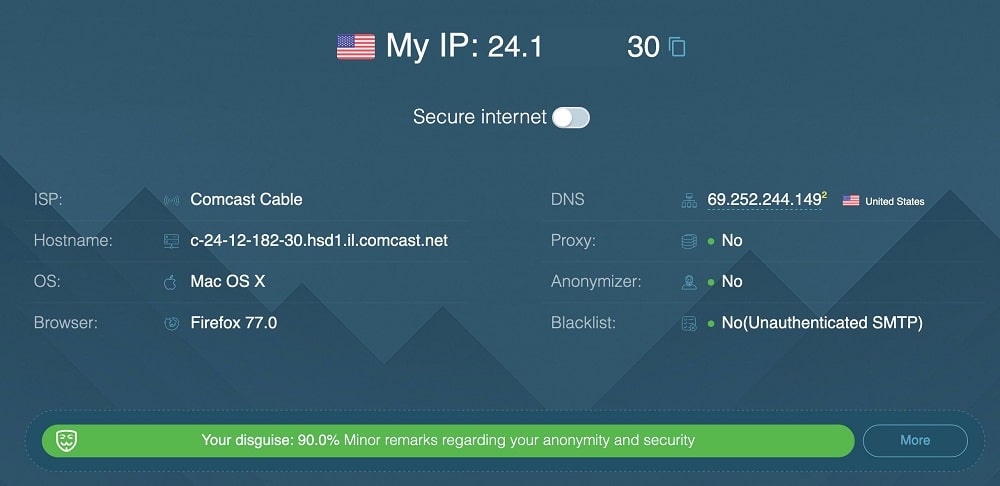 ---
Test 2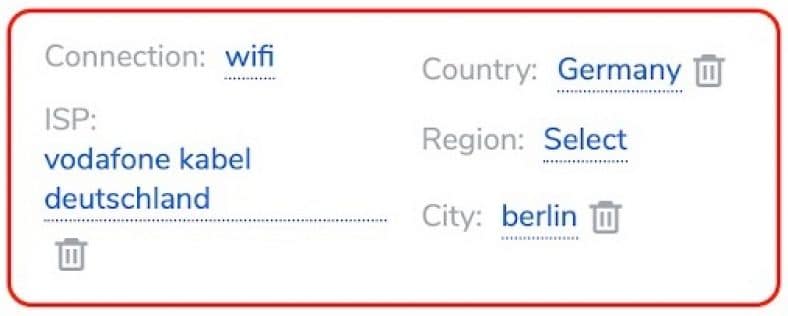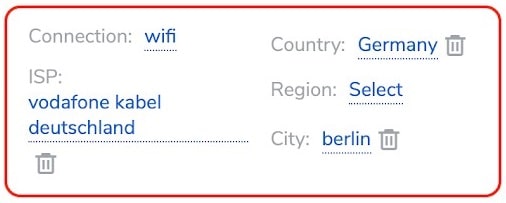 Targeting settings:
Residential Network (WiFi)
Country: Germany
City: Berlin
ISP: Vodafone Cable

Here's the result:
---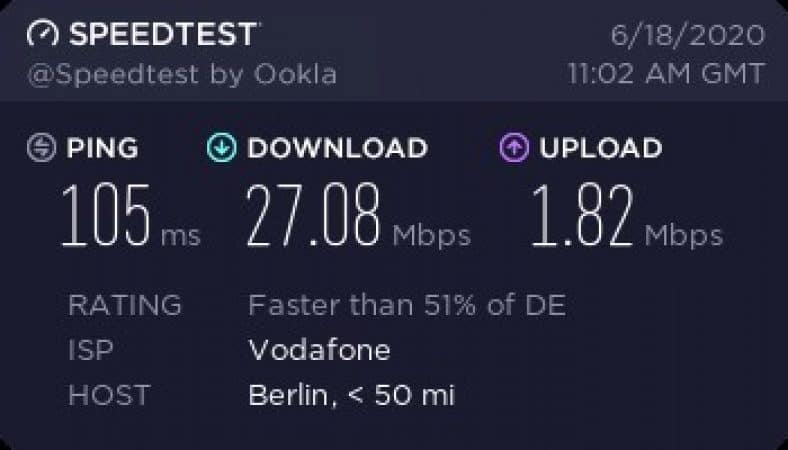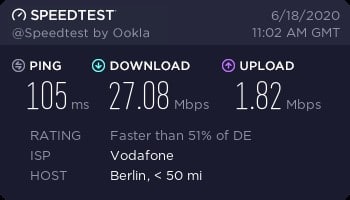 City: Berlin
ISP: Vodafone Cable
Country: Germany
ISP: Vodafone
Ping: 105 ms
Download speed: 27.08 Mbps
Upload speed: 1.82 Mbps
Anonymity score: 90%
Can be identified as proxy: No
Blacklist: No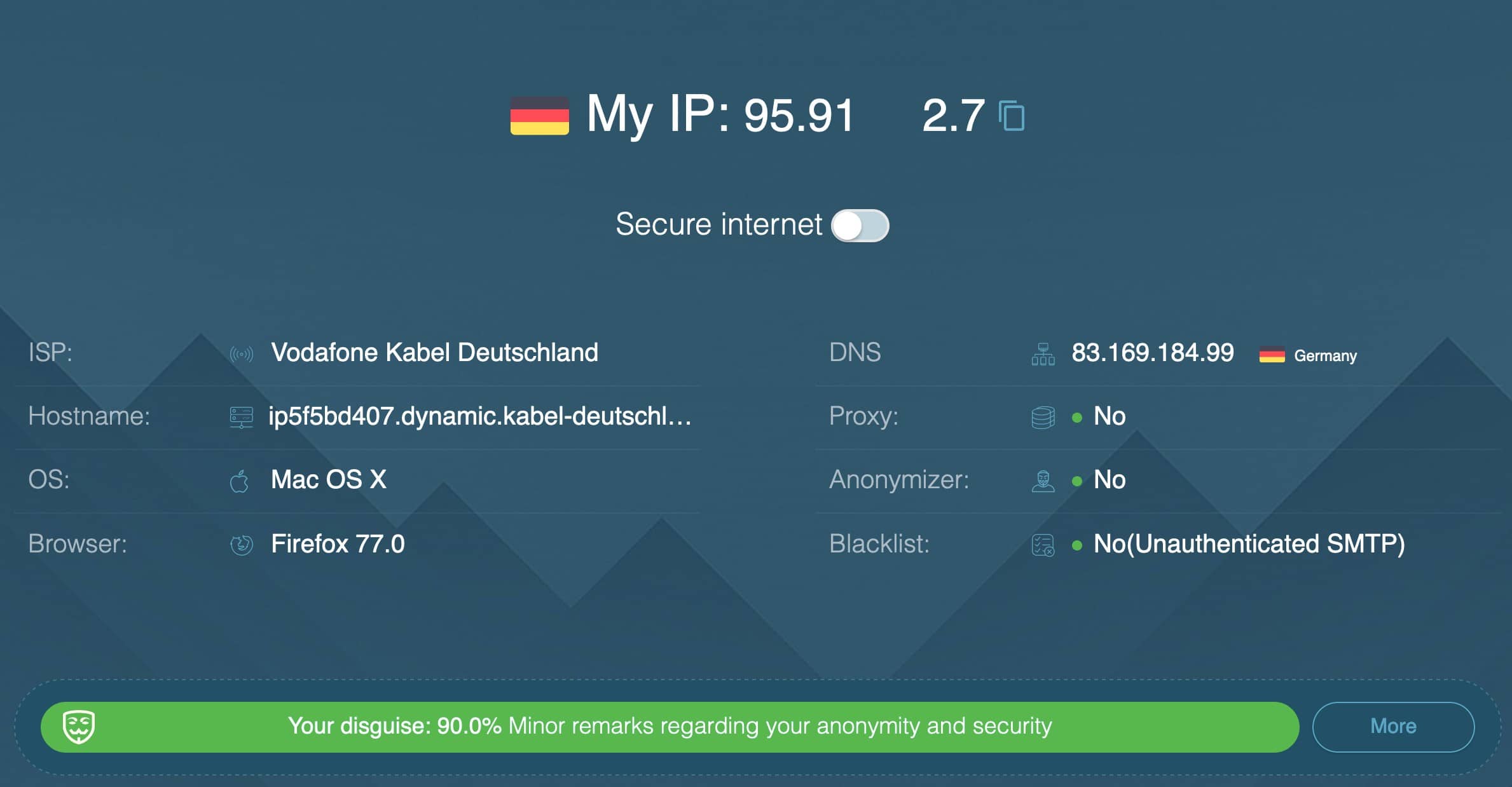 ---
Test 3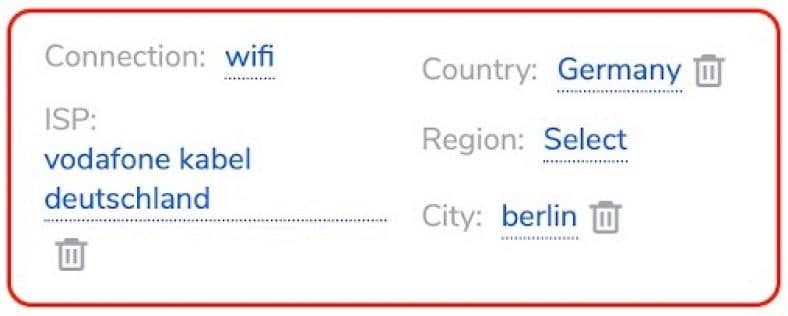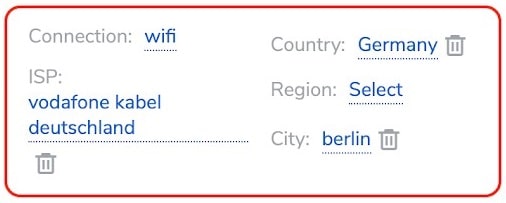 Targeting settings:
Residential Network (Wi-Fi)
Country: Russia
City: Saint Petersburg
ISP: Dom.ru
Here's the result:
---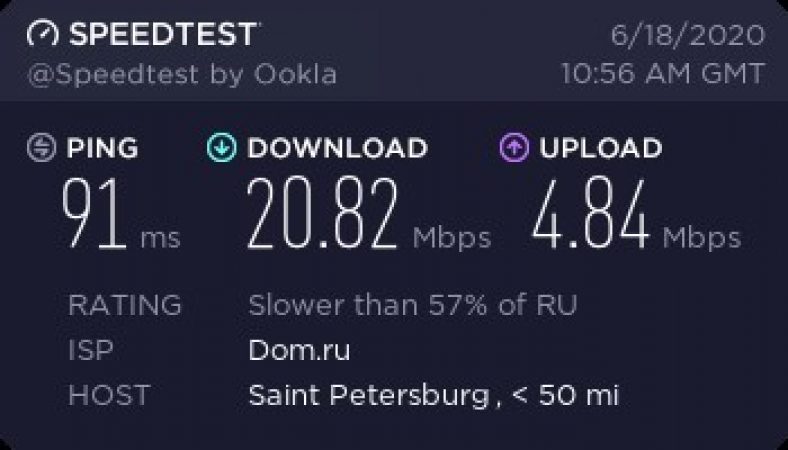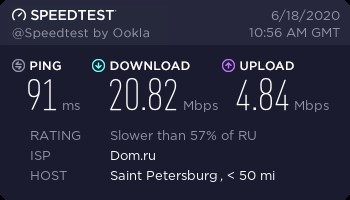 City: Saint Petersburg
Country: Russia
ISP: Dom.ru
Ping: 91 ms
Download speed: 20.82 Mbps
Upload speed: 4.84 Mbps
Anonymity score: 100%
Blacklist: No
Can be identified as proxy: No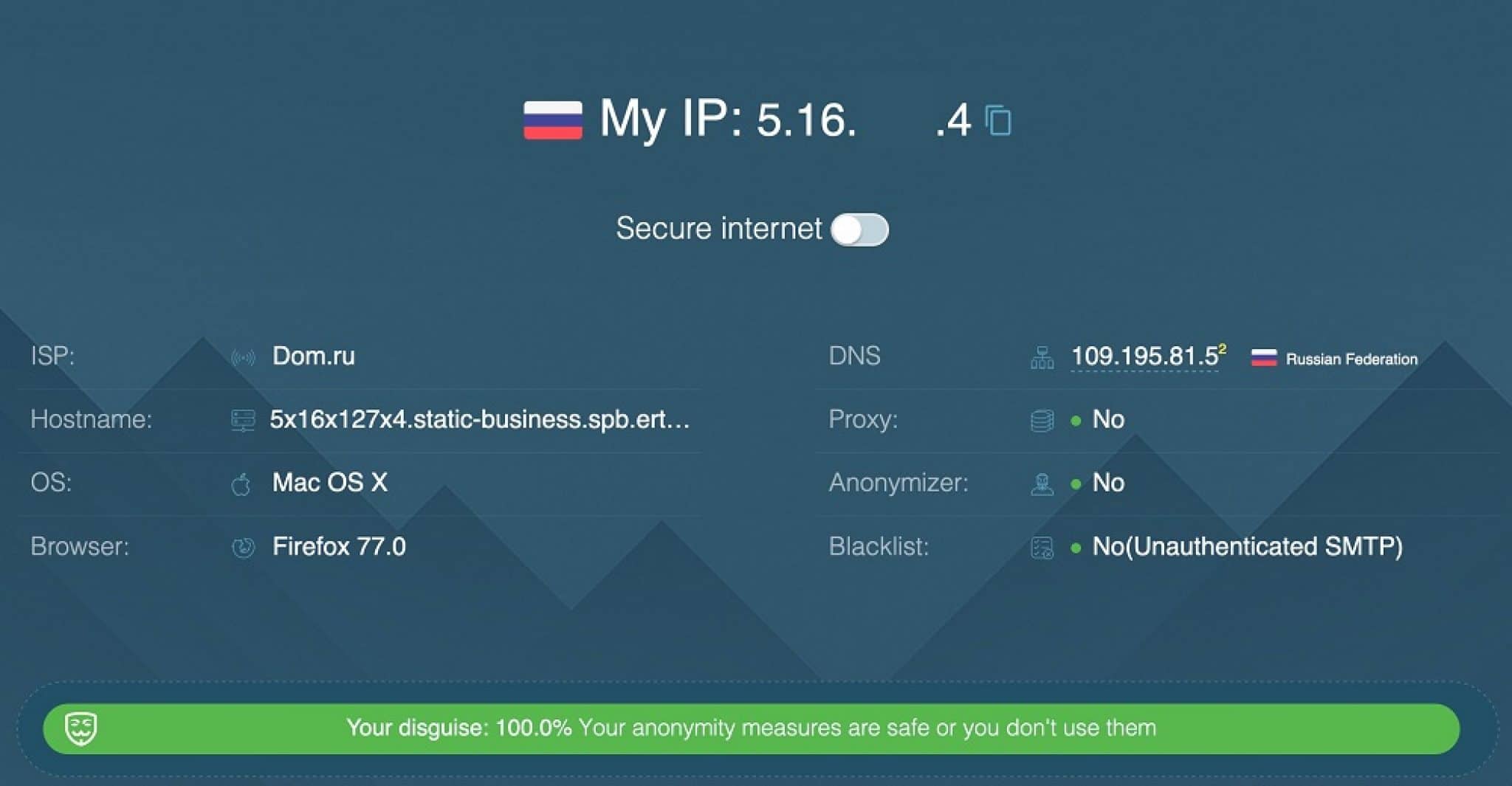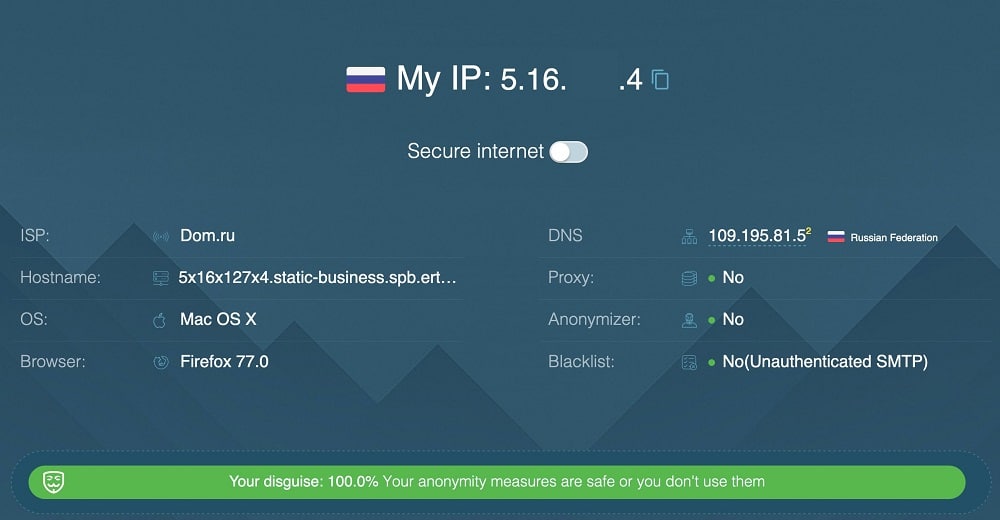 ---
Test 4


Targeting settings:
Residential Network (Wi-Fi)
Country: Brazil
City: Rio de Janeiro
ISP: Any
Here's the result:
---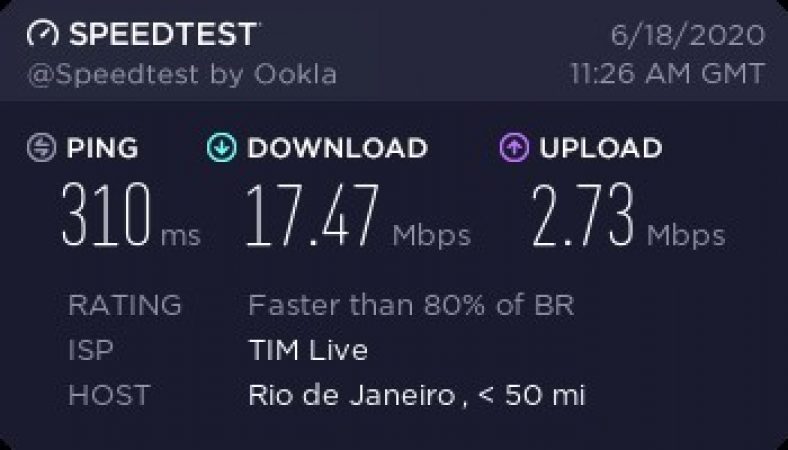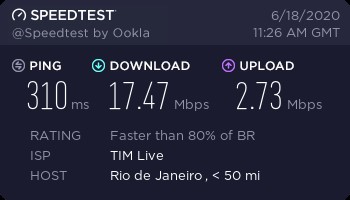 City: Rio de Janeiro
Country: Brazil
ISP: TIM Live
Ping: 310 ms
Download speed: 17.47 Mbps
Upload speed: 2.73 Mbps
Anonymity score: 90%
Blacklist: No
Can be identified as proxy: No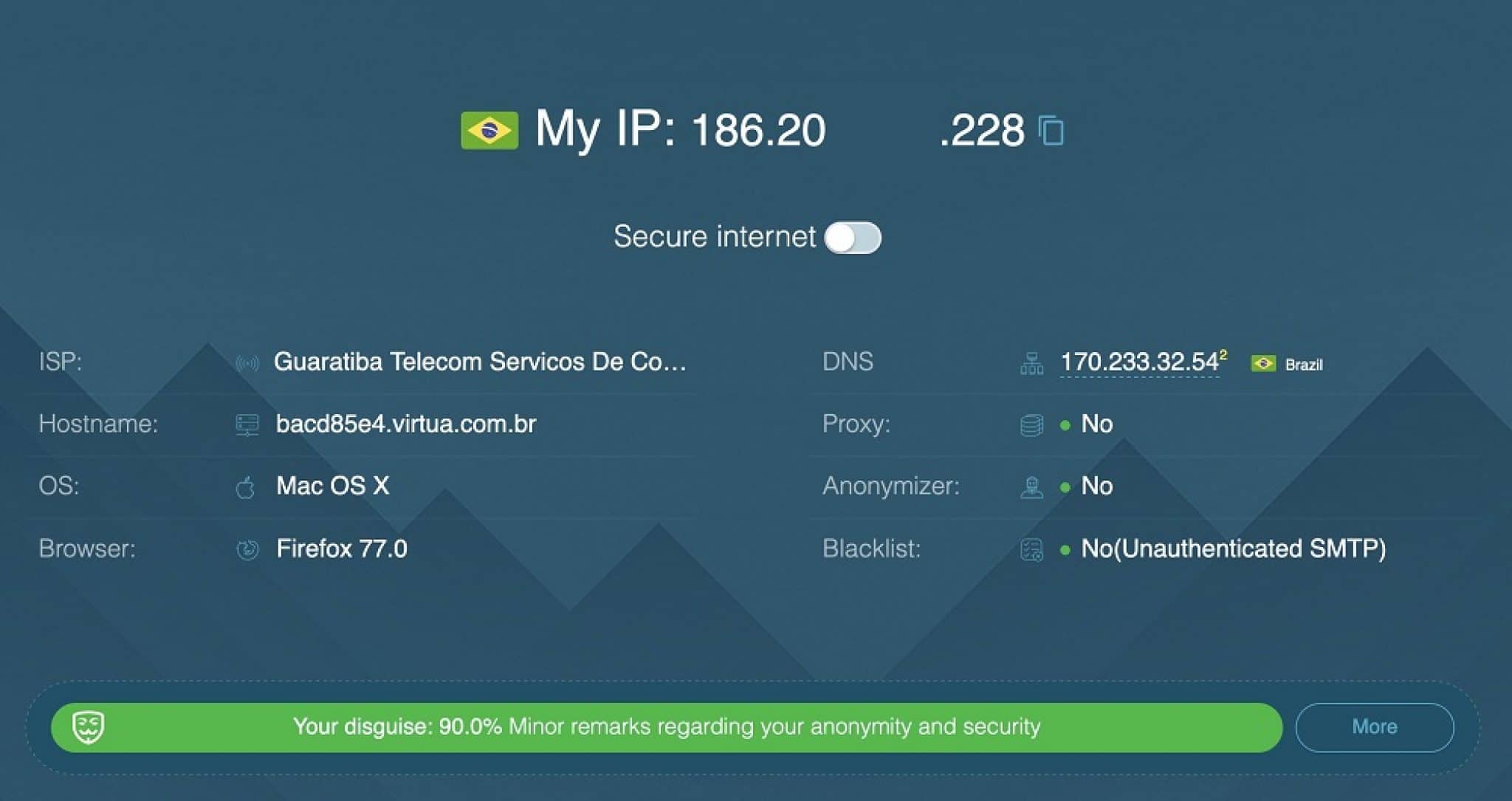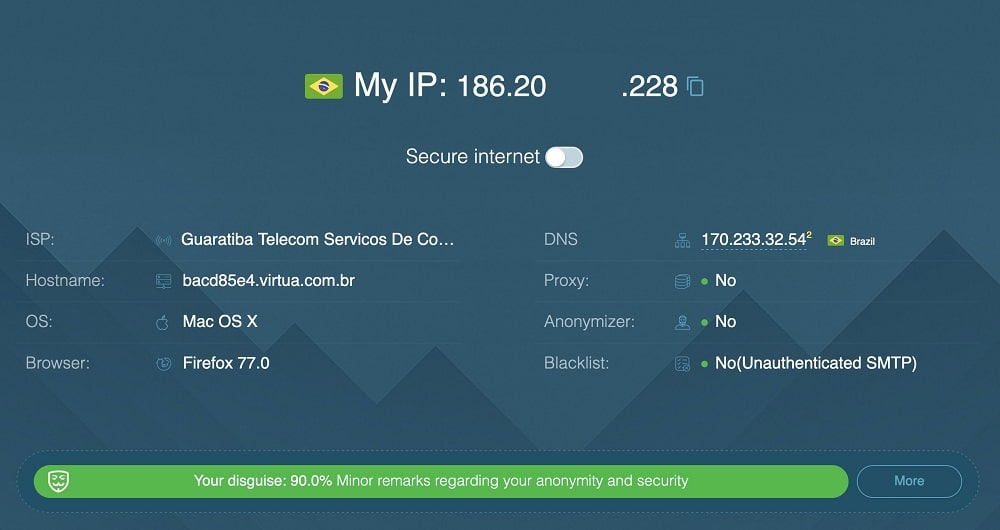 ---
Test 5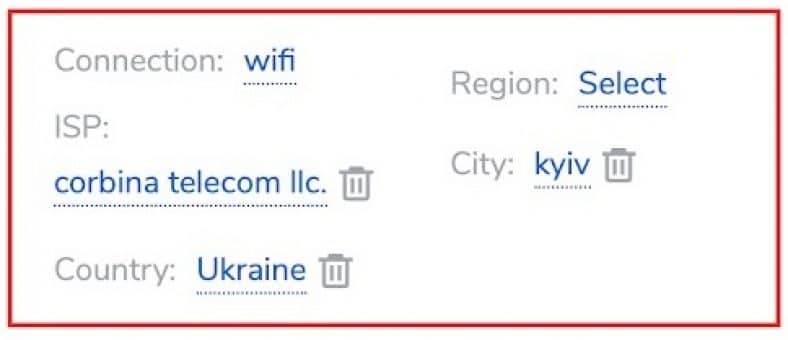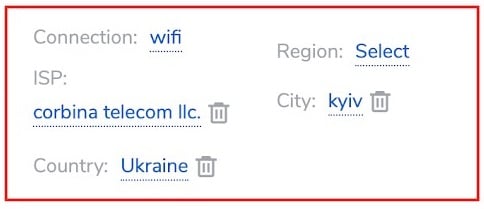 Targeting settings:
Residential Network (Wi-Fi)
Country: Ukraine
City: Kyiv
ISP: Corbina Telecom
Here's the result:
---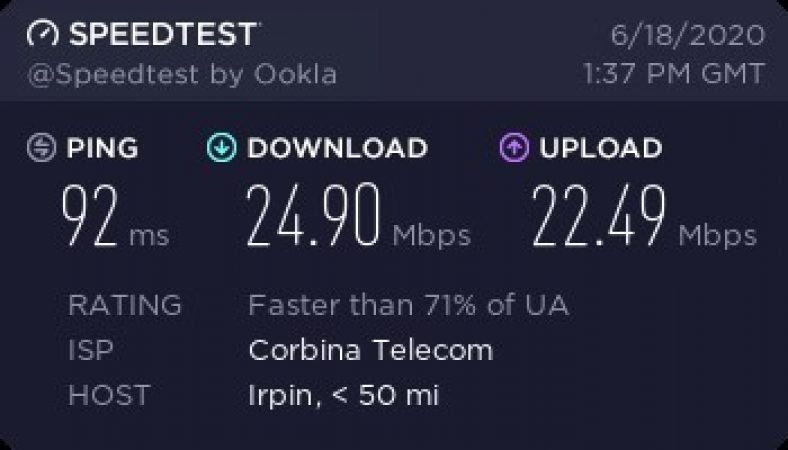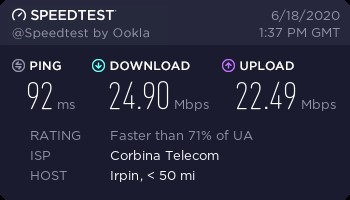 City: Irpin (metropolitan area of Kiev city)
Country: Ukraine
ISP: Corbina Telecom
Ping: 92 ms
Download speed: 24.90 Mbps
Upload speed: 22.49 Mbps
Anonymity score: 70%
Blacklist: No
Can be identified as proxy: No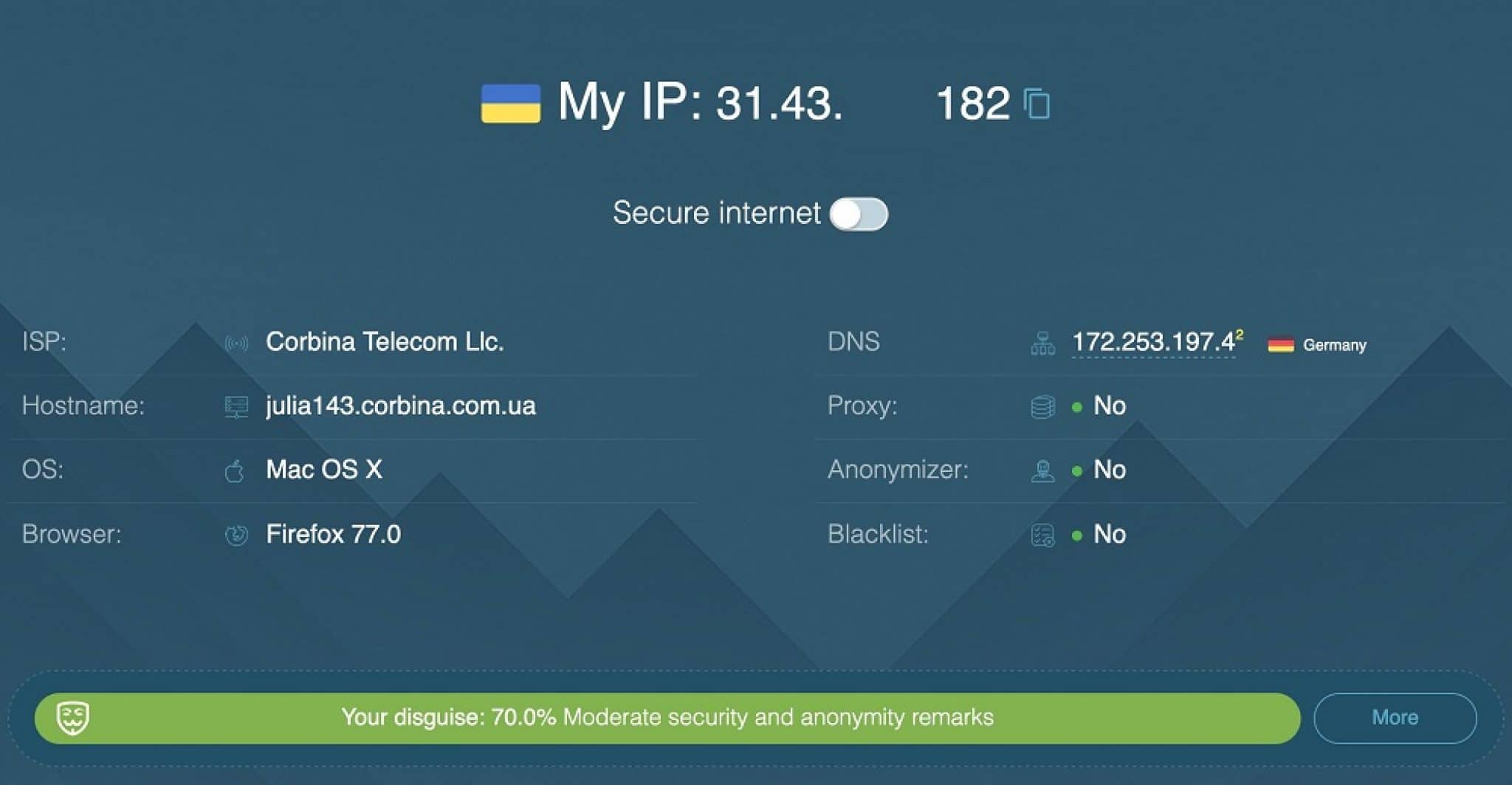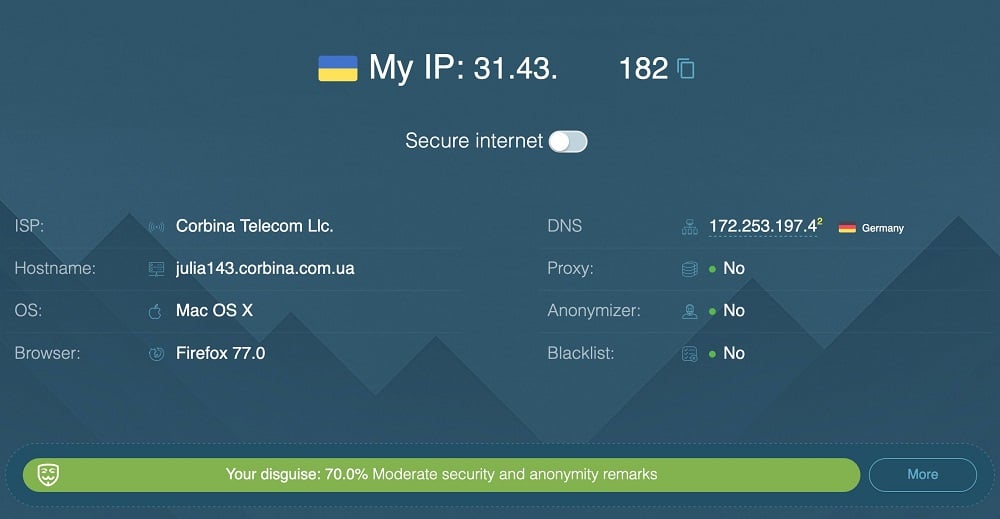 ---
Summary
Based on my tests of five IPs using detailed geo targeting, here's how proxies performed on average:
Targeting performance: 100%
Average ping: 163 ms
Average download speed: 21.60 Mbps
Average upload speed: 8.10 Mbps
Blacklists: No
Bulk test
No matter if you need to specify highly detailed targeting settings or work with bulk proxy lists which is extremely useful when doing web scraping, SOAX provides equally great results. And that's what really sets them apart from many other similar solutions.
To see how they deal with bulk lists and test the availability of a larger number of IP addresses I used an open source proxy checker which can be found on GitHub:
For this test, I added two extra packages to my account:
WiFi – All Geo – 300 ports
Mobile – All Geo – 100 ports
When downloading my proxy lists via the SOAX dashboard, I noticed that there's an option that allows you to specify geo targeting for each port or a set of ports even at this stage, which is also a really nice feature. However, I wanted to test the overall availability of IPs without any specific targeting settings.
WiFi - All Geo - 300 ports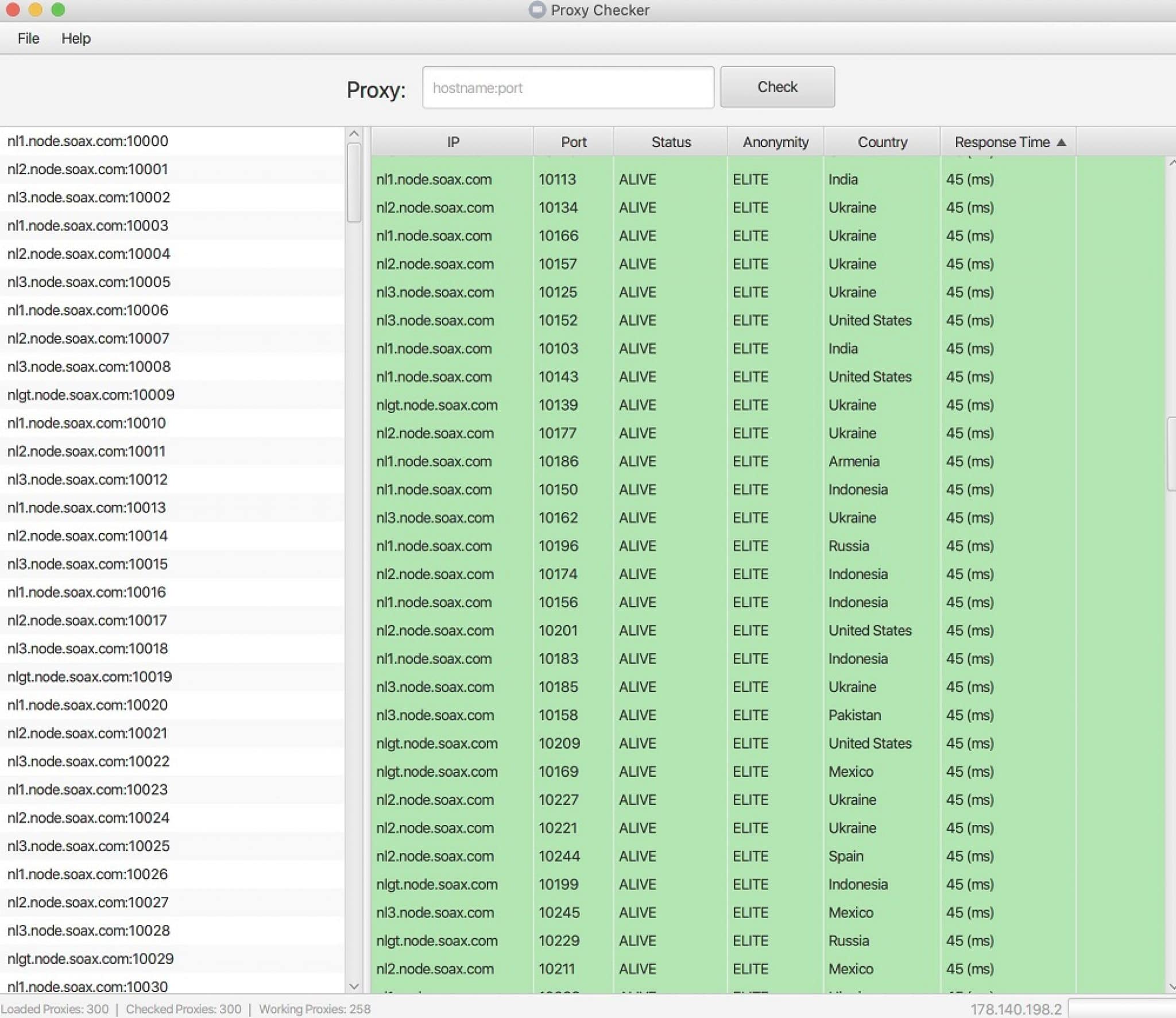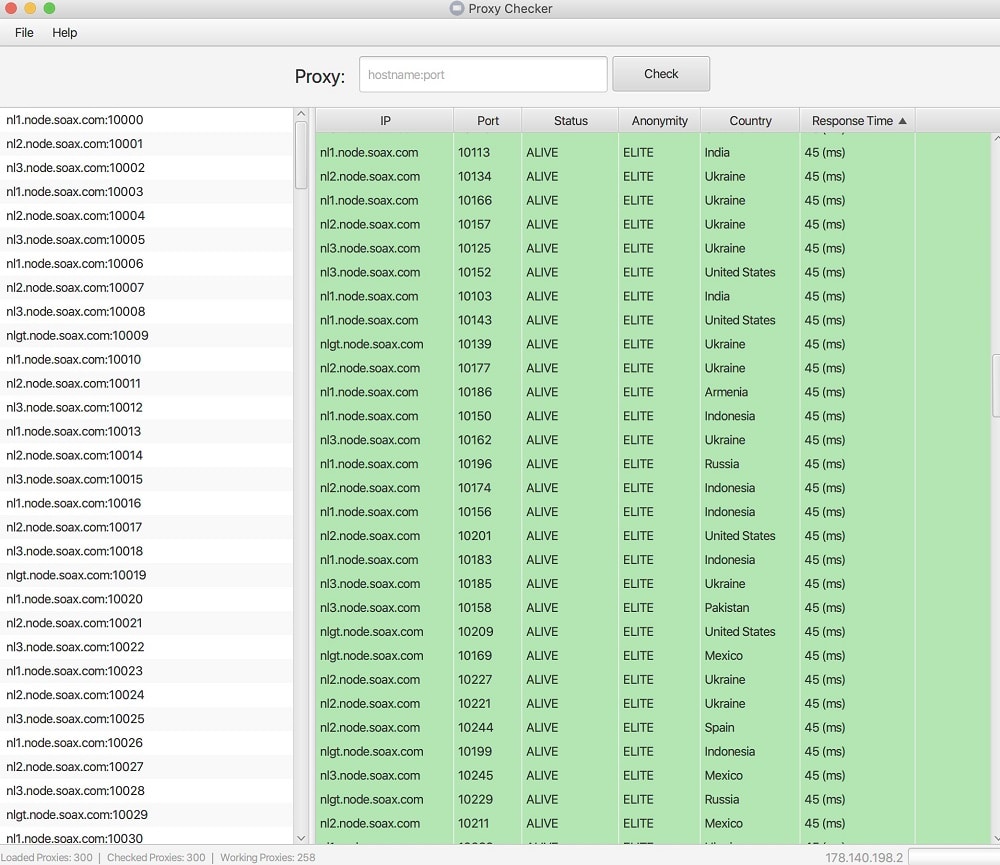 I got an immediate response from 258 ports with the average response time around 50 ms. According to my proxy checker, all 258 proxies covering almost every corner of the world were awarded with the Elite status which means they are not blacklisted and they are 100% residential. The unavailability of 42 ports can easily be attributed to the way rotating backconnect proxies usually work, and that is totally fine. Given that they are rotating, you won't notice any disruptions when actually working with these proxies. On top of that, SOAX has a technology in place which instantly finds a replacement for any that goes offline or becomes unavailable.
Mobile (3G/4G) - All Geo - 100 ports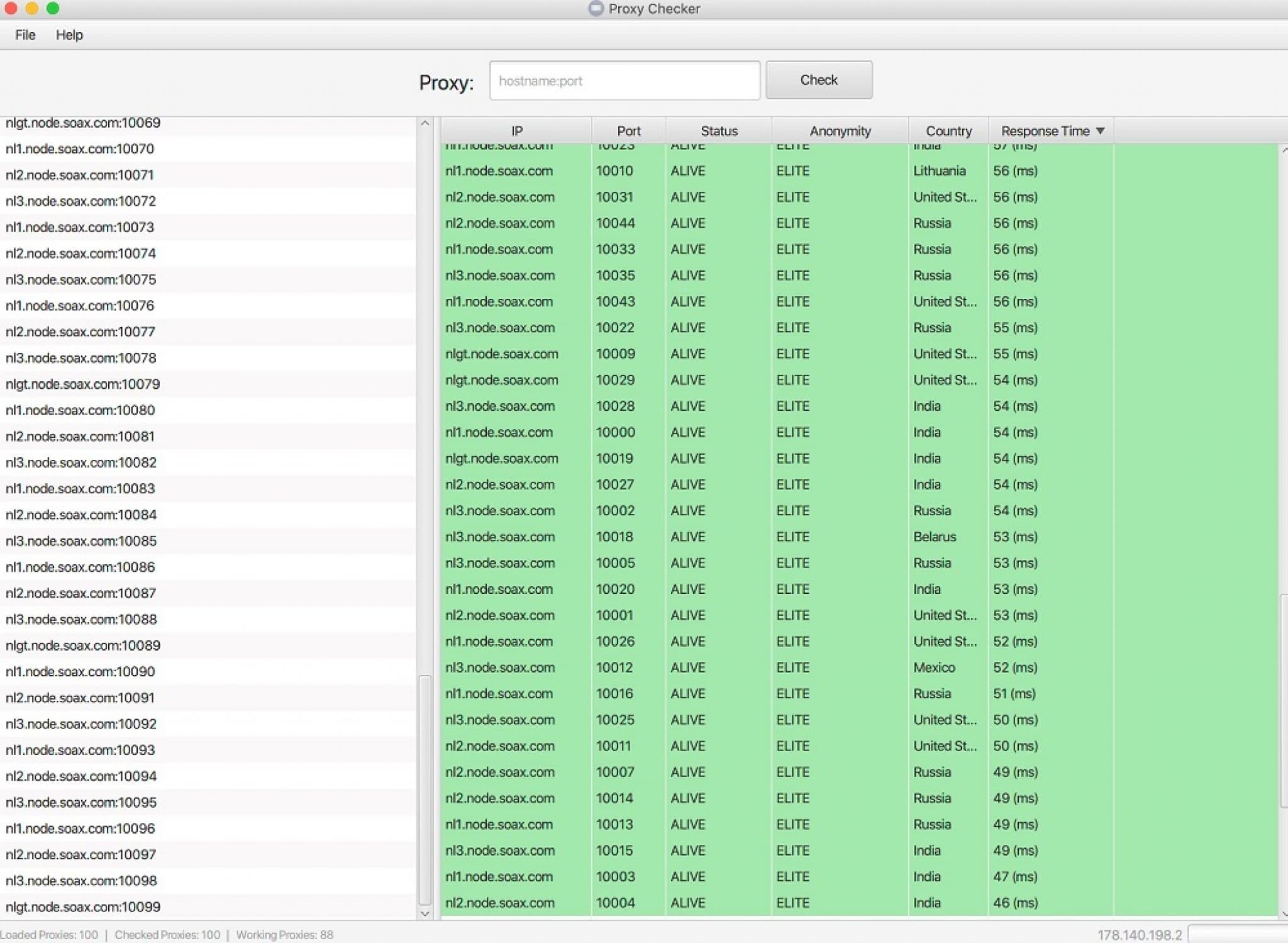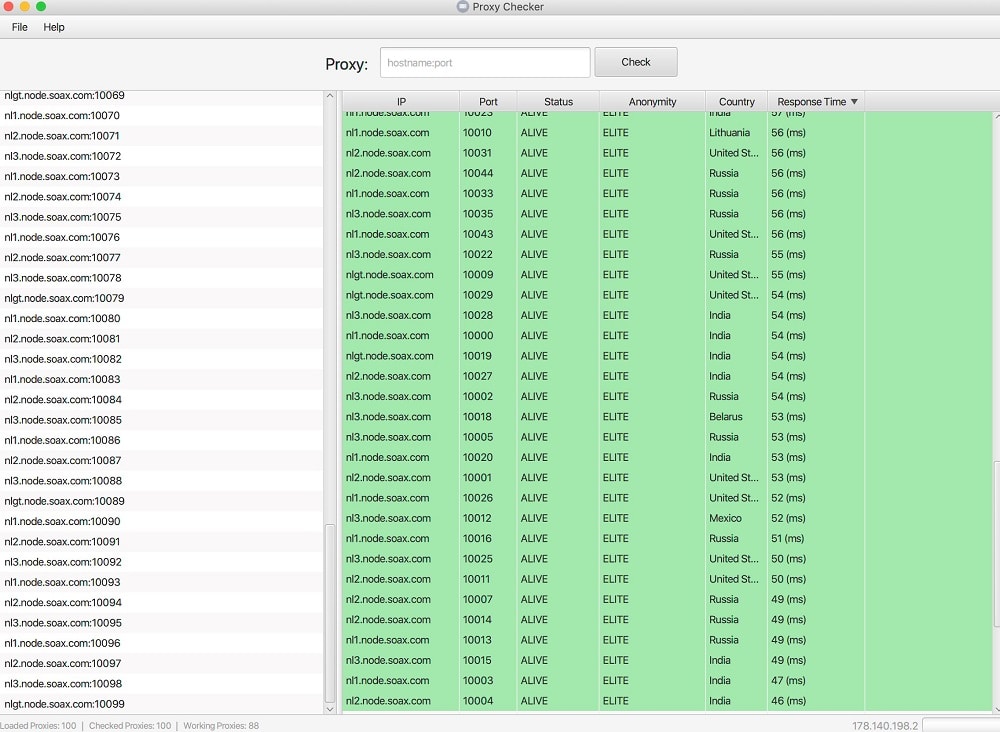 In this case, I got an immediate response from 88 ports with the average response time of 100 ms. A longer response time may be attributed to the fact that these are mobile devices which provide lower data transfer speed than those devices connected to Wi-Fi. All in all, this is a great result.
---
back to menu ↑
Our verdict
SOAX.com is one of the best residential and mobile proxy providers available on the market. They offer superb, highly detailed geo targeting capabilities, automatic or on-demand rotation on every port, a user-friendly dashboard, and flexible pricing structure.
The SOAX platform performs equally great no matter what your needs or targeting preferences are. Their proxies are 100% whitelisted, residential, and always do the job they are required to do – help you maintain anonymity on the web without the risk of being detected or banned.
Thanks for taking the time to read our review! If you are a current SOAX user, feel free to share your own experience with their service in the comments below. We'd love to hear your thoughts!
Worth to Try with Mobile IPs!
PROS
Over 8.5 million residential and mobile IP addresses
Worldwide coverage
Genuine IP addresses from real internet service providers
100% whitelisted IP addresses
Highly detailed geo-targeting
Easy to navigate
Flexible pricing
High anonymity and reliability
Great support - 24/7
CONS
Not intended for casual use - 300 ports for residential or mobile is a minimum
Not offer free trial anymore
Add your review
|
Read reviews and comments