Do you ever get a "403 error" when you use the proxies for web scraping or cooking shoes via a sneaker bot like AIO bot? That means your proxies are blocked by the websites, In this post, I would like to let you more detail about the Residential IP Proxies. Residential Proxies are hard to get IP banned or blocked by the website, even the sneaker websites!
Proxy Providers
Exclusive Coupon

IP Pool: 72+ million

GEO: ASN/Cites/Countries

Protocol: HTTP(S) + Socks5

#1 Powerful Proxy Network

IP Pool: 40+ million

GEO: Cites/Countries

Protocol: HTTP / HTTPS

Fast & Cost-effective

IP Pool: 52+ million

GEO: Cites/Countries

Protocol: HTTP(S)/SOCKS5

Fast Residential Proxy Choice

IP Pool: 8.5+ million

GEO: ISP/Cites/Countries

Protocol: HTTP(S) + Socks5

Carrier & ISP targeting

IP Pool: 4.5+ million

GEO: Regions/Cities/ISPs

Protocol: HTTP + Socks5

Reliable Sticky sessions

IP Pool: 7+ million

GEO: Countries

Protocol: HTTP & Socks5

Reliable & Affordable Proxies

IP Pool: 26+ million

GEO: Countries targeting

Protocol: HTTP(S) + Socks5

Unlimited Bandwidth

IP Pool: 8+ million

GEO: US States/Countries

Protocol: HTTP(S) + Socks5

US 4G Mobile Poolg

IP Pool: 2+ million

GEO: City/State

Protocol: HTTP+Socks5

Residential Budget Choice

IP Pool: 40+ Thousands

GEO: Cites/Countries

Protocol: HTTP / HTTPS

Cheap Unlimited Choice
What are the Residential IP Proxies?
Residential IP proxies are the rotating proxies back-connect to the proxies gateway that can access a residential IP proxy network. Those Residential IPs are from an Internet Service Provider (ISP) that is wired directly into your home or to a cable or DSL.
Anyone use the internet, Regardless of an individual or a business, requires a residential IP address. When the user makes use of the residential IP proxy, the proxy provider will be lending you its IP address as it connects you to its ISP, Just like you borrow the address and location of the ISP provider, Here I will let you know How the Residential Proxy Provider runs the Proxies.
What is the Residential IP address?
Before learning the Residential IP address, I would like to let you know the Dedicated proxies at first. The Dedicated proxies offer static IPs to use, they are located in data-centers around the world and you connect to the data center IP that the websites may detect you use the proxies based on the ISP providers, such as if the IP address belongs to cloud server or hosting company.

You can get your IP detail on the IPleak.net, which is just small IP test websites, So, That's do really easy found you if you are using a datacenter proxy or not by other big websites, like Adidas, Nike, Supreme, Google, Amazon and so on.
The Residential IP address is from an Internet Service Provider (ISP) that is wired directly into a Home cable or DSL.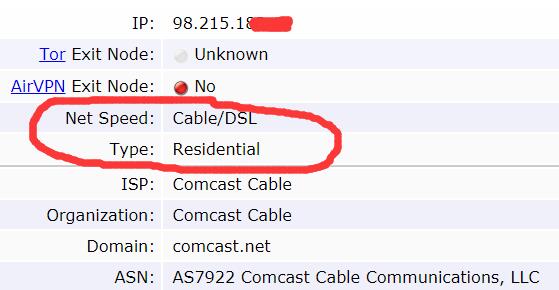 Compare with Dedicated proxies, It's hard to run the Residential proxies as static IP, That's why 90% of  Residential Proxy Providers offers the the Residential Proxies use the "backconnect" ways to run the proxies, that means the IPs will change all the time, the IP address is rotating via their proxy gateway.
---
How do the Residential Proxies work?
Residential proxies rotate IP base on each Request
This type of backconnect Residential proxies allows you to connect to a fixed IP: port as the proxy gateway And the proxy gateway rotates the connection to get a new Residential IP address base on each session (or Request). The limit on this type of proxies is via threads.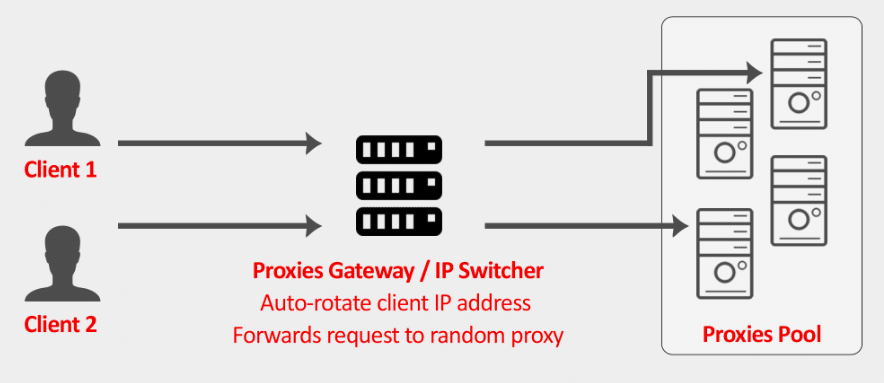 So, Every new session or request will automatically change the IPs. This type of Proxies is good for SEO tools such as scrapebox, GSA search engine ranker, and Domain Hunter. Also, it good for Data Scraping, Providers like GEOsurf and Luminati offer you API to handle their residential proxies, You can use their proxies via PHP, curl, python and more.
Residential proxies rotate IP base on a Fixed Time
This type of backconnect Residential proxies allows you to connect to a port, One Port just means a Residential Proxy, and the IP of Residential Proxy rotate base on a fixed time, such as 5 minutes. The limit on this type of proxies is Ports that you buy.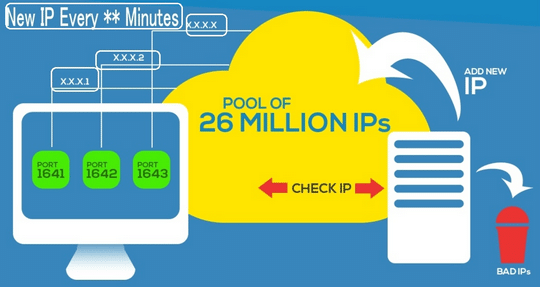 So, Every 5 or 1o minutes the proxy gateway automatically changes the IPs. This type of Proxies are good for,
GEO Location – The Residential proxy service use the P2P networks which means that you can choose the proxies from different GEO location for you different purpose.
 Sneaker websites – You can use the Proxies Works for Sneaker websites, Such as on Adidas, Supreme, Nike, Finishline, Footlocker, SneakerNStuff, Champs Sports, Footaction, Eastbay, Yeezysupply and other shopify sites.
Classified Ads Site – Though the some of Proxies Works for craiglist and compare with the datacenter IPs, the  Residential IPs are more good for the Craiglist or other Classified Ads sites.
Social Marketing – You can use the Residential IPs to create accounts on facebook, G+, twitter, instagram, pinterest and youtube, the Residential proxies may help bypass the "verify your Phone No." and I only suggest you use the Residential proxies to accounts registration but not manage.
Tickets Sites – Residential IPs are also Works for tickets websites like ticketmaster, axs, eimarketplace,etc.
Amazon – The Residential proxies are the best solution for data scraping or websites crawling on amazon or other hug websites.
SEO tools – Some of BlachHatseo SEO tools which like Scrapebox, GSA SER, RankerX and so on, which may sent too many request to the
---
The FAQ about the Residential Proxies
Are the Residential Proxies Never Get Blocked?
A: Obviously No, there are not Possible to find the proxies which are never get banned! Some of the proxy providers or guys who sell the proxies on twitter tell you their proxies Never get banned, that's must be misleading.
There are lots of reasons to ban the proxies by the sneaker websites, one reason is the requests sent by one IP address.
And Lots of Residential Proxy providers offer lots of residential proxies, but the proxy server of gateway network which may leak your behavior, if the Gateway IPs of the proxy server are marked and blacklist, all of their IPs in the p2p network may be banned!
---
Are the Backconnect Proxies the same as the Residential Proxies?
A: Obviously No, Lots of Proxy Service run the data center proxies as the Backconnect Proxies, such as Storm Proxies, Blazing Proxies, and ProxyRack, Which all offer the datacenter Backconnect Proxies.
So, there are a lot of guys who puzzle about that, both data-center IPs and Residential IPs are can be used as the Backconnect Proxies. "Backconnect" just means How the Proxies Run.
---
Do Residential Proxies are Safe to use?
A: I can not assure that and I think the answer should be the "No"! Lots of guys are anxious is safe to use the Residential Proxies, I am also anxious about this problem! Specifically, lots of guys who sell the Residential Proxies on twitter…I advise you to stay away to those guys, for all of your data go to another one's network…Lots of proxy scammers on twitter.

No one can assure your personal information is safe, Also some of the guys use the botnet, even more, some guys use special Trojan viruses to run the p2p networks,  So I do not think which is safe to use. Even the Luminati who run the biggest p2p networks for Residential Proxies, I do not think its 100% safe to use!
In short, there are some benefits to Residential Proxies, but then I am always anxious about my data security when I use Residential Proxies…That the reason I only use the Residential Proxy Providers that may reduce the probability which is been created.
---
What is the speed of your residential proxies?
A: The Private Dedicated Proxies are the Fastest proxies online, that use a fast Dedicated server with 99% up-time.
So now we are discussing the speed of your residential proxies, The speed varies a lot and they are not considered fast when compared to datacenter proxies.
This is because they mostly come from residential IPs which offer a slower network connection and the network connection shared amongst other users, Also the owner of this residential IP may download the stuff online…
---
What is a thread/connection?
Every time your software, SEO Tools or computer program wants to do a task it uses at least one connection.
For example, If you want to load a web page, No doubt you do need to connect to the webserver of this website, This is just one connection, and the websites use the other resources like CSS, Javascript and so on, You need to more connections to loads this page.
So For loading a webpage generally Need more than 10 Connection / Threads.
Having more connections/threads available means you can process larger work queues faster.
---
Residential Proxies or Datacenter Proxies?
A: When choosing between residential proxies Vs datacenter proxies it can be said that residential proxy comes from ISP, while data-center proxy comes from a secondary source.
Big internet companies like Google and Facebook, keep checking for false proxies and blocking of such proxy IP addresses. Data-center proxies are most suspected for all types of scams.
Users of Residential IP addresses are not considered as dangerous spammers as they are considered as individuals browsing casually through the internet, with a genuine IP address. Residential proxies have a lesser chance of getting blacklisted.
The residential IP connections and datacenter proxies have the same purpose of hiding the true IP from others. The user identity is hidden. Though both are considered safe, each has its own type of scams and spoofs.
Based on the purpose of the connection, you will have to determine the type of connection required. You can make use of the IP address of the desired location or hide your IP address altogether. This is choosing between Residential proxies Vs Datacenter proxies.
Residential IP's are more legitimate as they are assigned to residents only. Security systems consider them more genuine. There are fewer providers and the monthly subscription is quite expensive.
Datacenter IP connections are easier to get for bulk connections. As the number of datacenter proxies is higher, it is easier to get bulk connections and they are easier to obtain and work out to be more economical than bulk residential IP addresses.
It is best to do some research before you pay for your proxy connection. If what you are doing is legal, you will not b worried about being found out. When you are doing illegal activities, you will have to be worried about technical expertise in getting everything covered. It is best to do away with illegal activities.
You can test your proxies before purchasing them. By signing up for free, you can request for a free proxy trial that is usually provided for 24 hours. Before using the proxy, you can research for directions to use the proxy with the specific software of the browser.
Datacenter IPs are considered less legitimate, as spammers and nefarious users prefer datacenter connections. If your requirement is just safety and anonymity, it would be preferable to avoid datacenter IP's.
Most residential IP's are provided by a company with free tools such as Luminati, They also run Hola, which is considered as one of the largest providers of free VPN services. Users of Hola can also share their IP with customers of Luminati.  There are several shady companies that provide residential IP connections but also make use of the same connections to be offered to other users and generate a monthly income through such dealings. It is best not to choose popular sellers as they have a number of users and sometimes there is a tendency to make use of their residential IP's to be distributed as datacenter IP's.
If you are a genuine user and your only concern is to hide your identity, you will not require too many security protocols. In such cases, you can make use of the residential IP's to meet your business needs. It is easy for online securities to identify if you are connected with a residential or datacenter IP address.
To avoid being blacklisted, you can choose a good residential proxy for your business. It is important that you choose a reliable seller to get the best results. You can choose a reliable seller instead of a big name.
Do not choose an unknown seller. In the current situation, it is tough to identify a true residential proxy and a true datacenter proxy. If you require more identity, you can check the provider name mentioned on the forum. If the provider is a data center under a corporation, you will have to be careful about such providers as there are chances of being banned. While choosing between Residential proxies Vs Datacenter proxies, it is always best to be vigilant about your choice.
---
Top 10 Residential Proxy Providers in 2023
Now there are lots of Residential Proxy service online, I used and tested lots of proxy services and different proxy providers may be offering different features, Here is a list of the 5 Best Residential Proxy Providers on general,
PROVIDER

PRICE

Reviews

 Features

20 GB – $200.00/mo

**Cost-Effective**

9.8

40 Gb – $500.00/mo

**Most Advanced**

10 GB – $150.00/mo

ISP-level targeting

9.7

20 Ports – $160.00/mo

Package for Sneaker Sites

25 Ports – $124.99/mo

Unlimited bandwidth

1 Gb – $4.99/mo

Affordable & Reliable

3 Gb – $45/mo

Cost-Effective & Crypto-Friendly

1 Gb – $4/mo

Best Budget Residential Proxies

1 Gb – $4/mo

A large Number of Residential IPs

1 Gb – $5/mo

Affordable Residential & 4G Mobile Proxies

9.3
Luminati (Now Bright Data)
World #1 residential proxy network – 72+ million IPs!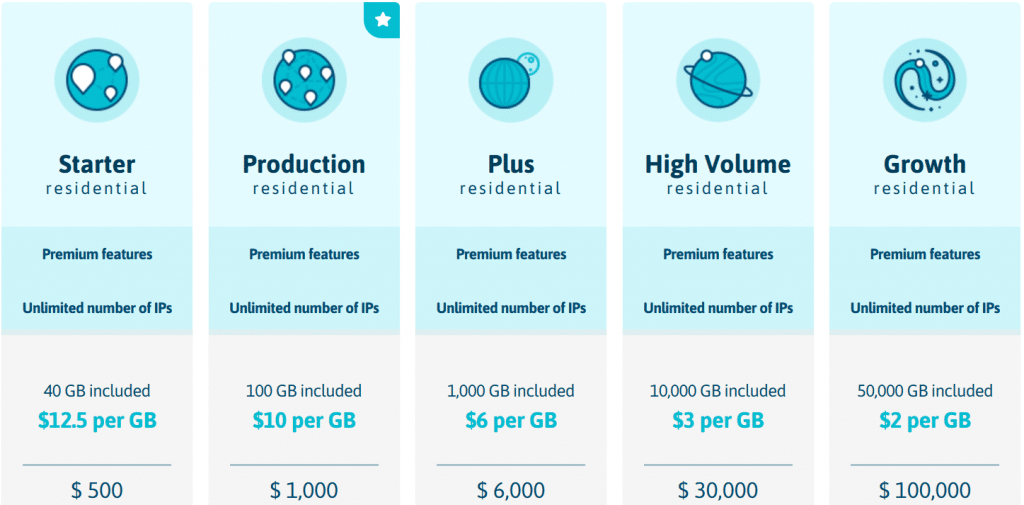 Luminati is being used by Fortune 500 companies as they provide brand protection, ad verification, comparison, etc. The user gets connected to any network on the Web. Data centers are provided around the globe. Luminati provides residential IPs, Mobile network IPs, Datacenter IPs for a complete view of the Web. There are more than 72 million IPs provided around the globe such as South America, the US, Canada, Europe, Asia-Pacific, etc.
There are various pricing plans under Residential IPs such as Starter plans, Production plans, Plus plans, High volume plans and Growth plans. Luminati provides great service for businesses that are IM related and for SEO.
The inbuilt IP rotation is a management layer that helps to send all HTTP and HTTPS requests through its millions of IPs to all centers in countries located worldwide. By using a proprietary algorithm the communication protocol is encrypted. As all traffic is secured at the IP level, the websites cannot locate the origin of the users. It is best to use concurrent sessions to speed up the Luminati services.
Luminati Features
Customized Service: with custom headers and user agents, Luminati is fully customizable with these special features. You can browse through any city or country with just a click.
Hassle-free Installation: installation is very easy with Luminati. There is no need of any code. You just have to install, choose the country required and start browsing.
Business and Employees: The management finds it great for business, especially when there are multiple employees employed.
Advantages
With lightning speed, Luminati works to enable users to harvest data around the globe. The concurrent request can be sent at a time and they work at a fast speed with unlimited service. It also helps to extract data from websites that are involved in frequent blocking.
Luminati is considered the largest proxy network with millions of IPs to its clients. As the Hola network owns Luminati, the network is much bigger and provides access to more countries and the network provides residential IPs which are very realistic.
The residential IPs can be easily switched to static and vice-versa.
Quick service and integration are available with the advanced proxy manager which also provides a smooth start.
Luminati helps in brand protection by protecting its pricing strategy, trademark, and intellectual property.
Ad verification for its integrity check is possible. It also eliminates backlinks and false advertisements.
All online assets can be protected on both mobile and web devices.
Customer preference is easily understood, which is essential to understand and target the customers for each service.
However, it can be said that it higher priced as the charge is made for every GB of data used. It is more useful for developers than ordinary users. It is not useful for any task that consumes bandwidth or for the scrapper. To send a single request, the Luminati proxy works at a slow speed, while it works at a very fast speed for an unlimited number of requests for concurrent sessions
---
Soax
Ultra-fast residential proxies and GEO target to ISP!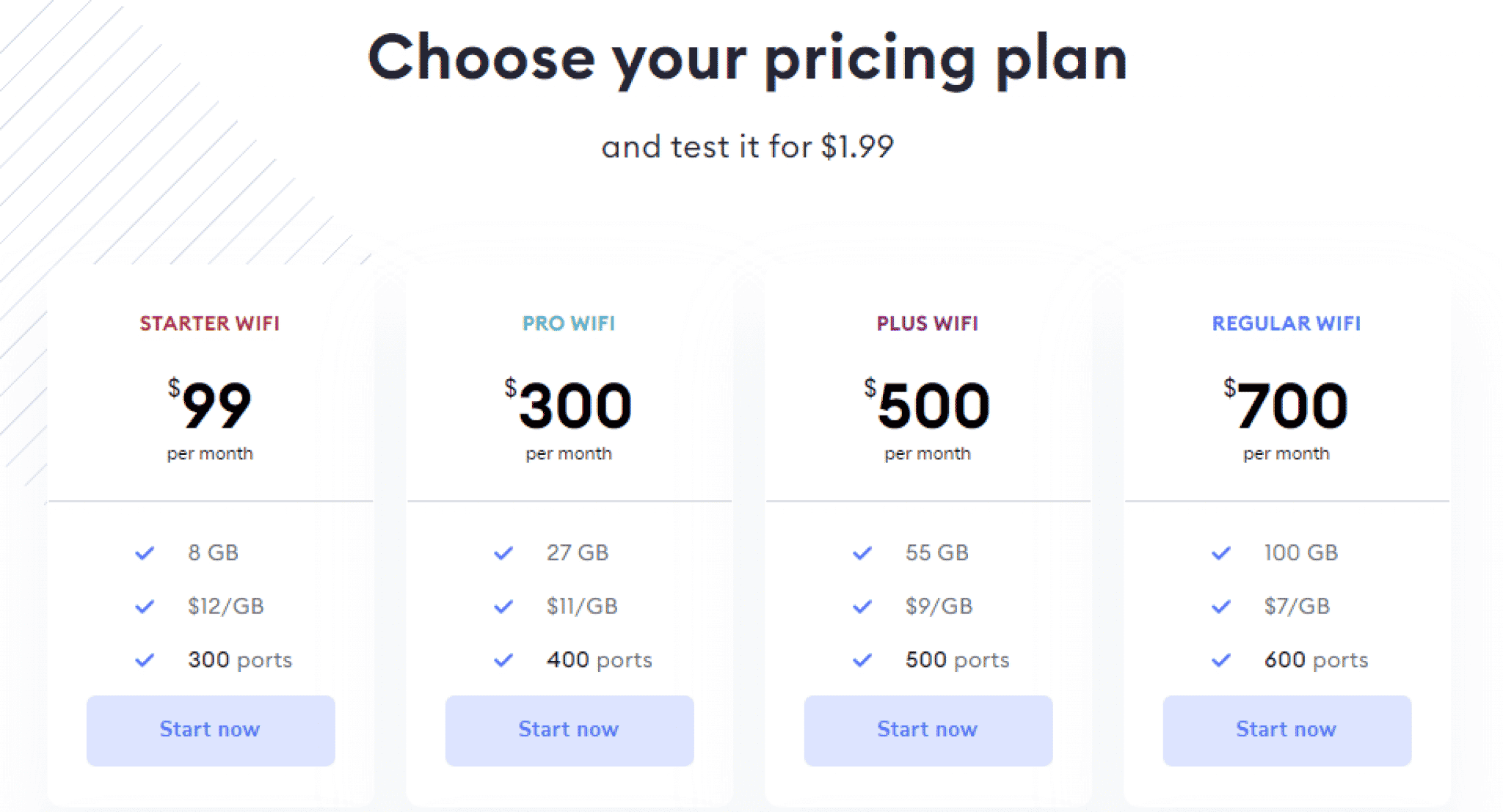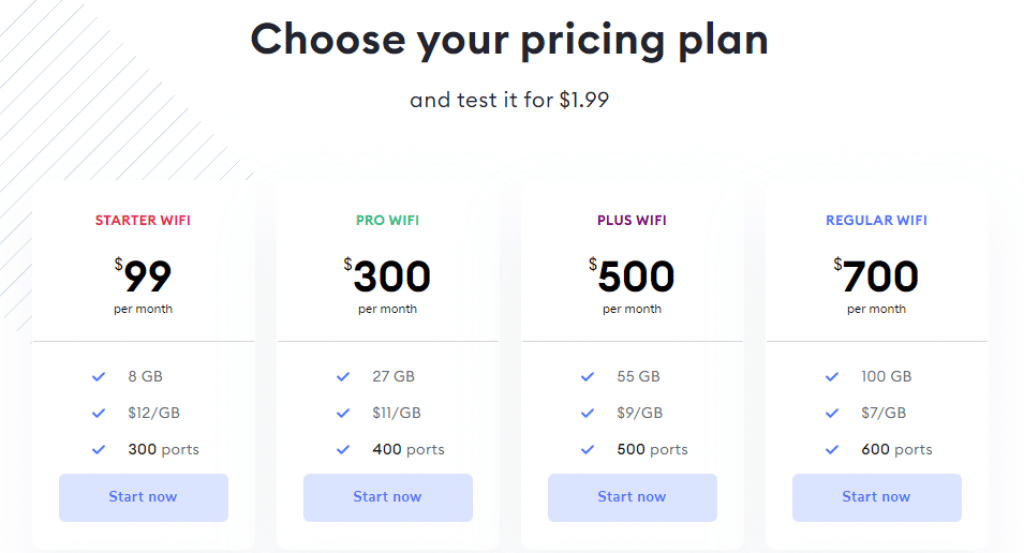 If you're looking for a quality proxy service that offers great geo-targeting capabilities, Soax is definitely worth considering. Their proxies are reliable and precise, which makes them perfect for use with a variety of online tasks.
The cheapest package, priced at $99 for 8GB, will get you an unlimited number of residential IP proxies within one geographic location and up to 300 simultaneous IP connections. This makes SOAX an excellent choice for small businesses and entrepreneurs who need reliable proxies for everyday internet use without breaking the bank. Additionally, on-demand IP rotation is available for each port, so you can always get a fresh set of IPs when you need them.
Soax proxies are stable and work well for a variety of purposes, including browsing, social media, and even online shopping. In addition, the customer service is excellent and they are always happy to help with any issues or questions you may have.
Advantages
Flexible geo-targeting filters.
Easy dashboard.
Automatic IP rotation. You may choose any proxy rotation time when creating your account.
Quick Access allows you to set geo-targeting to a set of ports
---
SmartProxy
Editor Choice for small business!
Smartproxy is a fresh rotating residential proxy network with over 10 million proxies all over the world. It is perfect for web scraping, social media and buying sneakers because these proxies are very fast for residential proxies.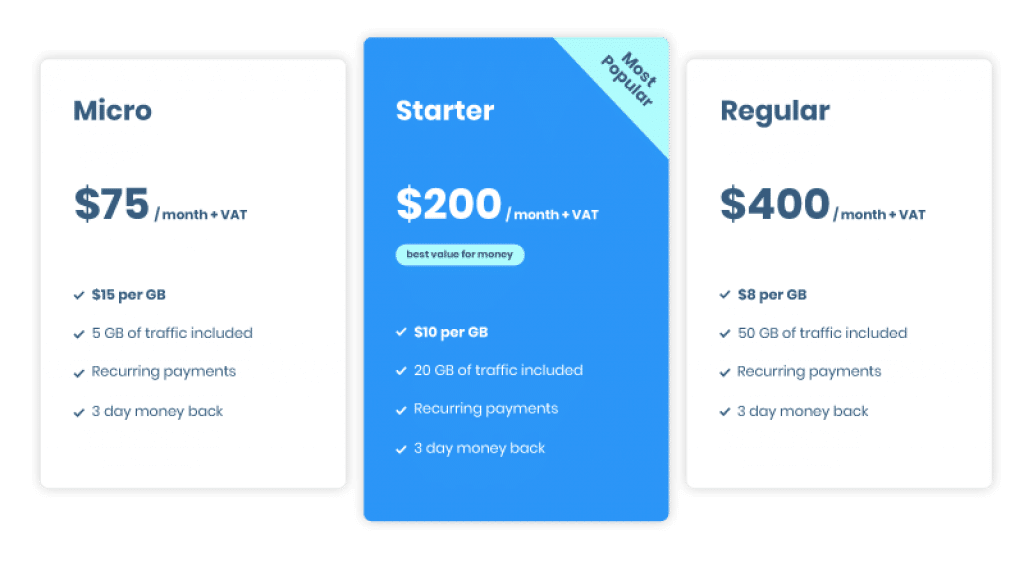 Smartproxy's smallest Micro plan costs only $75/month, but larger plans have the best price: $3-6/GB. Every Smartproxy plan has a full 3 days money-back guarantee for any packages.
Smartproxy features:
Get very low ban and block rates

Use unlimited concurrent connections and threads at any time

Target only IPs from a specific country or city

High anonymity proxies – no account info in the connection request, so you are completely anonymous
This provider has a very low ban rate because all IP addresses in the pool are real desktop and mobile devices, which do not share a subnetwork and get their IP from ISPs.
The network lets you use the unlimited number of proxies with concurrent connections, so you can scrape easily and quickly or use unlimited tasks with sneaker bots.
All traffic you generate is not associated with your account and originates only at the residential IP level, so you are always highly anonymous on the network.

Now 20% Discount!
Use recurring discount code "privateproxyreviews" for the 20% OFF, It's the best offer from smartproxy that I'm striving for my readers!
Smartproxy offers:
Rotating proxies – new IP for every connection request.

Sticky IP sessions – use the same IP for 10minutes or 30 minutes, which is good for social media accounts.

Backconnect proxy network – easy to set up and access, because you need only a node to access the whole pool.

Geo-targeting – use proxies in the US, UK, GER, New York, Chicago, LA, London, and any other location.
Smartproxy Advantages:
Proxy network has no subnets, so proxies work like virgin IPs.

High performance – even with many connections the proxies have the highest speed.

You get access to the whole network, so you don't need to wait to replace a proxy if it gets blocked.

Best 24/7 support in the proxy market and impressive customer service. They have Telegram, Skype, live chat, email.

API access and code samples in most languages ready to go.
Smartproxy works with any software that supports HTTP or HTTPS proxies. They have easy instructions for all popular web browsers, scrapers, web spiders, social media automation and sneaker bots: ScrapeBox, AIO bot, BNB, Jarvee, Better Nike Bot, Nike Slayer, etc. Very good for hundreds of sneaker bot tasks with a powerful VPS
It works great for major targets like Google, so you can use it for SEO tools, SERPS, crawling and scraping.
You can authenticate in several ways. If you can't use user:pass, you can whitelist your device's IP.
Pro tip: create a sub-user for a project to track precise traffic usage. You can set a limit for subusers, so it is easy to manage projects.
What people say about Smartproxy
There are many reviews of Smartproxy on forums like BHW and Nulled.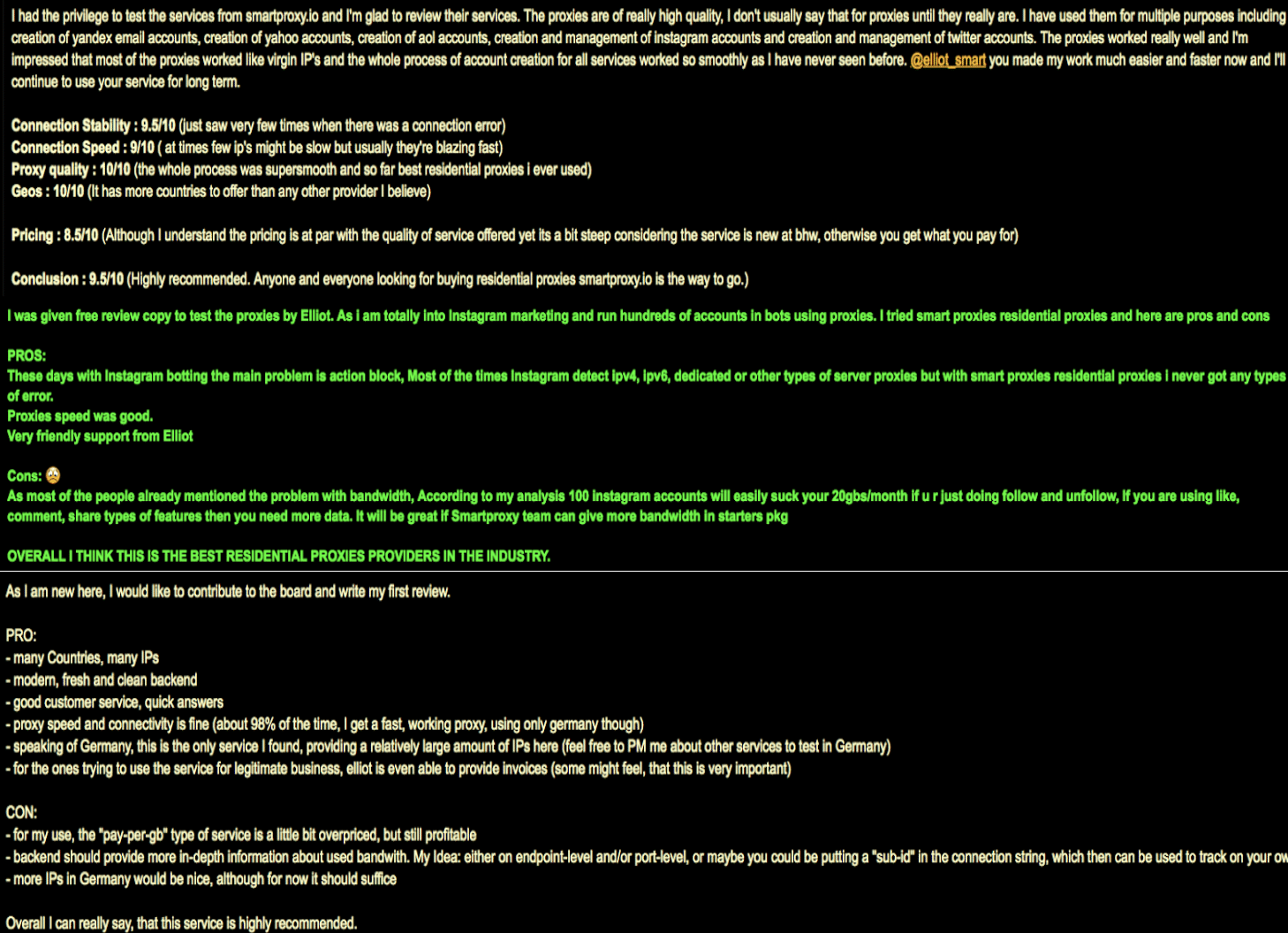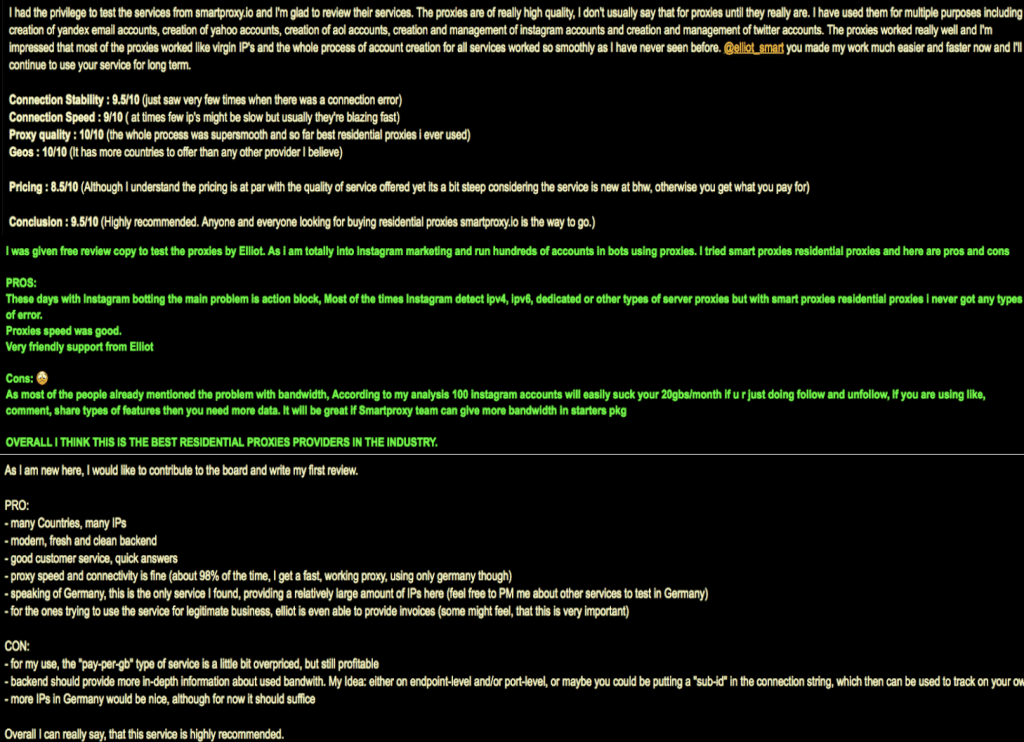 ---
Storm Proxies
Most affordable residential IPs proxies provider!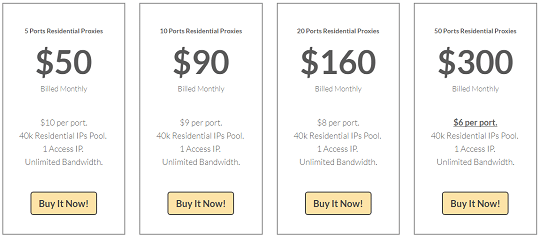 Residential Rotating Proxies from StormProxies offer USA IPs and EU IPs which you can choose by yourself. The IP rotates for every 5 minutes and you get access to the IP pool of 40k. There are different rates for each package. Packages are provided for 1 port, 5 ports, 10 ports, 20 ports, and 50 ports. With one port you get just 1 IP. Port is one proxy gateway in which the IP address keeps changing every 5 minutes.
When you copy the IP and the proxy gateway into your software, you can see the automatic change in the IP from the IP pool. For Nike, Supreme and Adidas, the rotating proxies are best for these sneaker sites to bot sneakers successfully. The chances of getting banned are very, very remote. As the proxies keep rotating they are considered better than dedicated proxies. Rotating proxies are useful for many activities.
Advantages
Storm Proxies is considered as one of the best proxy providers currently. With a wide range of configurations, they provide Dedicated Rotating Proxies (Reverse Backconnect Proxies), Dedicated Proxies, Residential rotating proxies.
Dedicated Rotating proxies the same as "Reverse Backconnect Proxies"  offer fast proxy connection form data center which is considered Good for scraping sites and suitable for SEO tools.
Residential proxies are good to access sneaker sites, as datacenter proxies are prone to get banned when compared to residential proxies. If you want to Cop sneakers online, such as Adidas and Nike, The Residential proxies from StormProxies is a good choice.
---
Microleaves
Unlimited bandwidth – Backconect residential proxies.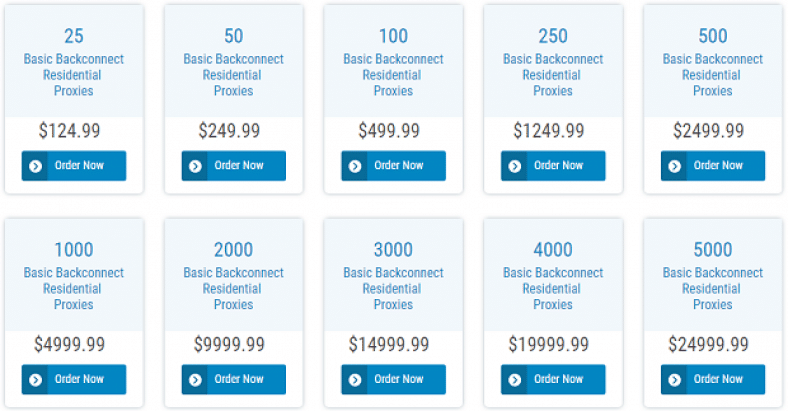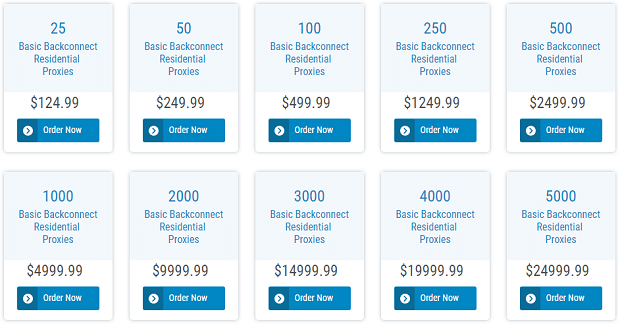 Another leading proxy network is Microleaves. It generates more than 26 million per month. The residential IPs are available in packages.  By providing a guaranteed 99.99% uptime, they have been able to withstand stiff competition among proxy service. Providing unlimited bandwidth, and speed, they also have good support teams for non-stop service. The proxy services provided are the Dedicated proxy, Shared Proxy, and Backconnect Proxies.
There are four services provided s such as Backconnect proxies, Dedicated HTTP proxies, Shared HTTP proxies and Automated Captcha Solving with separate plans and prices for each service. All websites are easily accessible without any geo-restrictions. Customer support is provided non-stop. The proxies work well for scrapping and used for SEO. The data are always accurate and fresh.
Advantages
The super-speed at 1 GBPS with unlimited bandwidth.
99% uptime guarantee.
The IP addresses provided are true IP addresses and not fake ones.
3-day money-back guarantee
Backconnect residential proxies provide by Microleaves
Backconnect Rotating Proxies make use of proxies such as HTTPS, HTTP, Socks4, and Socks5. They provide more than 26 million IP addresses and are very fast. They also help to change the IP address every 5 minutes to keep the user protected and hidden. Sometimes, the users are provided with an IP address for every city across the globe.
The proxies keep changing their IP addresses for users every 5 minutes that is unique to it. In this package, the user has 25 ports to start. All the orders are processed automatically within minutes. They are compatible with all software in the market and help to connect to sneaker websites such as Adidas, Foot-sites, Nike, etc. Users can harvest data easily, while the orders have automatic processing.
There are various plans with Basic Backconnect Residential Proxies of 25, 50, 100, 250, 500, 1000, 2000, 3000, 4000 and 5000 packages. They are perfect for Data Mining and Crawling. The proxy location is selected easily from the control panel. The location can also be selected using API provided with the Special Backconnect.
---
Proxy-Cheap
Affordable & Reliable residential proxies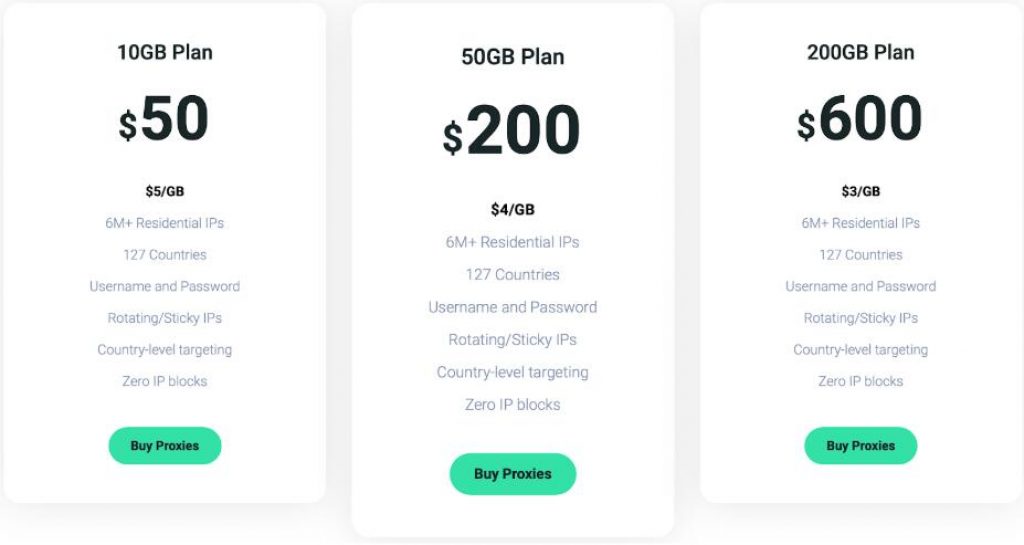 Proxy-Cheap is a supreme proxy provider that comes at an extremely affordable price. Over the period of 2019, they have claimed their place in the market and proved that safety, reliability, and affordability are essential to the company. They provide access to a range of the most important business locations (127+ Locations), which allows them to work with the best companies and teams around the world.
Every proxy in the network is anonymous, and the IPs are provided with advanced rotation as an assurance that you will get only a tested, working proxy directly from the pool within the specific location of your choice. This remains to be one of the most accessible and affordable rotating proxy networks to use while reducing the workload of maintenance and allowing Proxy-Cheap to focus on the excellence of their customer support.
Proxy-Cheap works excellently with social media automation tools & bots as well as is compatible with Sneaker Bots. The proxies are undetectable by IP blockers, so they can be used for tasks such as purchasing limited edition sneakers or tickets, data scraping, etc, without any worries!
Advantages
They are fast, reliable, and affordable
Offer high quality residential proxies
Always up and running
Offer a money-back guarantee
---
ProxyEmpire
Cost-Effective & Crypto friendly residential proxy provider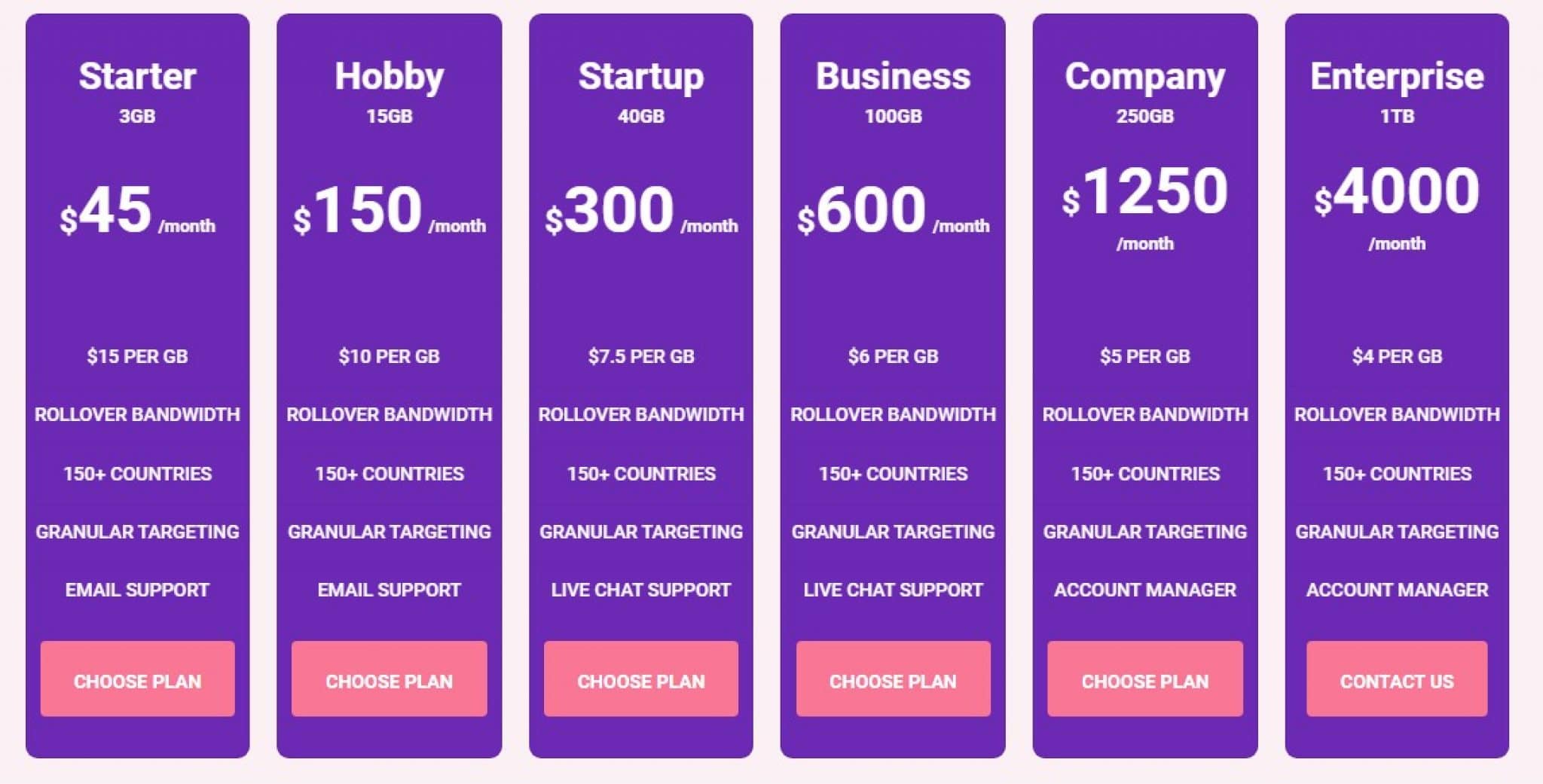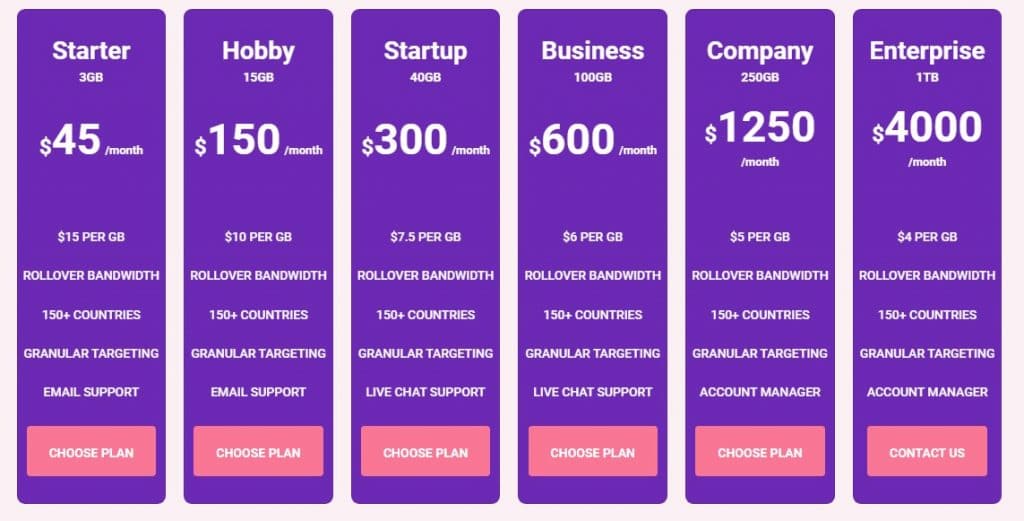 ProxyEmpire is a rotating residential proxy provider that also offers rotating mobile proxies. ProxyEmpire is a relatively new company that launched in 2021, and they offer pretty reliable service with great pricing. They are the only residential proxy provider to offer unlimited rollover bandwidth, and you only get charged for the bandwidth you use.
ProxyEmpire's service works great for a wide array of different use cases – creating and managing social media accounts, ad verification, coping limited-edition sneakers, scraping geo-specific market data, SEO monitoring, and more!
Since they support pretty much all the different connection protocols, their proxies work with any software out there, including but not limited to Multilogin, Adspower, Sneaker Bots, and custom software solutions.
Their entry-level plans start at just $45 per month, and their biggest public plan is $4000 for 1000 GBs of data making the cost per GB of residential proxy bandwidth just $4. They also have bigger, custom plans available for even better pricing – make sure to get in touch with them if your company needs more than 1 TB of bandwidth per month.
Advantages
Get access to mobile-only content.
Create, manage and use multiple accounts.
Never get blocked, throttled, or restricted again.
Feel like a secret agent with unlimited power.
---
IPRoyal
You can buy or lease IPv4 and IPv6 addresses from It.


IPRoyal's residential proxy service is a great choice for general proxy use cases. I have used their proxies for tasks such as web scraping, online marketing, and even sneaker botting. The only downside to using IPRoyal proxies is that they do not have a large pool of IP addresses, so sometimes, you may not be able to find a proxy that fits your specific need.
They have sticky proxies that are perfect for account management and keeping your IP address hidden. Their rotating proxies are also undetectable, making them perfect for web scraping and crawling. Their proxies are fast, reliable, and secure. They also offer great pricing, making them a great value for the money.
They have been tested and proven to work with a variety of proxy use cases. Their proxies are great for general browsing, Sneaker Bots, Streaming Services, and more! If you're in the market for a good. Overall, IPRoyal is a reliable and affordable proxy service that is worth considering for your proxy needs.
Advantages
Get IP addresses from many locations around the world.
Rotating proxies that change IP address frequently.
Sticky proxies that will maintain IP addresses for a specific period of time.
Unlimited concurrent sessions are allowed.
---
Froxy
Offer a large number of residential IPs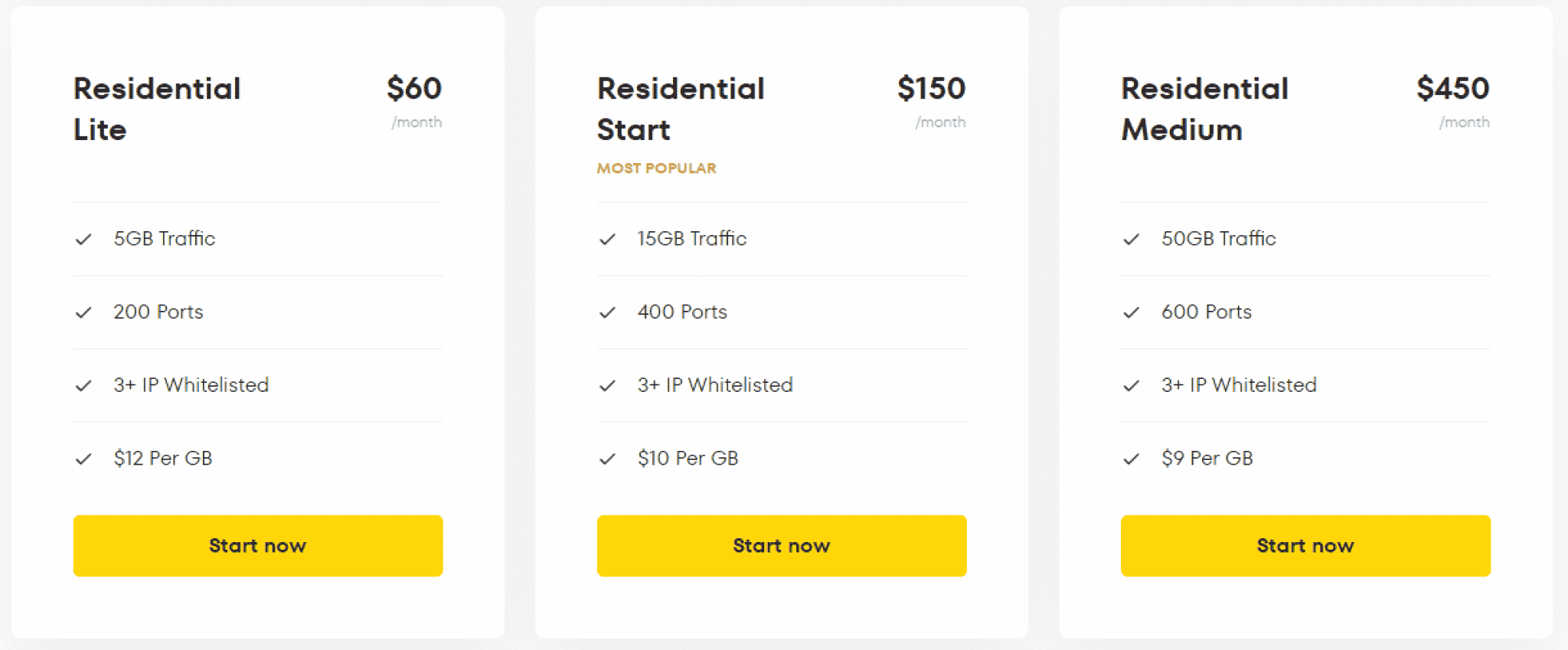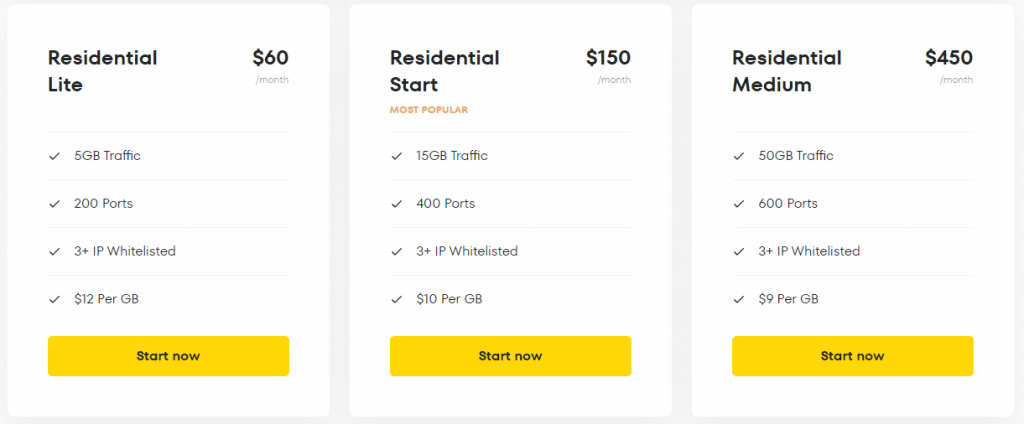 If you're in the market for a quality residential proxy service, I highly recommend Froxy Proxy. Their large 8 million proxy database ensures good anonymity, and their proxies work well with a variety of tasks. I've had great success using Froxy proxies for online research, data scraping, and website crawling.
Froxy proxies are a great choice for general proxy use. They work well with a good number of applications and offer a good mix of speed and reliability. Their customer service is also very responsive, which is always a plus.
If you're looking for a quality proxy service that can offer you access to millions of IPs from all over the world, Froxy Proxy is definitely worth considering. They have a 99% accessibility rate and 24/7 support, so you can always get help when you need it.
Advantages
Get access to the best quality proxies.
Enjoy unlimited bandwidth and speeds.
Connect through a variety of ports and protocols.
Feel confident that your data is safe and secure.
Have peace of mind knowing that you're working with a team of experts.
---
HydraProxy
Offer affordable Residential & 4G Mobile proxies


HydraProxy is a reliable proxy service with instant performance. You are sure the proxies that will be sold to you are highly anonymous proxies that are undetectable and keep your real IP address concealed from the Internet.
This provider has proxies in the mobile and residential proxy categories. Just like most providers in the market, this service does not own the IP addresses they use; however, this is not a problem as they deliver on their promise of speed, reliability, security, and affordability.
Their user dashboard is easy to use, and they provide an application called HydaHeader, which makes it possible to manage multiple accounts on the same platform by preventing browser fingerprinting. Their proxies are high-performance and have great location coverage. You can buy as little as 1GB from them at a low price, making them a great option for budget-minded users.
Advantages
Rotating and sticky IPs are supported.
Unlimited concurrent session supported.
Proxies are fast and reliable
Proxies are constantly updated with the latest IPs
Thousands of premium proxy IPs from over 100 countries
Achieve your online goals faster and easier than ever before – without sacrificing quality.
---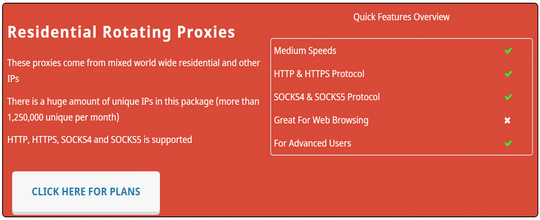 ProxyRack, the Australian?company?has been able to provide, clean and secure software to its users. Provide with various pricing plans, they are based on the maximum threads that you will be able to run through your servers.?ProxyRack allows its users to use Residential?IPs from more than 40 different countries which include countries like United States, Australia, United Kingdom, Europe, Russia, and many other countries.
20 new IP's are provided for every request. As ProxyRack is partnered with a big Adware company, they are allowed to use their customer base, from which the IP's come from.
250 of 10 minutes, rotating IP ports are allotted.
You can access thousands of IP addresses that are private and unique.
They are provided with unlimited bandwidth.
They support HTTP, SOCKS and HTTPS protocols.
They make use of the user and the password for authentication.
All the IP addresses are provided with private proxies and not with public ones.
They come with high anonymity and your IP address will not be leaked.
They come with a 14-day money-back guarantee.
Customer support is provided.
Types of Residential Rotating Proxies of ProxyRack
There are two types of Residential proxy ports that come along with the packages. This helps to provide access to 2 different systems.
Random New IP for Each Request
This port helps in the automatic assignment of a new IP that is unique to the user's connection for every thread or connection that the software uses.
Port 222– Each connection made is automatically assigned a new random IP address
This port helps in keeping the same proxy or the same IP address, static for ten minutes by which you can complete all your requests by using the same proxy. ?Every 10 minutes the ports you are connected to, automatically rotate.
Port 1251– Uses assigned unique outgoing IP address for 10 minutes before switching
ProxyRack Packages
There are various packages and plans for each.
Residential Rotating Proxies: These come from different residential and other IP's located worldwide. They work with medium speed and are great for web browsing. They are usually used by advanced users. They use HTTP and HTTPS protocols. They also use SOCKS and SOCKS5 protocol. There are more than 1,250,000 unique IPs per month, from this package.
USA Datacenter Proxies: These proxies are for USA locations exclusively. The speed and reliability are very high, as they use the USA datacenters. There are more than 10,000 unique IP's in this package. They are provided with fast speed and have high reliability. They use HTTP and HTTPS protocols. They are Good for web browsing.
Mixed Datacenter Proxies: These proxies are provided with mixed datacenter locations around the globe. The speed and reliability are very high for these proxies, as they use European datacenters. They are provided with fast speed and high reliability. They use HTTP and HTTPS protocol.
---
GEOSurf
Stable and Easy to set up!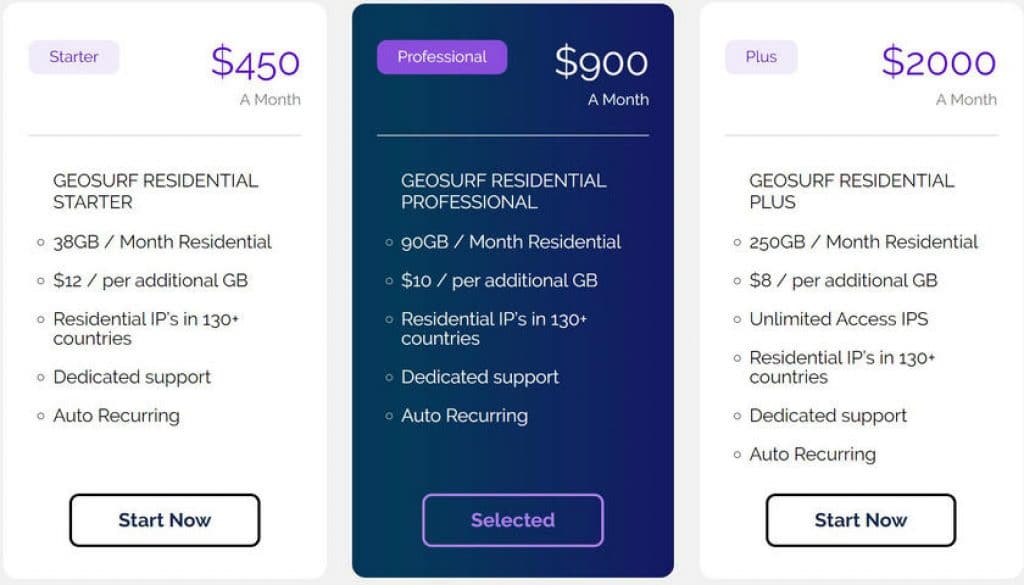 GeoSurf goes hand in hand with global business. It helps to monitor all geo-targeted content, for validation and for QA from over 120 locations. The main features that set GeoSurf apart are speed, security, and reliability.
Providing transparent service for accuracy and for reliable results, GeoSurf has excelled others in this area. None of the ads or content is altered and is provided just as it is. GeoSurf comes with three options. They are GeoSurf Residential IPs, GeoSurf Premium Static Network, and GeoSurf Static Network. Every request is provided with a new IP, while the sticky IPs can be constant for 1 to 10 minutes.
1, 10 & 30 -minute sticky Gateways with 6,000 ports in the following countries: USA, UK, France, Germany, India, Thailand, Spain, Brazil, Poland, Australia, Japan, Italy & Mexico
Premium support – Quick and friendly premium support by Geosurf's Customer Support team
Statistics & Dashboards – Detailed usage statistics for your account will allow you to monitor and optimize your data collection process.
Coder Friendly API – Geosurf API has copy-paste code examples in every common programming languages.

$30 OFF Now!
Geosurf offer $30 OFF coupon code *privateproxyreviews* Do not miss it if you want to Buy Geosurf's proxies!
GEOSurf Features
Security: GeoSurf enjoys a premium proxy network and owns its own servers. This helps to provide users a good browsing experience that gives them full security. This security can be trusted, as GeoSurf legally signs an agreement with its customers ensuring that any data or search history will not be released nor will they used on any occasion. A new IP is provided for every request for better security. The sticky IP can be made to remain the same for 1 to 10 minutes.
Speed: GeoSurf provides connections that are fast and speedy. Using the latest technology such as Automatic Bandwidth Optimization, users are provided with fast connections provided through the premium proxy network on each gateway.
Reliability: GeoSurf provides reliable services and can be trusted. With its corporate office located in Tel Aviv, considered as one of the busiest locations and with many years of service, they are a trusted name. The customer service functions 24 X 7 and contacts through phone, online chat, email, Facebook, Twitter, LinkedIn, etc, are easy for all its users. The management team provides good customer service, backed up by knowledge and experience.
Advantages
GeoSurf provides more than 2 million residential IPs located in every country and city around the world. Advanced solution for all types of Data harvesting is provided by GeoSurf, through residential IPs gives the liberty to harvest the web to its users with unblocked IPs ranging over 2 million and still growing
A unique feature is the inbuilt IP rotation that provides high performance and great scope for all enterprise-level activities. This helps users to send any number of parallel requests through its IPs, which are verified and working, making sure that users never get blocked.
The residential IPs are clean and never blocked as proxies. This is possible through the combination of the residential IPs and proxy masking. This is especially useful for making all types of research and access new markets as well as verticals. Transactions flows can be verified. With UI components that are localized, it makes work easier.
There are around 199 geo-locations which include Canada, the US, Mexico, Argentina, Colombia, Brazil, Germany, Thailand, etc. It provides the best service for the multi-country proxy.
GeoSurf is very coder friendly as examples of its copy-paste code is provided for API, in all of its programming languages.
The data collection process can be easily monitored through its statistics and dashboards.
Unlimited access is available through its IPs pool with various plans, connections, and threads across almost all countries.
There are starter plans providing 38GB per month, Professional Plans providing 90GB per month,  Plus plans to provide 250GB per month, Enterprise plan offer upto 2TB per month. Each plan is priced differently.
However, it can be said that GeoSurf is a bit pricey.
---
If you have any doubt about the rotating residential IP proxies or any feedback to those proxy providers, easily leave a comment below!