Smartproxy is a rotating residential IP proxy provider. It offers cheap and reliable residential proxies. You get access to the whole proxy pool with every plan and pricing is based on traffic usage.
Fast & Cost-effective residential proxy provider
Over 40 million residential IPs in the pool
User-friendly dashboard to manage sub-users and traffic usage
Geo-targeting: target 195+ countries
API management & Unlimited concurrent connections
3-day money-back guarantee & Great customer service
---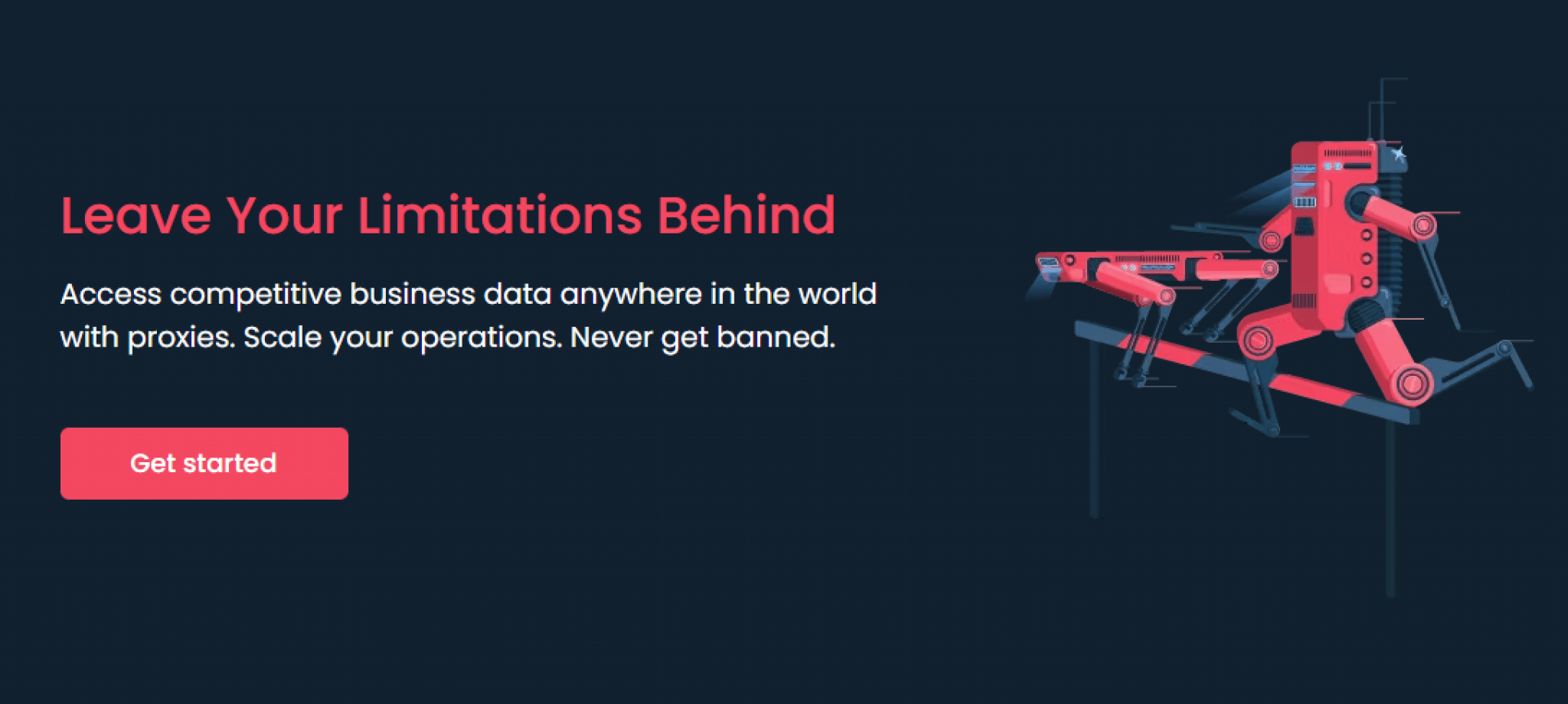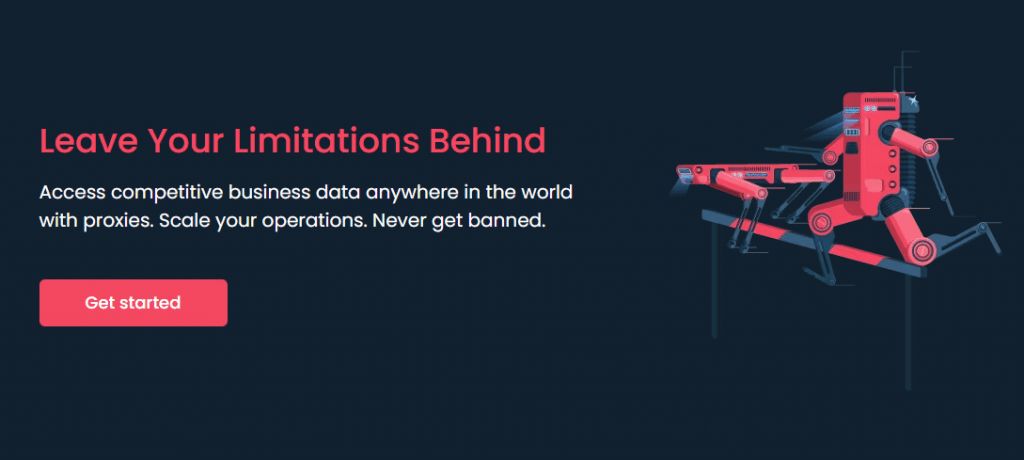 Smartproxy.com is a premium proxy provider with advanced servers at a very affordable price. It is a safe and reliable proxy provider which lets you try out the network with a money-back guarantee. They have proxies in all countries (195+ locations), which makes them one of the largest proxy providers.
All proxies in the network are anonymous, and their servers work with advanced rotation, which means that you get a live and tested proxy from the pool randomly or a random IP from a specific location. This is one of the easiest rotating proxy networks to use, and it takes all the work out of maintaining proxies.
Smartproxy's service is especially good if you want to create social media accounts, buy limited-edition sneakers or tickets, do market research, verify ads, scrape data, and more! They have full support for all social media automation tools and bots, as well as all sneaker bots. The best part is that all their IP addresses are residential, which is hard to detect and block.
The site's residential proxy pricing is great for all users because you can get smaller plans for only $80 or get professional, huge enterprise-level plans for only $4/GB;  or you can pay $12.5 per GB with the pay-as-you-go plan.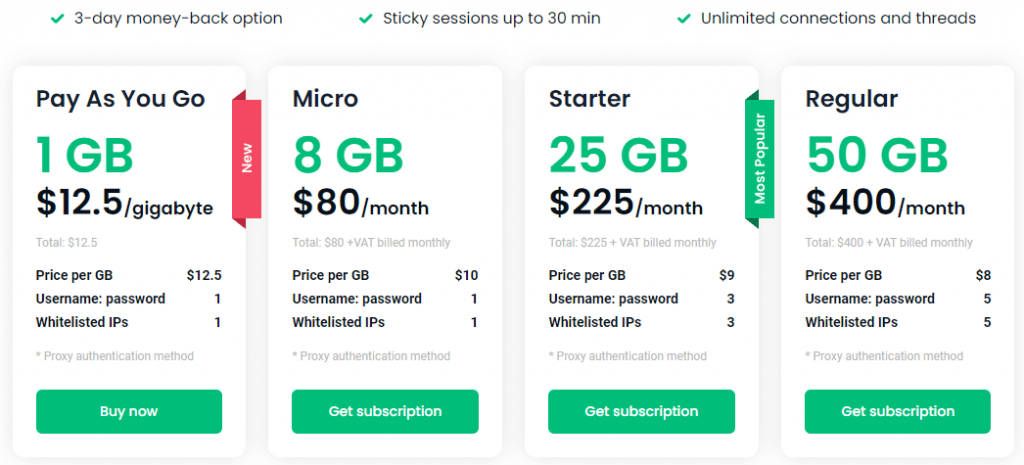 Click here to Get 50% OFF for your first month
Is the service worth its salt? That's what we'll discuss in this review.
---
---
The Smartproxy.com solution
Scraping data from the web: rotating residential proxies are no doubt the best choice for getting data from competitors and other sources. With advanced rotation, your success rate should be extremely high.
Creating multiple accounts: residential proxies look like real users, so the network is perfect for generating social media and other accounts. You can also automate Instagram, Facebook, and any other network to create TONS of accounts and followers.
Avoid blocks and restrictions: sneaker sites block bots and datacenter proxies. Nike has made some releases where all datacenter proxies were blocked outright. Residential proxy networks are unblockable, and Smartproxy.com lets users use unlimited connections, so you can run unlimited tasks on sneaker bots and not get blocked. This is great because their proxies work with Another Nike Bot AIO, Better Nike Bot, Nike Shoe Bot, SupremeSlayer, and other bots.
Want to find more proxy provider support sneaker sites? Visit to this page to find it out.
Data intelligence: they have proxies in the whole world so you can do price comparison, data mining, and screen scraping without restrictions. Proxies support remote DNS and do not leak any privacy data. Their proxies are very fast for residential proxies, and you can use many connections at once to finish projects faster.
Ad verification: residential proxies are the best tool to verify advertisements and protect yourself from ad fraud. Ad verification companies struggle with bans from fraudulent advertisers, but they cannot block such a huge residential proxy network.
Pricing information: flight pricing comparison, retail intelligence, competitor market research – you can do it all with location-targeted residential proxies. Access any site without restrictions. All you have to do is access a specific Smartproxy server, and you will look like coming from a different country. If you use random IPs, all of your connections will look like different people.

20% OFF
Get 20% Life-time discount: put promo code "privateproxyreviews" to check out!
back to menu ↑
How Smartproxy Works
Want to know how Smartproxy.com works? Rotating residential proxies are easy to understand from this image,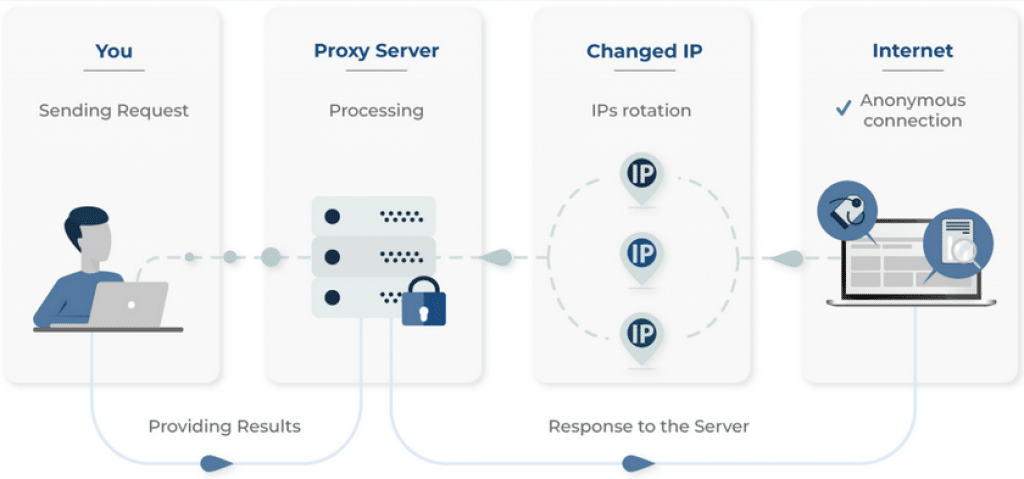 The whole service works by giving you a single address to use. It is the endpoint which lets you access any pool on the network. You can get endpoints easily from the user dashboard, so it is very easy to manage.
Your endpoint determines what pool you go to and what session you use. So you just enter domain:port to use as a proxy and you get exactly the proxy you need. It works on all software and is better than proxy lists because advanced rotation algorithms check proxies before letting users use them, so there are very few dead proxies in the network at any time.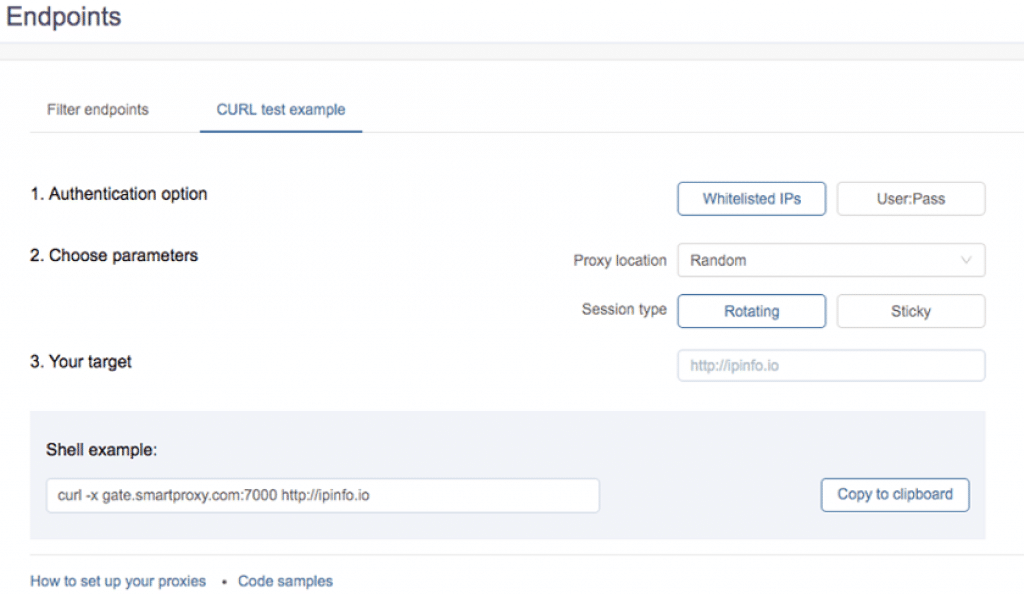 You can use specific ports (also found in the dashboard) to get a sticky IP and use it for 10 minutes or 30 minutes, which is very good for multiple account management. Want to change IP? No problem – just change your port in the domain:port and you have a new proxy!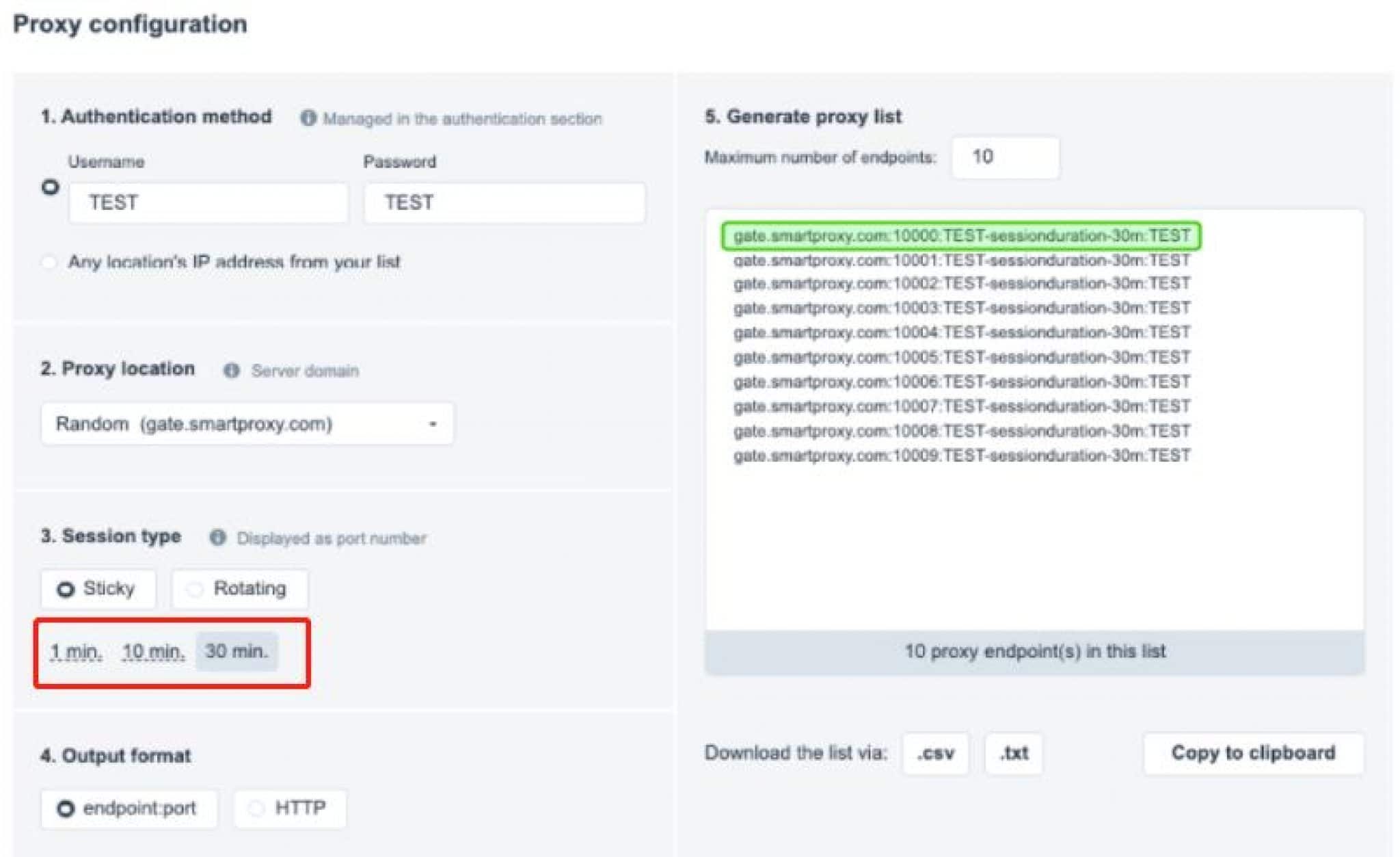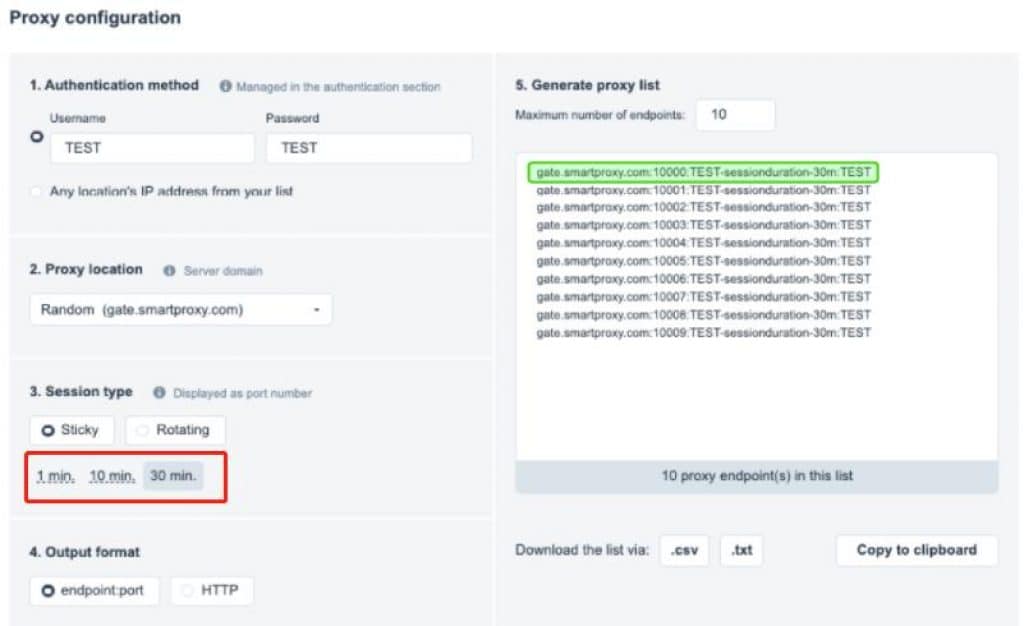 back to menu ↑
Pricing & Features
You don't have to pay for each proxy you use. You can theoretically use their whole proxy pool with random rotation and only pay for how much traffic you use, just like on your mobile phone data plan.
Their residential plans have eight tiers, and the cheapest plan is $12.5 per GB. The enterprise plan is $4/GB for 1000 GB.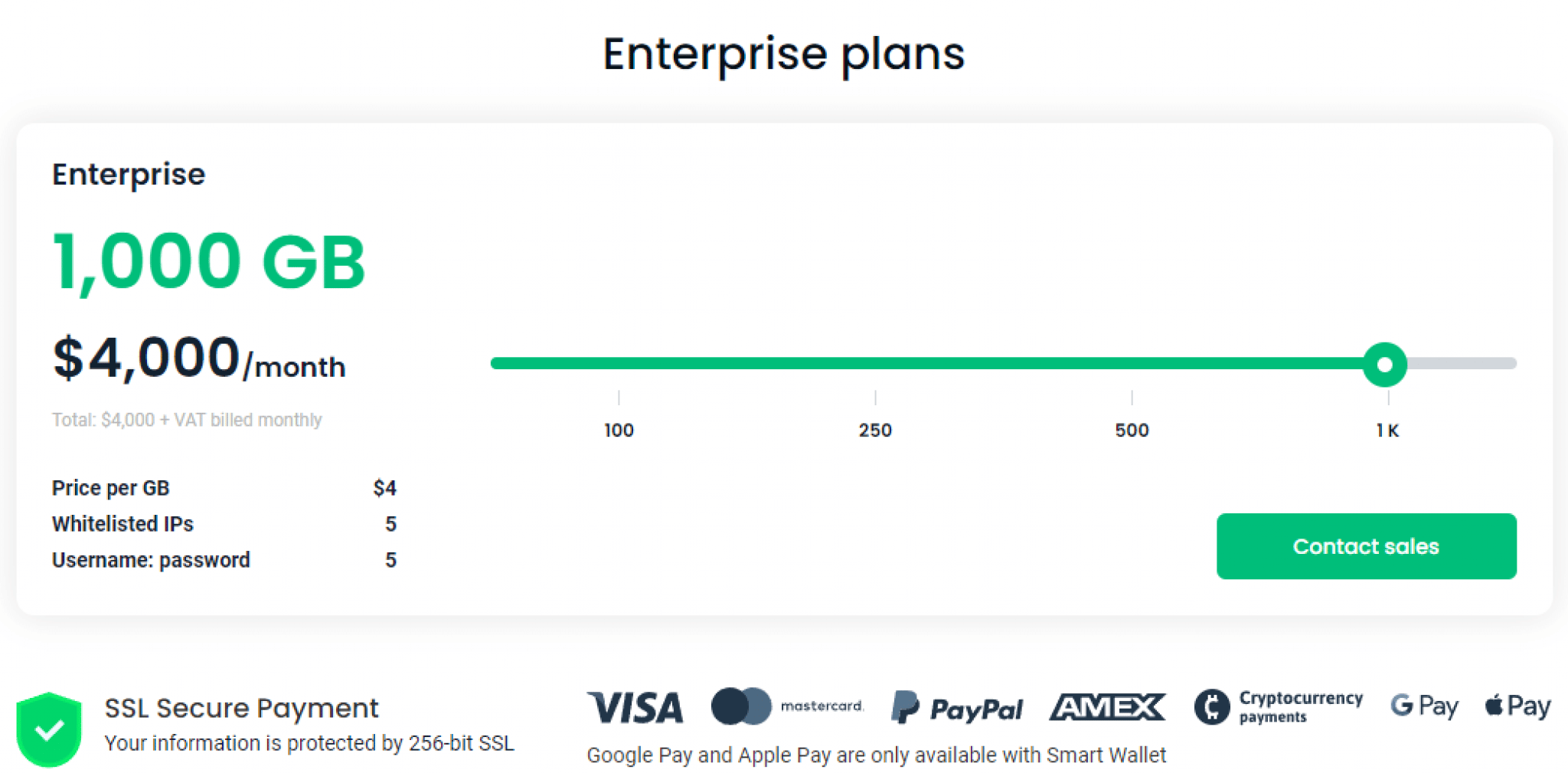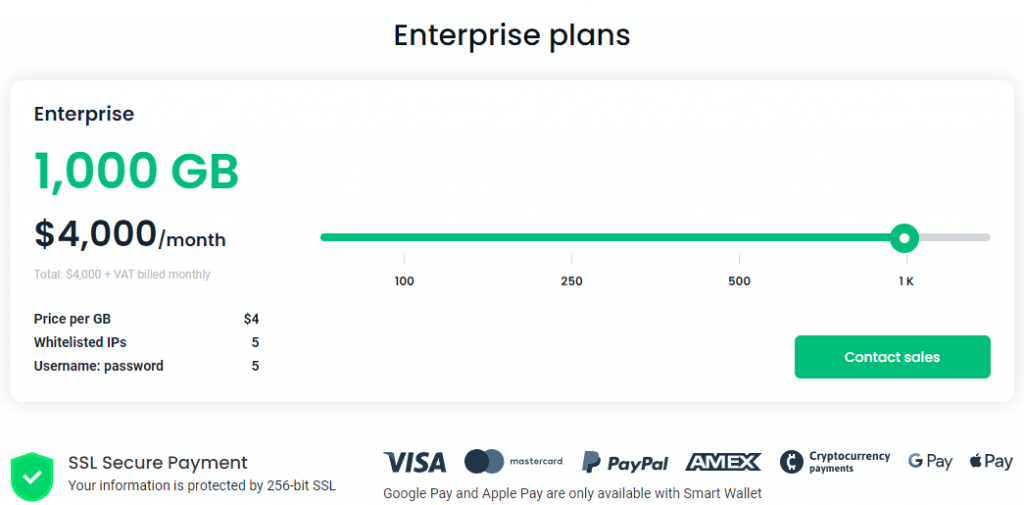 Their datacenter plans have seven tiers, starting from $30/50 GB. You can chat with them if you have a larger need.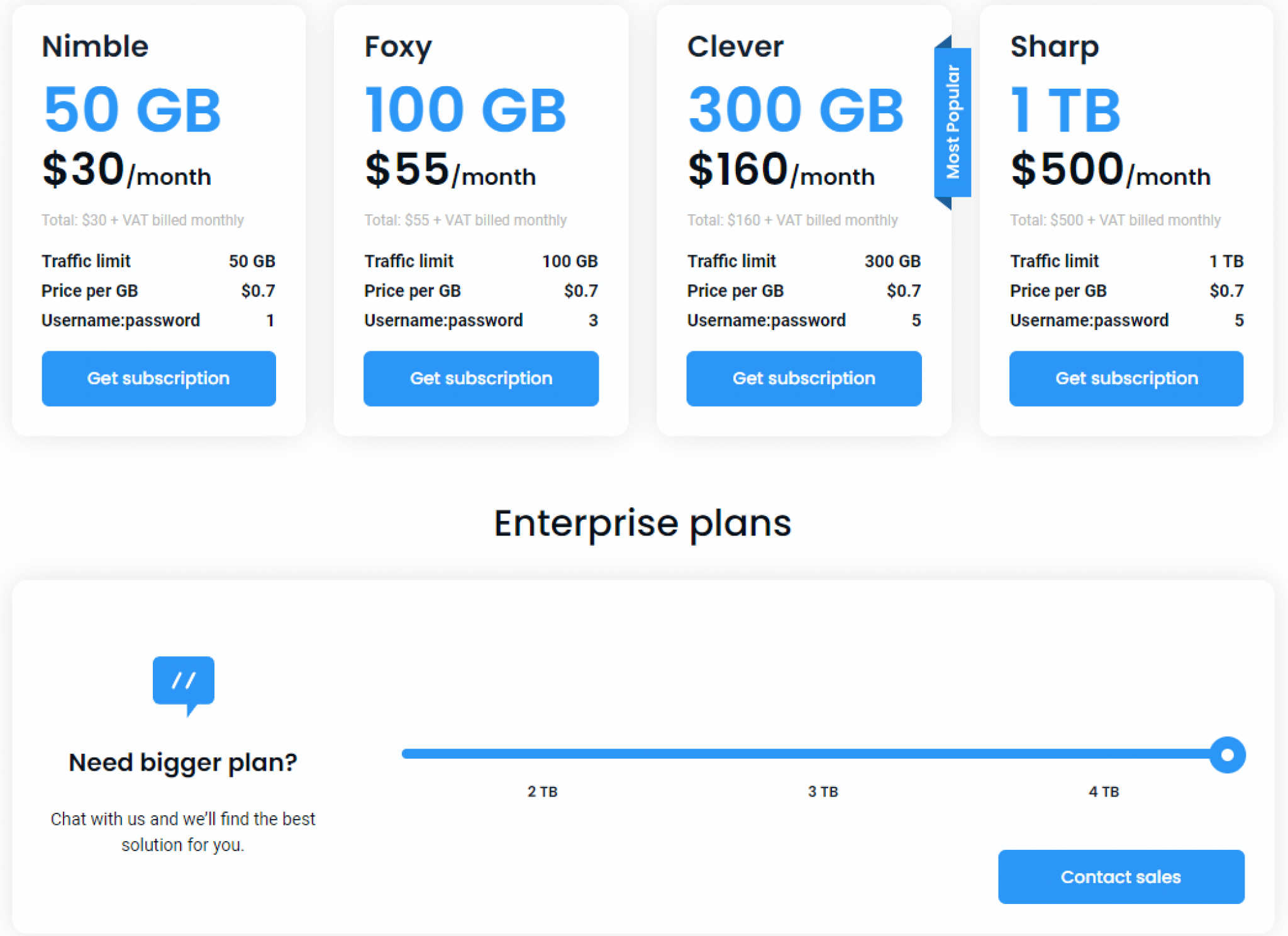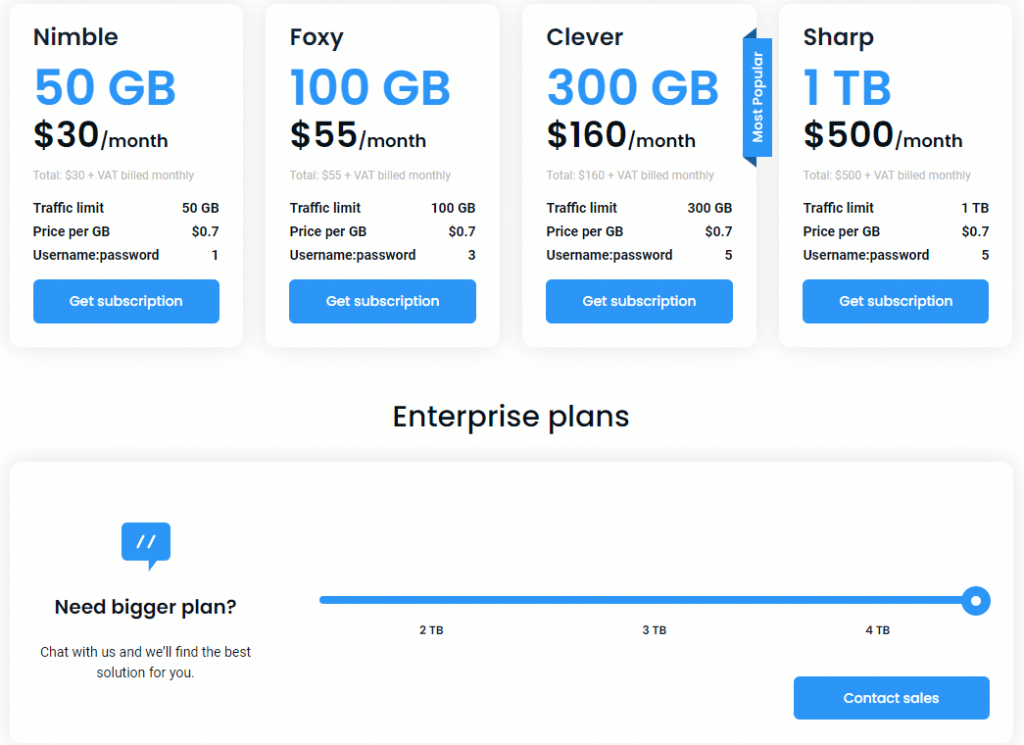 Again, all plans come with a 3-day money-back guarantee, even the cheapest plan.
You can pay with credit cards, PayPal, and Bitcoin (BTC), but you first need to register an account, which lets you access the proxy dashboard for proxy management and setup.
Features
Smartproxy.com gives you more than 40 million IP addresses, which is an insane amount! You get incredible levels of security, anonymity, and reliability. Sites will almost never see you connecting from the same IP address twice.
Geo-targeting lets your bots and software run smoothly and without blocks or restrictions in any country.
A professional customer support team is available 24/7 via email and live chat to help you.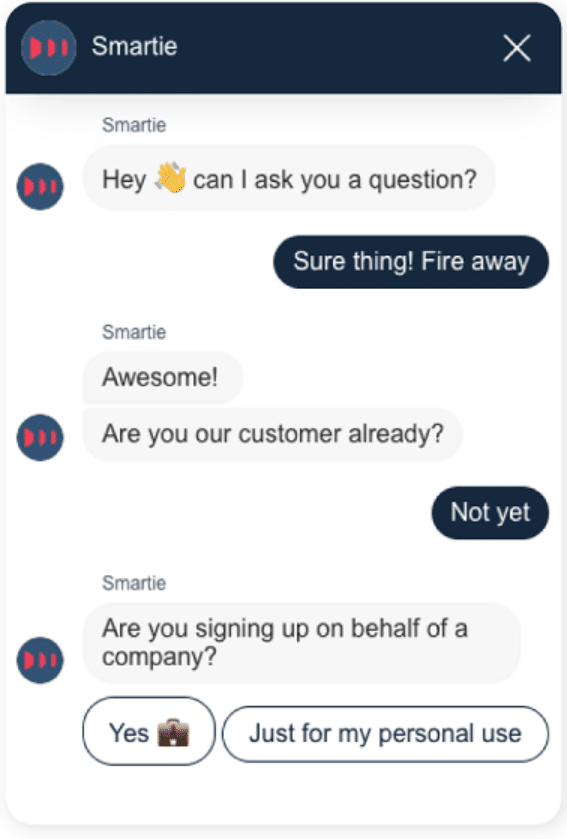 Smartproxy provides real residential IPs with high speed and reliability, with 99.99% uptime in the last year.
The locations of their datacenter proxies support US and EU, with an average speed is less than 0.3s.
Their network uses the best-performing and most popular IPv4 protocol and supports HTTP/S proxies.
You can try the service risk-free with a three-day money-back guarantee. If you don't like what Smartproxy gives you, no worries

You can put bots and automation software to the max gear because Smartproxy gives unlimited connections.
Since proxies are residential, they are very hard to ban because they do not share any subnetwork.
Rotating and sticky IP sessions: use the whole pool for each connection or keep one IP for 30 minutes.
Track and limit proxy usage with sub-users. Create a sub-user for any project, and you can track or set a limit for data that the project uses.
back to menu ↑
How to use Smartproxy?
For this review, I bought the STARTER package. It costs $200 per month. Okay, let's start by viewing their control panel (Dashboard) and see how to use the proxies before we start testing.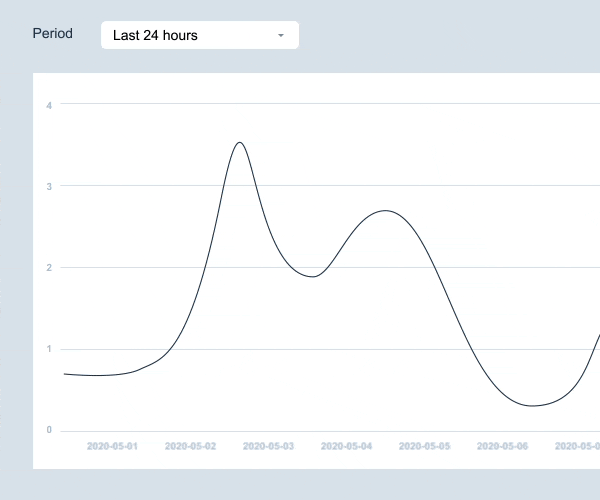 Smartproxy.com, like most good proxy providers these days, gives a simple way to manage proxies with a dashboard UI. Smartproxy is very simple to understand and use. You can monitor traffic usage and manage which IP location to use.
You can use Smartproxy's network in two ways:
Rotating Endpoints

This Endpoint type gives a new IP (rotates) for every request:
Gate.smartproxy.io:7000  (default)


If you use this IP:Port (endpoint), it will give a random IP from 10 million residential proxies for every new connection request. This type of endpoint is perfect for data scraping and web crawling or other similar tasks.
If you want only rotating (random) US IP addresses, use port 10000 and a specific country address, so for US IPs:
us.smartproxy.io:10000 (default)
This will give you a new US proxy for every connection.
Sticky IP Endpoints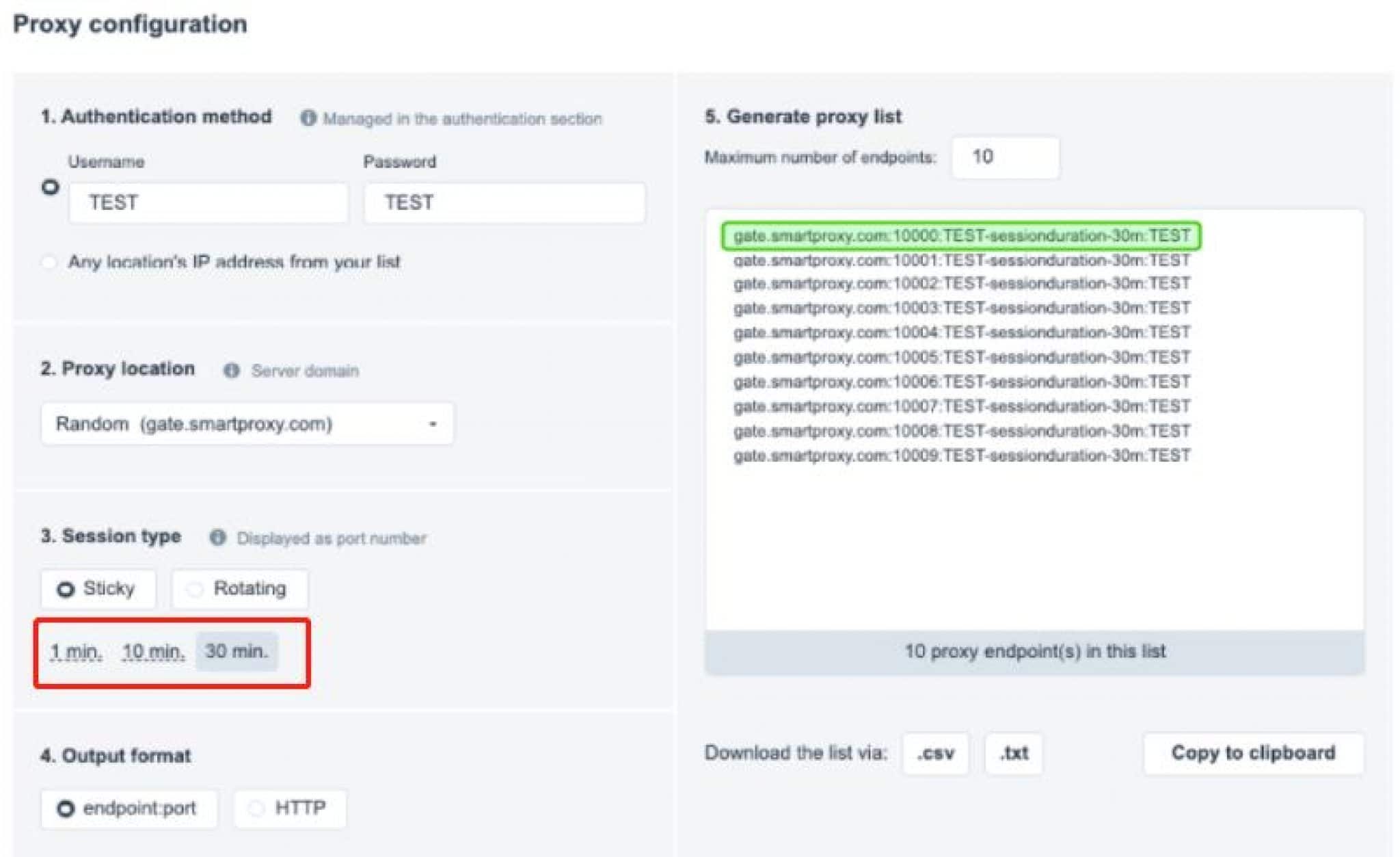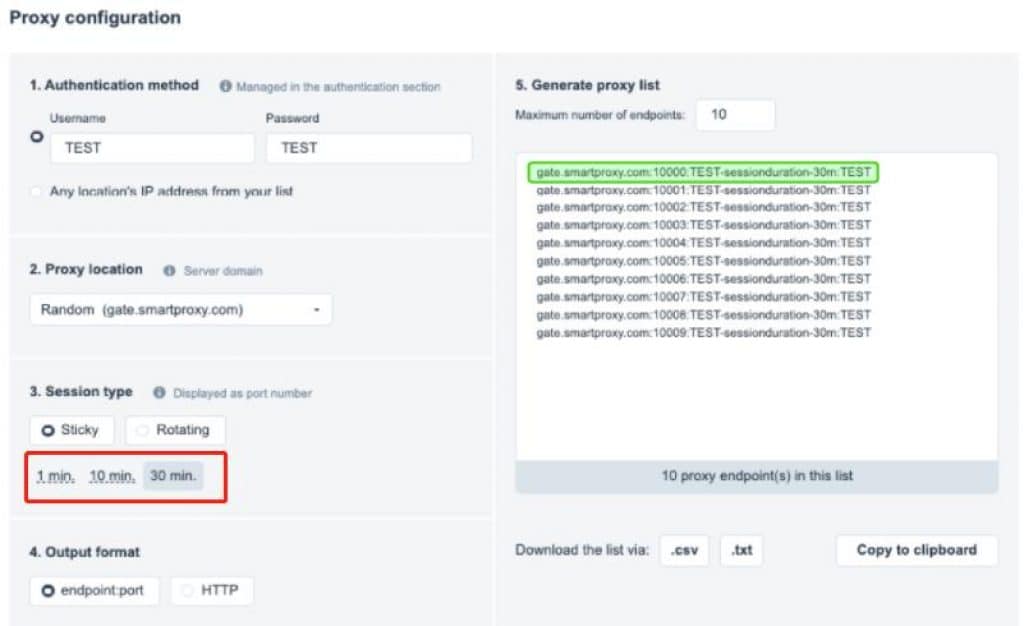 This Endpoint type gives you an IP for a longer time (up to 30 minutes).
To keep an IP for longer on Smartproxy.com, you have to use "Sticky Endpoints". You can find all the endpoints in the proxy dashboard after you register,
Smartproxy offers up to 10,000 ports for sticky IPs. So for a sticky US IP, you can use: us.smartproxy.com:ports (10001-19999)
So you can use 10,000 sticky IPs from each country at once, they rotate every 10 minutes or 30 minutes. If you need more sticky sessions, you can connect through a backconnect node, And let me show your a sample here,
us.smartproxy.io:17810


Authentication
Authentication is how you access the servers. There are two ways to do this, and Smartproxy.com offers both methods:
Standard username:password authentication. Simply use your account info to access Smartproxy proxies. With this method, you can access the proxy server from anywhere.

IP whitelisting Authorization: Using the smartproxy.io dashboard, you whitelist your personal IP address, so that any request coming from your network is allowed to go through. This is helpful because it makes accessing your server simple when you are pinging it from a single location.
Can you get proxies from a specific city from Smartproxy?
Yes, Smartproxy supports geo-targeting for cities through city endpoints like city.smartproxy.com:21050 for random residential IPs from Los Angeles or city.smartproxy.com:21051-21099 for sticky IPs from LA.
You can also use a backconnect node gate.smartproxy.com:7000 with a session ID parameter:
user-<privateproxy>-country-us-city-los_angeles-session-randomizedstring999:<password>


The "randomizedstring999" is a session ID. You can use unlimited session IDs to access a lot more proxies. As long as you keep sending requests with the same session ID, it will give you a sticky IP from Los Angeles for up to 30 minutes.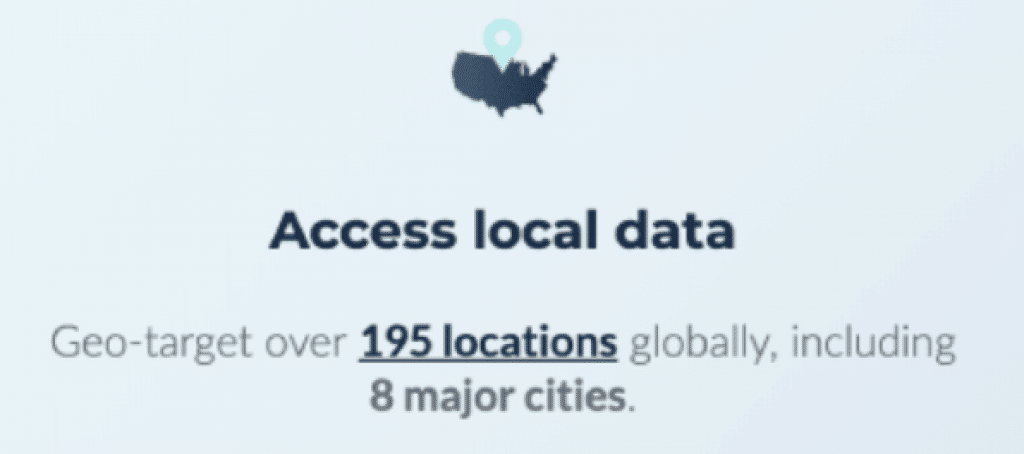 Now The smartproxy.com offer 8 specific cities targeted proxies,
New York, Los Angeles, Chicago, Houston, Miami, London, Berlin and Moscow
Can you get more sticky sessions with a same residential IP?
Yes, You can also use this single backconnect endpoint, smartproxy.io:7000 with sticky session parameter which passes along via username, such as,
user-<privateproxy>-country-us-city-los_angeles-session-randomizedstring452
The "randomizedstring452" is a random session which establishes a more sticky session, As long as you keep sending new requests with the same session ID and that IP address is online and available, it will stay the same for up to 5 minutes, or until you change session ID string.
That's mean As long as you keep sending new requests with the same session ID and that IP address is online and not change, If you stop sending requests after in 1-2 minutes (based on my test and I can not ensure the exact time), their system will assign a new proxy IP.
---
back to menu ↑
Our Smartproxy Speed Testing
To get accurate data for speed testing, I test proxy speed via my VPS, which is hosted on the vultr, the internet speed is fast, for it is run on the fast server.
Okay, Now let's test the speed of their US proxies, my server is in "Elk Grove Village." and I only test US proxies, I use the "us.smartproxy.com:17810" to test the speed.
And Do not expect too much on the speed of those Residential proxies, want to know why? Please read: Why Datacenter proxy much faster than residential proxies.
back to menu ↑
ISP Testing – Residential or not?
Okay, let's test their proxies. Are all IPs residential or not? Here is the information test from https://ipinfo.io/
Note the type is showing "hosting" which means the IP is a datacenter IP. When this shows up as an ISP, it is considered a Residential IP.
You should note one issue of smartproxy, That's the 30% – 40% their proxies in their pool are the IPv6 addresses. And now usually IPv6 address much cheaper than IPv4 address, That's the reason why the smartproxy is much cheaper than others.

Read more, Different between IPv4 and IPv6 Address
Here is the test result,
---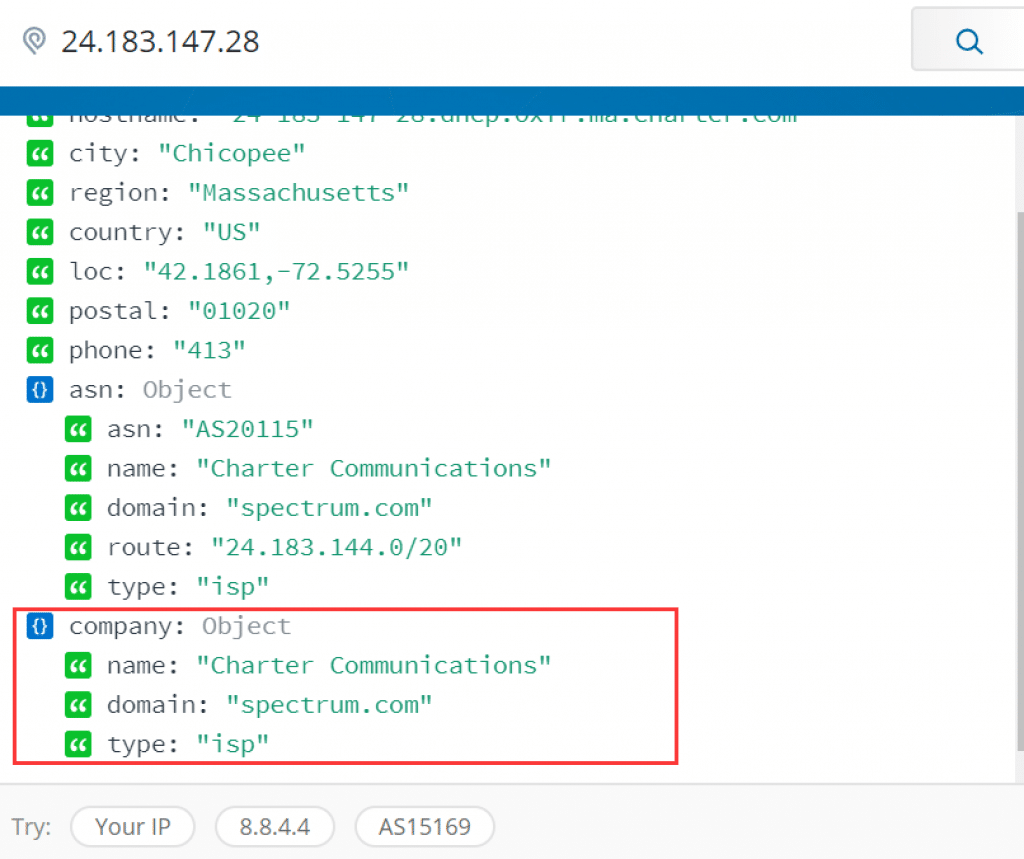 ---
hostname:
"pool-68-133-42-121.bflony.fios.verizon.net"
name:
"MCI Communications Services, Inc. d/b/a Verizon Business"
domain:
"verizonbusiness.com"
name:
"MCI Communications Services, Inc. d/b/a Verizon Business"
---
ip:
"2600:8804:8A40:78E0:249E:4523:FF7A:8119"
name:
"Cox Communications Inc."
route:
"2600:8804:8000::/35"
name:
"Cox Communications Inc."
---
hostname:
"c-73-183-246-87.hsd1.tx.comcast.net"
name:
"Comcast Cable Communications, LLC"
name:
"Comcast IP Services, L.L.C."
---
hostname:
"050-088-166-159.res.spectrum.com"
name:
"BRIGHT HOUSE NETWORKS, LLC"
name:
"Bright House Networks – CFL Division"
---
---
ip:
"2601:401:8001:3A9B:6A37:E9FF:FEB2:9633"
name:
"Comcast Cable Communications, LLC"
name:
"Comcast Cable Communications, LLC"
---
hostname:
"ip68-103-125-182.ks.ok.cox.net"
name:
"Cox Communications Inc."
name:
"Cox Communications Inc."
---
hostname:
"52-128-56-179.ptr.nxlink.com"
name:
"Nextlink Broadband"
name:
"Nextlink Broadband"
---
hostname:
"047-133-202-010.res.spectrum.com"
name:
"Charter Communications"
name:
"Charter Communications"
ip:
"2600:8804:8A40:78E0:249E:4523:FF7A:8119"
name:
"Cox Communications Inc."
route:
"2600:8804:8000::/35"
name:
"Cox Communications Inc."
---
back to menu ↑
Our Verdict
Smartproxy.com is one of the best premium proxy servers on the market today. They have packages for pretty much any needs you might have and support sneaker bots, social media marketing software, scrapers, etc.
Their speeds are super fast, and the locations are accurate. If you use proxies seriously and need the best rotating residential proxies, then Smartproxy is one of the best options out there right now. Nevertheless, if you are more of a casual user then this network might be overkill for your proxy needs.
Thanks for taking the time to read this review! If you have purchased a plan from Smartproxy in the past and have a review you'd like to share, feel free to leave it in the comments below. We'd love to hear your opinion!
PROS
40+ million residential IP addresses
Relatively fast proxy connection speeds
Easy to configure
User-friendly dashboard for proxy management
Around the clock customer support with fast response time
Unlimited connections with the backconnect node
All plans have three-day money back guarantee
Add your review
|
Read reviews and comments