Are you looking for scaling up your social media marketing? Have you ever heard of Massplanner? If Yes, you may feel pity for its closed!
No worry! Today, I would like to discuss one of the schedule posts software alternatives to Massplanner, which named Jarvee. Now it's the most popular social media bot!
Why do I recommend you use the Jarvee?

Social media marketing is more significant than ever. It is an extremely effective way to reach a substantial number of people and create long-lasting relationships, building trust, and communication.
However, social media marketing is also incredibly time-consuming if you do it manually. Luckily, marketing automation tools have gained popularity in recent years and for a good reason.
One of the best social media automation software tools, Jarvee helps many marketers grow their following and ensure their brand success.
What does Jarvee do?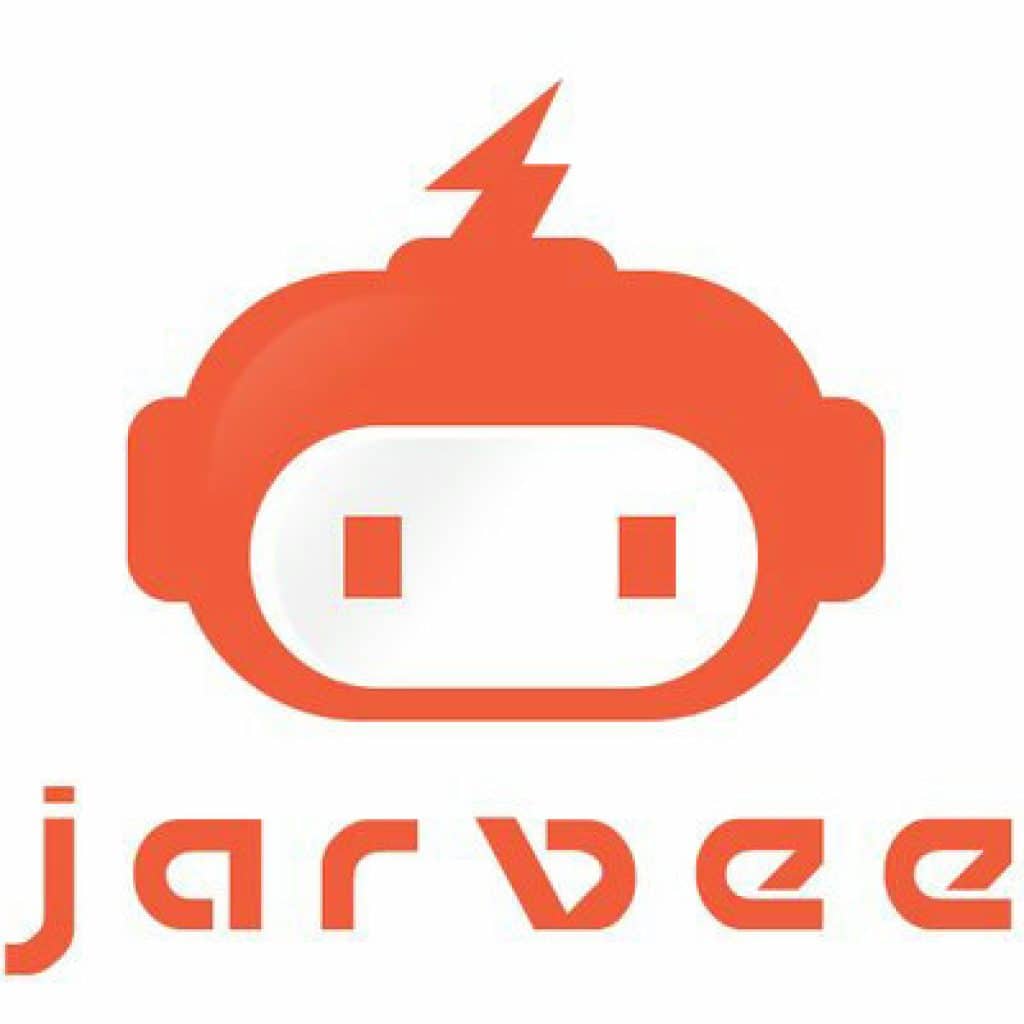 You can use it to automate your campaigns across various social networks, including the following:
Facebook
Instagram
Twitter
LinkedIn
Pinterest
Jarvee works on all the major social media platforms. You can use it to schedule all of your posts on them, going live at the best times, and getting maximum engagement.
Also, Jarvee has a customized approach for each of the major social networks:
Facebook Automation
It finds, joins, and unjoins niche groups, finds and contacts potential customers, and posts on your Facebook page.
Instagram Automation
Jarvee follows and follows back, but it can also unfollow users. It reposts, auto-likes, deletes, and comments on posts. Finally, it manages direct messages and uses hashtags.

Twitter Automation
When it comes to the fastest social media platform, Jarvee tweets from RSS, and manages Twitter mentions. Also, some of its features include auto-favorite and re-tweet, as well as auto-follow, follow back, and unfollow.
LinkedIn Automation
Jarvee helps you expand your professional network by auto-finding, joining, and unjoining groups relevant to your industry. Besides, it can auto-view profiles and invite friends to your groups.
Pinterest Automation, Youtube Automation and more…
---
But there's a catch
Now, you probably think that this may be too good to be true. How can a software automation tool be that powerful? There must be a catch somewhere.
And you are right. There is a catch.
back to menu ↑
Why you need proxies for multiple accounts?
When you run multiple social media accounts with Jarvee, you have to use the Proxies!
Why? Here is a post that discussed why the proxies needed for Instagram Automation.
When you are using Jarvee to manage multiple social media accounts, all your requests of all accounts on Jarvee sent from one IP address! The social network servers can easily detect when multiple accounts are managed from a single IP address! Your IP address will most likely get blocked.
There are lots of dedicated datacenter proxy providers online. You can easily set up those dedicated proxies on Jarvee.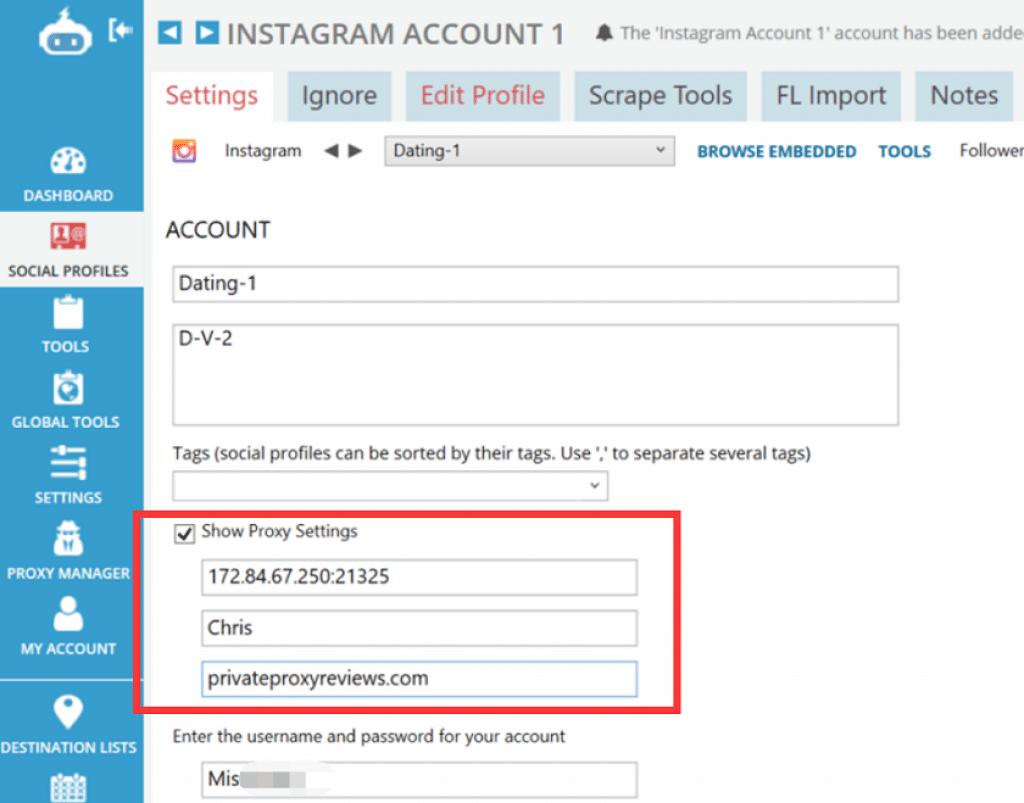 However, some IPs of the datacenter have blocked by Instagram, such as vultr, Linode and more! Lots of accounts have blocked by IG for those "dirty IPs".
Luckily, Now more and more residential IP proxies providers are appearing, compare with datacenter IPs. It's much harder to detect when to compare to residential IPs.
And lots of guys who never used those types of proxies before, Set up residential proxies for Jarvee, maybe a little puzzled for lots of guys who not familiar with it! Geosurf is a good option and really easy to use.

So, Here I plan to let you know how to set up GeoSurf – that's one of the easy to use residential IP proxies for Jarvee! Before you set up the Geosurf proxies, You need to know the Geosurf proxies details at first.
back to menu ↑
Which type of Geosurf Gateway good for Jarvee
There is nothing that you can't solve with some help from another fantastic tool – GeoSurf.
When using GeoSurf as shown in this example, there are two ways of connecting you can choose:
Note: 100% Can not use High Rotation for social accounts!


Sticky IP GeoSurf Gateways
This type of GeoSurf Gateways that control by port, you can use the Port to handle GEO location, and use whitelisted IPs to authenticate.
HOST:PORT – this being enabled after you have whitelisted your source IP on GeoSurf's dashboard and no need in Username/password authentication.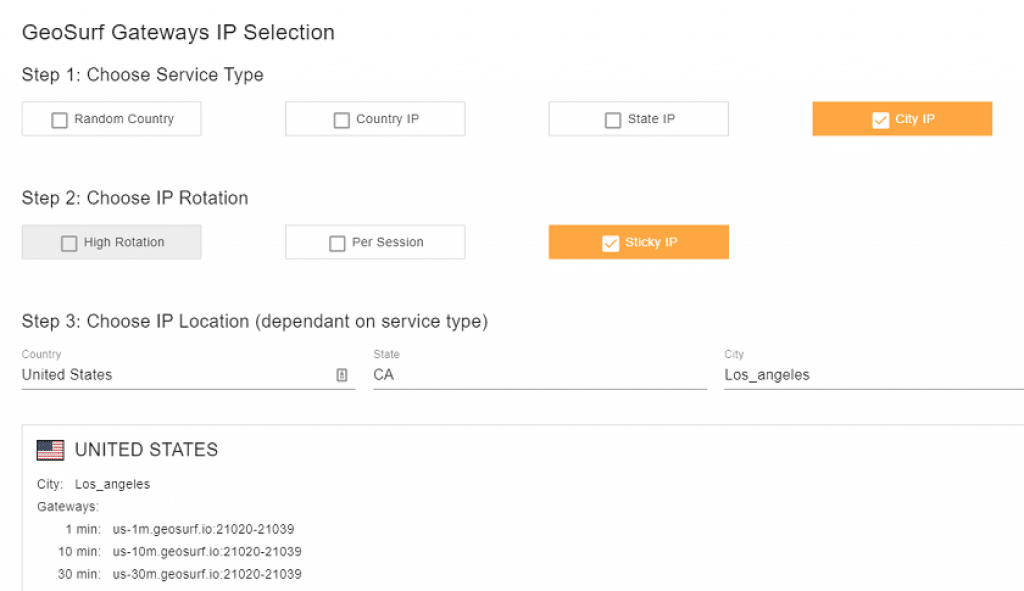 1 min: us-1m.geosurf.io:21020-21039
10 min: us-10m.geosurf.io:21020-21039
30 min: us-30m.geosurf.io:21020-21039
And when using this type of Sticky IP proxies, that's no need to Username/Password, but you need to add your IPs on their system.
Go to Manager IPs in the dashboard like the below screenshot.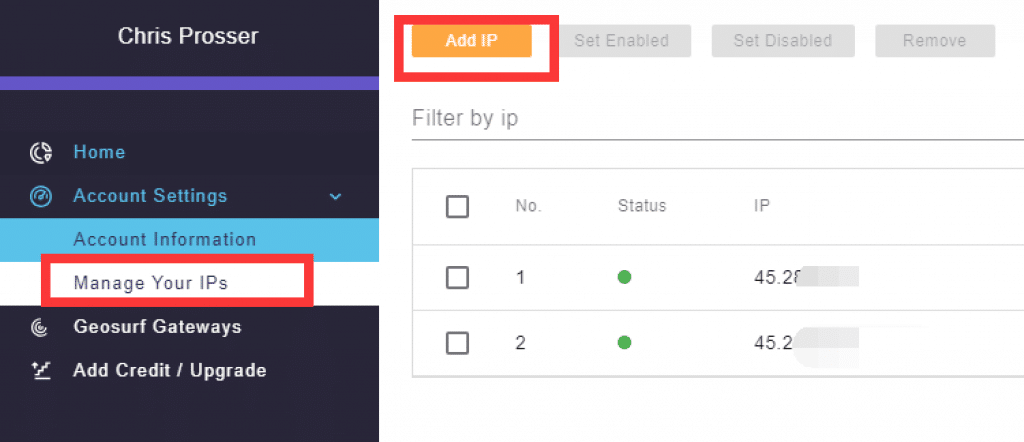 Session GeoSurf Gateways
This type of GeoSurf Gateways that control by Session use username,  You can use Username to handle the GEO location, and Username/Password to authenticate.
This method allows connecting with Username/Password in case there are a lot of IP that needs to be added or a dynamic source IP. (Controlling the rotation of IPs by changing the Session in the Username).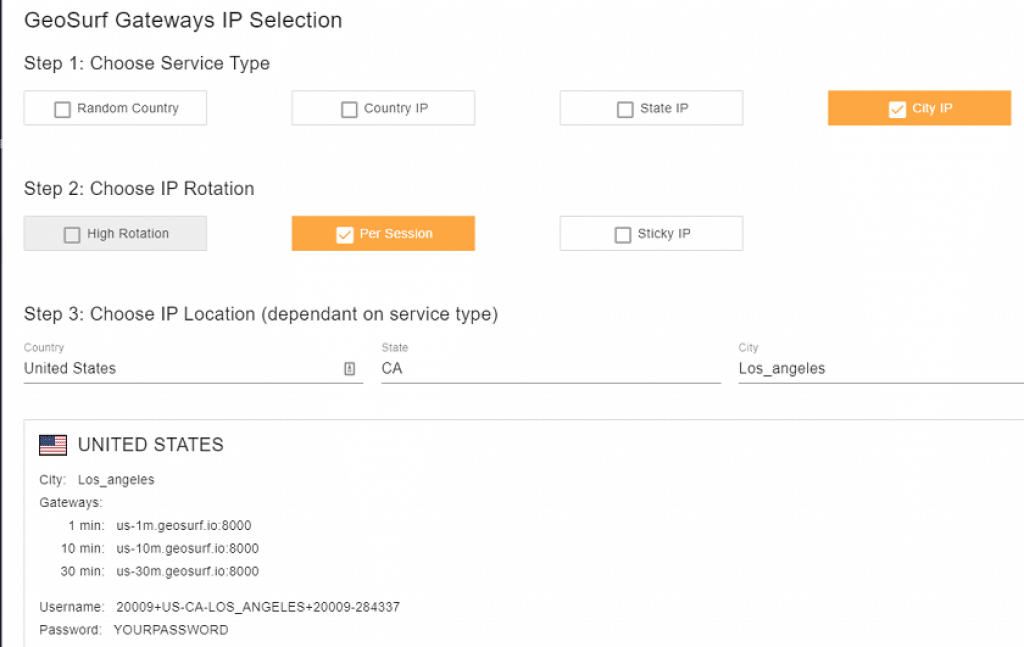 1 min: us-1m.geosurf.io:8000
10 min: us-10m.geosurf.io:8000
30 min: us-30m.geosurf.io:8000
Username: 20009+US-CA-LOS_ANGELES+20009-190505
Password: YOURPASSWORD

back to menu ↑
How to setup residential proxies in Jarvee
GeoSurf is fully compatible with Jarvee, and you can read how to integrate them in the tutorial below.
To set up the proxies in Jarvee, There are two places you can add your proxies, The one when you add accounts, another is at Proxy Manager.
Setting Up Proxy when adding a profile
One place at social profiles when you "add profile" or edit profile for your social account. You can add/edit your proxies detail!
Step by step tutorial to add the proxies on the Jarvee
1. First, Click "Social profiles" then click "Add profile" <1>.
2. Then a pop-up window show, choose "Add profile" <2>, Here we add the Instagram account as the sample.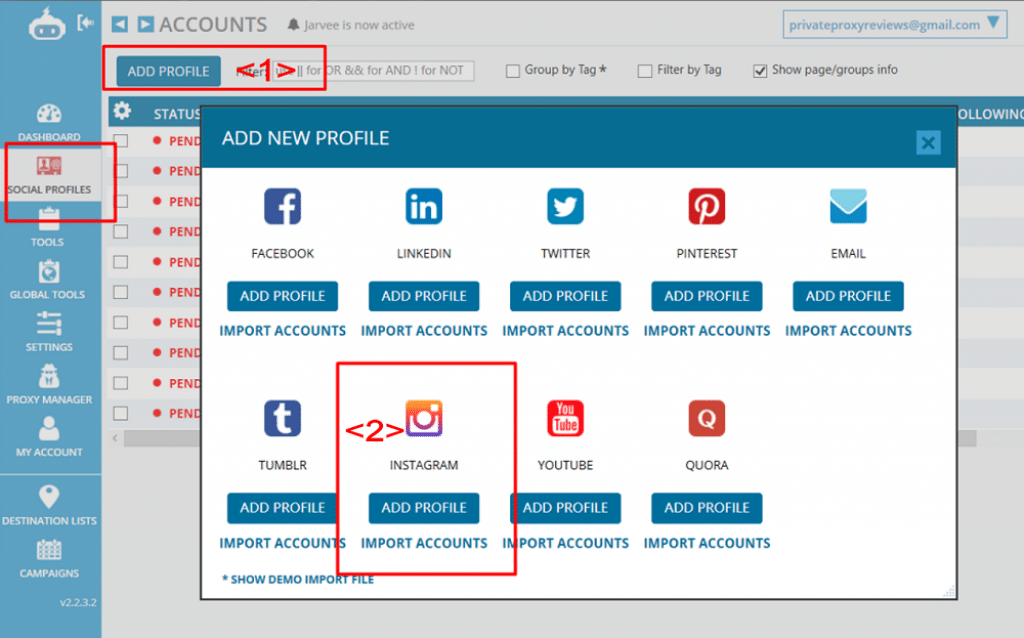 3. Then you can fill in your proxy details.
Setting Up Proxies on the Proxy Manager
Another place you can add proxy or edit proxies on the "Proxy Manager", Easily click "Proxy Manager", all your proxies will be shown as a list.
From here, you can manage all the proxies for different social profiles. From the social profiles, you can allocate your account to a different proxy! For Instagram, I suggest you use the 1:1 ratio of accounts to proxies.
After select Add a single proxy, a line will appear which need to be filled in the Proxy Manager:


On Proxy Manager, you'll have more options to handle the proxies! Such as you can "Import proxy" that means you can import a file containing the proxy list, You can Export your proxies use "Export proxy" that similar to "Import proxy", And you can Check/test you proxies on the Proxy Manager.
Also, you can adjust your proxies to a different account from "social profiles", like you can set 2-5 accounts on a proxy, This is highly not recommended! Just show you this function.

Again, for Instagram, We still suggest you use one proxy for one account, no matter its datacentre or residential IPs, and that's much easy to handle.
Note: Choose City IP that much safer to your accounts!
Note that with GeoSurf you can tweak the proxy settings and connect to all countries and cities in the world. I advise you configure the Gateway for the geolocation of based on your location and your needs.
For that we will go to "GeoSurf Gateways", choose the service type (Country IP/state IP/city IP) and the IP rotation (Session, Sticky).
---
Our conclusion, Jarve works great with GeoSurf. This residential proxy compliments the Instagram automation using real user's IPs, which allows us to create and operate multiple accounts on any social media without getting blocked and to be connected from the same Geolocation you set in Jarvee's profile.
Using the combination of these services allows marketing teams and freelancers to achieve good results on the social media channels.