As we all know,Your IP Address is your identity on the web world and those websites whom you visit comes to know about you from the IP address with which you visit them.
Hence,when you are up to some work where you do not want to disclose your information you use the proxy server or VPN that show another IP address of different location.
[Update on Sep,05 2017]
There are many reasons for which you will need a proxy. Sometimes it may be because you do not want to get identified easily while using online resources or may be because you do not want any red flag from any website such as Craigslist, Ticketmaster, StubHub or Nike and other footsites. And while choosing one IP of proxy to be used by you are with many choices.Whatever,what is the reason while you are using a proxy server you must be using either of the two that is either a Datacenter proxies. or Residential backconnect proxies.
In the previous post, I've introduced the Different between IPv4 and IPv6 Address that's classify the IP by technology standard. Today I will compare residential IP address and Datacenter IP address that's classify by Type of internet connection.Before you know in details the difference between the two, let's explore what they are.
What is the datacenter IP address?
A datacenter based IP address is not directly allotted by any ISP and neither have they provided you with internet connection. Generally the IP address rent by hosting or VPS providers, DNS system or other cloud application service, ect. The datacenter IP address provide many application, such as DNS System management,Dedicated ip for website,Cloud CDN and so on. Here is a datacenter IP address – 162.158.178.187 that's belong to CloudFlare.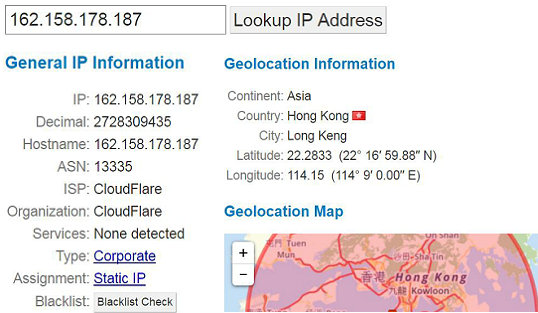 For special, datacenter proxies are used for hiding or changing the IP address. These proxies acts as a wall between you and those who want to look at you through internet. They help you be anonymous as they mask your residential IP address by the data center IP.
There are many reasons for which a datacenter proxy is used but as already mentioned anonymity is the primary reason for using a datacenter proxy. With datacenter proxies you can hide your information from the world. If you are trying to scrape any data or want to visit any site like on Nike, adidas or other footsites, that is banned in your locality, you can do it easily with these datacenter proxies as they cannot be traced back to your ISP.
To get these IP address you need to contact the providers who will provide you with such IPs in batches that can be used over a period of time usually monthly.
How Datacenter proxies works
From the name of "Datacenter proxies" that's easy to comprehend how it works.The proxies are hosted on dedicated servers in Datacenter. The dedicated server acts as an intermediary between the your computer and destination of servers.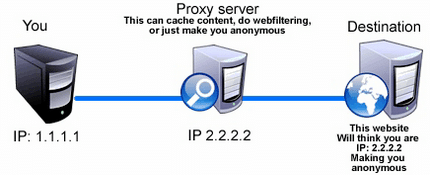 The Datacenter IP address usually is cost $2 per proxy. Mainly have two type of authentication methods,
1.Username/Password.
If you're use Username/Password to authenticate,you have to use the proxies as
IP:PORT:Username:Password
2.IP authentication.
Use your Residential IP address by ISP to authenticate,
If you're use IP authentication, the format just use as public proxies.
IP:PORT
The one "IP:PORT" means one proxy,so, if you want to get more location you need to buy more proxies,and the IPs are belong to data center's and servers.
Where to get the DataCenter proxies?
It's really not difficult to find the DataCenter IP proxy service, And the almost all of dedicated private proxy service provide the Datacenter proxies. you can easily visit to ours home page to find one, the dedicated proxies are the most fast proxies which are widely use for internet marketing.
Top 5 DataCenter proxies Providers,
| RANK | PROVIDER | PRICE | REVIEW | LINK |
| --- | --- | --- | --- | --- |
| 1 | | 10 Proxies - $23.70/mo | | |
| 2 | | 10 Proxies - $24.00/mo | | |
| 3 | | 10 Proxies - $22.65/mo | | |
| 5 | | 10 Proxies - $20.00/mo | | |
| 4 | | 10 Proxies - $23.00/mo | | |
What is the Residential IP address?
Normally when you take an internet connection you get an address for that and a residential IP is provided to you by an ISP – Internet Service Provider.It's usually Real BroadBand, local DSL(digital subscriber line) or cable.Once you start a new internet connection you get an IP address to surf online.
To know about it, you can go to a websites named whatismyipaddress.com, on this site you can check your IP there. Apart from knowing the IP itself you can also know about the rough location of your IP and the ISP name.Here let me show your a example,the IP address 75.56.169.97 that belong to the AT&T Internet Services. So, No need to talk about more about Residential IP, for you can easily see you IP address that's just the Residential IP.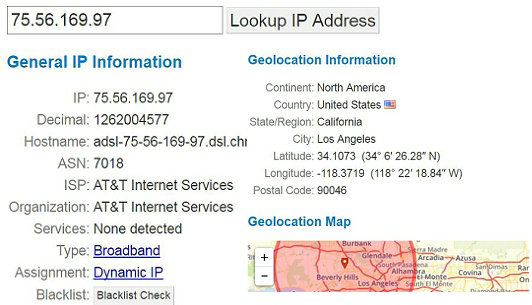 And usually Residential IP are dynamic IP address that been managed and shared by your ISP.That's mean if you reboot your router or netwoks,your IP address may be changed.
How Residential backconnect proxies works
The residential proxies also acts as an intermediary between the your computer and destination of servers.But the middleman not dedicated servers in Datacenter,that's residential DSL or cable provide by internet users.
Here is another post which Guide to How Residential Proxies works? 
Generally speaking,The Residential backconnect proxy providers offer P2P routing service.For example,one of the most well know Residential ip providers named luminati which run hola which ia free p2p VPN service,Yep,There is no free lunch,So you may know how it's works.
The backconnect proxies also refer as rotating proxies.You get a "IP:port" of getaway server may be such as 127.0.0.1:555, it's same as other proxy works,The emphasis is the behind of this "IP:port" of gateways server that sent the request to rotating proxies in the IP pool of P2P proxy networks.

So,Unlike Datacenter proxies that's use a list of "IP:PORT",with one listening IP you can get lots of ip address.Each listen IP and corresponding port will automatically change IP's every 5 minutes or 10 minutes,also some of backconnect proxy service offer "Rotate IP address with every HTTP request" such as storm proxies.
The IP-Pool is a "dynamic" database that shared by the P2P network user,The IP's are constantly being added and checked. The one Port of backconnect proxy means one Threads.
Where to get the Residential proxies?
As i have already mentioned about luminati which is a well-known residential proxies provider, but only offer proxies for Business use and the minimum order cost $500.
Also, there are not many proxy providers offer the residential proxies compare with DataCenter proxy providers, It's do really a little not safe to use the residential proxies, but the Residential IP address is unlikely to blocked by the websites, So Residential proxies are good for Data scraping and copping sneaker on adidas, Nike and Supreme.
Top 5 Residential proxies Providers,
| RANK | PROVIDER | PRICE | REVIEW | LINK |
| --- | --- | --- | --- | --- |
| 1 | | 40 Gb - $500.00/mo | | |
| 2 | | 20 Ports – $160/mo | | |
| 4 | | 10 Ports - $24.00/mo | | |
| 3 | | 20 GB - $300.00/mo | | |
| 5 | | 50 Threads - $40.00/mo | | |
Compare Datacenter proxies with Residential proxies
Both the Datacenter and Residential proxies have anonymity in common. Although you cannot get them very easily but for anonymity they too are quite useful. Just think that actually you are residing in US but showing your residential address of Argentina! Both the proxies can actually give an idea that your IP is from another location thus hiding your real location.
Now, the question that arises is that what the difference between the tpye of the Datacenter and Residential Proxies.It must be clear from the definition itself that while residential IP are provide by the ISP and the data center proxies are to be fetched from any other service provider.Here i will analyse some of key parameter to Compare,Then you should know, what's type of proxies more suitable for you!
Advantage of Datacenter proxies
No doubt Data center proxies are fast than Residential proxies, almost all the paid dedicated proxies are hosted on Super Fast dedicated Servers, and Now Datacenters are distributed in all over the world, it's easy to find a proxy that located near in your place, you can get fast internet connection than the residential DSL or cable.
So, that's why lots of guys use windows server and private proxies on sneaker bot to cop shoes.Yes,for all of foot websites are also located in Data center, If you're only use home connection it's hard to win the game now.
More Stable Performance with good uptime
Now dedicated server in Data centers usually have 99.9% uptime, that's mean Datacenter proxies have 99.9% uptime. There are means the Data center proxies will give you themore good performance on reliability.
The Cons about residential proxies main by the P2P network, some Proxy may fast, some may slow for used by lots of user at one time. Also, some time may slow when the user just download stuff or watching streaming movies.
Also, The users on "p2p network" may closed their PC or application at any time, so the network connections may be interrupted at every instant,  so the IP address can not use any more, that's why the residential proxies providers use Backconnect proxies as Getaway IP:PORT (Fixed) to handle the vary IP address.
There are very fewer providers who deal with residential proxies and when something is few and its demand is high the cost to own them will also be high.As it is difficult to get residential proxies in comparison to datacenter IPs they are costly in contrast to the datacenter proxies.
You can easily buy a proxy that's just cost $2 per proxy that's you can surf online.and if use "10 Threads" Package on Backconnect Proxy that's cost more than $10,but it's only can use on tools,can't use for surfing the web for loading CSS files, Javascript code,tracking code and images that's more than 10 tasks.
Advantage of Residential Proxies
Residential IPs more Trusted by Web Servers

Now lots of websites are stop "robots" to access their websites, and some of websites collect the IPs which sent too much requests at short time, so if you're use the proxies like a "robots" you IP will be marked and blacklisted.
When it comes to getting blacklisted both the residential proxies and datacenter proxies have chances of getting black listed. If the users are not careful while they are using the proxies it is natural that there are high chances of getting caught and the result of which be black listing of the proxies.
As we all know, Sometimes the data center IP addresses are linked with immoral work like spamming or scarping data from any website. On the other hand the residential IPs is not. When datacenter IPs are linked with such work that are detrimental to the interest of any website they are becoming careful about them.
Whenever any website traces any data center IP associated from any link entering their website they become careful as it may be a probable attack from any other website. So that's why the datacenter IPs are more possible been flaged or banned by the websites.
So, Residential proxies are more trusted by web servers than the datacenter proxies, So chances of residential proxies getting blacklisted are comparatively low.
Hence, in the web world they are considered to be trusted than the data center IPs. The security centers consider the residential proxies more Natural than the data center proxies.
Residential Proxies works as P2P networks

Residential proxies are more natural than the data center proxies because it is easy to get hundreds of data center proxies easily but that is not possible with residential Proxies.
For the Residential IPs are used by real DSL or cable, so you can not get good uptime, so there are no one can give you hundreds dedicated residential proxies.
So in another way,The residential proxy service offer the Residential IPs works as P2P networks, offer the Residential IPs as backconnect proxy, with a backconnect proxy you may be access to lots of Residential IPs.
So if some website blocked the data center IPs such as Nike.com or adidas.com where residential proxies are useful, So you will have to use residential proxy connections to bypass it, and you may use lots of residential IPs which in P2P networks.
Conclusion
With all this, the main difference between the two type of proxies must be clear to you. Depending upon the nature of your requirement from proxies you can choose any one type of proxy. If you are want to fast and reliable proxy connection for carrying on your online work, there is no doubt that the data center proxies should be your first choice.
On the other hand if you want to feel more natural and want to use more IP address or task for your project, such as account creation, Web scraping and more,You should try out residential proxies.
To end the note when you want to hide yourself from the web world, whatever the reason may be, proxies will be best mate. Most of the time the datacenter proxies are works well.But on some website, IP-filtering may cause the datacenter IPs are red flagged and hence then you have to depend upon the residential proxies.