---
Blazing Proxies have founded by blazingseollc from 2015. Blazingseollc not only offer proxies but also ocr/text captcha solving, archive org scraper. That's a new proxy service starting their business on BHW. All their proxies are hosted on dedicated servers that are running only at 20-30% CPU and RAM, and they're on 1 Gbps dedicated network line each.
Blazing SEO LLC also set up a custom API that you can use to automatically buy/replace/cancel proxies and you can setup it on GSA SER to automatically grab your proxies at a certain interval and 80% of their users main for GSA Proxies. And No Software Restrictions, The another feature — Blazing Proxies will allow unlimited/unmetered bandwidth to all your purchases and promise their IPs WILL NOT be oversold to other customers.
Blazing Proxies now offer 3 different type of proxies across 4 countries – USA, Germany, Brazil, and South Africa. Support HTTP(s) and SOCKS protocols. And here is the price plan for USA proxies, the price of Germany, Brazil, and South Africa proxies is more expensive than USA IPs.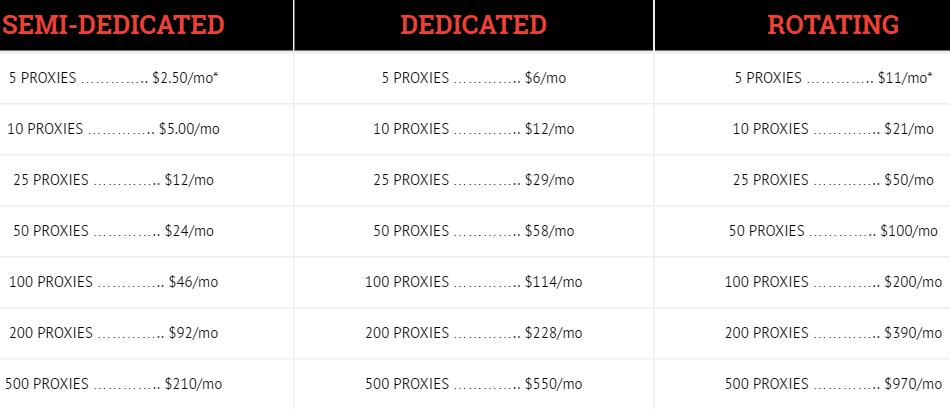 Note: All Packages of IPs are recycle IPs That's the reason much cheaper than other private proxies providers ,  If you need the virgin IPs you have to contact their support…
Dedicated Proxies
These proxies are FAST and only used by you. No other user will have access to them. The are a bit more expensive than Semi-Dedicated proxies below, but that's because you desire the fastest speeds possible. These proxies are ideal for software like GSA SER that simply run faster when you have access to faster proxies. Our speeds indicate an average latency of 0.1 – 0.9 seconds… if you choose Semi-Dedicated proxies your speeds are likely to be x3 as slow, which means x3 slower link building.
If you're want to use the proxies for socia marketing, You have to choose this exclusive proxies, that's no need to worry about the accounts banned by other user.
Semi-Dedicated Proxies
These proxies are also fast, but not as fast as Dedicated Proxies. They will be shared between a MAX of 3 users. Not only do you sacrifice speed, but this means 2 other users are burning the proxies on potentially the same sites you are using them for.
HOWEVER, these prices are substantially cheaper, so if you're on a budget these are the ones you want. Both dedicated and semi-dedicated have truly unlimited threads and bandwidth.
Sneaker Proxies
The proxies are also dedicated proxies and  special for footsites. But you should note that the  Sneaker Proxies are ZERO REFUND POLICY! Blazingseollc do NOT guarantee proxies to work for any sneaker site…That's means the proxies may be banned already…
Rotating Private Proxies
These proxies are used only by you at any given time, but every 10 minutes your proxy will rotate to a NEW private proxy. What this means is that you have access to a large pool of IP address, However everyone else who buys Rotating proxies also has access to this same pool (meaning the proxies may be burned for your uses).
Their some thing you should know, Blazing ROTATING proxies do not work for scraping specifically on Google! And Do limit you to 10 threads per proxy.
Our Review on Blazing Proxies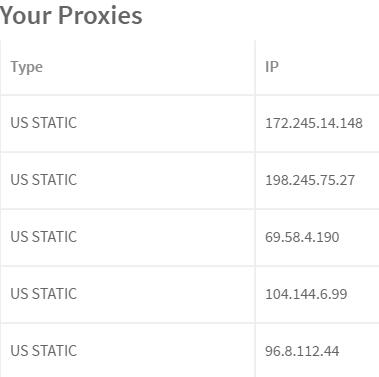 I've purchased 5 private proxies for testing, Their control panel is easy to use & setup. I choose the 'Mixed' cities option, so i get non sequential IPs after 10 minutes so it's auto deliver.
The proxies are fast with good uptime. And it's works well on GSA, i also test it on instagram, 2 proxies works on it and 3 proxy show "The proxy server is refusing connections", compare with the price that's acceptable, but if you're serious on use the proxies for social media marketing I suggest you use other special proxies for IG.
You may be like to find Our Recommend Instagram proxy services.
Our Verdict
BlazingSEOLLC offer cheaper proxies with fast speed and takes the proxy business seriously, always provide a quick support, For their price is very competitive, it's a cost-effective proxy provider as instant proxies.