---
How to Setup Proxies on Multilogin
Multilogin wouldn't force you to set up proxies even though they are required if you need to manage multiple profiles on the same site in other to have unique fingerprints for each of the profiles. You can make a choice of a provider from the above. With the provider chosen and proxies paid for, follow the steps below to set up the proxies.
1. Get the proxy IP address, port, protocol, and username, and password from the provider. It should be available in the user dashboard for most providers. If you cannot find it, ask the provider.
2. Login to Multilogin and click on "Create new".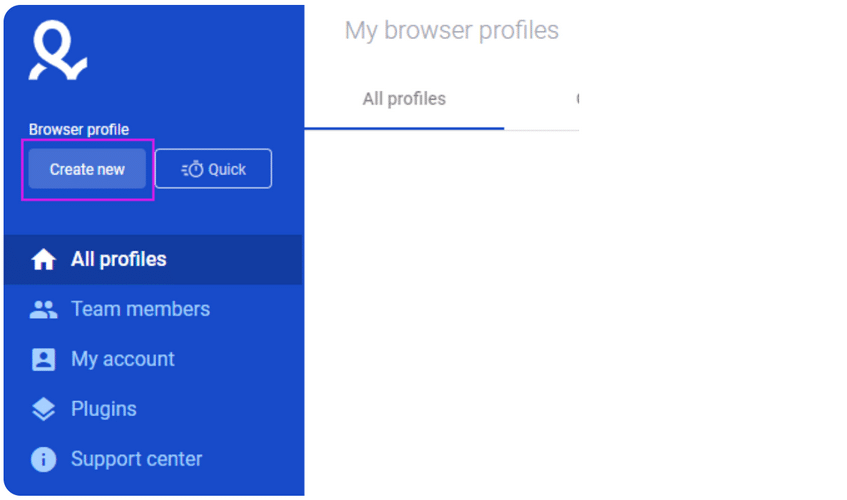 3. There are some navigation tabs on the left-hand side of the interface. Click on "Proxy"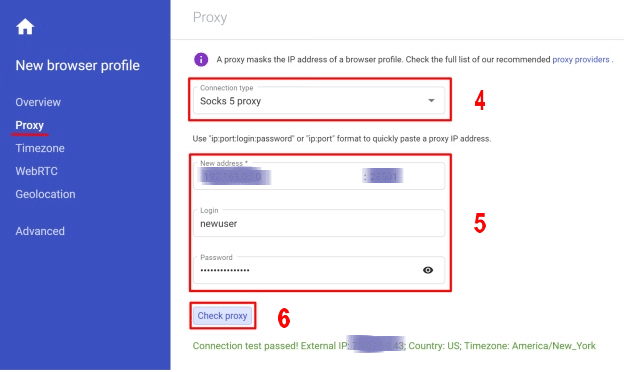 4. Choose the connection type - HTTP, Socks4, or Socks5
5. Enter the proxy IP address, port, username, and password as provided by the proxy provider. Some proxies do not make use of usernames and passwords for authentication. In that case, you can keep the fields empty.
6. Click on "Check proxy" to verify if the proxy works. If it does, you will see "Connection test passed" else, it would be "Connection test failed"
---
What is Multilogin?
Multilogin is multiple browser profiles that allow you to create as many browser profiles as you want, each having its own separate browser environment and configuration such as separate cookies, local storage, user agent, and other browser fingerprints. It is used for managing multiple accounts on platforms that do not support a user having multiple accounts and requires proxies to be effective at that.
Multilogin is the first and most popular true multiple profile browser software and it comes with some advanced features such as support for controlling browser fingerprints, developing web automation, and team collaboration, among others.
---
Why Use Proxies for Multilogin?
Multilogin does not make the use of proxies compulsory for users. However, if you want each of the browser profile you created to be truly separate and unique then you need to set up proxies for each. This is because without proxies, even though they have separate browser fingerprints and environments, they would still share the same IP address and unfortunately, IP addresses are the single most important identifiers to web services.
You will also need proxies for accessing geo-targeted content even if you create just one profile provided you are in a different location other than the location allowed to access the content you want to access.
---
What Proxies Are the Best for Multilogin?
If you take a look at the proxy recommendation page on the Mutilogin website, you will see that it recommend proxies across the 3 proxy categories - mobile, residential, and datacenter. This suggests that the software has been developed to be used on all kinds of websites and for many types of projects. So, the type you would go for would be determined by what you need proxies for.
Take, for instance, if you want to manage multiple accounts on Instagram and other mobile social media platforms such as TikTok, mobile proxies are the best. For the other social media platforms and e-commerce stores, residential proxies are the recommended proxies. Datacenter proxies are quite useful for tasks that require high speed.