---
InstantProxies service provides quality and private HTTP/HTTPs proxies. You can test/ping to General Browsing (their site), Amazon, Craigslist, Facebook, Google, Pinterest, Ticketmaster, Twitter, Yahoo, and Youtube via their proxies.
---
---
Proxies Pricing Plan
InstantProxies is one of the Cheapest private proxy providers in the industry, This might be a bold claim but as someone who purchases proxies all the time, there is a limit to how low a price will go before you end up making a purchasing mistake. What I mean is that if you pay less than a dollar for a proxy, then it has a high chance of being shared, not as private, with reduced uptimes and customer service. This is important because if you end up buying public proxies you are at risk to financial predators. InstantProxies is great because it is right in the sweet spot of being cheap and affordable but of a decent quality.
Here are Sample packages that InstantProxies service provided,
| Sample Package | Price | GEO Cities/Subnets |
| --- | --- | --- |
|  10 Proxies |  $10 | 2  /  4 |
|  25 Proxies |  $25 | 3  /  6 |
|  50 Proxies |  $50 | 4 /  8 |
|  100 Proxies |  $100 |  5  /  10 |
|  250 Proxies |  $250 |  6  /  12 |
|  500 Proxies |  $500 |  7  /  14 |
I'll tell you this right off the bat, the price for InstantProxies is one of the best in the industry. Its pricing would have other companies selling terrible public proxies for a quick buck, but not InstantProxies. Surprisingly, this company keeps its word and provides great private proxies. You should already know the difference between private and public proxies. Though I'll tell you this, the price for this company and its quality is an issue. The issue is that it's too cheap! At $1 a piece and having super fast dedicated private proxies it's one of the best in the industry.
If anything it probably is the best in the industry; I know how many of my friends use and love their services. There's a good reason why everyone I know who markets online uses them. That reason is that their price makes it possible for projects that require a ton of proxies to meet their needs and while still maximizing their return on investment thanks to InstantProxies' amazing offer.
back to menu ↑
Authentication & Use
InstantProxies is one of the Easiest to set up. After you complete your payment via PayPal or credit card you'll see why their brand is named InstantProxies. Seconds after purchasing I check my email to find a link, and after clicking the link it auto-logged me in and there I was, using my freshly purchased proxies immediately. You can check network (server) status via their site. Also on their site are plenty of tutorials to help you get started! They have step by step help with picture references to help you establish your computer and proxy connection, check  your connections, and start using your new proxies right away!
Their proxies work through IP authentication. Username/password option is not available, but for the price you can't be too upset. You can use proxies for web mailing, But SMTP is blocked with our proxies. The proxy maximum connection is 10 IPs.
back to menu ↑
Our Testing & Review
I love InstantProxies for this very reason even if I live halfway across the world it is still very fast. So fast that anything I need doing for example when I was using InstantProxies I had an Instagram campaign going on and the proxies were literally up 24/7. Since I paid so cheap for them I was so surprised with its quality and support.
When using this proxy I was set up so fast, everything worked flawlessly. When you deal with the ping you have to understand this, here's an analogy to think about. You have a cup of water and covering it is a type of seal with little holes in it. So then the water can flow faster since the holes are way bigger. You have to understand using any type of proxy you automatically have some type of barrier so the connection won't flow as quickly.
With InstantProxies, it had tremendous ping time so the connection was very fast even if I lived very far away.
back to menu ↑
Features and Benefits



Multiple Different Cities.  This is one of the most crucial parts of picking a proxy server. Depending on what you need it for you might need to have to be from a specific place. This is of course meant to be because proxies are mostly used for privacy.
Full Anonymity. With this provider, I was able to use multiple accounts on many famous internet platform. This is because proxies are barriers to protect us from many threats. These threats could range from serious to not serious but it's important you don't use free public proxies ever.
Unlimited Bandwidth. Now since this provider is so cheap I was surprised to have so much bandwidth. This is a huge reason why I didn't give any cons to this provider because when you connect to it instantly after paying and have no downtime it's hard to complain.
Chat Support. Now honestly I never had to use their support because everything was straightforward. Some people do need extra help and this is another pro because when you can easily contact support then nothing can go wrong.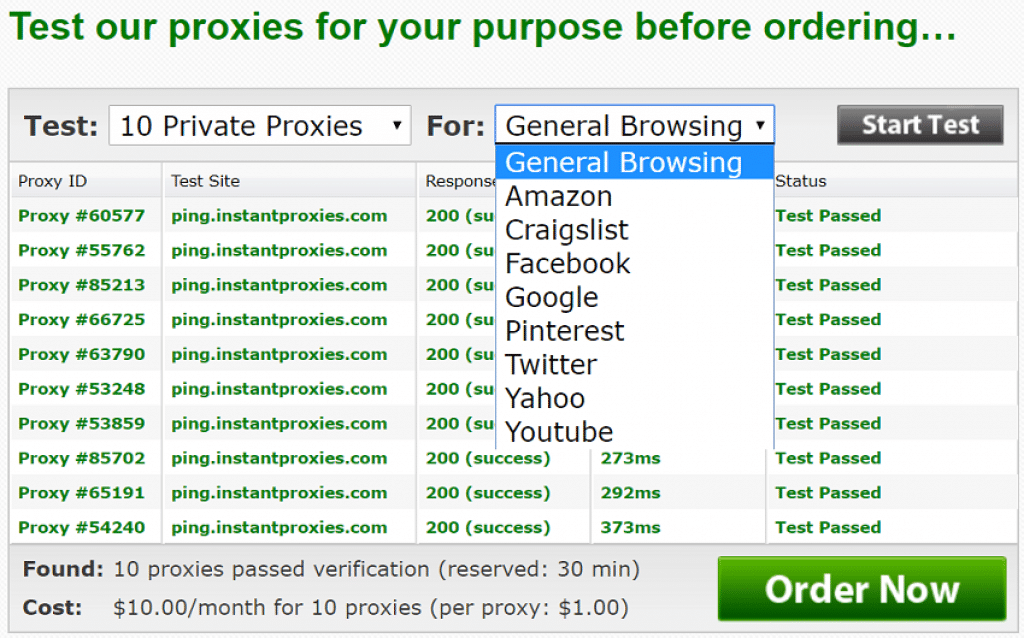 back to menu ↑
Our Verdict
A reminder is that when using this service, you only buy this provider if you are serious about your usage. With this price & quality, and anytime you can come back to this site to read this review. You will learn that at this price there's no competition to compete with this provider I loved using it for all this year and you will too.
This is a service that you won't ever regret buying, after using it for at least a year now. They have never failed me before. I never even had to contact support and I'm someone who shopped around some proxy providers just straight up stole my money but this one keeps it real every time.
They always have proxies in stock and never have I had issues with speed, and uptime. This means that even if you have a project that you're working on all the big marketers I know use this provider. There's a very good reason why and you need to understand that when buying proxies you put yourself at risk.
No matter how you phrase it you will be at risk with each and every provider you buy. InstantProxies though they are a different company, in the industry for so many years they built a reputation that will never go away. This is the perfect time to purchase because when they go away there will be an uproar in the community and everyone will be missing them.
InstantProxies.com is a cheap private proxies service and have professional support and with an advanced control panel. If you already used their service please share your reviews, Let's us know more about his service.
InstantProxies Features
Proxies Protocol:HTTP/HTTPS
Proxies Update Frequency: Refresh proxies monthly
Multiple Cities, Multiple Subnets (US / Europe)
Support test/ping by proxies 
Full refund within 5 days money back guarantee
Allowed: Webmail
Unlimited Bandwidth