GeoSurf is another great residential proxy network provider:
GEO Located in 1700+ cities
Sticky IPs in all countries
Username/password authentication
Added ability to maintain session persistence
Increased the total number of IPs

Increased the speed
---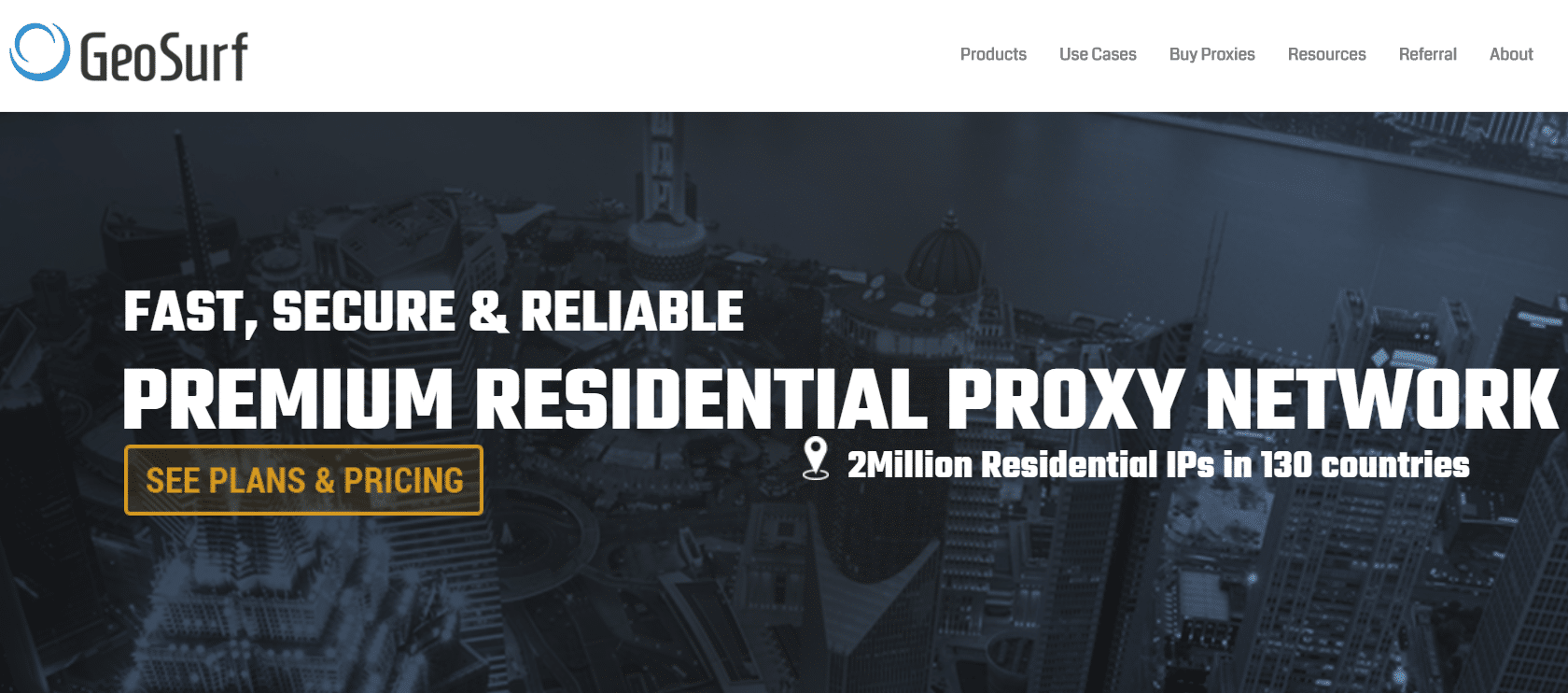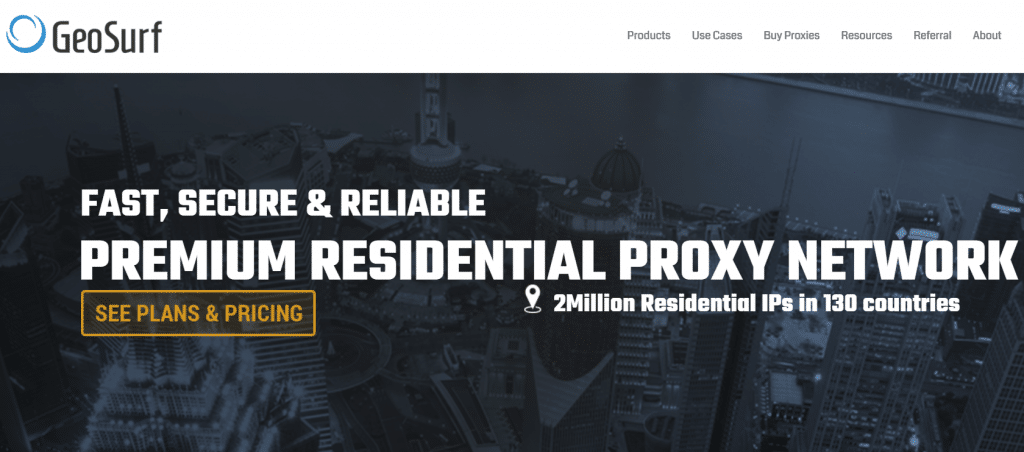 GeoSurf is a proxy provider that mainly offers Residential IP addresses. Their proxies are a good option for data harvesting, Web Crawling, Ad Verification and Sneaker/Shoe Bots.
GeoSurf provides users with the facility to view any geo-targeted content. It gives access to surf through and view local content from any country. GeoSurf provides these services as a VPN client, Residential IPs API, Direct Connect API, browser toolbar, as well as through smartphone connections. GeoSurf Static gateways are available in around 120 countries and 30 DMAs. They HTTP(S) protocols, but not SOCKS protocols, so keep this in mind.
The GeoSurf Residential IPs are available in 192+ countries and connect important cities around these countries across the world. Additional IPs are being added in order to provide access to more locations around the world. The also offer a toolbar browser extension that allows you to view web content as it is seen from all of your various proxy locations around the world. This is especially helpful for those who use their proxies for things like ad verification. GeoSurf Toolbar works well on Internet Explorer, Chrome, and Firefox or with Firefox for Mac.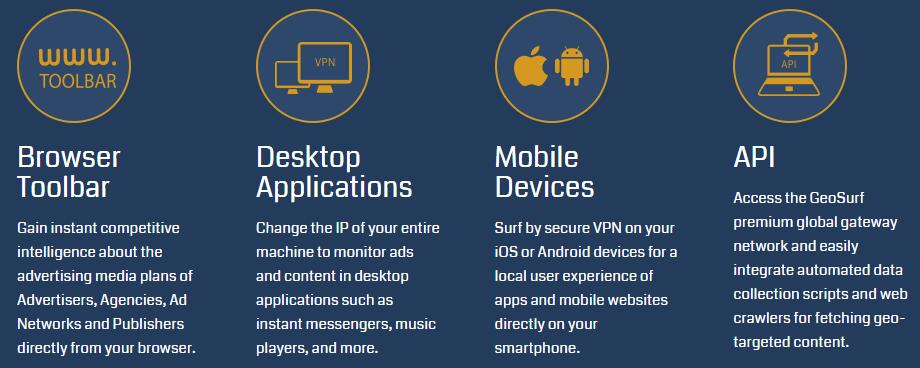 GeoSurf proxy network
The GeoSurf services are provided through 3 networks:
The GeoSurf Residential IPS network provides around 2 million Residential connections in every country and every city across the world.
GeoSurf's Premium Static network is a proxy network that has servers in more than 120 locations. It also has more than 30 DMAs or Designated Market Areas.
The GeoSurf Static network is a proxy network that has more than 10,000 IPs. It provides easy and simple access to any content and is a very effective proxy server.
Geo Locations
You can choose the proxies from the different countries by the different ports available. They offer the ability to choose proxies from USA Residential IPs, UK Residential IPs, Germany Residential IPs, Brazil Residential IPs, Japan Residential IPs, India Residential IPs, and France Residential IPs. This provider has one of the largest selections of proxy locations on the market. They have a vast array of locations available on just about every continent, so no matter where in the world you need your proxies to be located, they are likely to have you covered. On their site they have a section where you can browse all of their proxy locations, and see how many IP addresses they offer in each country. We'll just say, it's a lot. If location is a high priority for you, then this is the choice to go with.
GeoSurf offers 3 options to use their proxies,
Every HTTP request. This option changes the IP address with every single HTTP request – [IP of Proxy Gateway: Port], example [gw1.geosurf.io: 8020].
Sticky IPs gateways. With this option you can define the timeframe the IP address change occurs from 1 minutes to 10 minutes. So you can use the Sticky the the same IP for fixed time, such as gateways list : country Ports.
And you can get more option via API or toolbar.
Price
Here is the Price Plan of GEOsurf residential IPs:

As you can see, their prices are pretty high compared to other competing proxy providers. However, they offer a high class, premium service that is very hard to beat.
Not only do they offer over 130 locations around the world, they have a great customer support team, a programmer friendly API, and an unlimited amount of connections, threads, and locations with each plan!
So even though it is a somewhat high price, the amount of features you get with each and every package makes it more than worth it in our opinion.

$50 discount
Now Geosurf offer $30 OFF for our readers! Use this discount code "geoprivate" when checking out!
They also offer the ability to upgrade or downgrade your plan at any time. So if you feel like you need a more advanced plan, or that the plan you are on is greater than your current needs, you are able to switch to another plan without any penalties.
They also allow you to cancel your purchases at any time, and will cancel any future payments immediately. They accept payments from most major credit cards, including Visa, MasterCard, and American Express. It doesn't look like they offer payments via PayPal, however, so make sure that you are able to offer payment through one of these methods beforehand.
GeoSurf Features
Unlimited IPs
The user is provided with unlimited IPs to protect user identity so that they do not get blocked while searching for local content of any country. Every request gets a new IP. All activities are provided on the toolbar and the API for easy accessibility and simplicity of the user.
Security
GeoSurf reviews show that it provides secure and private services to its users. Security is provided with easy availability and reliability. As all the servers are self-owned, it is easy to host them in all Tier 1, data centers that are centrally located around the world.
This helps in to provide security while users browse through various content. As an additional security, a legal bond is signed by GeoSurf proxy providers to ensure privacy to their users.
Sticky IPs
The sticky IPs help to maintain persistence time on the session and have a predefined time.
The Sticky IP Residential IP provides gateways to support session persistence by helping users to use the same IP up to a time limit of 10 minutes.
The Dedicated Sticky Residential IPs provide gateways to countries like US, UK, France, Thailand, India, etc. For more details on the countries available, you can log into the dashboard.
Proxies for the shoe bots
GeoSurf residential proxies are good for the aiobot, ANB, BNB, supercopbot, nikeslayer, supremebot and so on.

The Dedicated proxy providers use "Data Center" proxy servers. The problem with data-center proxies is usually the fact that sites like Nike, Supreme, Sneaker-n-Stuff, Eastbay and FootAction may be easily blocking the range of IPs, with the Residential proxies Package you hard to get blocked when compare with "Data Centers" proxies.
And you can read this page to know more sneaker proxy providers.
Media Intelligence through GeoSurf toolbar
For all types of competitive intelligence, the GeoSurf toolbar provides various media activities to help you gain a competitive advantage. Media intelligence can be gained through the various product offerings of GeoSurf.
Customer Support
GeoSurf has a ticket based customer support system that anyone can access, customers or people simply interested in their products. They also have an address and phone number listed in their Contact Us section, so if you would prefer a different method of contact, they have other ways of reaching them.
For those who have purchased a proxy plan through this provider, they offer what they call 'premium support'. This means that there is a dedicated customer support specialist for any needs or issues you may encounter at any point in time.
You can contact this representative via Skype, Email, or a regular phone call. I think this is great because it separates requests from paying and non-paying customers. Rather than having to wait for representatives to handle requests from every user on the site, you are prioritized as a paying customer.
They also have a Frequently Asked Questions on the site that covers pretty much any question you could find yourself wanting an answer to. I'd definitely recommend giving this section of the site a look before purchasing, just to see if they cover any topics that you feel passionately about.
Our Verdict
GeoSurf provides a perfect solution for all types of data harvesting. Working on a P2P network, which is the same to Luminati, it provides over two million IPs that are unblocked. The user can send parallel, unlimited requests. Each request is provided with a new IP, while the Sticky IP is provided to stay for 1 to 10 minutes.
Geosurf Highlights
GeoSurf provides unlimited and clean Residential IPs. The user is provided with a number of connections and threads. The services provided are fast, quick and secure. Every request is provided with a new IP to help in the safety of identity. The Sticky IPs are changeable for every 1 or 10 minutes.
The API is coder friendly and usable. The toolbar is very user-friendly and the location is easily changeable with a click
The statistics of accounts can be easily monitored by the user and the data collection process can be easily optimized.
GeoSurf helps to see all the local content from the location you prefer.
You can check to see who is bidding on the traffic source you use.
Ad verification and content compliance can be seen through the GeoSurf Toolbar.
Helps to keep the check on all your affiliates' activities from different geo-targets.