Price has been one of the major factors that many small marketers consider when purchasing proxies. If, in your quest for buying cheap proxies, you come across the VIP72 proxy service, then you need to know if the proxy service is the best for you or not. It is because of that that we wrote this VIP72 proxy review.
---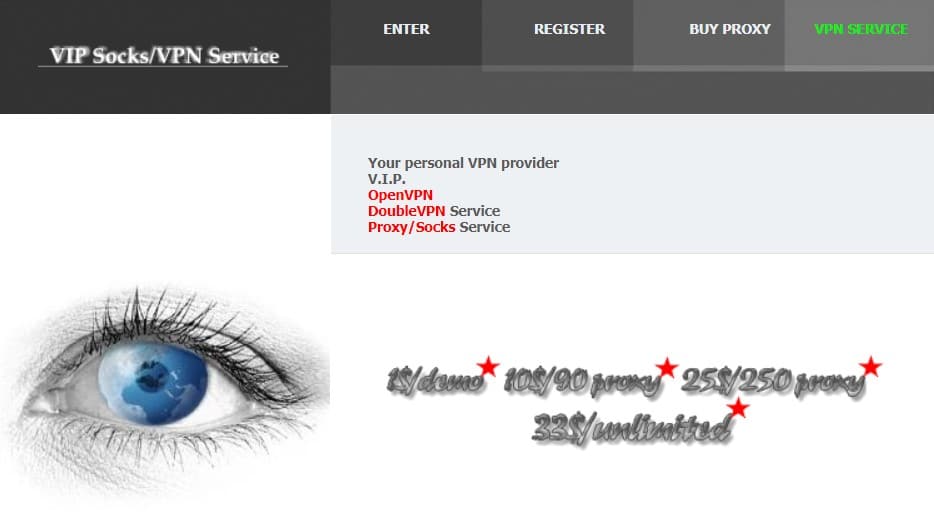 Is Vip72 worth it? That's what we'll discuss in this review.

15% OFF
Get 15% Discount: put promo code "PRIVATEPROXYREVIEWS" to check out!
---
---
VIP72 Proxies Pricing Plan
I can categorically tell you that if there is one reason people troop in to make use of the VIP72 proxy service, then that reason has to be nothing else other than pricing. If you have been reading our articles on proxies, you will know that we have been against the usage of free proxies because of the problems associated with them. You can see the VIP72 proxy service as one of the proxies down the ladder in proxy pricing. The prices are so cheap that I could call them free, and I am careful when buying proxies for almost free – Just as I am when proxies are free.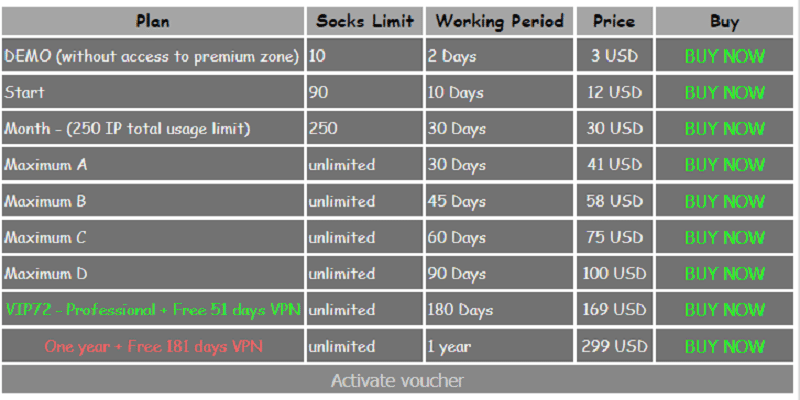 The picture above is a clipped out portion of the user dashboard of this provider that summarizes VIP72 pricing. From the above, you can see that the monthly plan comes with 250 proxies and is priced at $30, making the price of one proxy to be $0.12. From this pricing alone, I can tell that the proxies are shared proxies and of low-quality. Even if you are going for free proxies, there should be a limit for the cheapness, and this has gone below that limit.

20% OFF
Get 20% Life-time discount: put promo code "privateproxyreviews" to check out!
---
back to menu ↑
Authentication and Use
This provider is fundamentally different from other proxies, unlike other proxies that provide you IP addresses or proxy gateways to use. The VIP72 proxy service does not work that way. It has a proxy client, and you will have to make use of it. There are some steps involved.  While I could just list out the steps involved, I feel it is better for you how to set up proxies from this proxy service in other to make use of them. You can watch either this video or this video to earn how to make use of it.
In terms of usage, we cannot say these proxies are easy to use. This is because logging into your account can be time-wasting. Aside from providing your username and password, you will be required to solve Captcha in other to log in, or alternatively, you can log in using a token provided by VIP72. The dashboard is very simple and has little to no guidance on how to make use of the proxies.
---
back to menu ↑
Our Testing and Review
It is important you know that this proxy provider only provides Socks proxies. I tried putting their proxies to use, and I will say even though it is not the worse out there, I must tell you that I wasn't impressed at all. The proxies were not as fast as I expected them to be. In fact, Aside from their small plans, their unlimited proxies come with many restrictions that will make you not to enjoy their service.
However, this does not mean the proxy is total trash – no. As a proxy reviewer, we do not consider proxy service performance in an isolated way. We rate them based on the other proxy services we have used, and they have proven to be below the performance of some of the best proxies we have reviewed. One area we like this provider is their support. Unlike other cheaper proxy providers, they have support for over 30 countries.
---
back to menu ↑
Features and Benefits
This proxy service seems to be a one-man business, and you can see that from the design of their website, which was obviously not developed by a professional. Looking at the website, there is hardly any information about the features of this proxy service. However, we can still discuss a few of them.
Many Locations Supported
Aside from their cheap pricing, another area you will see as a good feature of this provider is that they have support for many locations. If you log into the user dashboard, you will see a list of countries supported. So far, there are over 30 countries supported by this provider, including
Unlimited Proxies
Another feature that might interest proxy users is their unlimited proxy plans. While their monthly plans come with a specific number of proxies, they have other plans ranging from the maximum A- D that you can make use of as many IP addresses as you want. To guide against abuse, though, you are not allowed to share your authentication details with someone else, and you are prohibited from using their proxies for spamming and other activities.
Cross-Platform
The VIP72 proxy client is compatible with many system platforms. You can make use of it on Windows, Mac, and all kinds of virtual machines.
---
back to menu ↑
Our verdict
If you had read the above, you should already have an idea of what we think about this proxy service and if we will recommend them or not. While they have got good location support and almost-free pricing, you need to know that the quality of service in a competitive market in most cases is just as good as their pricing. The VIP72 proxy service is certainly not the easiest to make use of out there. As a way of helping our readers make the right choice, I will say this proxy service is not recommended.