The 922 S5 Proxy is one of the multitudes of residential proxy providers out there that want to be like the 911 S5 Proxy that was shut down by the US government. The service mentioned features that will make it look like the perfect 911 alternative — it offers SOCKS5 proxies via a proxy client.
It listed a proxy pool of 200 million and location coverage of 190 countries mimics what would be found on the 911.re service if it was online. This makes this service a copycat of the 911.re service. And one begins to wonder if it will be able to serve as a credible alternative. One thing you will come to like about this service is its proxy bundle that doesn't expire — you need to exhaust them yourself.
---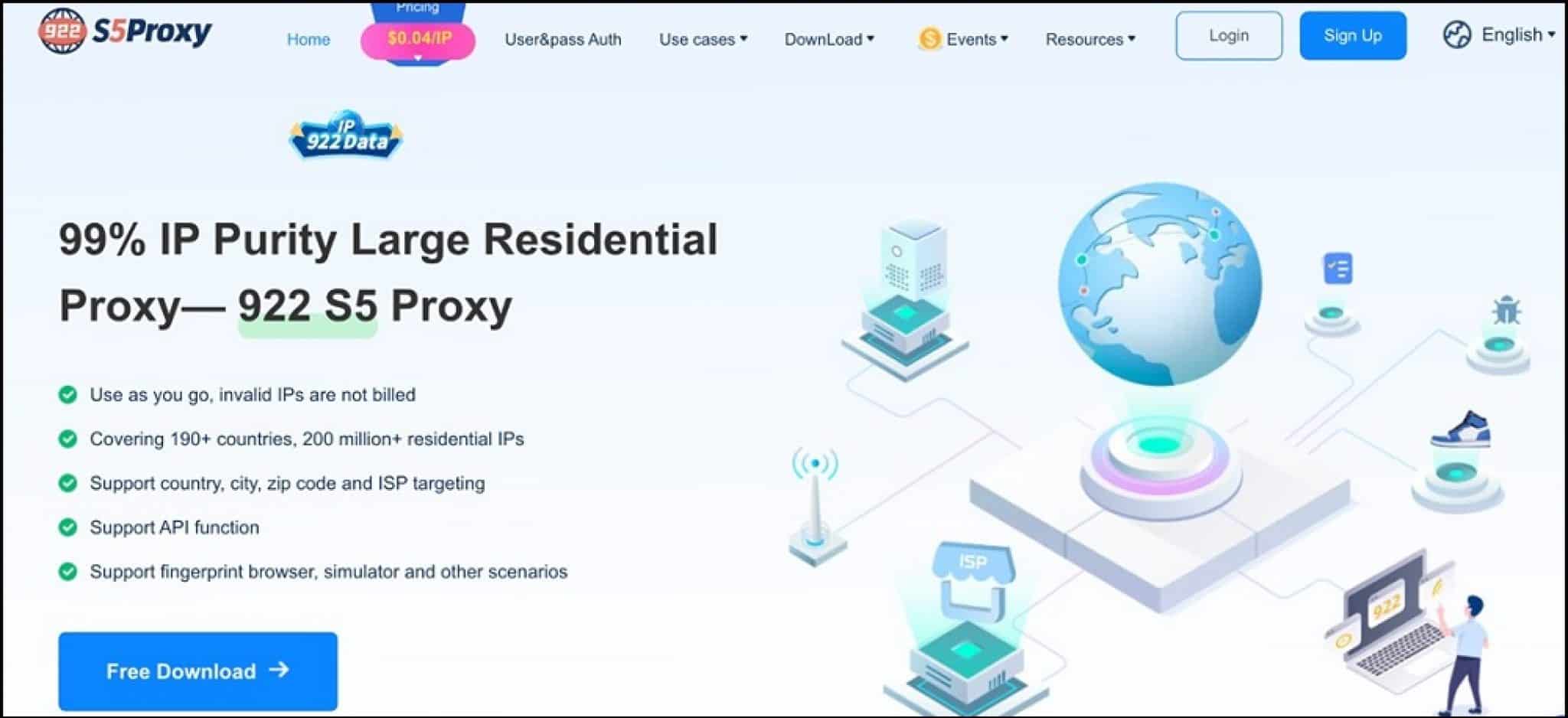 The proxies can be used for a good number of tasks. The addition of a proxy manager makes it a more advanced tool, providing you with a higher level of anonymity and more features such as port forward and the ability to modify request headers. As with other providers, just like it has it pros, it also does have its cons that you need to be aware of before deciding to stick with a provider. All of these will be discussed as you read through this review.
"Is 922 S5 Proxy worth it? Let's dig deeper and discuss it further"
---
---
922 S5 Proxy Solution
The 922 S5 Proxy service is one you can say have adverse application. While it can do what you would use regular proxies for, it is even more powerful because of the proxy management tool that comes with it. Mind, unlike other S5 Proxies that support just Windows, for this, there is also support for Mac, Linux, and Android. Let's take a look at some of the use cases of the 922 S5 proxy service.
Social Media Marketing and Automation
Social media networks don't allow the use of multiple accounts on their platform. If you need to manage multiple accounts, you can use the 922 S5 Proxy together with an anti-detect browser. The proxy client provided by this service is compatible with all of the popular anti-detect browsers including Multilogin, GoLogin, Kalemeo, and Incogniton, among others. While an antidetect browser will take care of creating multiple browser profiles, 922 S5 Proxy will provide each profile with a different IP address, to make them difficult to detect.
Brand Protection and Anonymity Reasons
If you own a company, you wouldn't want your IP address known to many others on the Internet, especially your competitors. The best way to keep it protected is by using a residential IP. This is because a residential IP address is seen as more legitimate and as such, the regular web browsing flow won't be interrupted as it would if you use a datacenter IP. With the residential IPs from the 922 S5 Proxy service, you are able to hide your real IP address from preying eyes, thereby staying anonymous.
Price Monitoring and General Scraping
Another use case of the 922 services is price monitoring. If you are looking for a residential proxy service with millions of IPs across different locations so you could track price changes and differences in price based on location to use for your decision-making processes, then the 922 S5 Proxy service is the service for you. It is undetectable and as such, will help you collect the data you need with less hassles. You can also use the service for general web scraping and account management, among others.
---
back to menu ↑
How 922 S5 Proxy Works
There are two ways to get the proxy. One is to get the residential proxy through the client application, which is in the form of IP and port.
The other is to obtain the residential proxy through the username and pass authentication, this way does not need to download the proxy manager, can be used from the official website user&pass authentication page. This will provide you with local proxy addresses and ports to use. These are not the real IP addresses but will be mapped to the real IP address you will choose. When you connect a real proxy from the app to the local proxy, port forwarding is then used to allow your requests to pass through the proxies. With this, a different computer on your network can also use the proxies if you allow it.
Also important is the fact that you don't have to be changing the proxy address and port all the time in your client application — the change will only be done from the 922 S5 Proxy Manager app and mapped to what you have already configured in your client application. It is compatible with all programs — even those that do not have support for proxies by default.
---
back to menu ↑
Pricing & Features
Pricing is one of the important factors that one should take a lot at when deciding on a proxy network to use. In terms of pricing, alternatives of 911.re service then it mimics its pricing model, offering cheap residential proxies that do not expire. In addition to their regular residential proxies, there is also a static residential proxy service available. This service does not offer a refund and no free trial is available. Below is the specific pricing for the two services.
Regular Residential Proxy Plans
As stated earlier, their regular residential proxy plans are sold without an expiry date attached. For these, pricing is based on the number of IPs. The IPs are static IPs but don't rotate for you. The available duration for these IPs is 12 hours after which you can't use that particular IP again. The pricing for this service starts from $48 for 200 IPs.

The more IPs you purchase, the cheaper the price per IP becomes. Take, for example, the price for 2250 IPs is $300 at a cost of $0.1 per IP and there are additional free 750 IPs added — this is cheaper compared to the $0.24 per IP for the smallest plan of $48.
Static Residential Proxy Plans
Unlike their regular residential proxies that become available after 12 hours of usage, you can use these for as long as you want. This is because the proxies for this plan are static residential proxies that don't change location. However, their location coverage for this is quite limited compared to their regular residential proxies where you can't get IPs from all countries across the globe.

For this, there is an expiry date — 10 days, 30 days, 60 days, and 90 days. The pricing system for this is quite flexible as you can purchase just the number of IPs you need. However, higher plans are usually cheaper.
Features of 922 S5 Proxy
---
back to menu ↑
How to Use the 922 S5 Proxy Service
[su_youtube url="https://www.youtube.com/watch?v=r_6cFXxb_9Y"]
The 922 S5 Proxy might look difficult to use at first glance. However, if you have used the 911 S5 Proxy service or any of its likes, then you won't find it difficult as the experience is the same. In this section of the article, I will be taking a look at how to make use of proxies from this provider.
Step 1: First, you need to create an account with this provider. Go to its official website to create an account.
Step 2: Purchase a proxy plan of your choice. This is important as there is no free trial option. So, I will advise you to purchase their smallest plan to test it out.
Step 3: On all of the pages on their website, there is a download button. Use it to download the 922 S5 Proxy Manager. You need it to use this service and is available for Windows, Mac, Linux, and Android.
Step 4: Launch the app and provide your authentication details. If correct, you will be taken to the main page of the app.
Step 5: Go to the program tab and you will be taken to a page with a list of programs to use the proxies. Since the app is new, there won't be any program or you will see just your browser. You can either drag an application to the list of programs or add it using the plus sign (+).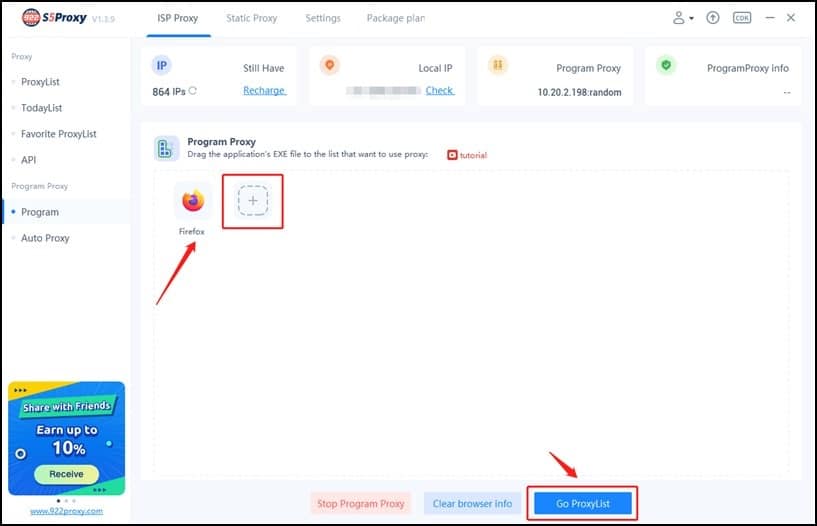 Step 6: After adding a program, go to the proxy list area by clicking on the "Go To Proxy List" button. On the page, you are given access to a list of proxies. You can use the filtering system to geo-target and get IPs from a specific location.
Step 7: If you settle for a proxy, right-click on its IP and click on "Program Proxy Connect".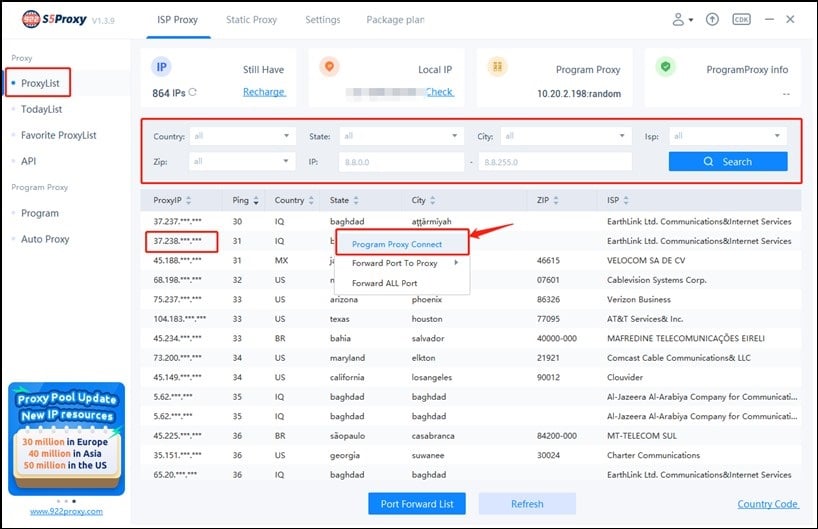 Step 8: You will get a notification telling it was successful.
Step 9: Click the application and launch it from the proxy manager and it will access the Internet via the 922 S5 configured proxy.
---
back to menu ↑
Our 922 S5 Proxy Speed Test
If you decide to want to make use of the 922 S5 Proxy service, you will be interested in knowing how fast the proxy network is. Generally, it is rare to see your Internet connection with proxies getting faster than when you are not using proxies. And for residential proxies, this is even worse. To test the speed, I used the Speedtest.net tool. I did the test in two phases – the first part is without using any proxy while the other one is with the 922 S5 Proxy.
The goal is to use the result without proxies as a benchmark to see how fast this is. Let's take a look at the speed without proxies below.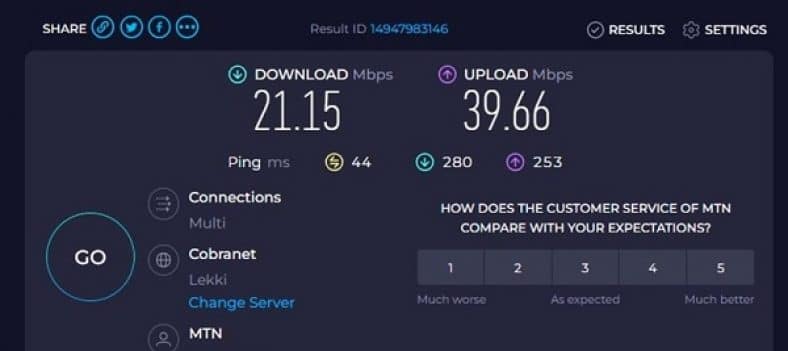 Looking at the above, you can tell that the Internet speed without proxy is even slower. But this can still be used as a benchmark. Now let's see how it is perfect with their proxies configured.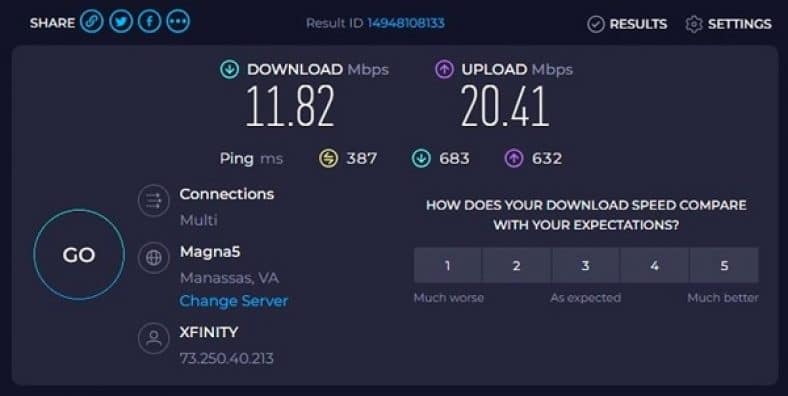 With the above result for the speed when the proxy is configured, I can conclude that the speed is average but quite acceptable. Using the proxy to surf the Internet, I was able to open web pages without waiting for too long, making it quite useful for surfing the Internet.
---
back to menu ↑
Our ISP Testing – Residential or Not?
Make no mistake about it, some providers will sell your datacenter proxies as residential proxies if you are not careful. I have once experienced this and that is why I include ISP testing anytime I review residential proxies. I have to be sure the proxies am reviewing are actually residential as I was told. I use the IPInfo.io tool for looking up IP data and got the below result.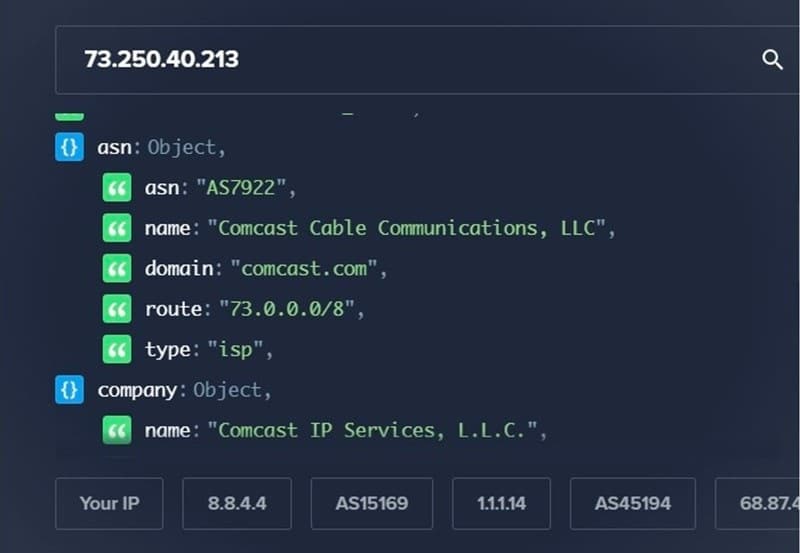 From the above, you can see that the ASN for the IP belongs to an ISP. The provider is Comcast which is a known and credible Internet Service Provider. With this, we can conclude that the 922 S5 Proxy network is a residential proxy network.