After the death of the 911 S5 Proxy service, a good number of residential proxy providers sprang up to take its place. Some are old providers while others are completely new and developed solely as an alternative to the popular 911.re S5 Proxy Service. The ABCProxy is one of the alternatives developed specifically for those that need the unique features of the 911.re service and so far, looks exactly like the kind of service you get from the 911.re service. But how well can it take the place of the 911.re service and for how long?
An Alternative to the 911.re S5 Proxy to Watch Out for
Has over 200 million IP addresses in its pool meant for its customers
Does have an extensive location coverage of over 190 countries
Offer a Proxy Manager software known as the ABC S5 Proxy Manager for Windows
Pricing for the service is charged based either based on IPs or bandwidth.
Proxy package never expires until you exhaust the IPs by using them
Does offer different types of proxies — rotating and static residential proxies
The ABCProxy seeks to step into the shoes of a powerful market leader — a real SOCKS5 provider that appeals both to the ethical and non-ethical proxy user communities. However, it does not entirely mimic the 911.re service as it does add its own unique features that the 911.re service does not possess. In addition to the residential proxies offered by the 911.re service, this service offers a static residential proxy service.
---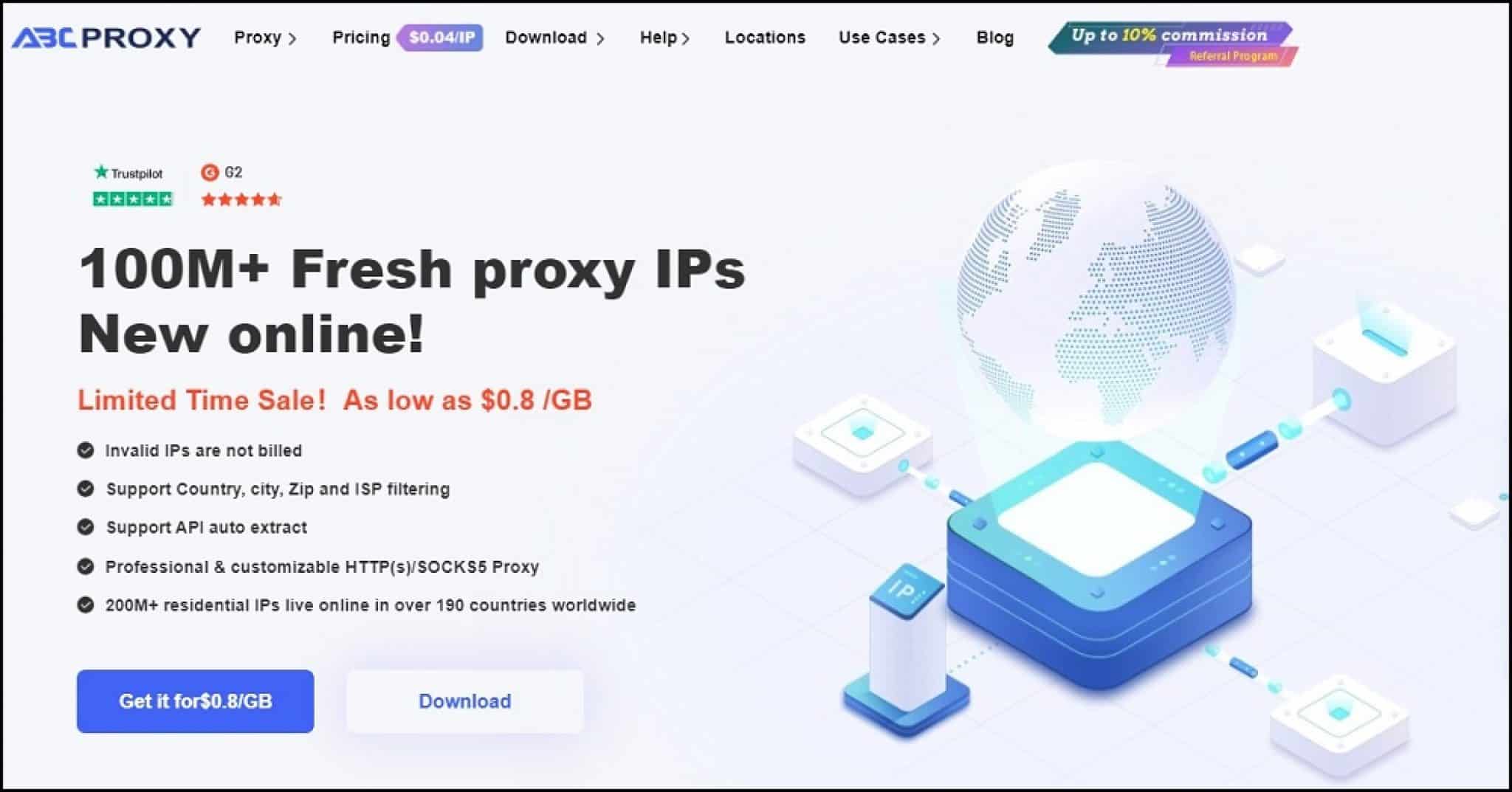 It also has proxies that are charged based on bandwidth while there is a package that is charged based on the number of IPs. This provider does offer a proxy manager application that you need to install in other to make use of it. The user dashboard is just for you to purchase proxies — but you need to install the Windows ABCProxy S5 Proxy Manager app in other to make use f the service. Aside from Windows, the ABCProxy does offer software for Android to make it easier for use on mobile without port forwarding as done with the 911 S5 Proxy Manager.
This service has got good location coverage and a granular geo-targeting feature allows you to choose IPs from a specific country and city. Even though it seems to offer only SOCKS5 proxies, this service does have support for HTTP(S) too.
"Is ABCProxy worth it? Let's dig deeper and discuss it further"
---
---
ABCProxy Solution
The ABCProxy S5 Proxy service can be technically used for any proxy use case you can think of since the proxies are residential proxies that are considered undetectable. This is even stated on their website. However, there is some high level of anonymity and advanced features that the kind of SOCKS5 proxies offered by this service is most preferred to others provided by other networks. In this section, I will discuss the top use case for their proxies.
Account Management
One of the core strengths of this service is the ability to provide you static proxies which you can ditch never to have access to again. This encourages the habit of churn and burn which is common among many marketers. Little wonder this service's main use case is for account management. The proxies are quite undetectable, making them perfect for creating and managing accounts on even the most difficult websites without getting detected and banned. They are perfect for use on Amazon, PayPal, Bookings, and even the most difficult to access via proxy sites.
Social Media Marketing
Do you want to skyrocket your marketing on social media, discover the next big thing and the current trend, or even scale up on a known current content strategy and need a proxy that wouldn't fail you? Then the ABCProxy service is here for you. Their proxies used via the ABCProxy S5 Proxy Manager tunnel your request via a secure tunnel that makes it difficult for your activities to be tracked. The proxies can be used on all social media platforms from LinkedIn to TikTok and even the meta group of social media platforms of Facebook and Instagram.
Search Engine Optimisation (SEO)
Are you into Internet marketing and looking for the best proxies to mask your activities as you skim your way to the top positions on Google? Then you need to keep everything secret, from your numerous websites to your bots scraping Google, and even more. And the ABCProxy service will provide you with that. The proxy manager software provided makes it not just your regular proxy service. This is because it comes with port forwarding and other advanced features you can use such as modifying HTTP headers.
---
back to menu ↑
How ABCProxy Works
The ABCProxy service is not your regular proxy service. For the regular proxy service, all you need is to get the proxy details (host, port, username, and password) and you are good to go. For the ABCProxy, the working mechanism is much more complex than that and that is what gives it some of its advanced capabilities.
With ABCProxy, you need the ABCProxy client in other to access the service. If you have a valid connection, you can launch the app, and get local proxy IP and port to configure on your client computers. But these local proxy IPs and ports are not the ones you will actually use. To use a proxy,  you will need to connect the proxy from the list of available IPs to the local proxy you used via a method known as port forwarding.
Port forwarding is also the technology that makes it possible for you to access ABCProxy service from a different device provided it is connected to the same network as the network the ABCProxy proxy client software is installed on. With the proxy client software, you can do more than you can with traditional proxies such as modifying HTTP headers. Aside from the introduction of a proxy client, port forwarding, and the ability to modify HTTP headers, every other thing is the same with regular proxies.
---
back to menu ↑
Pricing & Features
The pricing of the ABCProxy is one that gives you a good number of choices to choose from. It might interest you to know that pricing is one of the areas the ABCProxy service differ from the 911.re service it is trying hard to replace. While the 911.re service does not provide you options to choose you, there are options in this case. In this section, I will describe the different pricing models available in this service for you to choose from.
Regardless of the plan you choose, there is a good number of payment methods available ranging from credit card payment to cryptocurrency payment. The service does not offer both a free trial and there is no friendly refund policy in place.
Pricing Based on IPs
This is their main selling point — offering proxies that never expire provided you didn't use up your IP addresses. For this plan, you will have to purchase a number of IPs. Generally, the more IP addresses you purchase, the cheaper the price per IP becomes as you get discounts. It might also interest you to know that you do not have to worry after expiration except for the service shutdown. The starting price for this is $45 and this gives you 200 IPs.

If you decide to purchase 400 IPs, it gets cheaper as you get that for $60. As you can see above, there is a sharp reduction in price per IP as you purchase higher plans.
Pricing Based on Bandwidth
It might interest you to know that this service also offers residential proxies that are charged based on bandwidth. For this one, you are given access to the whole pool of 200 million IP addresses and charged based on the bandwidth you consume. Unlike the plan above, this plan has an expiry date which is capped at 30 days. If you purchase this plan, you can use it via API or even get details from the user dashboard without using it on their Windows proxy client software.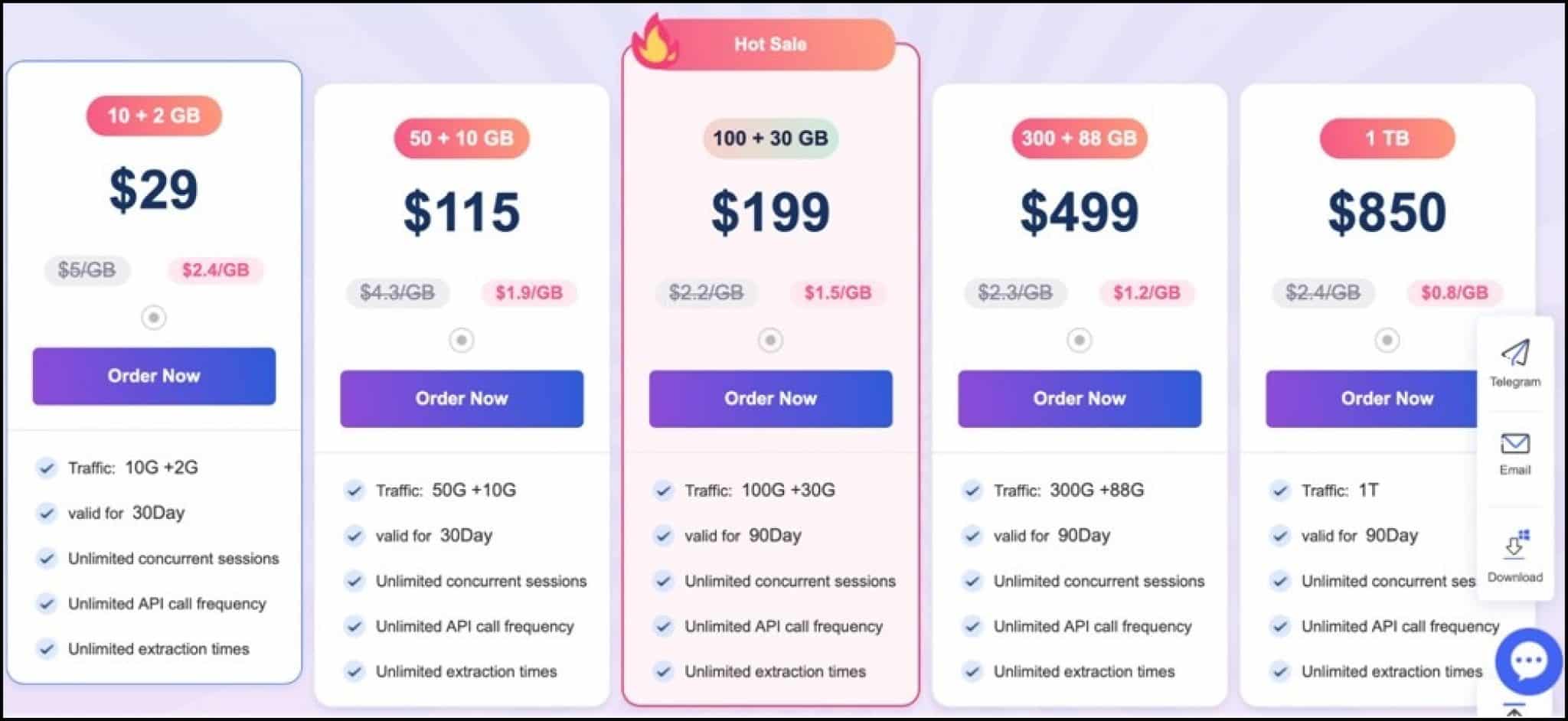 As you can see from the pricing above, it is the cheapest residential proxy you can purchase if you take a look at the price per GB. For the starting plan, you get 12GB for $29 at a price of $2.4 per GB. If you go for the hot sale offer, you will get 130GB for just $199 at a price of $1.5 per GB.
Static Residential Proxy Plan
The ABCProxy service also offers a static residential proxy plan also known as ISP proxies. For this,  you can maintain IPs for as long as you want to. For this one, you get support for flexible pricing. There is a one-week, one-month, two-month, and three-month plan available for you. The general rule of thumb here is that the more IPs you purchase or the longer the duration, the cheaper the price per IP becomes.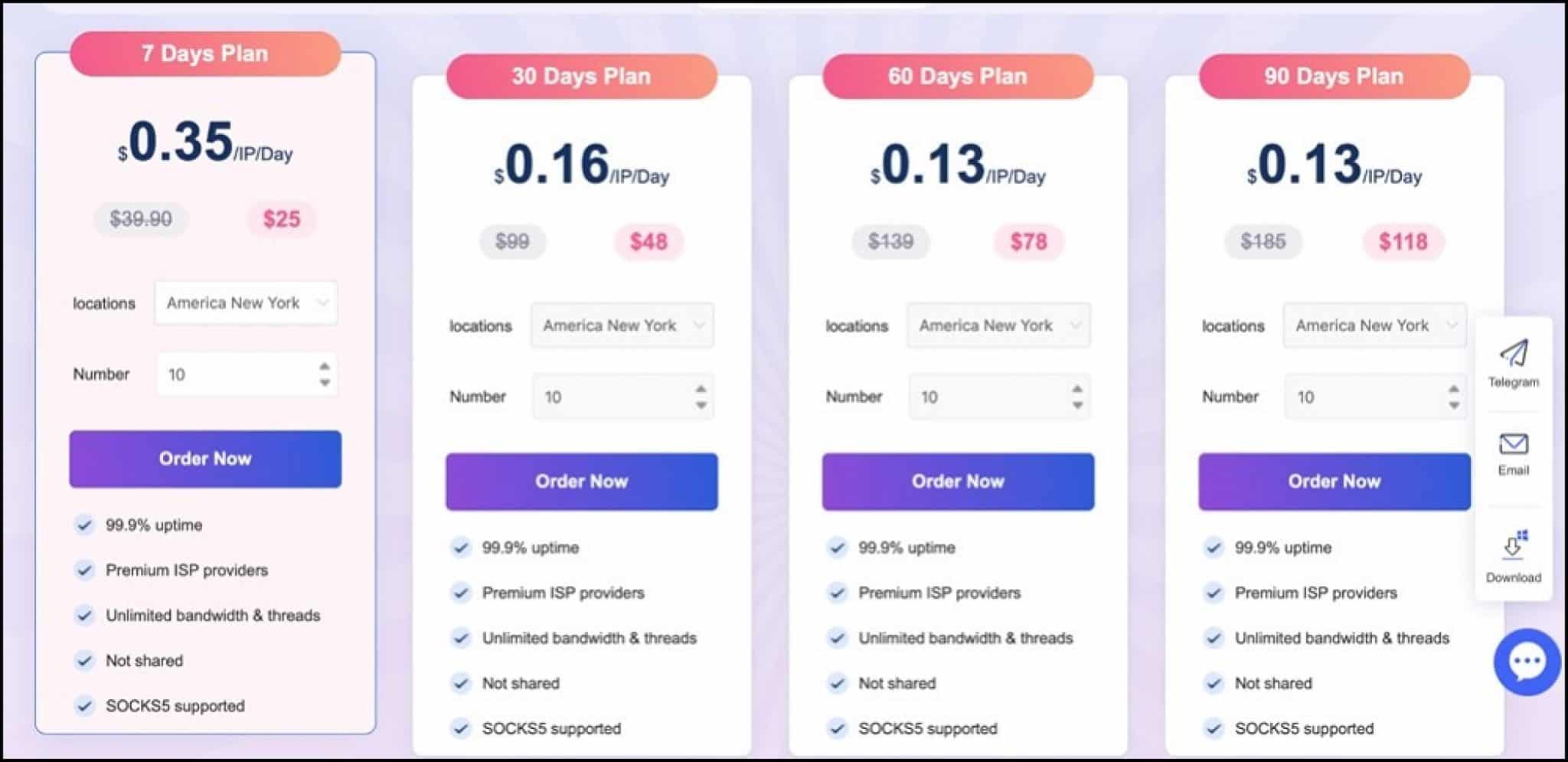 The IPs here are private and you wouldn't be sharing it with anyone. As you can see from the pricing screenshot above, the pricing for 10 IPs for 7 days is $25. As you change the number of IPs, the price will also adjust.
---
Features of ABCProxy
Has one of the largest pools with over 200 million IP addresses sourced from over 190 countries across the globe. Currently, there is no way to ascertain this claim of IP pool size since proxy services are not open source.
Support one of the best IP targeting features, allowing you to choose IPs from a specific country, state, city, and even ISP. This makes it possible for you to access geo-targeted content.
Offers a proxy client for some of its proxies. If you are to use their SOCKS5 proxies charged based on IPs, then you have to use the ABCProxy client manager. It is via this that you are able to access your proxies and use them.
Support some advanced features you don't get in conventional residential proxy services such as port forwarding and the ability to change request headers for better control over your requests.
Gives you access to 5 different plans and packages depending on your requirement. It has proxies charged based on IP, bandwidth, and even an unlimited plan. There is also a plan for enterprise users at great deals and discounts. One thing you will come to like is their static residential proxies with flexible rental periods.
The proxy manager is easy to use and there is a guide document available that will make it even easier for first-time users to catch up. If you have used the 911.re proxy manager before, you won't even need any guide to use this one.
Its customer support is kinda wacky though — it uses a bot for live chat which ultimately refers you to an article or suggests you speak to them via email or Telegram. This bot even writes back to you in Mandarin (Chinese) even when you write to it in English.
Support both HTTPS and SOCKS5 proxy protocols. However, the specific protocol available to you is determined by the proxy plan you subscribe. Take for example, if you subscribe to their residential proxies charged by IPs, then you can only get SOCKS5 proxies via this.
Proxies purchased via the residential proxy plan based on IPs never expire unless consumed. However, if you purchase the proxies charged based on traffic (bandwidth), then the validity is 30 days.
Does offer a developer API in addition to the proxy client software. This makes it easy for developers to interact with the service programmatically.
---
back to menu ↑
How to Use ABCProxy service
The usage of the ABCProxy rotating residential proxies and that of their static residential proxies is like that of the regular proxies and as such, I will focus this section of the article on how to use the ABCProxy service to access their socks5 proxies. The service is a paid service with no free trial, if you must make use of their proxies, you must pay for a plan. Follow the steps below to learn how to use their proxies.
Step 1: Visit the official website of the ABCProxy service and register an account.
Step 2: Go to the pricing section and choose the specific plan you need and choose the appropriate payment method — credit card and cryptocurrency payment supported.
Step 3: Make payment and then download the ABC Proxy Manager. The software requires Windows to function. If you don't have a Windows PC, then this service is not for you. Make sure you disable any firewall or anti-virus that will stop it from installing or functioning.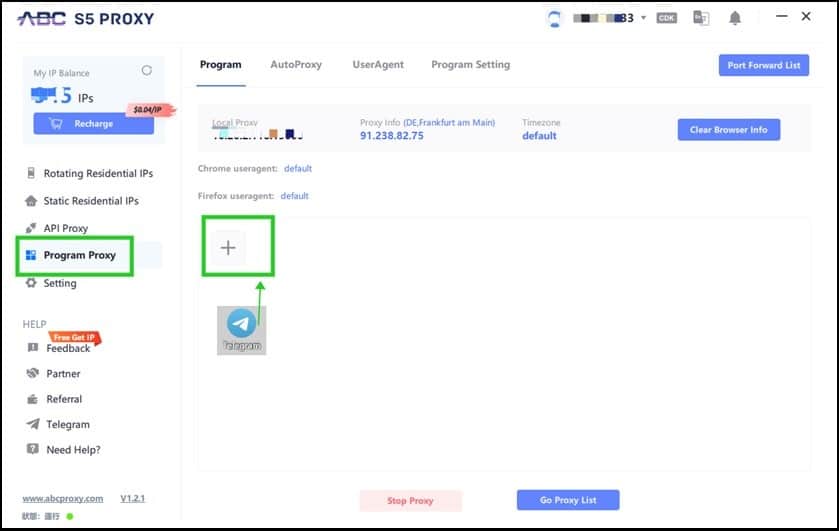 Step 4: Launch the client application and enter your authentication details.
Step 5: Go to the Program Proxy section. This is where you will add the program or software that you want to use proxies for. You can use the plus "+" icon to import the program or simply drag and drop it.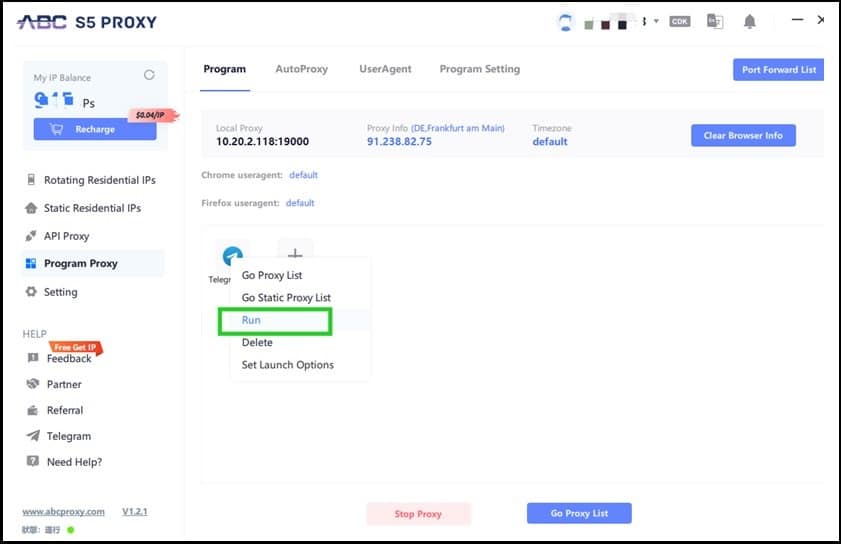 Step 6: Right-click on the program and click on the "go to proxy list" link.
Step 7: From the list of proxy IPs available, double-click on any of them and click on the "connect" button.
Step 8: Go back to the program proxy tab and right-click.
Step 9: Click on the run option and the application will run — with your requests now being routed via the IP address you choose.
---
back to menu ↑
Our Proxy Speed Test
Whenever you introduce any tool into your workflow, it is good to ask whether it will become a bottleneck or not. For proxies, it has already been established that residential proxies will always reduce your Internet connection speed. But the decrease varies depending on the provider. The ABCProxy is not an exception. To test out the speed with proxies, I needed to check my real Internet connection without using any proxy. That will serve as a fair benchmark to see whether the proxies are fast or not. I used the speediest.net tool and below is the result without using any proxy.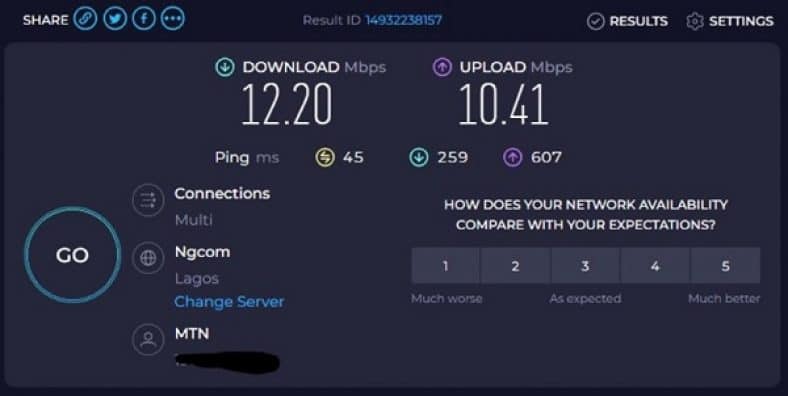 As you can see above, the Internet speed is terrible. This is because I am currently doing this test from Lagos Nigeria. Let's see how the proxies will perform in terms of speed using the speed data screenshot above as a benchmark. Below is the result of the test done with ABCProxy.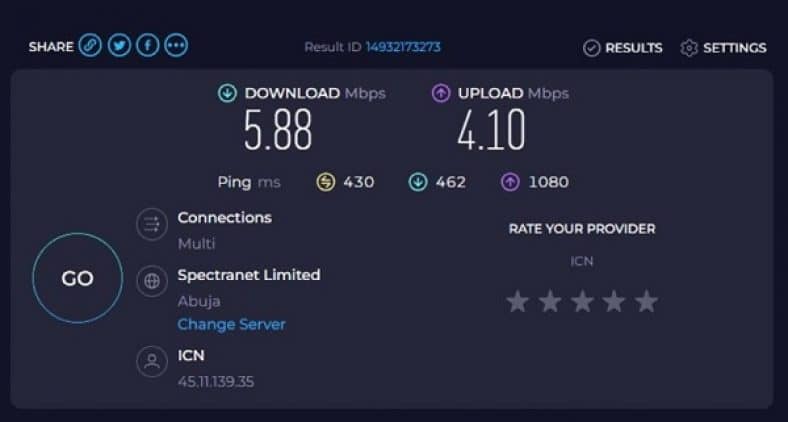 From the above, you can see that there is a reduction in the download and upload speed of these proxies and it is by half. The interesting part is that the difference in the ping rate is quite high. While the ping rate is 45 ms for the test without proxies, it is as high as 430 ms with their proxies.
---
back to menu ↑
Our ISP Testing – Residential or Not?
ABCProxy only offers residential proxies. It might interest you to know that some providers will claim to offer residential proxies but in reality, what they offer are low spam score datacenter proxies. It is for this reason that I needed to test out the ISP of this service to see whether the proxies they offer are truly ISP proxies or not. Air used the IPInfo.io website to check for this and the result gotten is below.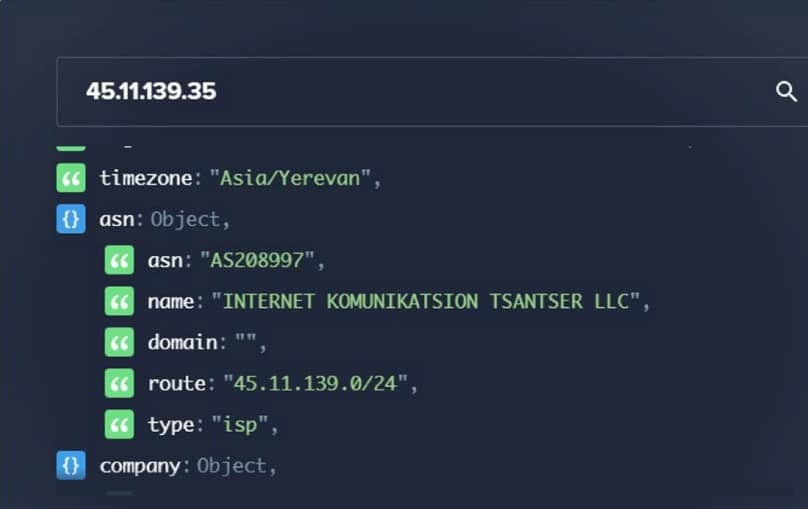 The above is a screenshot from the IPInfo.io website. As you can see from the ASN object, the type of the provider is ISP. This ISP means Internet Service Provider and this is the label for residential IPs. This makes the IP provided by ABCProxy residential proxies. If it were a datacenter proxy, the label will be "hosting".
back to menu ↑
Our Verdict
The ABCProxy service seeks to be the best alternative to the 911.re service and has put in place systems to ensure that. As with other services, it does have its strengths and weaknesses. There is nothing really special about this service except for its numerous pricing models and the proxy types it offers. However, it can't be said to be a really bad provider. The speed is acceptable enough and you get a large pool of IP addresses to tinker with, the location support is also superb. It has also got good pricing. For these reasons, we recommend ABCProxy.