Astroproxy is a diverse proxy provider that offers residential proxies, mobile proxies, and datacenter proxies. It is one of the proxy providers that originates from Russia. Our focus in this article is on their residential proxies, and you will be learning all you need to know about this provider.
A Distributed Proxy Network for Web Scraping and Managing Multiple Accounts
Affordable pricing based on bandwidth
Free $2 for intending customers to try out service
Rotating proxies with geo-targeting options
Real-time network monitoring interface
API support and integration
User friendly and easy to use
---
The Astroproxy residential proxy network offers a pool of ISP proxies for marketers and individuals that need to keep their IP addresses hidden and replaced. The service operates a proxy pool sourced via a legal Peer-to-Peer (P2P) network. They do not actually own the IP addresses they route their clients' requests through.
For this reason, they have limited control over the IPs and, as such, only get to use IPs that are active at any given time. For this reason, you can only buy rotating residential proxies from Astroproxy – they do not offer static IP addresses. The bandwidth that comes with each subscription is limited, depending on the package you paid for.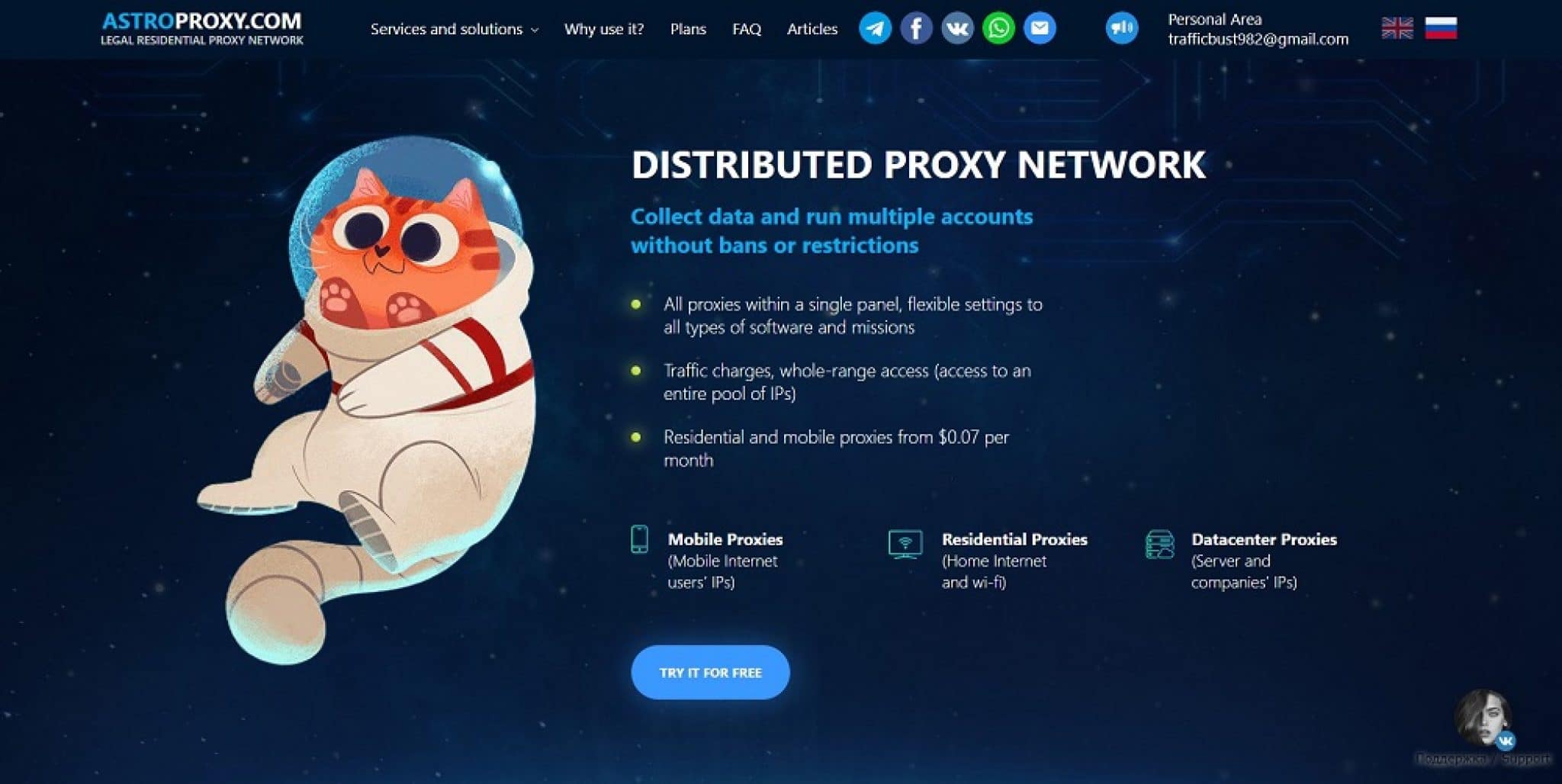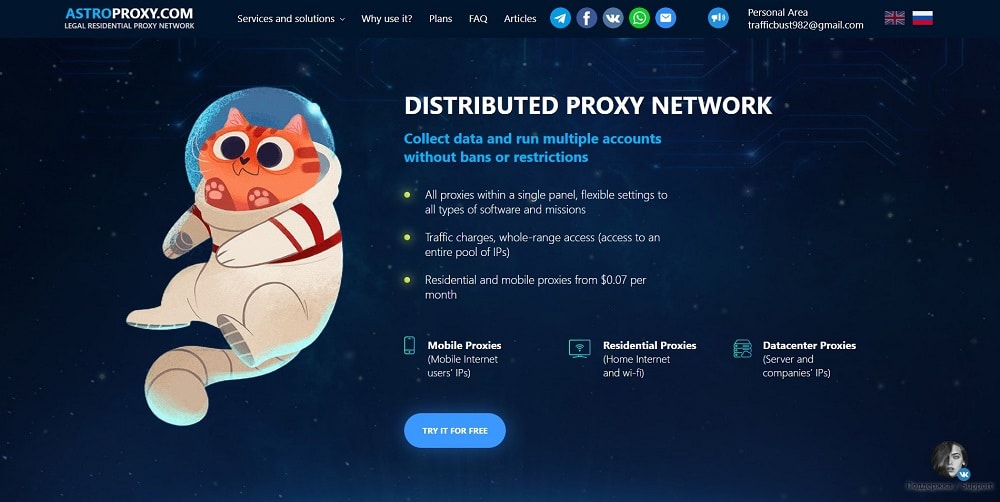 Astroproxy has been developed to be compatible with many use cases, and the IPs it makes use of are undetectable. However, just like every proxy service, Astroproxy has its own downsides, and it is important you know the issues associated with Astroproxy before making a purchase decision.
In this review article, we will be discussing many aspects of Astroproxy, and from each, you will know how Astroproxy stands. Only when you are OK should you go ahead and make a purchase. But like a tradition, we will always give our Verdict at the end of the review.
Is Astroproxy worth it? That's what we'll discuss in this review.

15% OFF
Get 15% Discount: put promo code "PRIVATEPROXYREVIEWS" to check out!
---
---
The Astroproxy Solution
What problems do Astroproxy residential proxies came to solve? The general idea of proxies is to mask and replace your real IP address with a different one. But what does this solve? Below are some of the problems Astroproxy residential proxies have been engineered to solve.
Web Scraping
Astroproxy residential proxies will help out in web data extraction. Web scraping involves the process of using a bot to extract data from websites. Bots send too many requests to websites that are unnatural, and the IP address of the computer running the bot could be blocked. To prevent this, you can use Astroproxy rotating proxies to exceed request limits without getting blocked.
Manage Multiple Accounts on Websites
Many web services, most especially social media sites and e-commerce platforms, do not allow an individual to manage many accounts. To enforce this, they bind accounts with their IP addresses and would block accounts that are linked to the same IP address.
If you are a marketer that requires many accounts for marketing purposes, you will need to make use of proxies that rotate IP address. Astroproxy rotating proxies have been made for that.
SEO Auditing
SEO auditing requires scraping search engine results for ranking and keyword data – and search engines do not support that.
For that reason, they put anti-bot systems in place to track IPs and block requests if a certain IP sends too many requests. By using proxies, you can bypass IP tracking and block and, by extension, scale up your Search Engine Optimization goals.
Tons of Other Use Cases
Astroproxy has been developed to cater to many proxy use cases aside from the ones discussed above. Astroproxy residential proxies can also be used for price extraction and monitoring, ads verification, website localization testing, copyright protection, and marketing research, among others.
---
back to menu ↑
How Astroproxy Works
Astroproxy residential proxy service is a paid service, and as such, you will need to pay in other to use the service. When paying, you actually won't be paying for individual proxies but for bandwidth usage. This is because they actually do not have full control over the IPs in their pool as they are sourced via P2P networks.
This also means that you can potentially use all of the IPs in their pool if you want, provided you have not exhausted the bandwidth allocated to you and the IPs are active. However, unlike other major residential proxy networks that have millions of IP addresses, the number of IPs in their pool is about 100K.


For Astroproxy, you are not given individual IP and port pairs. Instead, you are given endpoints in the form of a gateway with which you can access all of the IPs in the pool. When your browser or any client software uses the endpoint, a random IP address is selected from the pool and used for routing your requests to the intended website.
The website cannot see your real IP address or even the endpoint but can only see the IP address chosen from the pool. The proxies are rotating proxies, and there's no guarantee that you can remain with the same IP address for long. Usually, even though their proxies are rotating proxies, you can force a change faster either via the user dashboard, through a link, or time specified.
---
back to menu ↑
Pricing and Features
One of the areas Astroproxy excels is in the area of pricing. Their proxies are priced based on consumable bandwidth. You will not be charged based on ports or the number of proxies used. For this reason, all you need to worry about is the exhaustion of the bandwidth allocated to you and not worry about the proxies you will use.
The bandwidth is measured by Gigabyte (GB). The pricing per GB starts from $3. Interestingly, that's not the minimum you can purchase. The minimum amount of bandwidth you can pay for is 100Mb at a price of $0.27.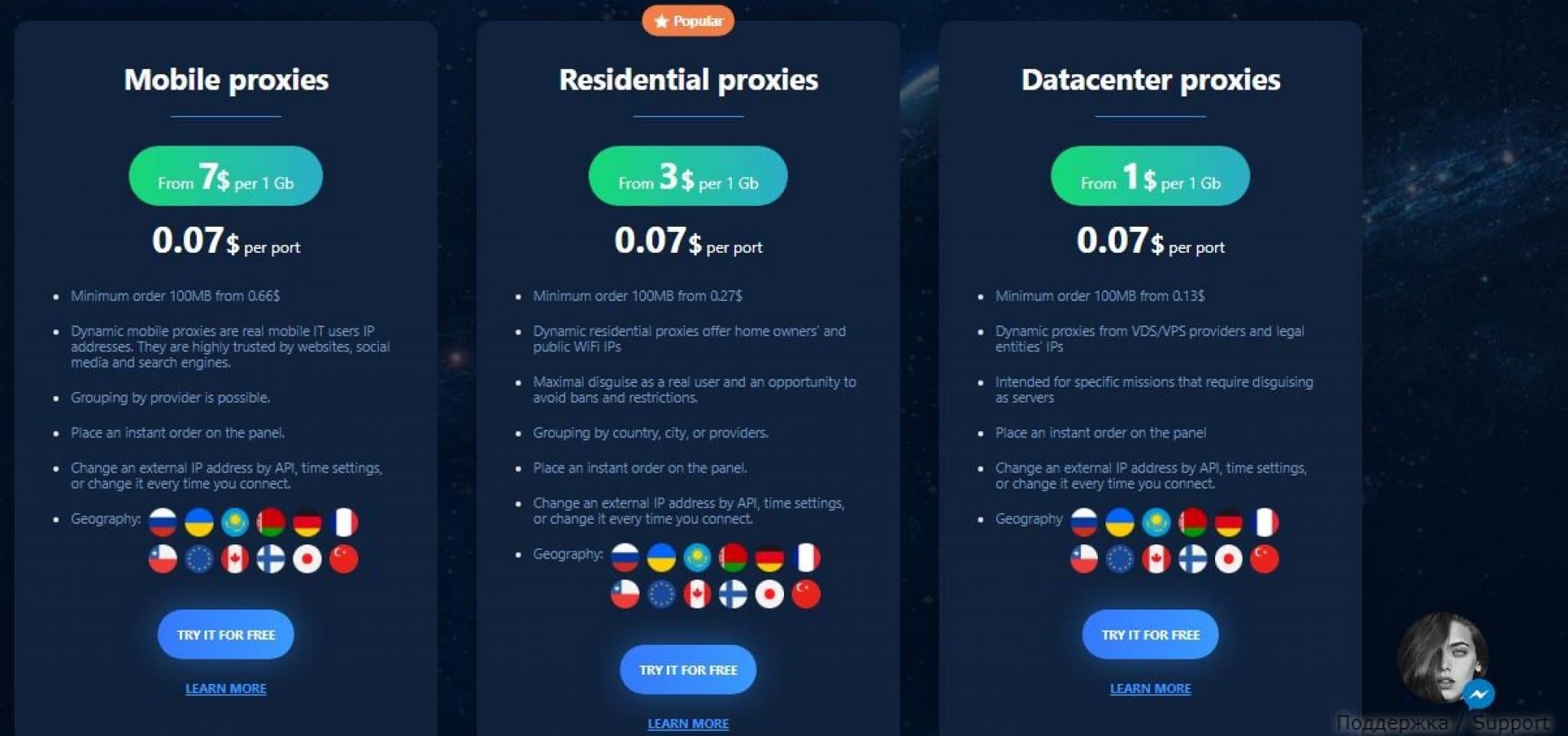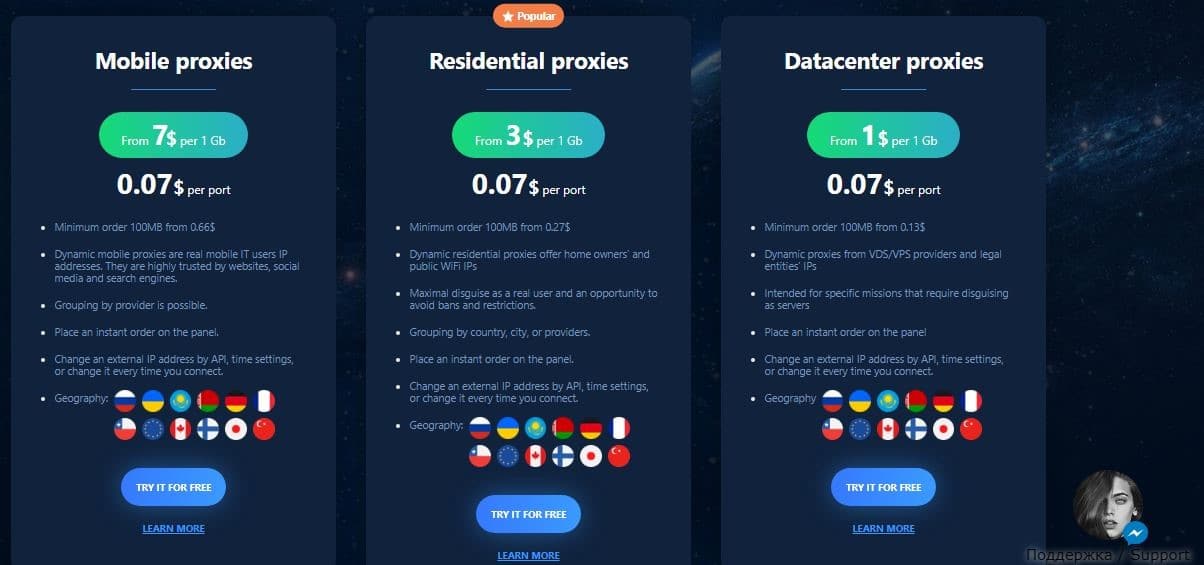 Astroproxy has a free trial plan. They offer you $2, which you can use to try out their service and know if they are the best for you. One thing you will also come to like about Astroproxy related to pricing is the method of payment supported.
Some of the payment systems supported include PayPal, credit/debit cards, Webmoney, Bitcoin, Ethereum, and many other payment systems and cryptos. The acceptance of crypto gives those that are not interested in using trackable means for payment an option.
Features of Astroproxy
Dynamic residential proxy network with home, office, and public WiFi IPs.
Limited support for geo-targeting and a few countries supported, unlike other providers that support many countries across the globe.
Uses passive OS fingerprinting to match needed OS
The service is compatible with the IP protocol, and you can either use the HTTPS or Socks5 protocol.
API provided for integration with custom software – designed and made easy specifically for developers.
Enable IP rotation at a certain time interval or upon your request.
Number of IPs in the pool still small – currently around 100K available daily and up to a million available monthly.
Supports real-time network monitoring from the user dashboard.
A technical support team available on many platforms and channels, ready to provide real-time support.

20% OFF
Get 20% Life-time discount: put promo code "privateproxyreviews" to check out!
---
back to menu ↑
How to Use Astroproxy Proxies
Astroproxy is not different from other providers in terms of how to use it. All you need to do is buy a pan or register for the free trial option. When your account is set, you can log into the user dashboard and copy the details of the proxy port to use.
Astroproxy does not have support for sticky IPs, and as such, all of the ports available are endpoints or gateways that provide you access to the Astroproxy pool. Below is a screenshot of the dashboard from which you can get details of the proxies you paid for.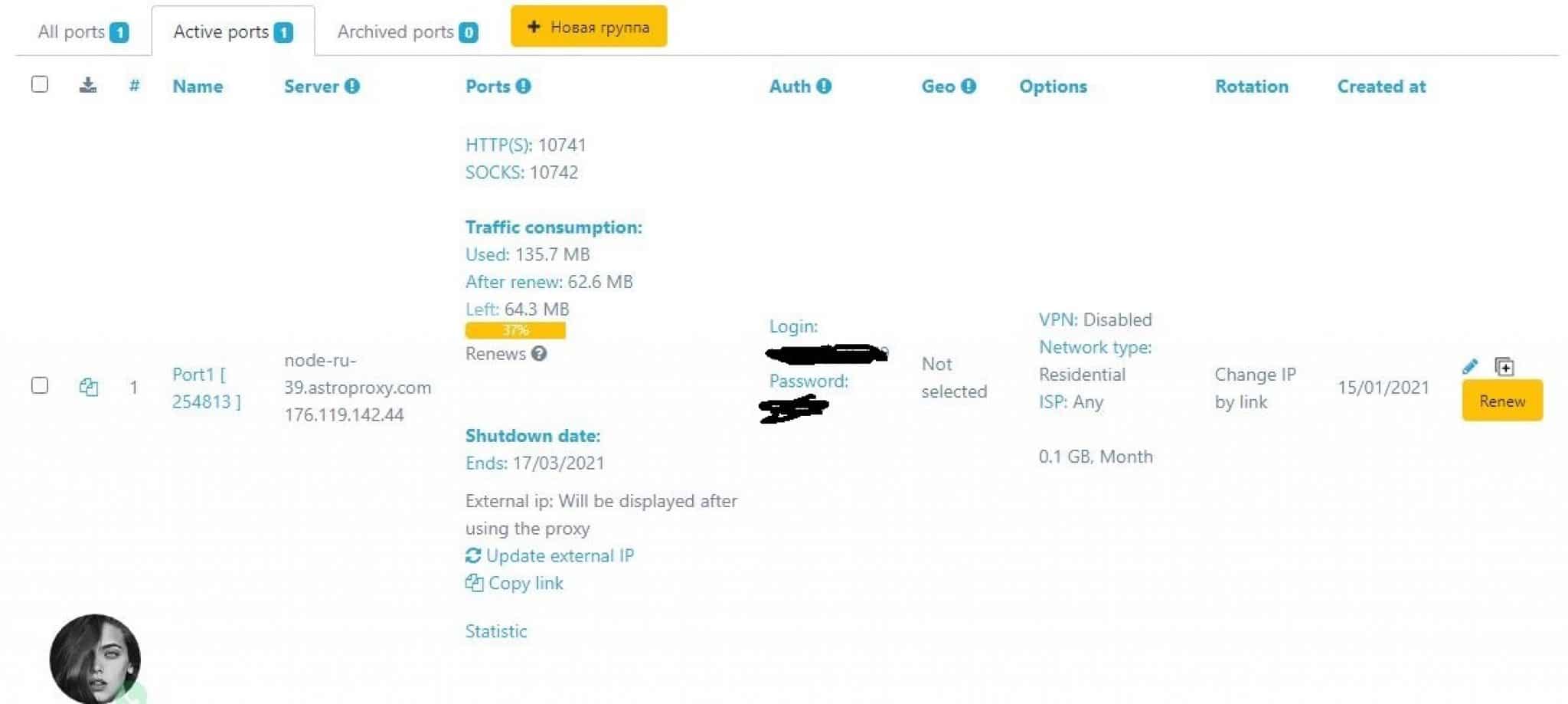 Looking at the above, you can see the proxy server IP/endpoint. You can also see the ports, username and password for authentication, and other important details. I will advise you to copy the login (username) and password as you will require them for authentication.
You can then head over to your browser and set them up the way proxies are set up. You can check out this article on how to set up proxies on popular web browsers. The first time you will be using the proxies, a prompt will come up, asking you for username and password. Enter the login and password you copied from the dashboard, and you are good to go – proxies have been set up and ready for use.
---
back to menu ↑
Our Astroproxy Speed Testing
There is no doubt that the speed of a proxy service is one of the indicators that will either get you to buy proxies from them or look elsewhere. Unfortunately, nearly all proxy providers cannot match the speed you will enjoy without making use of proxies because of the rerouting of requests – and the third-party involved. However, we could still determine how fast a particular proxy server is by measuring the speed of our Internet without proxies and using it as a benchmark. For the speed test, we use the Speedtest.net tool. Below is the result without proxies.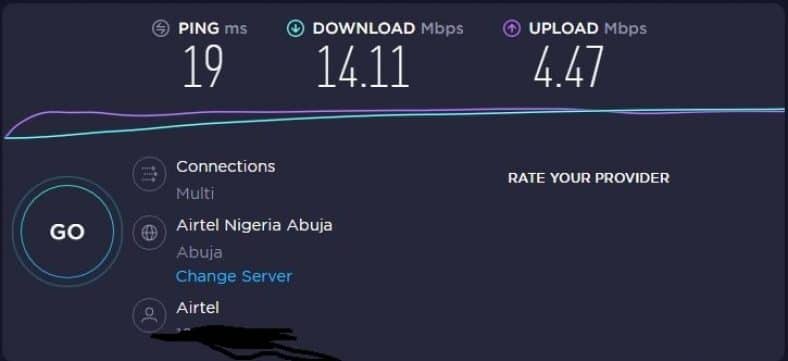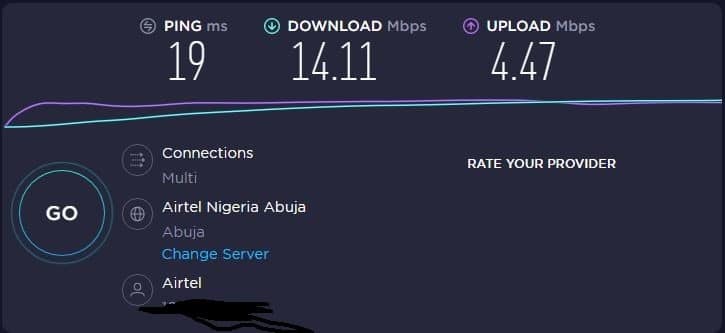 Looking at the above, you will agree with me that the sped is not great and can be seen as slow. However, considering the location the speed was carried out, this is not a surprise as the Internet is slow over there. Let see how Astroproxy stands compared to the above.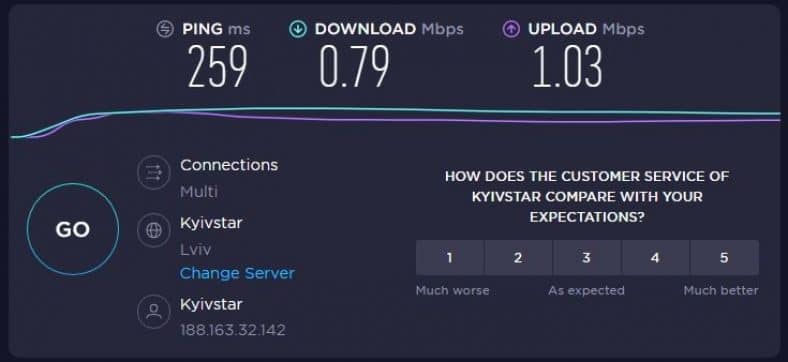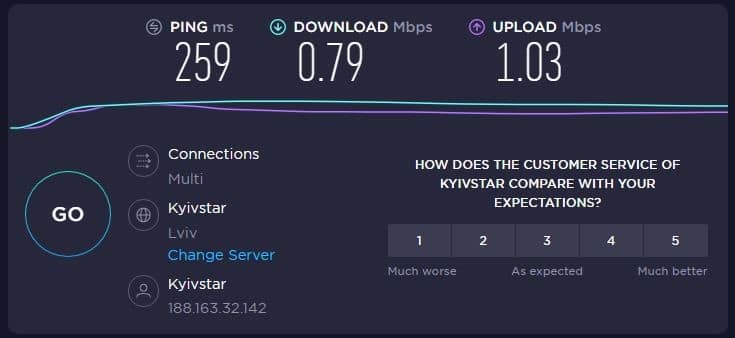 While ping without proxies is 19 ms, with Astroproxy is 259 ms. Also, using proxies brings down the download speed to 0.76 Mbps from 14.11 Mbps and upload speed from 4.47 Mbps without proxies down to 1.03 Mbps with proxies. Looking at the difference between the ping, download, and upload speed, you can see that there is a great difference. However, I was able to use the proxies for browsing and surfing the web even though it was slow – but it works, and I never experienced blocks.
---
back to menu ↑
ISP Testing – Residential or not?
From the beginning of this review, we made it clear that even though Astroproxy offers the 3 types of proxies (mobile, residential, and datacenter), our focus will be on their residential proxies. the proxies we used in the speed test section above are residential proxies according to the claim of Astroproxy. But are they telling the truth? There are a good number of providers that will end up selling datacenter proxies for you as residential proxies.
So, we had to put Astroproxy into a test to ascertain if their proxies are residential or not. How do we differentiate residential proxies from datacenter proxies? We use Ipinfo.io web service. Look at the screenshot below; it is the IP lookup data for my real IP address. take note of the value (isp) in the red rectangle. ISP signifies residential proxy.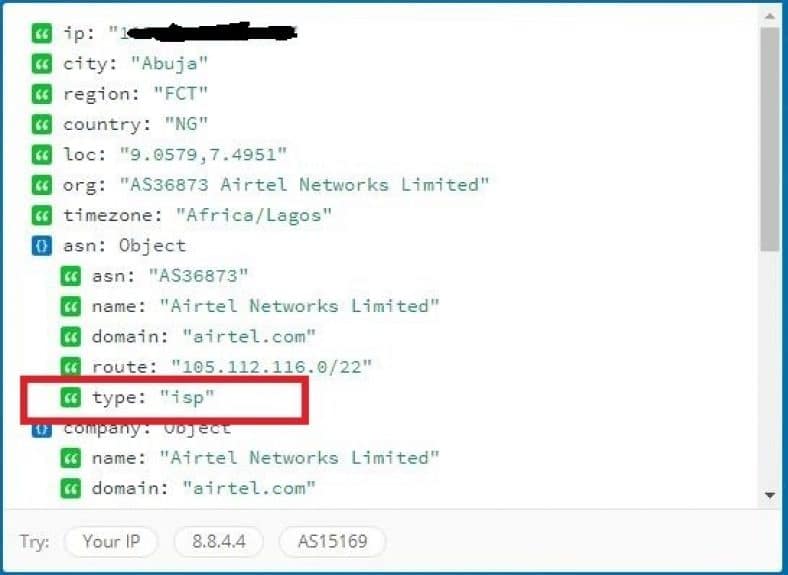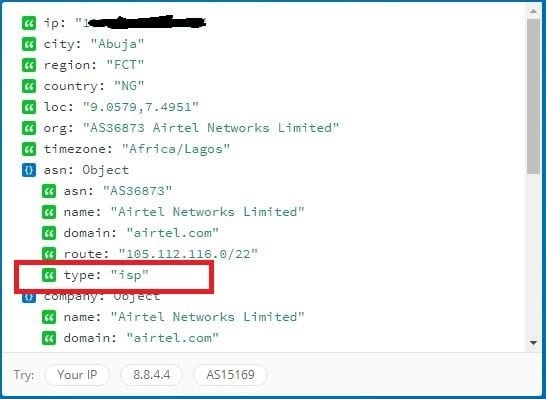 Now, we now set up proxies and use the same IPinfo.io IP lookup tool and got the below.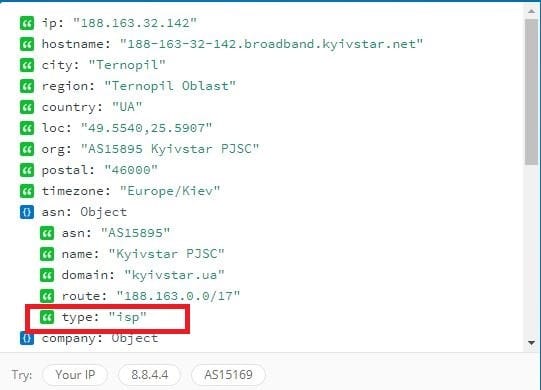 Just like my real IP address, the IP type is ISP, the IP address Astroproxy route my request through is also an ISP proxy. Being residential proxies have some advantages, including being undetectable and enjoy some level of trust from web services. However, they can be slow when compared to datacenter proxies—the quite expensive too.
---
---
back to menu ↑
Our verdict
Just like every other proxy providers, Astroproxy has its strengths and weaknesses. It can be said to be affordable, cheap, and support a good number of payment methods. In terms of compatibility with websites, Astroproxy residential proxies are compatible with all websites we tried them on. For this reason, we can say that Astroproxy is a recommended provider. However, you need to consider some of its downsides and make sure they won't cause you problems before buying proxies from Astroproxy.
One of the major problems of Astroproxy is that their proxies are not fast, even though you could use the proxies for tasks you need proxies for. If you are looking for fast proxies, then you will need to look elsewhere. Other problems associated with the Astroproxy residential proxy network are the small size of its IP pool and the limited number of locations supported. Aside from these few downsides, Astroproxy residential proxies are recommended.