Are you looking for the best Captcha solving service in the market that you can to solve Captcha? Then read this article as it has been written to provide you recommendations on the best Captcha solvers.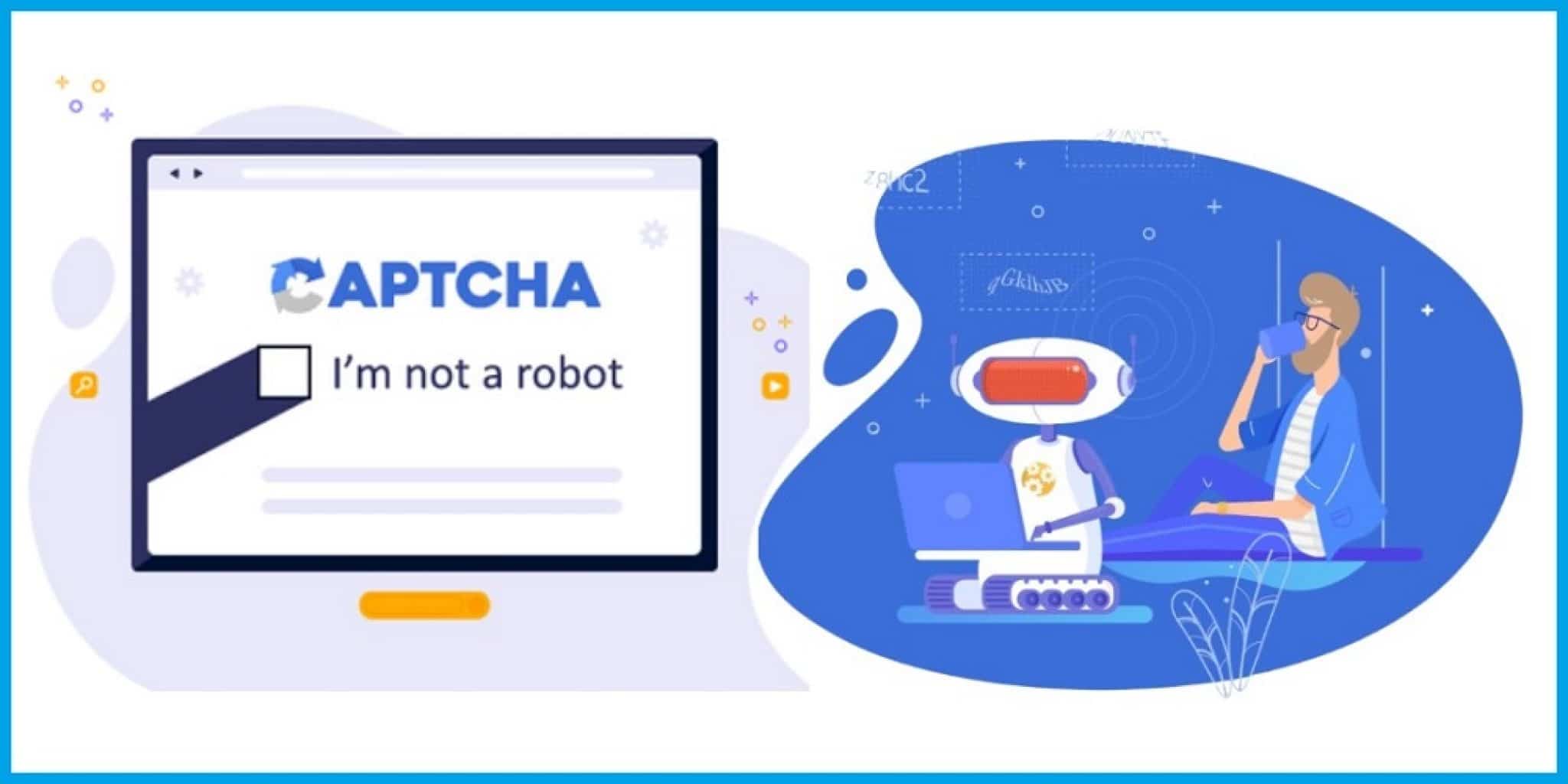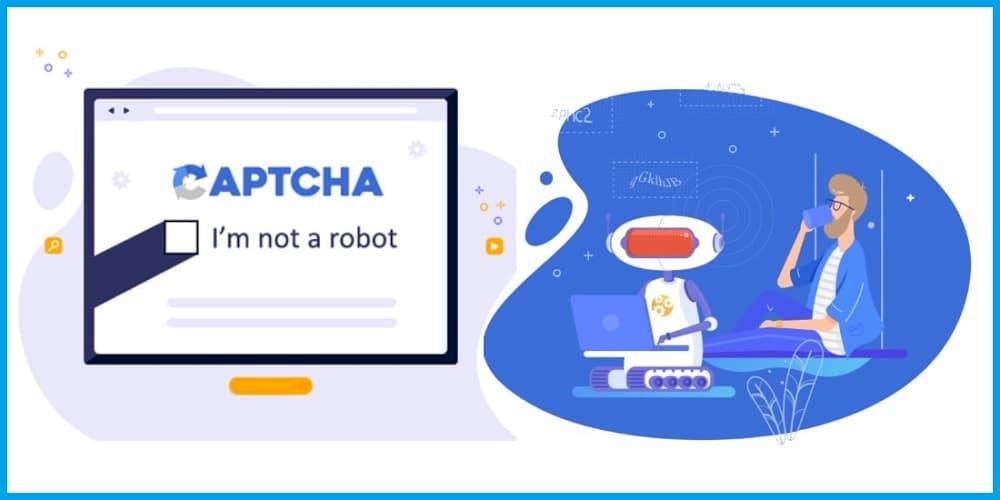 Web automation makes our job easy. With bots, you can scrape data, buy limited-edition wears, fill forms, and carry out other repetitive tasks online – this is for you as a bot user. The story is a different one for web service owners and administrators – web automation except for the one they support is not allowed.
Even though there are good bots, the bad ones have given bots a bad name, and many web owners do not like bots to interact with their service and put Captchas forward to prevent bot access. Regular Internet users will have to deal with Captcha solvers, but if you engage in web automation, then you will encounter it on a regular basis.
Solving Captchas on your own manually can be repetitive, tasks wasting, and boring – it could also mean you can't scale up, and that could hinder the growth of your business, and in the case of buying limited-edition items, you lose out.
There is a better option which is using a Captcha solver that will automatically help you solve Captcha and improve your workflow. In this article, we will be discussing some of the best Captcha solvers in the market.
---
How Do Captcha Solvers Work?
If a web service suspects a bot action, it put out a Captcha to be solved, and only when that is done with the web service allow access again. A Captcha can be in many forms, but the idea remains the same – you are required to carry out a task that shows you are human. Interestingly, Captcha solvers can do that for you. All you need to do is register, buy units, implement their API to send Captchas, and get back the result as text. But how do these services actually solve the Captchas?
There are basically two ways Captcha solvers solve Captchas, and this will determine the working mechanism. The first method is the human-based method, where a Captcha solving service hires humans who they send Captchas to solve and forward the result to you.
This method is for Captchas that computers cannot solve automatically. the other method is Optical Character Recognition (OCR) which Artificial Intelligence and Machine Learning are used to determine the content of a Captcha image and solved it automatically without human interaction.
---
Top Captcha Solving Service in the Market
There are a good number of Captcha solvers in the market, with some even coming with no price on them. Just like every other service – you should look out for the best only – do not fall for marketing gimmicks. To help our readers use nothing but the best, we have compiled a list of the 15 best Captcha solvers in the market. Below is our list after extensive research.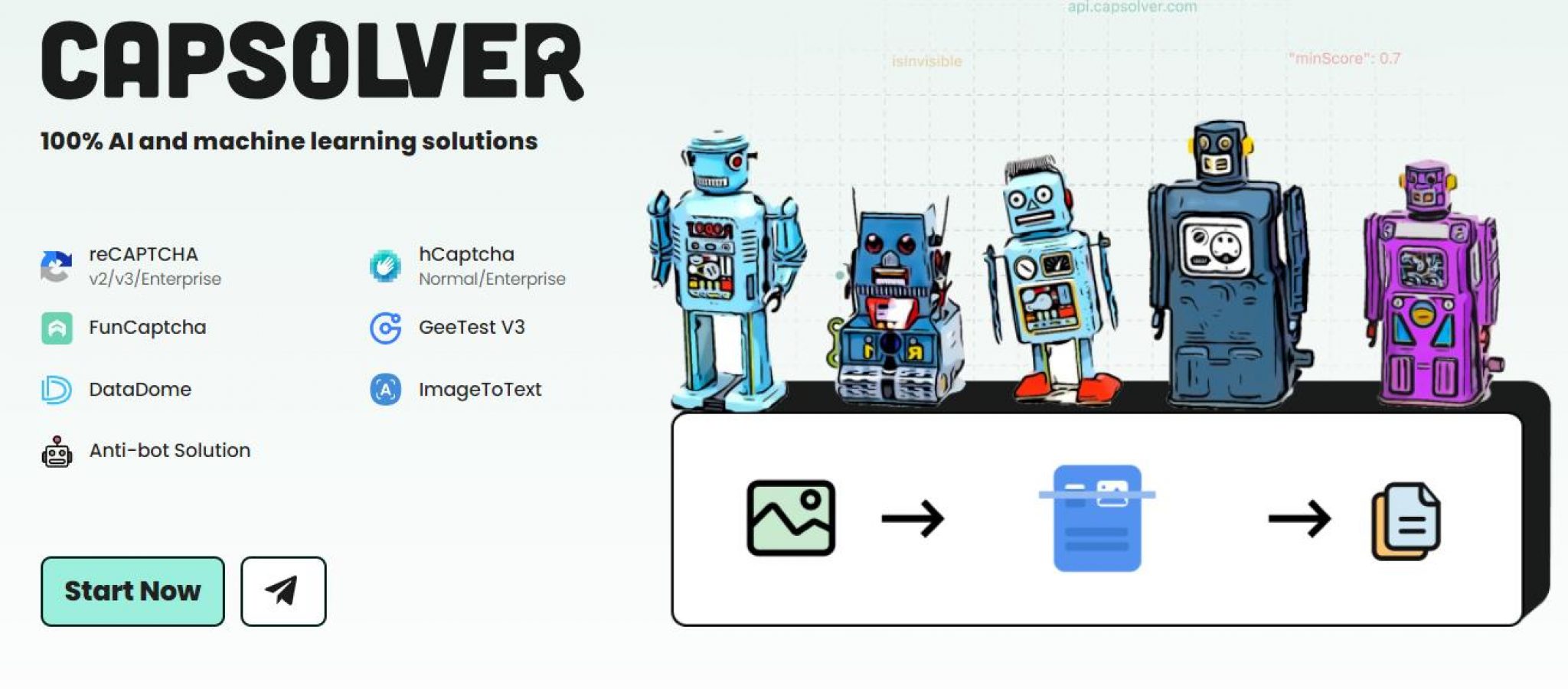 The most fastest and cheapest captcha-solving solution is provided by Capsolver's automated captcha solver. Using its straightforward integration option, you can quickly integrate it with your software and get the finest results in a matter of seconds.
You might get a range of options, such as picture-to-text, reCaptcha v2, reCaptcha v3, aws amazon waf captcha, cybersiara, datadome captcha, hCaptcha, hCaptcha Click, Geetest v3, Geetest v4, Cloudflare, Akamai, Imperva/Incapsula, FunCaptcha, and more, for the lowest price on the market. 0.1s is the slowest speed yet recorded using this service.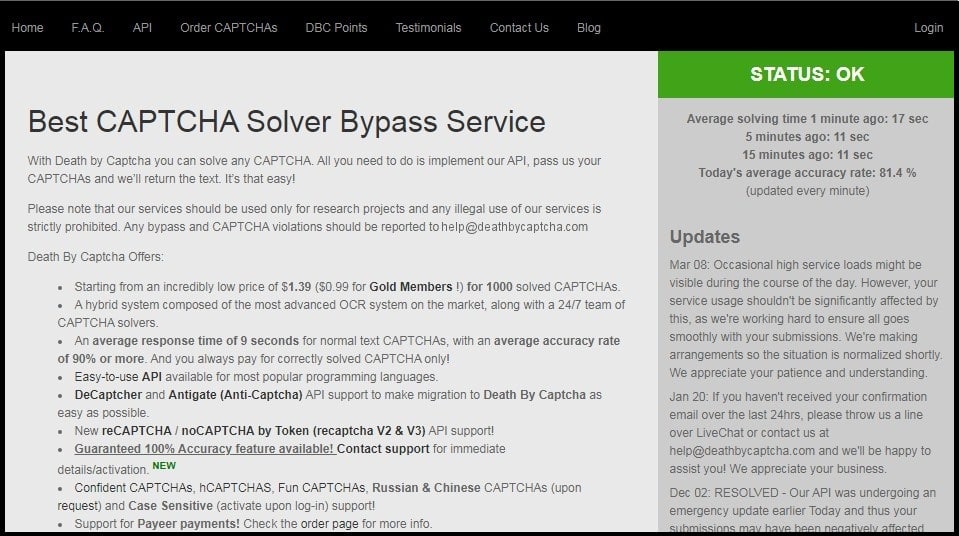 DeathByCaptcha has an accuracy level of over 90 percent, and you can even opt-in for their 100 percent accuracy at a premium. With this solver, getting rid of Captchas becomes easy. All you need is to upload the Captcha to their server, and you will get the result as text which you will then submit as your solution for the Captcha.
This solver has been around for a while now. They used a hybrid system that involves the use of human workers and Artificial Intelligence to solve Captchas. This solver has slightly more expensive pricing. This works perfectly for all types of Captchas, including Chinese and Russian Captchas.
---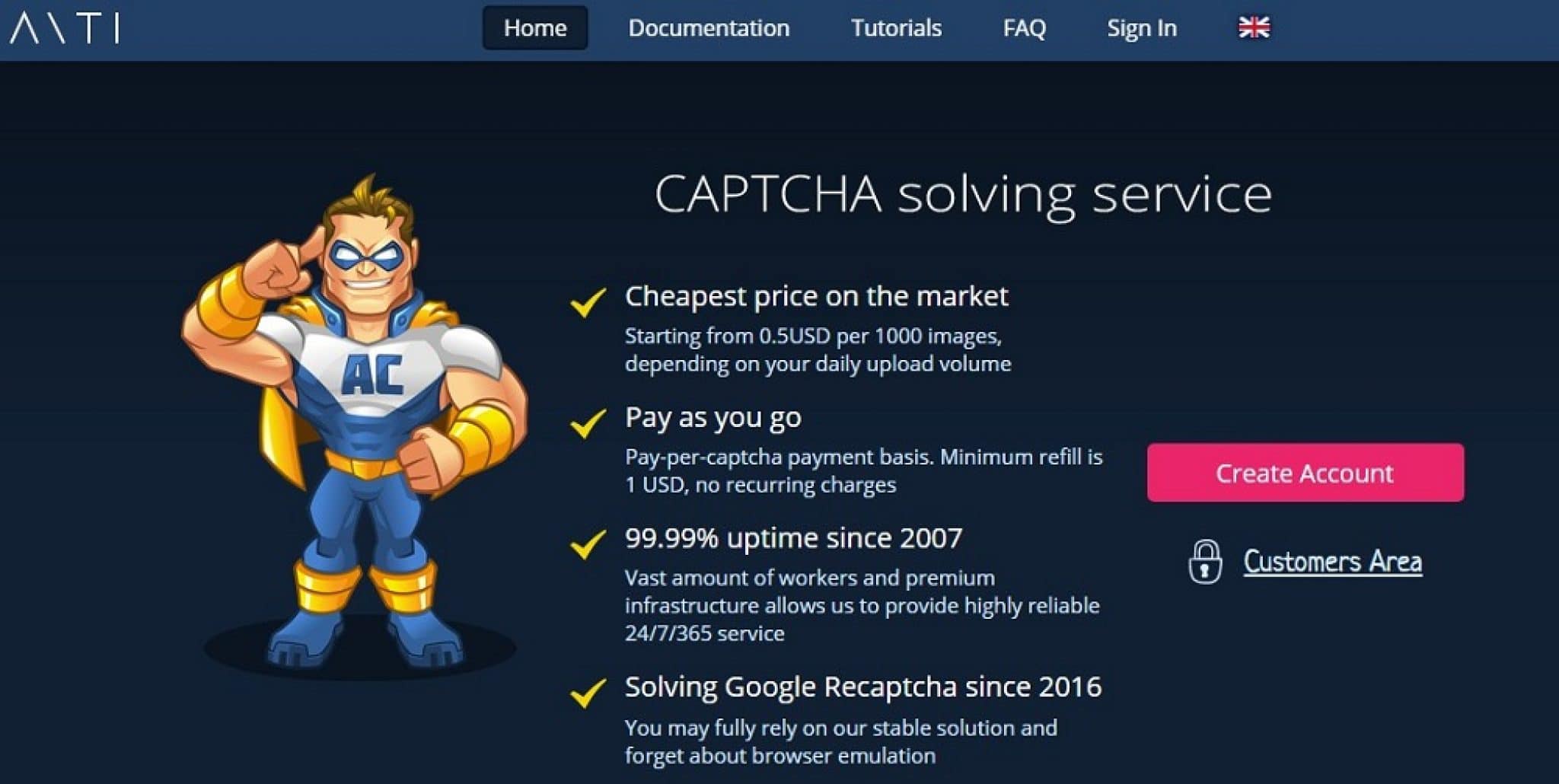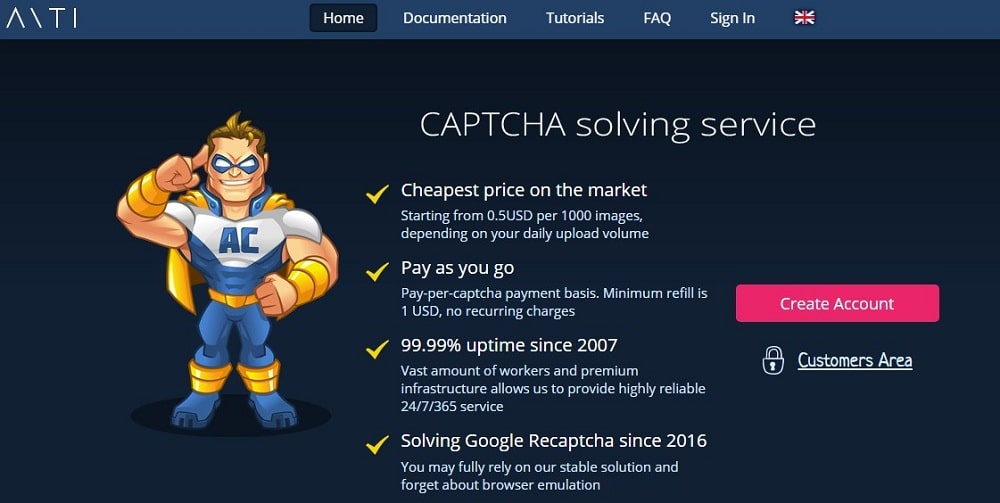 The Anti-Captcha service is arguably one of the best Captcha solving services in the market. It has been around since 2007 and has been solving Google Recaptcha since 2016 – if you are also looking for a service that can take care of JavaScript Captchas, you can count on them.
This service has human workers around the world that can solve the most difficult Captchas available, and they are fast at doing that. The Anti-Captcha system works perfectly with automation bots, and all you need is to integrate their API with which you will upload Captchas to their server. They also have a browser plugin for Chrome and Firefox.
---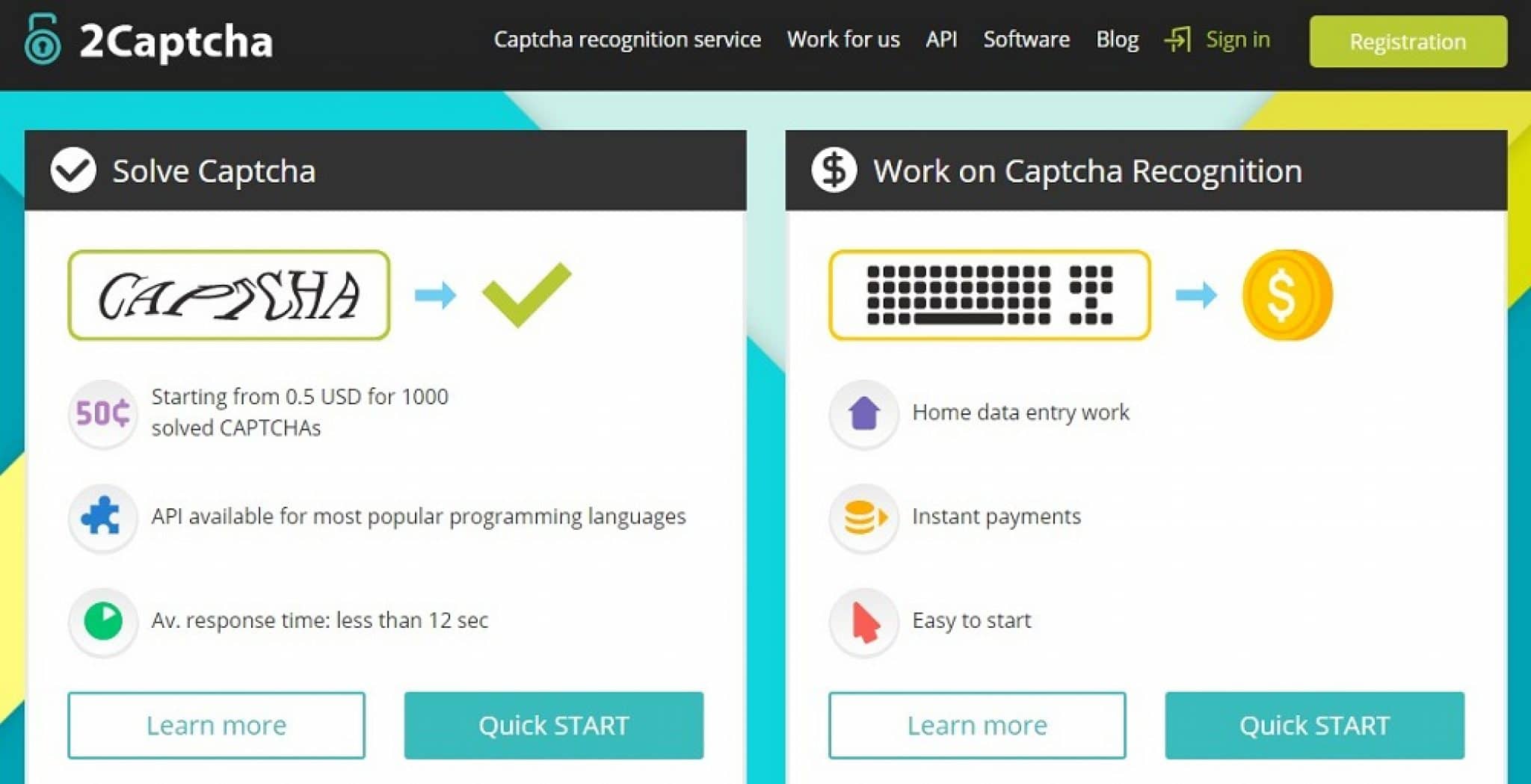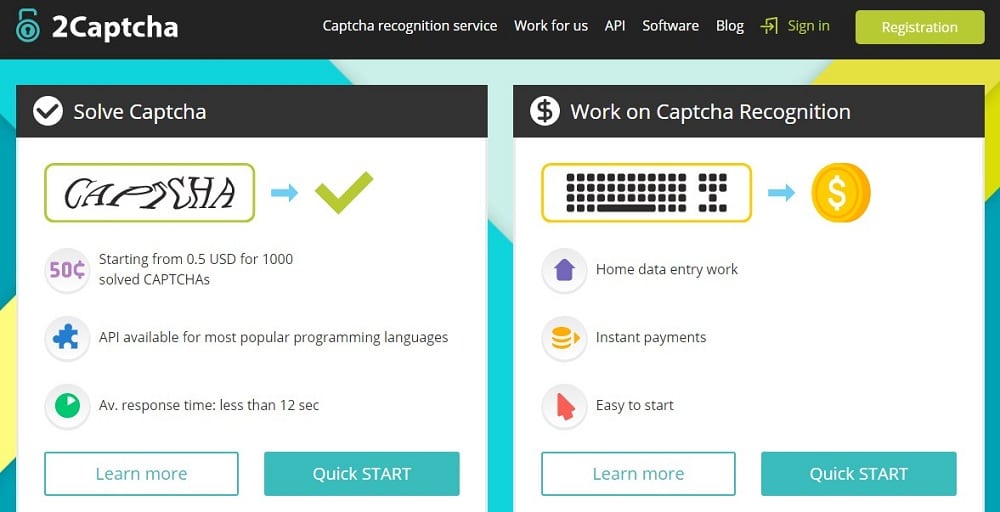 The 2Captcha service is another service that can help you solve Captchas easily. Just like the Anti-Captcha above, the 2Captcha service is a paid tool, and the pricing is the same – $0.5 for 1000 Captchas. The speed at which this service solves and delivers results is quite fast, with an average speed of 12 seconds.
One thing you will come to like about 2Captcha is that it has APIs for the most popular programming languages, which means you do not have to worry about your choice of programming language. This service has a good number of human workers, which it takes pride in and publishes details about them. The service works perfectly for most kinds of Captchas.
---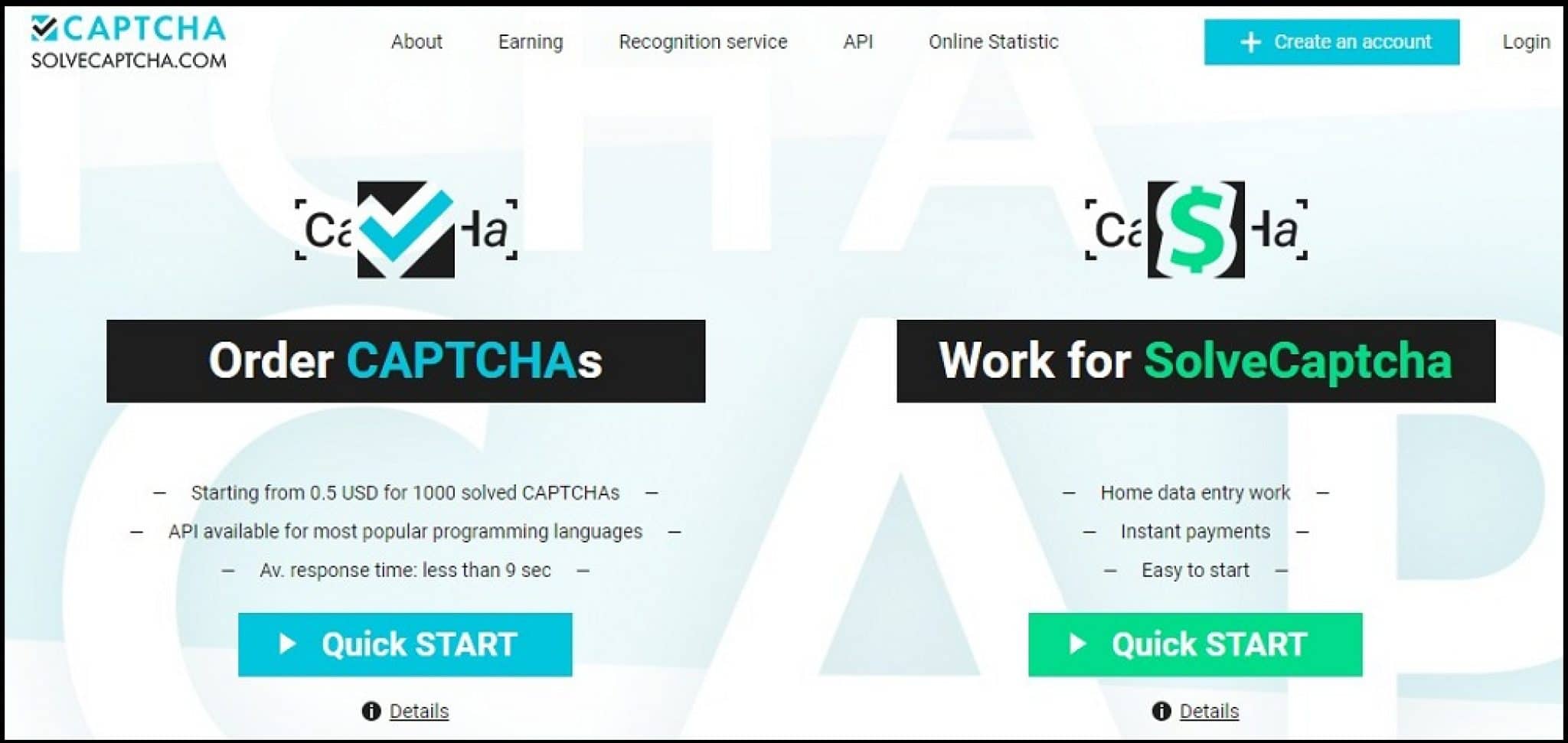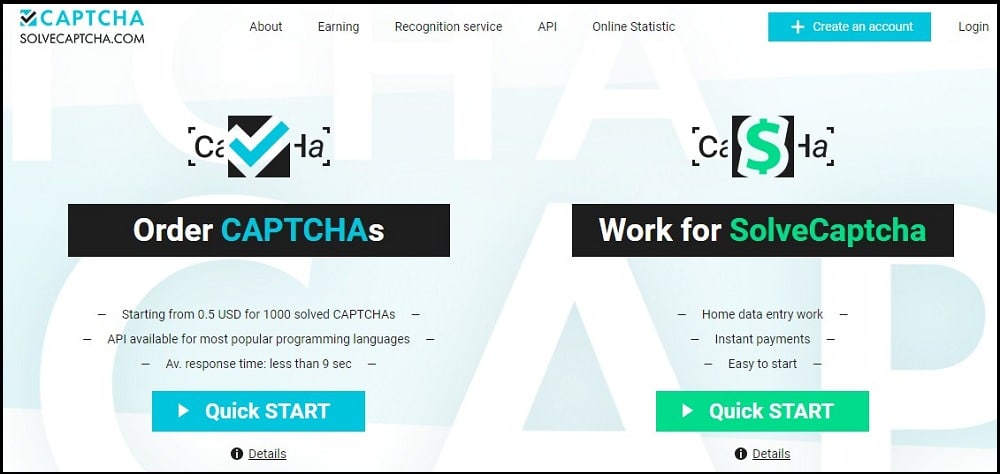 The SolveCaptcha service comes with an API that makes it easy to migrate from using other services to its own Captcha service. Pricing is considered cheap, and accuracy is excellent. They have a dedicated team of Captcha solvers always online to take on your Captcha solving needs.
For Captchas that do not require humans, their Artificial Intelligence system solves them. This solver has support for popular programming languages and provides an easy to use API to make setting up easy. You can use it with any bot, including product checkout bots such as the Better Nike Bot.
---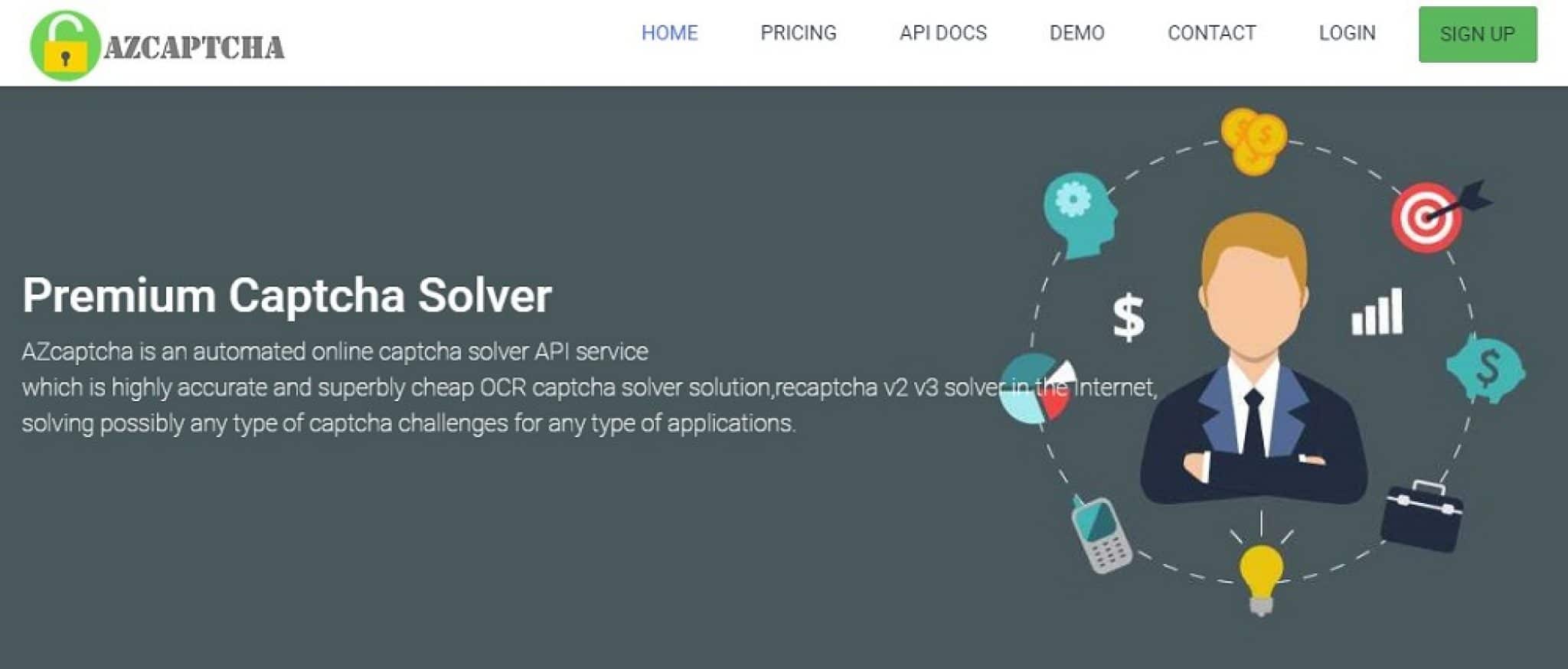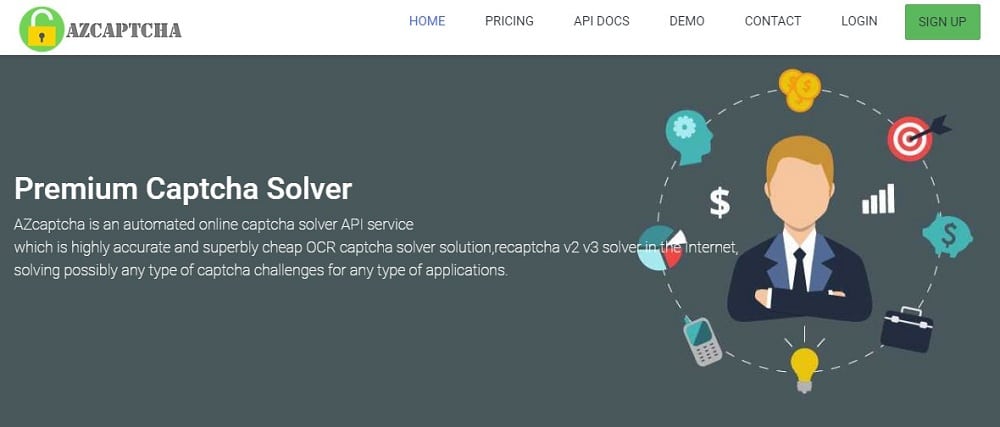 If you are looking for a highly accurate Captcha solver, then the AZCaptcha should be one of the services you look at. The AZcaptcha is an automated online captcha solver API service for OCR captcha solver and Google Recaptcha v2 and v3. The pricing for this solver is quite affordable, but if you are expecting too many Captchas, then you can go for their unlimited monthly plan for $25 only. This service can take care of over 1000 Captcha types, help you save money, and is easy to integrate – thanks to their simple API. If you intend to carry out tasks that require solving Captchas, such as online surveys, you can make use of their browser extension available for both Chrome and Firefox.
---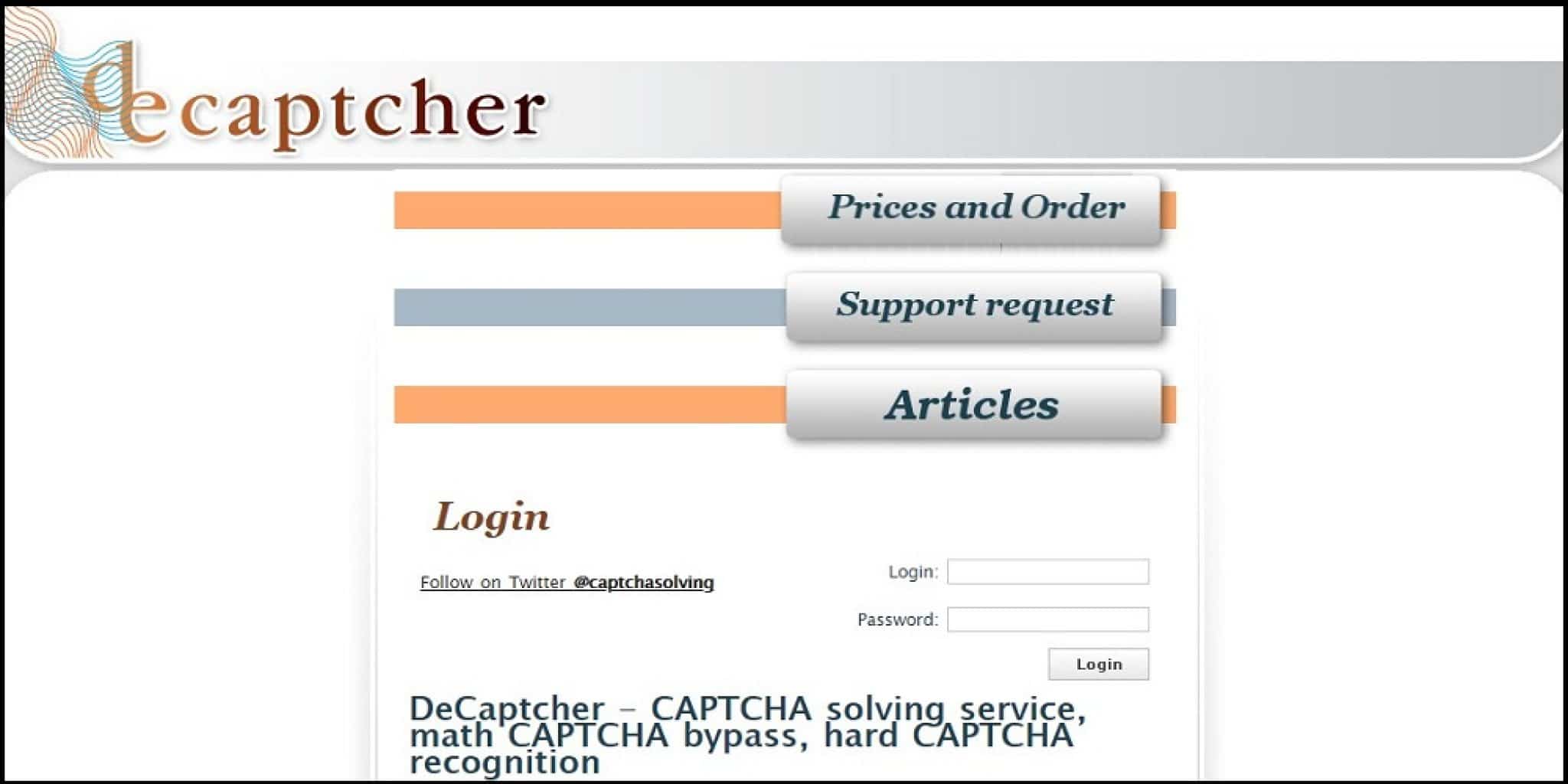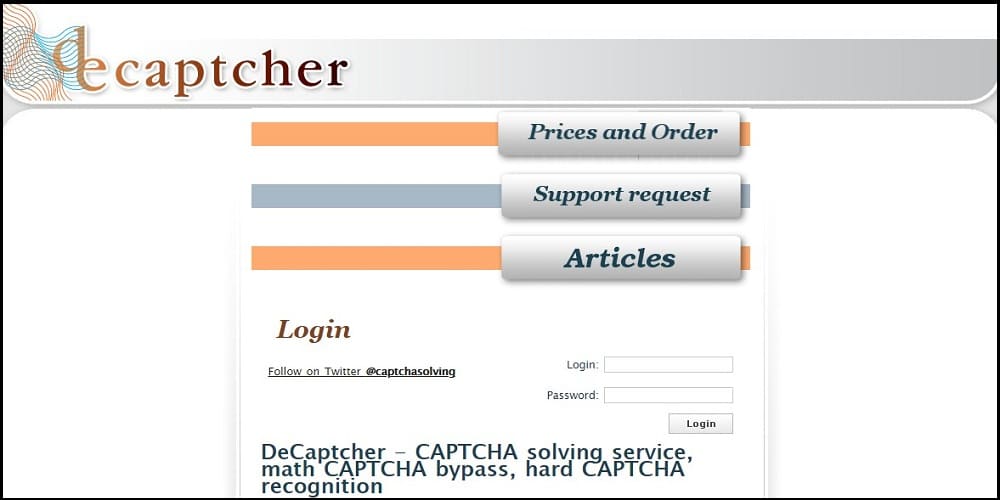 Unlike the above,which all have human workers that take care of most of their jobs except the ones that can be done via automated means, the DeCaptcher service does not have human workers. This service depends largely on the Optical Character Recognition (OCR) technology to solve Captchas.
It also has support for Math Captchas. Just like the other discussed above, this one is also a paid tool. In terms of API support, this service has support for C, Java, C#, PHP, and a few other programming languages. If you have some BTC, you could use them to pay for their service.
---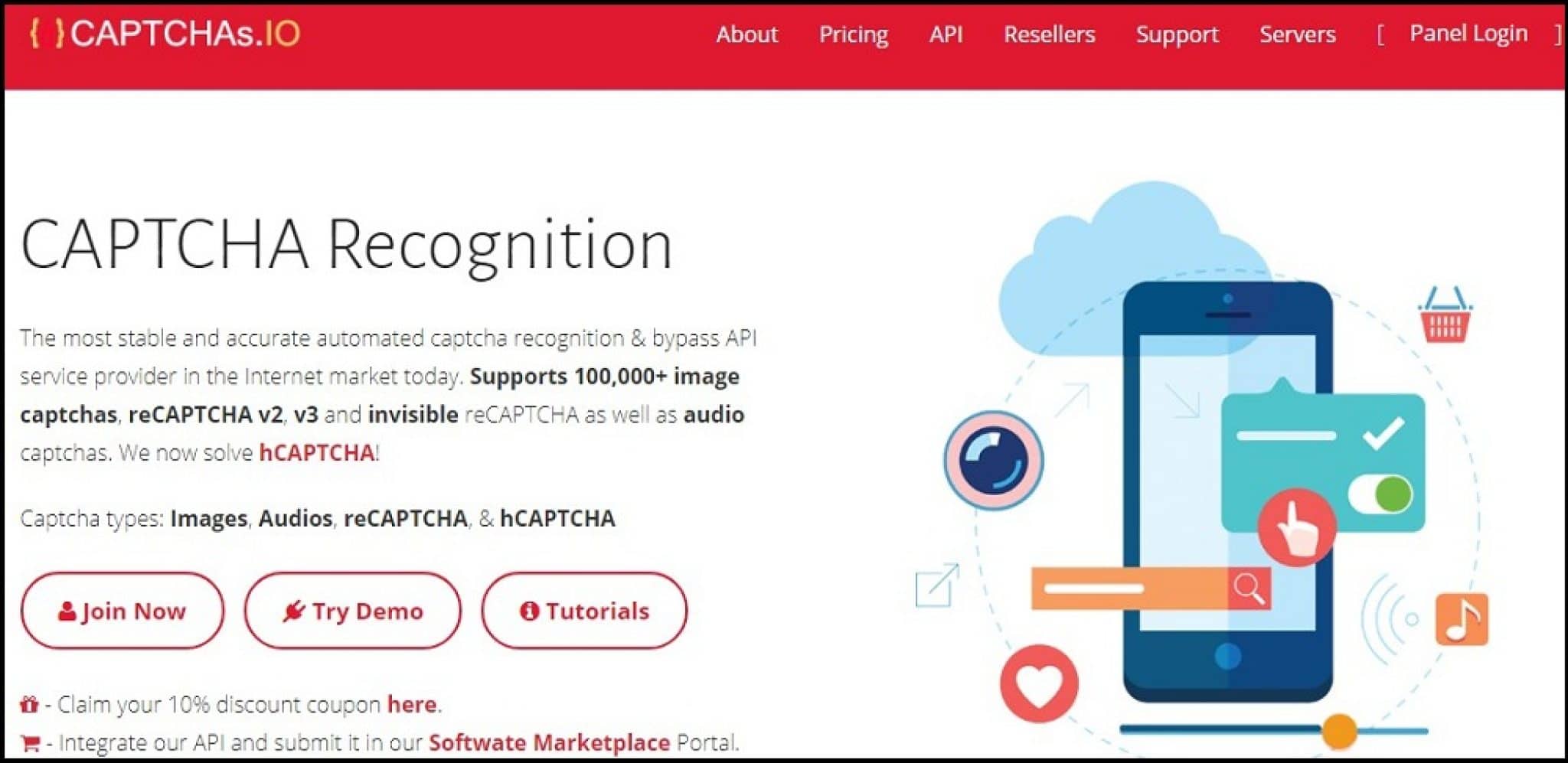 This service is one of the innovative solvers in the market. With this solver, you can take care of regular image Captchas, Google ReCaptchas, invisible ReCaptchas, as well as even audio Captchas. They also have support for solving hCaptcha.
If you want to scale up and want performance to be at its best, you can opt-in or their dedicated solver servers. They even have a demo for new users – and also a discount. They have got fast and stable service and. Integration of their API is also fast. Pricing for their package starts at $22 monthly.
---


The Captcha Guru Captcha solver provides an API for solving Captchas easily. This service allows a user to create up to 150 threads simultaneously.
Some of the features that will make you like this service includes their support for custom proxies, user agents, and cookies which increase their success rate. Just like most other providers above, the price depends on the type of Captchas you wish to solve, but on a general basis, they can be seen as a cheap service.
---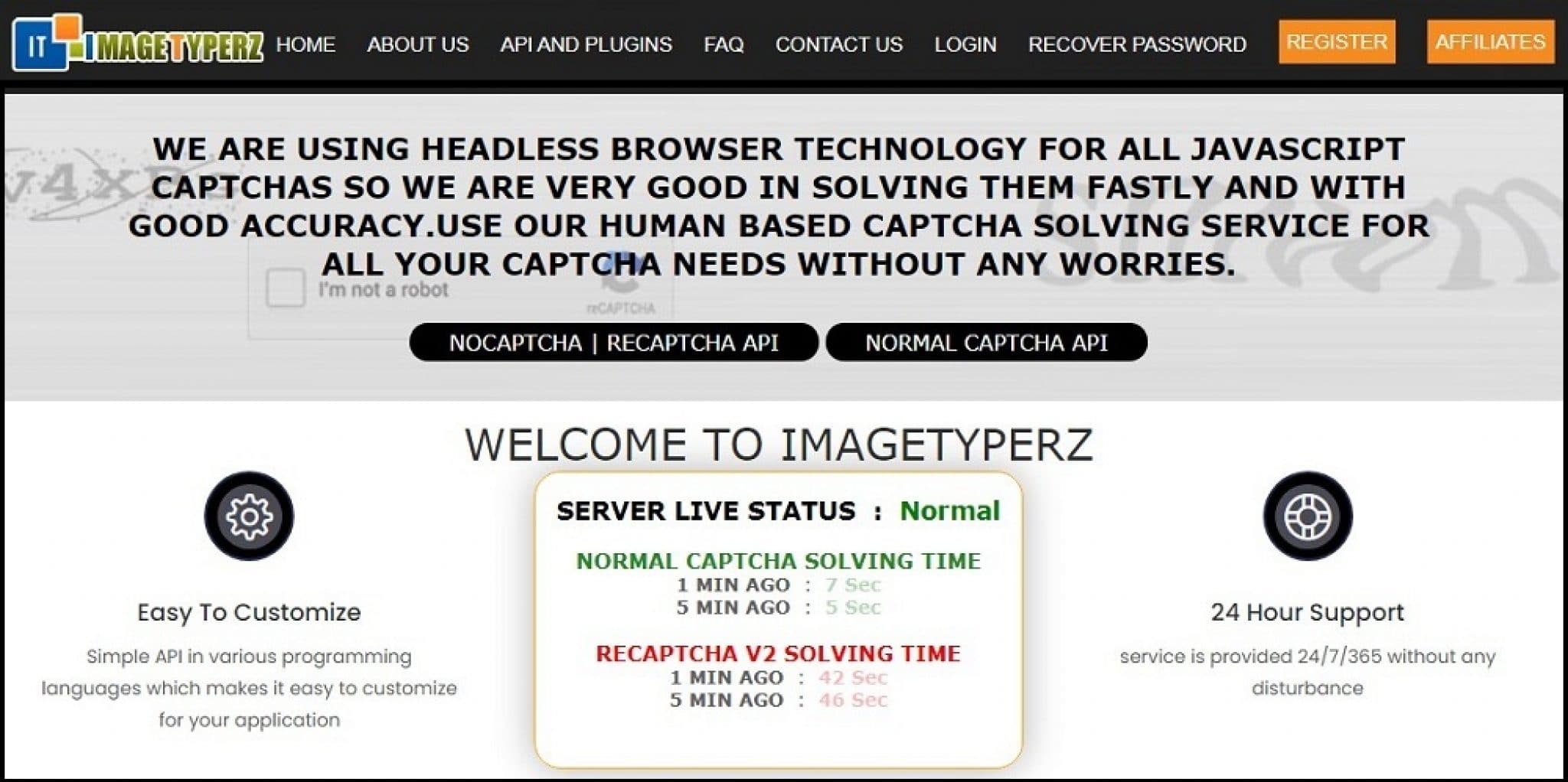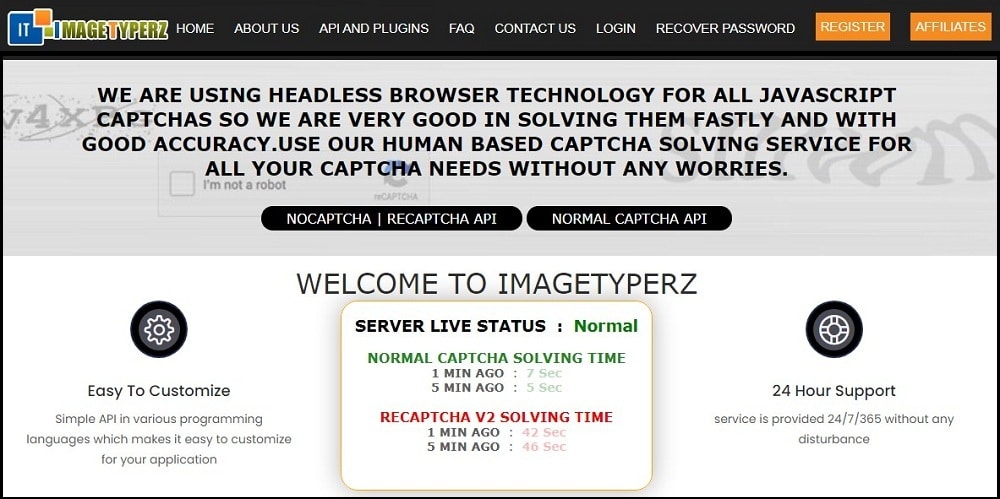 The ImageTyperz service has been made to be easily customizable. This service will help you solve all kinds of Captchas, including all versions of ReCaptcha, TikTok Captcha, hCaptcha, FunCaptcha, and Geetest and Capy, among others. This service makes it easy to report any badly solved Captcha.
The API is available for popular programming languages and perfect for use with most web bots, including SEO software, among others. They are quite effective, but pricing is a little bit more than most other providers.
---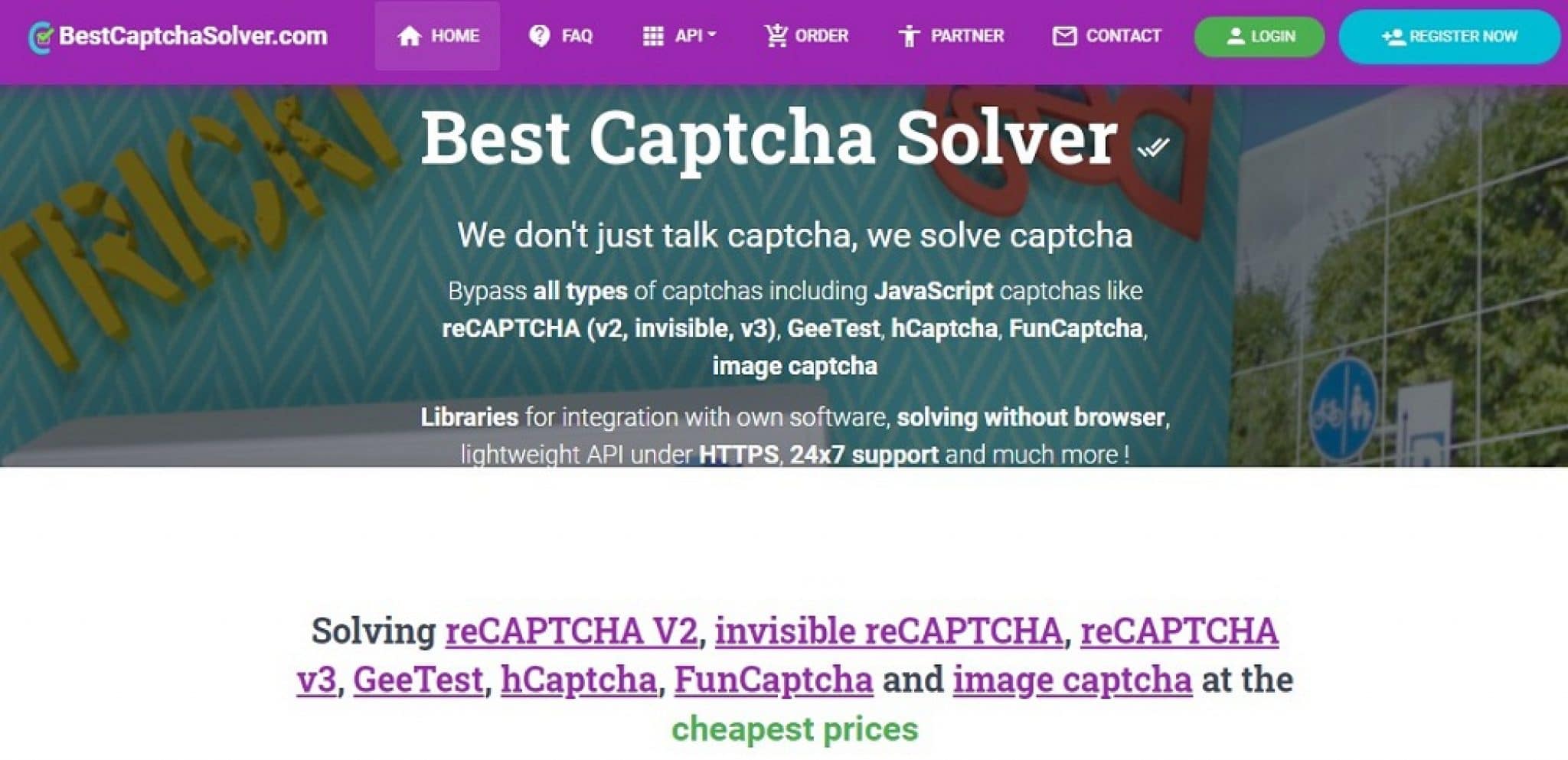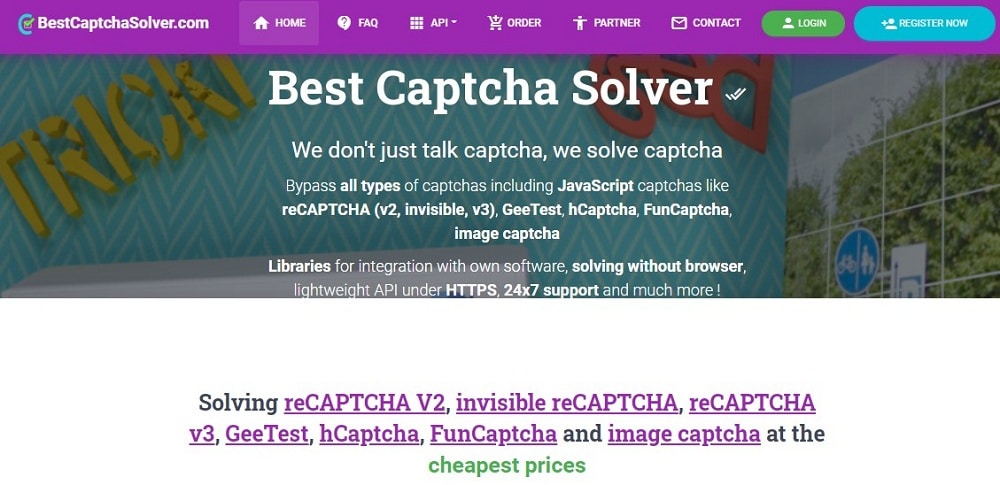 I must confess – I am not impressed with the name of this service as it was coined for SEO purposes. However, this does not make it a bad Captcha solver. In fact, you will be impressed with its effectiveness and performance. You can use it to solve all types of captchas, including JavaScript captchas like reCAPTCHA (v2, invisible, v3), GeeTest, hCaptcha, FunCaptcha, image captcha.
While computers areinvolved, they actually have a dedicated team of human workers that solve the Captchas and send the result to their system before being forwarded to you. It has an easy API integration available for popular programming languages.
---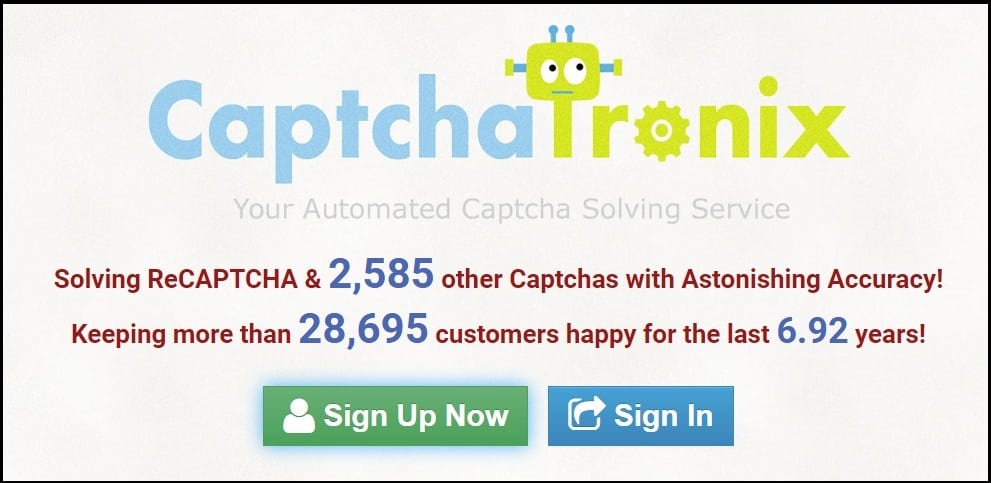 The CaptchaTronix has been around for over 6 years now and has helped over 28K customers to solve Captchas. This service provider can be used to solve Recaptcha and over 2800 other types of Captchas.
In terms of average speed, it can be said that CaptchaTronix has got a good speed, and you will not have to wait in other to get Captcha solved, which in a way helps you save time. If you visit the CaptchaTronix website, you will see that they claim they would help you save money. In reality, their pricing is not different from the average pricing in the market.
---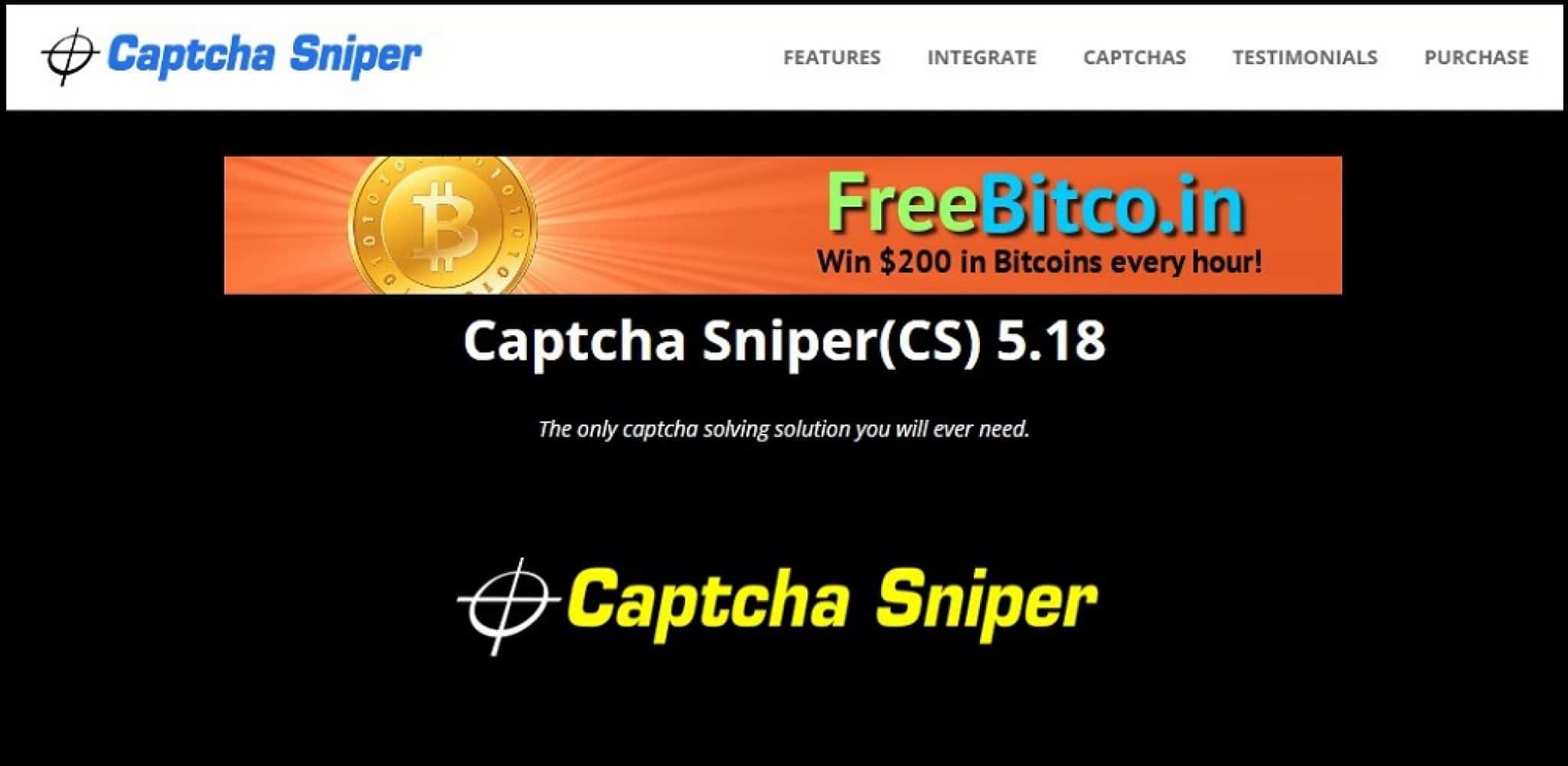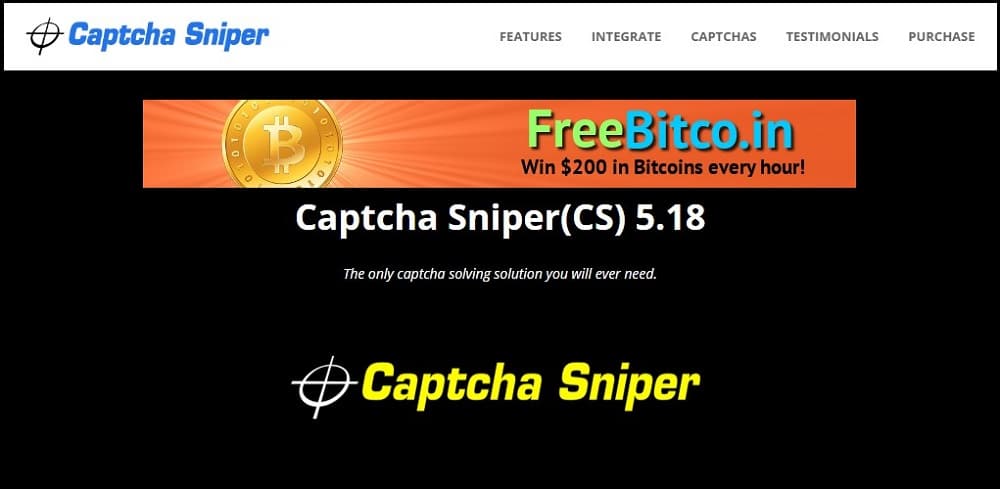 This service has proven to be the perfect solver for all kinds of Captchas. If you visit the Captcha Sniper homepage, you will notice that they have got a long list of Captchas and the sites or services they are encountered on. This service has got over 1K Captchas built-in. It has got a simple API, and you can even add your own custom Captcha. This service is easy to use, and you will not experience any form of downtime as you make use of their service.
---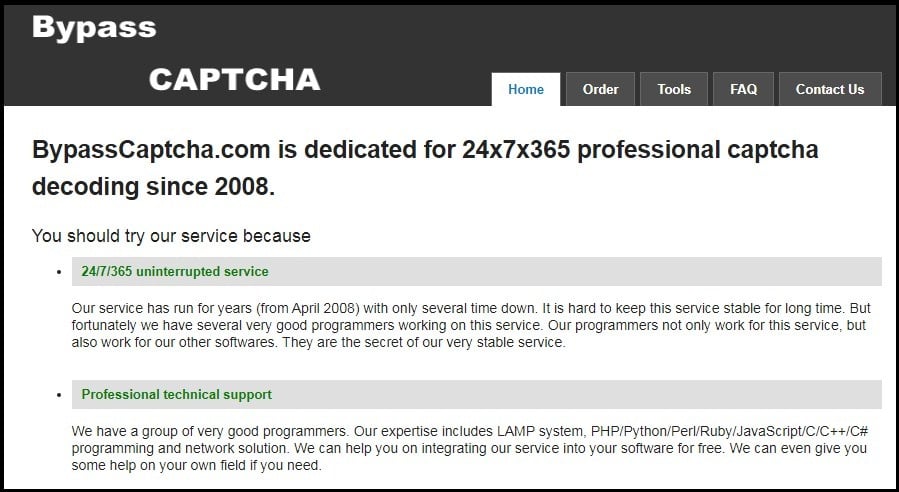 The BypassCaptcha service is one of the oldest Captcha solvers on the list. Unfortunately, it is not as popular as other older solvers. Even though it does not have a cool name and is not popular, it is quite effective in solving Captchas and can be said to be one of the best solvers in the market.
This has got to be one of the simplest Captcha solvers – it does not have support for in-browser solvers – it works only as an API. This tool is used more by SEO but can be used for other tasks as well.
---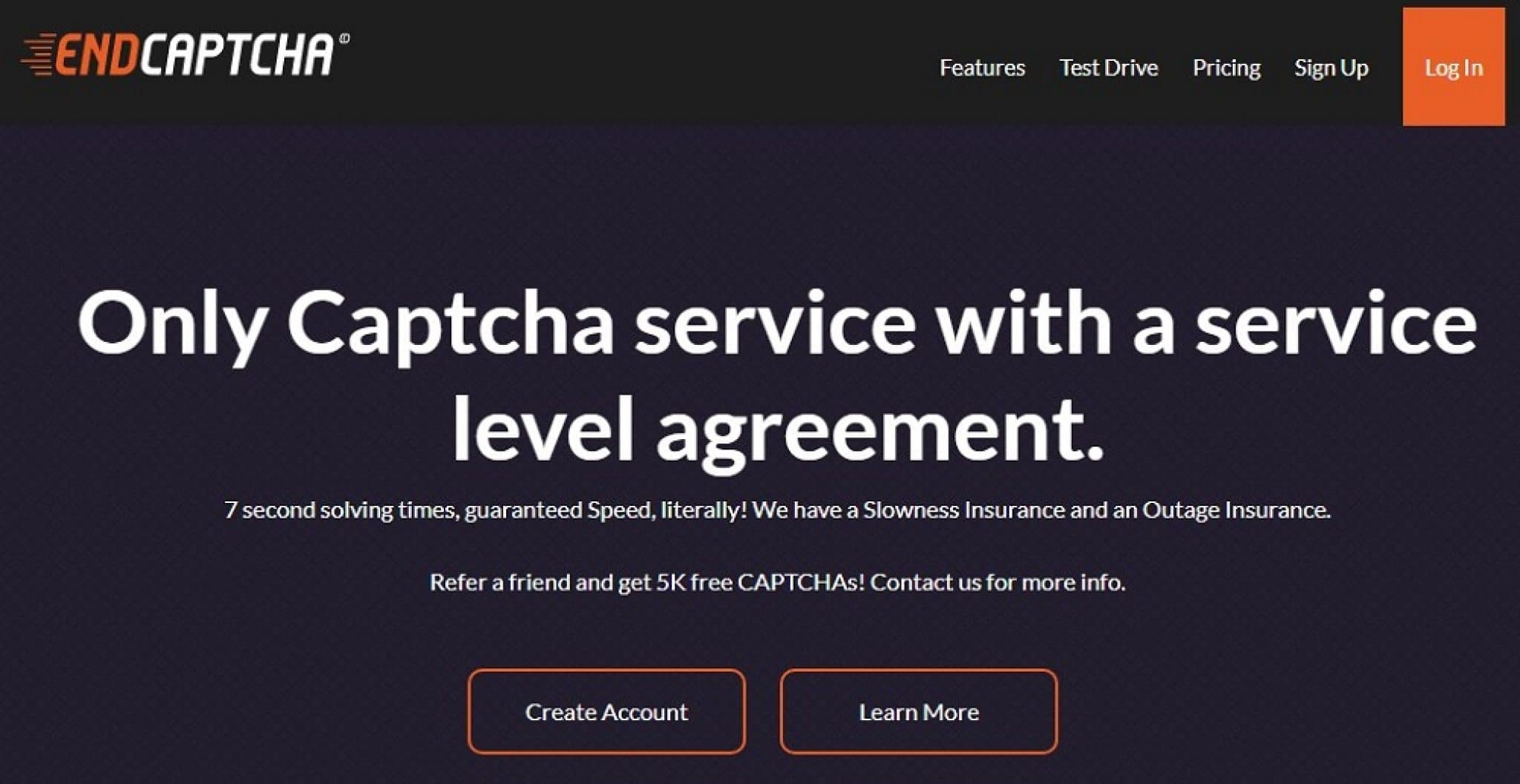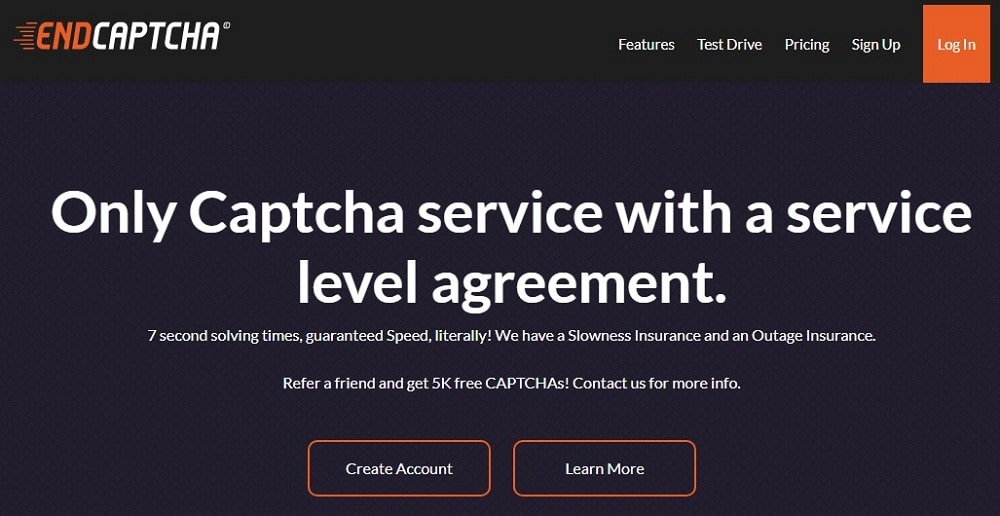 Waging war against Captchas has never been easy, but with EndCaptcha, it becomes easy. This service is one of the best for solving Captcha. One feature that makes me like the service is their insurance system that compensates users for slowness and outage.
Another thing you will come to like about this service is that it provides 1000 free credits as a new user to test their service and see if they are perfect for your use case. The EndCaptcha service has one of the best performances, is easy to use, and will provide you the stability required. They have different packages, with each having the feature supported.
---

The CaptchaCoder is one of the captcha solving services you can use to solve Captchas automatically. This service is a hybrid service powered by both human workers and OCR. If a Captcha can be solved by OCR, then it is done without getting it to a human solver, which improves response time.
However, for Captchas that are difficult to solve by OCR, a human worker is required to get that done. This service has a 25-day money-back guarantee to help you get your money back if you are not satisfied with the quality of the service rendered.
---
Conclusion
Bots will help you carry out tasks fast, which makes it possible to scale up and improve your workflow. However, you will have to deal with Captchas as web services do not like automated access and set up Captchas to frustrate bot access.
Fortunately, with the help of Captcha solvers, these Captchas can be bypassed easily. The above is the list of the best Captcha solving services in the market.
---