HighProxies is yet another great US private proxies provider that offers stable, dedicated static IP Proxies for social network websites.
Recommend their US Proxies for Instagram
Datacenters across 22 US Cities with 50K dedicated IPs
Friendly customer support – Helpful and Quick
Now 10% OFF – Recommend to use
---
High Proxies is an excellent proxy service that formed in the summer of 2015 on the small African island-country of Seychelles. They offer fast and secure dedicated proxies, both private and shared, with more than 68,000 IP addresses located in the US, UK, and Germany.
They also offer PPTP VPN, as well as special proxies for Ticketing, Instagram, and Craigslist, making them a substantial service. Their secure and highly anonymous network is used by hundreds of SEO agencies and corporations that depend on High Proxies' reliability. All of this has earned them a reputation as one of the best proxy services around.
---
---
Proxies Pricing & Packages
The High Proxies service provides private proxies that work with several popular sites, such as Google, Facebook, Twitter, YouTube, Amazon, Pinterest, eBay, PayPal, Tumblr, and more. These proxies are hosted on fast, dedicated servers with speeds up to 1Gbps and 16GB of RAM. The proxies also support HTTP/HTTPS protocols and offer both IP whitelist and username/password authentication.
| Proxies Packages and Plan | Price/Month | Good for |
| --- | --- | --- |
| 10 private proxies |  $22.00 | Google, Facebook, Twitter and more |
| 10 shared proxies |  $10.90 | SEO Tools, WebScraping |
| 10 Instagram Proxies |  $28.00 | Guarantee to working on Instagram |
| 10 Craigslist Proxies |  $28.00 | Guarantee to working on Craigslist |
| 125 Ticketing Proxies |  $325.00 |  Ticketmaster & Ticket sites |
Note:



You may like, Our recommended Sneaker Proxy Providers
Also, They are Offering the VPN Package also, The VPN Package is a great option for anonymous surfing because it encrypts your online data. It can also be used on your iOS or Android devices, thus making it even more versatile.
About Payment
It should be noted that they do not currently accept credit cards. The only payment methods they are currently accepting are PayPal, Payza (formerly Alertpay), and CoinGate. Fortunately, these alternatives are relatively popular and simple to use. You also must purchase a package with a monthly subscription to the service, and provide the information about what you are going to be using the proxy server for.
back to menu ↑
DataCenter & Status
HighProxies.com offers proxy server locations across 22 major US cities!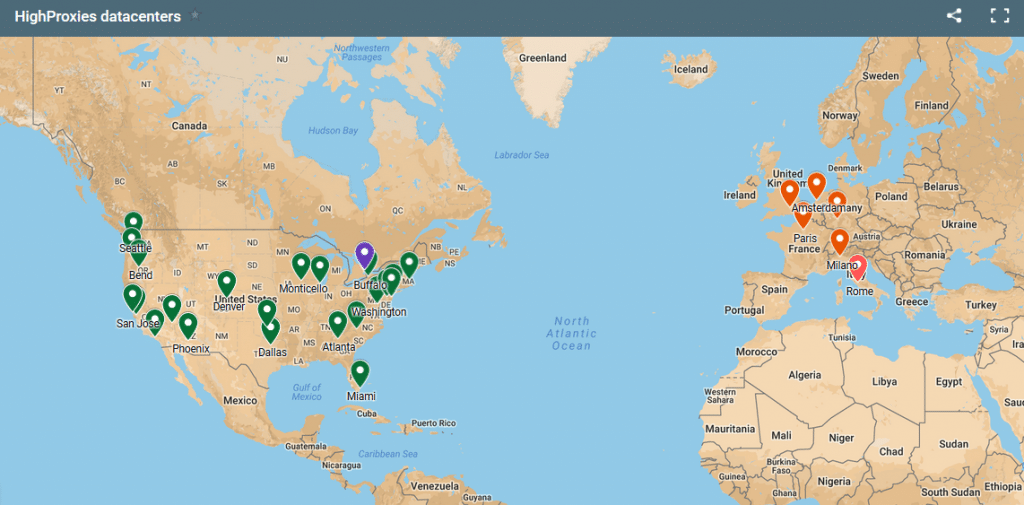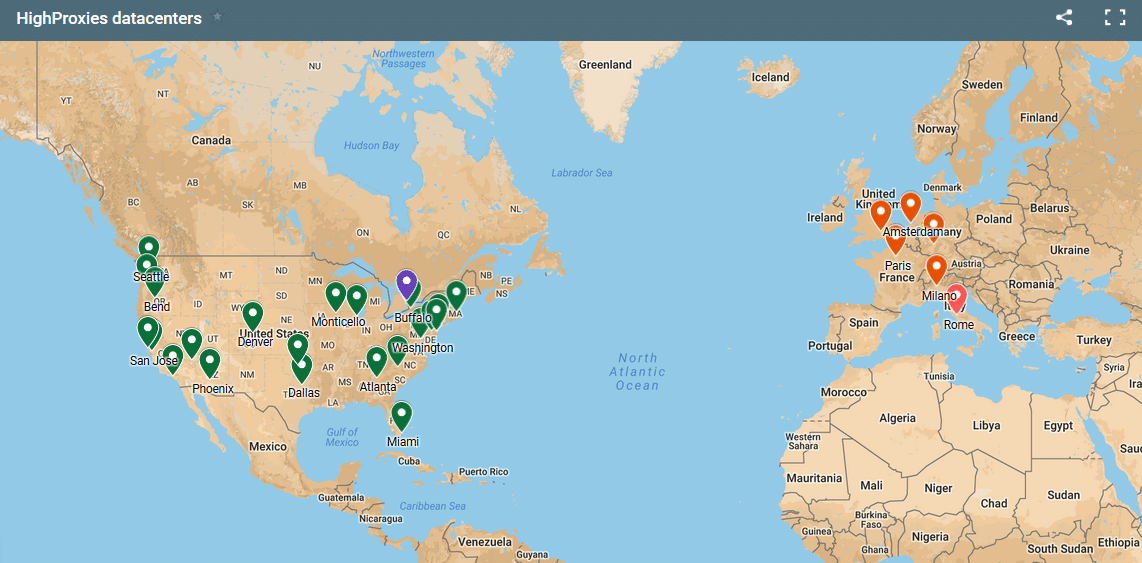 They also have data centers located in other countries. Most significantly, you can get a private UK IP address from their subscription service. Some other countries that they have data centers located in include Canada, the Netherlands, Germany, France, Italy, Australia, and Spain. They are continuing to add new locations as well, making them a very flexible and useful service.
The fact that they give users and potential buyers access to a map of their server locations is very commendable. It helps a user decide more strategically and appropriately which server they should purchase. One thing High Proxies is proud of is how well their servers are mapped out; not only do they have many locations across the world, they are located in all of the necessary places and spaced out so that there is no wasted coverage. This makes it even better for a potential buyer to plan out how and where they will use their server(s).
Their extensive coverage means that High Proxies is able to meet the needs of a diverse and expansive customer base, and their dedication to expanding should give customer peace of mind that they will continue to get a standout service.
| | | |
| --- | --- | --- |
| Atlanta | GA | USA |
| Bend | OR | USA |
| Boston | MA | USA |
| Buffalo | NY | USA |
| Charlotte | NC | USA |
| Chicago | IL | USA |
| Dallas | TX | USA |
| Denver | CO | USA |
| Las Vegas | NV | USA |
| Los Angeles | CA | USA |
| Miami | FL | USA |
| Monticello | IA | USA |
| New Jersey | NJ | USA |
| New York | NY | USA |
| Oklahoma City | OK | USA |
| Philadelphia | PA | USA |
| Phoenix | AZ | USA |
| Portland | OR | USA |
| San Francisco | CA | USA |
| San Jose | CA | USA |
| Seattle | WA | USA |
| Washington | DC | USA |
| | |
| --- | --- |
| Cites | Countries |
| Toronto | CA |
| Amsterdam | NL |
| London | UK |
| Frankfurt | DE |
| Paris | FR |
| Milano | IT |
| Rome | IT |
| Sydney | AUS |
| Madrid | ES |
High Proxies offers superb network specifications! With highly configured networks, they offer the latest in hardware and software backing their servers. This helps them reach an astonishing 99% uptime.
Alongside these speedy connections, They use Squid software. Squid software helps to reduce bottlenecking, which makes the service that much more reliable and desirable. All of this is offered while still maintaining their high anonymity standards.
And you can check their most recently 7 days server status on, http://status.highproxies.com.
back to menu ↑
Authentication & Use
Their proxies are immediately active after payment. You will receive the proxies from email or you can login your client area to download the proxies. High Proxies supports:
Username/ password authorize
IP Authentication.
Their proxies are immediately active after payment. You will receive the proxies from email or you can login your client area to download the proxies.
back to menu ↑
Our Testing
High Proxies is a fast-growing proxy service. Generally speaking, their premium proxies come with fresh IPs, with the option to refresh an IP every month. This helps maintain privacy and prevent your proxy from being blacklisted.  I have just ordered their service and tested their 1o Instagram Proxies, all the 10 proxies work well on IG. I also tested on "Big G", Youtube, Facebook, and Craigslist haven't been blacklisted or blocked by any sites yet, so you are much less likely to encounter these stumbling blocks with High Proxies, for now.
It is also necessary to mention that they do not offer sneaker proxies. So if you are looking for a service that will help you cop sneakers early, then High Proxies will not do.
Update - 2019.01.01
I have just tested their 10 Craigslist Proxies, all 10 proxies work well on Craigslist and 9/10 pass the IG, So If you want to post Local Ads on Craigslist, definitely the HighProxies is a good choice for that.
Customer Support
High Proxies does not just offer quality private proxies, but an excellent customer service! I got a quick response after only 10 minutes. While that may be a coincidence, I would still like to give a positive rating on it.
The set up process is super simple, and if you encounter any difficulties, their customer service is incredibly helpful. They have representatives available 24 hours a day, every day of the year. It's one of the reasons they have become such a stand out among all of the competition to arise in the recent years.
10% Recurring discount, Use Promo Code: 10OFF
| Private Proxies Plan | Price | Features |
| --- | --- | --- |
| 1 Proxy |  $2.30 | High Anonymous Proxies |
| 5 Proxies |  $11.50 | Multiple Cities/Subnets |
| 10 Proxies | $22.00 | Monthly Fresh the Proxies |
| 50 Proxies |  $85 | Dedicated Proxies |
| 100 Proxies |  $168 | 99% UP TIME: YES |
| 200 Proxies |  $329 | GDPR-Privacy-Policy |
| 500 Proxies | $745 | No Setup Fee |
| 1000 Proxies | $1400 | Unlimited Bandwidth |


10% OFF
Now get 10% recurring discount all plan! Use Promo Code: 10OFF.
back to menu ↑
Our Verdict
High Proxies Highlights
Speedy and secure HTTP/HTTPS proxies
Fresh IPs that can be updated monthly
A quick activation time of 20 minutes to 2 hours
A possible 100 concurrent connections at a time
Unlimited bandwidth with fast servers
A vast array of data centers located all over the USA, Europe, and more
A large selection of packages to meet any needs
A full refund within 3 days of purchasing
Amazing customer support that can be reached at any time