There are many small-scale proxy providers in the sneaker copping market that are not very popular with little information about them. The Notify proxy service is one such proxy providers that we would be taking a look at in this article.
Diverse Proxy Providers for the Sneaker Copping Market
Offers proxies in many proxy categories
Super-fast proxies that easily get sold out
Provide extensive FAQs documentation for new users to understand their service
Affordable pricing as per sneaker proxies
---
A peep at the front page of the Notify Proxies service would reveal to you a slogan; 'they're the same. We're different. That is to say, the providers see their proxies as different from the numerous proxies that have graced the sneaker proxies market – some are good, some are just regular proxies not even optimized for sneaker copping.
One thing you will come to like about the Notify Proxies from our research about them is that even when you keep marketing words aside – the proxies are equal to the tasks they claim they do. They are quite fast and undetectable to the specific target sneaker sites they are meant to be used for.



The service offers you top-tier ISP, competitive datacenter proxies, and community-powered residential proxies, as it turns out. Each of these services has what they are good at and what they shouldn't be used for, and the service provides such information on their website. Because of the diverse proxy packages they offer, there are proxies for your target site – you only need to ask.
However, for some of their proxies, there is no guarantee that you are going to get the proxies at the time you need them. We would be providing you details about Notify Proxies pricing, customer service support, location support, as well as the authentication method and then a verdict.
Is Notify Proxies worth it? That's what we'll discuss in this review.


20% OFF
Get 20% Discount: put promo code "PRIVATEPROXYREVIEWS" to check out!
---
---
Proxy Plans and Pricing
As stated earlier, Notify Proxies offers proxies in 3 categories – residential, datacenter, and ISP proxies. We would be taking a look at the pricing of each of these proxies.



Residential Proxies
Their residential proxies are known as the All in One (AIO) Residential Proxies. It got this name because it is meant to work with many sneaker sites. One thing you need to know about this is that Notify Proxies does not own thee IPs. They are sourced from other bigger residential proxy providers.
However, they are of good quality. Pricing for this is based on bandwidth, and the starting price is $20 per GB.
Datacenter Proxies
Arguably the cheapest proxies you can get from Notify proxies as you can use them for Shopify, Yeezy Supply, and captcha harvesting and solving. The pricing starts from $13, and it is based on the number of ports rather than bandwidth, as in the case of residential proxies.
ISP Proxies
ISP proxies are a blend of both datacenter proxies and residential proxies. the IPs are residential IPs sourced using the devices of Notify Proxies.
However, they are hosted on data centers, giving them the speed of datacenter proxies while being undetectable as residential proxies. These ones are quite expensive than the rest, and their pricing starts from $47.50. These proxies are quite competitive and almost sold out.


20% OFF
Get 20% Discount for your first payment: put promo code "privateproxyreviews" to check out!
---
back to menu ↑
Customer Support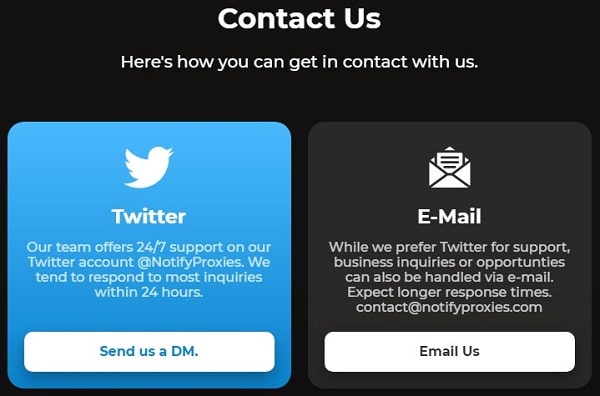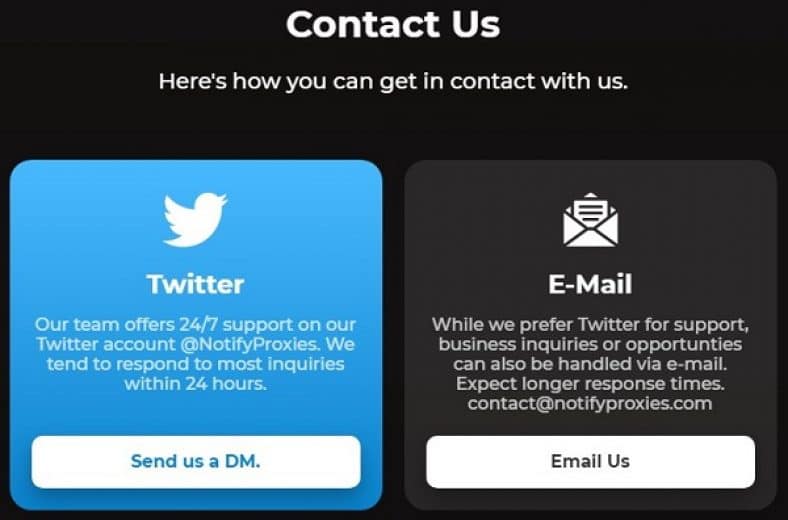 One thing about service provision is that it is never complete without customer service support, as users would need some form of help and support at some points. Notify Proxies provides 2 channels for communicating with customers Twitter and email addresses. While you will always get a reply from them, the response is quite slow, and they do not offer a swifter channel of communication.
---
back to menu ↑
Location Support
In terms of location support, we can say that only one location is supported for both datacenter and ISP proxies, and that location is Ashburn. For their residential proxies, the service has got support for many locations across the globe.
---
back to menu ↑
Authentication
Notify Proxies are not free proxies – they are paid and, as such, require you to prove you have access right before you can make use of it. This is done via authentication. Currently, Notify Proxies to have support for the two methods of authentication – username/password authentication, as well as IP authentication.
The IP authentication involves whitelisting your IP address from the dashboard so that you will not need to make use of a username and password to be granted entry.
---
back to menu ↑
Our verdict
If you take a look at the success stories on Twitter, you will know that the service does offer proxies that you can use without getting blocked. There is more to sneaker copping than just having good proxies. You will need to get other things right, which includes the sneaker bot and server, as well as the setup process correctly.
Even with everything in order at the end, the copping game is very competitive, and no one can guarantee you a successful cop – but a good proxy, server, and bot would help increase your chances.