Each proxy service has its own core strengths and weaknesses otherwise known as pros and cons that will either get its users or drive away users. Proxy-Sale is not different from the other providers and it does have all of both its pros and cons.
The provider has been around for a while with its mentions and overall popularity growing. It is for this reason that we write this Proxy-Sale review to reveal to you, all of the things you need to know about the Proxy-Sale private proxies to make an informed decision.
Affordable Private Proxy Provider With Proxies that Work
Over 65K private IP addresses for use
Good location coverage with over 30 countries supported
Competitive and flexible pricing system
Responsive and helpful customer support
Good response speed
---
Proxy-Sale is one of the datacenter proxy providers in the market you can buy high-quality private proxies that work. The service has been in the market since 2015 and over the years, has been able to fine-tune its processes. It currently has some of the private proxies you can trust. The service offers private proxies for a good number of use cases such as gaming, SEO, social media, and gambling, among others. There are some promises made by this service that we do not agree with which you will discover as you continue reading the article.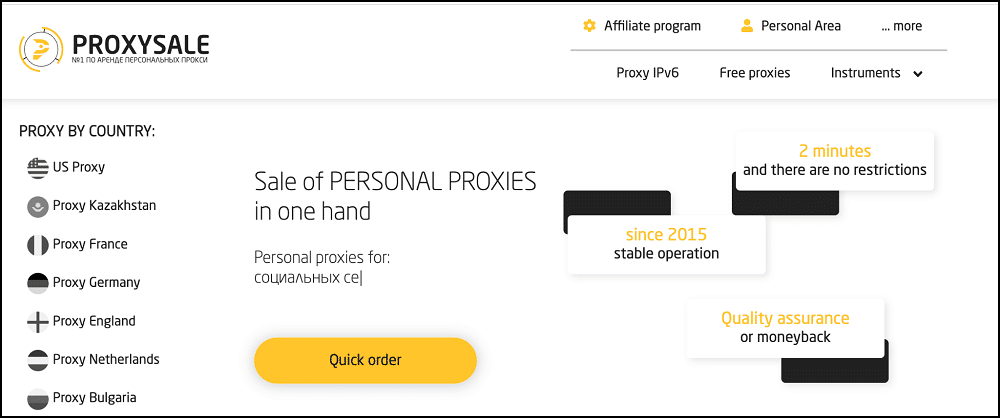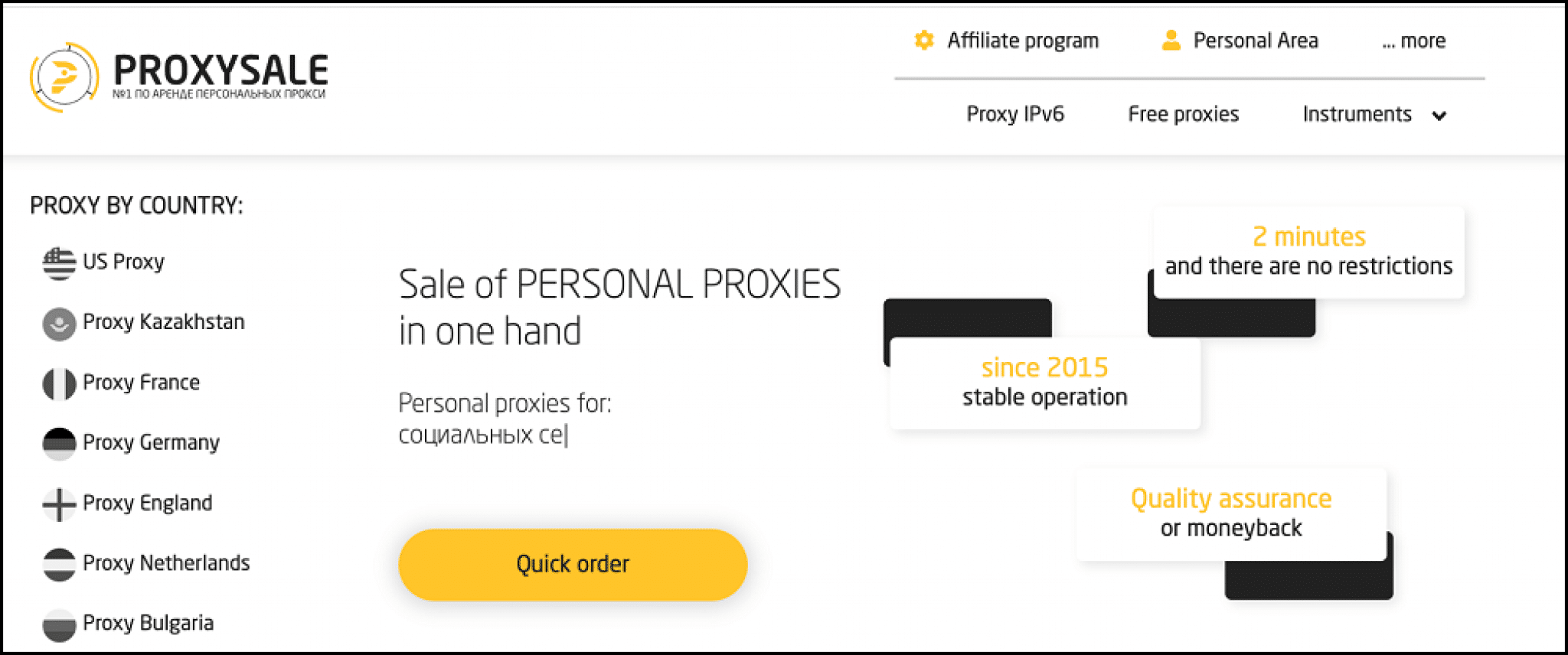 Proxy-Sale does offer affordable proxies that you can use with flexible pricing. And if the proxies do not work for you? You will get a refund of your money. The service has got good location support when compared to many other datacenter proxy services. And the customer service is quite responsive and helpful for the moments I made use of it. Now enough of the synopsis, let's dive deep into reviewing the Proxy-Sale service and its private proxies.
So the question is – Is Proxy-Sale service good? Read the detailed review below to find out!
---
---
Proxy-Sale Solution
What can you do with the private proxies from Proxy-Sale? If you take a look at the website of this service, you will see that you can use the proxies for a good number of tasks. While they claim to offer proxies for all sites and use cases, this is not true as we wouldn't advise you to use their proxies for sites like Instagram. Below are some of the best use cases of their proxies.
Online Gaming
Internet speed is an important factor for online gaming as slow speed can lead to lags and interruptions that will disturb your gaming experience. The private proxies offered by Proxy-Sale are some of the fastest private proxies in the market and as such, are perfect for playing games. Their proxies have not been abused and do have a low spam score. With this, you will not get blocked by default by most game sites.
Search Engine Optimisation (SEO)
Another use case for their proxies is SEO. You can use their proxies with SEO scrapers to collect keywords, ranking, or even URL details from result pages of search engines. You can also use them for doing on-page SEO of your competitors' sites. We have used their proxies on Google and Bing and they work.
Social Media Management
The proxies offered by this provider are private proxies from data centers. This means that even though they seem to work for Instagram and LinkedIn, we wouldn't advise you to use them. However, this does not mean you cannot use them for social media management and automation. You can use them on other social media platforms such as Twitter, Telegram, and Reddit, among others. But you should avoid using them on the strict social media platforms with smart anti-spam systems.
E-commerce Activities
If you are looking for cheap proxies for managing your e-commerce activities across sites such as Amazon and eBay, and AliExpress, you can use proxies from this provider. It is important you note that you shouldn't use the service for automation as that could get the proxies banned quickly since they are still detectable because of their source — data centers. Aside from the use cases mentioned, there are many other uses including betting, online privacy, and accessing localized content, among others.
---
back to menu ↑
How Proxy-Sale Works
Proxy-Sale is not direct from most of the other datacenter proxy services out there. The proxies it offers are private proxies that offer static IP addresses that do not change. Currently, the service has got over 65K IP addresses from over 30 countries around the world. However, you do not have access to all of these. You can only pay for proxies individually and not like in the case of residential proxies where you have access to the whole pool. When you pay, you are given the proxy host/addresses and ports for each of the proxies together with the username and password for authentication.
Configuration is the same as you will configure regular proxies. With proxies from this provider configured, your requests do not go to their target sites directly. Instead, they are routed through the proxy server. It is now the proxy server that sends the web request to your target sites. Because your target sites get the web requests from the proxy server and not your device directly, it is only the IP address of the proxy server that is seen, thereby keeping your own IP address hidden. This now allows you to unblock websites, access localized web content, and manage multiple accounts without getting detected and banned.
---
back to menu ↑
Pricing & Features



It might interest you to know that one of the aspects that the Proxy-Sale private proxies otherwise known as personal proxies excel is pricing. To be frank with you, the proxies are not breaking any record in terms of being cheap as there are other cheaper proxies out there. However, considering the quality of the proxies, the pricing can be said to be competitive. Generally, the price per proxy varies between $0.7 for countries such as the US $2.1 in countries like India. While you can buy individual proxies, you will get a good deal of discount if you pay for their bundles.
Also interesting is their flexible rental period. Proxy-Sale wouldn't force you to pay for their monthly proxies. They have got support for weekly proxies. They also offer yearly proxies. One thing you need to know about this service is that the more duration you pay, the cheaper the price per proxy becomes. No one will want to waste their money and the Proxy-Sale service understands that. For this reason, they offer users a friendly money-back guarantee to help them get their money back if the proxies weren't helpful.
---
back to menu ↑
Features
According to the information on the Proxy-Sale website, they have got about 5K customers monthly. This is a huge number and can only be achieved by a good proxy provider. Let's take a look at some of its features that its customers like.



Proxy-Sale has been in the market since 2015 which is about 7 years now. A good number of the proxy providers they started together are already out of business. With this many years, there is no doubt that the Proxy-Sale service can be trusted.
A sizeable proxy pool with over 65K IP addresses in it. Remember, you do not get access to all of these but the IPs you paid for. This number is slightly big compared to many other datacenter proxy providers.
Location coverage is quite good. At at the time of writing this review, the Proxy-Sale service has got support for over 30 countries. The countries supported by this service cut across North America, South America, Europe, and Asia.
The proxies offered by this provider are built on high-performing infrastructures and as such, are very fast. With proxies from this service, you can get up to 95 MB/sec speed. The ping is usually minimal.
The customer support agents of this service are also quite responsive, and helpful, and have a great understanding of the proxy market.
The only method of authentication for Proxy-Sale is the username and password authentication. Proxy-Sale does not support IP authentication.
Service has a team of professionals that is constantly monitoring the proxy infrastructures, thereby keeping the service active 24 hours a day.
Proxy-Sale offers free proxies too for those that will need them. However, we do not advise our readers to make use of free proxies as they do have privacy, security, and performance issues you wouldn't want to deal with.
---
back to menu ↑
How to Use Proxy-Sale
Proxy-Sale is an easy-to-use proxy service. As mentioned earlier, what they sell are personal proxies otherwise known as private proxies. So, what you will be buying are individual proxies with dedicated IP addresses. The process to purchase proxies is simple. All you have to do is register an account with them — this should be done on their official website. With an account, you can then choose the package you want and the rental period. Choose from one of the payment methods supported and complete the checkout process. Payment confirmation is done automatically and instantly.



To access the proxies you bought, visit your user dashboard and check the IPv4 orders. You will only see the proxy host there. For the port, username, and password, check the email sent to you as confirmation of your purchase. To set up the proxies, all you need is the proxy host/address, port, username, and password. Copy these proxy details and use them in the proxy configuration setting of the client app or script you need proxies for.
---
back to menu ↑
Our Proxy-Sale Speed Test
If you take a look at the Proxy-Sale website, you will see that they claim to have some of the fastest private proxies in the market. But should you take their word for it? Well, we didn't as we know many providers do nothing but hype their proxies. For this reason, we had to put their proxies to test to check the real-world performance of their proxies in terms of speed. For speed testing, we use the Speedtest tool by Okla. the procedure is simple. We tested the speed of our Internet connection without proxies and then use it as a benchmark to test the speed of their proxies. Below is the test result for our Internet speed with no proxy usage.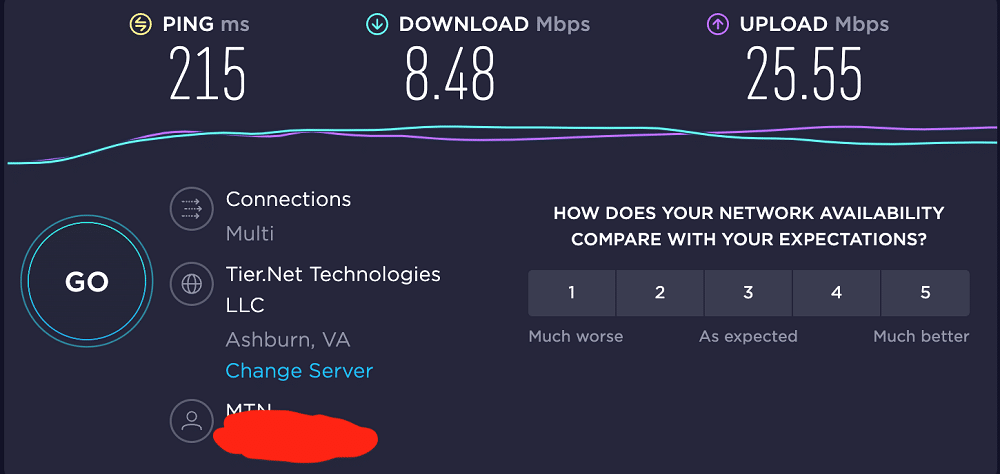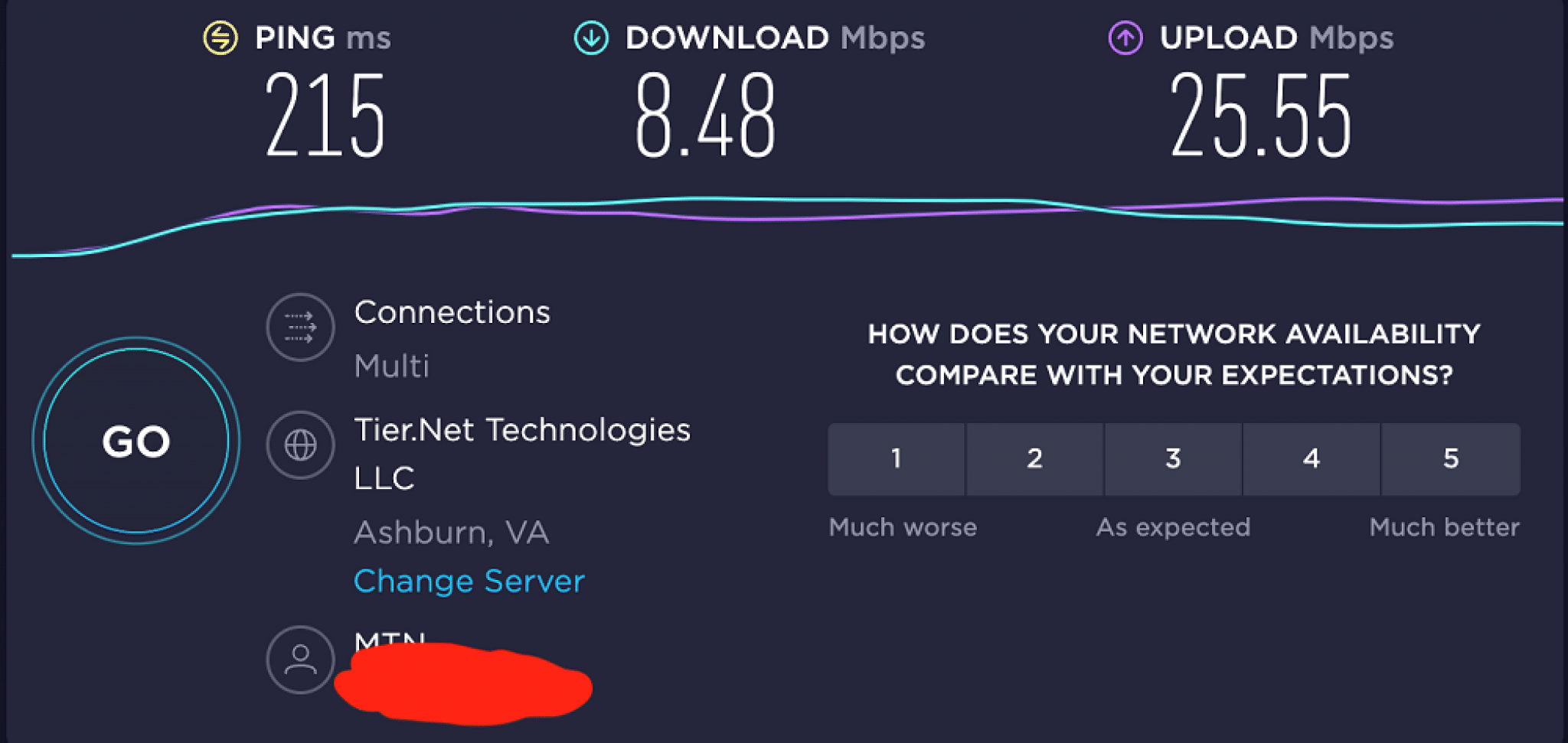 The speed is quite slow because of the location the test was carried out. However, even with the slow speed, we can still use it as a good benchmark since the test for the proxy speed is still in the same region. Now, below is the speed test with private proxies from Proxy-Sale configured.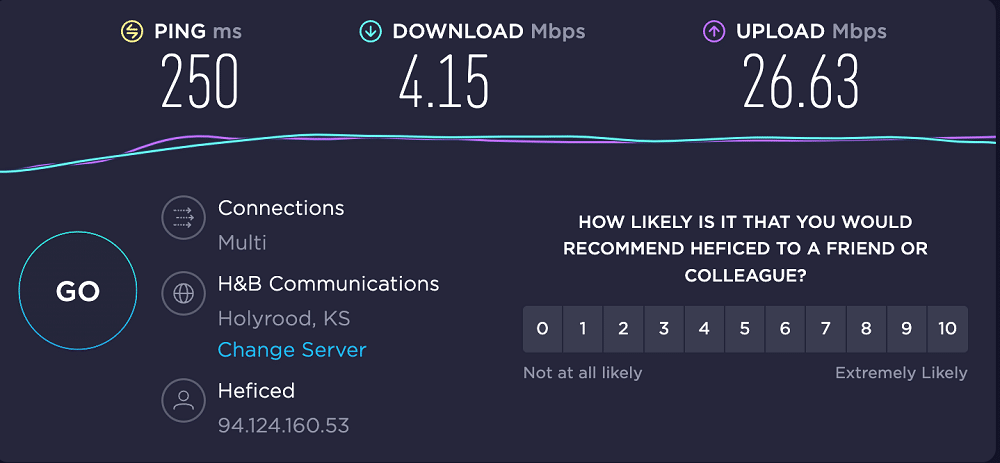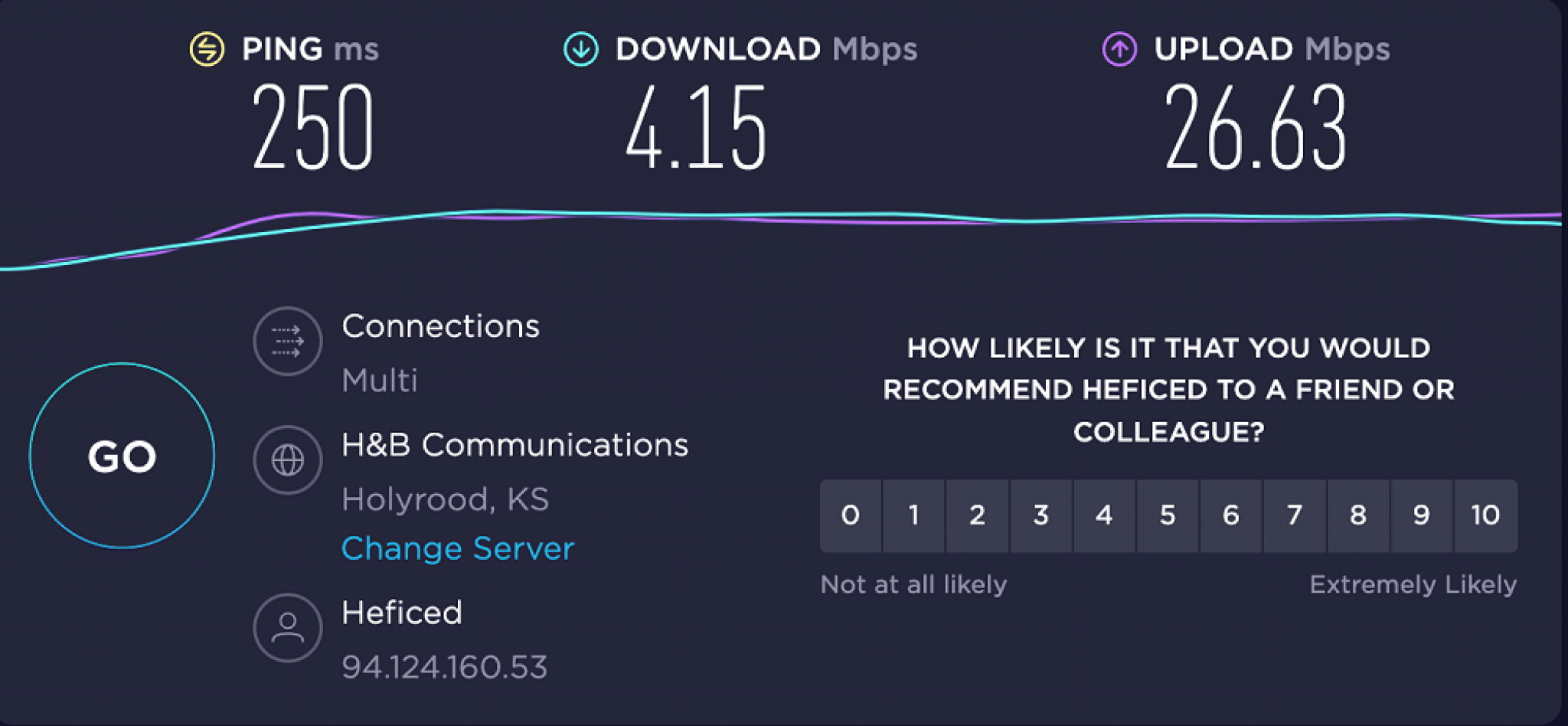 As expected, you can see that there was a reduction in the speed with their proxy configured than when proxies were not configured. However, a look at the difference will reveal that the reduction is within the acceptable range. We tried using their proxies for browsing and the speed was great. The difference in speed can only be felt when doing speed testing — not when browsing.
---
back to menu ↑
Our verdict
Do we recommend Proxy-Sale or you can go ahead and lookout for an alternative? Well, as with any other proxy service, Proxy-Sale does have its pros and cons. From our research, real usage, and testing, the pros of the Proxy-Sale service outweigh its cons. The proxies are fast, can be used for a good number of tasks, and their pricing is quite competitive. With these and many more, you can tell where our verdict lies.
The Proxy-Sale service is recommended for tasks you can use datacenter proxies for. I will suggest you avoid using them for tasks datacenter proxies are not used for even if they claim they are perfect for such tasks as managing Instagram accounts.