ProxyGuys is one of the proxy providers that offer you reliable mobile proxies with a flexible payment plan. Their proxies are perfect for many proxy use cases as they support both rotating proxies and sticky IPs for as long as you need them, thanks to the fact that they have got control over their infrastructure. The proxies you will get from this provider are mobile proxies, and they perform excellently well in our speed test.
Premium 4G Mobile Proxy & VPN's In The USA
Extensive location support across the United States
One of the largest proxy pool in the market
High-speed proxy speed
High anonymity and reliability
Easy to use dashboard with details about IP availability for support regions
Use 4G modem to provide real mobile IPs
Good session control
Free trial and flexible payment system
---
The ProxyGuys mobile proxy service is one of the best mobile proxy services in the market. Unlike other providers that source their IPs from Peer-to-Peer (P2P) networks and, as such, do not have control over the IPs, ProxyGuy makes use of high-quality 4G modems from Verizon Wireless and, as such, do have control over the IPs.
This makes it possible for you to maintain an IP for long, provided you did not switch off your connection. Interestingly, you can only switch IP at ease or set it up for IP to auto-rotate after a specific period of time.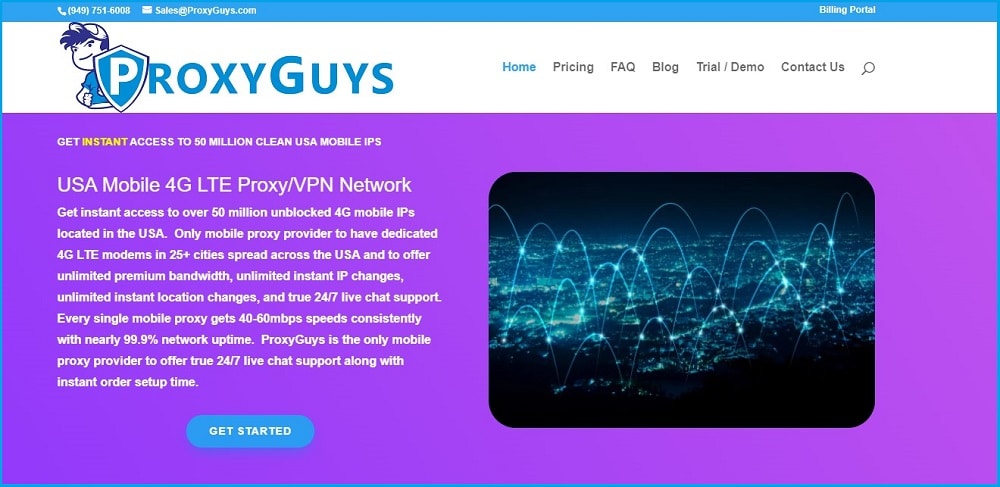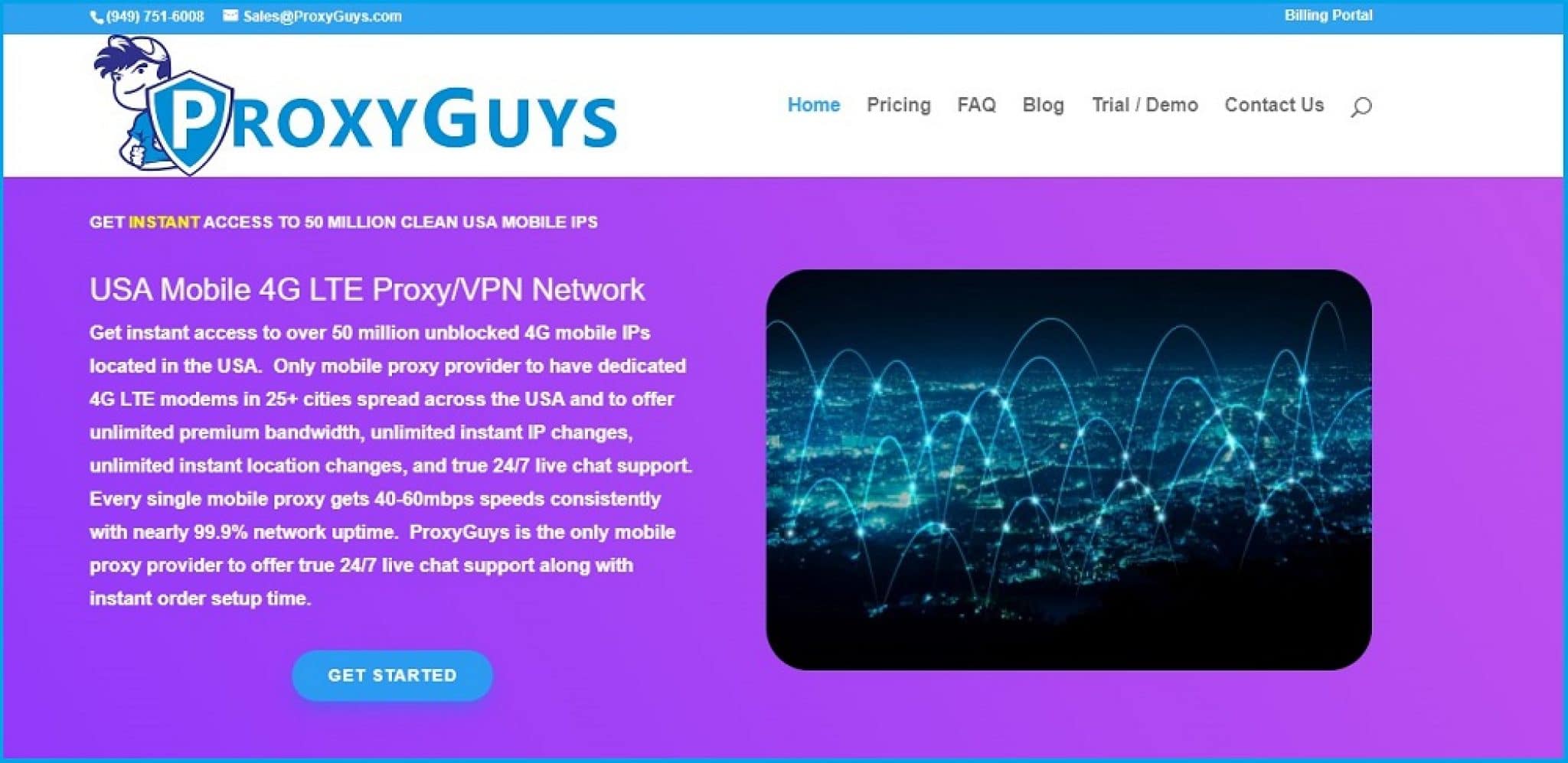 Currently, this provider has over 50 million IP addresses from across 25 physical locations in the United States. One thing you will come to like about ProxyGuys is that you can see IP availability for each of the supported locations from the user dashboard.
It has support for geo-targeting but only across locations in the United States. If you are looking for proxies from a different county, then ProxyGuys is not the provider for you. It has come with s free trial option that you will use to gauge their performance before making a purchase decision. And when you are ready to buy, they accept cryptocurrencies together with popular payment methods.
Is Proxyguys worth it? That's what we'll discuss in this review.
---
---
The ProxyGuys Solution
The ProxyGuys service has been developed to meet many use cases, and as such, you can use it for a good number of tasks. Let take a look at some of the most popular use cases below.
Social Media Management
One of the most popular usages of ProxyGuys mobile proxies is for social network automation and management. Social network platforms such as Instagram and TikTok have strict proxy detection systems that detect proxies, and proxies from ProxyGuys are some of the best that can evade detection.
Market Research
Another use case for ProxyGuys proxies is marketing research such as price monitoring, travel fare aggregation, and SEO monitoring, among others. Proxies are required when you are using a bot for any of these, as you will need to rotate IPs to surpass request limits. Mobile proxies from ProxyGuys are fast and undetectable, making them a perfect provider for marketing research.
Brand Protection
SEO auditing requires scraping search engine results for ranking and keyword data – and search engines do not support that.
For that reason, they put anti-bot systems in place to track IPs and block requests if a certain IP sends too many requests. By using proxies, you can bypass IP tracking and block and, by extension, scale up your Search Engine Optimization goals.
Tons of Other Use Cases
Do you want to keep the IP addresses of computers in your establishment hidden from others to protect your brand? Then you can use ProxyGuys proxies as they are high anonymous proxies and wouldn't leak your IP. They are also compatible with all websites, and the fast is reasonable good too.
---
back to menu ↑
How ProxyGuys Work
The working mechanism of ProxyGuys is simple. They route the requests of clients via 4G modems from Verizon Wireless and AT&T.
When using their network; your requests do not go to web sites directly – they are via their network, and unlike other proxy networks that route your traffic to third-parties, your traffic does not go to any other third-party but their modems.
It is through the modem that your web requests pass to get to intended websites, and by so doing, the modem's IP address spoof your own IP address.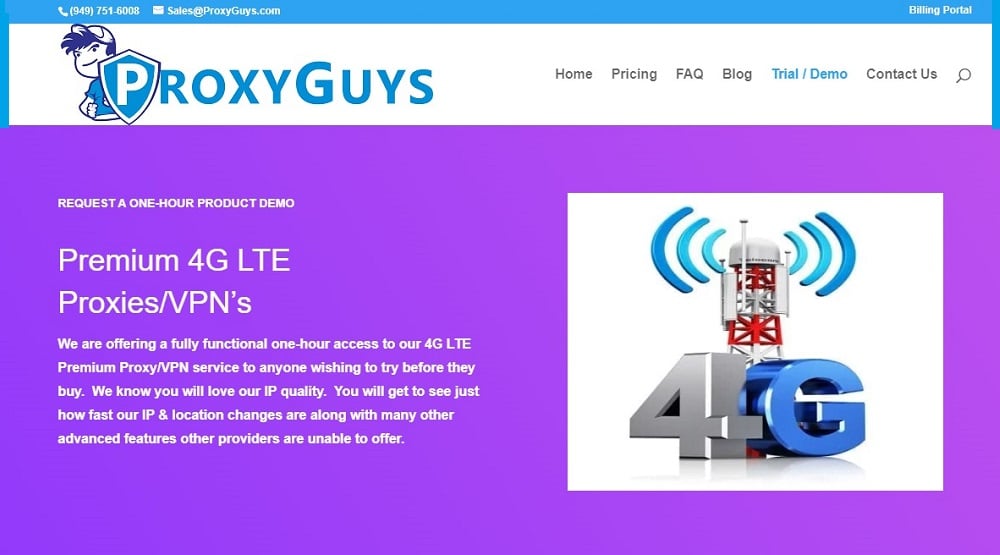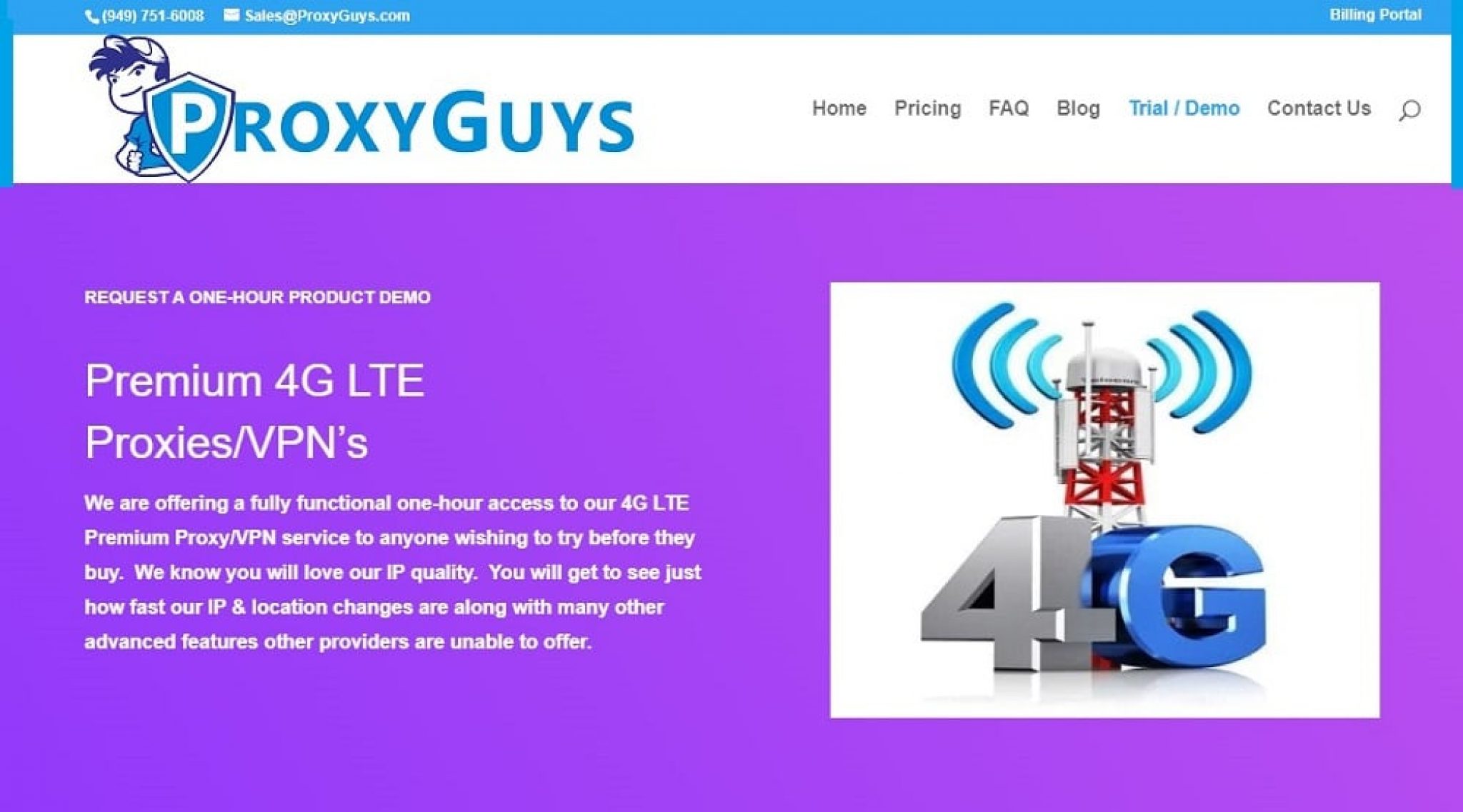 Location selection isn't automatic; you will have to connect to their network via a proxy from a supported region. If you log into the user dashboard, you will see proxy availability for each of the supported regions. Currently, they have got support for 25 locations in the United States. If there is no available IP from a location, you cannot connect through that location; you will have to choose another location or wait.
---
back to menu ↑
Pricing and Features
It is no news saying mobile proxies are expensive. But that's the general picture, and this is not unconnected to the effectiveness and infrastructural requirement of setting up mobile proxies. How does ProxyGuys stand in terms of pricing?
To be honest with you, at its best, we can say that their pricing is competitive and can even be termed as expensive. Their pricing is based on validity period and location support. Take, for instance, the ProxyGuys multi-location monthly plan is $300. This amount is considered expensive when compared to other providers.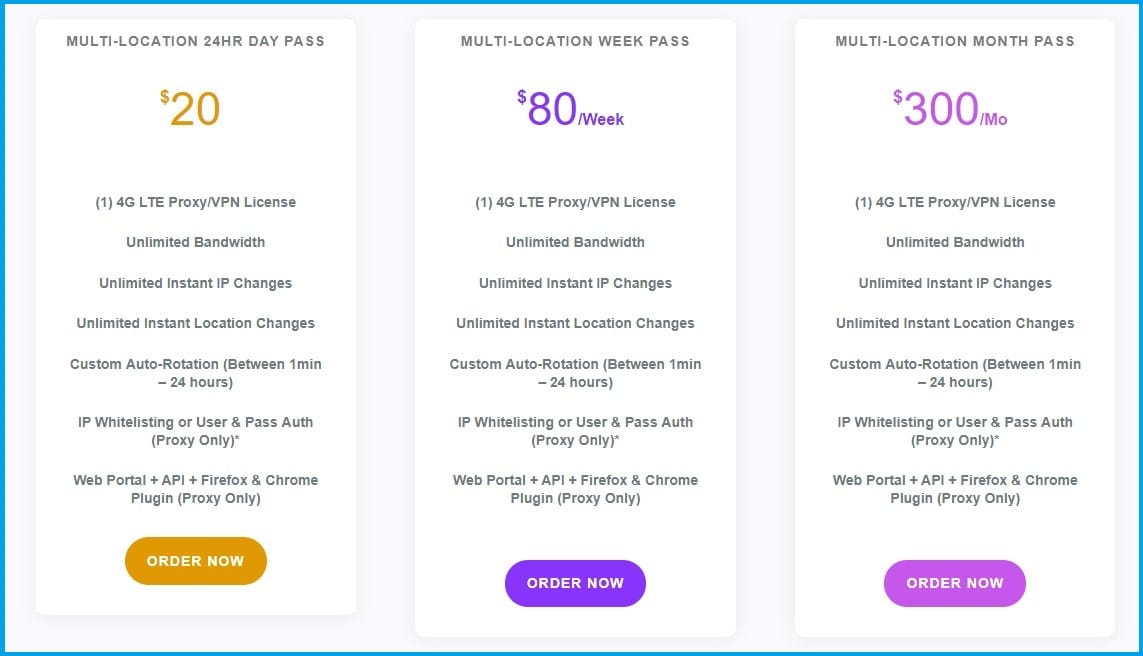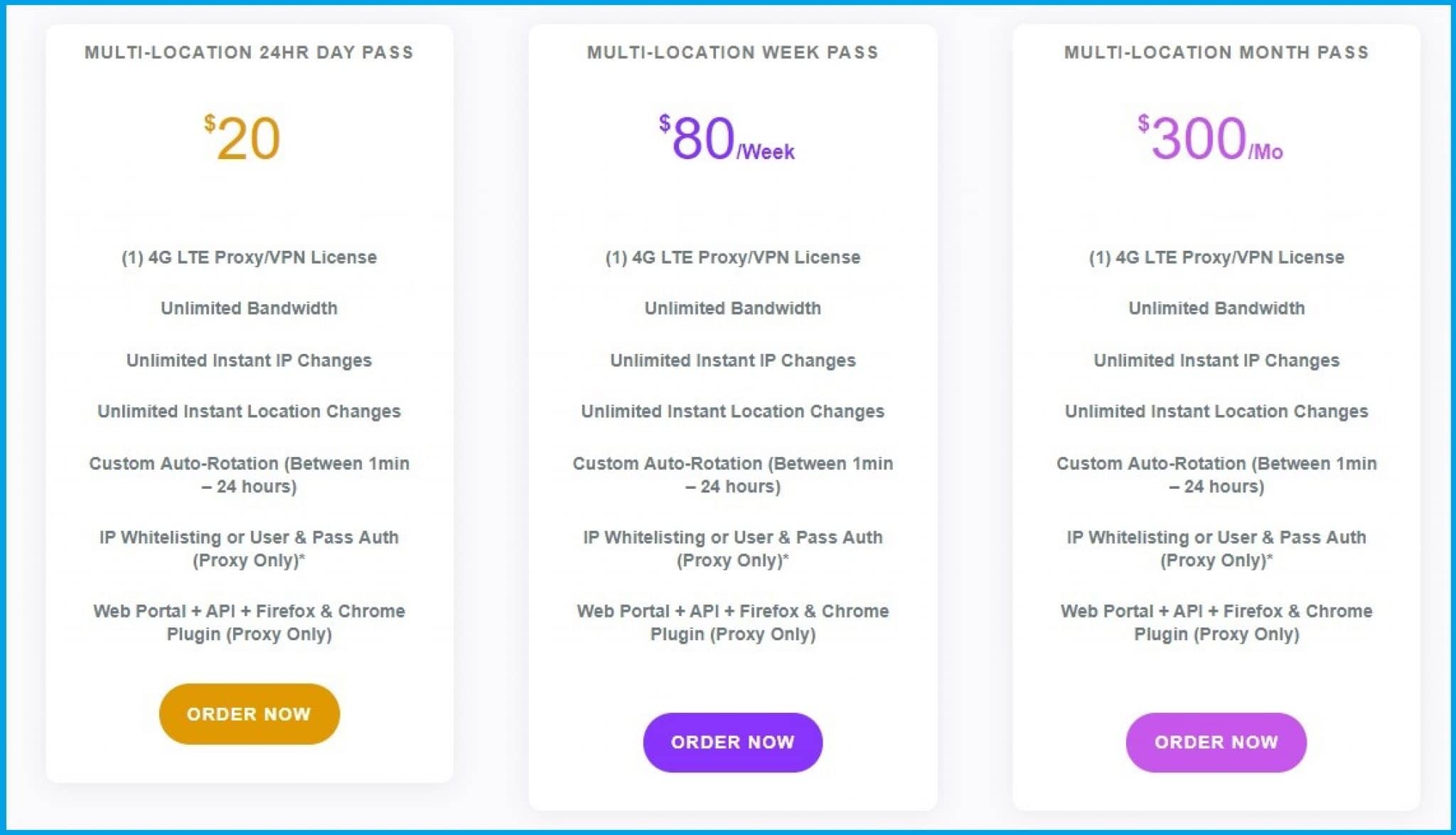 Aside from the fact that the pricing is expensive, the payment system is quite good. Their pricing system is flexible, and you can choose to go for a 24 hours proxies, weekly proxies, or monthly proxies. You can also cut costs by going for their single-location plan.
Another thing you will also come to like about this provider related is that they have got a free trial option available. In terms of method of payment supported, ProxyGuys accept PayPal and cryptocurrencies.
Features of ProxyGuys
Only US proxies with 25 physical location supported
Full control over infrastructures
IPs from Verizon Wireless and AT&T 4G modems
Easy to use dashboard
Both username/password and IP authentication supported
Supports IP rotation configured based on timing or forced either from the dashboard or via an API
Static IP for as long as you want, provided you did not disconnect from the proxy


10% OFF
Get 10% Life-time discount: put promo code "privateproxyreviews" to check out!
---
back to menu ↑
How to Use ProxyGuys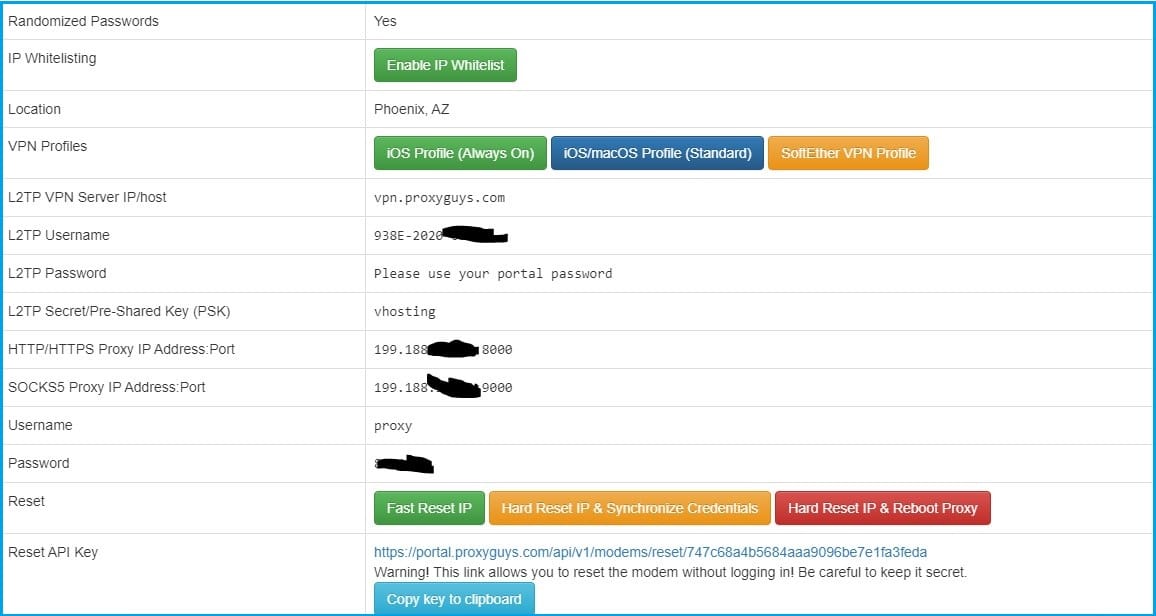 If you ask me, I will tell you that ProxyGuys is one of the easiest proxy services to use. As a paid tool, you obviously know that you will have to make payment in other to use it. However, you can claim their free trial option to use.
With an account, all you need is to log into the User Dashboard using your username and password, and you will see the packages you bought. Click on any of them, and you will be taken to a page with the locations and the details of IP availability. Locations with IP availability have green bars, while location without IP availability has red bars.



The above is the screenshot of the page. To connect to a specific location, click on the connect button. You will see details such as the proxy address, port (both for HTTPS and Socks), and username and password for authentication. Copy the details and use them for proxy settings in your browser or the user agent you want to use proxies for.
Authentication
For you to be able to use ProxyGuys proxies, you will need to authenticate to prove that you have access right. ProxyGuys have support for both username and password authentication. If you whitelist your IP (IP authentication), you will not need to use a username and password for authentication, but anytime your real IP changes, you will have to log in and whitelist it. Else, you will be denied access.
Geo-Targeting Support
Just like most mobile proxies that have control over the IPs they use, ProxyGuys is limited in terms of support. The only country support is the United States. In the US, it has support for 25 locations from which you can get proxies from.
Aside from these locations, you cannot get IP from other locations and, as such, can't access geo-targeted content from any other area aside from the locations supported using their proxies.
---
back to menu ↑
Our ProxyGuys Speed Testing
Proxies are known to cause a reduction in the Internet speed of anyone using them. However, how much reduction a proxy server causes determines if the proxy is a good one or a bad one speed-wise. In other to make the review an all-around review, we seek to measure the speed of ProxyGuys proxy speed. In other to do that, I measured my Internet speed without using any proxy server using the Speedtest tool. We would be using the speed without proxies as a yardstick to measure the speed of ProxyGuys proxies. Below is the result of my Internet speed without proxy usage.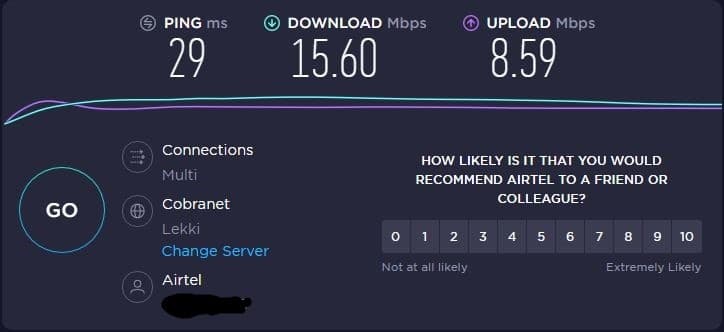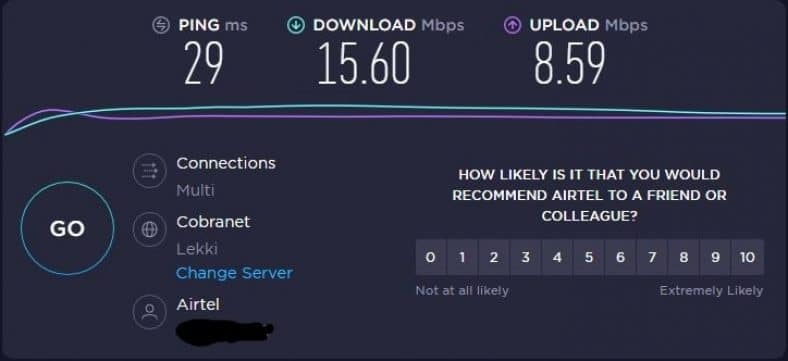 Looking at the speed, it is nothing spectacular and certainly not one of the best. The location this was taken is somewhere in Africa. Now let see how ProxyGuys proxies measure up to this. I configured their proxies on my browser and navigated to the same speed testing tool. Using the same speed testing tool, I got the below as a result.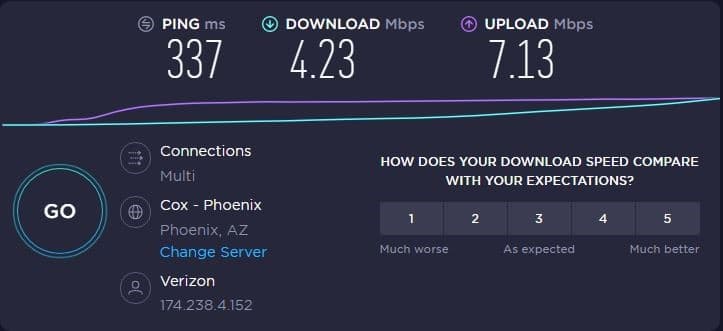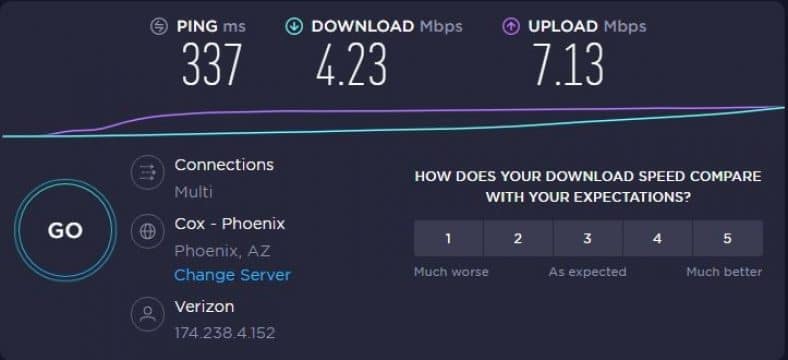 As expected, there is a reduction looking at the two results. While the reduction might be seen as high, you need to know that mobile proxies are quite slow, and this is a good result as per mobile proxies. Also important is the fact that when using their proxies for browsing, you will not notice any slow connection.
---
back to menu ↑
ISP Testing – Mobile IPs or not?
ProxyGuys proxies are mobile proxies according to the information on their website. But are all of their proxies mobile proxies? How can one even check if a proxy server is a mobile proxy server or a residential proxy server?
Unlike in the case of datacenter proxies that it is easy to tell because the IP type is either labeled hosting or data center depending on the IP checker tool, mobile and residential proxies are both labeled "ISP," so how do you know if a proxy server is a mobile proxy? It requires a little bit of experience. From our test, ProxyGuys proxies are mobile proxies. Below is a screenshot of IPinfo.io showing details of one of the ProxyGuys IPs.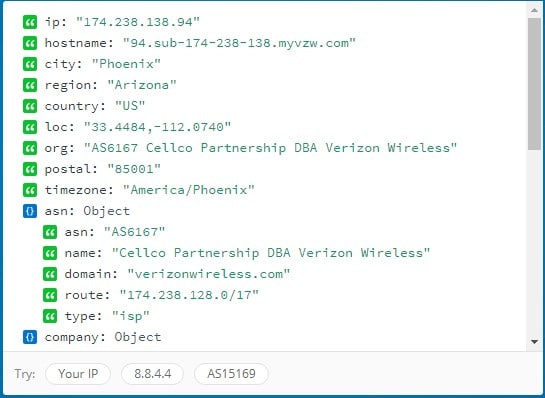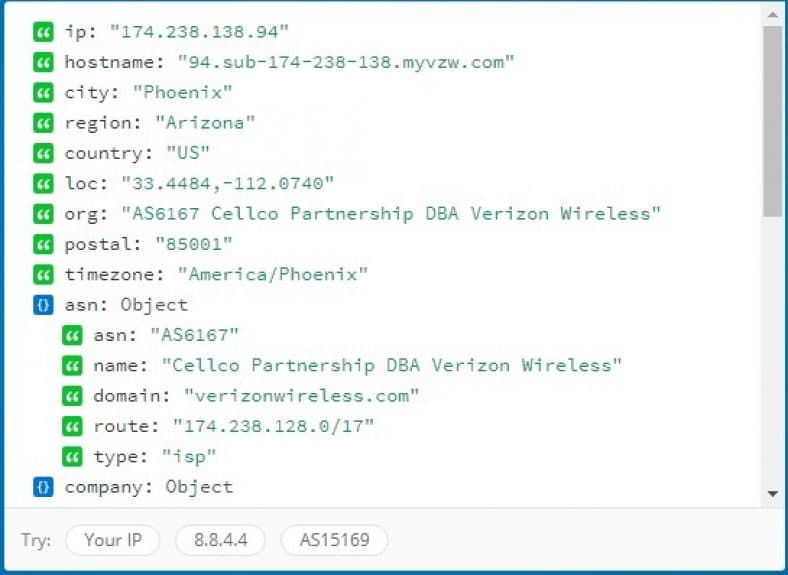 Looking at the above, you can see that the IP type is ISP. Now, remember their IPs are gotten from 4G modems from Verizon Wireless and AT&T? well, the name of the provider for this IP is Verizon Wireless, which makes it a mobile IP. Another thing you need to know is that the location you choose from the user dashboard is what you get.
---
back to menu ↑
Our verdict
ProxyGuys might not be one of the popular mobile proxy providers out there. Also, they might not support locations other than the United States. Aside from these and their pricing, ProxyGuys proxies are some of the best mobile proxies in the market. Their proxies are undetectable, fast, secure, and compatible for many proxy use cases both in browsers and bots. We recommend their service but take note of the cons.