The ProxyLTE proxy service is a proxy service provider that focuses on the provision of US IP addresses. While its name suggests that it offers only mobile IP addresses, its IP pool is made of both mobile proxies and residential proxies. The service is quite flexible in terms of pricing and can be said to be easy to use with a simple dashboard.
Flexible payment system
Support for both mobile and residential IP addresses
Easy to use
Support for all US states – only the US is supported
Developer API supported
Integrate well with popular automation tools
---
The ProxyLTEservice pride itself as the provider that offers the best mobile proxies in the market. In fact, if you are to look at the homepage of the ProxyLTE website, you will discover that the focus is on mobile proxies. What the name did not portray is that aside from mobile proxies, they also offer residential proxies.  If you are looking for proxies for locations other than the US, then ProxyLTE is not for you.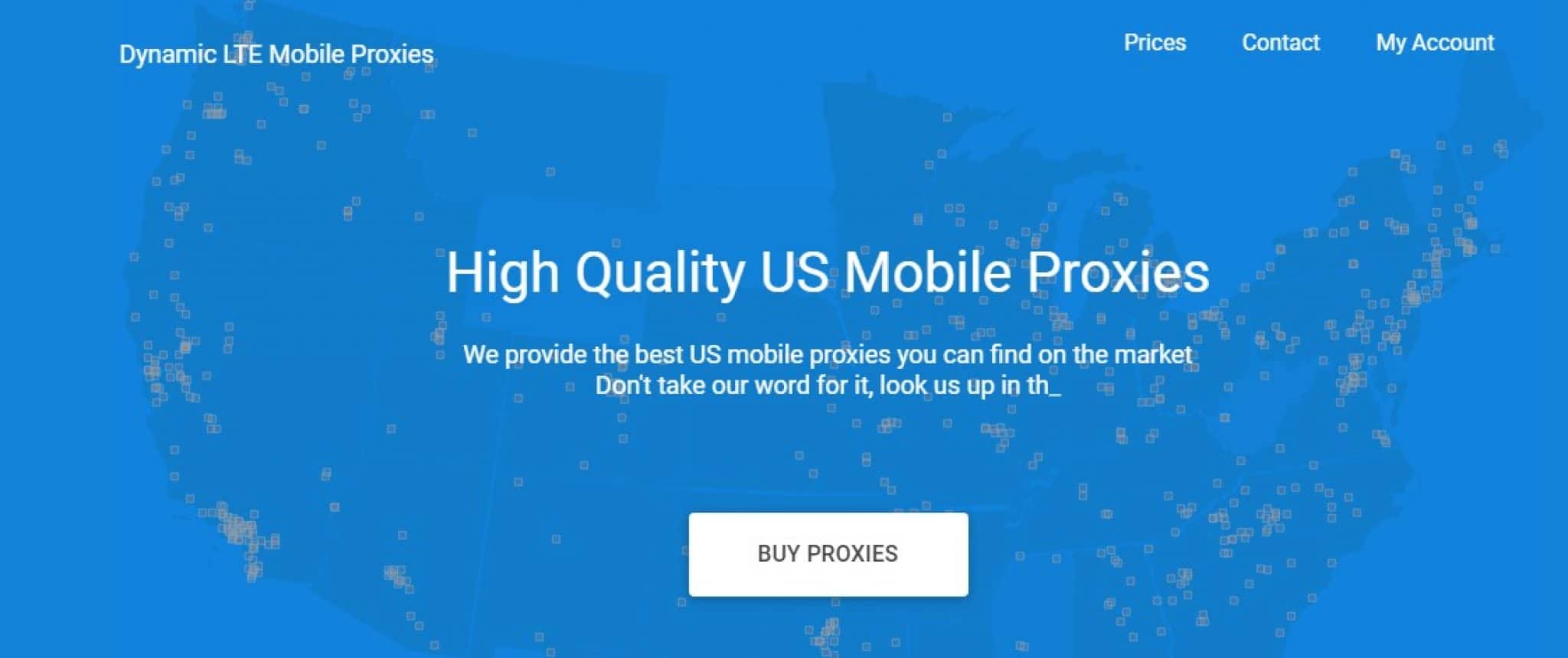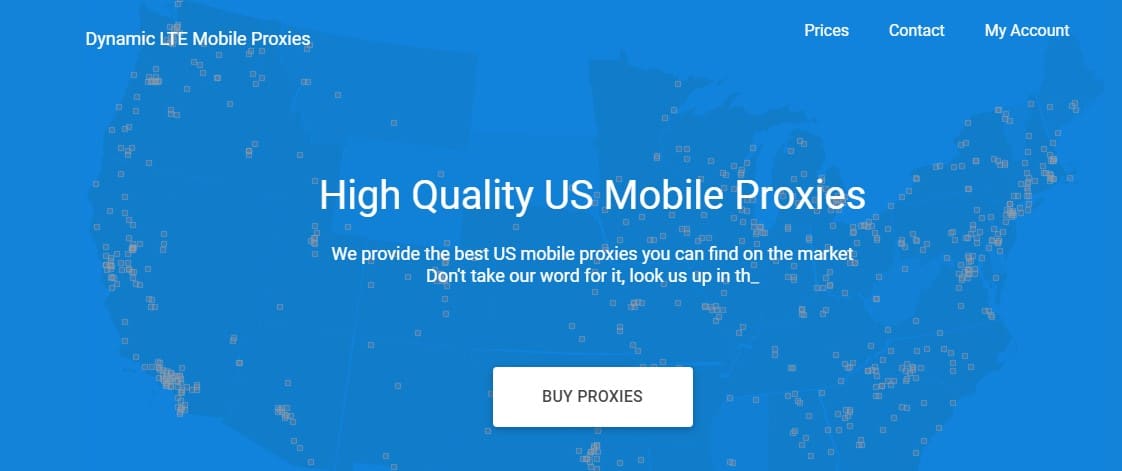 Their proxies are highly anonymous and would not only hide your IP address but also encrypt your traffic, keep no logs, and provide you mobile footprints even when on PC. They have got support for both HTTP and SOCKs5 proxies, but you will have to make a choice at the point of purchase. One thing I like about the service is that they have got a flexible pricing system, and you can choose to buy daily or weekly proxies from them. However, the pricing itself cannot be said to be cheap when you compare what they offer with that of other premium providers.
Is ProxyLTE worth it? That's what we'll discuss in this review.

15% OFF
Get 15% Discount: put promo code "PRIVATEPROXYREVIEWS" to check out!
---
---
The ProxyLTE Solution
ProxyLTE proxy service has been developed as a general proxy service that has a good number of use cases. However, because of some of their features, they are better suited for some tasks than others. Let take a look at some of the use cases of ProxyLTE.
Social Media Management
Unlike in the past that you can use any kind of proxies to access social media platforms, many of the platforms, including Instagram, TikTok, and Facebook, are increasingly becoming smart at detecting and blocking traffic routed through proxies. You will require high-quality proxies, and ProxyLTE mobile proxies are some of the best you can use for social media account management and automation. It integrates well with Jarvee and other social media automation tools.
Brand Protection and Anonymous Browsing
The ProxyLTE service is highly anonymous and undetectable. When using their proxies, you will not have the fear of your IP address leaking or even getting discovered as someone behind a proxy server. They also do not keep logs. Because of these, their proxies are perfect for anonymous surfing to the Internet and for brands and companies to keep their real IP address away from websites they visit to avoid tracking.
Web Scraping
ProxyLTE can be used for web scraping, especially if you have many endpoints. This is because many endpoints will make it possible for you to rotate IP addresses. While ProxyLTE supports IP rotation, it can be said to be inefficient as IP rotation is only possible after every 30 minutes.
---
back to menu ↑
How ProxyLTE Works
Proxies are designed in such a way that even without knowing how they work, you can still set them up and use them. This does not mean you shouldn't know how they work. ProxyLTE is both a mobile and residential provider. Its working mechanism is quite simple, and there is no difference between its working mechanism with that of most regular proxy providers. One thing you need to know is that the ProxyLTE acts as a front for you – so that your IP address can be hidden from services you use them on.
If you are using ProxyLTE on your web browser, the web requests you send do not go to the web servers they are intended for. Instead, they are first routed to the ProxyLTE server via the endpoint you configured. The IP of the endpoint is not the IP your request will be routed through. Instead, the ProxyLTE server will route it via another IP through which it goes to the intended server. For ProxyLTE, even though you can maintain IP addresses for a long period of time, IP addresses are not static, and you can effect IP change after every 30 minutes. The service work in such a way that it is stealthy and hides the fact that it is acting as a proxy server.
---
back to menu ↑
Pricing and Features
If you are on a tight budget, you will be limited to only a handful of providers that could meet you need at the price you can afford to pay. For ProxyLTE, they understand how important pricing is and, as such, made their pricing system flexible. You can get proxies for a day if that's what you need. They also have support for other time periods, including weekly, 2 weeks, 3 weeks, and monthly. You also get to choose between HTTPS and SOCKS5. Other options you get include US state selection, type of IP (Cellular or WIFI), and the number of IPs.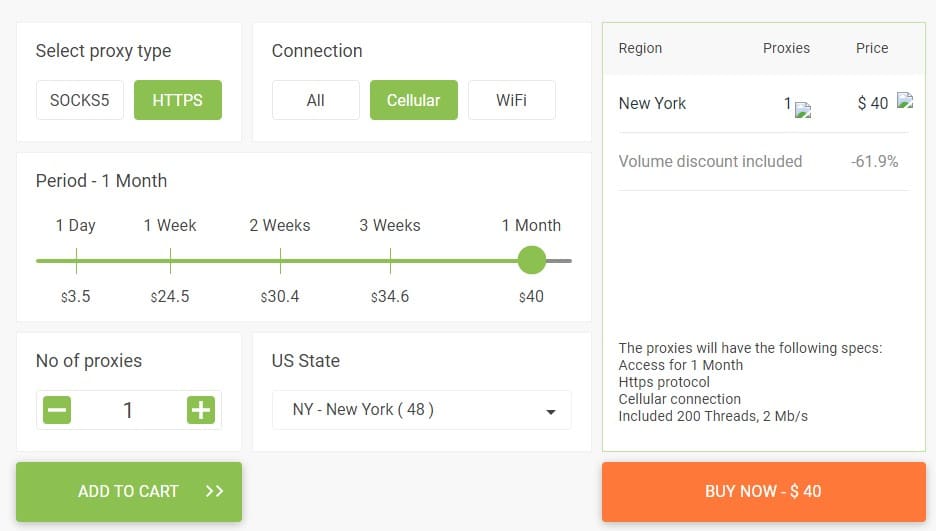 Looking at the above, you can see that one mobile proxy from New York is sold at a price of $40. This allows you to create up to 200 threads at a time. If you are to go for their SOCKS5 proxies, you will pay less, but depending on what you need it for, you might find it difficult to set up at first. I had an issue trying to get the SOCKS5 proxies to work on my browser at the first attempt.
According to the information on their website, you will need to contact them if you intend to enjoy a speed that exceeds 12 Mb/s. In terms of payment methods, ProxyLTE only accepts Bitcoin (BTC). If you intend to pay via other payment methods, then this service is not for you. Another thing you need to know is that payment confirmation is automatic, and you get your IPs delivered instantly.
Features of ProxyLTE
ProxyLTE has support for only US IP addresses, and their pool size is quite small. This is connected to the fact that they own their IPs as opposed to other providers that get their IPs from P2P networks.
Both HTTPS and SOCKS5 proxies available – the selection is made at the point of purchase.
IP rotation can be done every 30 minutes – this means that you can maintain sessions for up to 30 minutes which makes it perfect account management.
But concurrency and speed are throttled and limited – but you can contact them depending on your specific requirement and proposition.
Only IP authentication is supported. You can only whitelist one IP address at a time and can change IP every 30 minutes. It takes up to 2 minutes for IP change to take effect.
---
back to menu ↑
How to Use ProxyLTE
The ProxyLTE service is a paid service that you are required to make payment in other to make use of service. This service has a minimal dashboard you can use as a self-service point. To use their proxies, you will need to select the package you want and pay for it. After paying for it and your payment is confirmed, you get an access token delivered to your email address. The access token is what you require to access the dashboard. This is unconventional as most services use username and password for accessing the dashboard. However, I find it easy. After logging in, you will see your active plans on the homepage of the dashboard. Below is a screenshot of the section from my own dashboard.


If you click on the plan, you will be taken to a page with your proxies. The page looks like the below.


If you take a look at the first column, you will see an IP: port pairs – this is what you will use. The other columns provide information about each of the proxy including country, the actual IP address attached to them, IP type, and carrier. Pick one of the IP:port pair. Let say 51.91.197.158:2000. Go to the proxy settings of the application you bought the proxies for and set them up.


Authentication
IP authentication is the only type of authentication supported, and only one IP address can be whitelisted. You can change the IP address whitelisted after every 30 minutes.A new whitelisted IP address takes up to 2 minutes to take effect. Adding username and password authentication or increasing the number of allowed whitelisted IPs would be better.
Geo-Targeting
As stated from the beginning of the article, ProxyLTE only focuses on the US only. The offers US proxies and has IPs across the US states from which you can choose to use proxies from. If you intend to use proxies from other locations, ProxyLTE is not for you.
---
back to menu ↑
Our ProxyLTE Speed Test
As a rule in our proxy reviews, we do test the speed of any proxy service we look into. This is because speed is an important feature and could be the reason you will be frustrated if it turns out bad. For ProxyLTE, we do not have high-speed expectations because the speed is being throttled depending on the package you buy. All of the plans displayed on their website have a speed limit of not more than 12 Mb/s. If you want something faster, you will have to contact them for a custom quote. For my active subscription, 5 Mb/s is the maximum speed regardless of how fast your Internet speed is. We tested their proxies using Speedtest by Okla to see if we would get that 5 Mb/s. Below is the result.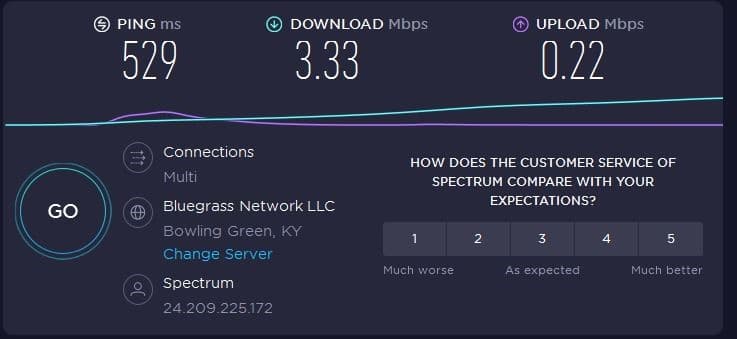 As you can see from the above, the download speed is 3.33 Mb/s which is close to the expected speed. Upload speed was bad, and as such, we tried the same test again and got the below.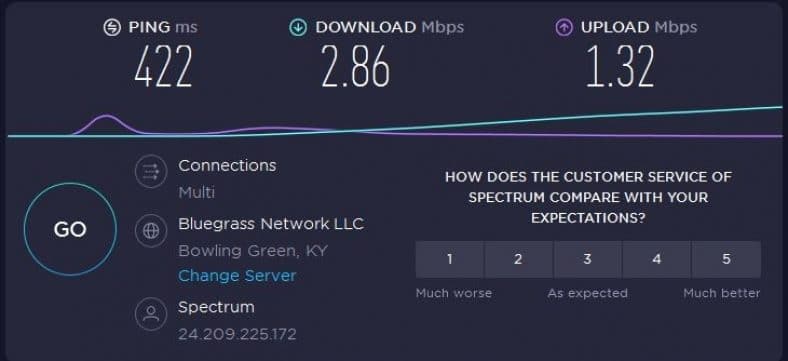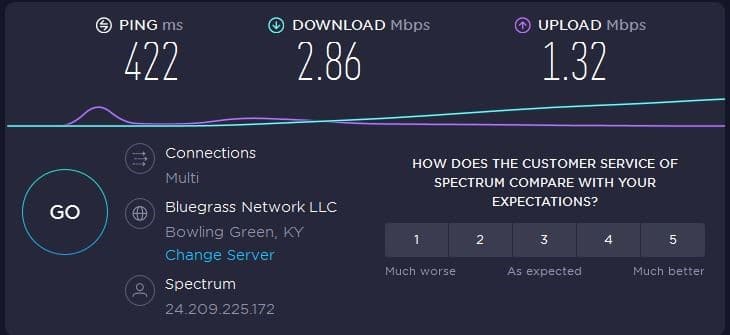 As you can see, the ping and upload speed improved, but the download speed reduced. In terms of speed, I must say they perform lower than most other providers – especially the ones we have reviewed on this blog. However, the low speed is deliberate, and you could get a higher speed if you contact them.
---
back to menu ↑
ISP Testing – Residential/Mobile IPs or Not?
If you are not careful, proxy providers will defraud you by providing you datacenter proxies named either residential or mobile proxies. How would you know if the IPs sold to you are not datacenter IPs otherwise referred to as hosting IPs? In our case, we used an IP lookup tool known as IPcost.com. the highlighted proxy is the proxy we tested – the same IP we used for speed testing.

Below is the result of the test. As you can see from the below image, the IP type is not hosting but business. The ideal value should be ISP, but both ISP and business are good. What is not acceptable for residential proxies is hosting as an IP type as that is what datacenter IPs are regarded as. As you can also see from the image, the geolocation stated from the dashboard is the same as what the IP lookout tool detects.



20% OFF
Get 20% Life-time discount: put promo code "privateproxyreviews" to check out!
---
back to menu ↑
Our verdict
From the above, we have been able to provide you an overview of what to expect from ProxyLTE and how they do not just offer mobile proxies but also provide residential proxies. Just like every other provider, they have both pros and cons. However, ProxyLTE is still a provider you can use as its proxies work, can be used for a good number of use cases, and is also affordable. You only have to make sure that the speed provided isn't much of a problem to you – and US IPs are useful in your use case. Else, you are advised to use proxies from another provider.