The PYPROXY network is a new proxy provider that offers both rotating and static residential proxies. This provider has got a large proxy pool with excellent location coverage. From their website, we can see that their proxies are undetectable. But are they telling us the truth? We know how marketing copies and technical realities vary. And that is the basis for this PYPROXY review — to provide you with an honest review of what this provider has to offer.
Commercial Residential and ISP Proxy Provider With Proxies that Work
Over 90 million residential IP addresses with over 25 million+ active IP address updates every day.
It has good location coverage with IPs from over 190+ regions.
Stable and dependable proxy resources with real-time speeds ranging from 1 Mbps to 5 Mbps
Affordable proxies with cheap pricing and mouth-watering bonuses
---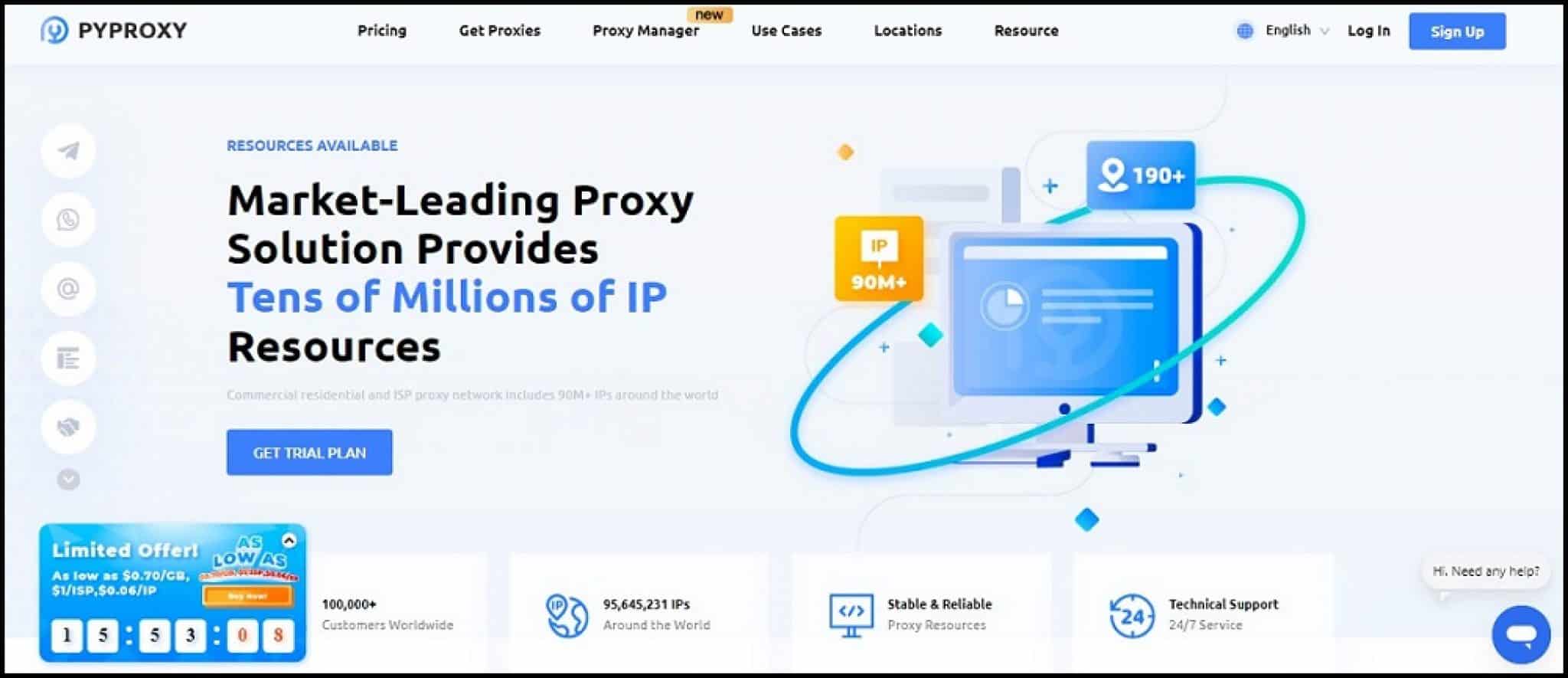 PYPROXY is one of the many proxy service providers with great offers that are not really popular. It happens to be a new provider of residential, ISP, and datacenter proxies that are effective and reliable. It currently offers 90M+ real residential IP addresses in 190+ locations and 100K+ static ISP proxies that are hosted in datacenter servers but carry real residential IP addresses assigned by the ISP.
In use cases like SEO monitoring, brand protection, e-commerce, social media management, online scraping, and crawling, to name a few, these proxies are highly compatible. We'll discuss the benefits and drawbacks of this provider so you can decide whether they live up to their brand promise or not.
Safe and incredibly anonymous proxies are some of the features you may take advantage of as a PYPROXY user. This makes sure that throughout your surfing session, your true location is concealed. You also get the chance to experience a real-time internet speed of up to 1 Mbps to 5 Mbps, with a success rate of over 99%. Other advantages that come with this proxy service are access to quality IP resources like a constantly updated IP pool. Additionally, there is support for customizing exclusive IP proxy plans according to the users' desired scenarios.
"Is PyProxy worth it? Let's dig deeper and discuss it further"
---
---
Pyproxy Solution
The question that comes to mind when discussing the PYPROXY solution is: What exactly can one use this proxy service for? In this session, we will be answering this question by exploring the key use cases associated with PYPROXY. Below are some of the most relevant ones:
Social Media Management
When it comes to social media management, the most common challenge social media marketers and managers face is the risk of being banned. This happens most often if the individual tries to operate multiple accounts from one IP address. In light of that, PYPROXY offers proxies that don't just allow users to manage multiple accounts but also broaden their influence on the social network.
With the intensification of online business, social media has gradually become the main playground of digital marketing. With their rotating residential proxy network, users can hide their real IP addresses, create multiple accounts and appear as true and natural users on the platform.
Web Scraping and Crawling
PYPROXY affords web users the opportunity to use proxies to collect web data at scale without getting detected and blocked. The residential proxy network provided by PYPROXY is built for this and what you get are residential proxies that facilitate this. With this, users are able to scrape web pages at scale with rotating residential proxies.
The massive IP pools allow them to change IP addresses per request and scrape as many pages as they want. The target website will not restrict them with CAPTCHAs or IP bans. Due to the 190+ location IP coverage of PYPROXY services, users can go further to even scrape geo-restricted data.
SEO Monitoring
Using proxy services like those from PYPROXY can help prevent a ban when carrying out SEO tasks using bots. Imagine doing real-time monitoring of SERPs or a couple of competitors with the same IP address. You would be exposing yourself to the targeted website's attention for a ban.
You can use their proxy service to monitor what a website (or SERP) looks like in your target market ecosystem. You can also check your SERP keywords and compare them to your competitors. Additionally, you can access localized and geo-fenced SEO data thanks to PYPROXY's geolocation support.
Market Research
To improve business operations, revenue, and market expansion, data interpretation from properly conducted market research is required. However, a key aspect of market research involves data collection. Let's assume a web crawler generates a large number of website visits in a short period of time. The target site can easily capture it and ruthlessly block it, thereby wasting your time and effort and leaving you in a mess.
To avoid all that, PYPROXY provides proxies to shield your IP address. As a result, the websites you visit will now see the proxy's IP address rather than yours. As such, users would also be able to gather data from geo-restricted websites. Again, thanks to their human-like rotating residential proxy pool. Other relevant use cases include brand protection and e-commerce, among others.
---
back to menu ↑
How PYPROXY Works
PYPROXY operates quite similarly to many other residential proxies with the rotating IP feature. With more than 95 million IP addresses in their proxy pool, PYPROXY's residential proxy routes the users' Internet traffic through the devices of regular Internet users.
How it does this is simple. All of the IPs in its residential proxy pool do not belong to it. Individuals join it by various means. There are currently over 95 devices in its through which user's requests can be routed.
When you send a web request with the proxy, your request does not go to your target website directly. Instead, it is routed to the proxy server, which then looks for an active device from the pool and routes the requests through. The device's IP address through which your request was routed through becomes your own IP address and what is seen by your target website. This procedure is repeated in reverse when your target website sends out the response — it passes through the device, to the proxy server, and then back to your device.
The process is repeated every single time you send a web request. This is because the proxy network is a rotating residential proxy network, and as such, no IP address is dedicated to you. However, if you choose to use their sticky proxy option for session management, then the device through which your request was routed is recorded as used for subsequent requests until the time specified elapses.
---
back to menu ↑
Pricing & Features
As regards pricing, it would interest you to know that PYPROXY proxy prices vary depending on the type of proxy service you are going for. Note that PYPROXY has three major price plans to choose from.
IPS-Amount Plan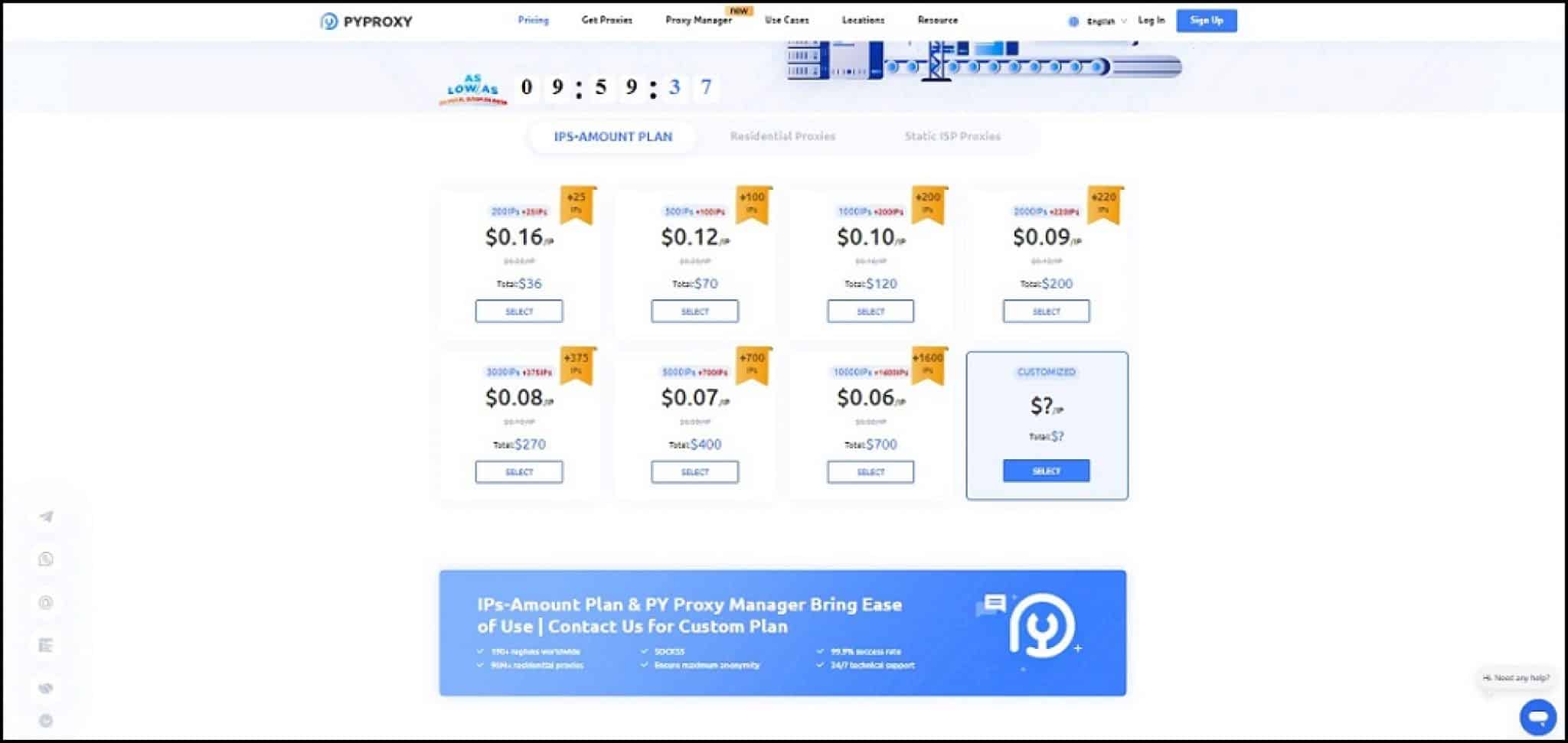 With this plan, your payment is determined by how many IP addresses you want to utilize. The most cost-effective option for 200 IP addresses is their $0.16/IP plan. This bundle includes support for an enormous amount of email accounts in addition to all the functionality needed to get going.
Residential Proxies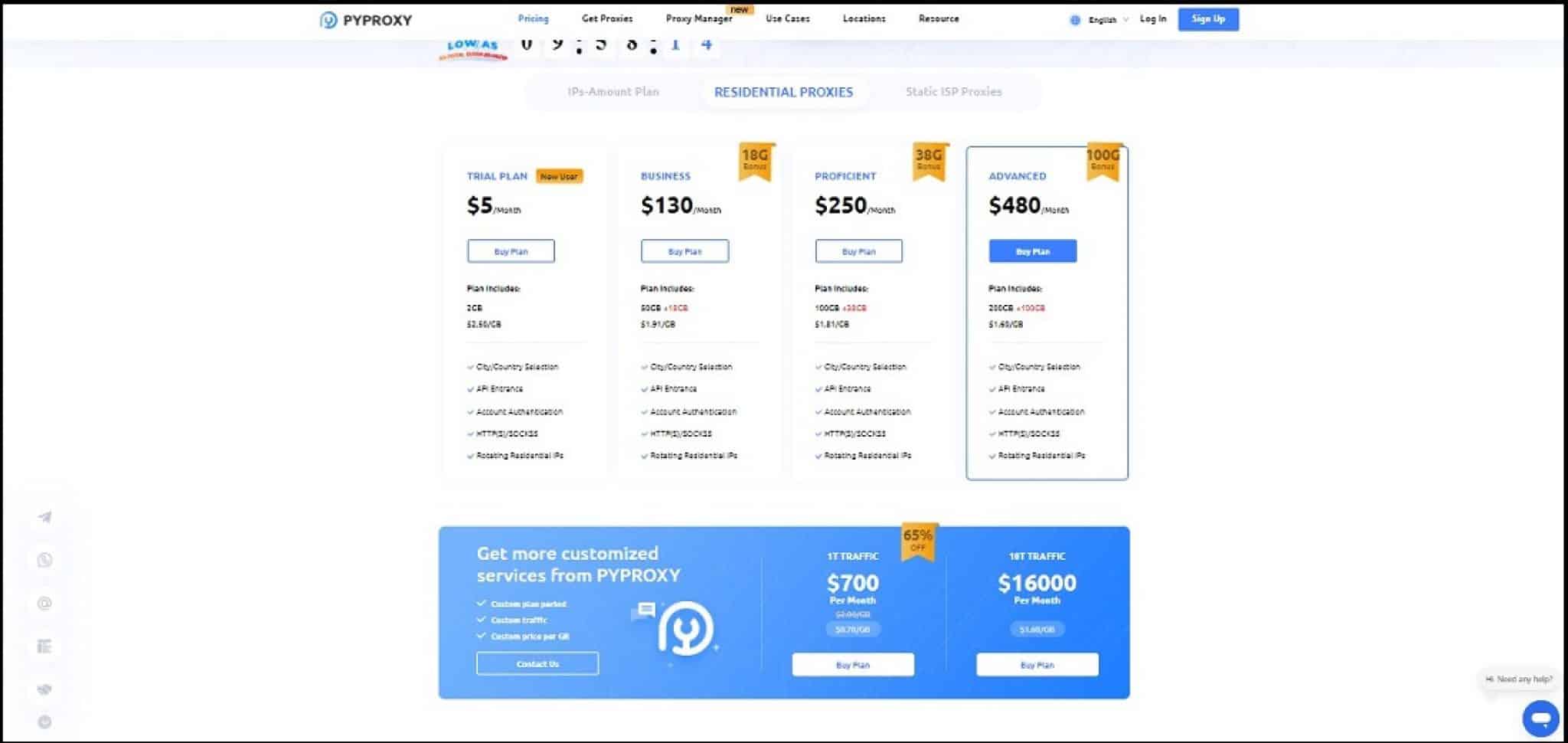 For this proxy type, they offer a one-month trial plan of $5 for new users, but their standard price begins at $130/month. This $130/month package, known as the business package, comes with 50GB of data. It supports both HTTP and SOCKS internet protocols. Interestingly, the proxies in this category are rotating residential proxies. You can reduce your per GB traffic cost if your usage increases.
Static ISP Proxies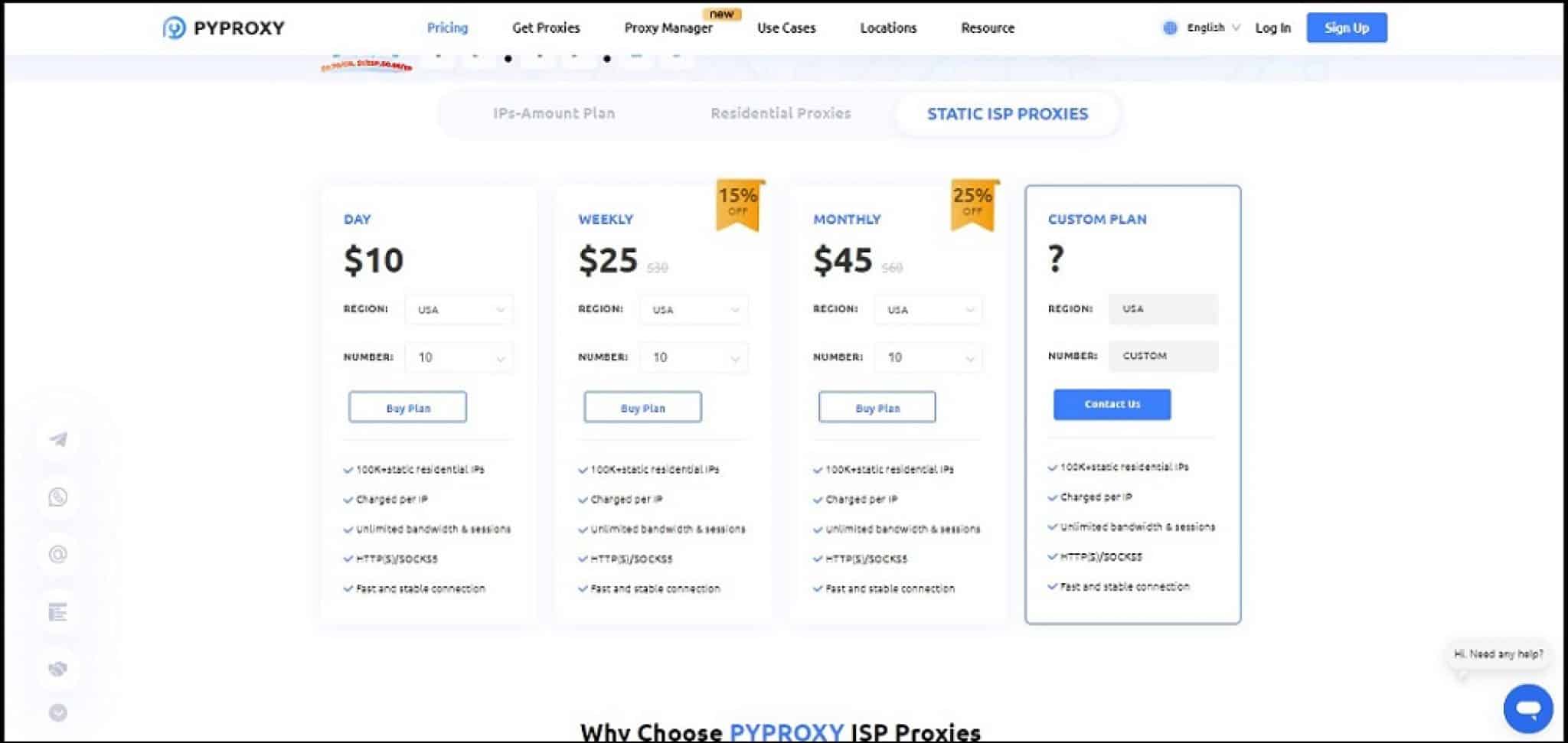 With unlimited bandwidth and sessions for as low as $1 per IP, this is a great proxy service for small enterprises and individual users. In contrast, you will realize that the proxy service is even cheaper when you opt for the weekly or monthly plan. Whatever your use case may be, this particular price plan can offer you the value you desire.
Features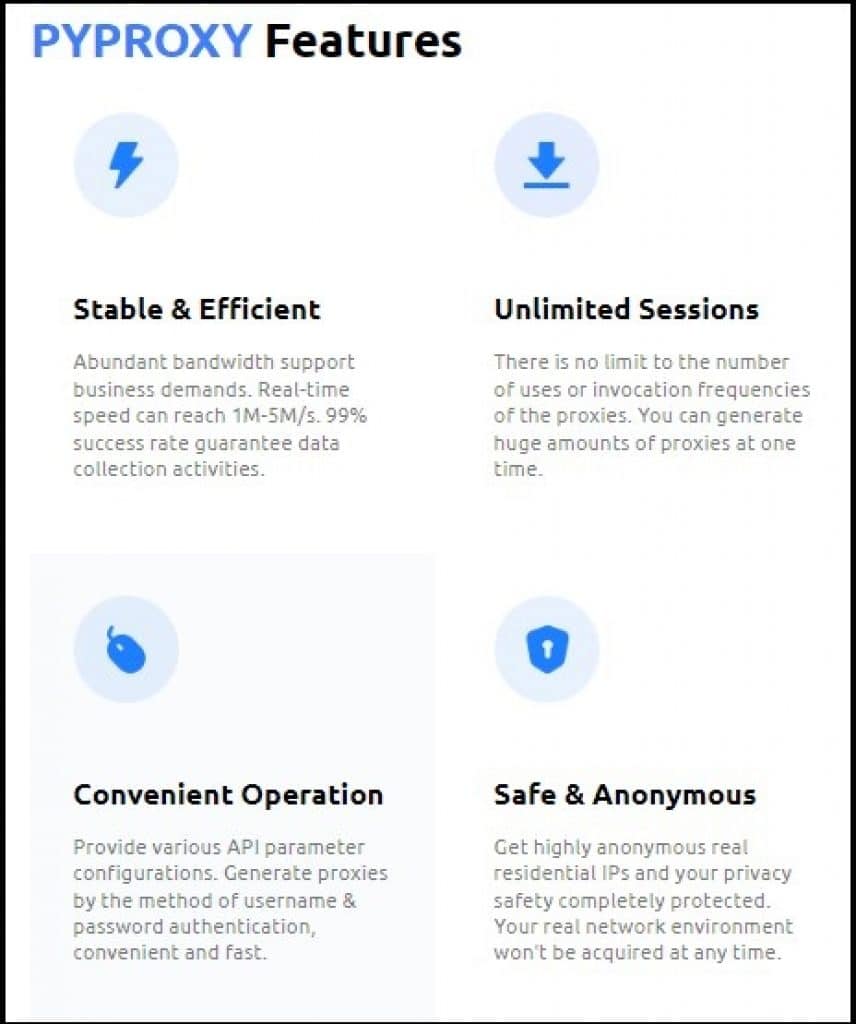 Every proxy provider has a different selling proposition that draws users to use their services. These selling points can be thought of as the features they have. PYPROXY lists a number of features on its website that they consider to be "excellent PYPROXY features."
They have a stable and efficient proxy service that offers abundant bandwidth support for business operations or demands.
Proxies with a real-time speed of up to 1 Mbps-5Mbps
It has a 99% success rate guarantee for data collection activities.
It supports unlimited sessions. This means there is no limit to the number of sessions you can create at any point in time.
Their service has good location coverage, with the residential peroxy available from 190+ locations around the world.
PYPROXY has a massive and quality IP resource with 90 million or more real residential IPs in its IP pools.
Excellent custom service that enables the development of unique IP proxy plans based on the client's scenario(s). These custom plans can provide traffic usage reports and trace traffic records.
---
back to menu ↑
How to Use PyProxy
PYPROXY is a paid tool as. As such, you will need to register to make use of it. How to use PYPROXY is simple. Register an account, pay for a plan, get proxy details from your user dashboard and use in your software of choice. To make use of PYPROXY, the process is quite understandable. Having mentioned some of the things that we need to know in the previous sections, like proxy types they offer, the pricing of their service, and so on. You can follow the steps we will be mentioned below to use PYPROXY.
Step 1: Log on to their official website and click "Get Trial Plan."
Step 2: Input the right details and click on 'Sign up. You should log in instead if you are a returning user.
Step 3: After this, You will be directly taken to the PYProxy dashboard. It's simple right. The dashboard should look like the image below.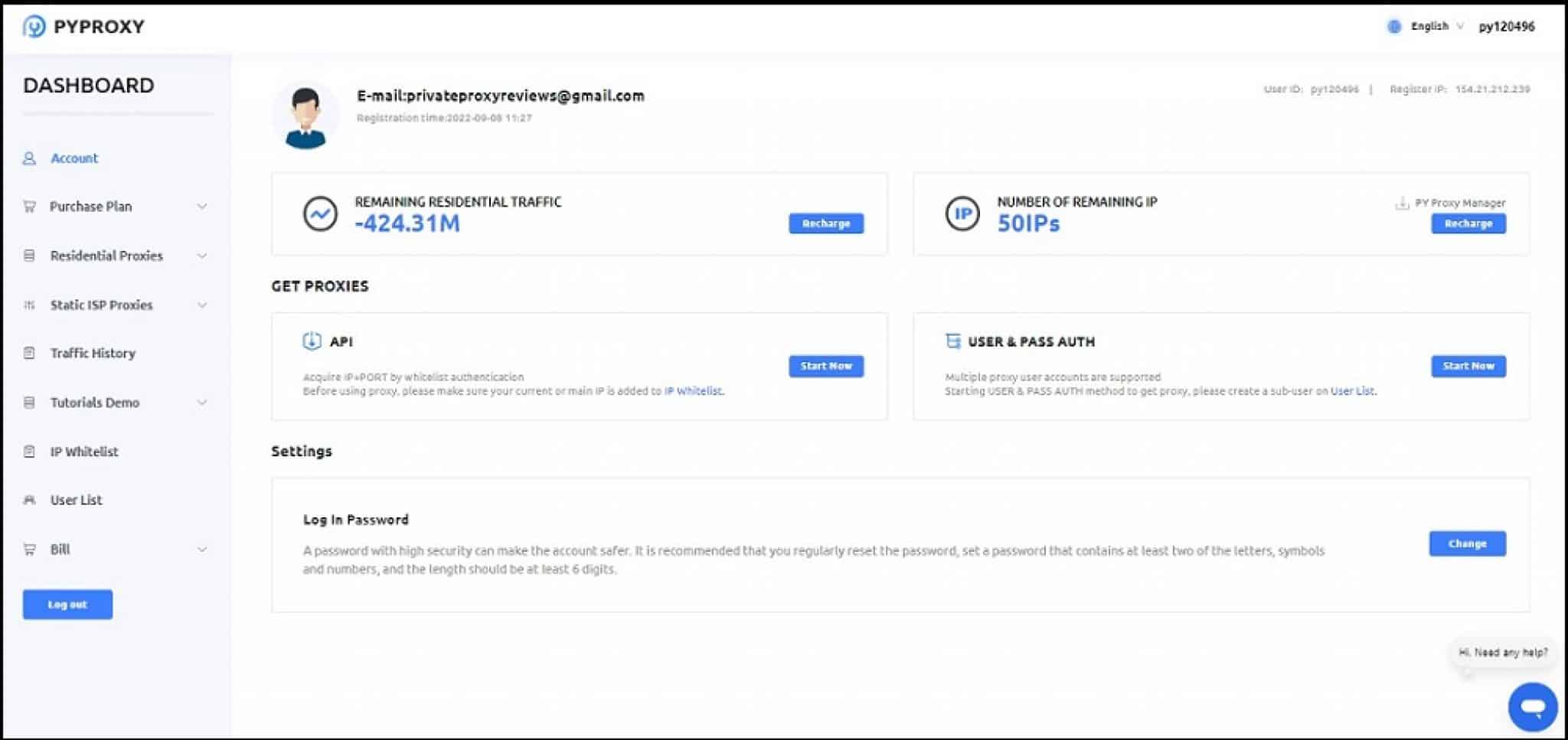 The dashboard is quite easy to navigate, even for people new to proxies. An interesting aspect of the dashboard is of course the convenience it affords users to purchase there without going to the main website. You can also track your traffic as well.
back to menu ↑
Our Verdict
In a sense, no proxy provider has everything. Each has advantages and disadvantages. According to our assessment, the residential proxy service they assert to provide is of high quality and would give a user a lot of possibilities. Their residential proxies also have excellent location coverage. On the other hand, they are quite new and can't be said to be a battle-tested solution. We can't vouch for them if you are a heavy user, but for most users, it is a good provider that you can use for a good number of tasks.