The Spider proxy service is one of the new residential proxy services that has graced the proxy market with a lot of promises and marketed features publicly displayed on their websites for visitors to see.  But are they able to offer the proxy service as claimed? You will find out in this Spider proxy review.
New Proxy Provider with Marketing Gimmick
Offers residential IPs assigned to real Internet users
Users can enjoy unlimited concurrent threads according to them
Many locations supported
Offers an SDK to developers
It could be seen as a Bright Data copycat
Currently just hype – has not proved itself yet
---
I only heard about the Spider proxy service recently, and I needed to take a look and write a review about it, so our readers will know if their proxies are as advertised. And I used the word advertised for a reason; going through the Spider proxy website, all I can see is an ambitious project with a lot of buzzwords that has not proven itself yet. According to the information on its website's homepage, it has over 70 million IP addresses. However, if you go to the FAQs section, there is a section they claim to have only 5+ million.  Aside from this, you will see other marketing hypes that have not been proven yet.



To make things worse, a simple search on Google will reveal no review about them, which then means that they have not had enough users that would review their service. Is it that they have not launched yet, or they only have a couple of users? Or it's a project trying its luck? As far as I can say, the Spider proxy service is a new project with ambitions, but these have not come to fruition yet. Reviewers are not paying them attention, and they certainly do not have enough users yet – that's if they even have users. To make things worse, the customer service is also not at par with expectations.
Is the service worth its salt? That's what we'll discuss in this review.
---
---
The Spider Proxy Solution
If you look at the Spider proxy website, then you will see that what they offer are residential proxies. Interestingly, they have put up a list of what you can use their proxies for, and some of these would be discussed below.



Web Scraping and Crawling
One of the use cases of residential proxies is web scraping, and the Spider proxy has it as one of its services. Their proxies are rotating proxies that would change your IP address after every 5 minutes even though you can force a change before 5 minutes and you maintain the same IP for longer periods. Web scraping and crawling here includes ad verification, market research, travel aggregation, and SEO monitoring, among others.
Access Geofenced Content
The Internet is becoming localized by the day, and your location now determines the content you have access to. The Spider proxy service has IP addresses from different locations across the globe, which makes it perfect for accessing geo-targeted content. They claim to support city-level targeting, but this remains an unverified claim to use for now.
Brand Protection
If all you want is to keep your real IP address or that of your business computers away from the Internet so that no one can link your behaviors online with your brand, then Spider proxies can help you do that as they are anonymous proxies that keep your IP address hidden from web servers on the Internet.


20% OFF
Get 20% Life-time discount: put promo code "privateproxyreviews" to check out!
---
back to menu ↑
How Spider Proxy Works
The working of the Spider proxy is not different from other proxy services in the market. All they do is help mask your real IP address by providing you different IP addresses to use to access content on the Internet – this is the usual description, and it is short and straight to the point but hides the details that matters. One thing you need to know is that as a residential proxy service, the process involved is more complicated and technical. The first thing you need to know is that the Spider proxy service does not own the IP addresses it makes use of – the IP addresses are sourced via P2P networks.



When you send a web request to get certain content from a web server, with their proxies configured, the request does not go straight to the web server. Instead, it is routed to the Spider proxy server, which then looks into its pool and chooses an available and active IP address to route your request through. These IP addresses are assigned to real Internet users by their ISP. When it chooses an available IP, it routes it to the IP's device, using its IP and other Internet resources to send the request to the intended server. By doing this, the web server would not know the request originates from you. After the web server is done processing the request, the response follows the same channel backward to get to your device.
---
back to menu ↑
Pricing & Features
Pricing is an important aspect of a proxy service, and for any provider that wants to remain competitive, it must find a balance between making profit, offering high-quality service that will make consumers happy, and offering the proxies at an affordable price to their target audience. Looking at the Spider Proxy Service pricing page, you will see that it seeks to offer its services to both small marketers as well as big ones. To be honest with you, there is nothing different about their pricing system, and it looks like a copy of the pricing of some prominent providers.



Looking at the pricing data above, you can see that their proxies are priced based on consumable bandwidth, and if you exhaust the bandwidth allocated to you, your connection will be cut off until you pay for more bandwidth. Their smallest plan is sold for $75 and comes with 5GB – this makes the price per bandwidth to be $15. As you buy more bandwidth, so does the price per GB decreases, and you can get bandwidth for as low as $2.50 per GB depending on the package you subscribe to. Before making a monetary commitment, you will do yourself some good by making use of their free trial option first to ascertain their functionality.
Features of Spider Proxy
Offers rotating proxies that change IP after every 5 minutes – You can force a change of IP before 5 minutes elapses.
Has support for session proxies that can maintain sessions for up to 8 hours, provided the IP does not go offline.
Offers free trial for new users. However, the exact duration and details of their free trial I not known as a section of their website claim it is 14-days while another section states 7 days.



Claim to have over 70 million IP addresses. As far as we are concerned, this is just advertised and seems to be just a rip-off data from the Bright Data website if you also consider their free trial details.
It can be used for a good number of use cases, and again, we have not been able to fully confirm this yet.
Offers an SDK for developers to integrate into their mobile and desktop application as a monetization method for developers while the users of their app get the apps for free and provide their IP addresses to be used as proxy nodes.
---
back to menu ↑
How to Make Use of Spider Proxy
If you have been a regular reader of our reviews, you must have been waiting for this section, and that of our speed test and ISP test, as that is where you get to see real performance and make informed decisions. The Spider proxy service is a paid tool, and as such, you will need to register and make payment to start using the service. However, they offer a free trial for new users. I wanted to grab the free trial first to see if it works before making payment for a plan, and below is the error message I got while trying to register.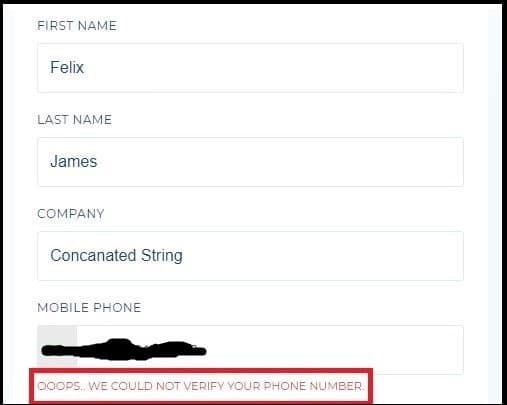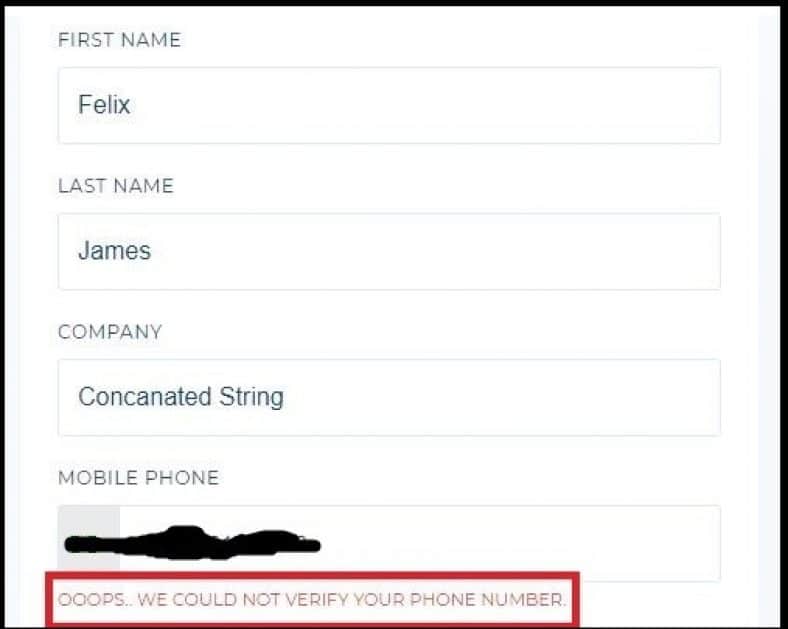 From the screenshot, you can see that I was not allowed to register. I contacted a member of our team from a different country, and the result is the same – he also could not register. While other proxy providers choose to use email addresses for account verification, Spider chooses to use phone numbers, which is at the time of writing this article, not working. Because we were unable to create an account, we could not carry out any form of test to ascertain many of the claims on their websites.
Another we observed is that only a message box is available for customer support. They do not have live chat support, and none of their social media handles is displayed on the website.
---
back to menu ↑
Our Verdict
If you have gone through all of the things discussed above, you should already know that the Spider proxy service cannot make it to our recommendation list for obvious lists. The website content looks like a hybrid copy of Bright Data and Smartproxy. We were unable to login, and there is no one talking about them. Unless we are able to login to test their service and ascertain the performance of their proxies, we do not recommend them. If you are looking for rotating residential proxies to use for your tasks, there are a good number of options available to you, including Bright Data, Smartproxy, and Soax.