There are features that make a proxy an excellent fit for a project than the other. These features are what you see as pros and cons in reviews of such products. They are to enlighten potential buyers on what to expect from a product. As a marketing strategy, some providers boost what they possibly can offer.
Hence, an honest review from a neutral person who has used the product is what you should look out for. This article reviews the popular residential proxy provider, Yilu proxy. This exposes its strengths and unveils its weaknesses.
Residential Proxy With SOCKS Protocol
Over 90 million dynamic residential IPs
Good locational coverage of above 200 countries
Frequent IP updates on a daily basis
Swift technical support team
Easy user experience.
---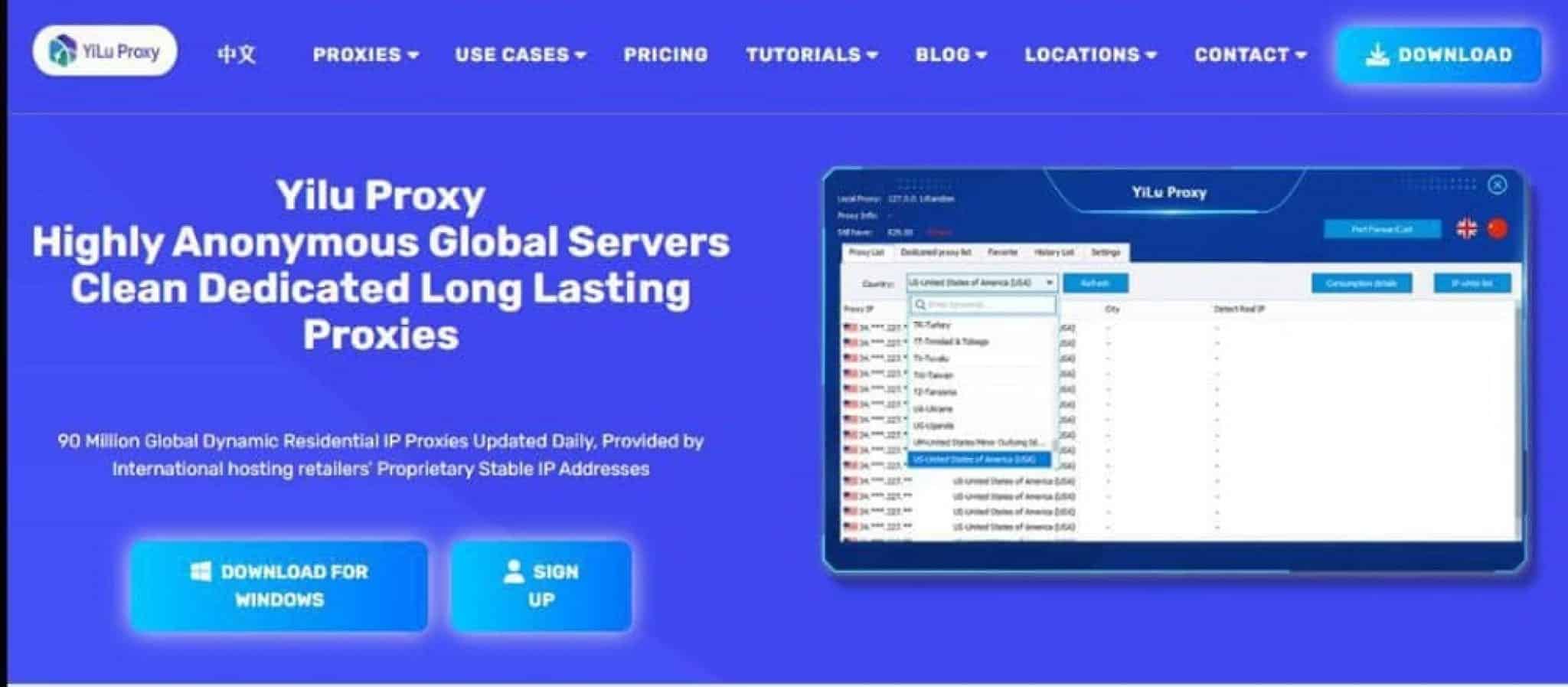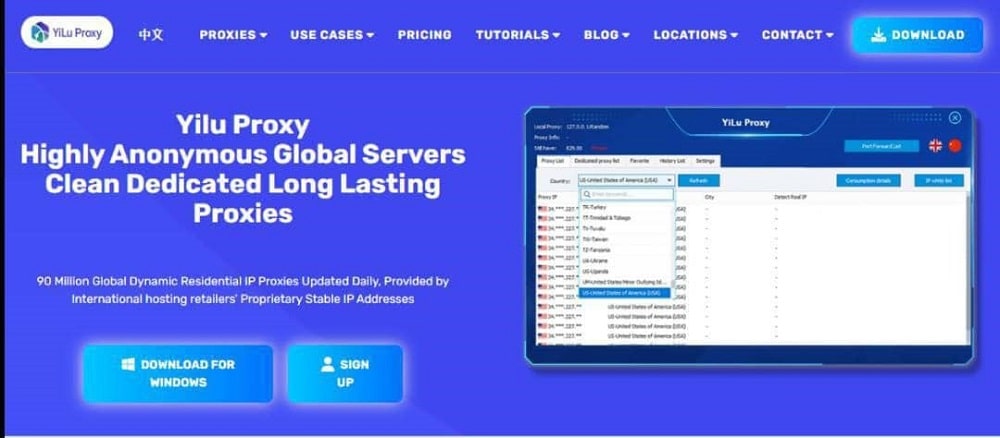 Yilu has carved a competitive niche in the market of residential proxy. This fast residential proxy is a good choice if you require a SOCKS5 proxy for any task. Over its years of operation, it has displayed one of the fastest development in network infrastructure. No wonder it competes pretty strongly with those it met in the market.
It has been on top of the chart when internet security providers are mentioned. Seamlessly, it provides proxies that are effective in case uses like SEO monitoring, Web Scraping, Data Harvesting, Price Monitoring, and Brand protection. Not only that, its proxies have proven wonderful in E-Commerce and Social Media management.
While this provider has rotating residential proxies they also provide static dedicated IPs. However, this review only considers if the promises made on its residential proxies are ten or not. Read more and find out as we go. Talking about affordability, Yilu proxy ticks the box fully. However, you have to be sure of what you stand to gain from the product because it does not offer a refund. More reasons why this article is written.
"Is Yilu Proxy worth it? Let's dig deeper and discuss it further"
---
---
Yilu Pro Use Cases
A good question to ask yourself before you decide to buy any proxy is 'what case or task do you need it for?' Many times you might be tricked by the providers with several use cases listed on their websites. As for the Yilu proxy, the good news is that it offers virtually all the cases and task specifications listed on the page. However, while it proved excellent with some tasks some performed averagely. As such, we advise you to note the specific task as we take them one after the other.
No doubt, using a manual method of data collection can only be effective when the volume of data is small. When you require a high volume of data, using proxies makes it easy. Yilu residential proxies have performed wonderfully in scrapping data on web pages of different protocols. Having Sock protocols makes them to access all sites and download data in formats of your choice. Thus, data extraction, as listed on their website, is one of the boxes Yilu proxies ticked.
SEO (Search Engine Optimisation) Monitoring
Ranking of your content and pages is a function of quality keywords and your chances as opposed to your competitor with high domain authority. Therefore, having keywords with high search statistics is a plus. This is another solution Yilu proxies provide you.
When you combine these proxies with SEO scrapers, you will collect the needed and most searched keywords. This helps your content to rank high when searched on engine rooms.  You already used these proxies on the most popular search engines room and worked effectively.
Yilu residential is effective for e-commerce use cases. It can be too cumbersome to manage or source data from big e-commerce platforms like Amazon, Shopee, eBay, and Walmart. These proxies help you access all the data on those platforms without revealing your identity.
With this, you can manage your platform, analyze competition and keep a tab on your competitors. Since these proxies are residential, they don't get banned or detected easily. Thus, automating your operation is never a problem.
---
back to menu ↑
How Yilu Proxies Work
Yilu proxy is a typical residential proxy. Therefore, it works in a similar way to other residential proxies work. In its pool of 90 million IPs, you will have full access to all IPs depending on your choice of location. Interestingly, all its IPs are mostly dynamic. So, they are always changed and updated. Although it also has static dedicated IPs if you have a need for that.
Yilu proxy reroutes your request to your target website and replaces your real IP with any of the residential IPs. This process masks your real identity and only gives out the details of the new IPs. As a residential IP, the tendency to detect and block your IP is low.
This is because it will appear as a real user from a device. You will enjoy a wide geographical coverage of up to 200 countries from which you can choose locations. This makes it easy to unblock any site your real location might not have access to visit. Talking about configuration, Yilu is not configured like other proxies.
It requires you to install the Yilu client application. However, you must note its limited device compatibility with Windows devices. This means you can only make use of it on a Windows computer. This implies that users with Mac, Linux, and the like should look out for other proxies.
---
back to menu ↑
Pricing & Features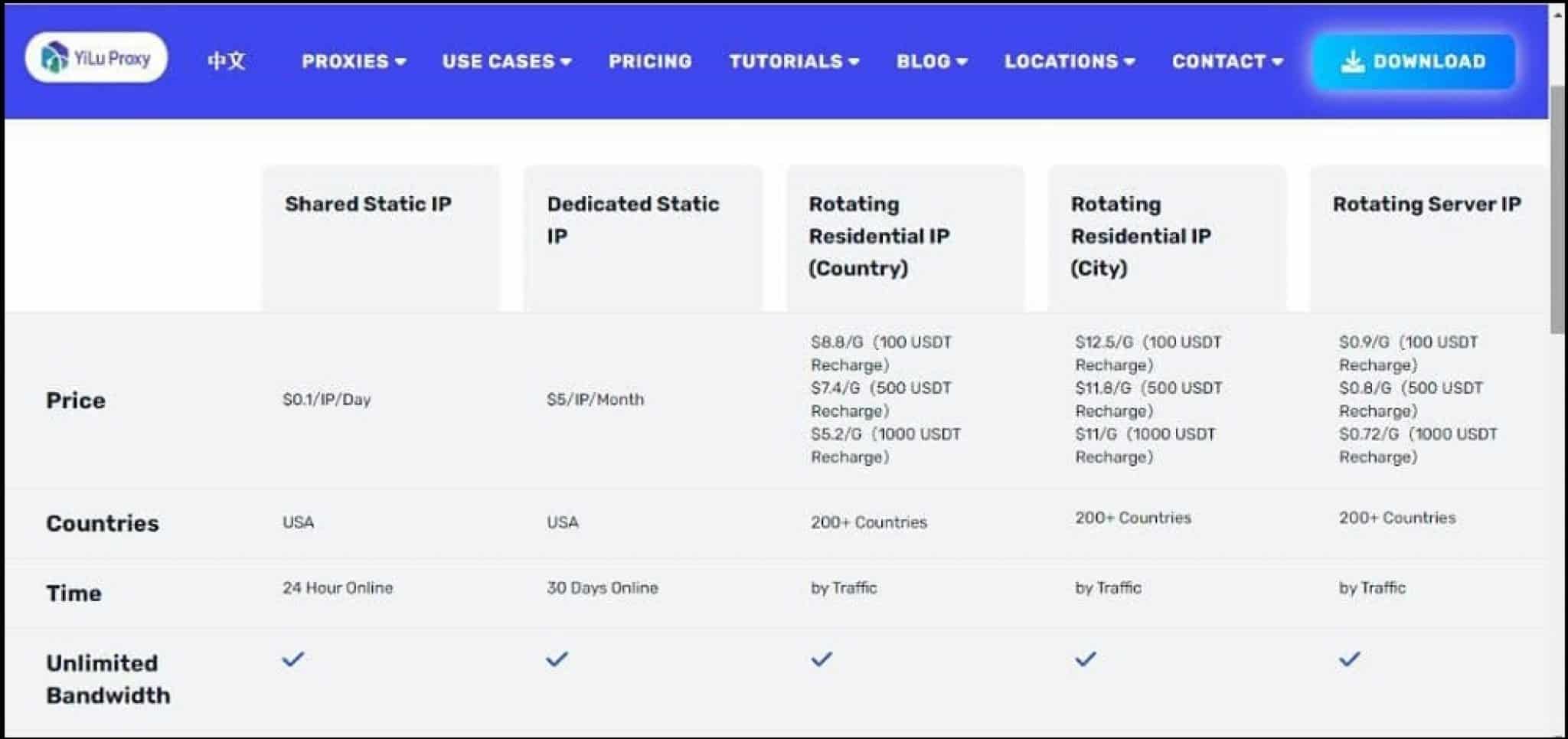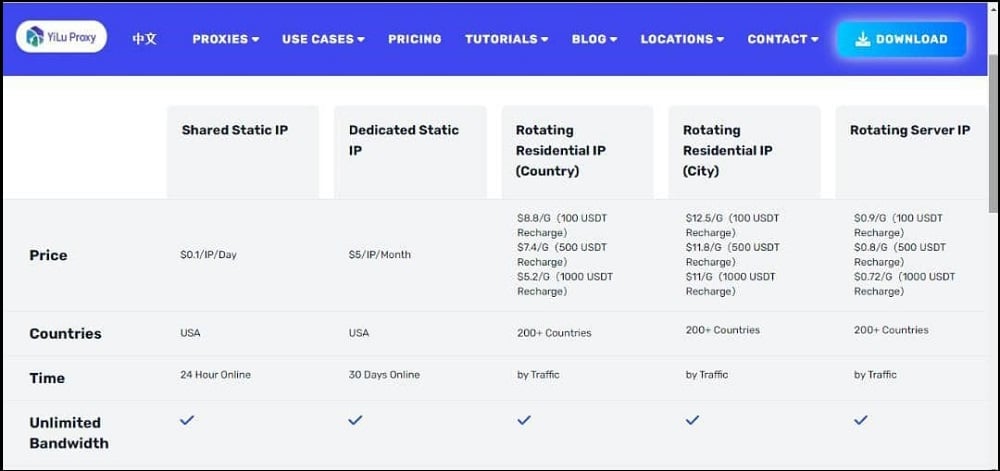 You will like to know the financial implications and how much it will cost you to purchase a Yilu proxy. Fortunately for us, the Yilu Proxy service has cheap pricing. For their residential proxies, pricing starts from $100, and for this, the price per GB is $8.8/GB. The more money you spend, the cheaper the price per GB becomes. For their rotating residential proxies, there is no expiration — your subscription is valid until you exhaust the bandwidth allocated to you.
Even though it claims to offer a free trial, there is no free trial available. You will need to pay to make use of their proxies. It is also important you know that Yilu Proxy is one of the anonymous proxies out there even in terms of payment method. For this service, you can also pay via crypto. As with most proxy services, Yilu does not have a friendly money-back guarantee.
Feature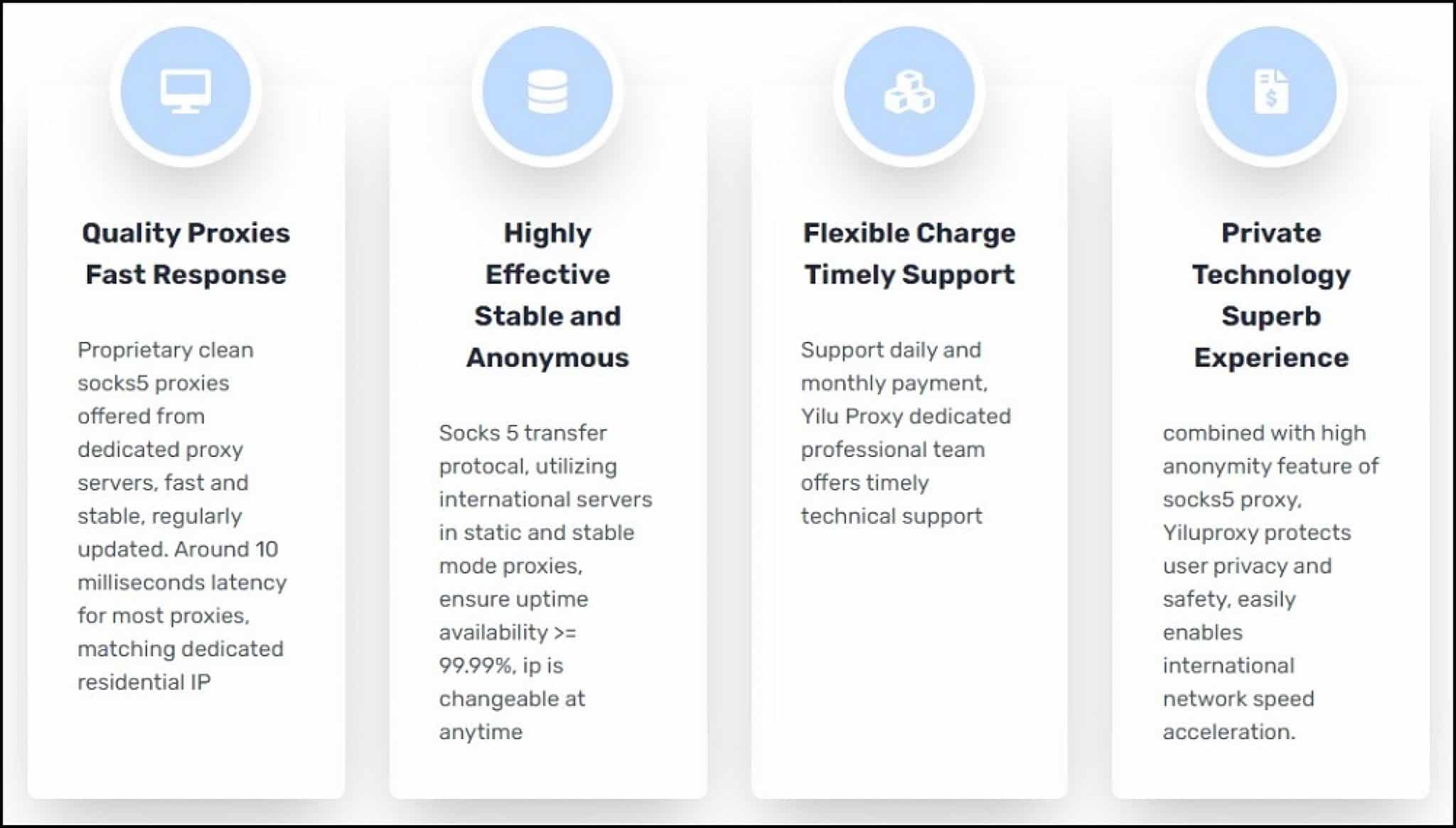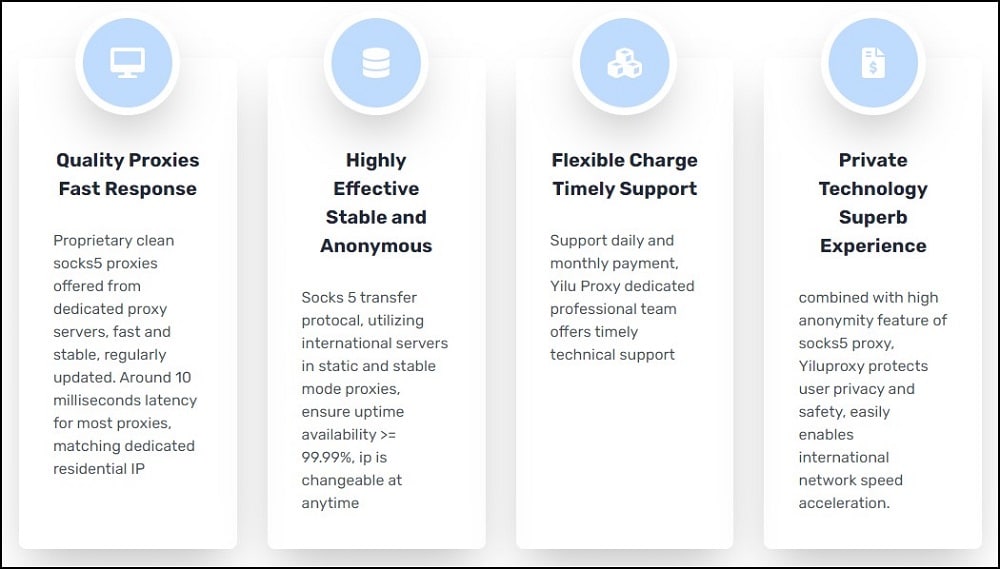 Yilu is very young in the market yet it competes strongly with the frontier in proxy industries. Only a proxy provider with quality service and proven effectiveness could have attained such height in no time. That triggered our curiosity to find out what features Yilu proxy gives its consumers.
Introduced to the market in 2020, Yilu has become the best place for many proxy users. This is a reflection of its quality. Many times, people only try out new products to check the comparative advantages as compared to their regular products. However, if they find out it performed beyond expectation, they perhaps switch to it. This is how Yilu has gained its users. Very few new proxies meet this criterion.
A large Proxy pool of 90 million dynamic residential and static dedicated IPs is what Yilu has in store for its users. This is large enough to serve its customers. In addition, these pools are regularly updated, as can be seen on their website. Only pioneer Proxy companies like Bright Data have a bigger IP pool than Yilu.
A pretty good feature of Yilu proxy is its wide locational coverage. The proxy has a wide horizon of location that makes its large pool of IP to be useful in many places. Thus, it has support for up to 200 countries of the world. Additionally, you can target places not only at the country level but also city targeting.
Yilu Proxy has an excellently performing network infrastructure. It has a fast response and around 10 milliseconds of latency. Its Sock proxy protocol is a good feature that entices consumers.
Talking about customer support, the technical team of experts at Yilu uses the telegram platform for one-on-one interaction with users. However, the time taken to respond is slow compared to other proxies with live chat.
Yilu proxy uses a secure means of authentication. It uses email and password for login and verifications. At the beginning stage, you will be sent a code for initial logging. You will be required to change to pin to a password of your choice.
---
back to menu ↑
How To Use Yilu Proxy
Step 1: Purchase a proxy plan from the official Yilu website.
Step 2: Download and install the Yilu Proxy client – available for Windows users only.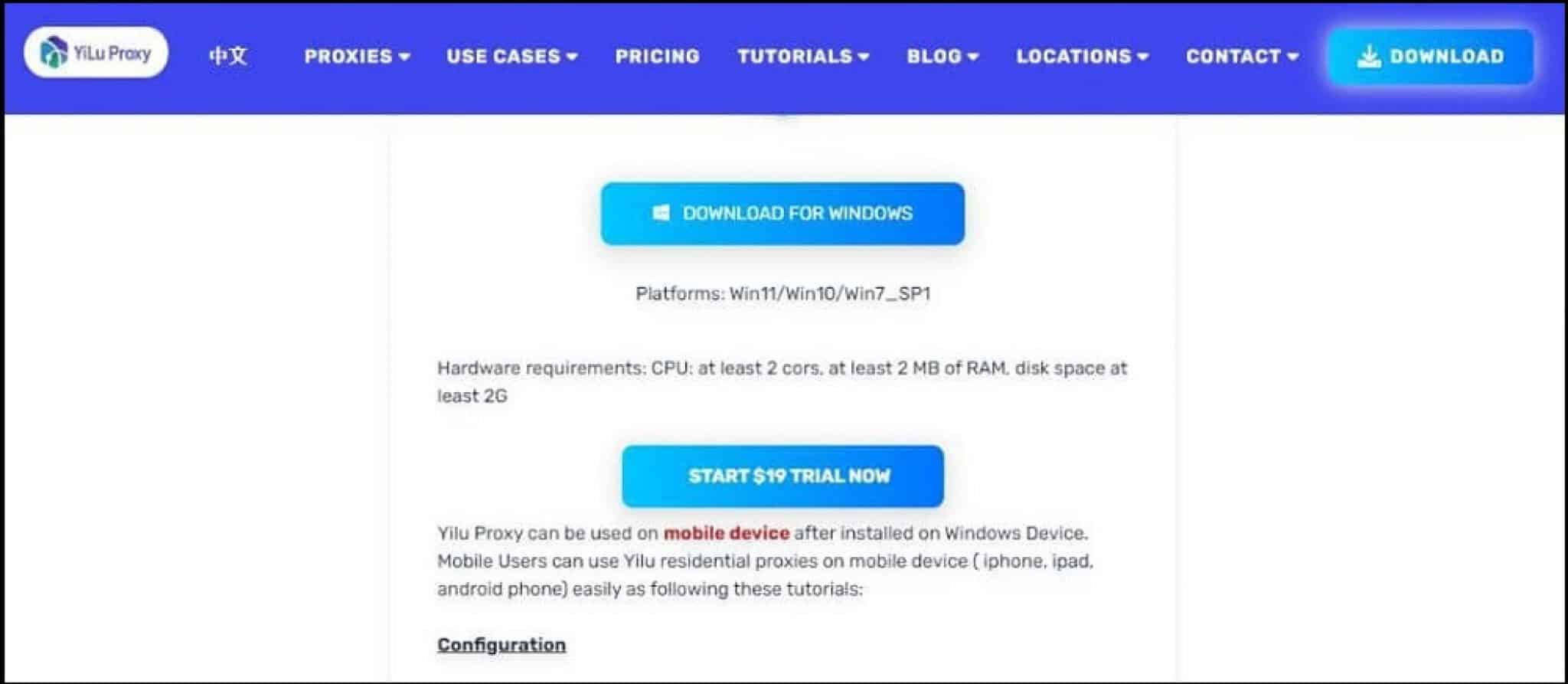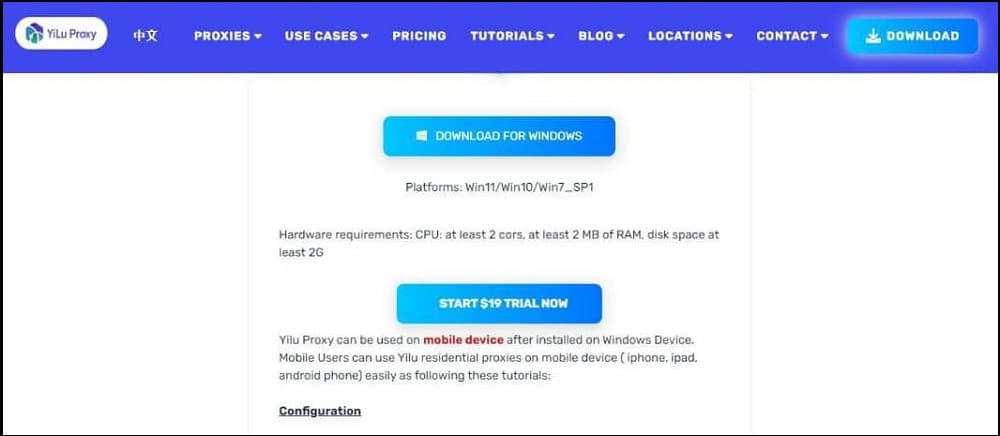 Step 3: Log in on the dashboard, choose your preferred country or city and tick the 'random' box.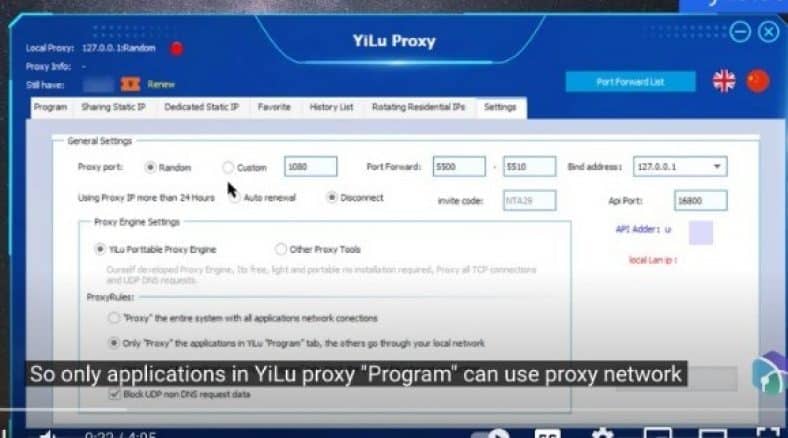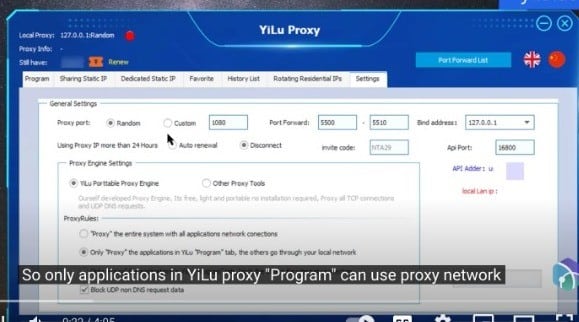 Step 4: Go down and click on 'only proxy', then save.
Step 5: Then it comes up with a clean and empty interface where you can drag and drop your browser. This works with Chrome and Firefox. Double-click the browser icon, and you will see a list of available IPs for your chosen location.
Step 6: Choose any of the IPs and launch your browser.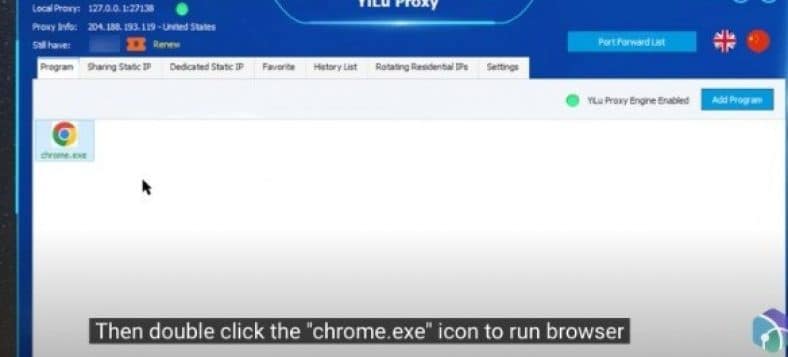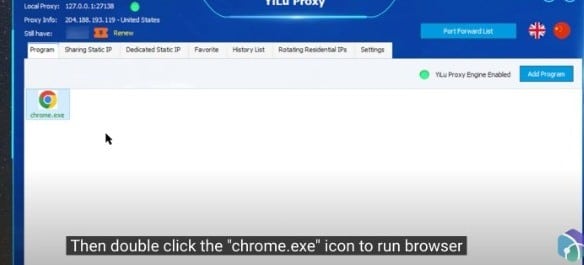 Step 7: Once it is connected, you can check your IP address at www.browserleaks.com. You then can cross-check if the IP you find on the site is the same as the one you choose on the Yilu dashboard. It is that simple. The process is the same for all browsers.
back to menu ↑
Our Verdict
You will like to know our take on the Yilu proxy. Do we think you should go for it? From our research on the Yilu proxy, we can say that the proxy has a good grip on all the services it promises on its websites. Although,  there could be other technical challenges that are case specific.
Hence, we strongly recommend speaking with their customer support before you purchase since they do not offer a free trial. This will help you find out if it is fit for your task.
However, as Yilu only works with Windows, we advise you to look elsewhere when you need a proxy that is compatible with all devices.