Are you looking forward to buying from the Zoomproxies service for sneaker copping, and you want to learn more about the service in other to make a purchase decision? Then you are on the right page as we would be providing you a review of the Zoomproxies.
Fast ISP Proxies for Sneaker Copping
Offers ISP proxies for 3 locations in the United States
Has support for a good number of sneaker sites
Proxies are fast and would increase your chances
Easy to use user dashboard
---
Zoomproxies is one of the proxies in the sneaker proxy market. This provider offers ISP proxies which are residential proxies hosted in a datacenter proxies infrastructure, giving you the best of both worlds – the super speed of datacenter proxies and the undetectable nature of residential proxies. The proxies from this service are quite good that the proxies are almost always sold out.
Getting your hands on proxies from this provider is as competitive as the sneakers you are trying to cop. This is because the proxies have been optimized for sneaker copping, and a good number fsneakerheads and resellers are always out to get their own share.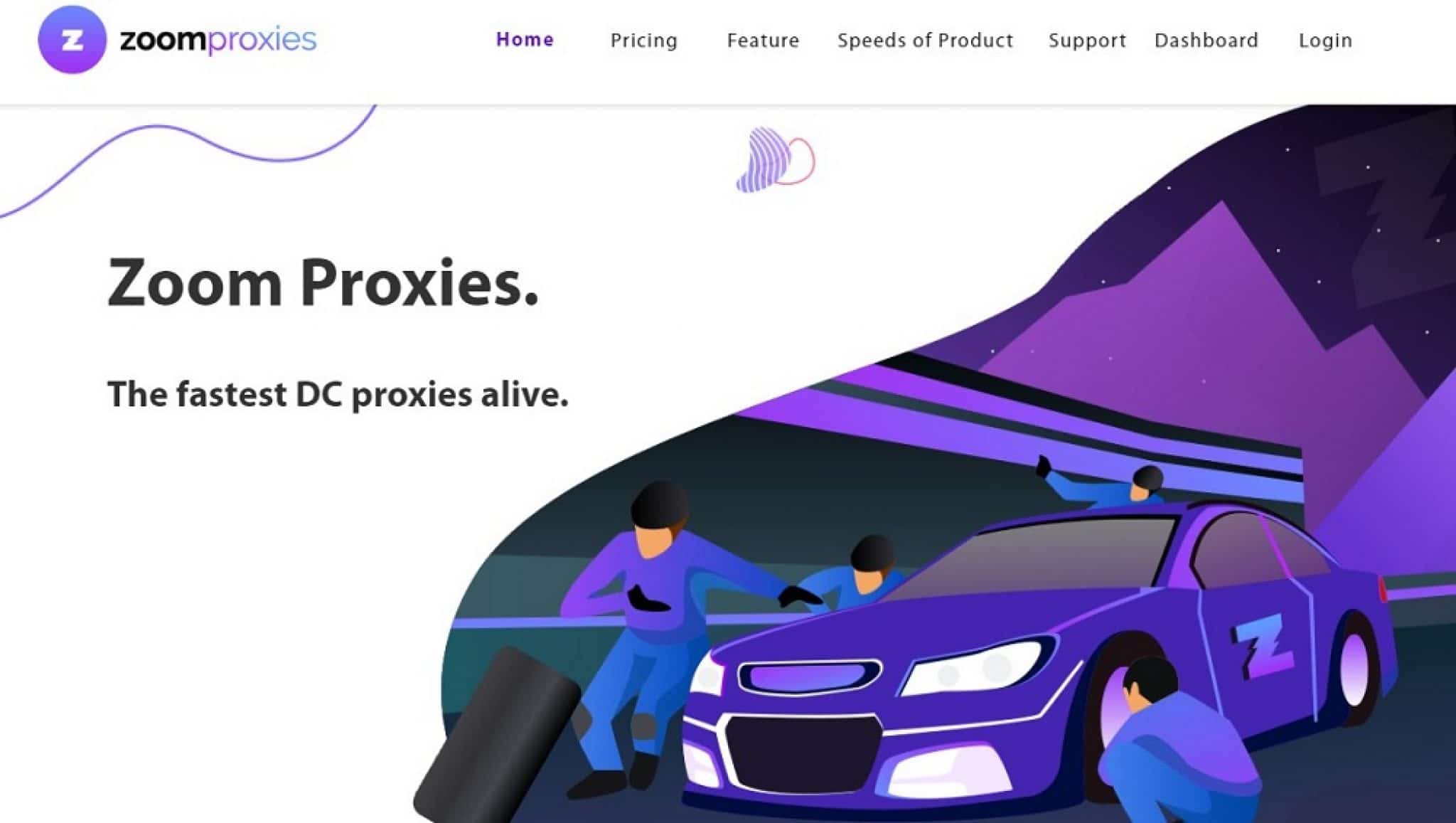 If you are able to get your hands on proxies from Zoomproxies, then delivery after payment is instant, and you can enjoy unlimited bandwidth. One thing you will come to like about Zoomproxies is that their proxies are compatible with a good number of sneaker sites, including Shopify, Supreme, Adidas, Footsites, YeezySupply, and Finishline.
Because of the premium nature of their proxies, you can use the proxies for other tasks aside from sneaker coping, including unblocking entertainment services meant for the US and UK audience since only the US and UK are the location supported.
Is Zoom Proxies worth it? That's what we'll discuss in this review.

20% OFF
Get 20% Discount: put promo code "PRIVATEPROXYREVIEWS" to check out!
---
---
Proxy Plans and Pricing
The Zoomproxies is not the kind of provider that wants to provide all of the services in the proxy market. It is specialized in providing ISP proxies. However, they have got a good number of packages under their ISP proxy service, and the one you should subscribe to should be determined by your location and what you need proxies for.
They have got packages such as premium proxies, captcha proxies, and retail proxies, among others. One thing you need to take note of in Zoomproxies is that its proxies are almost sold out.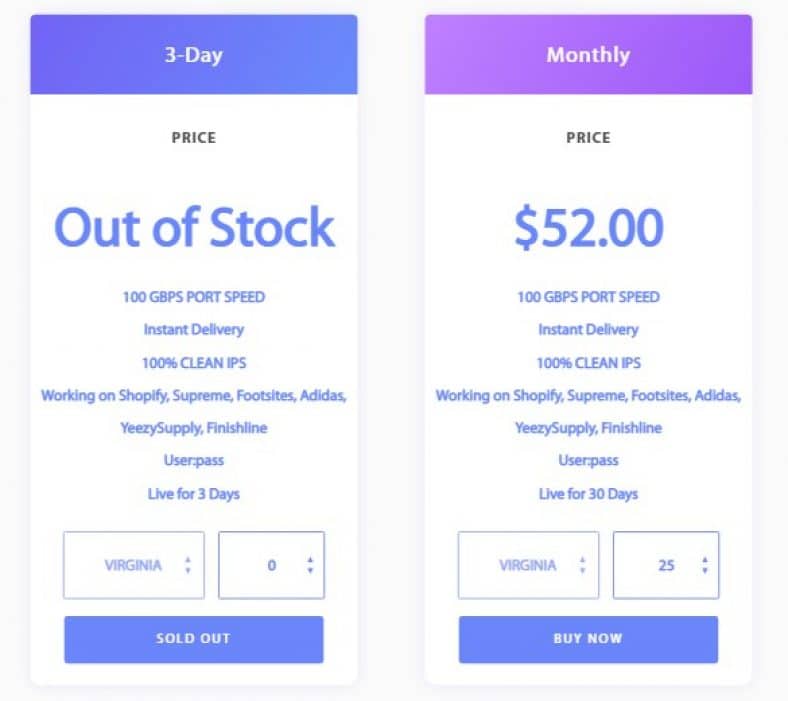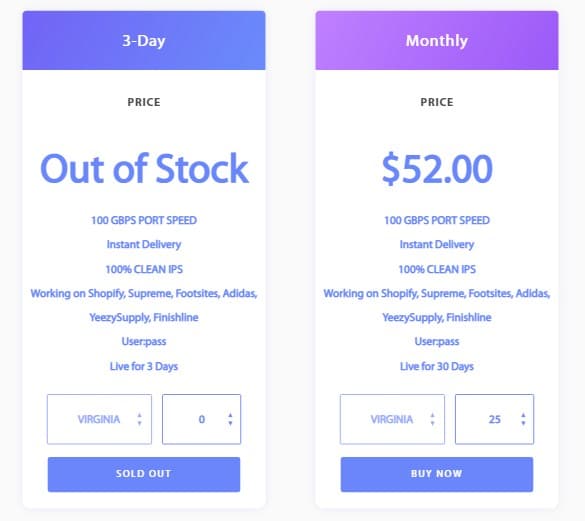 For you to get your hands on their premium and captcha proxies, you will need to be available at the time they are releasing them; else, they will be bought, and you will lose out. As at the time of writing this article, the only proxies we were able to access their price data are their retail ISP proxies.
For these, the pricing for a 3-days plan is $20.75 for 25 IPs – the pricing for the monthly proxies is also not available as it is also sold out – that is how competitive Zoomproxies ISP proxies are.

20% OFF
Get 20% Discount for your first payment: put promo code "privateproxyreviews" to check out!
---
back to menu ↑
Customer Support
One area I feel Zoomproxies need to work on is their customer support. I am not saying they are not offering good customer support. The major issue I see here is in response time. Zoomproxies does not have support for live chat support and does not have a Discord server for its customers.
If you must communicate with them, then you will have to do it via the email address or contact them on Twitter.
---
back to menu ↑
Location Support


Being a sneaker copping proxy provider, the service makes sure it only site its data centers in optimized and strategic locations to improve ping and response time. Currently, Zoomproxies only has support for locations in the UK and the US. For the US, Zoomproxies have support for Ashburn and Chicago.
---
back to menu ↑
Authentication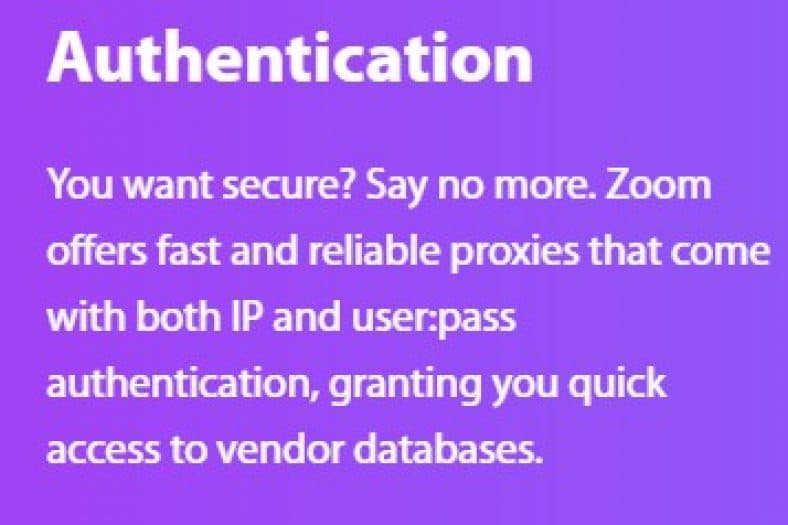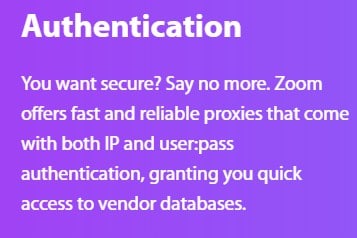 In terms of authentication, Zoomproxies has support for both username and password authentication as well as the IP authentication method. The username and password authentication are the most popular, and as such, most users already know how it works.
For the IP authentication, you will be required to whitelist the IP address of the device you will want to use the proxies on. With that, you will not need to use a username and password for authentication.
---
back to menu ↑
Our verdict
For a service that its proxies are almost always sold out, and you will have to be lucky to get your hands on, there is something Zoomproxies is doing right that other providers do not. The proxies are not only fast but have been optimized for sneaker copping.
For that, we recommend you use the if you are able to get your hands on their proxies. To do so, you will have to follow them on Twitter to know when their proxies would be on sale to grab before anyone else.