Infatica is a proxy provider with residential proxies, mobile proxies, datacenter proxies in their proxy network. Infatica prides itself as a Global Proxy Network that can be used virtually in unlimited industrial use cases.
Provide Residential HTTP(S)/SOCKS Proxies for scraping
2.5 million peer-to-peer residential Proxy network
Unlimited bandwidth
Rotating IP with each request
---
Infatica is a peer-to-peer residential Proxy / tool company,  They offer a tool for free as a Chrome browser extension, localized into many languages. Our user base connects us to 1,152,141 unique residential IP addresses as of April 2019. User growth is currently 2 – 3 new signups per hour. They currently offer users a choice of eight countries to browse from, and we allow http, https and socks access.
But how true is this? Answers to these questions will be provided in this Infatica review article. Just in case you do not know, Infatica is a new kid in the block. It started business at the beginning of 2019 with its first set of customers being Internet marketers on BlackHatWorld Forum.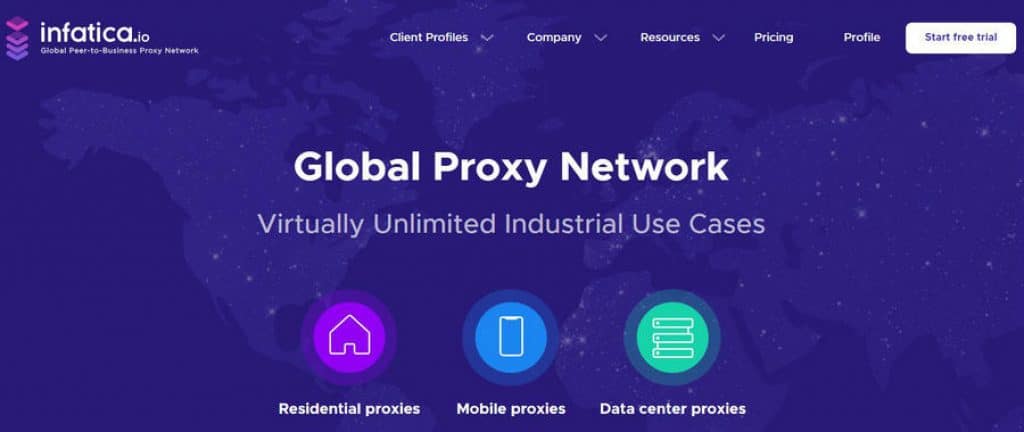 What is interesting is how a new proxy provider that started in February 2019 will under a year, grow its proxy network to have over 2.5 million residential IPs. From my personal test and that of other independent marketers that used this bot, I can categorically tell you that Infatica is a proxy provider to watch out for. It is good for web scraping, but the speed is nothing to write home about. It is slow compared to others in the industry.
Aside from web scraping, it has been able to perform decently in terms of ads verification, social media management, and even bypass geolocation restrictions, among others. As a way of reviewing this proxy provider and their proxies, I will be discussing how Infatica stands in key aspects of proxies.
---
---
IP Pool Size and Distribution
At first, seeing the year they were established gave me the feeling that could be likened to – let them grow up first. I underestimated their strength in terms of the number of IPs they have in their pool.
However, a little bit of research got me wowed. Currently, Infatica has over 2.5 million residential IP in their pool. While you are not given access to the whole pool at a time, you are given access to at least 3000, depending on the subscription plan you chose.


The number of mobile proxies and datacenter proxies is hidden, unlike in the case of their residential proxies. I know its residential proxy network is not as large as that of other premium providers like Luminati and co. However, considering its year of establishment, 2.5 million residential proxies are great for a start.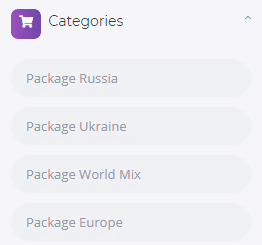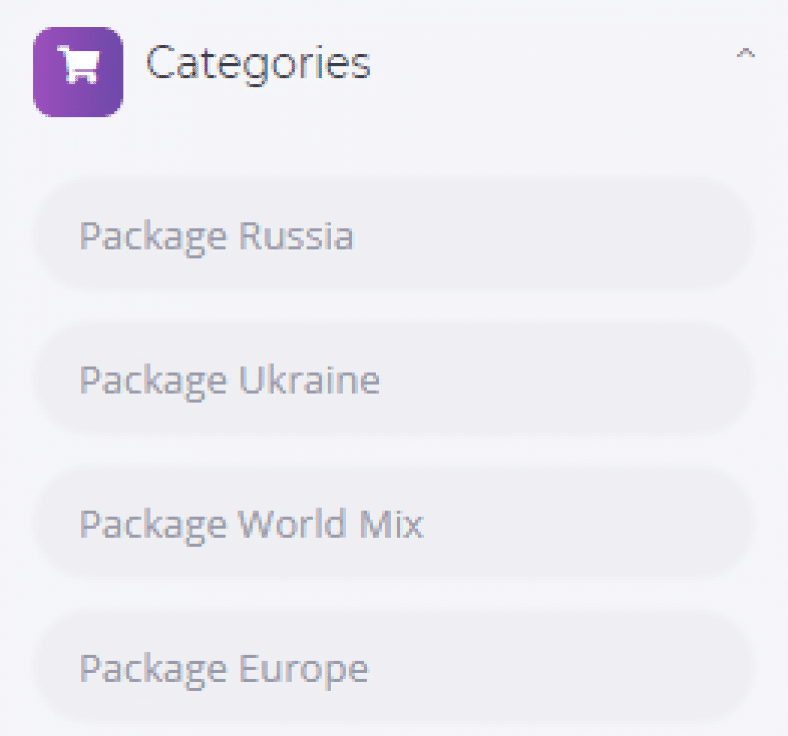 While its IP pool is said to be decent for its age, it flops in the area of proxy network distribution. According to the information on their website, Infatica only has proxies in Ukraine, Russia, and Europe. They have a package known as World Mix, though – but the countries and regions that this comprises are shredded in secrecy.
back to menu ↑
Proxy Speed and Performance
I know many users will want to know how Infatica stands in terms of download and upload speed.
To be honest with you, Infatica performed below average compared to others. It is wise to say they have still not learned the techniques (or have the infrastructures) required to optimize the performance of their proxies in terms of speed.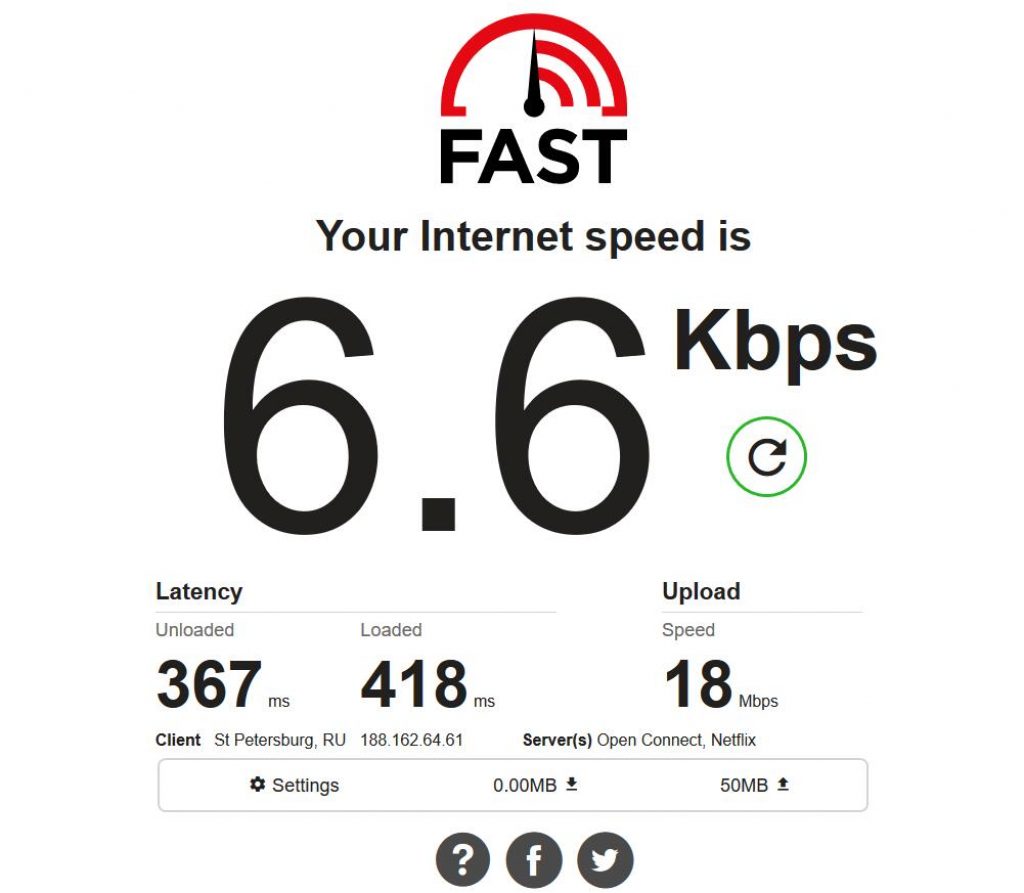 For many, they might not even have noticed this because they tested the proxies, and it worked in their case. We needed to go beyond it working to see its speed, and we were not impressed, Especially their proxy download speed.
Also, sometime their proxy show,
502 Remote site or proxy node error : ; TypeError: Failed to fetch
But considering they are still young in the game and they have hit the ground running kind of spirit, I believe this will improve in future.
Security
One thing you will come to love about Infatica is your security. They are not resellers; they own their infrastructures. This enables them to have total control and make their proxies as secured as possible.
Traffic routed through Infatica proxies are secured using end to end encryption. However, this does not mean an eavesdropper cannot sniff on you if your own network and that of your target sites are not secured.
They do not keep logs of their users' browsing history and are not under any obligation to share their customers' data with any third parties. They are also ethical and use only residential and mobile IPs they are given consent to use.
And take note, when I use their proxies,show privacy error for certificates, you have to install their certificate to use their proxies!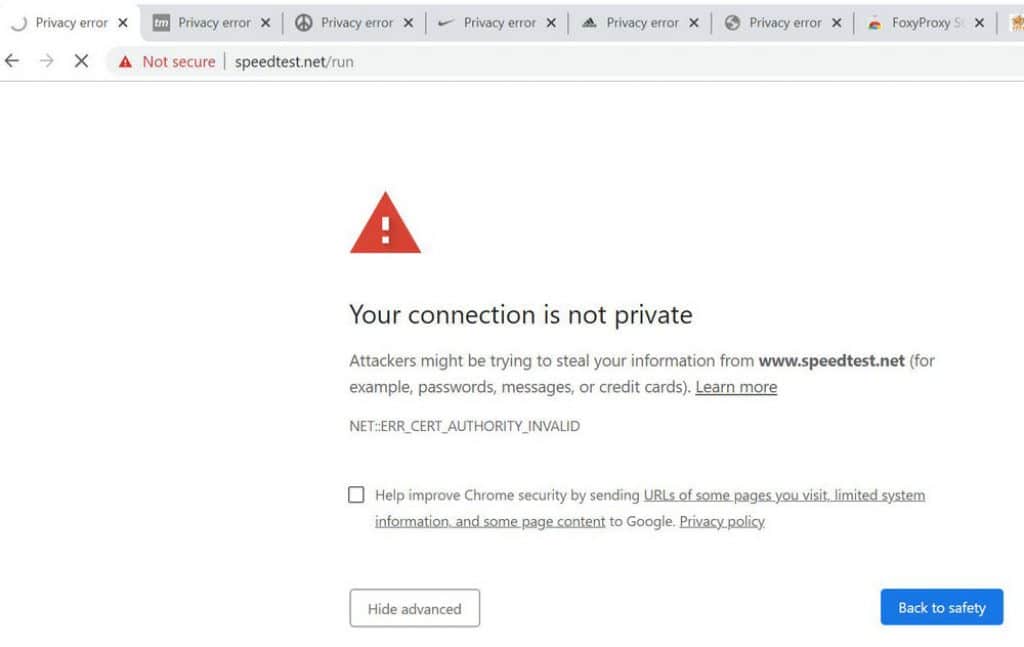 Session Control
For some web activities that require proxies, session control is not needed. Web scraping, for example, Infatica perform best because IP is changed after each web request. However, in the case of others that need you to maintain session for a period, you might not find Infatica perfect for your use case. Infatica proxies change IP very frequently and not suitable for tasks that require a longer session.
One other aspect you will not like about Infatica proxies is the fact that their proxies require you to add a certificate before you are able to use them. This is unnecessary stress that other providers (premium inclusive), do not require.
Take note, I do not found the sticky session.
ISP test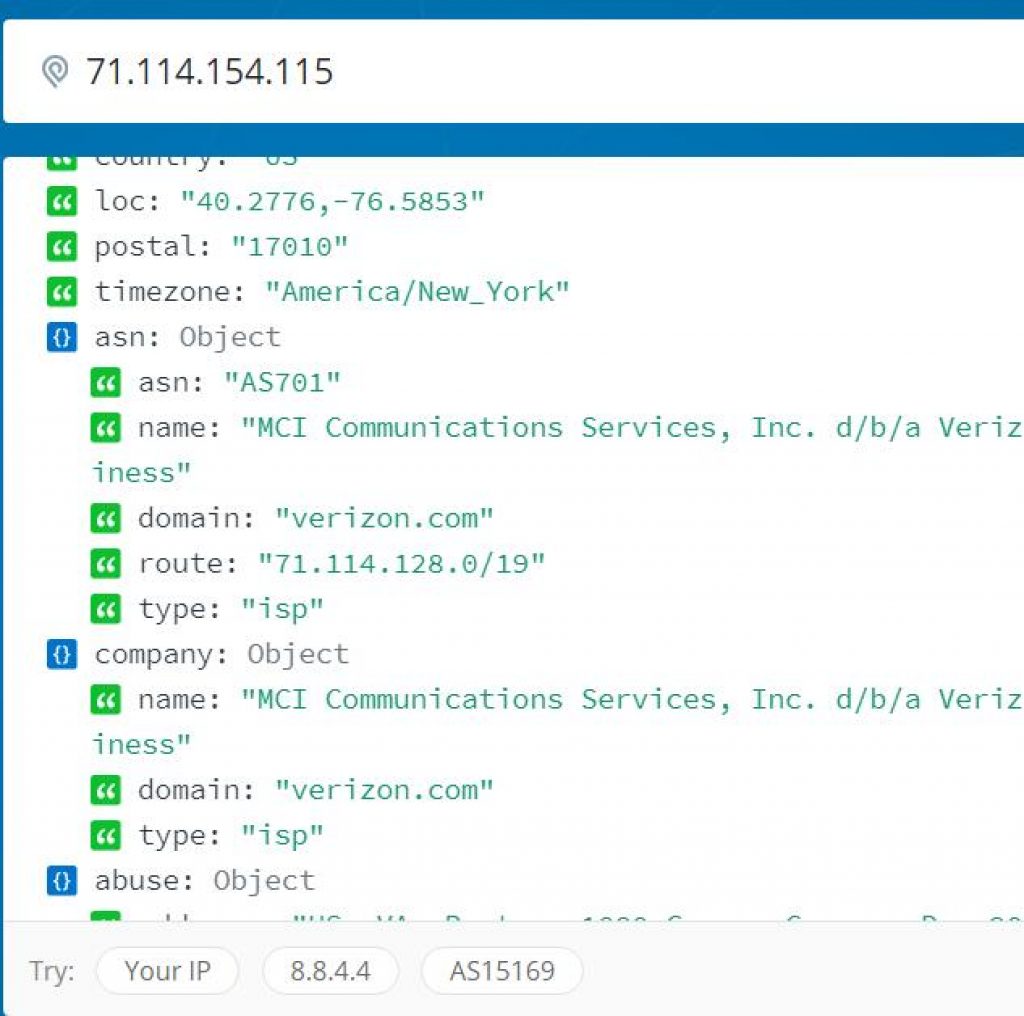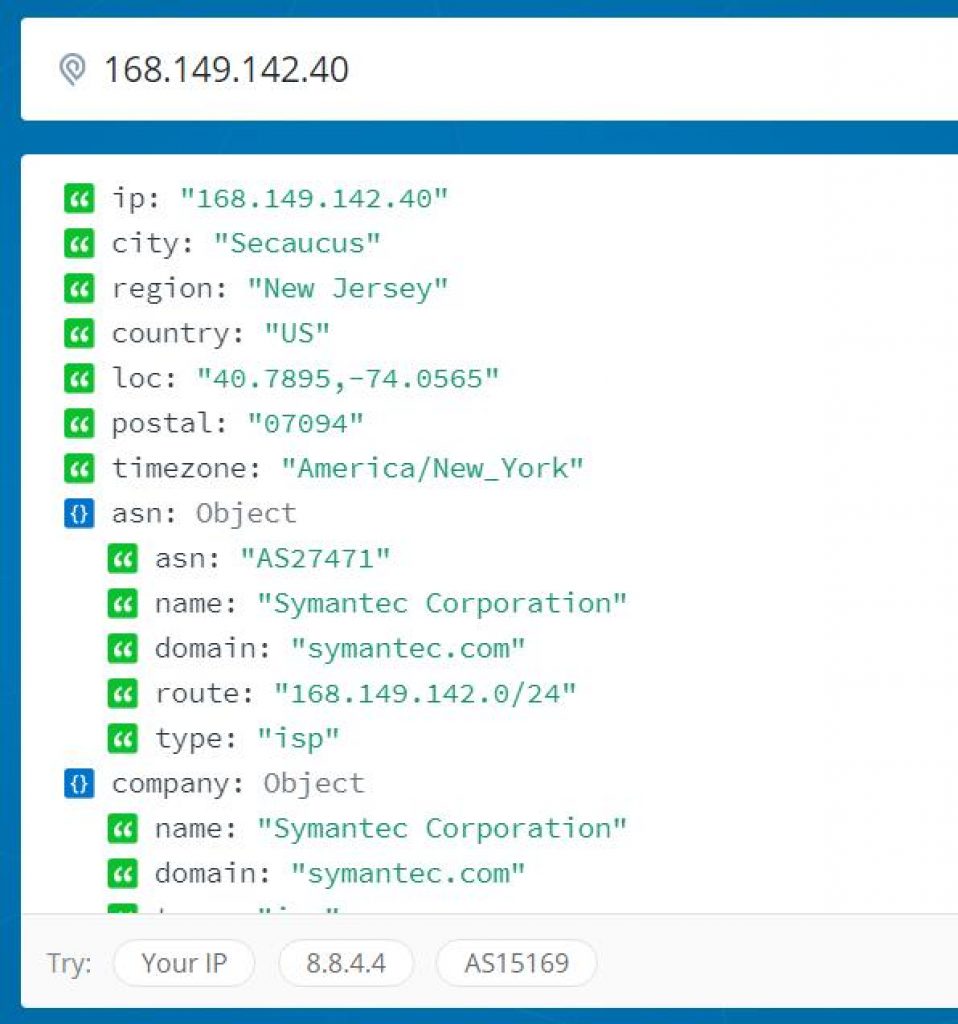 hostname:

 

"135.177.181.107.wiredns.net"

 

region:

 

"British Columbia"

 

timezone:

 

"America/Vancouver"

 

name:

 

"Total Server Solutions L.L.C."

 

domain:

 

"totalserversolutions.com"

 

route:

 

"107.181.177.0/24"

 

name:

 

"Total server solutions"

 

domain:

 

"totalserversolutions.com"

 

address:

 

"US, GA, Marietta, 1130 Powers Ferry Pl, SE., 30540"

 

network:

 

"107.181.177.0/24"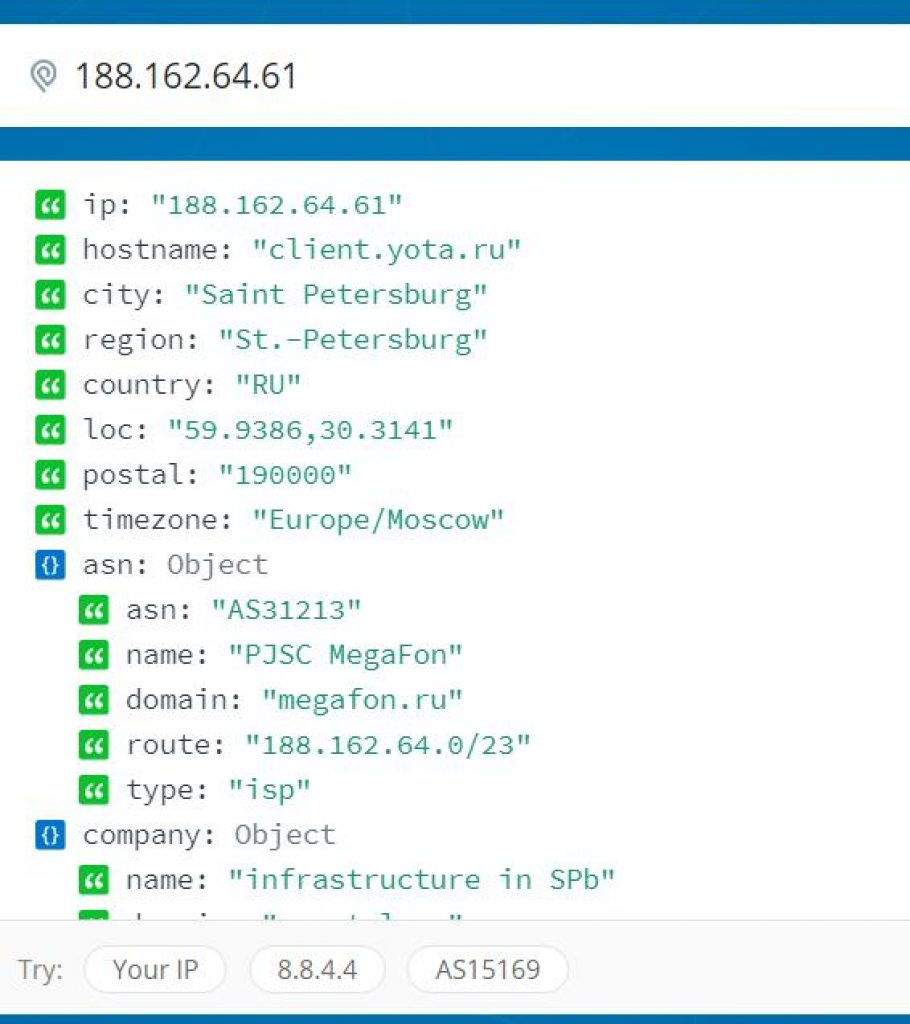 Here is more IPs from their pool, you can easily test by your self from ipinfo.io
73.65.35.40
71.114.154.115
47.17.193.158
75.72.195.175
76.121.18.78
23.227.142.218
168.149.142.40
32.210.223.94
47.17.193.158
172.223.73.239
107.181.177.135
208.254.219.34
188.162.64.61
back to menu ↑
Pricing and Plans
The basis for their pricing and their plans is one of the distinguishing features between Infatica and many other providers. For other proxy providers, their pricing model is based on the amount of bandwidth used.
However, in the case of Infatica, their pricing is based on the number of IPs allocated to you and the number of threads allowed. Because of this, their proxies provide you unlimited bandwidth but limit you to a specified number of threads, This is similar to proxyrack.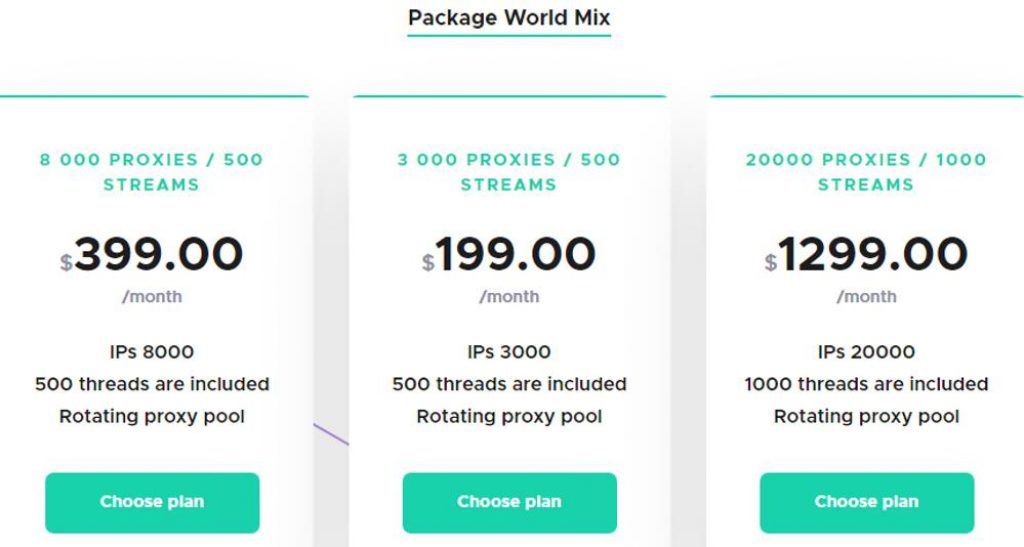 Looking at the screenshot of their pricing above, you will see that the smallest plan you can buy comes with 3,000 IPs and allow you to run 500 concurrent threads. Again, there is a need for improvement here – the prices of their other packages (Ukraine, Russia, Europe) are not made public. They require you to contact them which I feel is not open enough.
They have a free trial, which is only provided on request using their contact form. If you are in doubt of their service, you can give it a try using this free trial option – no payment info is required, you can cancel anytime. However, because of the free trial, they do not offer a refund.
back to menu ↑
Infatica proxy usage & review
When it comes to the ease of usage, Infatica can be said to be a proxy provider that is easy to use. Their website and user dashboard is minimal and clean. However, they still need to add more content on their website to get their visitors to make better buying decisions. Aside from the lack of enough content, their site is easy to use.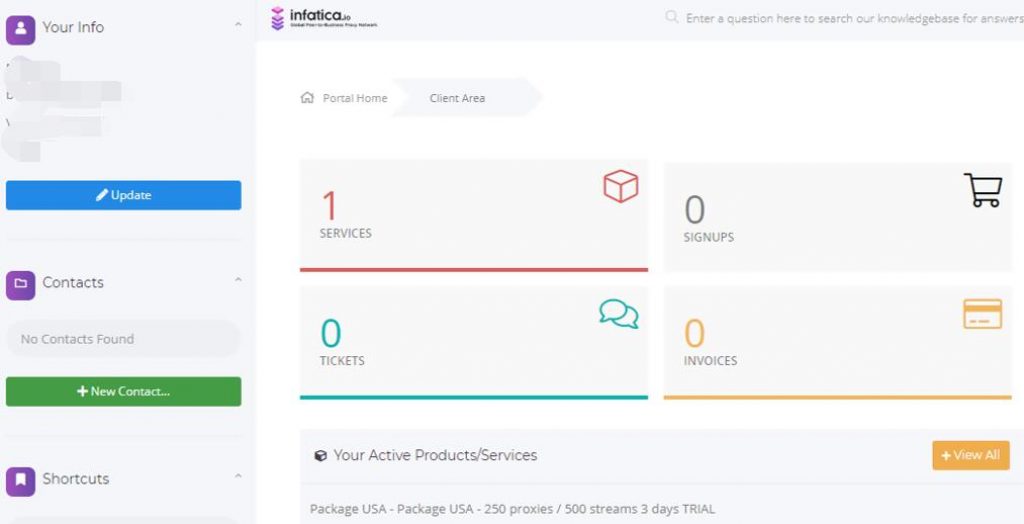 The above screenshot is what a typical user dashboard looks like – no more, no less! You have the service area that keeps information about your subscription, a billing area that deals with payment for subscription, and then the support area for information about their company and proxies.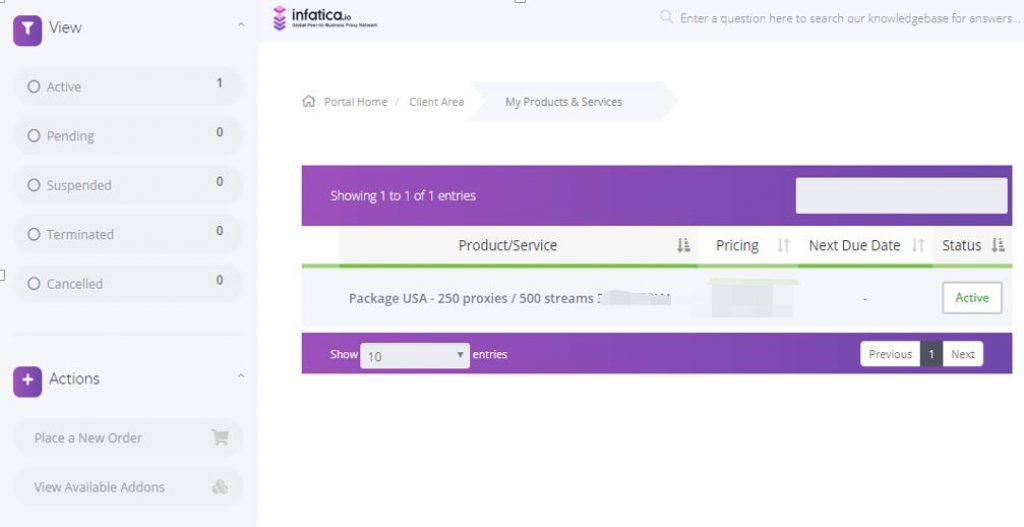 In terms of authentication method allowed, Infatica only form of authentication is IP Authentication, and you are restricted to whitelisting only 2 IPs per subscription. Below is a screenshot of the IP authentication area of the dashboard.




Looking at the above, you will agree with me that Infatica is an easy to use service with its clean dashboard design and IP form of authentication. However, some people still prefer to use the username/password form of authentication and it will better if they support it.
back to menu ↑
Customer Support
Infatica does not have live chat support. To communicate with their support team, you have to email them. However, they are responsive. Expect to get a reply from them within a few hours. Alternatively, you can contact them via mobile or their support representative on Black Hat World.
back to menu ↑
Our Verdict
Infatica is a new proxy provider that has got some things right and others wrong. Considering how they were able to gather over 2 million residential IP addresses within a year, it is wise that they are a provider to look out for. If speed isn't much of a concern to you and session control is not, then you can make use of them.
Editor's Review on Infatica.io
Infatica provides rotating residential Http/socks proxy, their proxy is similar to proxyrack, main design for web scraping limited on threads(connection).
Add your review
[/wpsm_box]